Our Stay At El Palauet Living In Barcelona, Spain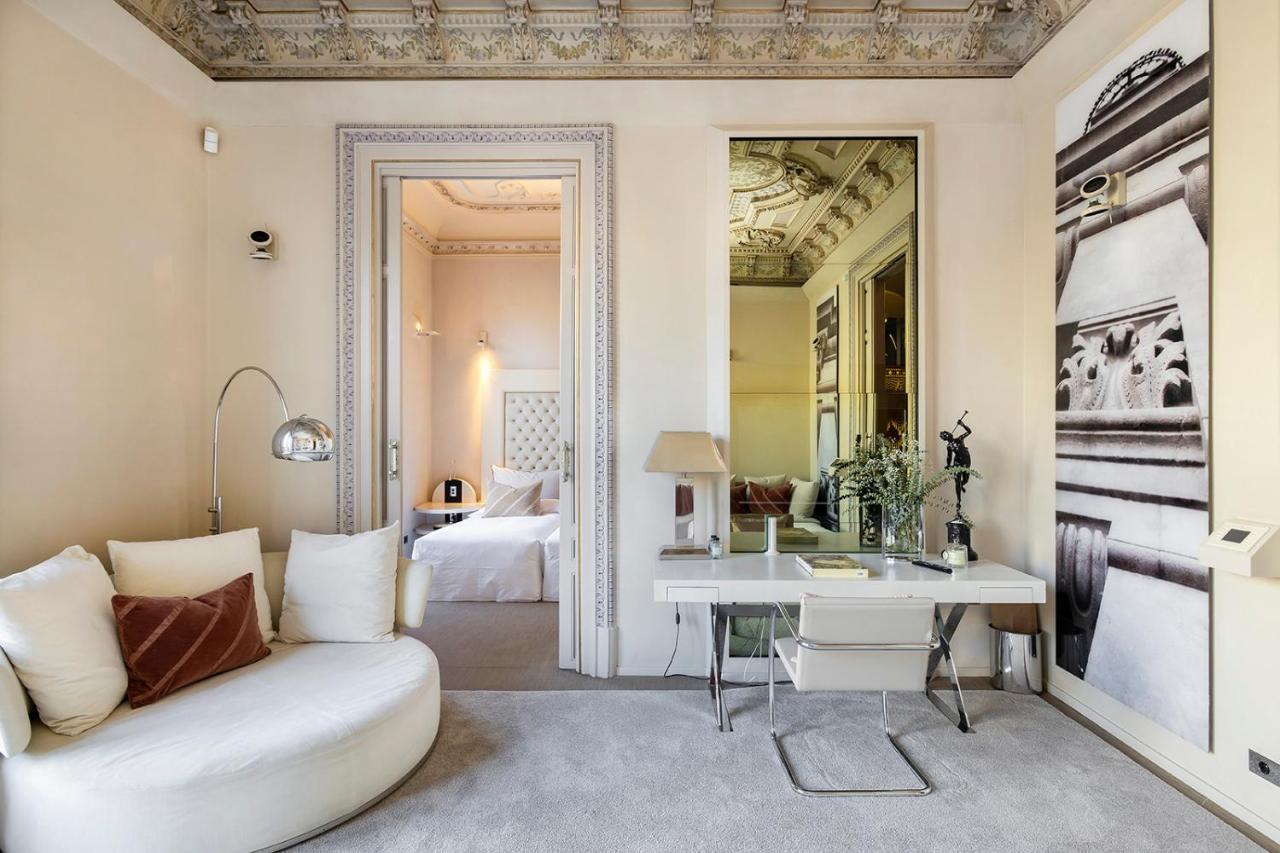 Introduction
Welcome to El Palauet, the epitome of luxury and elegance in the heart of Barcelona, Spain. Nestled in the exclusive neighborhood of Passeig de Gracia, El Palauet offers an extraordinary experience for those seeking a refined and unforgettable stay.
Stepping into El Palauet is like stepping into a world of timeless beauty and sophistication. The stunning modernist building, designed by the renowned architect Pere Falqués in 1906, exudes grandeur with its ornate facade and meticulously restored interiors.
With only six luxurious suites, El Palauet provides an intimate and exclusive atmosphere for discerning travelers. Each suite is exquisitely furnished and designed, combining contemporary style with original architectural elements to create a harmonious blend of old-world charm and modern comfort.
The location of El Palauet is truly unparalleled. Situated on Passeig de Gracia, one of Barcelona's most prestigious and fashionable avenues, guests are just steps away from some of the city's most iconic landmarks, including Gaudi's Casa Batlló and La Pedrera.
Whether you are visiting Barcelona for business or leisure, El Palauet offers a unique experience that will exceed your expectations. From the moment you step through the doors, you will be enveloped in a world of luxury and personal attention, ensuring a truly memorable stay.
Join us at El Palauet and indulge in the ultimate Barcelona experience. Immerse yourself in the rich history, culture, and vibrant energy of the city while enjoying the unparalleled luxury and service of our boutique hotel. We invite you to embark on a journey of elegance and sophistication in the heart of Barcelona.
Location of El Palauet
El Palauet is ideally situated in the prestigious neighborhood of Passeig de Gracia, one of Barcelona's most iconic and vibrant areas. This prime location offers guests easy access to some of the city's most famous landmarks, upscale shops, gourmet restaurants, and lively entertainment venues.
From El Palauet, it's just a short stroll to Gaudi's Casa Batlló and La Pedrera, two of Barcelona's most celebrated architectural masterpieces. Immerse yourself in the unique and whimsical designs of Antoni Gaudi as you explore these stunning buildings.
Passeig de Gracia is also renowned for its luxury shopping, with numerous high-end boutiques and designer stores lining the avenue. Fashion enthusiasts will delight in exploring the fashion-forward boutiques of renowned designers such as Chanel, Gucci, and Louis Vuitton.
In addition to its cultural and shopping attractions, the neighborhood is also home to a plethora of award-winning restaurants and trendy bars. Indulge in the tantalizing flavors of Catalan cuisine or sip on expertly crafted cocktails while enjoying the vibrant atmosphere of this bustling area.
For those seeking a bit of relaxation, El Palauet is conveniently located near some of Barcelona's most beautiful parks and gardens. Take a leisurely stroll through the landscaped gardens of Park Güell or unwind in the tranquility of Park de la Ciutadella.
As for transportation, El Palauet offers easy access to the city's efficient metro system, with nearby stations connecting you to other parts of Barcelona. Taxis are also readily available, making it convenient to explore the city at your own pace.
With its prime location, El Palauet provides an ideal base for exploring the enchanting city of Barcelona. Whether you are captivated by its artistic masterpieces, immersed in its culinary scene, or simply fascinated by its vibrant energy, you will find everything you desire just steps away from the hotel.
Accommodation at El Palauet
At El Palauet, each suite is a sanctuary of elegance and luxury, providing guests with an unparalleled level of comfort and sophistication. With just six suites in total, the hotel offers an intimate and exclusive experience that feels like a home away from home.
Each suite at El Palauet is thoughtfully designed and tastefully furnished, combining contemporary style with the original architectural elements of the historic building. The spaciousness of the suites ensures a sense of openness, while the meticulous attention to detail creates an atmosphere of refined elegance.
The suites feature high ceilings, stately columns, and large windows that flood the rooms with natural light, offering breathtaking views of the surrounding city or the majestic Passeig de Gracia. The carefully chosen furnishings, including plush beds, cozy seating areas, and modern amenities, provide the perfect balance between style and comfort.
For those who appreciate the finer things in life, the suites at El Palauet offer a range of luxurious amenities. Indulge in the opulence of a private spa area with a jacuzzi or relax in the tranquil surroundings of your own terrace, complete with comfortable seating and breathtaking views.
The attention to detail extends to the bathroom, where you'll find premium toiletries, plush robes, and oversized bathtubs or rain showers. Every aspect of the suite has been carefully designed to provide guests with a truly indulgent and unforgettable experience.
In addition to the creature comforts, the suites at El Palauet also boast modern technology, including high-speed Wi-Fi, flat-screen televisions, and state-of-the-art sound systems. These thoughtful touches ensure that guests can stay connected and entertained throughout their stay.
Whether you are traveling for business or pleasure, El Palauet offers a range of suite options to suit your needs. From the one-bedroom suites ideal for couples seeking a romantic getaway to the larger suites perfect for families or groups, there is a luxurious space for everyone at El Palauet.
Experience the ultimate in luxury and comfort at El Palauet, where each suite is a testament to timeless design, impeccable style, and unparalleled attention to detail.
Amenities and Facilities
El Palauet goes above and beyond to ensure that guests have access to the finest amenities and facilities, allowing for a truly indulgent and memorable stay.
Starting with the personalized concierge service, the dedicated staff at El Palauet is available around the clock to attend to every need and desire. Whether it's securing tickets to a show, arranging transportation, or providing recommendations for local attractions, the concierge team is committed to providing exceptional service and ensuring an unforgettable experience.
For those seeking relaxation and rejuvenation, El Palauet offers a private spa area, complete with a jacuzzi. This tranquil space is the perfect retreat after a long day of exploring the city, offering guests a chance to unwind and pamper themselves.
In addition, El Palauet boasts a fully equipped fitness center, allowing guests to maintain their workout routine even while away from home. The state-of-the-art gym features a range of cardiovascular machines, weight-training equipment, and free weights, ensuring that guests can stay active during their stay.
To further enhance the level of comfort, El Palauet provides a range of thoughtful amenities in each suite. From plush bathrobes and slippers to premium toiletries, guests will find everything they need for a luxurious and convenient stay.
El Palauet also offers a range of additional services to make guests' stay even more enjoyable. These include laundry and dry cleaning services, in-room dining, and a complimentary continental breakfast for all guests.
For those traveling for business, El Palauet provides a well-equipped meeting room, complete with audiovisual equipment, high-speed Wi-Fi, and comfortable seating. This ensures that guests have the necessary facilities to host successful meetings or work sessions.
Whether you are seeking relaxation, rejuvenation, or a productive workspace, El Palauet caters to all your needs with its exquisite amenities and facilities. Experience the epitome of luxury and comfort at this exceptional boutique hotel.
Dining Options
When it comes to dining, El Palauet offers a range of exceptional options to tantalize your taste buds and satisfy every craving.
For a delightful start to your day, guests can enjoy a complimentary continental breakfast served in the privacy of their suites or in the elegant communal dining area. Indulge in a selection of freshly baked pastries, delectable fruits, artisanal bread, and a variety of cereals and yogurts, all accompanied by your choice of gourmet coffee or tea.
Throughout the day, guests can also take advantage of the in-room dining service, offering a selection of delectable dishes from the hotel's menu. From light snacks and refreshing salads to mouthwatering main courses, there is something to suit every palate.
If you prefer to explore the culinary delights of Barcelona, El Palauet's knowledgeable concierge team can recommend a plethora of exceptional restaurants and cafes in the vicinity. From traditional tapas bars serving authentic Spanish dishes to Michelin-starred restaurants offering innovative gastronomic experiences, Barcelona is a food lover's paradise.
For guests who wish to experience dining outside the hotel, El Palauet's central location offers an array of gourmet options just steps away. Passeig de Gracia and the surrounding areas are renowned for their diverse and high-quality dining scene, with a multitude of international cuisines and local specialties to choose from.
Whether you're seeking a romantic dinner for two, a relaxed family meal, or a culinary adventure, the dining options near El Palauet will exceed your expectations.
At El Palauet, the dining experience is not just about the food; it is also about the ambiance and personalized service. Whether you choose to dine in the comfort of your suite, the elegant communal dining area, or venture out to explore the local culinary scene, you will be treated to an exceptional gastronomic experience that will leave a lasting impression.
Nearby Attractions
El Palauet's prime location on Passeig de Gracia ensures that guests have easy access to a wealth of nearby attractions and landmarks, allowing for a truly immersive Barcelona experience.
One of the most iconic and must-see attractions in the area is Gaudi's Casa Batlló, located just steps away from the hotel. This masterpiece of modernist architecture is a visual delight, with its undulating facade, vibrant colors, and intricate detailing. Take a guided tour to learn about the history and significance of this architectural gem.
Another Gaudi masterpiece, La Pedrera, is also within close proximity to El Palauet. This stunning building showcases Gaudi's genius with its unique sculptural forms and imaginative design. Visit the rooftop terrace for panoramic views of Barcelona and explore the fascinating exhibitions inside.
If art and culture are your passions, the renowned Museu Picasso is a short distance away. Housed in a Romanesque mansion, the museum displays an extensive collection of Picasso's works, providing insights into the artist's life and artistic journey.
For those interested in history, a visit to the Gothic Quarter is a must. Lose yourself in its labyrinthine streets, lined with medieval buildings and hidden squares. Explore the magnificent Barcelona Cathedral and discover the rich history and charm of this ancient neighborhood.
Just a short walk from El Palauet is the vibrant and bustling Las Ramblas. The iconic boulevard is lined with shops, cafes, and street performers, creating a lively and colorful atmosphere. Stroll along this famous promenade, browse the local markets, and soak in the vibrant energy of Barcelona.
If you're seeking a breath of fresh air, head to Park Güell, another of Gaudi's masterpieces. This whimsical park offers stunning views of the city, whimsical architecture, and beautiful gardens. Take a leisurely walk through the park and marvel at the harmony between nature and design.
For football enthusiasts, a visit to the famous Camp Nou stadium, home to FC Barcelona, is a must. Explore the museum, learn about the history of one of the world's most beloved football clubs, and immerse yourself in the passion of the sport.
These are just a few of the many attractions that await you near El Palauet. Whether you're interested in art, history, architecture, or simply exploring the vibrant streets of Barcelona, staying at El Palauet will grant you the perfect base to discover the city's wonders.
The Staff and Service
At El Palauet, the dedicated staff prides themselves on providing impeccable service and personalized attention to ensure that every guest's stay is nothing short of extraordinary.
From the moment you step foot in the hotel, you will be greeted with a warm and genuine welcome. The staff is fluent in multiple languages and demonstrates a deep knowledge of the local area, always ready to assist with any inquiries or recommendations.
Whether it's arranging transportation, making restaurant reservations, or organizing tickets to local attractions, the staff's attention to detail and commitment to excellence ensures that every guest's needs are met with efficiency and care.
The concierge service at El Palauet is second to none. The attentive and knowledgeable concierge team is available 24/7 to cater to your every request, from arranging private tours to securing hard-to-get tickets for events and shows in the city.
The housekeeping staff maintains the highest standards of cleanliness and attention to detail, ensuring that your suite is always beautifully presented and well-maintained. Fresh linens, plush towels, and a pristine environment await you every day, allowing you to relax and unwind in absolute comfort.
What truly sets the staff at El Palauet apart is their genuine care and passion for providing exceptional service. They take the time to get to know each guest personally, anticipating their needs and going above and beyond to create a memorable and personalized experience.
Whether it's surprising you with a thoughtful gesture, preparing your favorite drink just the way you like it, or providing insider tips on hidden gems in the city, the staff at El Palauet prides themselves on the small touches that make a big difference.
Throughout your stay, you will feel like a cherished guest, not just a visitor. The staff's commitment to providing exceptional service ensures that your time at El Palauet is both comfortable and unforgettable.
Experience the warmth, attentiveness, and genuine hospitality of the staff at El Palauet, where your comfort and satisfaction are their top priorities.
Conclusion
El Palauet is more than just a luxury boutique hotel; it is an experience that embodies the elegance and spirit of Barcelona. With its prime location, exquisite accommodations, exceptional amenities, and unparalleled service, it offers guests the opportunity to immerse themselves in the vibrant energy and rich history of this captivating city.
From the moment you step foot into El Palauet, you will be transported into a world of timeless beauty and sophistication. The stunning architecture, luxurious furnishings, and attention to detail create an atmosphere of true opulence and refinement.
Each suite at El Palauet is a sanctuary of tranquility and comfort, providing guests with a haven to retreat to after a day of exploring the bustling streets of Barcelona. The personalized service and thoughtful amenities ensure that every need is met, allowing you to relax, rejuvenate, and indulge in the ultimate luxury.
The hotel's location on Passeig de Gracia means that some of Barcelona's most famous landmarks, upscale shops, and gastronomic delights are just steps away. Whether you're exploring Gaudi's architectural wonders, immersing yourself in the city's art and culture, or simply indulging in the local culinary delights, everything you desire is within reach.
But it's not just the physical aspects of El Palauet that make it so exceptional; it's the dedicated staff who truly elevate the experience. The warm and genuine hospitality of the team ensures that you feel like a cherished guest, receiving personalized attention and exceptional service throughout your stay.
In conclusion, El Palauet is the epitome of luxury and sophistication in the heart of Barcelona. From the elegant accommodations to the top-notch amenities and the exceptional service, every aspect of this boutique hotel has been carefully curated to provide guests with a truly unforgettable experience. Discover the beauty and magic of Barcelona while indulging in the unrivaled luxury and charm of El Palauet. Your journey of elegance and sophistication awaits.