One Day In Barcelona, Spain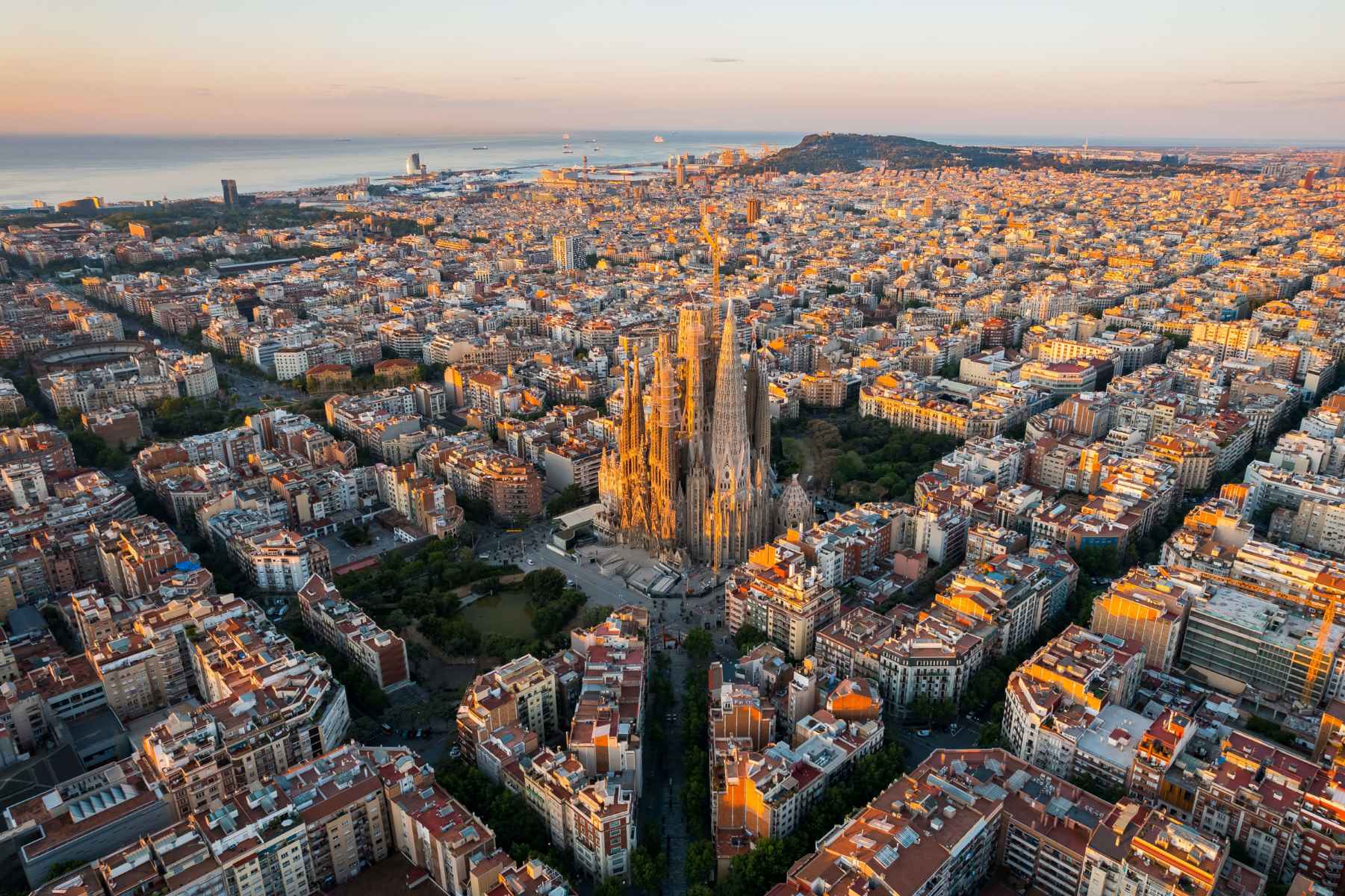 Introduction
Barcelona, the vibrant capital city of Catalonia in Spain, is a destination that captivates visitors with its unique blend of rich history, stunning architecture, delicious cuisine, and thriving cultural scene. Steeped in centuries of Catalan heritage, Barcelona offers a delightful mix of ancient charm and modern elegance, making it a top choice for travelers from around the world.
As you step foot in Barcelona, you will be greeted by iconic landmarks such as the awe-inspiring Sagrada Familia, designed by the renowned architect Antoni Gaudí, and the magnificent Park Güell, a UNESCO World Heritage Site. History buffs will also be enthralled by the Gothic Quarter, with its narrow cobblestone streets and medieval buildings that reveal the city's past.
But Barcelona is not just about its architectural wonders. The city's Mediterranean location means that it boasts miles of sandy beaches where you can relax and soak up the sun. Take a stroll along the lively La Rambla, a bustling boulevard lined with shops, cafes, and street performers, offering a true taste of Barcelona's vibrant street life.
Moreover, Barcelona is a food lover's paradise. From traditional Catalan cuisine to avant-garde gastronomy, this city offers a wide range of culinary delights. Sample mouthwatering tapas, savor authentic paella, and indulge in the famous Catalan cream dessert. The city is also known for its vibrant nightlife, with numerous bars and clubs where you can dance the night away.
Whether you are an art enthusiast, a history buff, a food lover, or simply seeking a vibrant and diverse destination, Barcelona has something for everyone. In this article, we will take you through an ideal day in Barcelona, showcasing the must-see attractions, the best places to eat, and the unique experiences that will make your visit truly unforgettable.
Morning in Barcelona
Start your day in Barcelona with a visit to the magnificent Sagrada Familia, the iconic basilica that has become the symbol of the city. Marvel at the intricate details of Gaudí's masterpiece, from the towering spires to the intricately designed facades. Climb to the top for panoramic views of the city, or take a guided tour to learn about the fascinating history and architecture of this extraordinary monument.
After exploring the Sagrada Familia, make your way to the charming neighborhood of Gràcia. Known for its bohemian atmosphere and quaint streets, Gràcia offers a more local and authentic experience away from the tourist crowds. Stroll through the narrow alleys, stop by local cafes for a leisurely breakfast, and soak up the laid-back ambiance of this vibrant neighborhood.
Next, head to Park Güell, another masterpiece by Antoni Gaudí. This whimsical park is a UNESCO World Heritage Site and offers breathtaking views of the city. Take a leisurely walk through its colorful gardens, admire the mosaic-covered structures, and find a spot to relax and take in the beauty of this unique urban oasis.
As the morning comes to a close, treat yourself to a traditional Spanish brunch at one of Barcelona's local eateries. Indulge in dishes like tortilla española (Spanish omelette), pan con tomate (bread with tomato), and churros con chocolate (fried dough with hot chocolate). Pair your meal with a cup of freshly brewed coffee or a glass of refreshing sangria.
Alternatively, satisfy your artistic cravings at the Picasso Museum. Located in the Gothic Quarter, this museum houses an extensive collection of works by the legendary artist Pablo Picasso. Explore the different periods of Picasso's career, from his early sketches to his famous paintings, and gain a deeper understanding of his artistic evolution and influences.
After a fulfilling morning of exploration, you'll be ready to dive deeper into the cultural wonders that Barcelona has to offer. From its breathtaking architecture to its vibrant neighborhoods, there's so much to discover in this vibrant city.
Afternoon in Barcelona
After a delightful morning, continue your exploration of Barcelona with a visit to the renowned Gothic Quarter, also known as the Barri Gòtic. Lose yourself in its enchanting labyrinth of narrow streets, hidden squares, and historic buildings that date back to the Roman era. Admire the stunning Gothic architecture of the Barcelona Cathedral and explore the charming shops and boutiques that line the streets.
From the Gothic Quarter, make your way to the vibrant neighborhood of El Born. Known for its trendy atmosphere and artistic vibe, El Born is home to an array of boutique shops, art galleries, and stylish cafes. Take a stroll along its picturesque alleys and discover hidden gems, such as the Mercat del Born, a former market turned cultural center that offers insights into Barcelona's history.
For art enthusiasts, a visit to the Picasso Museum is a must. Housed within five interconnected medieval palaces, the museum showcases an extensive collection of Picasso's early works. Immerse yourself in the world of this legendary artist as you explore his paintings, drawings, ceramics, and sculptures, tracing his artistic journey from his formative years to his innovative cubist period.
If you're looking to quench your thirst for knowledge, head to the Montjuïc Hill and visit the magnificent Museu Nacional d'Art de Catalunya (MNAC). This museum houses a vast collection of Catalan art, including Romanesque, Gothic, Renaissance, and Modernist masterpieces. Explore the different galleries, admire the stunning views of the city from the museum's terrace, and gain a deeper appreciation for the rich artistic heritage of Catalonia.
As the afternoon winds down, take a leisurely stroll along the beautiful beachfront promenade, known as the Barceloneta. Feel the sand between your toes and enjoy the refreshing sea breeze as you take in the stunning views of the Mediterranean Sea. If you're feeling adventurous, you can even try your hand at water sports like paddleboarding or jet skiing.
Before moving on to the evening, make sure to stop by one of Barcelona's famous food markets, such as La Boqueria or Mercat de Sant Antoni. Get a taste of the local culinary scene as you browse through the vibrant stalls showcasing a dazzling array of fresh fruits, vegetables, seafood, and local products. Treat yourself to some delicious tapas or sample traditional Catalan dishes for an authentic gastronomic experience.
With the afternoon well spent exploring the fascinating neighborhoods, immersing yourself in art, and enjoying the beauty of the city, you're now ready to embrace the vibrant energy of Barcelona's evening scene.
Evening in Barcelona
As the sun begins to set, Barcelona comes alive with its vibrant nightlife and lively atmosphere. The city offers a wide range of options to enjoy your evening, whether you're in the mood for a romantic dinner, a cultural performance, or a night of dancing.
One of the best ways to start your evening is by experiencing the magic of the Font Màgica, or Magic Fountain. Located at the base of Montjuïc Hill, this stunning fountain puts on a mesmerizing light and music show. Watch in awe as the water dances in synchronization with the vibrant colors and musical melodies, creating a truly enchanting spectacle.
Afterward, head to one of Barcelona's many restaurants to savor the city's diverse culinary offerings. From traditional Catalan cuisine to international fusion, Barcelona boasts a thriving food scene. Indulge in a seafood feast at a seaside restaurant in Barceloneta, feast on tapas in the lively Gràcia neighborhood, or try avant-garde creations at one of the city's Michelin-starred establishments.
If you're interested in experiencing the local culture, catch a flamenco show to immerse yourself in the passionate rhythms and soulful melodies of this traditional Spanish art form. Barcelona has several venues that offer captivating performances featuring talented dancers and musicians. Let yourself be carried away by the intensity and emotion of flamenco as you witness this captivating cultural expression.
For a different kind of cultural experience, consider attending a performance at the Gran Teatre del Liceu. This historic opera house has been showcasing world-class opera, ballet, and classical music since 1847. Take in a sublime performance by internationally renowned artists in a stunning architectural gem that radiates elegance and grandeur.
If you're in the mood for some late-night shopping, head to the trendy neighborhood of Eixample. Here, you'll find a plethora of designer boutiques, high-end fashion stores, and stylish concept stores where you can browse for unique fashion pieces. Enjoy a leisurely stroll along the elegant Passeig de Gràcia, lined with luxury brands and iconic architectural landmarks.
Of course, no evening in Barcelona would be complete without experiencing the city's vibrant nightlife. From lively bars to sophisticated rooftop lounges and pulsating nightclubs, Barcelona offers entertainment options for every taste. Dance the night away at one of the legendary clubs in the Port Olímpic area, sip signature cocktails at a rooftop bar with panoramic city views, or join a pub crawl to immerse yourself in the energetic atmosphere of Barcelona's nightlife.
As the evening comes to an end, take a moment to savor the vibrant energy and eclectic spirit of Barcelona's nightlife. Recall the memories you've made during the day and get ready to embrace the enchanting night that lies ahead.
Night in Barcelona
When the sun sets over Barcelona, the city transforms into a playground for night owls, offering a diverse range of experiences to enjoy after dark. Whether you're looking for a laid-back evening or a lively night out, Barcelona has something for everyone.
Begin your night in Barcelona with a leisurely stroll along the iconic La Rambla. This bustling boulevard is teeming with life, lined with street performers, restaurants, and cafes. Immerse yourself in the vibrant atmosphere as you take in the sights and sounds of the city, and perhaps stop for a drink or a bite to eat at one of the charming sidewalk terraces.
If you're a fan of live music, Barcelona has a vibrant music scene. Head to the neighborhood of El Raval, known for its eclectic bars and live music venues. You'll find a variety of concerts showcasing different genres, from jazz and blues to rock and electronic music. Immerse yourself in the soulful melodies and electrifying performances of local and international artists.
For a unique and memorable experience, consider visiting one of Barcelona's rooftop bars. These elevated venues offer breathtaking panoramic views of the city skyline as you sip on expertly crafted cocktails. Enjoy the sophisticated ambiance, unwind to the sounds of the DJ, and soak in the magnificent views of Barcelona's illuminated landmarks.
If you're in the mood for the lively atmosphere of a Spanish fiesta, head to the lively district of Gràcia. This neighborhood is known for its vibrant nightlife, with countless bars and clubs where you can dance the night away to pulsating beats. Join the locals and embrace the spirit of fiesta as you immerse yourself in the energetic and lively atmosphere of Gràcia's nightlife scene.
For those seeking a more refined evening, Barcelona offers a selection of world-class theaters and concert halls. Catch a performance at the grandiose Gran Teatre del Liceu, the city's opera house, or attend a classical concert at the prestigious Palau de la Música Catalana. Be enthralled by the talent of renowned artists as they showcase their skills in these exquisite and historic venues.
Cultural enthusiasts shouldn't miss the opportunity to experience Barcelona's vibrant street art scene. Take a guided tour through the streets of El Raval or the Gothic Quarter, where you can discover stunning murals and graffiti that adorn the walls, showcasing the city's urban artistic expression. Learn about the messages and stories behind the street art from local experts and gain a deeper appreciation for this unique art form.
As the night winds down, indulge in Barcelona's late-night dining culture. The city is known for its tapas bars that stay open until the early hours of the morning, where you can sample an array of delectable small plates. Join the locals in a lively atmosphere, hopping from one tapas bar to another, trying traditional dishes and savoring the flavors of the city.
However you choose to spend your night in Barcelona, whether dancing the night away, enjoying live music, or indulging in delicious food and drinks, the city's vibrant nightlife scene guarantees a memorable experience.
Conclusion
Barcelona, with its rich history, awe-inspiring architecture, delicious cuisine, and vibrant culture, is a city that truly has it all. From the moment you arrive, you'll be captivated by the unique blend of ancient charm and modern elegance that defines this remarkable destination.
Throughout the course of a day in Barcelona, you can explore iconic landmarks such as the awe-inspiring Sagrada Familia and the whimsical Park Güell. Immerse yourself in the rich heritage of the city as you wander through the narrow streets of the Gothic Quarter and indulge in authentic Catalan cuisine at local eateries.
The afternoon offers an opportunity to delve deeper into the city's cultural treasures, with visits to renowned museums such as the Picasso Museum and the Museu Nacional d'Art de Catalunya. You can also enjoy the beauty of Barcelona's coastline with a leisurely stroll along the Barceloneta beachfront promenade.
As evening falls, Barcelona comes alive with its vibrant nightlife. Whether you choose to witness the magic of the Font Màgica, enjoy a cultural performance, or explore the city's trendy neighborhoods, there's no shortage of options to make your evening memorable.
In the night, Barcelona truly shines with its diverse range of experiences. From lively bars and clubs to sophisticated rooftop lounges, this city offers entertainment for every taste. You can unwind with live music performances or embrace the energetic atmosphere of Barcelona's nightlife scene.
With its captivating attractions, vibrant neighborhoods, and lively nightlife, Barcelona promises a day filled with unforgettable experiences. Whether you're an art enthusiast, a food lover, a history buff, or simply someone seeking an adventure, Barcelona has something to offer.
So, pack your bags and embark on a journey to Barcelona, where centuries of history and modern-day marvels blend seamlessly. Discover the treasures of this enchanting city and create memories that will last a lifetime.