Things To Do In Dresden: A Weekend City Guide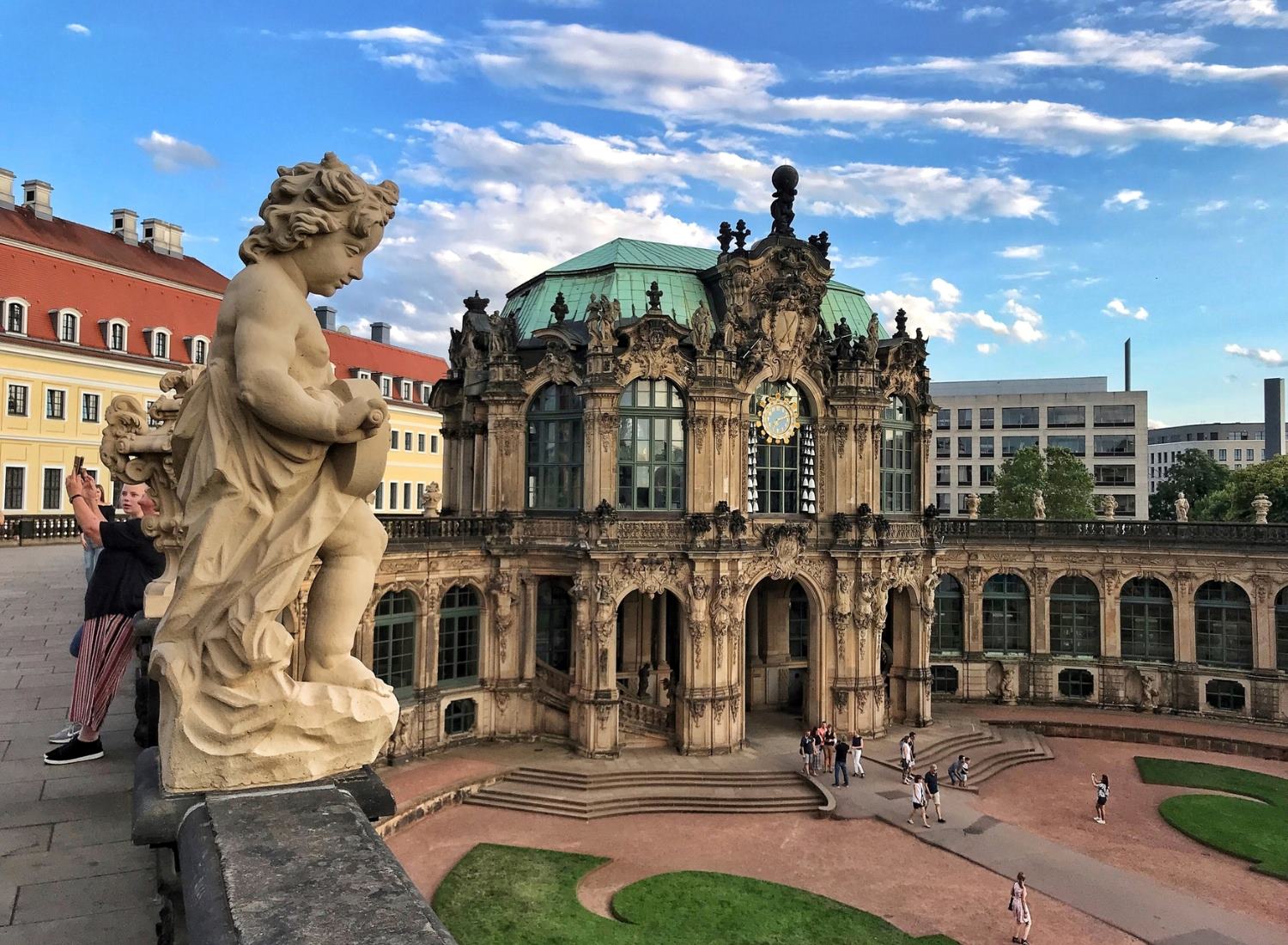 Introduction
Welcome to Dresden, a vibrant city located in the eastern part of Germany. With its rich history, stunning architecture, and thriving arts scene, Dresden offers a perfect blend of old-world charm and modern attractions. Whether you're a history buff, an art enthusiast, or simply looking for a weekend getaway, Dresden has something to offer for everyone.
Dresden is known for its beautifully preserved historic center, which boasts an array of architectural wonders. From the iconic Frauenkirche to the majestic Zwinger Palace, the city is a treasure trove of architectural masterpieces. Strolling through the picturesque streets, you'll feel like you've stepped back in time.
But Dresden is not only about history. The city has a vibrant arts and culture scene, with numerous museums and galleries showcasing both classical and contemporary works. The famous Gemäldegalerie Alte Meister houses an impressive collection of paintings by old masters, while the modern architecture of the Kunsthofpassage will captivate your imagination.
When it comes to outdoor activities, Dresden doesn't disappoint. The city is surrounded by scenic landscapes, offering opportunities for hiking, biking, and exploring nature. From the breathtaking views of the Elbe River to the tranquil beauty of the Dresden Heath, outdoor enthusiasts will find plenty of places to unwind and reconnect with nature.
Dresden is also a food lover's paradise, with a diverse culinary scene encompassing both traditional German dishes and international flavors. Whether you're craving hearty sausages and schnitzels or exploring the local food markets, Dresden's gastronomy scene promises to satisfy your taste buds.
For those looking for some retail therapy, Dresden offers a mix of boutique shops, department stores, and local markets. From fashion and design stores to antique shops and bookstores, you can indulge in some shopping while exploring the city's neighborhoods.
After the sun sets, Dresden comes alive with its vibrant nightlife. From cozy bars and trendy clubs to live music venues, there are plenty of options to enjoy a night out on the town. Whether you're seeking a laid-back evening or a buzzing party atmosphere, there's something for everyone.
In this weekend city guide, we'll take you through the best things to do in Dresden, from exploring the historic center to immersing yourself in the city's art and culture scene. We'll also provide recommendations for dining, shopping, and experiencing the lively nightlife. So, get ready to embark on an unforgettable journey through the enchanting city of Dresden.
Day 1: Exploring the Historic Center
Start your weekend in Dresden by immersing yourself in the city's rich history and exploring its captivating historic center. Begin your day at the iconic Frauenkirche, a symbol of the city's resilience. This magnificent Baroque church was destroyed during World War II and painstakingly reconstructed to its former glory. Climb to the top of the church's dome for breathtaking views of the city.
Continue your journey through history with a visit to the Zwinger Palace. This stunning palace complex houses several museums and galleries, including the Gemäldegalerie Alte Meister, where you can admire masterpieces by artists such as Raphael, Rembrandt, and Vermeer. Take a leisurely stroll through the beautiful gardens and fountains of the Zwinger to fully appreciate its architectural splendor.
Next, head to the Dresden Royal Palace, which served as the residence of Saxon kings and is now home to several museums. Explore the Historic Green Vault, a treasure chamber filled with exquisite jewelry, artworks, and decorative objects. Marvel at the grandeur of the Fürstenzug, the world's largest porcelain mural depicting the rulers of Saxony.
Take a break from history and visit the lively Neumarkt square, where you can grab a bite to eat at one of the charming outdoor cafes. Admire the stunning architecture of the Dresden City Hall and the Church of Our Lady (Kreuzkirche). Don't miss the vibrant Neumarkt Market, where you can find local produce, crafts, and souvenirs.
As evening approaches, make your way to the Semperoper, Dresden's famous opera house. If you're lucky, you may be able to catch a performance and experience the magic of opera or ballet in this enchanting venue. Even if you don't have tickets, the exterior of the Semperoper is worth seeing, with its stunning Neo-Renaissance architecture.
End your day with a relaxing stroll along the Elbe River. Take in the scenic views of the river and the historic buildings lining its banks, such as the Dresden Academy of Fine Arts and the Brühl's Terrace. Find a spot to sit and watch the sunset, enjoying the peaceful ambiance of this beautiful city.
With its stunning architecture and rich history, the historic center of Dresden offers a captivating glimpse into the city's past. From magnificent churches to grand palaces, there's plenty to explore and admire. So, put on your walking shoes and get ready to immerse yourself in the beauty of Dresden's historic center.
Day 2: The Art and Culture Scene
On your second day in Dresden, dive into the city's vibrant art and culture scene. Start your day with a visit to the Albertinum, a modern art museum showcasing an impressive collection of contemporary and modern artworks. From paintings and sculptures to photography and installations, the Albertinum offers a diverse range of artistic expressions that will captivate art enthusiasts.
Next, make your way to the Kunsthofpassage, a unique artistic ensemble located in the lively Neustadt district. This colorful collection of courtyards features whimsical and innovative architecture, transforming the everyday into a visual feast. Explore the various art studios, boutique shops, and cafes tucked away in this hidden gem.
Satiate your cultural appetite by visiting the Dresden State Art Collections, a complex comprising multiple museums and galleries. The Old Masters Picture Gallery houses a vast collection of European paintings from the 15th to the 18th century, while the Porcelain Collection showcases exquisite porcelain artworks. Don't miss the Mathematisch-Physikalischer Salon, where you can marvel at scientific instruments from centuries past.
For a taste of Dresden's contemporary art scene, head to the Kunsthalle im Lipsiusbau. This contemporary art gallery hosts rotating exhibitions that feature works by both national and international artists. Immerse yourself in the cutting-edge creations and thought-provoking installations that push the boundaries of art.
Take a break from the art galleries and explore the Dresden Neustadt district, known for its eclectic mix of vintage shops, unique boutiques, and trendy cafes. Let your curiosity guide you as you wander through the vibrant streets, discovering hidden gems and soaking up the artistic atmosphere.
In the evening, treat yourself to a performance at the Dresden State Opera. Known for its world-class productions, this opera house offers a variety of genres, from classical operas to contemporary performances. Immerse yourself in the captivating melodies and masterful performances that have made Dresden a cultural hub.
End your day with a leisurely walk around the Albertplatz area, where you can find a variety of restaurants and bars. Indulge in a delicious dinner featuring both traditional German cuisine and international flavors. Unwind with a refreshing drink as you reflect on the day's artistic and cultural experiences.
Dresden's art and culture scene is truly captivating, offering a perfect blend of historical masterpieces and innovative contemporary creations. From world-class museums to quirky art installations, this city has something to ignite the imagination of every art lover. So, embrace the creativity and embrace the vibrant cultural scene of Dresden.
Day 3: Outdoor Activities and Natural Beauty
On your final day in Dresden, take advantage of the city's beautiful outdoor spaces and immerse yourself in its natural beauty. Start your day by exploring the Dresden Heath (Dresdner Heide), a vast forested area just outside the city. Lace up your hiking boots and embark on one of the many scenic trails, breathing in the fresh air and enjoying the peaceful surroundings.
For a different outdoor experience, head to the Pillnitz Palace and Gardens. This stunning palace complex is surrounded by extensive gardens featuring a variety of plant species, sculptures, and hidden corners waiting to be discovered. Take a leisurely walk along the pathways, relax by the ponds, and admire the beauty of nature.
Next, venture to the Elbe River, which flows through Dresden, offering picturesque views and serene landscapes. Take a river cruise to see the city from a different perspective and admire the beauty of the surrounding countryside. You can also rent a kayak or paddleboard to explore the river at your own pace.
If you're looking for a more adventurous outdoor activity, visit the Sächsische Schweiz (Saxon Switzerland) National Park. Located just a short distance from Dresden, this natural wonderland offers breathtaking rock formations, deep gorges, and stunning panoramic views. Hike along the famous Bastei Bridge or challenge yourself with rock climbing in the Elbe Sandstone Mountains.
After a day of outdoor exploration, treat yourself to a relaxing visit to the Toskana Therme Bad Schandau. This spa and wellness center nestled in the Saxon Switzerland region offers various thermal pools, saunas, and wellness treatments. Indulge in some well-deserved pampering and rejuvenate your body and mind.
As the day comes to a close, head back to Dresden and enjoy a peaceful evening stroll along the banks of the Elbe River. Capture the enchanting beauty of the city's illuminated buildings reflected in the water and savor the tranquility of the night.
Dresden's natural beauty and outdoor offerings are a delightful contrast to its historical and cultural treasures. From serene forests to breathtaking river views, there's no shortage of outdoor activities to enjoy in and around the city. So, embrace the tranquility and immerse yourself in Dresden's natural landscapes.
Where to Eat
Dresden offers a diverse and vibrant culinary scene, where you can indulge in both traditional German cuisine and international flavors. Here are some top recommendations for where to eat in Dresden:
1. Sophienkeller: Located in the historic cellar of the Taschenbergpalais, Sophienkeller offers a unique dining experience with its traditional Saxon cuisine. Try the famous Sauerbraten (marinated pot roast) or the hearty Kartoffelsuppe (potato soup) for a taste of authentic German flavors.
2. Zum Schießhaus: This cozy restaurant with a beer garden is a favorite among locals. Enjoy a variety of German dishes made with fresh, locally sourced ingredients. Don't miss their mouthwatering schnitzels and homemade desserts.
3. PulverTurm: Situated in the trendy Neustadt district, PulverTurm serves up innovative fusion cuisine combining German and international flavors. The restaurant's modern and stylish atmosphere sets the stage for delightful culinary creations.
4. Bülows Bistro: Nestled in the heart of Dresden's historic center, Bülows Bistro offers a menu inspired by regional and Mediterranean cuisine. Enjoy their seasonal dishes, accompanied by a selection of fine wines.
5. Kurfürstenschänke: Step into this charming beer garden and restaurant near the Elbe River for a taste of traditional Saxon dishes. From hearty sausages to creamy potato salads, Kurfürstenschänke showcases the best of regional cuisine.
6. Shiro i Shiro: Craving something different? Shiro i Shiro is a popular Japanese restaurant in Dresden, known for its delicious sushi and other Japanese specialties. The cozy interior and attentive service add to the overall dining experience.
7. Curry & Co: For a quick and tasty bite, head to Curry & Co, a local favorite for currywurst, a classic German street food. Choose from a variety of sauce options for your sausage, then savor the flavors as you enjoy a quick meal on the go.
These are just a few of the many culinary delights that await you in Dresden. Whether you prefer traditional German dishes or international cuisine, Dresden's restaurants have something to satisfy every palate. So, be sure to embark on a culinary journey and discover the flavors that make Dresden a gastronomic delight.
Where to Drink
Dresden offers a lively and diverse drinking scene, with a range of bars, pubs, and cafés where you can relax, unwind, and enjoy a beverage. Here are some top recommendations for where to drink in Dresden:
1. Pfund's Molkerei: Known as the most beautiful dairy shop in the world, Pfund's Molkerei is a must-visit for milk lovers. Enjoy a refreshing glass of milk or indulge in a milkshake, surrounded by the stunning Art Nouveau interior. Don't forget to admire the intricate hand-painted tiles that adorn the walls.
2. Raskolnikoff: Situated in the trendy Neustadt district, Raskolnikoff is a cozy bar and café that exudes a unique and eclectic atmosphere. Sip on a craft beer, enjoy a glass of wine, or try one of their specialty cocktails while immersing yourself in the artistic ambiance.
3. Karl May Bar: Step back in time at the Karl May Bar, an elegant lounge inspired by the famous German adventure writer. This sophisticated bar offers a wide selection of spirits, including whiskey and rum. Indulge in their carefully crafted cocktails while enjoying the refined décor.
4. Altes Wettbüro: Located in the Neustadt district, Altes Wettbüro is a popular bar that attracts a diverse crowd. Enjoy the laid-back atmosphere, sip on a beer, and groove to the live music or DJs who often perform here. It's the perfect spot to connect with friends and experience the local nightlife.
5. Schillergarten: Situated in a beautiful garden setting, Schillergarten is an idyllic beer garden where you can relax and enjoy a cold brew. Choose from a variety of regional and international beers and savor the flavors as you soak up the natural surroundings.
6. Café Europe: This cozy café in the heart of Dresden offers a choice of coffees, teas, and delicious pastries. Sit back, relax, and enjoy a cup of coffee while taking in the views of the city's bustling streets.
7. Saxoniabar: For a taste of Dresden's nightlife, head to Saxoniabar. Enjoy the vibrant ambiance, delicious cocktails, and a wide selection of spirits. Dance the night away or simply relax and socialize with friends in this energetic bar.
These are just a few of the many options for where to drink in Dresden. Whether you're in the mood for a cozy café, a trendy bar, or a traditional beer garden, Dresden has something to cater to your taste. So, raise a glass and toast to a memorable time in this vibrant city.
Where to Shop
Dresden is a shopper's paradise, offering a wide range of shopping opportunities, from trendy boutiques to traditional markets. Whether you're looking for fashion, souvenirs, or unique finds, here are some top recommendations for where to shop in Dresden:
1. Prager Straße: Located in the heart of Dresden, Prager Straße is the city's main shopping street. Here, you'll find a mix of international chain stores, department stores, and local shops. From fashion and accessories to electronics and home goods, Prager Straße has something for everyone.
2. Altmarkt-Galerie: Situated near the historic center, Altmarkt-Galerie is a modern shopping mall that houses a variety of shops and boutiques. Browse through the latest fashion trends, explore specialty shops, and enjoy a break at one of the many cafes and restaurants within the mall.
3. Neustadt District: The Neustadt district is known for its alternative and bohemian vibe, offering a plethora of unique and independent shops. Wander through the lively streets and discover vintage stores, design shops, and local artisans selling handmade goods and crafts.
4. Old Town Market (Altmarkt): If you're looking for a traditional shopping experience, visit the Old Town Market, located at the historic Altmarkt Square. This bustling market offers a mix of local produce, artisanal food products, flowers, and crafts. It's the perfect place to pick up authentic souvenirs and immerse yourself in the local culture.
5. Kunsthofpassage: While primarily known for its artistic courtyards, Kunsthofpassage is also home to a variety of unique shops and boutiques. Discover local designers, handmade jewelry, and quirky gifts as you explore the charming alleyways of this artistic ensemble.
6. Königstraße: Located near the Frauenkirche, Königstraße is a popular shopping street lined with a mix of upscale boutiques, designer stores, and specialty shops. Browse through upscale fashion, accessories, and luxury items as you enjoy the elegant surroundings.
7. Christmas Markets: If you're visiting Dresden during the holiday season, be sure to explore the city's enchanting Christmas markets. The Striezelmarkt, Germany's oldest Christmas market, is a must-visit, offering a range of festive decorations, handicrafts, and delicious treats.
These are just a few of the shopping destinations that Dresden has to offer. Whether you're in search of fashion, unique gifts, or local treasures, Dresden's diverse shopping scene will fulfill your retail desires. So, put on your walking shoes and get ready to explore the city's vibrant shopping districts.
Nightlife in Dresden
When the sun sets, Dresden's nightlife comes alive with a variety of options to suit every taste. From cozy pubs and trendy bars to lively clubs and live music venues, the city offers a vibrant and diverse nightlife scene. Here are some top recommendations for an unforgettable night out in Dresden:
1. Neustadt District: The Neustadt district is the epicenter of nightlife in Dresden. This bohemian and alternative area is packed with bars, pubs, and clubs, catering to all musical tastes and styles. Explore the narrow streets, discover hidden gems, and enjoy live music performances, DJ sets, and local bands.
2. Alaunstraße: Located in Neustadt, Alaunstraße is a popular street lined with bars and pubs, known for its lively atmosphere. Join the locals as they gather here for drinks, conversations, and a vibrant social scene. From craft beers and cocktails to traditional German brews, you'll find a wide range of options to quench your thirst.
3. Groove Station: Step into Groove Station, a popular nightclub known for its diverse music selection. From hip-hop and R&B to electronic beats and indie tunes, this club caters to a variety of musical tastes. Dance the night away on the spacious dance floor or relax in one of the cozy lounges.
4. Katy's Garage: If you're a fan of rock, punk, and alternative music, Katy's Garage is the place to be. This iconic live music venue hosts regular concerts and themed nights, showcasing both local and international bands. Get ready to headbang and enjoy the energetic atmosphere.
5. Filmnächte am Elbufer: During the summer months, don't miss the Filmnächte am Elbufer, an outdoor cinema festival held along the banks of the Elbe River. Grab a blanket, sit under the stars, and enjoy a movie screening, live music performances, and a lively atmosphere.
6. Blue Note Jazz Club: For a more laid-back and sophisticated evening, visit the Blue Note Jazz Club. This renowned jazz venue hosts talented musicians who perform a variety of jazz styles, from classic to modern interpretations. Sit back, relax, and let the soothing sounds of jazz wash over you.
7. Club Paula: Located in the Neustadt district, Club Paula is a popular electronic music venue known for its underground and techno scene. Dance the night away to the beats of local and international DJs, and experience the electrifying energy that fills the air.
Whatever your nightlife preferences may be, Dresden has something to offer for everyone. From energetic club nights to cozy pub evenings, the city's vibrant nightlife will ensure that you have an unforgettable experience after dark.
Practical Information
Before you embark on your weekend adventure in Dresden, here are some practical tips and information to help you make the most of your trip:
1. Currency: The currency in Germany is the Euro (€). Be sure to have some cash with you for small purchases as not all places accept credit cards.
2. Language: The official language of Dresden is German. While many locals speak English, it's always helpful to learn a few basic German phrases or carry a translation app.
3. Weather: Dresden has a moderate climate, with warm summers and cold winters. Check the weather forecast before your trip and pack accordingly, especially if you plan to engage in outdoor activities.
4. Transportation: Dresden has an efficient public transportation system, including trams, buses, and trains. Consider purchasing a Dresden City Card, which offers unlimited access to public transportation and discounts on various attractions.
5. Safety: Dresden is generally a safe city to visit, but it's always wise to take precautions and be mindful of your surroundings. Keep an eye on your belongings in crowded areas and be cautious when walking alone at night.
6. Opening Hours: Most shops and attractions in Dresden are open from Monday to Saturday. However, smaller shops and museums may have shorter opening hours on Sundays or Mondays. It's a good idea to check the specific opening hours of the places you plan to visit.
7. Wi-Fi: Wi-Fi is widely available in hotels, restaurants, and cafes in Dresden. However, if you need constant internet access, consider purchasing a local SIM card or using a portable Wi-Fi device.
8. Tipping: In restaurants and cafes, it's customary to round up the bill or leave a 5-10% tip if you're satisfied with the service. Tipping is also appreciated for taxi drivers and hotel staff for exceptional service.
9. Cultural Etiquette: Germans value punctuality and it's considered polite to arrive on time for appointments and reservations. When greeting someone, it is customary to shake hands and maintain eye contact.
10. Emergency Numbers: In case of an emergency, dial 112 for medical assistance, fire, or police.
By familiarizing yourself with these practical tips, you'll be well-prepared to navigate Dresden and enjoy a smooth and memorable trip. So, pack your bags, get ready to explore, and embrace the beauty and charm of this captivating city.
Conclusion
Dresden is a city that truly captures the heart and imagination of its visitors. With its rich history, stunning architecture, vibrant arts scene, and beautiful outdoor spaces, it offers a perfect blend of culture, beauty, and adventure. Whether you're exploring the historic center, immersing yourself in the art and culture scene, indulging in the local cuisine, or enjoying the lively nightlife, there's something for everyone in Dresden.
From the iconic Frauenkirche to the grand palaces and museums, Dresden's historic center is a testament to the city's rich heritage. The art and culture scene is equally captivating, with museums showcasing masterpieces from different eras and the vibrant Neustadt district giving voice to local artists. The city's natural beauty shines through its parks, gardens, and the stunning Elbe River, offering countless opportunities for outdoor activities and exploration.
When it's time to refuel, Dresden's culinary scene tantalizes taste buds with a mix of traditional German cuisine and international flavors. From cozy local pubs to upscale restaurants, there's something to satisfy every palate. In the evening, Dresden comes alive with its lively nightlife, offering a variety of bars, clubs, and music venues to enjoy.
As you wrap up your weekend in Dresden, you'll be left with memories of the city's charm, its warm-hearted people, and the sense of timelessness that permeates its streets. Whether you're a history enthusiast, an art lover or simply seeking an unforgettable getaway, Dresden is truly a gem worth exploring. So, pack your bags, immerse yourself in its beauty, and get ready to embark on a journey that will leave you longing to return.