Zell Am See, Austria: Everything To Know Before You Go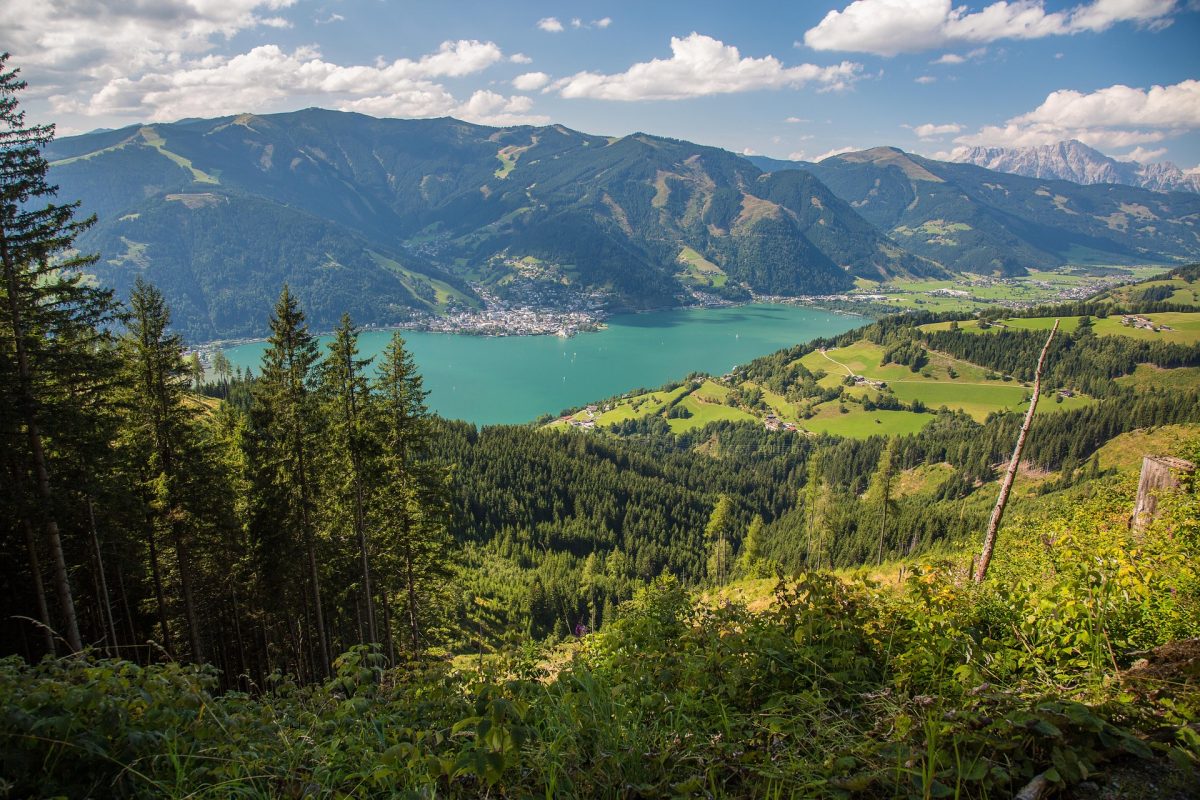 Austria is the perfect European haven. Castles, lakes, mountains, a wonderful culture – this land has it all. But if this country were to have a crowning gem, it has to be Zell Am See. Tucked away from the rest of the world, Zell Am See is a cosy nook. This small Austrian town embodies European relaxation in the perfect Alpine setting. For a wide-eyed tourist traversing through Austria, Zell Am See is a must-visit.
You may wonder – what could this town possibly have to offer? Besides its idyllic beauty, Zell Am See offers much to the tourist. In fact, you would be surprised by the holiday adventures that it has in store. Sparkling lakes, relaxing spas and exciting sporting events- Zell Am See is a revelation. Keep reading to watch how the beautiful little town unfolds.
Zell Am See: Back In Time
Zell Am See has a population of around 10, 000. But do not let that fool you. Millions arrive every year to soak in its beauty. However, Zell Am See received its city status less than 100 years ago. Back when it was founded as a village in 740 AD, it was named Cella in Bisonzio. Cella meant a monastery, referring to the village's monastic peace. Binsonzio, on the other hand, stood for its location in the Pinzgau region.
It was only named Zell Am See in 1810. Zell Am See literally means "on Lake Zell". Lake Zell is one of the top sights in Austria and also houses the quaint city on a small delta. Initially, Zell Am See was just a market town, a locality of farmers. But that changed in 1875 when the Salzburg-Tyrol railway opened.
Tourism grew overnight and Zell Am See was recognized as a city in 1928. Today, the Zell Am See – Kaprun hub forms an important tourist destination with much to offer. When it comes to natural scenery, Zell Am See is one of a kind. Here are some of the sights that will make your Austria trip unforgettable.
Lake Zell: Blue-Er Than Blue
One of the cleanest lakes in the world, feel free to take a sip or two. The water of Lake Zell is actually of drinking standards!
Between Zell Am See and Kaprun, Lake Zell is surrounded by the majestic peaks of Schmittenhohe and Kitzsteinhorn. The view of the Alps is certainly breathtaking. You can take a walk around the lake to see this part of nature at its best. Beautiful growths of buttercups and daisies, the sound of happy crickets and snowy Zell Am See mountain – it's a European wonderland.
The lake itself is one of the warmer ones in Europe. After all, it is formed from an underwater spring. This makes swimming a delightful activity in Lake Zell. Besides, it also teems with underwater life.
Lake Zell is particularly enjoyable during summer. Summer activities such as paddling, kayaking, sailing and swimming team up very well with the warm, refreshing waters of Lake Zell. Or you can also just lounge by the lake and take in the Alpine beauty.
As for entertainment in Lake Zell, it is impossible not to mention the Zell Am See Lightshow. It takes place 3 times a week from 16th May to 15th October and every minute of it is worth it. The dancing beams of light and water, coupled with music, is a spellbinding experience that only the Zell Am See Lightshow can offer.
Schloss Rosenberg: A Storybook Castle
When in Austria, why not indulge in its fine history? Zell Am See offers a good serving of the city's historic past. Located in the center of Zell Am See, Schloss Rosenberg is hard to miss. A bright white, four-storied chalet with a slated roof and 5 towers, it stands out among all other establishments. But the style of the castle is true to Salzburg's architecture.
Schloss Rosenberg dates back to 1583 when it was built by two brothers, Hans and Karl Rosenberg. It had stayed within their family for centuries until it was resold several times. Finally, since 1970, the castle is the seat of mayor and city council.
Schloss Rosenberg is also a popular wedding venue in Austria. So, if you are looking for a destination wedding in a European setting, perhaps this 16th-century castle will fit the bill. Besides, this historic structure is surrounded by a castle garden and castle park. Beautiful green shrubberies certainly enhance the beauty of the Rosenberg.
Eisriesenwelt (Werfen): Magical Yet Real
Cavernous and icy, Eisriesenwelt is a spectacle that you must see when in Austria. A tour through this ice cave is sure to make your trip a very memorable one! In German, Eisriesenwelt literally means "The World of Ice Giants". And we can't think of a more apt name. It is the largest ice cave in the world and thousands of tourists flock in every year into the cave. The towering sight of the cave never fails to inspire awe.
This cave rose out of Austrian lore into reality. In spite of hanging icicles and freezing temperatures, ironically, Eisriesenwelt was thought to be the entrance to hell. For centuries, Austrians didn't dare enter this cave of the unknowns. Finally, in 1879, Anton Posselt trekked through the entirety of the cave. And since the 1920s, with paths being built around, it has been gaining popularity as a tourist destination.
Eisriesenwelt lies beneath the Hochkogel Mountain in Styria which is around 70 km from Salzburg. It's only an hour's train ride from Zell Am See to Werfen. From Werfen, you can grab a bus to the Eisriesenwelt visitor centre, reaching the cave in less than 15 minutes. Do remember, the cave is closed to visitors during winter. However, it is open every day of the week from 1st May to 26th October.
Schmittenhöhe: High Atop Zell Am See
If you are in Zell Am See, Austria, it is impossible to not have heard of Schmittenhöhe. The local Zell mountain offers a breathtaking view of the Alpine sceneries.
Schmittenhöhe is perhaps the most versatile destination in Austria. There is much to see and do in both summers and winters. For instance, the ski pistes in the area are more varied than anywhere else in the country. Easy or challenging, experienced or novice, you can pick your slope of choice.
During the summers, hiking and mountaineering are at their peak in Schmittenhöhe. Guided tours can show you an astonishingly beautiful view of 30 summits that surround the Zell Am See mountain. These nature hikes are also a great way of spending quality family time.
Winter Wonderland: Activities During Winter
Zell Am See is home to plenty of winter adventures. You can start by checking in the Tauern Spa, famous among Zell Am See hotels. The warm temperatures here will certainly put you at ease. You can then move onto skiing.
There are some wonderful ski resorts all over Zell Am See. And the slopes at Schmittenhöhe- blue, red and black- will spoil you for choice. If you prefer something less demanding, you can always go paragliding across the mountain.
Summer Splash: Activities During Summer
Zell Am See is brimming with summer activities. Lake Zell, for instance, is known for its summertime water sports. For those of us less sporty, you could just go boating or even lounge by the lake. If you'd rather head to the mountains, you can go on a hiking tour or a mountain bike tour. You might even swing your club at the Zell Am See-Kaprun Golf Club to add to the fun.
Getting To Zell Am See
We understand if you are ready to check into one of the Zell Am See hotels and experience the city for yourself. Here's how you can get to this idyllic location in Austria. You can arrive in Zell Am See via train or car. The train is a particularly convenient option as the Zell Am See Train Station is very well-connected. You can reach Zell Am See from any of the train stations within Austria. If you will be going from Munich in Germany, you can take a train from Munich to Salzburg and finally Zell Am See.
You can follow a similar route by car. Munich to Salzburg and Zell Am See takes approximately 2.5 hours. You can take the German motorway A9 from Munich and cross the borders into Austria. If you will be going from Salzburg itself, you can choose either of these routes: the Tauernautobahn motorway or the Deutsche Eck. Now that you know how to get to Zell Am See, why wait any longer? Beautiful Alpine pastures, towering spikes of ice and adventurous slopes – this here is a trip that seems to have it all.
So, wake the wanderlust and pack your bags. Discover the quaint European city of Zell Am See and treat your eyes to a view that shows the best of nature. This is the picture-perfect Austrian holiday that you will remember for a lifetime.