10 Most Amazing Things To Do In Salzburg, Austria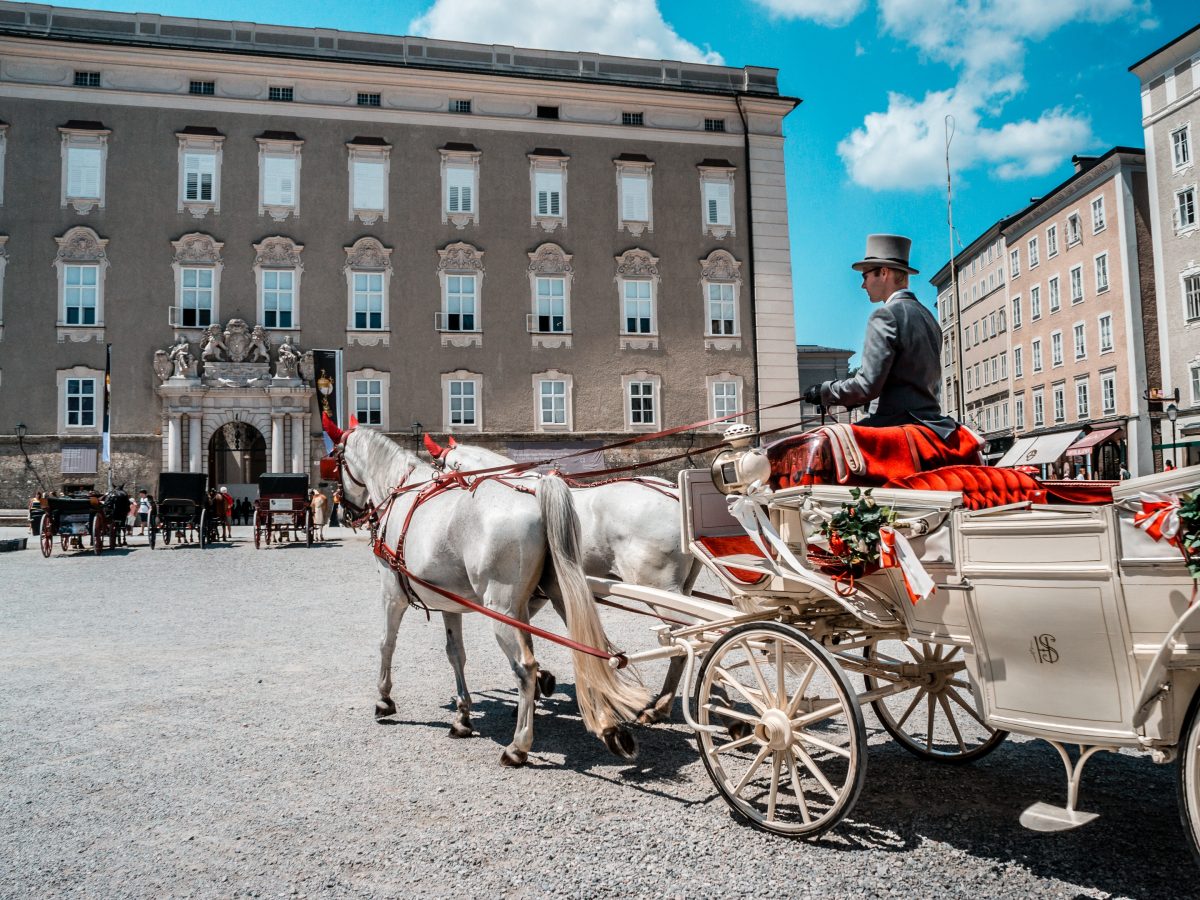 Salzburg, Austria — 'The City of Music' is one of the biggest and most charming cities in Austria. As much as you would like to explore the imperial sights and enjoy a drink in a cozy wine tavern in Vienna, let's not forget about Salzburg. Located just over an hour's drive away from its neighbouring city, Munich, Salzburg is a perfect gateway for you to immerse yourself in the music, rich history and enjoy some scrumptious Austrian food.
Apart from its Bavarian roots, Salzburg possesses some of the most beautiful baroque architecture accompanied by its majestic Salzburg Alps. Most importantly, this gorgeous Austrian town is most famous for being the birthplace of the classical composer, Sir Wolfgang Amadeus Mozart.
While there are a wide variety of attractions available in Salzburg from museums to the breathtaking Alps, Mozart's music doesn't seem to be parted from this city. Especially since Mozart's triumph is greatly reflected in Salzburg especially during the music gatherings. Trust us, there are a million reasons for you to extend your holiday at this UNESCO Heritage site of Salzburg. Plus, if you have an old soul for the classic film 'The Sound of Music', you definitely don't want to miss out on the signature filming sites in Salzburg.
Since some of you are puzzling about what to do in Salzburg, we curated some of the most interesting things to do in Salzburg. So, stop scratching your head and start taking notes now.
Getting There
There is no simpler way to travel to Salzburg than taking a direct flight. You'll find many airlines offering flights ranging from low-cost airlines like Ryanair and EasyJet or giant airlines like Lufthansa, Airberlin, and British Airways.
However, if you're planning to make a short visit from its neighbouring cities like Munich or even from Vienna, the best way to travel here is by the high-speed train. It's convenient, cheap and it won't take much traveling time.
1.
Gaze the city view from Salzburg Fortress
Trust us, no one leaves this city without visiting the Salzburg Fortress. Otherwise known as Hohensalzburg Castle, this 900-years old fortress rest gracefully on the cliff of Festungsberg Hill. Ever since its establishment during the early 1000's, this fortress has undergone many transformations. From the additions of cable cars to railways, you'll easily spend most of your time here exploring this historical castle. Although there are many attractions here in Salzburg, with over 1.3million visitors annually, Hohensalzburg castle serves to be the major landmark in this city. Despite its spectacular outlook, this castle also sustains a rich history. As one of the oldest and largest castles in Central Europe, this centerpiece of Salzburg city has clearly made a name for itself.
One of the key features of Hohensalzburg is the 8-acre complex consisting of the sunlit courtyards and cloisters surrounding the castle. In many other rooms within this castle, there are many displays of ancient artifacts and traditional icons. We recommend getting the all-inclusive ticket for the access pass to the Golden Chamber, mainly for its impressive gothic wood cravings. Otherwise, head to the Golden Hall for the gold-stud ceiling mimicking stars in the sky.
Don't forget to sign up for the audio guide tour that starts inside the fortress gate and ends at the famous "Salzburg Bull". Never leave this castle without taking a panoramic look of the stunning Salzburg city view over the Salzburg Alps. Also, don't forget to bring your camera for the perfect Instagram shot and avoid coming here during the rainy season. Trust us, it's not worth it.
Pro Tips: It is free entry for all Salzburg card users. While the audio tour runs daily at 7 a.m., 11 a.m., and 6 p.m. respectively. Book an early bird ticket online for a 20% discount on tickets.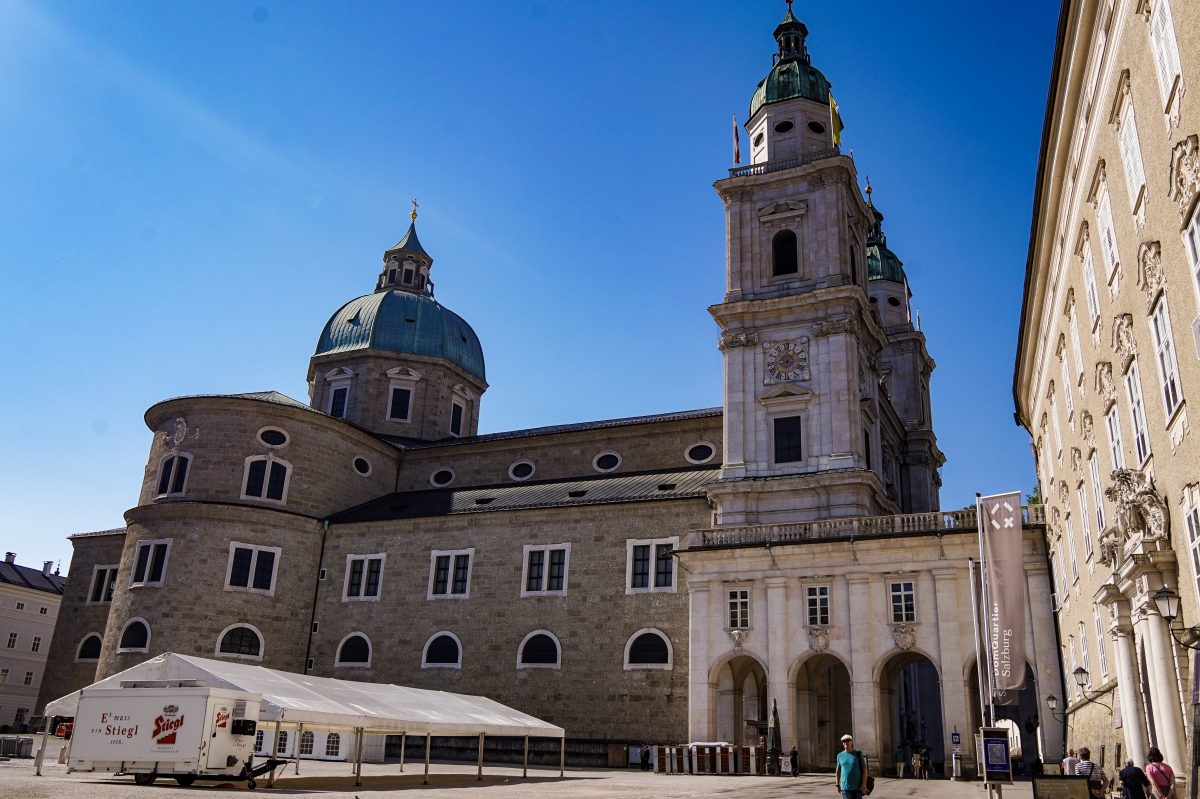 Believe it or not, Salzburg Cathedral (Dom zu Salzburg) marks the beginning of this city. As the most sacred building in the city, Salzburg cathedral welcomed more than two million visitors each year. Earning its title of the most-visited landmark in Salzburg.
Standing still in the heart of Salzburg, this cathedral has been scarred tremendously during the World War. One of it being the turquoise roof-top that pierce through the city skyline was once burnt into ashes during the warfare.
Throughout history, this cathedral underwent three times of intense restoration and its baroque-style architecture plays a vital factor for your visit. Regardless of your interest in religion, its rich histories and the gothic architecture is sufficient to persuade you for a visit.
Upon entering the cathedral, take a minute to look at the Cathedral's facade. At the entrance gate, spot the three divine virtues— Love, Hope, and Faith with dates carved to commemorate the consecrate date of the Cathedral. Before leaving, marvel the dome where 16 different murals painted on the wall, each illustrating the scenes from the Old Testament.
Pro Tips: The cathedral opening changes monthly. While the Cathedral entrance is free, we recommend giving a donation upon any entry. The crypt in the church only opens if there are not many tourists visit during the day.
3.
Take a Stroll at Mirabell Palace and Gardens
Mirabell Palace a.k.a the Jewel of Salzburg is a heritage monument that was built back in 1606. The whole compound is segregated into three main parts including the actual palace, marble hall, and the garden. Among all, the Marble Hall and the gardens are many traveler's favorites. Mainly because of its colorful garden landscape and the classical atmospheric in the hall.
The Marble Hall, formerly a banquet hall of the prince-archbishops, is actively known as the "most beautiful wedding halls in the world." Besides hosting weddings, this place is used regularly for conferences, awards ceremonies, and even concerts. Beyond the colorful flowers, the highlight of Mirabell Gardens is the stunning fountain that adds a touch of grandeur to the garden. Spot the 'Pegasus Fountain' featuring a sculpture of a horse and the 'Grand Fountain' highlighting the four elements— air, fire, earth, and water.
Pro Tips: Visit Mirabell palace and gardens in the morning for your perfect Instagram photo as it's peaceful and quiet. By the afternoon, the gardens will transform into a gathering hub for both locals and tourists.
4.
Salzburg Old Town (Altstadt)
Salzburg Old Town or Altstadt is a perfect starting place in Salzburg. Sprawling with many historical buildings, alpines and bustling market squares, this old town is great for exploration and also for relaxation. Since most of the main sights are concentrated at Altstadt, thus sightseeing is fairly convenient. Take a break to savor some delicious Austrian treats, then continue traversing the Salzburg city.
Since Salzburg is part of the UNESCO World Heritage, the buildings here remains the same as it is before the civilization. One of the unique charms about Altstadt is the narrow cobblestone streets, possessing distinctive architectures from different centuries. If you love histories and architecture even more, here's where you need to be right now!
If not, go open-air shopping at the old town. Alternatively, wriggle through the narrow back alleys for a coffee or two. We recommend Cafe Am Kai located just right across the Salzach River, it's a friendly quiet spot that the local loves. Alternatively, try out the best Schnitzel in town at Restaurant Triangel not too far from the Universitätsplatz, Salzburg.
5.
Explore Mozart's Birthplace Museum (Mozart's Geburtshaus)
It's a shame not to learn more about Mozart, especially you're in Salzburg. While the internet can provide you with all the information about Wolfgang Amadeus Mozart, nothing compares to experiencing it in real life. If you're looking to tour the essential sights of Salzburg, we recommend stopping at Mozart's Birthplace or (Mozart Geburtshaus).

Here at Mozart's birthplace converted to a museum displays a plethora of his childhood memoir. Born on the third floor of this property, Mozart resided here with his family until the late 17th. One of the highlights is the interesting artifacts left from Mozart's early life. These include Mozart's childhood violin, portraits, family letters, and musical composition.
However, if you have to choose between Mozart's Geburtshaus and Mozarts Wohnhaus, Geburtshaus perhaps is more interesting.
Pro Tips: The opening hours for this attraction starts at 9 a.m. to 5.30 p.m. daily. Salzburg Card user enjoys free entry to this Mozart's Birthplace.
6.
Shopping spree at Getreidegasse
Not too far from Altstadt, Getreidegasse is possibly the most happening place in Salzburg. Originally is nothing but a common cobblestone street, now you'll find luxury fashion brands like Gucci along the street. Despite its enticing shops with iron guild signs, many shops lead to romantic passageways and courtyards.
Disguising it from any other famous shopping street, these passageways became a certain architectural flair to Salzburg. If shopping is not your thing, grab a seat at 'EISL EIS' serving the best gelato in town. We recommend trying their 'Chilli mango' flavor and the 'Rosemary Blueberry', they pack a punch.
7.
St. Peter's Abbey and Cemetery
St. Peter Abbey is not like any other cathedral or church. Although it shares similarities with Salzburg Cathedral particularly on the architecture, the Abbey is the oldest monastery in the German-speaking world. While the premises itself is stunning, the most notable part of this church is the cemetery.
Dating its history, St. Peter Abbey was known for its educational triumph. Even now, its ascendancy pursues and it houses Austria's oldest reading materials including manuscripts dating at 734 AC. Besides its similarities of frescos biblical paintings and turquoise dome-like in Salzburg Cathedral, the intricate golden vines encrusting the pillars is a major distinction.
Before heading to the cemetery, spare a few minutes to explore the catacombs. Built by the early Christians, these mystical caves were used as shelters for early settlers in Salzburg. Head to the Maximus Chapel for a panoramic view of the cemetery and for Salzburg's city skyline. Those little steps are going to worth every minute of your time.
Unlike many other cemeteries, St. Peter Abbey's cemetery houses some of the wealthiest and notable families in Salzburg's history. That includes the elder sister of Mozart, Salzburg's mayors, and many other politicians. One of the first things you'll notice is the beautifully manicured boxes of flowers that brighten up the atmosphere. If you're up to an adventure, there's a cemetery tour available waiting for you.
8.
Admire the Hellbrunn Palace (Schloss Hellbrunn)
Over 400 years of history, Hellbrunn remains unchanged and its charms continue to spread even modernization hit on us. The palace was built over the natural springs surrounded by vast gardens and fountains. While many travelers seek the 'Sound of Music Gazebo' here, the trick fountains should not be slip upon.
There are also a few stunning grottoes around the compound, featuring deception illusions and trickeries. For instance, mechanism, reflections of an object, bird's chirping sounds and more. What's more fascinating is that the complex mechanism still works as it used to be. In addition, if you're traveling with kids, your children will have an endless day there.
Pro Tips: Bring a rain jacket so you don't get wet from the fountain sprinklers.
9.
Hike the Gaisberg Mountain
Austria is known for its breathtaking Alps, while Salzburg is nonetheless. Located in the east of Salzburg, 20 minutes drive from the city center, Gaisberg is a great escape from the bustling city. The hiking path on Gaisberg ranges from 15 minutes and up to 3 hours depending on the track you choose.
While the hike itself is simply straightforward and easy, you'll find many adrenaline-filled activities available at the mountain. From paragliding to mountain biking or just simply taking your time to enjoy the spectacular view of Salzburg is absolutely rewarding. If you don't drive, head down to Mirabell Palace just outside of the palace, you'll find buses that'll take you to the alps.
10.
Drink at Salzburg's Beer Halls
Like Germany, the beer culture in Austria is equally significant. Little do you know, Salzburg is home to many great collections of beer halls. Regardless if it's summer or winter, beer culture in Austria never seems to dwindle. While the locals would recommend the historical Stiegl Brewery, the Augustiner Bräustübl Tavern is equally good too.
If the weather is good, head down to Sternbraeu on the West side of Old Town to enjoy the local brew beers at an outdoor beer garden. The best part, the beers here in Austria are cheap. It ranges from 1.2USD (1€) to 3.4USD (3€).
Tourist Secrets
Salzburg Cathedral is where Sir Wolfgang Amadeus Mozart and 'Silent Night' composer Joseph Mohr was baptized.
All seven bells at Salzburg Cathedral has their own name. It's named according to its size and the smallest one is Barbara.
"The Sound of Music" was filmed all across Salzburg including the Mirabell Gardens, Stift Nonnberg, Frohnburg Palace, Felsenreitschule, Leopoldskron Palace and Nonnberg Abbey.
Salzburg literally means 'Salt City' in Austrian-German.
Your favourite energy drink— Red Bull is from Salzburg, Austria to be precise.