Cycling the Death Road in Bolivia: Is it Worth the Risk?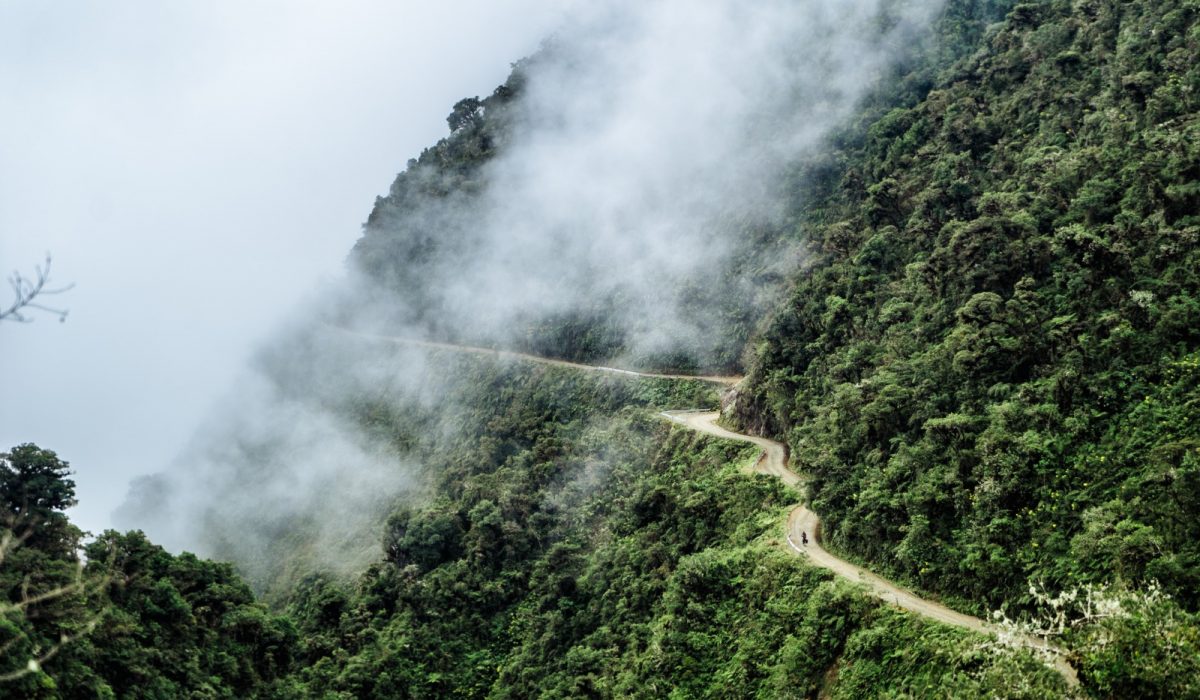 Mention South America and the Amazon Rainforest immediately comes to mind. Being the largest rainforest in the world, it's truly an amazing sight to see at least once in our lifetime. Even though almost 60% of the forest is part of Brazil and its biodiversity starts in Peru, Bolivia also has a fair share of the rainforest. In fact, the country offers such a breathtaking way, figuratively and sometimes literally, of getting into the forest — via the Death Road in Bolivia!
Without a doubt, the Death Road in Bolivia is such a dangerous road. But with the enchanting natural beauty surrounding it and knowing that the verdant Amazon jungle awaits at the end of your journey, is taking this infamous route really worth the risk?
But before stuffing your cool backpack for a thrilling cycling adventure on the Death Road in Bolivia, let's first find out what you're getting yourself into.
What makes the Death Road in Bolivia famous?
A perilous road that reaches around 4,650 meters and stretches up to almost 80 kilometers, the North Yungas Road was not just dubbed as the Death Road in Bolivia for nothing. In the 1930s, the Paraguayan Prisoners of War constructed it to connect the capital city of La Paz to the Amazon Rainforest.
Over the years, countless overloaded buses and trucks that carried people and goods perished because of these narrow and craggy terrains that also lack guarded rails. With this, in 1995 the Inter-American Development Bank named the Death Road "The World's Most Dangerous Road". One unforgettable fatality happened in July 1983 when a bus skewed off the cliff and killed more than 100 passengers. That's why it is dotted with crucifix and altars to remember the demised.
But can you go to the Amazon Rainforest without crossing the Death Road in Bolivia?
Most people maximize their South American trip by including the Amazon Rainforest in their itinerary. However, at this point, you might be thinking to just cross that out because the Death Road in Bolivia might take you to the afterlife instead of the Amazon Rainforest. Fortunately, Bolivia constructed an alternate route in 2006, which is newer and safer. The Ruta Nacional 3 is an Asphalt road with two driving lanes, guardrails, and a drainage system. With this new road, you can enjoy the view and look forward to your destination without constantly fearing for your life at every turn.
Death Road Bike Tours
While some people just want to visit the Amazon Rainforest, there are also thrill-seekers and daredevils who want to experience a hair-raising adventure at the Death Road. In fact, there is an array of tour companies that you can book a mountain biking tour from. However, just be cautious since you will only get what you paid for. Considering the danger of traversing the Death Road, you should not risk your safety by booking the cheapest option from shabby tour companies. Instead, head to the Find Local Trips website, and choose from the various reputable tour companies in Bolivia that offer Death Road tour. Most of the tours range from US$65 to US$125.
The most expensive Death Road tour is from Gravity Bolivia (starts at US$125). Since they are the oldest operating tour company and a consistent Trip Advisor Hall of Famer, you are not only paying for the electrifying experience, but also for your peace of mind. They boast more than 20 years of experience in allowing thrill-seekers to explore the Death Road with premier guides who are trained in first-aid and rope rescuing. Also, unlike other tour companies who rely on the number of joiners to push through with a tour, Gravity Bolivia guarantees departures every day.
But if you are looking for a more affordable Death Road Tour without sacrificing your safety, you can book at Barracuda Biking (starts at US$65). They also conduct safe Death Road tours with highly-trained guides in first aid and rope rescuing. It's just that they are just new in the industry and only started operating six years ago.
What to Expect in the Tour
Most of the tours start as early as 6:30 AM and runs for 11 to 12 hours. You can be picked up and dropped off at your hotel or at a predetermined location, too. You will take a van ride to the peak of La Cumbre. Then, you will bike a 64-kilometer long road that will gradually descend from an accommodating and mild trail to steep and rocky trails. But don't worry because you will not cycle for the entire day straight. You will take short breaks to take photos and appreciate the sceneries. You will also notice how your photo backgrounds will change during the course. From the picture-perfect snow-capped Andean peaks, you will end up with a verdant Amazon jungle.
You will also make a stopover at the Yolosa Village. Here you can find the La Senda Verde Animal Refuge, where you will have pasta and salad lunch while also meeting friendly monkeys and over 50 endangered species. Or you might opt to take a dip in a natural pool or a hot shower in a local sculptor's residence. But if you want to do another adventure, you can also take a gripping zip line at Zzip The Flying Fox.
After this, you will finally head back to the capital. Or if you are planning to head to another city, the tour company may arrange a taxi ride for you.
Where to stay in La Paz
Since most of the tour companies are starting the tour from the capital, La Paz, you can conveniently stay in any of the hotels in the city center.
Price: starts at US$28 per night for two adults
A comfortable three-star hotel, Hotel Sagarnaga in La Paz's tourist district is just a few minutes away from the Witches' Market, souvenir shops, and other tourist destinations. This makes it easier for tourists who also plan on exploring the city aside from joining a Death Road tour. When you book your hotel room, a complimentary breakfast is already included. Apart from the usual bread and fruit breakfast, you can also sip on the Bolivian-grown coffee before starting your stirring adventure. Most of the rooms also have a view of the city. Each room has a private bathroom and cable television, and the wifi is accessible in all areas.
They also have two in-house restaurants, the Cafe del Mundo and El Tambo. The Cafe del Mundo serves all-day breakfast options, as well as international flavors with vegan and vegetarian choices. While El Tambo serves an array of local Bolivian favorites. You can also find a sky bar, an exercise area, and a travel agency in the lobby.
Rate: starts at US$152 per night for two adults
Casa Grande Hotel is a world-class designer hotel in La Paz. Although it's 20 minutes away from Downtown La Paz, it's just five minutes away from the Megacenter Shopping Center of San Miguel Commercial Area. So it gives you a balance of serene retreat and access to the city gems. The hotel also has a spa and a gym to prepare and pamper you for your Death Road adventure. You can also find an indoor pool with a cutting-edge design that will allow you to continue the fun any time of the day. You can also find Yerba Buena Restaurant & Terrace and Puro Gelato and Caffé that can fuel you up before your big day. Meanwhile, the Casabar is the perfect place to celebrate successfully overcoming the Death Road in Bolivia.
Their rooms offer elegance with their parquet flooring, a plush bed with foam headboard, and a bathroom with a bathtub. Aside from that, each room also has a flat-screen television and private balconies with a city view. When you book a room, a sumptuous buffet breakfast is also included.
Tips on Surviving the Death Road Bike Tour
1. Always Check Your Gears
Regardless if you choose the most affordable or expensive tour company, you should make sure to check on your gears. Check your bicycle's breaks, pedal, chainrings, and even the height of the saddle. These are all for your safety, but getting the proper height of the saddle is for your additional comfort. Cycling the Death Road is already uncomfortable, so you can avoid more knee, back, and neck aches by properly setting the height.
2. Stay on the Left Side of the Road
Unlike most countries, you have to stay on the left side when driving in Bolivia. So, when cycling or driving down the Death Road, you have will have to stay at the edge of the cliff. Always look in all directions when you're cycling and be extra careful with the hairpin turns. Make sure to remember this, because there are still trucks using this road to access some remote areas.
3. Wear Weather-Appropriate Clothes
Since the mountain has an elevation of around 4,650 meters, you can expect a drastic change in the weather. From the snowcapped Andean peaks to the verdant Amazon jungle, you have to make sure to wear comfortable clothes suitable for these conditions. For women, you can wear a dry fit long sleeves with workout leggings for flexibility. While for men, you can a tech shirt paired with compression pants. For layering, you can bring with you an ultra-light Merino wool jacket. Then wear your gloves and reliable trainers. Also, don't forget to wear sunscreen, sunglasses, and of course, a microfiber towel and water bottle on your backpack.
4. Be Respectful
This is basic in traveling — be respectful of the place, people, and culture. Always throw your trash in the correct bin and practice sustainable traveling. Bring your own water bottle, utensils, and eco-bags. Smile at strangers and be careful with your tone. Also, be sensitive to the customs of the locals. Perhaps, do research on the table manners and other cultural practices that they do. This way, you are not only learning about their culture, but also letting them know that you respect their culture.
To Sum It Up
Yes, the Death Road in Bolivia is still the world's most dangerous road. But contrary to its gruesome connotation, it's just similar to most accident-prone roads. When the driver is not familiar with the hairpin turns or if the weather is too challenging, accidents can really happen.
With this, it is important that you find the finest and safest tour company that will bring you home in one piece. But remember that this is not just the tour company's job, you also play a vital role because you will pedal your own bike. Make sure to arrive with a sound mind and a healthy body to survive this arduous and electrifying ride. After all, being prepared will always put you at an advantage.