15 Things To Do in Rio De Janeiro, Brazil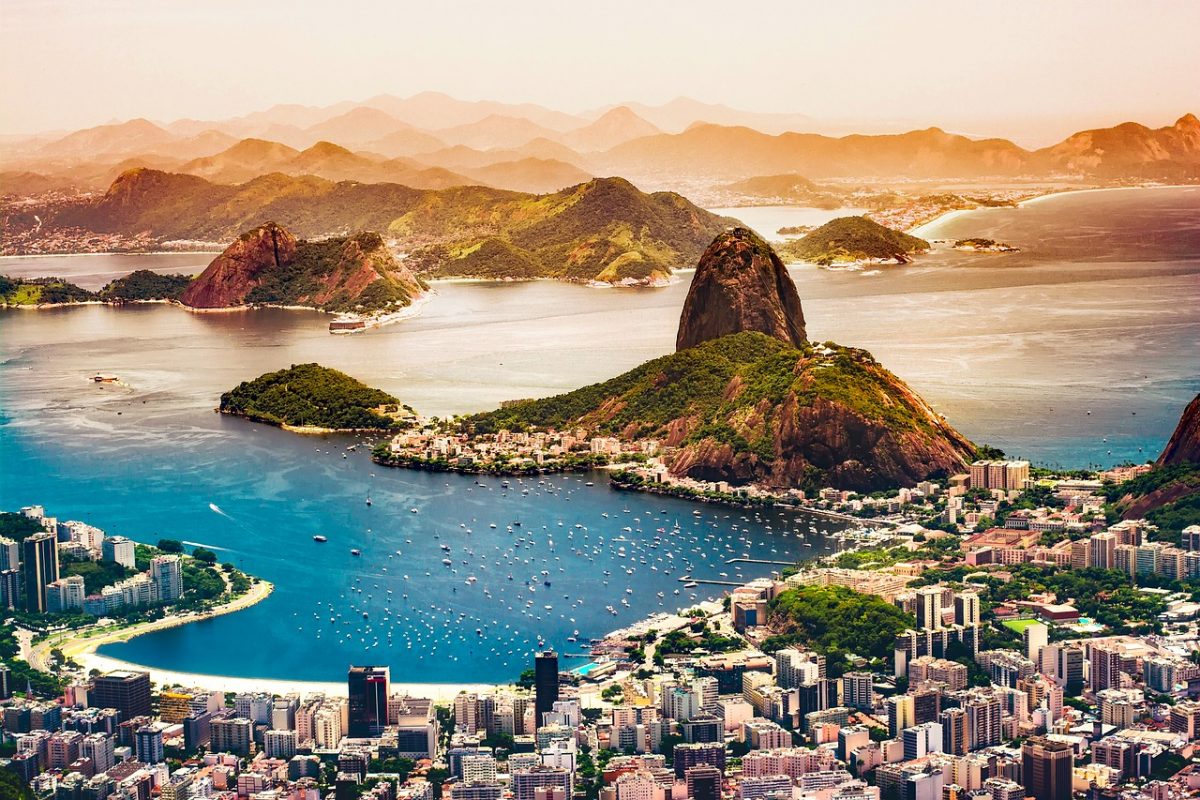 Few big cities offer as much diversity as Rio de Janeiro. Its extraordinary natural setting gives Rio some of the world's best beaches. The surrounding mountains and hills also provide some of the most breathtaking city views.
The city's old history and rich culture have provided Rio de Janeiro with interesting museums and a vibrant street life full of colour and passion. Music and dance is a big part of cariocas (Rio residents) lives, and the city is world-famous for its carnival and New Year's celebrations.
Following the 2014 FIFA World Cup and the 2016 Summer Olympics, both held in Rio de Janeiro, the city has received not only the world's attention but also plenty of investment. New attractions such as the new aquarium, AquaRio and the Museum of Tomorrow have put Rio on top lists of big cities to visit.
Here's a list of 15 great things to do in Rio de Janeiro.
One of Rio de Janeiro's most prominent sights, Cristo Redentor, is an Art Deco statue of Jesus Christ. The impressive statue is 30 meters high and 28 meters wide. It is located at the peak of the Corcovado mountain from where it overlooks the city. A symbol of Christianity, Christ the Redeemer was designated as one of the New 7 Wonders of the World.
The best way to get to the top of Corcovado is by train. The ride is only 20 min. You must buy the tickets in advance and the price includes the round trip in addition to admission to Christ the Redeemer. Tickets cost 79 Reals during the High Season and 65 Reals during the Low Season. For children, the tickets cost 51 Reals for both seasons.
Sugarloaf Mountain is a natural landmark located at the entrance of Rio de Janeiro's bay. Getting on the cable car to the top of Pão de Açúcar will take to one of the most stunning sights you can find in Rio de Janeiro. The 360 degrees view of Rio de Janeiro from the top of Sugarloaf Mountain is simply breathtaking.
Sugarloaf Mountain also has a tourist complex. It includes an auditorium where Brazilian popular music is regularly played, and a section full of restaurants and shops. Ticket price to Sugarloaf Mountain is 110 Reals for one adult. A 50% discount is applied to students, the elderly, and disabled people.
One of the world's most famous beaches, Copacabana Beach is one of Rio de Janeiro's many symbols. The pristine beach is 4 km long and is located in the south zone of Rio de Janeiro. Here, locals welcome the New Year with a fireworks display that is famous worldwide. Around 2 million people gather at Copacabana Beach each year to celebrate New Year's Eve.
There are many bus routes that will take you to Copacabana from different areas of the city. In addition, you can also taker oner of three subway metro stations to get there easily.
Rio de Janeiro's public aquarium is the largest marine aquarium in the whole of South America. Inaugurated in October 2016, AquaRio contains 8,000 animals of 350 different species from all oceans.
AquaRio's main attraction is the Oceanic Enclosure. With 3,5 million litres of water and seven meters of depth, visitors can cross the huge tank through an undersea tunnel. Many fish, rays, and several types of sharks can be contemplated at close range.
AquaRio is located in Gamboa, in the port zone of Rio de Janeiro. Entrance fees for this stunning aquarium are 80 Reals for adults, 40 Reals for children ages 3 to 17.
5.
Rio de Janeiro Zoological Garden
Rio de Janeiro's zoo is located inside the Quinta da Boa Vista Park. It contains a collection of over 1,300 animals of 350 different species. These include endangered species such as the Lear's macaw, the harpy eagle, the broad-snouted caiman, the maned wolf, the golden-headed lion tamarin, the anteater, and the king vulture.
Although most animals are native species of the Amazon Region and other Brazilian regions, the Zoological Garden also includes animals from other parts of the world. The best way to get to the zoo is by taking the subway to São Cristovão Metro Station (Saint Kitts station). The admission tickets for the zoo are 20 Reals for adults and 10 Reals for children ages 3 to 11. For further information on the zoo's many attractions, visit the official website.
Located in Rio de Janeiro's Flamengo neighbourhood, Catete Palace is an urban mansion that was Brazil's presidential palace from 1897 to 1960. It now houses the Museu da República and a theatre.
Catete Palace is a prime example of Brazil's neoclassical architecture. With a stunning pink granite and marble façade, the palace interior's comprises of several luxurious rooms full of French and Brazilian furniture, paintings, and sculptures. The beautiful palace also contains a garden, a café, a bookstore, and a cinema.
The Catete subway station is located next to the palace. Opening hours are from Tuesdays to Fridays from 10 am to 5 pm and from 11 am to 6 pm on Weekends and Public Holidays. Admission tickets cost 6 Reals for adults with free admission given to children under 10 years old.
7.
National Museum of Brazil
The National Museum of Brazil is the country's oldest scientific institution. The main building, the Imperial Palace, was once the residence of the Portuguese Royal Family and later of the Brazilian Imperial family until 1889. It's located in the Quinta da Boa Vista Park.
The museum houses over 20 million objects making it one of the world's largest collections of natural history and anthropological artefacts. In 2018, a fire destroyed a big part of the main building. Since the fire, a great rebuilding effort is being made. As the rebuilding continues, most exhibits of the museum remain closed to the public until further notice.
Built in 1909, Theatro Municipal is an opera house dedicated mostly to ballet and classical music. Located in the Centro district of Rio de Janeiro, near the National Library and the National Fine Arts Museum, Theatro Municipal is one of the most beautiful theatres in Brazil.
Its architectural eclectic style is inspired by the Paris Opera and its interior is as luxurious as the building's facade. There's also a restaurant in the theatre's basement.
9.
Museu Nacional de Belas Artes
The Museu Nacional de Belas Artes houses the most important collection of Brazilian art, especially 19th-century paintings and sculptures. More than 20,000 art pieces from the Middle Ages to contemporary art can be enjoyed by anyone who visits this museum. To get there, visitors have to travel to either Cinelandia or Carioca Metro stations in central Rio de Janeiro. These stations are located close to the museum.
Opening hours are from 10 am to 6 pm on Tuesdays to Fridays and from 1 pm to 6 pm on Weekends & Holidays. On Sundays, the museum is free. Admission prices are 8 Reals for adults and 4 Reals for children.
Designed by famous Spanish architect Santiago Calatrava, the Museum of Tomorrow is a science museum built at Pier Maua's waterfront. The building itself has become a modern landmark in Rio de Janeiro thanks to its architectural design.
The museum's main exhibition comprises of five main areas. There are the Cosmos, Earth, Anthropocene, Tomorrows, and Us areas. Most of the exhibition is entirely digital and it focuses on ideas rather than objects. It's very much a forward-thinking museum as it tackles issues such as climate change, environmental degradation, and social collapse.
To get there, the closest subway Metro station is Uruguaiana, from where the Museum of Tomorrow is within a short walk. Opening hours are from 10 am to 6 pm on Tuesdays to Sundays. Admission prices are 20 Reals for Adults and 10 Reals for children.
If you like Brazilian music, you must have come across the song "The Girl from Ipanema", written by Antonio Carlos Jobim and Vinicius de Moraes in 1962, at some point. The song became a worldwide hit in the mid-60s and it puts Ipanema Beach on the map.
Ipanema Beach is located next to Copacabana, its famous neighbour, but it has its own distinct character. Known for its social life, Ipanema's beach culture is full of surfers, bikers, roller skaters, and skateboarders, particularly on Sundays when the roadway is closed to traffic. Ipanema is one of Rio de Janeiro's most expensive districts. It's perfect not only for enjoying the beach but for its cafés, shops, and top-notch restaurants.
Rio de Janeiro's Lapa district is known for its historical monuments and its nightlife. Arcos da Lapa is a magnificent aqueduct built in the mid-18th century that brings water to Rio. Today it serves as a signal for the cable cars that climb Santa Teresa's hill.
Passeio Público is the oldest public park in Brazil. Completed in 1783, the park follows the French formal garden style. Escadaria Selarón, or Selaron Steps, is a set of steps done by Chilean artist Jorge Selarón. A total of 215 steps are covered in over 2,000 tiles collected from over 60 countries.
From the 50s, Lapa has attracted musicians, artists, and intellectuals, making it one of the most diverse neighbourhoods in Rio. There are many live music and dance venues for you to enjoy Rio's famous nightlife.
13.
Rio de Janeiro Botanical Garden
Rio de Janeiro's Botanical Garden gathers over 6,500 species of Brazilian and foreign flora covering over an area of 54 hectares. It is also home to about 140 species of birds. Founded in 1808 by King John VI of Portugal, it opened to the public in 1822.
To get there, many bus routes pass by the garden's main entrance. The closest Metro subway station is Botafogo.
Opening hours are from 12 pm to 6 pm on Mondays and from 8 am to 6 pm on Tuesdays to Sundays. Admission prices are 15 Reals for adults and 7.5 Reals for youngsters ages 6 to 21.
Located on top of the hill with the same name, Santa Teresa is a neighbourhood famous for its winding and narrow streets. Many art studios and galleries have been established there, making it one of the trendiest parts of the city.
Two interesting museums are located in Santa Teresa. Museu da Chácara do Céu is the former mansion of art collector Raymundo Ottoni de Castro Maia. Its collection includes works by Matisse, Modigliani, Degas, Miró, Portinari, Di Cavalcanti and other modern artists. Museu do Bonde tells the story of the Santa Teresa Tram, the only remaining streetcar in Rio which is itself a popular attraction for tourists.
Besides the art scene, Santa Teresa also offers great restaurants, bars, and nightclubs.
Tijuca is a tropical rainforest located within the city of Rio de Janeiro. It is considered the world's largest urban forest, covering some 39 km² of land. Tijuca Forest is a vast area that had been cleared to grow sugar and coffee but was reclaimed in the second half of the 19th century. Then, a huge replanting effort was carried out to protect Rio's water supply.
Today, Tijuca National Park is home to hundreds of species of plants and wild animals. The forest also contains several attractions such as Christ the Redeemer on top of Corcovado, within Tijuaca boundaries, and the Mayrink Chapel.
One of the best ways to explore Tijuca is by trekking. There are some 30 waterfalls within the park, several caves, and lookout points. Its most impressive peak is Pedra de Gávea at 844 m above the sea ground.
There are several points of entrance. Ticket prices are 31 Reals during the high season and 21 Reals during the low season for those accessing by car or on foot. Tickets cost 60 Reals for adults and 32 Reals for children if they are taking the Cosme Velho train.
Final Thoughts
This list offers a bit of everything. From Rio's top landmarks, such as Christ the Redeemer, Sugarloaf Mountain, and its gorgeous beaches, to cultural and natural attractions.
Rio de Janeiro's offering to visitors is difficult to beat. The worst part of visiting Rio will be choosing between the wide range of options on offer. Regardless of what type of traveller you are, you'll find plenty to enjoy. A trip to Rio de Janeiro will always be memorable.