12 Best Restaurants in Seward in 2022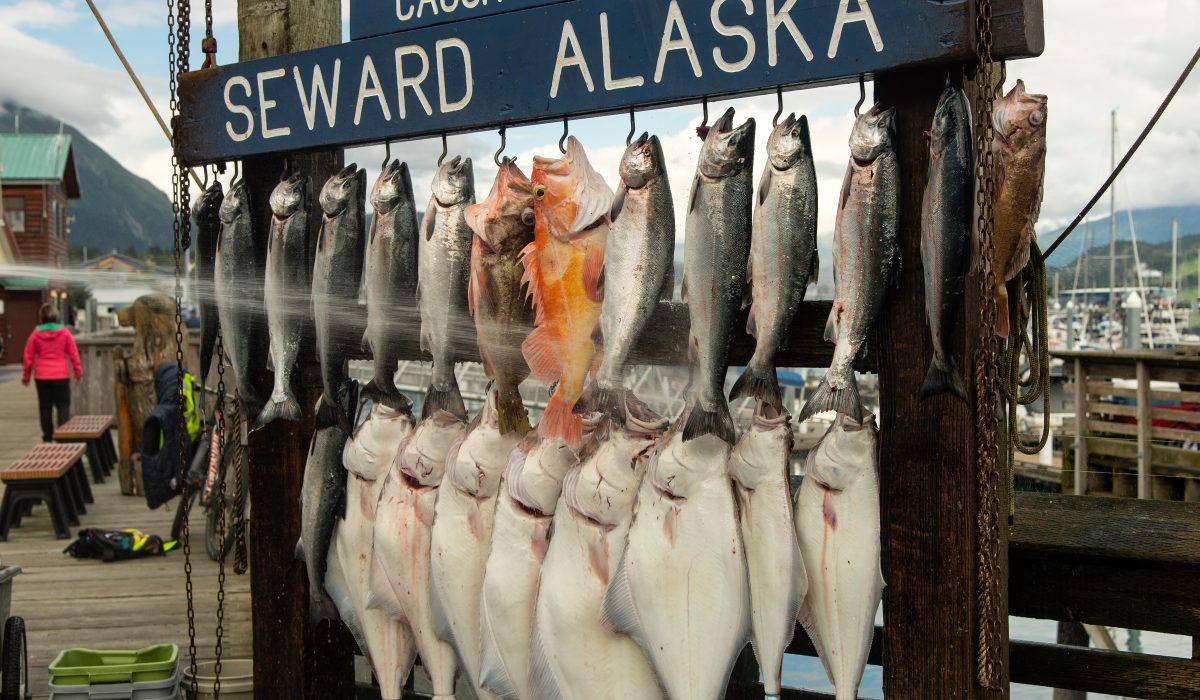 Looking for the best Seward restaurants? We've got you covered! Besides visiting all the must-see attractions in Alaska, a trip to the Land of the Midnight Sun won't be complete without immersing yourself in the local dining experience. This means fresh seafood, wild berries, earthy produce, and wild game. Enjoy diverse cuisines that reflect the city's location between the Alaskan mountains and Resurrection Bay at the best restaurants in Seward. Whether you're on the hunt for breakfast, lunch, dinner, or just a quick bite, read on to find out the best places where locals eat in Seward, Alaska!
1. Apollo Restaurant
Location: 229 4th Avenue, Seward, AK 99664
Contact Info: (907) 224-3092
Operating Hours: Friday–Tuesday; 4:00 PM–9:00 PM
Food Delivery: Yes
Indulge in traditional Mediterranean cuisine at the Apollo Restaurant. Since 1974, this Seward restaurant has been satisfying locals and tourists with Greek and Italian dishes – like their signature seafood pasta and hand-stretched pizzas. The Apollo Seward also specializes in Angus steaks and char-broiled lamb chops for anyone craving a hearty meal.
You can also enjoy Alaskan dishes here thanks to the wide selection of seafood. Have your fill of king crab legs, baked halibut, lobsters, prawns, scallops, or clams with a bottle of locally-produced beer. The Apollo is also one of the select restaurants in Seward, Alaska where you can bring in your catch of the day and have it prepared by their trained chefs.
2. Woody's Thai Kitchen
Location: 800 4th Avenue, Seward, AK 99664
Contact Info: (907) 422-0338
Operating Hours: Tuesday–Saturday; 1:00 PM–8:30 PM
Food Delivery: No
Named after Woody, the city's beloved Steller sea lion, Woody's Thai Kitchen showcases authentic Thai cuisine with an Alaskan-Pacific Northwest twist. This restaurant specializes in dishes like Bangkok-style curries, soups, noodles, and rice dishes made with locally-sourced ingredients. Although the spice level of most of these eats ranges from mild to average, there are still a number of options for those who aren't fond of heat. Spring rolls and noodle dishes like pad thai are some examples.
Woody's Thai Kitchen is also among the best Seward restaurants vegetarian and vegan customers can dine at. The best part? They operate all year-round! So, regardless if you're visiting during summer or winter, you can always have a taste of Thai fusion dishes in Seward, Alaska.
3. Seward Brewing Company
Location: 139 4th Avenue, Seward, AK 99664
Contact Info: (907) 422-0337
Operating Hours: Thursday–Monday; 3:00–9:00 PM
Food Delivery: No
Looking for family-friendly Seward restaurants? Then Seward Brewing Company is a must-try. This restaurant boasts a laid-back atmosphere and an impressive menu that caters to everyone in the family. Indulge in elevated pub dishes that range from fish tacos to wonton nachos. Wood-fired pizza and refreshing salads are also some of the fan favorites. But what truly makes Seward Brewing Company so inviting is its array of vegetarian, vegan, and gluten-free options for anyone on such diets. And of course, a visit to Downtown Seward's first and only brewhouse and restaurant isn't complete without having a pint of their in-house craft beer.
4. The Crab Shack
Location: 1401 4th Avenue, Seward, AK 99664
Contact Info: (907) 224-2722
Operating Hours: Sunday–Saturday; 11:00 AM–10:00 PM
Food Delivery: No
Home to some of the best crabs in Alaska, the Crab Shack serves up to five-pound King crab legs with your choice of sauce and dips. If they're not enough to sate your crabby cravings, this seasonal eatery also offers house-made crab cakes and crab cake burgers. Besides these, items such as creamy seafood chowder, crispy fish and chips, fried calamari, shrimp, and oysters are favorites among its patrons, as well.
Craving for more turf than surf? Then order a plate of burgers or reindeer hot dogs. Make sure to leave some room for dessert because Crab Shack also offers sweets like ice cream, brownies, and milkshakes.
5. The Cookery
Location: 209 5th Avenue, Seward, AK 99664
Contact Info: (907) 422-7459
Operating Hours: Tuesday–Sunday; 5:00 PM – 10:00 PM
Food Delivery: No
Get your hands on the freshest seafood when you dine at one of the best seafood restaurants in the United States. Shucked oysters and grilled halibut are just some of the specialties of the Cookery. Priding itself as a farm-to-table restaurant, this joint has been partnering with local farms and fisheries since 2015 to provide customers with the freshest ingredients. In fact, oysters and other shellfish are served here the same day they are harvested!
The Cookery is also among the best gluten-free restaurants in town since some of their dishes can be modified to accommodate patrons with diet restrictions. Note that due to the restaurant's popularity, reservations are recommended.
6. Ray's Waterfront
Location: 1316 4th Avenue, Seward, AK 99664
Contact Info: (907) 224-5606
Operating Hours: Monday–Tuesday; 4:00 PM–10:00 PM/ Wednesday–Sunday; 11:00 AM–10:00 PM
Food Delivery: No
Located along the Seward Boat Harbor, Ray's Waterfront is one of the popular harbor restaurants in town with spectacular views of both the water and mountains. Serving delicious seafood and steaks, it's a go-to eatery for many locals and tourists. The signature dishes of this Seward restaurant are Alaskan crab cakes, crispy calamari, and seafood chowder, to name a few. For dessert, Creole bread pudding, crème brûlée, and a berry-filled oat crumble are must-try items. Enjoy these with friends and family over ice-cold local brews and wines from the resto's in-house bar.
7. The Highliner
Location: 303 Adams Street, Seward, AK 99664
Contact Info: (907) 224-3950
Operating Hours: Wednesday–Friday: 12:00 PM–9:00 PM/ Saturday–Sunday; 11:00 AM 9:00 PM
Food Delivery: Yes
For over 20 years, classic American home-style meals and elevated fast-food staples have been the star at the Highliner Seward restaurant. The must-haves are fried cauliflower, buttermilk fried chicken, and Alaskan halibut sandwich. For dinner, you certainly can't go wrong with some creamy mac and cheese, fish and chips, chicken fried steak, or pizza! The selection of beer, wine, and cocktails is worth checking out too. You'll surely enjoy munching on these classic comfort foods within the cozy atmosphere of this Seward restaurant.
8. Exit Glacier Salmon Bake
Location: 31832 Herman Leirer Road, Seward, AK 99664
Contact Info: (907) 224 2204
Operating Hours: Sunday–Saturday; 5:00 PM–10:00 PM
Food Delivery: No
Dubbed as Seward's best-kept secret, Exit Glacier Salmon Bake sits in a more rural area which is a stone's throw away from downtown. It exudes a rustic and welcoming atmosphere housed in a cabin-like building. But the real reason why it's a favorite among locals is its array of seafood delights, including Alaskan salmon, halibut, and red snapper. They also specialize in American comfort food like steaks and burgers. It's one of the seasonal Seward restaurants, though, so it only opens from mid-May through mid-September. Make sure to add it to your list of the best US places to visit in May and get a reservation for this cabin restaurant now.
9. Seasalt Grill & Bar
Location: 133 4th Avenue, Seward, AK 99664
Contact Info: (907) 224-2221
Operating Hours: Sunday–Saturday; 11:00 AM–9:00 PM
Food Delivery: No
Stop by the Seasalt Grill and Bar if you're craving the best fried halibut in Seward! It's a popular entrée to pair with wine or one of their bar's signature cocktails, like sangrias and margaritas. Other drool-worthy items on the menu are buttered King crab legs, seafood chowder, and fish tacos. And while the fresh and delicious dishes justify its popularity, the picturesque views of Resurrection Bay are a pleasant bonus. You can wine and dine while marveling at the breathtaking views either indoors or at the outside patio, which is the largest outdoor seating area in the city! There's no better place than Seasalt Grill and Bar if you're looking for a quiet date night.
10. Seward Alehouse
Location: 215 4th Avenue, Seward, AK 99664
Contact Info: (907) 224-2337
Operating Hours: Sunday–Saturday; 12:00 PM–2:00 AM
Food Delivery: No
Younger crowds looking for late-night Seward restaurants can head over to Seward Alehouse. Admittedly, it's more of a bar than a restaurant, but it surely deserves a mention since it is home to some of the best beers in the city! It has a cozy and lively atmosphere where you can mingle with the locals, listen to live music and play a round of pool while having a pint or two of local beer. This Seward bar's food menu is limited, but you can always order delicious Mexican food from Lone Chicharron Taqueria next door. There's even a secret window that connects the two, so you can enjoy tasty tacos while at the bar!
11. Mermaid Grotto Cafe and Boutique
Location: 412 Port Avenue, Seward, AK 99664
Contact Info: (907) 224-3838
Operating Hours: Friday–Tuesday; 8:00 AM–6:00 PM
Food Delivery: No
Planning on grabbing a late breakfast in Seward? The Mermaid Grotto Café and Boutique opens its doors just in time! A local gem, it's one of the more unique coffee shops and restaurants in the city. This mermaid-themed eatery and café not only serves delicious food and drinks, but also has a vast selection of locally crafted art, décor, and souvenirs up for grabs. Its menu offers customers a taste of Asian and Hawaiian flavors perfectly blended with classic Alaskan cuisine. It's one of Seward's harbor restaurants, so it's a great place to grab a last meal and buy souvenirs before you head home.
12. Flamingo Lounge
Location: 208 4th Avenue, Seward, AK 99664
Contact Info: (907) 599-0133
Operating Hours: Summer season; 5:00 PM–10:00 PM/ Winter season; 5:00 PM–9:00 PM
Food Delivery: Yes
The Flamingo Lounge is the city's first and only craft cocktail lounge. With that said, it's the go-to for many looking for exquisite drinks. It's also among the top Seward restaurants to try if you're on the hunt for more upscale offerings. Though The Flamingo makes constant changes to the menu according to customers' feedback, you can always expect to enjoy good, old-fashioned steak and local seafood. Feast on cuts of ribeye or smoked salmon while sipping on specialty cocktails, locally-brewed beers, or a fantastic glass of wine. Another highlight of this establishment is its vintage charm. Its décor brings you back in time to the elegance and glamor of the 1950s.
The Very Best Restaurants in Seward, Alaska You Need to Try
With this list of the best restaurants in Seward, Alaska, you won't have a hard time finding a good meal, no matter your budget or craving. From fresh seafood and local Alaskan dishes to fusion cuisine, these Seward restaurants offer the best flavors the city has to offer. Tantalize your taste buds with the local culinary experience during your next holiday in this misty bayside city.