5 Fun Things To Do In Singapore's Changi Airport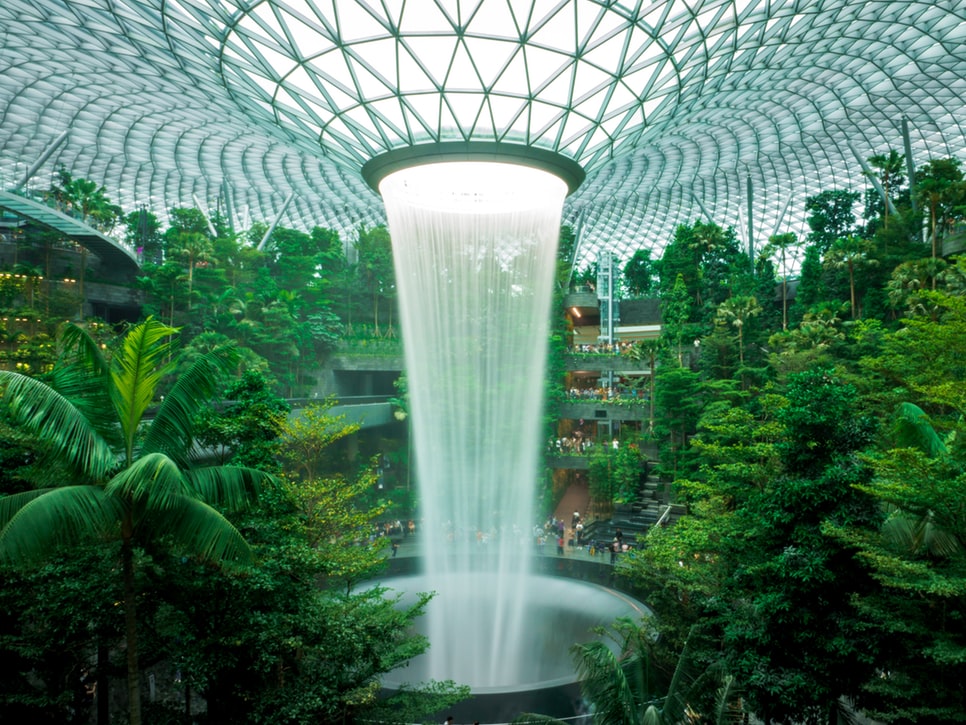 A melting pot of Asian and European cultures, Singapore is a vibrant city-state in Southeast Asia which attracts thousands of travellers. Many of them arrive at the Singapore Airport, an award-winning airport well-known for its excellent infrastructure. Wondering what to do in Singapore Changi Airport? Whether you wish to admire art installations or explore lovely gardens, there is no shortage of fun attractions to enjoy here.
Spread across three interconnected terminals (1, 2 & 3), Jewel Changi Airport is a great place to enjoy various activities during long layovers. It has a 10-story mall and a great monorail system that offers easy transportation between the three terminals. An interesting fact is that many locals visit the Singapore International Airport just to hang out, even though they are not actually flying anywhere. To keep you entertained, we've rounded up a list of fun things to do at Singapore Airport.
1.
Discover The Jewel Of Changi Airport
Jewel is one of the latest additions at the Singapore Airport. It is located in Terminal 1 and includes dozens of attractions ranging from gardens and mazes to dining and retail facilities. The highlight of the Jewel is definitely the 50-meter high Singapore airport rain vortex waterfall. It is a great spot to take some cool photos for your Instagram account. There is also the lovely Canopy Park at the Singapore Airport where travellers can admire a variety of flower sculptures.
Head out to Jewel's fifth floor which offers magnificent views of the terraces and the waterfall. If you are travelling with kids, don't forget to stop by the Bouncing and Walking Nets, Hedge and Mirror Mazes, and the amazing Discovery Slides. Have your camera ready to take selfies in from the glass-bottomed Canopy Bridge. Each evening, the Jewel offers an amazing light and music show at the Singapore Airport.
2.
Explore The Gardens At Singapore Airport
There is no shortage of awesome Singapore Airport attractions including the beautiful gardens. You will find the Sunflower Garden, Enchanted Garden, and the Orchid Garden in terminal 2. The Cactus Garden is located in terminal 1. As for the lovely Butterfly Garden, it is located in terminal 3 and houses nearly 40 different species of butterflies.
With an open bar and live music, the Cactus Garden boasts over 100 species of plants from America, Asia, and Africa. To see more than 700 orchids in different shapes and colors, make your way to the Orchid Garden and Koi Pond. The display of orchids is connected with 4 elements of nature: Air, Water, Fire, and Earth. Explore the interactive Enchanted Garden and listen to the sounds of nature.
For superb views of the airplane runways and to see cherry yellow sunflowers, travelers can pay a visit to the Sunflower Garden in the Singapore Airport. For an unforgettable illuminated experience, visit this garden at night.
3.
Zoom Down The Slide @T3
What to do in Singapore Airport when travelling with kids? Head out to the world's tallest slide in an airport for the ultimate adrenaline rush. This 12-meter high slide in Singapore Airport is also available for adults who wish to relive their childhood days.
In order to ride the slide, all you need to do is spend $10 at the Singapore Airport which is a good bargain. Whether you wish to watch your kids zoom down the slide or you want to try it for yourself, Changi's giant slide is one of the most fun attractions at the Singapore airport.
4.
Shop For Branded Collectibles
With over 350 shops, there are plenty of Changi Airport shopping options to choose from. Expect to find popular international brands such as Prada, Burberry, Tiffany & Co. Besides clothes, Singapore airport is also home to many shops that sell a wide range of skincare and beauty products.
Wine lovers can purchase some of the finest wines in the world at DFS Wines & Spirits. If you wish to buy souvenirs, you are spoiled for choice here at the Singapore Airport. In case you don't have enough time at the Singapore Airport for shopping, there is also the option of shopping online through ishopchangi.
5.
Try Local And International Cuisines
Like the unique restaurants in Singapore city centre, Singapore International Airport offers around 100 different dining options and the biggest problem a passenger can have is to choose what to order. There is the Straits Food Village award-winning food court where passengers can enjoy the local cuisine.
Numerous eateries that offer International dishes like Italian pasta and American burgers can be found at Singapore Airport. In case you wish to try an original New York burger, stop by the popular Shake Shack restaurant. Beauty in the Pot offers dozens of Asian specialties including their signature Beauty Collagen Broth.
London's most famous lobster dining establishment, Burger & Lobster has also arrived at the Singapore Airport. Here, the delicious Original Lobster Roll is a must-order dish on the menu. Besides enjoying tasty food, you will also have spectacular views of the Singapore airport waterfall from the Original Lobster Roll.
Long layovers can be frustrating and many people don't actually like them very much. However, with its amazing attractions, the Changi International in Singapore may be one of the only airports in the world where passengers are hoping to have a long layover.