30 Best Things to do in Phnom Penh, Cambodia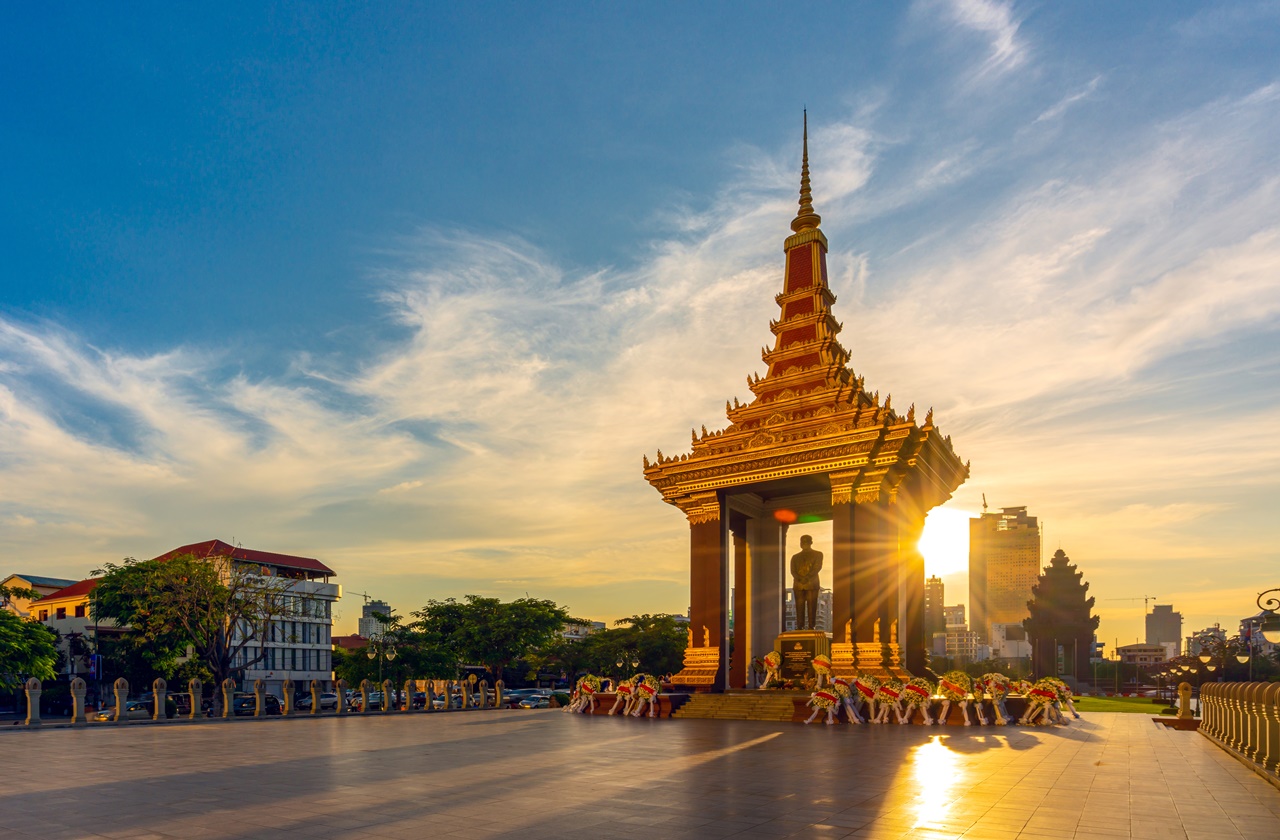 Cambodia is a country famous for its ancient temples, elegant pagodas, and delicious local cuisine. Siem Reap, in particular, welcomes millions of tourists annually wanting to explore the ruins of the Angkor Wat, one of the most iconic UNESCO World Heritage Sites. But apart from the picturesque temples of Siem Reap, its capital city is also worth visiting. Phnom Penh is its largest and most populous city, home to over 2 million residents. As the country's economic and cultural center, there are lots of things to do in Phnom Penh!
For first-time visitors to Phnom Penh, there are numerous museums, temples, and national monuments to visit to learn more about the city. The markets and street-side stalls and carts are perfect for food lovers wanting to savor authentic Khmer food. Although it's not as heavily visited as Siem Reap, visiting Phnom Penh is a great base for those who want to see everything that Cambodia has to offer.
If you're visiting Southeast Asia, stop by Phnom Penh and discover its hidden gems!
Best Time to Visit Phnom Penh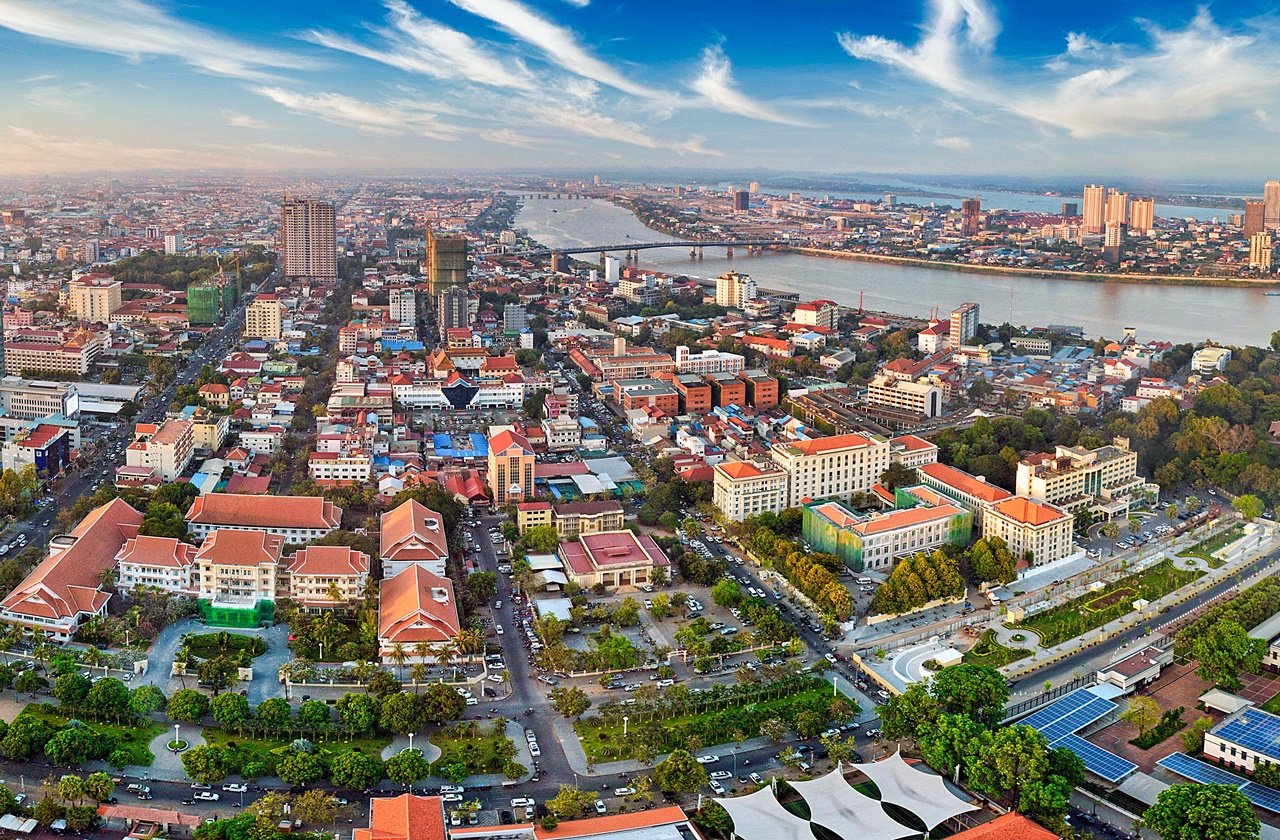 Photo by Paul Szewczyk on Unsplash
Unlike its neighboring countries that experience cooler months, the weather in Phnom Penh (and Cambodia in general) is relatively hot all year round. That being said, the best time for things to do in Phnom Penh is during the dry season, particularly from November to February. During these months, humidity levels are low, making it comfortable for traveling and sightseeing. However, take note that this is a popular time to visit the city, so expect higher prices for plane tickets, accommodation, and tours.
On the other hand, if you want to avoid thick crowds, plan your visit from May to October, the country's monsoon season. Most storms happen between August and September which causes flooding, but this is the cheapest time to visit. Phnom Penh's flora and fauna are also at their most beautiful during the rainy days, so this is perfect for wildlife enthusiasts. If you want to visit during the monsoon season, plan your trip in the early days of June to enjoy cooler weather with fewer chances of typhoons.
As much as possible, avoid visiting Phnom Penh from March to mid-May as the weather is hot and humid. Although there are fewer tourists, the heat can be unbearable for travel. You can, however, escape the heat and take a dip at the stunning Cambodia beaches, but you won't be able to enjoy sightseeing and making the most out of your trip to Phnom Penh.
Things to Do in Phnom Penh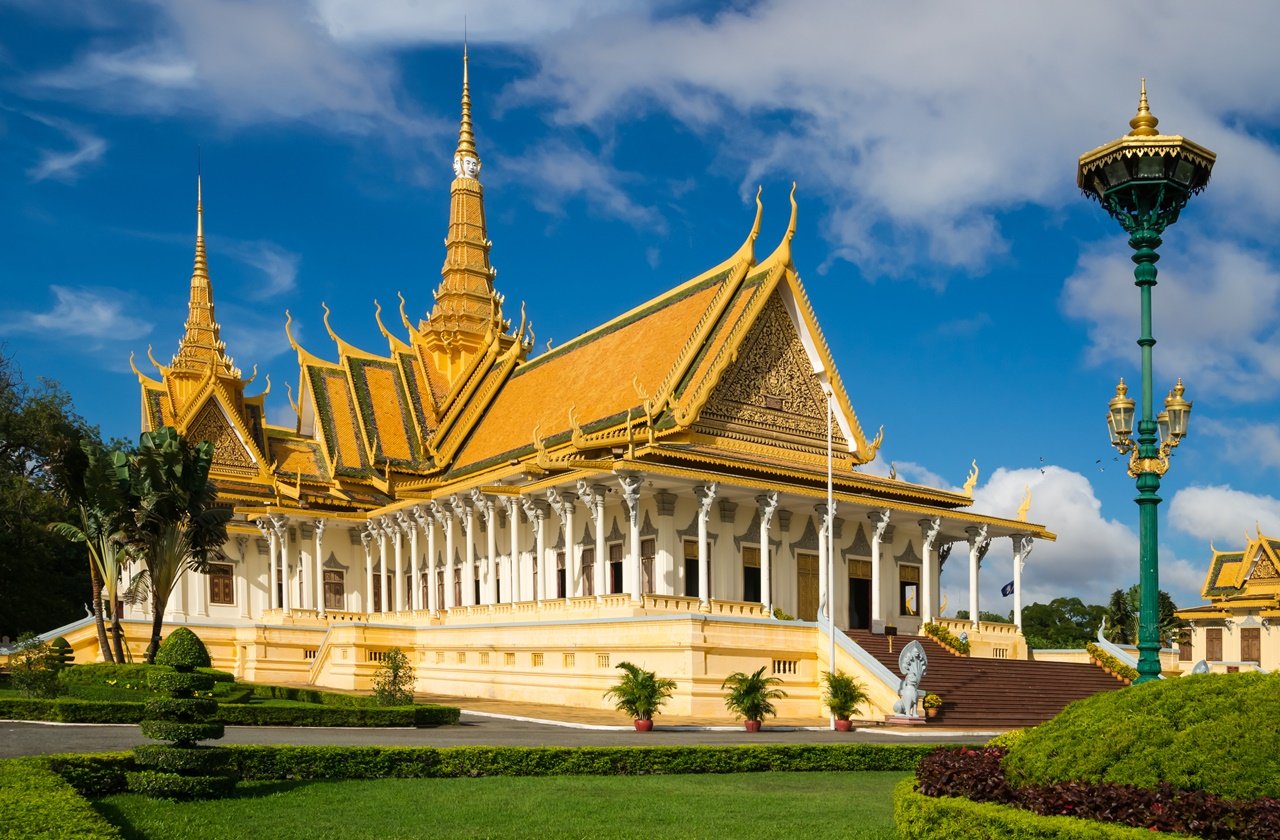 Photo by Rhombur on Adobe Stock
1. Visit the Royal Palace
If London has Buckingham Palace, Phnom Penh has its opulent Royal Palace. It functions as the king's primary residence as well as a venue for various court ceremonies. Go on a tour of the palace and admire its architecture, closely reminiscent of Thai palaces, and learn about the history of the Cambodian royal family. Explore the temples and snap photos of the gardens in the palace complex. Its riverside location also gives you charming views of the Mekong River. If this is your first time visiting the city, a trip to the Royal Palace is one of the best things to do in Phnom Penh.
2. Marvel at the Silver Pagoda
Within the Royal Palace complex is the Silver Pagoda, home of the famous Emerald Buddha. Additionally, the Silver Pagoda contains other national treasures and gifts given to the Cambodian monarchs. Marvel at the lavish decorations of its interiors, decked with more than 5,000 tiles and 5 tonnes of silver. Aside from the Emerald Buddha, other highlights inside the Silver Pagoda include an 80-kilo bronze Buddha and a gold Buddha adorned with over 2,000 diamonds.
3. See Ancient Treasures at the National Museum of Cambodia
A trip to the National Museum of Cambodia is one of the best things to do in Phnom Penh to understand the Khmer culture. The museum contains artifacts dating back to the 1600s, statues of national warriors, traditional Khmer house models, traditional clothes and accessories, and more. Don't miss the Angkorian collection, the excavated Vishnu head, and pre-Angkorian artifacts. Aside from its historic treasures, the museum itself is a sight to behold, with dark red bricks and roofs with spiraling accents.
4. Find Various Local Products at the Central Market
Built in 1937, the Central Market in Phnom Penh stands out, thanks to its pale Art Deco exterior, a change from the traditional buildings and residential areas surrounding it. At the time of its construction, the indoor market was the largest of its kind in Asia. In the market, find an assortment of local goods, handicrafts, and fresh produce. Whether you're an avid shopper or a tourist looking for affordable souvenirs, you can find anything and everything you need at the Central Market.
5. Tour the Phnom Tamao Wildlife Rescue Centre
The Phnom Tamao Wildlife Rescue Centre is Cambodia's largest zoo and wildlife sanctuary, providing refuge to rare and endangered animals. Sprawling across 1,200 hectares of land, the zoo and wildlife center houses elephants, macaques, leopards, tigers, and other animals rescued from poachers and illegal traders. Visitors can also get a chance to interact with the animals, guided by zookeepers and staff.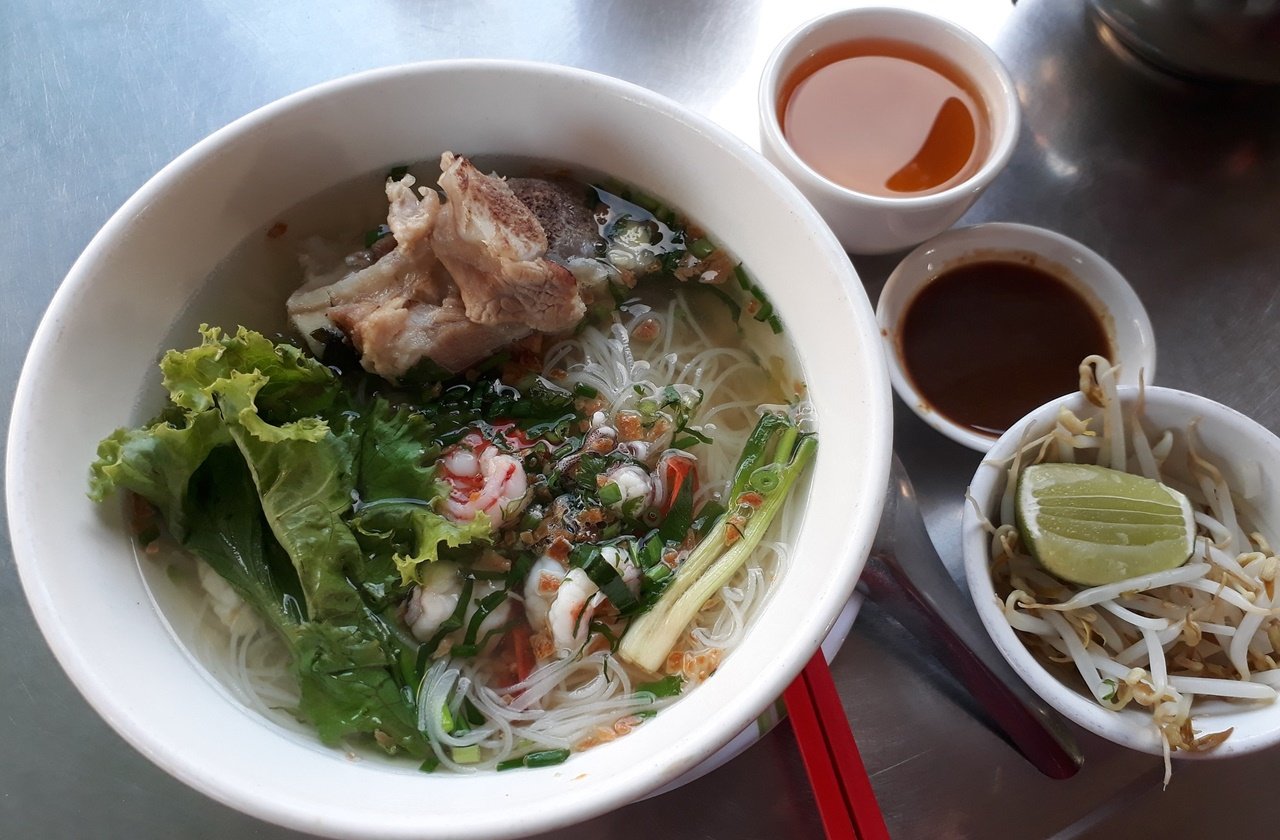 Photo by pisethnika on Pixabay
6. Go on a Food Tour Around Phnom Penh
One of the best things to do in Phnom Penh is exploring its culinary delights. And the best way to learn about its cuisine is by going on a food tour. Led by a local foodie, the tour lets you in on the best mainstream and off-the-beaten-path restaurants and stalls in the city while sampling their specialties. You can choose between morning, afternoon, or evening tours and have the option to join a group tour or a private tour.
7. Witness a Cambodian Living Arts Show
Cambodian Living Arts is a non-profit organization that aims to preserve and bring traditional Khmer arts back to life. Surviving masters of these traditional arts gather to train and pass on their skills to younger artists and dancers, continuing on the centuries-old tradition. They hold daily shows at the National Museum, showcasing Khmer dances, songs, and music throughout the years. For a complete experience, enjoy the Cambodian Living Arts show with a traditional dinner.
8. Hop on a Boat to Koh Dach
Escape the busy streets of Phnom Penh and head to Koh Dach. Also known as Silk Island, Koh Dach is a quiet countryside island where you can find a large silk weaving community. Learn about the silk weaving process: from harvesting silkworms to the spinning process. As you explore the island, watch the workers create stunning designs using traditional patterns and styles. Before you leave Koh Dach, don't forget to purchase a silk scarf or two!
9. Join a Cooking Class
Cooking classes should definitely be on the list of things to do in Phnom Penh especially for foodies. Cambodian cuisine is known for incorporating different spices, fermented pastes, and coconut milk. Take the flavors of Khmer cuisine home and participate in a cooking class! Join your local chef and purchase fresh ingredients at a market before learning the know-how of creating your favorite Cambodian dishes. After that, you'll have no problems recreating an Amok trey, Kuy teav, and other traditional dishes.
10. Wander Around Wat Phnom
Perched on top of a hill in the city, Wat Phnom is a gorgeous pagoda that symbolizes the capital's name. Built in 1372, the pagoda houses four statues of Vishnu, Buddha, Indra, and the Fat Buddha. It underwent several reconstructions and restorations, but its ivory stupa and ornate temples remain. On your visit, you may encounter devotees or school children bringing small offerings, praying, or meditating. With its elevated location, lush greens, and charming gardens, Wat Phnom is a welcome change from the heat of the city.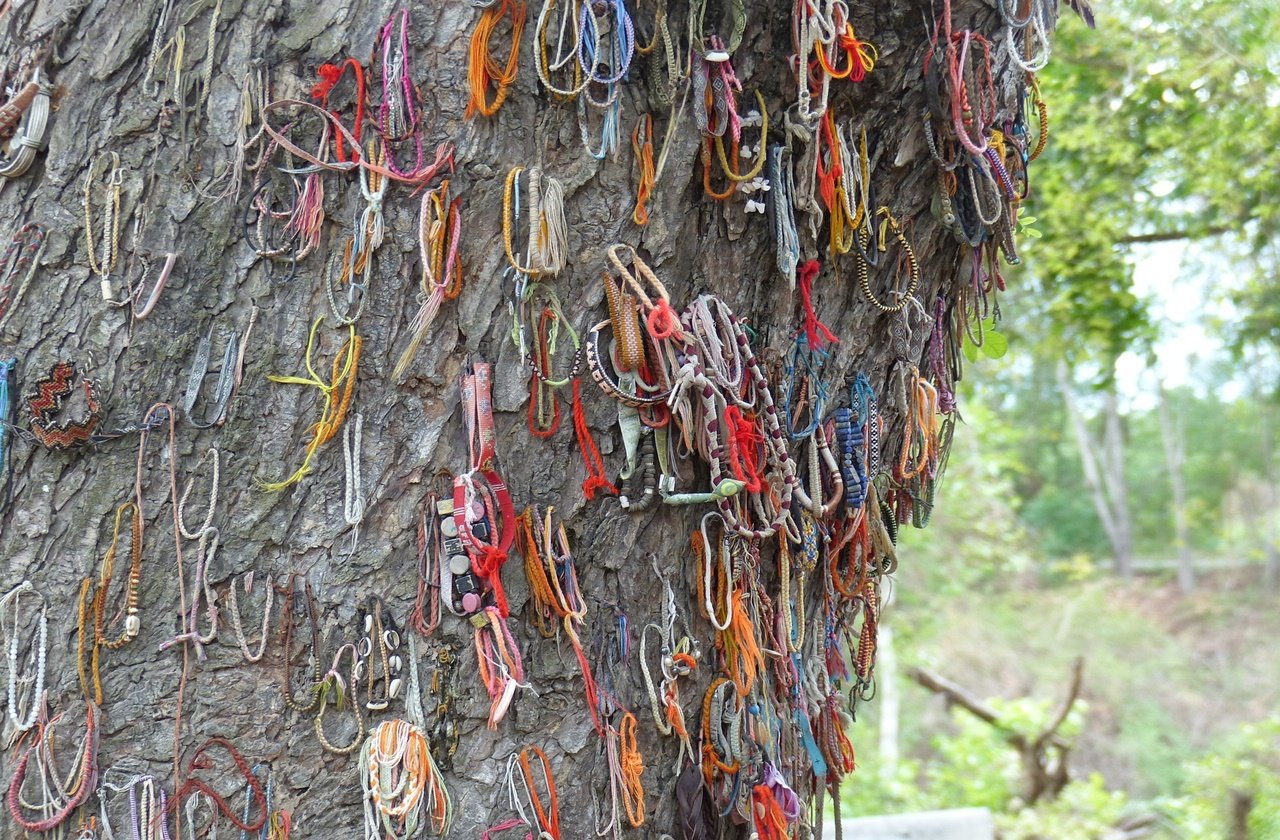 Photo by silkesauer on Pixabay
11. Learn a Bit of Cambodian History at the Killing Fields of Choeung Ek
Visiting the Killing Fields isn't a pleasant nor easy experience, but it allows you to understand and delve deeper into the history of Cambodia. There are over 300 killing fields spread throughout the country during the dark days of the Khmer Rouge, but the one at Choeung Ek is the most famous one. When visiting the Killing Fields, it is highly recommended to get an audio guide or join a guided tour for one to truly grasp the events of the past.
12. Browse the Stalls at the Russian Market
Originally known as Phsar Tuol Tom Poung, the Russian Market took its name after being popular among Russian expats in the 1980s. It is a large market with a wide array of goods sold: from Russian dolls, odd souvenirs, local wooden handicrafts to Cambodian silk. Temperatures in the market can rise during the day, so it's best to visit during the early morning. Nonetheless, this is the best place to work on one's haggling and bargaining skills.
13. Walk around Sisowath Quay
Going for a leisurely walk around Sisowath Quay is one of the best things to do in Phnom Penh after a busy day. There are numerous benches around where you sit back, relax, and enjoy the riverside views. You can also spot groups of people exercising or doing aerobics. Then at dusk, locals and tourists flock to the area to watch the orange glow of the sunset. The quay comes to life in the evening, with restaurants, cafes, and bars opening.
14. Cruise along Mekong River
A cruise along the Mekong River is one of the quintessential things to do in Phnom Penh especially for first-time visitors. Whether you want to go sightseeing or a romantic dinner, there are specialized cruises catering to different travelers. Go on a sunset cocktail cruise and enjoy different drinks and wines paired with traditional side dishes or book a sightseeing tour and escape the traffic-clogged streets of Phnom Penh. In addition, going on a cruise also lets you appreciate the city's skyline from a different perspective.
15. Gain Insight on Buddhism in Cambodia at Wat Ounalom
Wat Ounalom is one of the most important temples in all of Cambodia. As the most prominent and oldest pagoda, this is the headquarters of Buddhism in Cambodia, built in 1443. This is also where you can find one of Buddha's eyebrow hairs, hence its name. The pagoda suffered major damages during the Khmer Rouge era but has been restored since. Go on a tour of Wat Ounalom and learn about the teachings and philosophies of Buddhism in the country.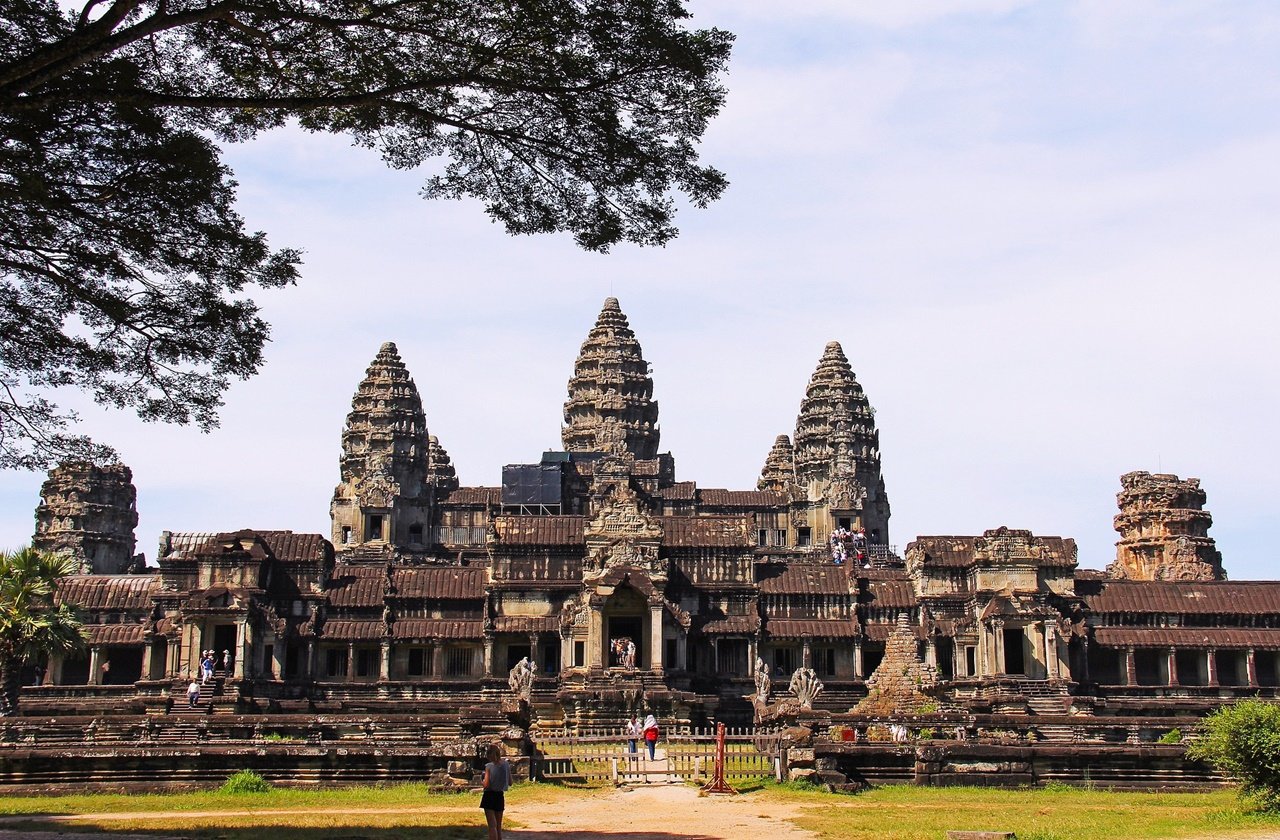 Photo by sharonang on Pixabay
16. Embark On a Day Trip to Angkor Wat
Angkor Wat is without a doubt the most popular site in Cambodia. Featured in several films, TV series, and games, Angkor Wat is an important pilgrimage site for Buddhists in Cambodia and in the world. Explore this massive temple complex and learn about its significance as you visit one structure to another. Travel time from Phnom Penh to Angkor Wat takes about five hours, so it's best to join organized group tours for convenience.
17. Have a Unique Dining Experience at Dine In the Dark
If you're up for something unique, having a meal at Dine In the Dark is one of the best things to do in Phnom Penh! The concept stemmed from the reality that there are about 15,000 blind people in Cambodia. From there, the organization gave them an opportunity to work. At Dine In the Dark, enjoy a 4-course meal that you can only taste, enjoying the meal in complete darkness. Without your sense of sight, other senses are heightened and create an unforgettable dining experience.
18. Eat Your Way Through Phnom Penh Night Market
Treat yourself to cheap yet satisfying eats at Phnom Penh Night Market! The night market includes anything and everything about Khmer cuisine and you can easily find grilled meat on skewers, noodle soup, fried food, and fruit shakes. Additionally, you can find nearby tables and chairs where you can enjoy your food. Near the night market, there are small stalls and shops selling souvenirs, clothing, jewelry, and bags.
19. Enjoy Fun Rides at Children Park Koh Pich
If you are traveling with children, a visit to Children Park Koh Pich should definitely be on your list of things to do in Phnom Penh! It is a fun amusement park for children near the South Sisowath Quay. Although it's not as grand as Hong Kong Disneyland, this is a great place for family bonding and people watching.
20. Visit the Tuol Sleng Genocide Museum
If you want to get a deeper understanding of the events of the Khmer Rouge, visiting the Tuol Sleng Genocide Museum is one of the best things to do in Phnom Penh. Formerly a high school, it became an interrogation site, prison, and torture center. It's not the most exciting place to visit, but it gives you a better understanding of Cambodia's dark past.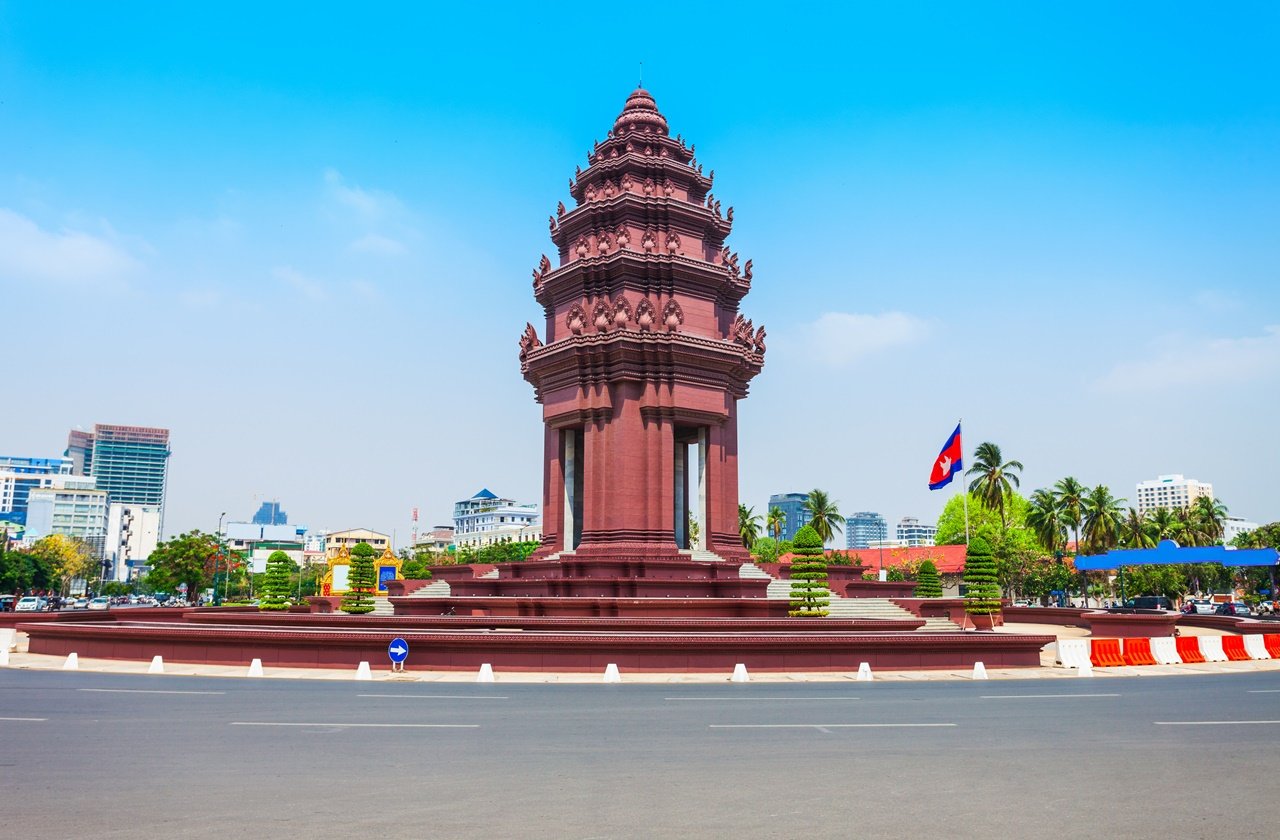 Photo by saiko3p on Adobe Stock
21. Take Photos of the Independence Monument
In the heart of Phnom Penh's city center is the Independence Monument, signifying Cambodia's freedom from the French colonizers from 1863 to 1953. It is the center of the Independence Day and Constitution Day festivities, but you can go here on a regular day to admire the monument. The Independence Monument itself is a beautiful sight, especially on sunsets, and learning about its significance makes it an even more meaningful place to visit.
22. Discover Phnom Penh's Street Food
Joining a street food crawl is instantly one of the best things to do in Phnom Penh. After all, you can enjoy both the food and sights of the city. Although Asian street food has a reputation for causing food poisoning to some tourists, this is also one of the must-try food. There are plenty of stalls where you can try classics like deep-fried snacks and noodles. For adventurous eaters, there are exotic ones like fried insects or pig intestines.
23. Appreciate Traditional Art At Sovannaphum Arts Association & Art Gallery
Another place to visit if you're looking for traditional Khmer art is at Sovannaphum Arts Association & Art Gallery. The establishment was founded in 1994 by a group of students and since then, the association showcases traditional cultural shows on certain days. Visitors can also catch shadow puppet theater, folk dance, and classic Apsara dancing.
24. Meditate At Wat Langka
Wat Langka is one of the few pagodas founded by Ponhea Yat, the last king of the Khmer Empire. It initially housed different Buddhist scriptures and served as a place where Cambodian and Sri Lankan monks would meet. Today, the pagoda hosts meditation sessions supervised by English-speaking monks. Entrance to Wat Langka is free, but be sure to wear the proper attire when visiting places of worship.
25. Feel the Adrenaline Rush on an ATV Tour
Take a break from the congested streets of Phnom Penh and head to the dirt roads on an ATV! Going on an ATV tour is easily one of the best things to do in Phnom Penh for adventure junkies, best enjoyed in the morning to escape the heat of the dry season. Most ATV Tours explore Killing Fields and the S21 prison, offering a different way to visit these grim places. Follow through your tour with a visit to the rural villages of Phnom Penh.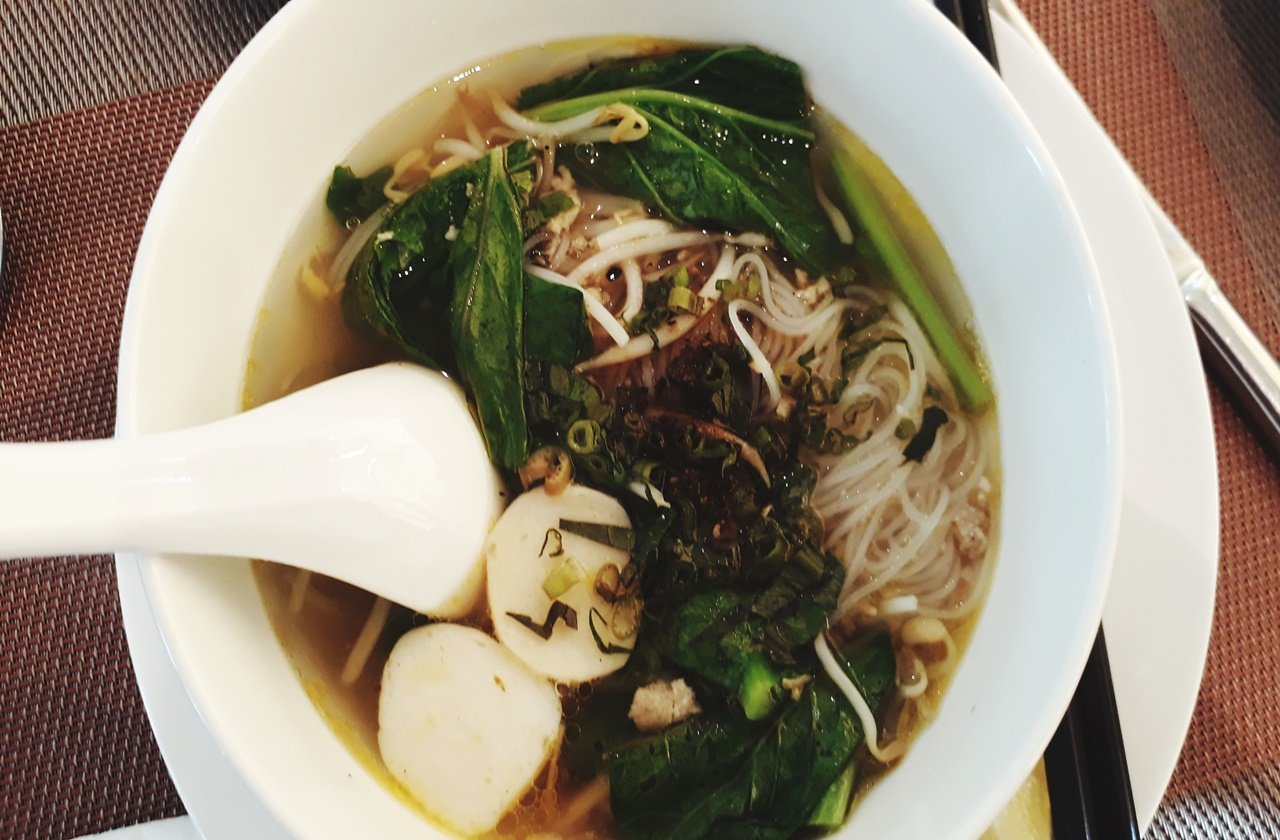 Photo by nheanpiseth oum/EyeEm on Adobe Stock
26. Savor a Bowl of David's Restaurant's Handmade Noodles
Enjoy a delicious bowl of handmade noodles paired with a bowl of dumpling soup at David's Restaurant. From the street, you can find their chefs tossing and twirling the dough for their noodles and dumplings, beckoning you to enter the restaurant. Aside from its noodles and dumpling soup, try their Amok Curry with rice and fresh spring rolls. David's Restaurant is also a short walking distance away from the National Museum of Cambodia.
27. Pay a visit to the Daughters of Cambodia Visitor Centre
Despite being a conservative country, trafficking is still an issue in Cambodia. At the Daughters of Cambodia Visitor Centre, get a chance to help the victims of trafficking by having a meal or by purchasing souvenirs. Proceeds go to medical support, therapy, and counseling services as well as helping free women from sex trafficking. It may seem like a small thing, but it is one of the most meaningful things to do in Phnom Penh.
28. Shop at Orussey Market
Unlike most markets in Phnom Penh, Orussey Market is usually cramped, hot, and crowded. However, it offers a unique off-the-beaten-path opportunity for tourists to observe daily life in these markets. You won't be able to find that many souvenirs and tourists, but it is a great way to see the locals going about.
29. See the Statue of King Father Norodom Sihanouk
Near the Independence Monument is the Statue of King Father Norodom Sihanouk, another important monument in the city. It commemorates the former King Norodom Sihanouk who helped liberate Cambodia from French colonialism in 1953. His memorial status, along with the Independence Monument, is a reminder of this tremendous period in history.
30. Dine at Friends the Restaurant
For travelers who miss eating Western food, Friends the Restaurant offers affordable yet delicious meals. The restaurant also serves as a training ground for teenagers who came from a troubled past, helping them earn a living. Not only do you get to enjoy taco salads, seared snapper, and other gourmet dishes, but you also helped in securing a good future for these young locals.
Enjoy the Many Things to Do In Phnom Penh!
While most tourists head to Siem Reap when visiting Cambodia, its capital city is also worth visiting. There are plenty of historical, cultural, and modern activities for every kind of traveler. Go on a day cruise along the Mekong River, watch a traditional art performance, or visit its museums and galleries. On the other hand, other activities also give you a glimpse into its tumultuous past, particularly during the Khmer Rouge. Nonetheless, you're guaranteed to have a memorable time at Phnom Penh.