Ultimate Guide On Island Hopping For Best Cambodia Beaches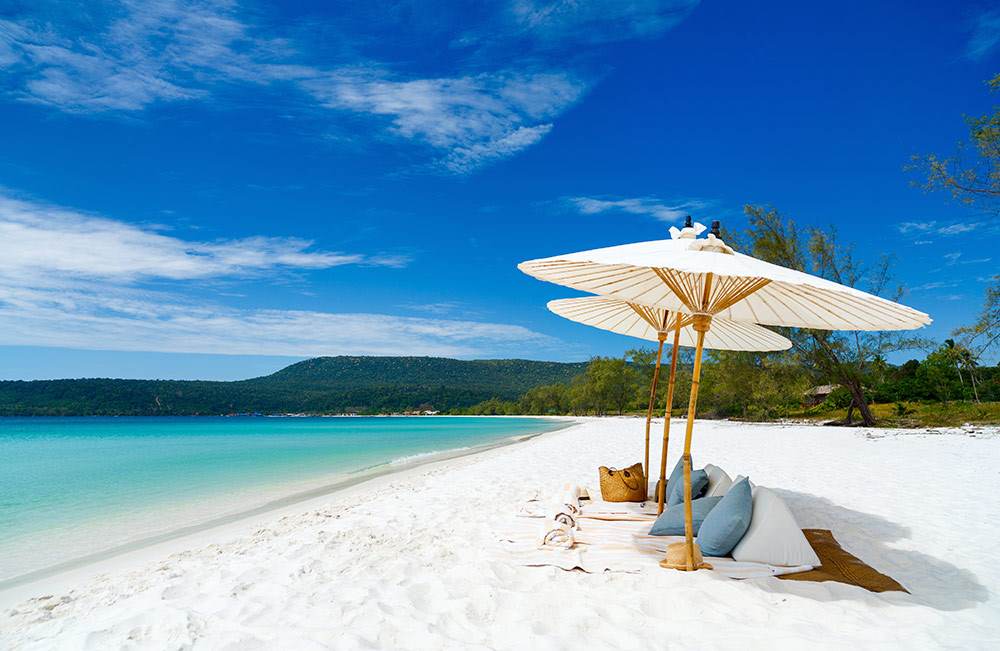 When people talk about Cambodia, it's hard not to bring up the majestic ruins of Angkor. However, what many don't know is that this country is also home to several beautiful islands.
In fact, travelers voyage from one island to another in search of the best Cambodia beaches just to bask in the warm sun. If not, the swaying palm trees to pristine azure waters serve more than enough reasons for your visit. Fear not, party-goers surely have a blast here too, especially for the full-moon party at these Cambodian beaches.
Enough said, if you want to do the same, here's everything you need to know about island hopping in Cambodia.
If you're looking for the perfect blend of relaxation yet still want to enjoy the party vibe, Koh Rong is the place for you. Lounge on the beach by day, then watch as the island transforms into a party haven at night.
Best Cambodia Beaches On Koh Rong
Believe it or not, the Cambodia beaches here are some of the most enchanting. With over 30 beaches to choose from, you definitely won't run out. However, on the northern side of Koh Rong sits Lonely Beach, aptly named for its peaceful atmosphere. Hence, if you're on the hunt for a peaceful spot, this is the place to be.
Just a brief walk from the main tourist area of Koh Touch lies the vast 4K Beach, also known as Long Set Beach. An even shorter walk from Koh Touch will put you at White Beach. Spend some time here to bask in the warm sun. We promise you'll be bringing home with some of the best memory.
While on the western part of Koh Rong island, you'll find Sok San Beach. Here, tourists can immerse themselves in local culture by staying at a Khmer fishing village. Alternatively, one of the biggest resorts also sits on Sok San Beach. If you're a big fan of palm trees, then head to Palm Beach where you can nap on a hammock all day long.
Fun Activities On Koh Rong
Sink your toes in fine white sand before taking a dip in crystal blue waters. Have a go at scuba diving. Go snorkeling with your own snorkeling gear. Thrillseekers can try their hand at jet skiing or windsurfing. Looking for an adventure on land? Go through an obstacle course at the High Point Zip Line and Rope Park.
At night, Koh Rong island turns into a paradise unlike any other. Watch the stunning sunset before turning your gaze at the glowing plankton in the ocean. Unfortunately, these bioluminescent sea creatures can only be seen in certain parts of the island. Additionally, there would have to be little to no light pollution in the area.
Doing all of this in just one day is nearly impossible. To hit multiple birds with one stone, book an island tour. These tours typically last an entire day. They involve visiting unspoiled Cambodia beaches and humble fishing villages. The package also includes snorkeling as well as observing the glowing plankton. The tours typically cost $100.
If you want to see the glowing plankton (bioluminescent plankton) without all the extras, you can also book a tour that costs roughly $5. These boat trips leave at 7 p.m., so don't be late!
Let Loose And Party On Koh Rong
Koh Rong is one of the Cambodia beaches known for a bouncing nightlife. Party seekers certainly won't be disappointed. Island-wide pub crawls take place every Tuesday and Friday. On Wednesdays and Saturdays, visitors flock to Police Beach to participate in all-night ragers. These parties also take place on full moon days. With events happening almost every day, you'll definitely experience at least one of them during your visit.
Before it became the party island it is today, Koh Rong was once just a lush paradise with only a few bungalows. Now, tourists can have their pick of the litter. From affordable guesthouses to luxury resorts, this island has it all.
Traveling To Koh Rong
From Sihanoukville city, take a 45-minute high-speed ferry ride to Koh Rong. The two-way trip costs $22 to $25. If you're heading straight to Lonely Beach, the boat ride takes three hours from Sihanoukville.
2.
Unwind On Koh Rong Sanloem
Not to be confused with its sister island, Koh Rong Sanloem allows for a more toned-down experience. There are lesser wild parties (though there are a few party beaches nonetheless) — only an offer of serenity.
Best Cambodia Beaches on Koh Rong Sanloem
Saracen Bay attracts the most tourists, so don't be surprised to find it more crowded than other beaches. Justifying the popularity of Saracen Bay are its sparkling turquoise water and white sandy shore. You'll also find a substantial amount of hotels and resorts in this area. On the other side of Koh Rong Sanloem is Lazy Beach, a true hidden gem. The sand here is powdery soft and the water just as dazzling. The spectacular view of rolling mountains is just the cherry on top. End the day by watching the colorful sunset over on Sunset Beach.
Unwind On Koh Rong Sanloem
Given the more tranquil vibe of Koh Rong Sanloem, there are only a handful of activities you can do here. Apart from swimming, water activities include paddleboarding and snorkeling. Other than that, you can enjoy the quiet poise of the island by reading a book, taking a nap, or working on your tan.
Traveling To Koh Rong Sanloem
Koh Rong Sanloem is accessible by the same high-speed ferries from Sihanoukville. The cost remains in the $22 to $25 range, with travel time about 40 minutes if the island is the first stop. However, if it's not the first stop, then the trip may take roughly an hour.
3.
Laze Around On Koh Ta Kiev
Not far from Koh Rong and Koh Rong Sanloem is Koh Ta Kiev, a far less developed island in Cambodia. There are only a handful of bungalows, and there are no big resorts in the area.
Just Chilling On Koh Ta Kiev
The island of Koh Ta Kiev is one of the few Cambodia beaches that's relatively undisturbed. Spend your days lazing on the shore or swimming in the unspoiled azure water. Have a go at snorkeling to see the marine life that lives below the surface. Go for a jungle walk to become one with nature. Try your hand at fishing.
There's limited electricity on this island although there are some generators. Despite this, there's little to no light when dusk falls. Without light pollution, tourists can fully enjoy the mass of glowing plankton that illuminates the water.
Traveling To Koh Ta Kiev
The accommodations at Koh Ta Kiev provide boat rides for their guests at a cost of $10. Another option is to rent a private boat from Sihanoukville.
4.
Reconnect With Nature On Koh Thmei
Animals lovers will find it hard to leave Koh Thmei. With only one place to stay on the island, Koh Thmei Resort, guests can feel truly detached from the fast-paced city life.
Fun Activities On Koh Thmei
Koh Thmei sits inside Ream National Park. Tourists won't have a hard time spotting wildlife everywhere. From monkeys and civets to birds and lizards, Koh Thmei is truly a fauna-filled paradise. If you're an avid bird-watcher, you'll find over 100 different species of the winged creatures on this island alone.
The Cambodia beaches here on Koh Thmei are also some of the best. They're pleasantly deserted, so you can feel like you have the whole place to yourself. Go swimming, snorkeling, hiking, or kayaking. If you're lucky, maybe you'll even catch a glimpse of dolphins dancing in the water.
Traveling To Koh Thmei
From Phnom Penh, you can take a taxi to Koh Kchhang for $60. Koh Kchhang is the fishing village located near the island. If you're coming from Sihanoukville, the same taxi ride will only cost you $22. From Koh Kchhang, Koh Thmei Resort will provide a boat to take you to your destination.
5.
Enjoy A Luxurious Stay On Song Saa
If you're looking for something grand, Song Saa Island awaits. Located off the coast of Koh Rong, Song Saa is a private island with an exceedingly extravagant resort. Gourmet meals and champagne are the norms around here.
Fun Activities On Song Saa
Swim in the gorgeous crystal water of the ocean or in a private pool in your villa. Have a private beach picnic on the powdery white sand. Go snorkeling or sea kayaking. Try your luck with a nature treasure hunt. Satisfy your hunger for adventure with an island safari. Don't want to go out? Enjoy a movie in the comfort of your own villa.
Villas at the Song Saa Resort start at $890/night and can go up to $3,590/night. Guests with reservations can travel to the island via a private boat organized by the resort.
6.
Eat Fresh Seafood At Kep Crab Market
While not exactly an island itself, Kep Crab Market deserves a place on this list. Located in Kep, Cambodia, this crab market is home to several restaurants that serve delicious—you guessed it—seafood!
Everything from fish to shrimp to squid is served here. Of course, no trip to Kep Crab Market would be complete without tasting the famous Kep Crab. Don't be shy to use your hands to get all of that juicy crab meat.
The main draw of this tourist destination is that the crab market sits right on the water. Only a few restaurants operate in the morning because it's mainly a seafood market. However, once the sun sets, you can bet all the restaurants will be open for business.
Swing By Kep Beach
A short walk from the Kep Crab Market will take you to Kep Beach. After eating to your heart's content, make sure to drop by one of the Cambodia beaches with golden sand. Take a dip or just relax on the shore before heading to the nearby bus station to continue your journey.
Take Note Of The Rainy Season
Cambodia is a tropical country. As such, it only has two seasons: wet and dry.
Wet Season or Rainy Season
Cambodia's rainy season takes place from mid-May to early November. During this time, the overall climate is typically wet, and rain is a common occurrence.
Visiting Cambodia beaches during the wet season has pros and cons. It can be hard to enjoy the beach when there's heavy rain. However, it doesn't rain the entire day, giving you time to spend outside. Swimming won't be freezing because temperatures don't drop too low in this country. Additionally, accommodations tend to be cheaper when traveling during the rainy season.
Dry Season
On the other hand, if your mind is set to a hot summer getaway, then time your visit between November and January. These months are warm but not overly so. Temperatures become hotter closer to April. The scorching heat can be draining if you're not used to it.
Understanding Cambodian Currency
Riel is the official Cambodian currency. In terms of exchange rates, one US dollar is equivalent to roughly 4,000 Cambodian riels. However, hold off on exchanging your US dollars for Cambodian currency. US dollars are universally accepted in Cambodia. In fact, most businesses geared towards tourists deal in dollars.
Running out of money won't be too much trouble. In Cambodia, ATM machines dispense both Cambodian riels and US dollars. Foreign ATM cards will only be able to transact in dollars, though.
If you plan on traveling to the Cambodian countryside, make sure to take smaller bills with you. The establishments can't often break bigger bills. As such, it's best to also carry Cambodian currency (riels) when traveling here.
Don't Speak Cambodia Language? No Problem!
When traveling in Cambodia, it's best to know a few key phrases that'll make your trip smoother. Khmer is the official Cambodia language. It's also said to be easier to pick up because it doesn't rely on tone. Here are some basic phrases you may find useful:
Hello – Jum-reap soo-a
Yes – Baat (men)/ Chaas (women)
No – Dteh
Sorry – Sohm dtoh
Thank you – Or-koon
How much does this cost? – T'lay pohnmaan?
Can you give me a discount, please? – Som jous thlai bahn teh?
Where is the restroom? – Bang-kon noun aina?
I'm lost – K'nyom vung vehng plouv
The check, please – Sohm ket luy
A lot of Cambodians also speak some English, especially in big cities like Siem Reap and Phnom Penh. However, if you ever find yourself in a pinch, these phrases may come in handy.
Wrapping Up
As you can see, there are enough islands in Cambodia that will keep you coming back for more. The best Cambodia beaches are found on these islands, so visiting them all will surely be worth the journey. It's time to visit new places and make new memories. Happy travels!