15 Things To Do In Lima, Peru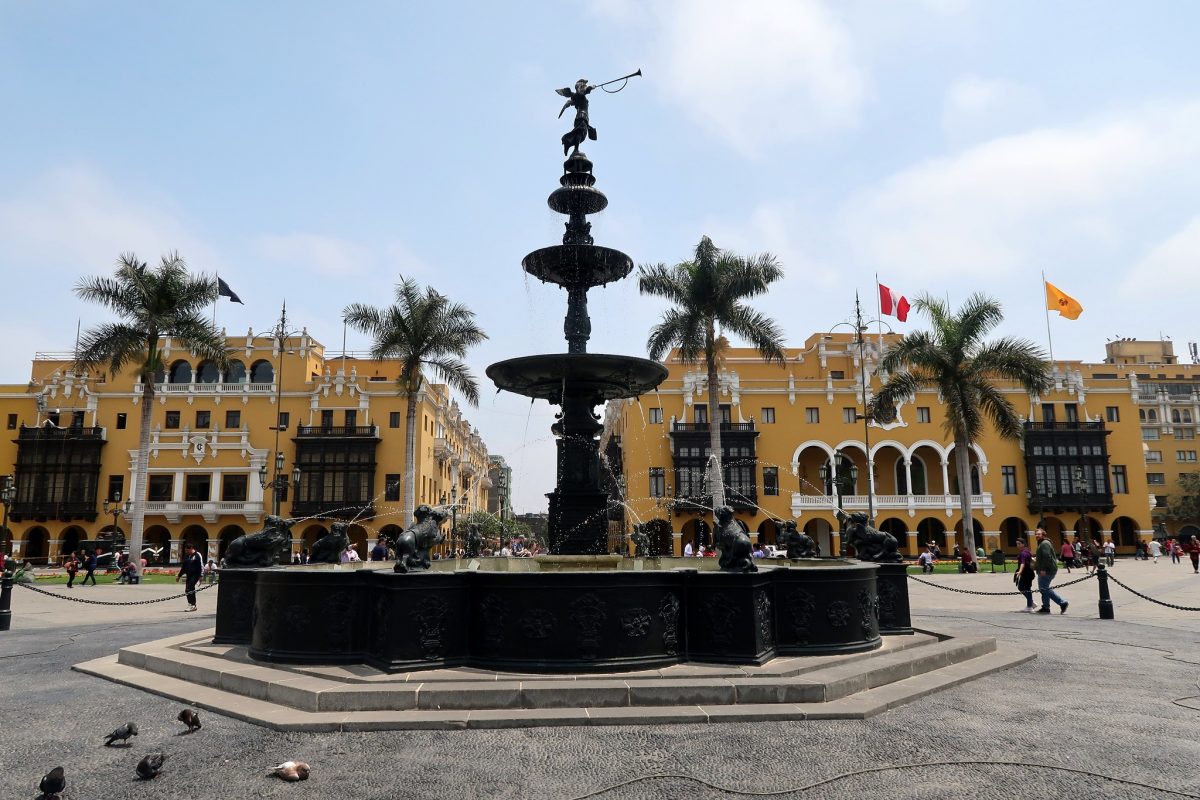 Lima is one of the oldest cities established by the Spanish conquistadores in the South American continent. It was Francisco Pizarro who, in 1535, made the decision of turning Lima's current location into an ideal place for a new settlement. His reason was that it sits next to the sea and is also high enough to prevent attacks. Furthermore, it sits on the fertile lands of the Rímac River valley. The Spanish named it Ciudad de los Reyes or the City of Kings but later took the name of the Rimaq River which was pronounced as "Limaq" by the locals.
Lima was for many years the biggest city in South America. Thanks to its historic importance, Peru's capital today offers visitors stunning colonial sights and several museums that house the wonders of pre-Columbian Inca and Naza cultures.n Besides its cultural legacy, Lima is famous internationally for its rich and exquisite food.
Here's the list of the 15 best things you can do while in Lima.
1.
Cathedral Basilica of Lima
Located in Plaza Mayor of Lima's downtown, this Roman Catholic cathedral was first constructed in 1535. Dedicated to St John, it retains much of its colonial structure and facade. The latter has three large doorways with the central and main one called the Portada del Perdón or Door of Forgiveness.
There are 14 side chapels, one of which leads to Calle de Judíos or Street of Jews and another to Patio de los Naranjos of the Orange Trees' Square. The cathedral is also home to Francisco Pizarro's tomb.
Also located in Lima's Plaza Mayor, the Archbishop's Palace is not only his official residence but also the headquarters of the Roman Catholic Archdiocese of Lima. The current building first opened its doors in 1924. Many consider it a prime example of neo-colonial architecture that was popular in Lima during the early 20th century.
Its facade contains baroque elements and its ornate cedar balconies, located over the main doors, are of extraordinary beauty.
3.
Basilica and Convent of San Francisco
North of Lima's Plaza Mayor, the church and monastery was completed in 1674 and is a prime example of Spanish Baroque architecture. The vaults of the central and side naves were done in the Mudejar style, and wood was used to create the altar.
The convent is well-known for its amazing library which comprises of about 25,000 antique texts, including the first Spanish dictionary published by the Royal Spanish Academy and a Holy Bible from 1572. Finally, in the monastery's catacombs rest some 25,000 bodies. They serve as a burial place until 1808 when Lima's cemetery opened its doors.
Opening Hours are from 9 am to 8.15 pm. Admission Prices are S/15 for adults and S/3 for children. For further information, visit the official website.
4.
Historic Centre of Lima
The area known as Lima's Historic Centre was designated a UNESCO Heritage Site in 1988 for its originality and high concentration of historic colonial monuments.
There is plenty to see besides Lima's Cathedral, the Archbishops' Palace, and Convento San Francisco. Lima's Plaza Mayor, or Plaza de Armas, is the city's birthplace and heart. It's here where you'll find not only the Cathedral and the Archbishop's Palace but also two other stunning buildings: the Municipal Palace and the Palace of the Union.
Amongst the many religious buildings to admire in Lima's Historic Center, the Convent of Santo Domingo and Sanctuary and Monastery of Las Nazarenas are the most important.
Torre Tagle Palace is a gorgeous 18th-century mansion which is now home to Peru's Ministry of Foreign Affairs. House of Aliaga, one of the oldest inhabitant houses in South America, was built in 1535 on a pre-Columbian sanctuary. Although a private house, it's possible to visit it for US$11 with a pre-arranged booking.
To explore the entirety of Lima's Historic Center, we encourage that you take a guided walking tour.
One of the two museums in Lima dedicated to the country's history, the National Museum is home to an impressive collection of artefacts spanning from Peru's human occupation to today. The highlights are Moche, Nazca, and Wari ceramics, reproductions of Andean objects, the recreation of the burial chamber of El Señor de Sipán and the Revolt Objects Mural.
Also known as Huaca Juliana, it's a magnificent adobe and clay pyramid located in the district of Miraflores. The pyramid has seven staggered platforms. These served as an important ceremonial and administrative centre of what it's known as Cultura Lima, a society that existed in the Central Coast of Peru from 200 AD to 700 AD. Squares, yards, and interconnected rooms cover much of the lower part of the site
Some rituals carried out at Huaca Pucllana include human sacrifices, particularly young women, the smashing of big ceramic vases decorated with marine life and ritual banquets where sharks were the main course.
Opening hours are from Wednesdays to Mondays from 9 am to 5 pm. Admission Prices are S/15 for adults and S/7.50 for children under 12. It's also possible to visit the site during the evenings on Wednesdays to Sundays from 7 pm to 10 pm for S/17 per adult and S/8.50 per child. For further information, visit the official website.
7.
Circuito Mágico del Agua
One of the most popular attractions in Lima, the Magic Water Tour had its inauguration in 2007. It is located in the Parque de la Reserva and it holds the world record for the largest fountain complex, consisting of 13 distinct fountains, some of them interactive. During evenings, the fountains light up with many colour schemes continuously changing.
Opening hours are from Tuesdays to Sundays from 3 pm to 10.30 pm. Multimedia Show Times are 7.15 pm, 8.15 pm and 9.15 pm. Admission Price is S/4 for adults and children under 5 and seniors can enter for free. For further information, visit the official website.
8.
Museo Nacional de Arqueología, Antropología e Historia del Perú
It is the most important museum in Peru by size, age, and content. It is home to approximately 300,000 objects from all ages. Located in Plaza Bolívar, some of the museum's main highlights are the objects found at Pikimachay Cave that dates back to 14,000 AD, the Raimondi Stele which is seven feet high and made of granite and the impressive collection of ceramics with the oldest dating back to 2,000 AD.
Opening hours are from 8.45 am to 5 pm. Admission Price for adults and all foreigners is S/10. For further information, visit the official website.
Peru, and Lima, in particular, is home to a substantial population of Chinese immigrants, who came during the 19th century. In fact, Peru is home to the largest Chinese community in Latin America. Large commercial houses were also established in Peru by Chinese import companies.
After declining in importance, Lima's Chinatown went through a renovation in 1999 to commemorate the 150th anniversary of Chinese immigration to Peru.
Today, Barrio Chino, consists of several blocks in the historic district known as El Cercado de Lima. Its heart is the Calle Capón, a pedestrian street scattered with Chinese shops and restaurants.
Built between 1684 and 1687, the Walls of Lima were part of the fortification constructed to defend the city of Lima from pirates attacks. The original wall originally had 10 gates. However, in 1868, as part of Lima's urban expansion plan, the wall was demolished.
Part of it has been restored and can be seen at the Parque de la Muralla which is at the back of the San Francisco Convent. Here, the remnants of the wall's foundation are visible. Nearby, there's a museum exhibiting archaeological pieces found in the area. Remains of the wall are also visible in the Barrios Altos area.
11.
Cerro de San Cristóbal
San Cristobal's Hill rises 300 meters above sea level and offers the best views of Lima and its cliffy coast. A huge wooden cross was placed on its top by Spanish conquistadores as soon as they arrived in the area, but the Incas destroyed it during a battle in 1536. Following the defeat of the Incas by Pizarro's troops, under Pizarro's orders, a new cross sits on the site of the first and he gave the hill the name of San Cristóbal.
Although it is possible to walk up to the top, it is not advisable to do so due to safety concerns. The best way to get to San Cristobal Hill is by a private tour.
Miraflores is the most upscale and exclusive residential and commercial district of Lima. Not only is it where you'll find Lima's best hotels, restaurants, shopping, and nightlife, but also wonderful views of the city's cliffs. In fact, walking or biking along the cliffs is one of the best ways to explore this stunning area.
It's in Miraflores where you can admire the Huaca Pucllana pyramid. Two parks are worth a visit: Parque del Amor or Love's Park, which looks almost like the Gaudi's Güell Park in Barcelona in terms of design, and Parque John F. Kennedy, famous for the numerous cats that live there.
Explore over 5,000 years of Peruvian history at one of the most interesting museums in Lima. Larco Museum's permanent exhibition offers an in-depth look at Andean culture. Visitors can find some 30,000 ancient pottery artefacts on the museum's shelves. These include a major collection of pre-Columbian erotic art.
It is located in the Pueblo Libre district and is housed in an 18th-century vice-royal building. The museum also has a pretty garden and offers guided tours in several languages.
Opening hours are from 9 am to 10 pm from Mondays to Sundays. Admission Prices are S/30 for adults and S/15 for children ages 9 to 15. For further information, visit the official website.
14.
Museo del Arte de Lima
Lima Art Museum, known locally as MALI, is located in the Palacio de la Exposición and was first opened in 1961. Its permanent exhibition houses over 17,000 items from throughout Peru's history which were divided into pre-Columbian art, textiles, colonial art, silver objects, republican art, contemporary art, and photography.
The museum also organizes temporary exhibitions throughout the year covering different artistic areas.
Opening hours are from 10 am to 7 pm from Tuesdays to Sundays except on Saturdays where it closes at 5 pm instead. Admission Prices are S/30 for adults and S/15 for children, students and seniors. Children under the age of 5 can enter for free. For further information, visit the official website.
The archaeological site of Pachacamac sits approximately 40 km southeast of Lima, in the Lurín River Valley. The people who inhabited this Peruvian valley before the Inca conquest consider Pacha Kamaq to be the creator god. The site comprises of some enormous buildings and burial sites, including temples of great religious significance dating back to 200 AD.
The three most important pyramids are the Painted Temple, the Temple of the Sun, and the Old Temple of Pachacamac. Other structures are mostly common buildings and temples built between 800 to 1450 CE, shortly before the conquest by the Inca Empire.
Opening hours are from 9 am to 5 pm from Mondays to Sundays. Admission prices are S/5 for adults, S/3 for students and seniors and S/1 for children. For further information, visit the official website.
Final Thoughts
As a bonus activity, don't forget to enjoy the wonders of Peruvian cuisine as often as possible. Lima is today one of the most attractive cities in gastronomical tourism. The city has many wonderful restaurants including ones with Michelin stars. Ceviche and tiraditos (raw sliced fish served with sauce) are the local specialties. Pair them with a pisco sour, the famous Peruvian cocktail. Pisco is an alcoholic drink made from fermented grapes. The name comes from the fresh lime juice, syrup, egg white and the Angostura bitters that were used to create this delicious cocktail.
Lima has it all. Plenty of ancient and colonial history to discover, a stunning location on top of a cliff, nearby beaches on the Pacific and a wonderful cuisine. If everything on this list sounds interesting to you, come on down and discover Lima for yourself!