15 Places You Must Visit in Belize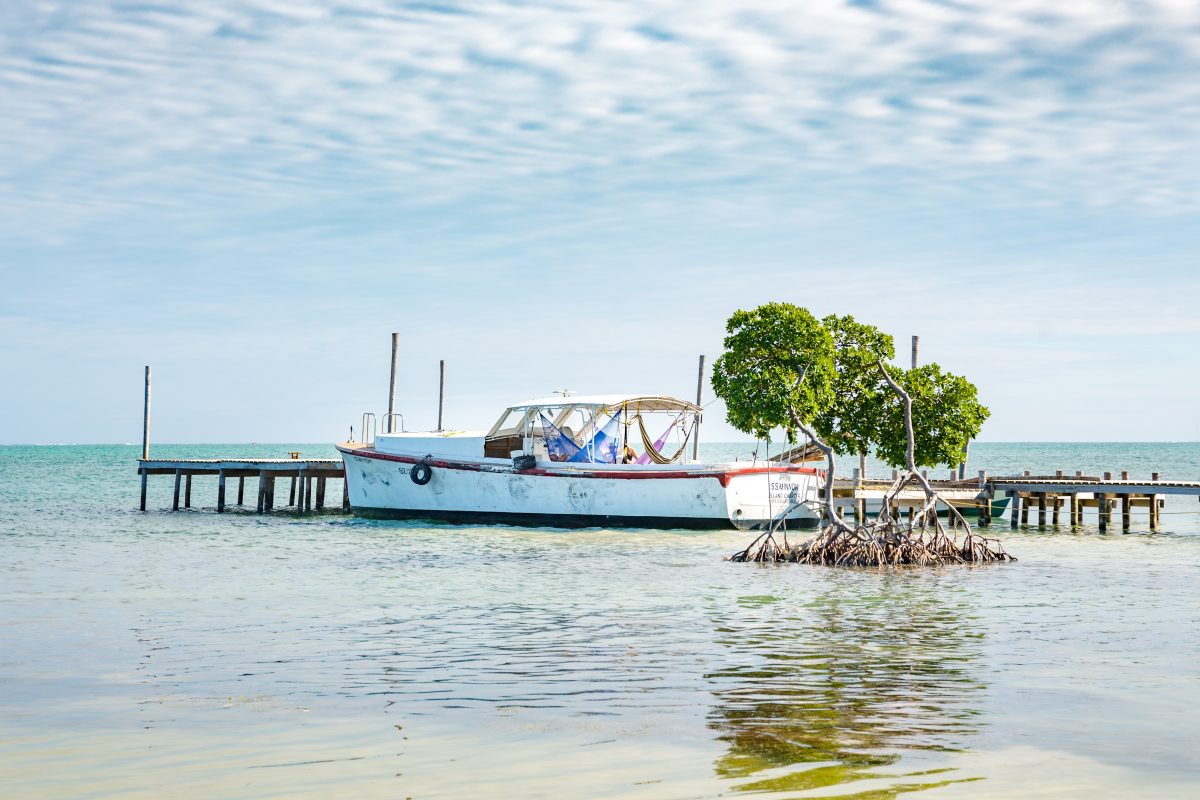 Belize is a gorgeous Central American nation that is home to rich marine life and fascinating Mayan history. Every year, tourists flock to this stunning coastal country to scuba-dive into the crystal blue seas, relax on the white sand beaches and immerse themselves in its amazing local culture. With pearls of small islands, infectious reggae music and delicious local cuisine, Belize is the complete embodiment of the bohemian Caribbean dream.
However, if you do not wish to be a beach bum for the duration of your vacation, there are plenty of other things you can do too. Read on for a hand-picked curated list of things to do in Belize.
This UNESCO World Heritage Site and National Monument is the most popular tourist landmark attraction in all of Belize. Cousteau's discovery of this marine sinkhole has been regarded as one of the top scuba diving sites in the world.
Divers from all over the world can swim in crystalline waters to meet the rich and diverse sea life below. This ranges from Midnight Parrotfishes, butterfly fishes, angel fishes and even sharks!
If you do not wish to take the plunge, you can also explore the island's lighthouse. Fly over via helicopter or relax on the white sand beaches.
Diving tour prices to explore the Great Blue Hole and Lighthouse Atoll start from USD 275.
2.
Hol Chan Marine Reserve
Sail, swim or snorkel at Hol Chan Marine Reserve. Mayan for 'little channel', Hol Chan Marine Reserve is one of the most popular diving sites in the world. It is home to nearly 4500 acres of coral reefs, seagrass beds and mangrove forest with an even more diverse range of fish, turtles and marine animals.
Tourists can choose to interact with the rich marine life either above on a sailboat, on the surface by floating in the beautifully clear waters or scuba diving down below to get an up-close look. Diving tour prices can range from between USD 60-90.
This bohemian pearl off the main coast of Belize is one of Belize's most prized possessions. Located about 20 miles from Belize City, Caye Caulker is the sheer personification of the 'island vibe'; where dogs snooze lazily in the street at noon, bikes zoom past in the street and local vendors sell homegrown produce and fresh fish with a smile on their face with Caribbean reggae music playing in the background.
With over 50 shops and hotels, Caye Caulker is a gorgeous beach resort that is incredibly popular with tourists and locals alike. Via 'The Split', Caye Caulker also offers dual opportunities to scuba dive or snorkel in calm and clear aquamarine waters, or chill on pure white sand beaches with a Pina Colada in one hand and the Belizean sunset in front.
4.
Cahal Pech Mayan Ruins
Although given the unfortunate monomer of 'the place of ticks' in Modern Maya, Cahal Pech Mayan Ruins provides you with a golden chance to step into history. Abandoned in 800 AD, Cahal Pech was the royal residence of a ruling Mayan clan and now exists as the least ruined 'ruins' to be found in Belize.
Consisting of seven plazas and over thirty structures, Cahal Pech Mayan Ruins are the most popular and largest Mayan ruins in Belize. Visitors may reside at the nearby Cahal Pech Village Resort where prices start from USD 95 per night.
Belize's best-kept secret, the Secret Beach located on Ambergris Caye, provides aquamarine waters and white sand beaches that is rampant in Belize, but is slightly off the beaten track. Visitors can kick back on the clean beaches, swim in the clear blue waters or go canoeing and kayaking.
Highlights of the 'Secret Beach' include floating on a paddle ring and sipping on the drinks of your choice at the Sip 'N' Dip, snacking on local beach cuisine or have a relaxing beachfront massage. Secret Beach is the perfect place to experience what Belize offers, but on a smaller and quieter scale.
Secret Beach is popular with young locals, and gets crowded during the weekends. So, if you're a fan of the party scene, Secret Beach is the place for you.
One of the largest Mayan cities ever built, Xunantunich is the pride and joy of Belize. The preserved Mayan ruins provides a certain sense of mystery due to only a small part of the site being explored and open to the public.
El Castillo is the most iconic building of Xunantunich and is the second tallest man-made structure in Belize. The two temples on the El Castillo site are still perfectly preserved with intricate cultural features; one including an impressive frieze, and the other displaying carved masks of the sun and moon deities of the ancient Mayan pantheon.
Visitors may wish to embark on a horseback tour to Xunantunich, where prices may range from USD 70 per person. Watch out for the Stone Woman on your way there!
7.
Green Iguana Conservation Project (San Ignacio)
Belizeans are very proud of their efforts to protect endangered species, and the Green Iguana Conservation Project is a shining example. The Project is a venture to protect the endangered Green Iguana species in Belize.
Visitors to the Project may interact with these beautiful animals and explore the exhibitions on show. The Green Iguana Tour is open between 08:00 AM to 16:00 and tickets cost USD 9 per person.
Voted by National Geographic as the No.1 Most Sacred Cave, Actun Tunichil Muknal is one of Belize's most famous tourist attractions.
Thousands of years after her passing, the original Actun Tunichil Muknal fame still lives on. Her crystallised skeleton, from which the cave derives its name, lies on the ground. Around her are additional skeletons of her companions and preserved Mayan artefacts including ceramics, pottery and stoneware.
The walls of the cave are also extensively decorated and adorned with ancient Maya carvings. As one of the most protected cultural places in Belize, there are only a select number of tour guides permitted to host tours, and therefore tour prices can start from USD 100 per person.
However, the rare chance to catch a glimpse of history and get an in-depth look into an ancient civilisation is an unforgettable opportunity. Just remember not to step on the skeletons!
9.
Laughing Bird Caye National Park
A National Park of the Belize Barrier Reef Reserve, a certified UNESCO World Heritage Site, The Laughing Bird National Park is one of the diamonds in Belize's crown. This beautiful isle offers visitors the same services of scuba diving, snorkeling and swimming that can be found on other Belizean islands.
However, the Laughing Bird National Park trumps them all due to its diversity of coral reefs and marine life. It is no wonder that this little isle is referred to as a 'snorkeler's heaven'. The laughing gulls, from which the island receives its name, are also returning to the island due to preservation efforts. Therefore, if you are an avid birdwatcher, the island would be a highlight of your vacation.
If you are more of the beach bum type, you can relax on the white sandy beaches and gaze at the natural beauty that the park offers.
10.
Belize Tourism Village
Belize Tourism Village is Belize's main cruise-ship terminal and a charming harbourfront shopping village. Colourful and vibrant, the Tourism Village is awash with souvenir shops, bars, and restaurants. Visitors can venture down the cobbled streets, consume local cuisine and interact with the locals. Live entertainment is also common which makes the Belize Tourism Village a fun location for an evening out.
Canoe down Barton Creek Cave and explore the breathtaking view that the Maya Mountains on the Barton Creek offers. Accessible only via canoe, visitors can observe the rich culture of the Mayan civilisation.
The Barton Creek Cave is home to ancient stories of how the Mayans held ceremonial and sacrificial rituals to the gods of the underworld. Cloaked in darkness, the caves are atmospheric, quiet and imposing. Although you may not find yourself entering into the underworld according to ancient Mayan custom, you will be momentarily transported to the ancient times.
Pretend you're Richard Branson for the day and enjoy your very own private tropical island! A short boat ride away from the beaches of Placencia, Ranguana is a private island available to day trippers or overnight guests residing in the island cabanas.
With a less populated atmosphere, you can enjoy the typical Belizean activities of snorkelling, swimming, and kayaking . If that is not up your street, you can relax and stretch out on the white sand beaches, bake in the sun and look at the shimmering stretches of turquoise sea ahead of you.
Belize Zoo is home to over 150 animals from 45 of native Belizean species. As an institution fully committed to protecting and conserving endangered wildlife, Belize Zoo takes care of these vulnerable animals since their birth or at a young age.
The enclosures within the zoo are large, natural pens which allows visitors to observe the animals in their natural habitats. Belize Zoo is also the first nature destination in Belize that is wheelchair accessible and accommodation is also available at the Belize Zoo Jungle Lodge.
Opening hours are between 08:30 and 17:00 and ticket prices differ between children and adults (USD 5 for children, and USD 15 for adults).
14.
St Herman's Blue Hole National Park
St Herman's Blue Hole National Park is a unique combination of ancient Mayan culture native Belizean wildlife. Jaguars, ocelots, and tapir slink around the forested land which frames concealed caves. These enigmatic caves display the ancient Maya ceremonial culture and practices.
Visitors can walk down these prehistoric caverns and meet the aptly named Blue Hole at the end. The 100ft wide and 300ft deep lush sapphire-coloured sinkhole is fed by underground rivers and invites swimmers to take the plunge and jump in. If you wish to see exotic wildlife, ancient Maya history, and splash into a temptingly blue pool, there is no better excursion than St Herman's Blue Hole National Park.
Opening hours are between 08:00 and 16:30 and tickets start from USD 4.
15.
Cockscomb Basin Wildlife Sanctuary and Jaguar Preserve
It is interesting to note that Belize is home to the world's only jaguar reserve. These majestic endangered animals reside in the safe space of Cockscomb Basin. As a protected replica of the natural wild, visitors may find it extremely difficult to spot a jaguar due to the reserve spanning over 150 miles.
However, countless other species call Cockscomb Basin home such as monkeys, snakes, and toucans, which makes Cockscomb Basin a haven for nature buffs and animal lovers alike. Visitors can explore the sanctuary through its network of trails. Notable trails include; The Waterfall Trail and Ben's Bluff Hiking Trail, which are famous for their swimming hole features and impressive views of the basin, respectively.
Opening hours are between 08:00 and 16:30 and ticket prices cost USD 5.
Which tourist destination in Belize interests you the most? Let us know in the comments section below!
* This article was contributed by Shivani Kumar.