10 Things You Must Do In Hat Yai, Thailand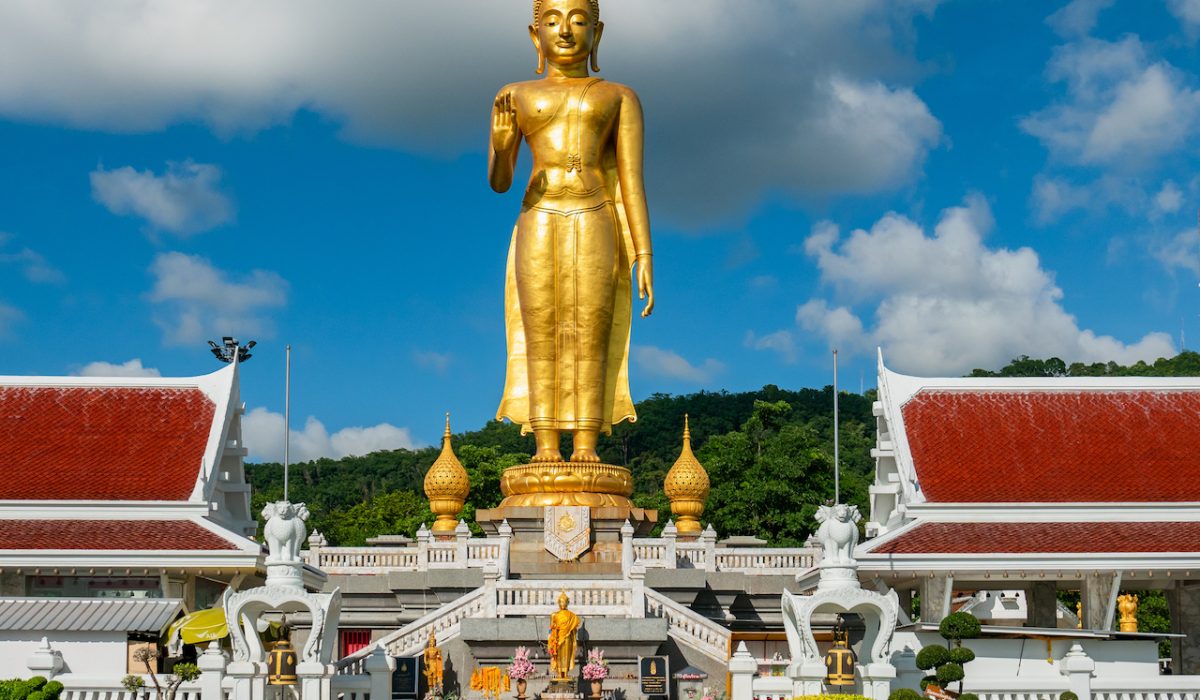 Hat Yai is a gem tucked in the south of Thailand. Known for its Buddha statues, markets, and parks, among others, Hat Yai is home to a slew of adventures. Aside from that, the city offers more when the sun sets on the horizon — from pubs, restaurants, to night markets. Whatever travel mood you're in, here are 10 things to do in Hat Yai.
1.
Lose Yourself In Hat Yai Food
Hat Yai food needs little introduction. With its perfect blend of exotic flavors and fragrances, every dish is certain to satisfy the palate. Food stalls are found almost everywhere, which makes it very convenient for tourists. Aside from accessibility, most of the food and drinks are reasonably priced.
Must-Visit Food Markets
Greenway Night Market: A visit to Hat Yai is incomplete if you skip the Greenway Night Market. This is a nice place to take a stroll and buy the best local street foods. Grab some grilled pork, sticky rice, and a cold glass of Thai iced tea.
Kim Yong Market: You don't want to miss the biggest day market in Hat Yai — Kim Yong. This market opens as early as 6 am. Feast on fresh fruits and vegetables, wanton mee, duck rice, and other light bites.
Must-Try Restaurants in Hat Yai
Chok Dee Dim Sum: Very popular among tourists, Chok Dee Dim Sum offers the best dim sum fix. This explains why the place is always packed with people. With a variety of affordable and delicious dim sum, the long queues are always worth it.
Sujinda Seafood: For your seafood cravings, Sujinda is the best destination. This restaurant serves a wide variety of fresh and tasty seafood.
Dham Ma Daa: This charming coffee shop in Hat Yai Thailand offers an excellent break from a hectic day. It's mostly known for its specialized bean selections and baristas. In Dham Ma Daa cafe, treat yourself to their extraordinary Cold Brew, fizzy Espressoda, or Irish Coffee, among others.
Most known for their dishes bursting with flavor, there's a long list of must-try food in Thailand.
2.
Indulge Yourself In Hat Yai Shopping
One of the best things to do in Hat Yai Thailand is shopping. The city streets are lined with markets and stalls selling various things. There's perhaps one market to explore each day! Hat Yai offers you the best shopping experience when it comes to affordability and variety. Lose yourself in clothes, shoes, bags, and cosmetics, among other things. The city literally lets you shop 'til you drop.
Aside from Greenway Night Market and Kim Yong, here are other must-visit markets for your shopping pleasure:
Asean Night Bazaar: This night bazaar is open from Tuesdays to Sundays from 4 pm to 10 pm. This bazaar is a paradise for all your shoes, clothes, and accessories. Aside from these, the market also sells souvenir items and local delicacies for tourists to enjoy. TheAsean Night Market is perfect for those who want to shop during nighttime.
The Odean Shopping Mall: This five-storey building sells local and upscale products. From clothes, bags, shoes, accessories, Odean is a one-stop-shop. There are also coffee shops, a food court, and onsite parking.
3.
Visit The Hat Yai Floating Market
Set in the quiet northern outskirts of the city is Hat Yai Floating Market. Also known as Khlong Hae, this market has a variety of fresh fruits, vegetables, local snacks, and even souvenirs. For convenience, there's a large roofed area on land that sells a variety of food, clothes, and souvenir items. Come night time, the market treats you to a shadow play. In addition, the cooler climate at night makes for a perfect shopping and dining experience.
Must-Try Local Foods In Hat Yai Floating Market
grilled prawns
pad Thai
khanom jeeb (steamed dumplings)
luk chup (colorful mung bean sweets)
Southern Thai curries
roti with hot dogs
fried chicken
khanom beuang (sweet taco-shaped snacks)
ba-bin (mini coconut pancakes)
samosa
4.
Escape The City Life In Ko Yo Island
With the hustle and bustle of city life, a trip to Ko Yo Island is a great escape from it all. Ko Yo may be a small island but it offers big pleasures to both locals and tourists. Coming here lets you enjoy the serenity the island offers and the fresh sea breeze you won't get in the city. In addition, the island is known for serving freshly caught seafood that guests can enjoy by the coast. You can feast on some spicy catfish, jampada, among others.
After a tasty meal, you can stroll along Tinsulanond Bridge, Thailand's longest concrete bridge. Take photos here during sunset for a gorgeous backdrop of the setting sun. Ko Yo is home to weavers, temples, and the Folklore Museum. Ko Yo Island is also famous for its huge reclining Buddha. With 99 feet in length, the Reclining Buddha is a magnificent sight to see. If you want to unplug from the busy city life, Ko Yo is the perfect destination.
5.
Amuse Yourself In The Magic Eye 3D Museum
If you want to do something different, head on to the Magic Eye 3D Museum. Located in Greenway Night Flea Market, the museum is great if you're traveling with kids. Inside the museum, get prepared to trick your eyes with 3D wall and floor paintings. The optical illusions are found in various themed galleries and are perfect for photo taking.
The museum is open from 9 am to 7 pm on Mondays and Tuesdays. Meanwhile, it's open from 9 am to 9 pm on Wednesdays to Sundays. Its location in the flea market makes it a great place to have some local shopping after your visit.
6.
Explore Hat Yai's History And Culture
Among the best things to do in Hat Yai is to learn about its culture. Home to temples and parks, a trip to these historic sites makes for a more meaningful visit.
Must-Visit Historic Sites
Wat Hat Yai Nai Temple: Among the many Thailand tourist spots to see is Wat Hat Yai Nai. This temple houses the third-largest Reclining Buddha in the world. Some call it the "Beautiful Sleeping Buddha." Whichever name it goes, many people flock here to make offerings and pay respect.
The Municipal Park: For cultural buffs, the Municipal Park abounds with plenty of temples and shrines to explore. However, the park is most famous for its mesmerizing Buddha statue. Standing 25 meters tall, the statue's magnificence is a sight to behold. The Municipal Park also features a monument of King Rama V, a Brahman shrine, and a laughing Buddha. The best way to appreciate the park is through a cable car. This gives you a breathtaking panoramic view of the entire park. For a more romantic vibe, take the cable ride car late in the afternoon. This should give you a gorgeous sunset as a backdrop.
Phra Maha Chedi Tripob Trimongkol: Sitting on the hill behind Prince of Songkla University, this iconic temple glitters among the mountains. The temple is built with sterling silver, giving it a luxurious look. For the best experience, climb to the top and appreciate the gorgeous view below.
Some consider Hat Yai as just a quick stopover on their travels from Thailand to Malaysia. However, Hat Yai has a lot to offer and deserves more than just a few hours of stay. One of the best things to do in this city is to enjoy the nightlife.
Must-Visit Places for a Drink
Westside Saloon Pub and Restaurant: If you want some country music or rock and roll while enjoying a drink, head to Westside Saloon. The place is decorated accordingly, giving you an ultimate Western ambiance.
Blue Kiss: Blue Kiss is a great choice if you want to go clubbing. This club lets you enjoy vibrant lights while dancing to international and local music.
Nectar Pub: Another fun spot to enjoy Hat Yai's nightlife is at Nectar Pub. Aside from the live music and crowd, the pub offers an assortment of cocktails and beers.
8.
Hike To The Ton Nga Chang Waterfall
If you're seeking an adventure, there's some hiking to do in Ton Nga Chang Waterfall. Nestled in Ton Nga Chang Wildlife Sanctuary, it ranks among Southern Thailand's most breathtaking waterfalls. The waterfall has seven cliffs towering amid the wildlife sanctuary.
Don't worry about hiking all the way up. Most tourists can't get past the third level. You can simply enjoy dipping into the refreshing waters or lounge in the shady trees. There's also a small beach near the parking lot where kids can wade and swim. Bring along a reliable trail camera to capture some of the fantastic moments here.
9.
Spend The Afternoon At Songkhla Zoo And Waterpark
A zoo on the hilltop? Yes, please! Songkhla Zoo is the perfect destination for the entire family. Surround yourself with its many animals, such as tigers, giraffes, penguins, and deer. The zoo allows you to feed some of the animals closely. For your convenience, you can tour the zoo using your own car.
In addition to the animal encounter, this zoo also has a waterpark. There's a seven-meter-high water slide, kiddie pools, and a flowing river. Great photos won't fall short, too. The pool is designed to give you a 180-degree-view of Songkhla.
10.
Visit The Golden Mermaid In Samila Beach
About a 45-minute drive from Hat Yai sits one of the most popular beaches in the city — Samila Beach. The beach is known for its white pine groves and the Golden Mermaid statue. It is said that touching the statue will bring luck to your love life. For solo travelers, don't skip making a trip here. There's really nothing to lose, right?
Samila Beach is an excellent place to swim, enjoy nature, and simply relax. The beach is also lined with nice restaurants offering local delicacies. After a hefty meal, stroll along its beautiful shores. The beach also has plenty of benches nestled between trees. In addition, there are pavilions and sidewalks that make the place friendlier.
Going Around Hat Yai
If it's your first time visiting Hat Yai, don't worry about how to go around the town. It's fairly easy with the many transportation options to choose from, including taxi, bus, train, or even a motorbike for rent. Most visitors prefer using the bus when visiting (or leaving) Hat Yai. Most buses offer a premium experience with their own bathrooms and Internet service. These buses travel to and from Butterworth, Penang, and Alor Setar.
Visiting nearby islands is also easy with bus rides. From Hat Yai to Koh Lipe, you can ride a minibus for two hours then take a ferry for another two hours. Other excellent islands worth a visit from Hat Yai are Krabi Island and Trang Island. Both islands can be reached via a bus as well.
Top Hotels In Hat Yai
New Season Square Hotel: New Season has a luxurious and friendly vibe, giving you a home away from home experience. Located in downtown Hat Yai, the hotel offers delicious dining, a fitness center, and a swimming pool.
Centara Hotel: Located above Central Department Store, Centara Hotel offers both luxury and convenience. Aside from being close to many tourist spots, Centara pampers you with a rejuvenating spa and outdoor pool.
Buri Sriphu Boutique Hotel: This hotel lets you enjoy a nice dip in the pool, scrumptious meals, and rooms with contemporary designs. Located in the Hat Yai market area, you are only a few steps away from the shopping and food centers.
Naitawan Resort: Set in Hat Yai in Songkhla Province region, this resort features a lush garden. Checking in here pampers you with excellent food, great amenities, and a warm staff. Naitawan is one of the best-rated resorts in Hat Yai.
Visit Hat Yai Soon
There's a city in the far south of Thailand that awaits hungry travelers. Hat Yai, if you learn more about it, is more than just a stopover destination. A city with sprawling shopping centers, commercial hubs, and historical sites, there are endless things to do in Hat Yai. Make your next trip to Thailand a little more exciting by adding Hat Yai to your itinerary.