Overlap Stone On Koh Samui: Complete Guide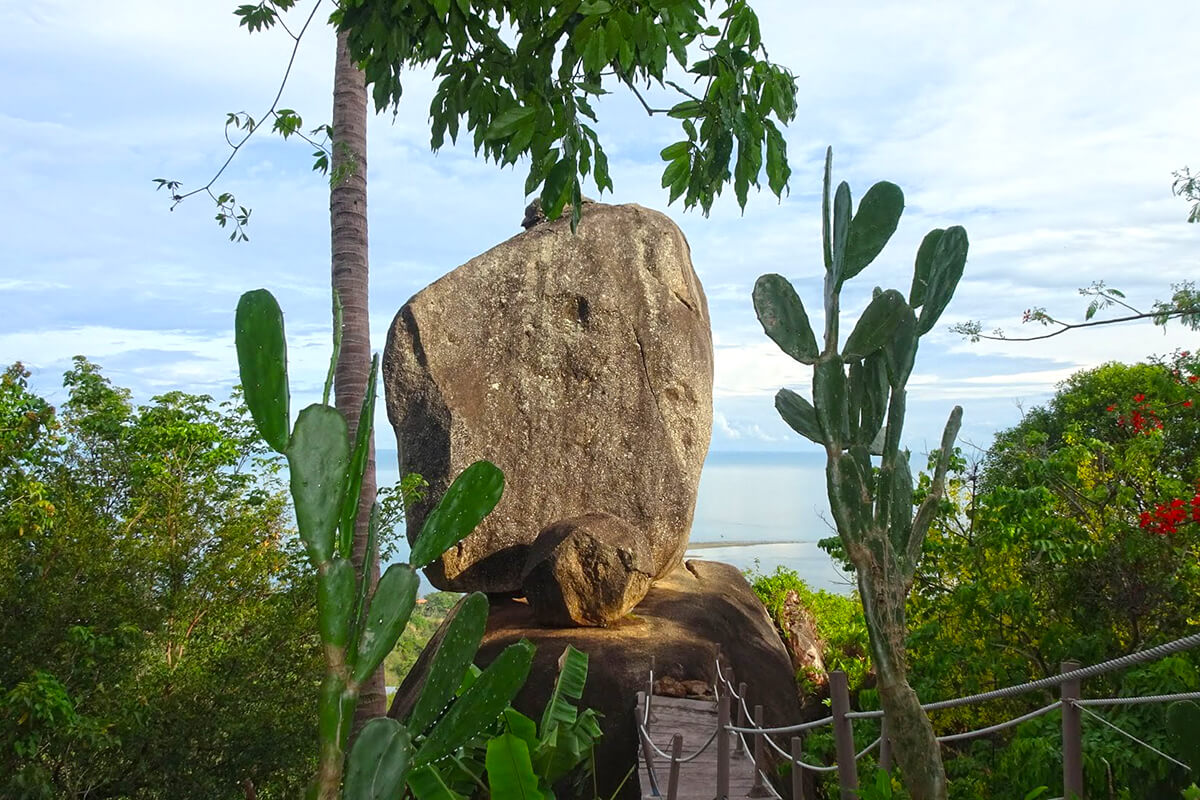 Introduction
Located on the scenic island of Koh Samui in Thailand, Overlap Stone is a natural wonder that will leave you awestruck. This unique rock formation, also known as Hin Yai and Hin Ta, is famous for its uncanny resemblance to male and female genitalia. It has become a popular tourist attraction not just for its geological features, but also for the intriguing folklore associated with it.
Visiting Overlap Stone offers a fascinating opportunity to explore the beauty of nature while immersing yourself in local legends and folklore. The juxtaposition of the rock formation against the clear blue waters of the Gulf of Thailand creates a picturesque backdrop that is perfect for photography enthusiasts and nature lovers.
The island of Koh Samui itself is renowned for its stunning beaches, vibrant culture, and laid-back atmosphere. Overlap Stone only adds to the island's appeal, providing visitors with a unique and entertaining experience that will surely be remembered for years to come.
Whether you are traveling with friends, your partner, or even as a solo traveler, a visit to Overlap Stone is a must-do during your time on Koh Samui. It offers a blend of natural beauty, cultural significance, and quirky charm that sets it apart from other tourist attractions on the island.
In this comprehensive guide, we will provide you with all the essential information you need to plan your visit to Overlap Stone. From transportation options to nearby attractions, hiking routes to photography tips, and accommodation options to dining recommendations – we've got you covered. Let's dive into the enchanting world of Overlap Stone and discover everything this remarkable destination has to offer!
Getting to Koh Samui
Koh Samui is an easily accessible destination with several transportation options to choose from. Whether you're traveling domestically or internationally, you can reach the island via air, land, or sea.
By Air: The most convenient way to reach Koh Samui is by air. Samui International Airport (USM) offers direct flights from major cities in Thailand, including Bangkok, Phuket, and Chiang Mai. Additionally, there are direct flights from international destinations, such as Singapore, Hong Kong, and Kuala Lumpur. Airlines that operate regular flights to Koh Samui include Thai Airways, Bangkok Airways, and SilkAir.
By Land and Sea: If you prefer a more scenic journey, you can reach Koh Samui by a combination of land and sea transportation. If you are in southern Thailand, you can take a bus or drive to one of the ferry piers in Surat Thani or Donsak. From there, you can board a ferry to Koh Samui. There are also bus and ferry services available from other popular tourist destinations like Phuket and Krabi.
It's important to check the schedules and availability of ferry services as they can vary depending on the season. The journey by ferry typically takes around 1-2 hours, depending on the departure point.
Getting Around Koh Samui: Once you've arrived in Koh Samui, getting around the island is relatively easy. Taxis and songthaews (converted pickup trucks with benches) are readily available for hire. It's advisable to negotiate the fare before starting your journey.
If you prefer more flexibility during your stay, you can rent a motorbike or car. Keep in mind that you will need an international driving permit to rent a vehicle. However, be cautious while driving, as road conditions can be challenging and traffic can be busy, especially in tourist areas.
With multiple transportation options available, reaching Koh Samui is a hassle-free process. Just choose the mode of transportation that suits your preferences and enjoy the journey to this tropical paradise.
Overview of Overlap Stone
Overlap Stone, also known as Hin Yai and Hin Ta, is a captivating natural formation located on the island of Koh Samui in Thailand. This unique rock formation is famous for its striking resemblance to male and female genitalia, making it a popular landmark and a source of fascination for visitors.
Situated along the southeastern coast of the island, Overlap Stone stands as a testament to the incredible power of nature. The erosive forces of wind and water over thousands of years have sculpted the rocks into their remarkable shapes, captivating the imagination of those who visit.
The legend behind the formation of Overlap Stone adds to its allure. According to local folklore, an elderly couple became stranded on the shores of Koh Samui during a storm. After many unsuccessful attempts to escape, the couple tragically perished, transforming into the rocks we now know as Hin Yai and Hin Ta. The rocks are said to represent the male and female ancestors of the island's people, symbolizing fertility and prosperity.
Despite its quirky appearance and legends, Overlap Stone offers more than just a photo opportunity. The surrounding area boasts stunning views of the Gulf of Thailand, with crystal-clear waters and rugged coastlines. Visitors can take leisurely strolls along the beach, relax in the shade of palm trees, and enjoy the serenity of the natural surroundings.
In recent years, Overlap Stone has become a popular tourist attraction, and local vendors have set up stalls selling souvenirs and snacks nearby. This area also offers a range of activities such as elephant trekking, ATV rides, and snorkeling, allowing visitors to make the most of their time in this beautiful part of Koh Samui.
Whether you are interested in the geological marvel, the cultural significance, or simply the stunning natural beauty, a visit to Overlap Stone is sure to leave a lasting impression. Witness the harmonious blend of nature and folklore as you explore this captivating destination on the island of Koh Samui.
Best Time to Visit Overlap Stone
When planning a visit to Overlap Stone, considering the best time to go is crucial to ensure an enjoyable experience. Koh Samui enjoys a tropical climate, with warm temperatures and high humidity throughout the year. The island experiences two distinct seasons: the dry season and the rainy season.
The dry season is generally considered the best time to visit Overlap Stone, as the weather is sunny and rain showers are minimal. This season runs from December to February and offers pleasant temperatures ranging from 25 to 30 degrees Celsius (77 to 86 degrees Fahrenheit). The skies are often clear during this period, providing ideal conditions for outdoor exploration and photography.
The shoulder seasons of November and March are also good times to visit Overlap Stone. The weather remains relatively dry, and the tourist crowds are smaller compared to the peak season. The temperatures are still comfortable during these months, but there might be occasional rain showers.
The rainy season in Koh Samui occurs from April to October, with September being the wettest month. While this season brings higher chances of rainfall and occasional storms, it does have its advantages. The island's landscapes become lush and vibrant, and accommodation rates are usually lower. If you don't mind the possibility of rainy days and are looking for a more peaceful and budget-friendly experience, the rainy season can be a good option to visit Overlap Stone.
It's important to note that weather patterns can sometimes be unpredictable, and rain showers can occur even during the dry season. It's always advisable to check the weather forecast before planning your visit and carry an umbrella or rain jacket just in case.
As Overlap Stone is a popular tourist attraction, it's best to visit early in the morning or late in the afternoon to avoid the crowds, especially during the peak travel season from December to February. This will allow you to fully appreciate the beauty of the rock formation and take stunning photographs without too many distractions.
Ultimately, the best time to visit Overlap Stone depends on your personal preferences and priorities. Whether you choose to visit during the dry season for optimal weather conditions or during the rainy season for a more peaceful experience, you're sure to be captivated by the unique charm of this natural wonder on Koh Samui.
Entrance Fee and Opening Hours
When planning your visit to Overlap Stone on Koh Samui, it's important to be aware of the entrance fee and opening hours to ensure a smooth and well-prepared trip.
Entrance Fee: As of the time of writing, there is no official entrance fee to access Overlap Stone. Visitors can freely explore the area and experience the natural wonder without any additional costs. However, it's worth noting that there might be some vendors or local businesses nearby that charge a small fee for services or activities, such as renting sun loungers or purchasing refreshments.
Opening Hours: Overlap Stone is an outdoor attraction that is accessible to visitors all day, every day. There are no official opening or closing times for the site itself. This flexibility allows visitors to plan their visit according to their own schedule and preference. However, it's recommended to visit during daylight hours to fully appreciate the beauty of the rock formation and enjoy the surrounding scenery.
Photography enthusiast's tip: For capturing the best light and avoiding large crowds, early morning or late afternoon is the ideal time to visit Overlap Stone. The soft morning or late afternoon light can create stunning photo opportunities, and you can enjoy a quieter atmosphere before or after the peak hours of the day.
It's important to note that although Overlap Stone does not have specific entrance fees or opening hours, it is always a good idea to check for any updates or changes before your visit. Occasionally, certain areas near the site might be temporarily closed due to maintenance or local events. Staying informed will help you plan your visit accordingly and avoid any potential disappointments.
Now that you are aware of the absence of an entrance fee and the flexible opening hours, you can plan your trip to Overlap Stone on Koh Samui without any financial concerns or time restrictions. Prepare your camera, get ready to be amazed by the natural beauty, and immerse yourself in the fascinating legends surrounding this unique rock formation.
How to Reach Overlap Stone
Reaching Overlap Stone on Koh Samui is relatively easy, thanks to the island's well-developed transportation infrastructure. Whether you are staying on the island or coming from nearby destinations, there are several options to consider.
By Car or Scooter: If you have access to a car or scooter, this is one of the most convenient ways to reach Overlap Stone. The rock formation is located along Route 4169 on the southeastern coast of Koh Samui. Simply input "Overlap Stone" or "Hin Ta Hin Yai" into your GPS or follow the road signs, and you will easily find the location. There is ample parking available nearby for a small fee, allowing you to explore at your leisure.
By Taxi or Songthaew: Taxis and songthaews (shared minibusses) are widely available on Koh Samui and can take you directly to Overlap Stone. You can flag down a taxi on the street or ask your hotel to arrange transportation for you. Keep in mind that taxi fares are metered, and if you choose a songthaew, negotiate the price before getting in. The advantage of taking a songthaew is that it is more cost-effective if you are traveling with a group or on a tight budget.
By Tour Operator: Many tour operators on Koh Samui offer half-day or full-day tours that include a visit to Overlap Stone as part of their itinerary. This is a convenient option for those who prefer to have transportation and a guide arranged for them. These tours often include additional stops at other popular attractions on the island, allowing you to maximize your time and experience more of Koh Samui in a single trip. Check with reputable tour operators in Koh Samui to find a tour that suits your preferences.
By Local Transportation: For a more adventurous and immersive experience, you can take advantage of the local transportation options. Hop on a songthaew or a local bus and ask the driver to drop you off near Overlap Stone. This option allows you to have interactions with locals and get a taste of the island's authentic culture.
Whichever mode of transportation you choose, it's important to plan your visit to Overlap Stone in advance. Consider factors such as travel time, traffic conditions, and the availability of parking if you are driving. It's also advisable to check the latest maps or navigation apps to ensure you reach the destination without any hassles.
Now that you know how to reach Overlap Stone, it's time to embark on your journey and witness the extraordinary rock formation on Koh Samui. Enjoy the scenic drive, embrace the local culture, and get ready to be captivated by this remarkable natural wonder.
Things to Do at Overlap Stone
A visit to Overlap Stone on Koh Samui offers more than just admiring the unique rock formation. There are various activities and experiences to enjoy in and around the area. Here are some of the top things to do at Overlap Stone:
1. Marvel at the Rock Formation: The main attraction of Overlap Stone is, of course, the impressive rock formations themselves. Spend time exploring the intricacies of the natural sculptures and appreciate the remarkable resemblance to male and female genitalia. The rock formations are not only intriguing but also offer excellent photo opportunities.
2. Enjoy the Scenic Views: Overlap Stone is beautifully located on the southeastern coast of Koh Samui, offering stunning views of the Gulf of Thailand. Take a leisurely stroll along the beach and soak in the panoramic vista of the crystal-clear waters and rugged coastlines. This is the perfect spot to relax, unwind, and enjoy the natural surroundings.
3. Explore Nearby Beaches: While visiting Overlap Stone, take the opportunity to explore the several nearby beaches. The stunning Lamai Beach is just a short distance away and offers soft white sand, clear waters, and a range of water activities such as swimming and snorkeling. Take a dip, sunbathe, or simply enjoy a peaceful beachside picnic.
4. Discover Local Culture: Immerse yourself in the local culture by visiting the nearby fishing village of Hua Thanon. Wander through the village, interact with the friendly locals, and explore the traditional Thai way of life. Don't miss the chance to try some fresh and delicious seafood at one of the local beachside restaurants.
5. Indulge in Water Sports: If you're seeking some adventure, head to nearby beaches where you can try a variety of water sports. From jet skiing and paddleboarding to kayaking and snorkeling, there are options for every level of thrill-seeker. Dive into the azure waters and explore the vibrant marine life that thrives off Koh Samui's shores.
6. Explore the Night Market: In the evenings, make your way to Lamai Night Market, located just a short distance from Overlap Stone. Here, you can immerse yourself in the lively atmosphere, sample delicious street food, shop for locally made crafts, and enjoy live entertainment. The night market offers a vibrant glimpse into Thai culture and is a great way to spend an evening on Koh Samui.
7. Relax at a Beachside Bar: End your day at one of the beachside bars or restaurants near Overlap Stone. Sip on a refreshing tropical cocktail while taking in the breathtaking sunset views. It's the perfect way to unwind and reflect on the beauty of Koh Samui.
With these diverse options available, a visit to Overlap Stone is not just about witnessing a geological marvel—it's an opportunity to immerse yourself in the natural beauty, local culture, and exciting activities that Koh Samui has to offer. So, pack your beach essentials, bring your curiosity, and prepare for an unforgettable experience at Overlap Stone!
Hiking and Trekking Routes
For adventure enthusiasts and nature lovers, the area around Overlap Stone on Koh Samui offers excellent opportunities for hiking and trekking. Exploring the trails in this scenic region allows you to immerse yourself in the island's lush jungles, discover hidden waterfalls, and enjoy breathtaking viewpoints. Here are a few hiking and trekking routes to consider:
1. Hin Ta Hin Yai Viewpoint Hike: One popular option is to hike to the Hin Ta Hin Yai Viewpoint, which offers a stunning panoramic view of the coastline and the surrounding ocean. The hike starts from the vicinity of Overlap Stone and takes you through a picturesque trail with lush vegetation. The trail is moderately challenging, but the rewarding vista at the end makes it all worthwhile.
2. Secret Buddha Garden Hike: Another rewarding hike in the area is the trek to the Secret Buddha Garden (also known as Magic Garden). This hike takes you through dense forest, winding paths, and stunning rock formations. Along the way, you will encounter various statues and sculptures depicting Buddhist and Hindu deities. The garden itself is a hidden oasis, where you can relax, reflect, and enjoy the serene beauty of the surroundings.
3. Namuang Waterfall Hike: If you're in the mood for a refreshing dip in natural pools and cascading waterfalls, head to the nearby Namuang Waterfall. There are two waterfalls in the area, Namuang 1 and Namuang 2, both accessible through hiking trails. The trails wind through dense jungle, providing the opportunity to admire the lush greenery and spot native wildlife. Once at the waterfalls, you can cool off in the rejuvenating pools and relax amidst the beauty of nature.
4. Khao Chedi Hike: For those seeking a more challenging hike, the trail up Khao Chedi is a great option. This hike takes you to the summit of a hill where you'll find a beautiful and serene Buddhist temple. Along the way, you'll encounter steep inclines, rocky terrain, and stunning vistas of the surrounding landscape. At the top, you can take in the panoramic views of the island and enjoy a sense of accomplishment for conquering the trail.
5. Khun Si Waterfall Hike: A lesser-known but equally picturesque hike is to Khun Si Waterfall. This tranquil waterfall is hidden away in the jungle, offering a peaceful and serene setting. The hike takes you through lush tropical forest, crossing small streams and passing by unique flora and fauna. Once you reach the waterfall, take a moment to enjoy the soothing sound of water cascading down the rocks and appreciate the untouched beauty of nature.
Important Reminder: It's essential to be well-prepared before embarking on any hiking or trekking adventure. Wear comfortable shoes, carry plenty of water, and use insect repellent to protect yourself from mosquitoes and other insects. Additionally, it's advisable to hike with a partner or in a group, and let someone know your planned route and estimated return time.
The hiking and trekking routes around Overlap Stone offer an exciting way to explore the natural beauty of Koh Samui and discover hidden gems that are off the beaten path. So, put on your hiking boots, embrace the adventure, and create lasting memories amidst the island's stunning landscapes.
Photography Tips at Overlap Stone
Overlap Stone on Koh Samui provides a fantastic opportunity for photographers to capture unique and captivating shots. With its distinctive rock formations and stunning coastal backdrop, here are some photography tips to help you make the most of your visit:
1. Choose the Right Time: The lighting conditions can greatly impact the quality of your photos. For the best lighting, plan to visit Overlap Stone during the early morning or late afternoon. During these times, the soft golden light creates a warm and inviting atmosphere, enhancing the colors and textures of the rock formation and the surrounding landscape.
2. Experiment with Angles and Perspectives: Overlap Stone offers a myriad of angles and perspectives to capture creatively composed shots. Don't be afraid to get low or climb higher to find interesting viewpoints. Experiment with different vantage points to highlight the unique shapes and contours of the rocks, or use the coastline as a leading line to draw the viewer's attention.
3. Play with Depth of Field: Use a wide aperture (low f-number) to isolate the foreground or the rock formation, creating a shallow depth of field and placing emphasis on specific elements. This technique can add a sense of depth and focus to your images while blurring the background, resulting in an artistic and visually appealing photograph.
4. Capture Details: Overlap Stone offers intricate details that can make for compelling close-up shots. Zoom in and focus on textures, patterns, and interesting shapes within the rock formations. These close-up shots can reveal the weathering marks, the play of light and shadow, and the uniqueness of the shapes, adding depth and visual interest to your photographs.
5. Include People for Scale: To showcase the scale and size of the rock formations, consider including people in your composition. A person standing near or leaning against the rocks can provide a sense of perspective, helping viewers understand the grandeur and uniqueness of Overlap Stone. It can also add a human element, making the photograph more relatable and engaging.
6. Utilize Filters: Consider using filters to enhance the colors and tones of your photographs. A polarizing filter can help reduce glare and enhance the saturation of the blue sky and water. Graduated neutral density filters can also be used to balance the exposure between the sky and the foreground, ensuring a well-exposed image.
7. Timing is Key: Patience and timing are crucial when photographing Overlap Stone. Wait for the ideal moment when the lighting is just right, or be ready to capture the waves crashing against the rocks to add drama to your shots. Keep an eye on the weather and the tides to anticipate the best opportunities for your photography.
Remember to respect the environment and the presence of other visitors when taking photographs. Be mindful of the natural surroundings and avoid stepping on fragile vegetation or disturbing the ecosystem.
By following these photography tips, you can capture stunning and memorable images of Overlap Stone on Koh Samui. So, grab your camera, explore different perspectives, and unleash your creativity to capture the beauty and uniqueness of this natural wonder.
Nearby Attractions
While a visit to Overlap Stone is undoubtedly a highlight of any trip to Koh Samui, there are several other attractions in the vicinity that are worth exploring. Here are some nearby attractions to consider adding to your itinerary:
Lamai Beach: Just a short distance from Overlap Stone, Lamai Beach is one of the most popular and picturesque beaches on Koh Samui. Offering powdery white sand, crystal-clear waters, and a range of beachside amenities, Lamai Beach is perfect for swimming, sunbathing, and enjoying various water sports activities.
Grandfather and Grandmother Rocks: A visit to Overlap Stone often includes a stop at the Grandfather and Grandmother Rocks, known as Hin Yai and Hin Ta in Thai. These iconic rock formations resemble the male and female genitalia and have become another unique tourist attraction. Marvel at these natural sculptures and capture some memorable photographs.
Lad Koh Viewpoint: Located south of Overlap Stone, Lad Koh Viewpoint offers breathtaking panoramic views of the surrounding coastline and the Gulf of Thailand. The viewpoint is accessible via a short walk uphill, and the reward is a stunning vista that stretches as far as the eye can see. It's a must-visit for photography enthusiasts and nature lovers.
Wat Khunaram: For those interested in the island's cultural heritage, a visit to Wat Khunaram is a fascinating experience. This Buddhist temple is home to the mummified body of a revered monk, Luong Pordaeng. The preserved body is on display in a glass case and serves as a reminder of the impermanence of life.
Namuang Waterfall: As mentioned in the hiking and trekking section, Namuang Waterfall is not just a scenic place to hike to, but it also offers a refreshing oasis and natural pools for swimming. Take a dip in the cool waters and revel in the tranquility of the surrounding jungle.
Elephant Rock: Located near Hua Thanon Beach, Elephant Rock is another notable rock formation worth exploring. The rock resembles the shape of an elephant, hence its name. It's a popular spot for photo opportunities and is often included in sightseeing tours around the island.
These nearby attractions provide diverse experiences that range from natural wonders to cultural landmarks. Whether you're seeking relaxation, adventure, or cultural immersion, exploring these attractions will enhance your visit to the Overlap Stone and Koh Samui as a whole.
Accommodation Options near Overlap Stone
When planning a visit to Overlap Stone on Koh Samui, it's convenient to choose accommodation options that are in close proximity to the attraction. Luckily, there are several types of accommodations available in the area to suit various preferences and budgets. Here are some options to consider:
Resort Hotels: There are several resort hotels located near Overlap Stone that offer a luxurious and relaxing stay. These hotels often provide a range of amenities such as swimming pools, spa facilities, on-site restaurants, and stunning sea views. Staying at a resort hotel allows you to enjoy the convenience of being close to the attraction while indulging in top-notch service and comfort.
Beachfront Villas: For a more private and exclusive experience, renting a beachfront villa can be an excellent choice. Many villas in the area come with private pools, beach access, and spacious living areas. These properties are ideal for families or larger groups who want ample space, privacy, and the flexibility to cook their own meals.
Boutique Hotels: For those seeking a unique and intimate setting, boutique hotels in the vicinity of Overlap Stone offer a charming and personalized experience. These smaller-scale hotels often feature stylish décor, personalized service, and a cozy atmosphere. They are a popular choice for couples or solo travelers looking for a memorable and intimate stay.
Guesthouses and Budget Accommodations: If you're on a budget or prefer a more local and casual experience, guesthouses and budget accommodations can be a great option. These establishments provide comfortable rooms at affordable rates and give you the opportunity to interact with local residents. Guesthouses often have a relaxed and friendly atmosphere, making them perfect for backpackers or travelers looking for a more authentic experience.
Eco-Resorts: For those with an environmentally conscious mindset, eco-resorts near Overlap Stone offer a sustainable and eco-friendly accommodation option. These resorts focus on minimizing their environmental impact and provide a range of eco-friendly amenities and practices. Staying in an eco-resort allows you to enjoy nature while supporting responsible tourism practices.
It's advisable to book your accommodation in advance, especially during the peak travel season from December to February. This ensures that you have the best options available and can secure your preferred choice. Consider factors such as location, amenities, and reviews when making your decision.
With a variety of accommodation options available near Overlap Stone, you can find the perfect place to relax and recharge after exploring the attractions of Koh Samui. Whether you choose a luxurious resort, a cozy guesthouse, or an eco-friendly retreat, your stay will add to the overall enjoyment of your visit.
Dining and Refreshment Options
When visiting Overlap Stone on Koh Samui, there are plenty of dining and refreshment options available near the attraction. Whether you're looking for traditional Thai cuisine, international flavors, or casual beachside eats, you'll find something to satisfy your cravings. Here are some dining options to consider:
Local Thai Restaurants: For an authentic culinary experience, venture into one of the many local Thai restaurants in the area. Sample traditional dishes such as Pad Thai, Massaman Curry, Tom Yum Soup, and Green Curry. These restaurants often offer a range of spicy to mild options, catering to different taste preferences. Don't forget to pair your meal with a refreshing Thai iced tea or coconut water.
Seafood Restaurants: Given Koh Samui's coastal location, it's no surprise that seafood is a highlight of the local cuisine. Explore the seafood restaurants near Overlap Stone and indulge in a mouthwatering selection of freshly caught fish, prawns, crabs, and more. Many of these restaurants offer a variety of preparation styles, from grilled to steamed to stir-fried, ensuring there's something to suit every palate.
Beachfront Cafes: Enjoy a more laid-back and casual dining experience at one of the beachfront cafes in the area. Savor light snacks, sandwiches, and refreshing drinks while taking in the picturesque views of the ocean. These cafes often have a relaxed atmosphere, making them perfect for a quick bite or a leisurely coffee break.
International Cuisine: If you're in the mood for international flavors, you'll find a range of options near Overlap Stone. Whether you're craving Italian pasta, juicy burgers, or mouthwatering pizzas, there are restaurants that cater to various international cuisines. Explore the streets and you'll discover an array of international restaurants offering diverse menus to satisfy your taste buds.
Night Markets and Street Food: In the evenings, don't miss the opportunity to explore the vibrant night markets near Overlap Stone. These markets offer a plethora of street food options, where you can sample local delicacies at affordable prices. From grilled skewers to Thai desserts, the night markets are a food lover's paradise.
Cocktail Bars and Beach Bars: Complete your visit to Overlap Stone with a refreshing cocktail or a tropical drink at one of the nearby cocktail bars or beach bars. Experience the island's vibrant nightlife while enjoying the music, beach vibes, and a wide range of cocktails and beverages.
With these dining options available near Overlap Stone, you'll be able to satisfy your cravings and indulge in delightful culinary experiences throughout your visit to Koh Samui. Whether it's savoring the flavors of Thai cuisine, enjoying fresh seafood, or exploring international flavors, there's something to please every palate.
Safety Tips and Precautions
While visiting Overlap Stone on Koh Samui, it's important to prioritize your safety and take necessary precautions to ensure a smooth and enjoyable experience. Here are some safety tips to keep in mind:
1. Respect Warning Signs and Safety Barriers: Observe any warning signs or safety barriers in the area, as they are put in place to protect visitors from potential hazards. Do not climb on the rocks or venture into restricted areas, as it can be dangerous and may cause harm to yourself or the environment.
2. Wear Appropriate Footwear: Overlap Stone and its surrounding areas can have uneven or slippery surfaces, so it's essential to wear suitable footwear with good grip. Opt for closed-toe shoes or sturdy sandals that provide traction and stability, especially if you plan to hike or explore nearby trails.
3. Stay Hydrated: Koh Samui's tropical climate can be hot and humid, so it's important to stay hydrated. Carry a water bottle with you and drink plenty of fluids, especially if you're exploring outdoors or engaging in physical activities. Avoid excessive consumption of alcoholic beverages, as they can further dehydrate you.
4. Protect Yourself from the Sun: The tropical sun can be intense, so it's crucial to protect yourself from harmful UV rays. Wear sunscreen with a high SPF, a hat, sunglasses, and lightweight, breathable clothing that covers your skin. Seek shade whenever possible to avoid overexposure to the sun.
5. Be Cautious of Wildlife: Keep a safe distance and avoid interacting with any wildlife you may encounter in the vicinity of Overlap Stone. Remember that these animals are wild and can be unpredictable. Do not feed or approach them, as it can disrupt their natural behavior and pose a risk to both you and the animals.
6. Secure Your Belongings: When visiting crowded areas or leaving your belongings unattended, ensure that your personal belongings are secure. Keep an eye on your belongings at all times, especially valuables such as cameras, wallets, and smartphones. Consider using a money belt or a secure bag to minimize the risk of theft.
7. Stay Informed of the Weather: Keep yourself informed of the weather conditions before heading out to Overlap Stone. In case of inclement weather, such as heavy rain or storms, it's advisable to postpone your visit for safety reasons. Seek shelter if you notice sudden changes in weather conditions during your visit.
8. Travel Insurance: Ensure that you have comprehensive travel insurance that covers any medical emergencies or unexpected events that may occur during your trip. Familiarize yourself with the terms and conditions of your insurance policy and have necessary contact information readily available in case of an emergency.
By following these safety tips and taking necessary precautions, you can have a safe and enjoyable visit to Overlap Stone on Koh Samui. Be mindful of your surroundings, respect the natural environment, and prioritize your well-being to create lasting memories without compromising on safety.
Conclusion
A visit to Overlap Stone on Koh Samui is a fascinating and unforgettable experience that combines natural beauty, cultural significance, and intriguing legends. This unique rock formation, with its resemblance to male and female genitalia, captures the imagination of visitors and offers a picturesque backdrop for exploration and photography.
As outlined in this comprehensive guide, there are plenty of things to do and see near Overlap Stone. From hiking and trekking to nearby waterfalls and viewpoints, to indulging in delicious local cuisine and immersing yourself in the island's vibrant culture, Koh Samui has something to offer for every traveler.
Whether you choose to relax on the stunning beaches, explore the nearby attractions, or embark on thrilling outdoor adventures, a visit to Overlap Stone will leave you with enduring memories of your time on Koh Samui. The captivating beauty of the rock formation, coupled with the island's tropical charm, promises a truly remarkable experience.
While enjoying your time at Overlap Stone and its surroundings, it's important to prioritize safety and abide by the guidelines and precautions mentioned in this guide. By being mindful of your surroundings, respecting the natural environment, and taking necessary precautions, you can ensure a pleasant and safe visit.
So, pack your bags, plan your itinerary, and get ready to embark on an adventure to Koh Samui's Overlap Stone. Whether you're a nature enthusiast, a photography lover, or simply seeking a unique travel experience, this natural wonder is sure to captivate your senses and offer an unforgettable journey into the heart of Thailand's enchanting culture and beauty.