10 Sights You Can't Find Anywhere Else Than In Gili Trawangan, Indonesia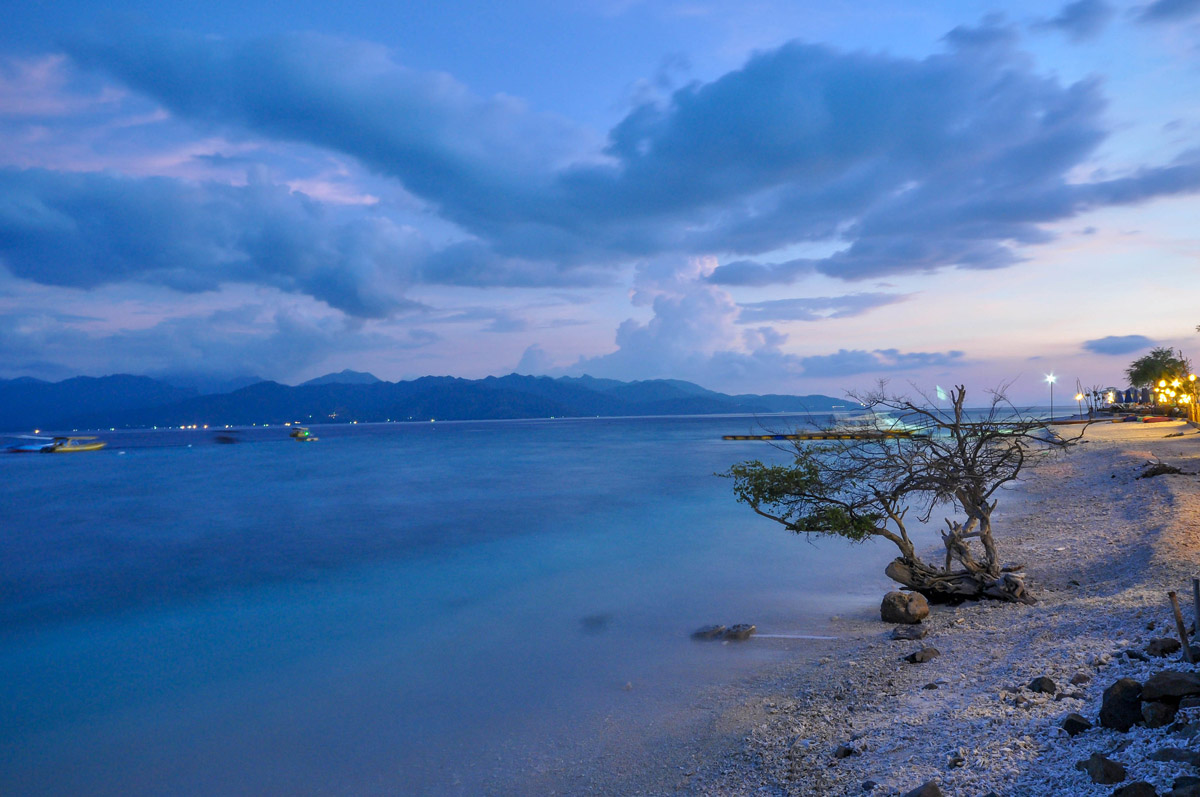 The Gili Islands in Indonesia – Gili Trawangan, Gili Air, and Gili Meno – are few of the sought-after destinations in Asia. Enveloped by fantastic beaches, temperate water, and abundant marine life, thousands of tourists flock the archipelago, particularly Gili Trawangan for its reputation of nightlife hype, great scuba diving, and splendid morning tranquility.
About Gili Trawangan
Gili Trawangan or Gili T is the largest, liveliest, and most famous among the Gili islands trio. Nestled in the northwest tip of Lombok, Gili Trawangan is fringed by its glorious vastness of powdery-white sand beaches, cobalt blue waters, sacred marine life, and stunning villas. The tropical island rests along the warm waters of the Bali Sea and Lombok Strait, hosting several terrific spots for diving and snorkeling.
Aside from that, it's a beehive of bucket-list experiences and amazing things to do on and off its shore. Without further ado, let's explore the paradisal island of Gili Trawangan.
How To Get To Gili Trawangan From Bali
Traveling to Gili Trawangan is easy since you have plenty of options to choose from. Depending on your budget, you can either ride a fast boat, public ferry, or a private sailing charter. Let's break these options down so you know which one is suitable for your budget.
Fast Boat
Fast boats are the most common transportation used by locals and regulars. You can take a fast boat depending on your preferred ports: Padang Bai or Amed. Either way, the fare will range from IDR 450,000-700,000 (US$31.53-49.04) and can take up to 45 minutes-1.5 hours of travel time.
Public Ferry
The public ferry from Padang Bai to Lombok is a good alternative if you're traveling on a limited budget. It leaves every hour and costs only IDR 40,000 (US$ 2.80). However, it takes a whopping five hours of sailing to get there. Not to mention, you'll board another public ferry from Lombok to Gili Trawangan. All in all, your trip may take 8 hours, including the waiting time in between, so this isn't ideal if you're in a hurry.
Private Sailing Charter
If you're willing to shed some amount from your 'traveling budget' and witness the picturesque scenery as you cruise towards the island, you can consider renting a private sailing boat. You can choose from speedboats, cruisy catamaran, or luxurious yachts and it usually costs more or less IDR 21,389,625.00 (US$1500).
Where To Stay In Gili Trawangan
Gili Trawangan is jam-packed with hotels and hostels you can book to maximize your fantastic time on the island of wonders. Here are some of our suggestions:
Marc Hotel Gili Trawangan: A luxury hotel with an incredible beachfront, top-notch interior, pools, restaurants, cafes, and bars. Marc Hotel is definitely a top place to stay on the island!
Gili Castle: An affordable hostel with a three-bed dorm suitable for travelers wanting to build connections around the world. It also offers leisure facilities such as a six-meter rock climbing wall, social area, and drinking games.
Gili Fit Gym & Fitness: A cheap and decent accommodation with everything you need, including a fitness gym. This one is suitable for backpackers.
Things To Do in Gili Trawangan
Everyone loves Gili T for many reasons. One of which is being the Turtle Capital of the World. Yes, you read that right. Gili Trawangan hosts a bountiful life underwater where you'll have an incredible encounter with exotic sea creatures particularly green and hawksbill sea turtles, colorful coral reefs, and amazing underwater art installations as you snorkel around the island. You can rent snorkeling equipment from dive centers or shack operations scattered across the island's beaches for around IDR 50,000 (US$3.51) for half a day.
Spotting sea turtles isn't hard as it may sound since they visit the island all year round. However, they are best seen early in the morning where they come ashore to breathe, rest, or lay eggs. If you see one, take a picture then move on. Touching or disturbing them is against the rules of marine life and might get you into trouble.
2.
Witness A Gili Trawangan Sunset On An Ocean Swing
Hearty travelers drift towards the sunset point of Gili Trawangan to partake in the sublime blending of reds and oranges. This side of the island offers tons of beachside bars perfect for seaside chilling. Apart from it, it also holds the most famous overwater swings that attract Instagrammers and photographers.
If you're thinking about where to spot a Gili Trawangan swing, all you have to do is get to Ombak or Pandawa resort. Due to its prominence, however, you may have to line up and wait for your turn to sit on the swing and capture a picture-perfect experience of the Trawangan's sunset.
3.
Unravel The Streets By Bicycle
There's arguably no better way to experience the full richness of this heavenly abode than by cycling along its cobbled and sandy streets. Hence, this activity is recommended to first-time goers and even those who have stayed on the island long to catch some fresh salty air and have a better view of the isle after dawn or before sunset.
Measuring 3 kilometers long and 2 kilometers wide, you can already circumnavigate the whole island within a matter of hours, but of course, we advise you to take it slowly. You can appreciate the beauty of its nook and cranny at a slower pace and who knows? You might even make some friends along the way.
Most accommodation offers bike rental services ranging from IDR 50,000 (US$ 3.51) for 4 hours to IDR 150,000 (US$ 10.52) for 24 hours. But if you're lucky, some offer them for free during your first night of stay on the island.
4.
Try Out Indonesian Street Foods At The Night Market
If you're craving for some authentic Indonesian food, Trawangan's night market is undoubtedly the best site to satisfy your appetite. Cradled at the heart of the island, numerous food stalls are lined up across the area and near the beach walk to allure tourists with its diffusing aroma. These stalls are offering a delectable mix of sweets, locally-flavored barbecue, seafood, and booze. Further, the foods here are fresh and cheap, awesome, right?
Gili T's night market originally comes to business once a week (Wednesdays during the busy season), but it has grown four nights a week due to booming tourism. Similarly, the size of the market itself has continuously expanded as more vendors participate over the years. Thus, the area is a living embodiment of the isle's progression.
5.
Take Yoga Classes And Unleash Your Inner Zen
Breakaway from busy and activity-filled Bali and head to Gili T. Hemmed with placid atmosphere and refreshing daytime immersion, this enchanting paradise is a perfect sanctuary of yoga practitioners and enthusiasts. Apart from that, plenty of beach resorts with nice shalas and adept instructors are offering yoga classes. You can check out Soraya Yoga or Gili Yoga.
Yoga instructors will help you deepen your personal practice while immersing yourself in the calm atmosphere of the place. This is a great activity for people who are working out the balance in their lives.
Never miss the chance to join the legendary boat party known to Gili Trawangan. This amazing booze cruise is a 5-hour boat party draped with fun activities to do and booze to drink. Plus, this special activity actually gives a new meaning to partying. For as low as IDR 455,852.80 (US$32), you can already join the fun and meet tons of friends while having the best time of your life.
The boat starts sailing at 2 PM around the three beautiful islands. It stops just outside of Lombok, and you're free to jump into the crystal clear blue waters while admiring the magnificent sundown. Free shots are also given at the boat while you are dancing through the music provided by Indonesia's finest DJs. Trust us, this experience will make you want to come back to Gili Trawangan again and again.
7.
Visit The Nearby Gilis
Take a detour from the Trawangan vibe and go visit the neighboring Gilis: Meno and Air. These wonderful islands along with Trawangan are reputed to have quaint sight, providing a photo-friendly backdrop for everyone. Meno and Air, however, are less famous and developed compared to Trawangan. But they all have a unique story to tell.
Gili Meno sits between the three Gilis. It's the smallest, quietest, and the most customary of the three. Thus, it was named as the 'honeymoon island' since most of its dwellers are honeymooners and mature travelers.
Gili Air, on the other hand, is a combination of Trawangan's bustle and Meno's quietude. It harbors one of the best beaches among the islands and also a good spot for snorkeling and diving. Fun fact: Gili Air means a 'small water island' in Sasak language.
Island hopping doesn't cost much since you need not rent a private boat to sail around the island. All you have to do is to wait for a public boat at Gili Trawangan. Two public boats are bound to other Gilis; the first one leaves in the morning, around 8 – 9:30 AM, and second in the afternoon at around 3 – 4 PM. Furthermore, the fare costs IDR 20,000 (US$1.40) to IDR 25,000 (US$1.75) depending on your route.
Why not make the most of this wonderful island and take some diving courses? Whether you're a professional trying to upskill or a beginner setting on a new experience, you'll find the most comprehensive and safest diving courses here in Gili Trawangan. Plus, it's the most famous activity in the area.
See a whole new world underwater and gain a fresh metaphor from the habitual routines of life. Besides the thrilling experience, you might also make friends with divers all across the globe!
The Gili islands have plenty of diving centers clamped along its sandy alleys, such as Trawangan Dive, DSM Dive, and Manta Dive Trawangan. However, if you opt for a cheaper one, make sure to have a thorough research about its reputation. This is to avoid any untoward incident prior, during, or after your activity.
9.
Watch A Movie By The Sea
After witnessing the beautiful Trawangan sunset on a swing, what's next? You can choose from dining in a nearby resto, partying with your friends, strolling around the streets, or to make your evening more interesting and unique, watch a movie beside the sea! Yep, it's an open-air cinema toppled with the lulling sea breeze and a blanket of thousands of stars overlooking you.
While most Gili Trawangan resorts and restaurants offer free movies (as long as you order a drink), Vila Ombak, Gili Backpacking, Pearl Beach Lounge, and Le Pirate Beach Club are some of the recommended places to enjoy this activity.
Additionally, most movies are played at 7 PM and 9 PM so make sure to look out for signs which movies are on the schedule every evening!
10.
Chill On The Golden Shore
Do you nurture an intense love for beaches? If yes, you've come to the right place. Gili Trawangan is sprawling with natural grandeur most especially its wondrous beaches. You can bury your toes in the wide-sandy coastal while sipping your favorite vodka and admiring the ocean as it merges towards the endless horizon.
In addition, there are many beach resorts that shelter a fantastic viewpoint of the sea and cater to a multitude of beachside leisure activities to enjoy such as beach volleyball.
Takeaway
You may think these are only the things that Gili Trawangan has to offer, but you are far from the truth. By all means, this list of things to do in Gili Trawangan is just an appetizer. We strongly recommend you to visit this island of wonder and you'll be surprised that Gili Trawangan has still loads of marvels in store for everyone.
Did you enjoy the article? Share your comments below. We'd love to hear from you!