Best Full Moon Parties in the World: A Comprehensive Guide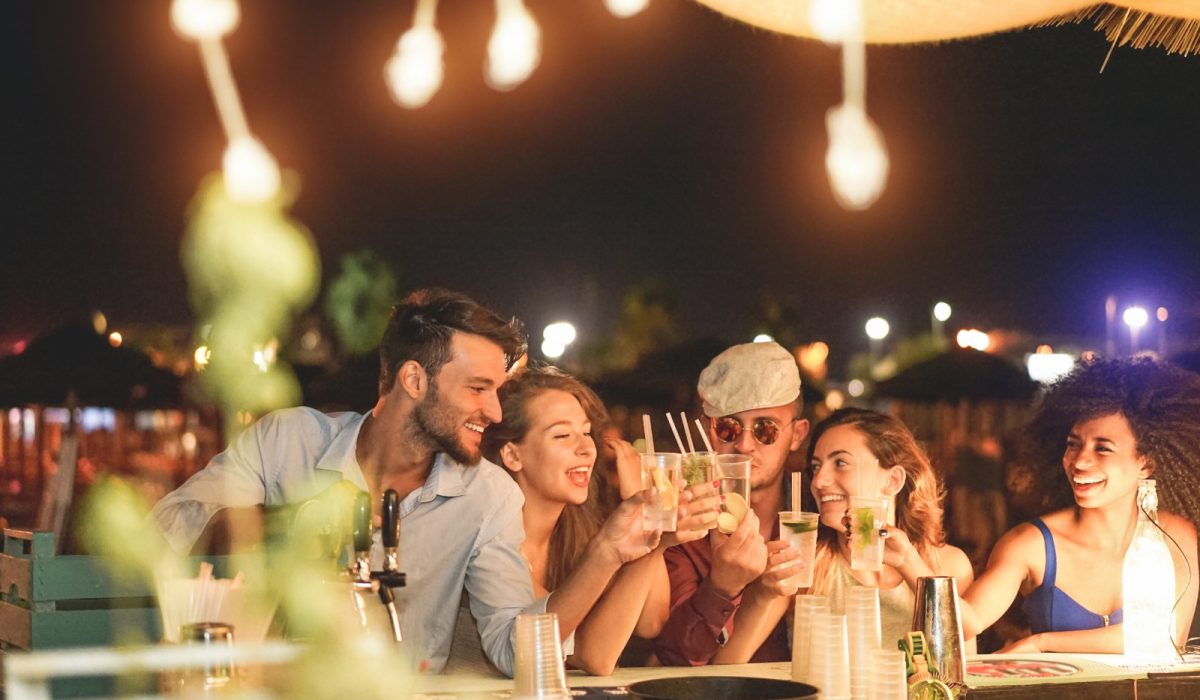 For most of us, a perfect retreat involves going to the beach. For sure, you've been dreaming about the powdery white sands and turquoise waters of the Caribbean beaches, or perhaps a nude beach anywhere in the world that will allow you to even out your tan. But did you ever consider going to the beach for a full moon party?
What is a Full Moon Party?
During the earlier days, a full moon party is usually customary. It's a celebration that is dedicated to the moon. A group of people would wear primitive clothes and chant while playing traditional drums and musical instruments.
However, although there are still some full moon parties that showcase traditional performances like in Tanzania, over time, these parties became more influenced by the modern festive scenes. Today, there are usually live DJs flaring up the dance floor with their electrifying mixes, as well as overflowing alcoholic drinks.
Best Full Moon Parties in the World
Islamorada, Florida Keys
Entrance fee: US$20
Just located on the southern coasts of Florida State, you can find the coral cay of Florida Keys. Aside from its azure clear waters and fine sand shores, it's also home to Morada Bay, where the monthly full moon party is held. Every full moon, the simple beach restaurant turns into a lively spot filled with music, bonfires, and fireworks.
Start the full moon party with a dinner at the colorful tiki tables and stools on the sand. They offer a fusion of American cuisine with Mediterranean flavors, which is mostly made of fresh seafood. At 6 PM, live music will start serenading you while bonfires are set up and various performers spread out on the beach. Some of the performers are stilt-walkers, acrobats, and fire dancers. At this point, you can also start ordering cocktail drinks at Pierre's Restaurant to get into the island vibe.
Then, after 9 PM, the live band cues the start of the party in the middle of the beach. The shores vibrate with salsa and reggae. There is also a DJ mixing nightclub playlist in the Café and Pierre's Restaurant. But if you're into a fancier experience, you can head to the VIP area of The Green Flash lounge at Pierre's Restaurant.

How to get there
Book a flight to Miami International Airport (MIA). Then you can rent a car and drive to Morada Bay for around an hour and 40 minutes. Alternatively, Greyhound Lines (starts at US$13) also offers shuttle services from the airport to Islamorada, which usually takes about two hours.
Zadar, Croatia
Unlike other full moon parties that happen every month, Zadar's party only happens for three days on the last week of July or the first week of August. mostly depending on the actual date of the summer's full moon.
During this festival, the entire Riva or waterfront is lit with torches. Many boats also turn into a floating fish market that sells tuna and sardines from Kali's fishermen and mussels from Novigrad. The promenade is also lined up with stalls selling traditional dishes such as Nin falcon, figs, cheese, and brandy. Most of all, you will hear a choir serenading you with traditional Klapa's songs, which are actually listed as UNESCO's Intangible Cultural Heritage of Humanity. Also, there will be a lot of cultural shows that will surely take you back to good old times in Croatia!
How to get there
Book a flight to Zadar Airport (ZAD). Then, take a less than a 25 minutes drive to the Seaside Promenade. This is where the full moon party is held.
Zanzibar, Tanzania
Entrance Fee: Free if you're staying at Kendwa Rocks Hotel
Celebrated on the shores of Kendwa Rocks Hotel, the full moon party in Zanzibar is more low key than Thailand's Ko Phangan. Perhaps this is because it's not yet as touristy. Nevertheless, you will still have a rowdy night you will never forget. The beginning of Zanzibar's full moon party can be traced back to 1996. During that time, the party is more cultural and primitive. The NGOMA drum and dance groups would perform cultural dances on the sands and invite guests to dance with them. However, two years later, bars became more popular and Kendwa Rocks Hotel hosted parties with local DJs. Eventually, full moon parties became a regular festivity in Zanzibar.
Today, when you join the party, you can start your night by fueling up with meat, seafood, and vegetable in a grill buffet. While you're dining, you will be entertained by traditional African performances. This could be an impressive performance from the Six Unit, which is a dance group from Stone Town. Guests can also join the performance just like how it was in the 1990s. After that, there will be another singing performance. Then, once the DJ spins the disc, you know it's time to party!
Joining the party normally costs TZS 20,000 or around US$9. However, if you stay at Kendwa Rocks Hotel, you will no longer pay the entrance fee. Also, the bar does not accept cash. Instead, you have to preload a resort's card. The prices of the drinks are more expensive here, but you can also find other bars surrounding the hotel.
How to get there
Book a flight to Abeid Amani Karume International Airport (ZNZ). From the airport, you can take an hour and a half taxi ride to Kendwa Rocks Hotel.
But if you're coming from Tanzania's main island, you can head to the Dar es Salaam Ferry Terminal and ride the ferry to Zanzibar Ferry Terminal, which is just near the airport. The ticket starts at US$35 for non-residents and sails for two hours. They also have various seat classes to suit your preference. The highest seat class is the Royal Class, which charges US$60 per seat. Also, to avoid getting scammed, ignore the people trying to sell you ticket outside the main ticket office.
Montañita, Ecuador
From being a surfing hotspot by day to a peppy beach party at night, Montañita is a paradise tucked in the western part of Ecuador. On your way here, you see the rural life in small villages. But once you arrive at the Montañita beach, you will see a totally different place. Its shores are lined with surfers, bustling hostels, luxury hotels, and dynamic bars. Apart from these, it's also dubbed as "Little Amsterdam" because of its lax restrictions on the use of marijuana and cocaine.
One surprising thing about the bars in Montañita is that they are not all created equally. There are bars that are specifically flocked for each day of the week because of their distinct ambiance. For a cover fee of US$10, you can experience a raving Saturday night at Poco Loco. While for a wild Monday night filled with international DJs mixing electronic music, head to the Lost Beach Club. There are still other bars on the shores of Montañita, just make sure to not get drunk before 11 PM to get a full experience of Montañita's full moon party.
How to get there
Book a flight to Aeropuerto Internacional José Joaquín De Olmedo (GYE) and then take a car to Montañita beach. A car ride will take you around two hours, but if you will ride the bus it will take you around two and a half hours.
Tortola, British Virgin Islands
Another notorious full moon party happens at Bomba's Shack in Apple Bay. In 1976, Bomba built Bomba's shack from discarded materials and broken surfboards that were washed up to the shores. Although it became a shabby makeshift dwelling from the kooky collage, it's still a hotspot at the beach for its character. Over the years, with more surfers and tourists hanging out here, Bomba eventually held its first full moon party in the late 1980s.
Today, a lot of first-time tourists and avid travelers to the British Virgin Islands flock to Bomba's shack for the full moon party. Happening between two buildings, the venue allows people to vibe from afar and revel in the middle. Aside from the primitive island partying, another thing that excites the partygoers is the hallucinogenic psilocybin mushroom tea. It's still unclear whether they are legal or illegal, but it's definitely one of its attractions here during full moon parties.
How to get there
Book a flight to the Terrance B. Lettsome International Airport (EIS), British Virgin Islands, and take around 40 minutes to drive to Apple Bay.
Gili Trawangan, Indonesia
Dubbed as the "Ibiza of the East", Gili Trawangan is part of the acclaimed Gili Islands. All three Gili Islands — Gili Meno, Gili Air, and Gili Trawangan — boast a white sand beach surrounded by pristine waters. However, Gili Trawangan gained more popularity for its full moon party. It was just in 2016 when they started holding this monthly event and mostly joined by visitors from Europe, Australia, and fellow ASEAN countries. But eventually, they rose up to be one of the sought-after full moon parties in the world.
You will find a lot of bars on the island that will suit your vibe. But the full moon party is held at Pandawa Beach Villas and Resort. You will see some honeymooners, but mostly the visitors are young adults looking to rave and party. With live DJs, fire dancers, and fire skipping ropes, you will be entertained at every turn. Just make sure to fill your stomachs from the BBQ restaurants by the beach to party all night!
How to get there
Book a flight to Zainuddin Abdul Madjid International Airport (LOP). Then, take a metered cab to Bangsal Harbor (Bangsal Port). It will take you around one a half hours and it costs around IDR 300,000 or around US$21. Then, buy a ticket to Gili Trawangan, which costs around IDR 10,000 or around US$0.71 per person. Just be reminded that the boat will not leave until all seats are taken. With this, we suggest being in Bangsal between 8 AM to 4 PM since this is usually the time where people take the boat.
However, if you don't want to wait or your traveling with a group, you can also take the private boat that costs around IDR 200,000 or US$14. Whatever your choice is, just make sure to only buy your tickets at the ticket office. There are many touts who would tell you there are no more boats available and would try to ask you for more money.
Ibiza, Spain
We've heard songs about the festive parties in Ibiza, making them the Meditteranean hotspot for beach parties and music festivals. Although the island is studded with numerous hotels and bars that host all-night parties. There is one particular beach that stands out because of their full moon parties, Benirras Beach. You can find this beach on the northern coast of Ibiza. And aside from the full moon parties, they tend to attract visitors because of their character and remoteness.
Initially, the full moon party here is celebrated with chants, drums, and traditional costumes. But now, like many full moon parties around the world, it's celebrated with resounding music mixed by live DJs, a rowdy crowd, and overflowing drinks.
How to get there
Book a flight to Ibiza Airport (IBZ) and rent a car at the airport. Then, drive to Benirras Beach for less than 40 minutes. You can conveniently park in any of the two parking spaces, which are also free of charge. Just be reminded that the roads are closed during Sundays from 3:30 PM to 9:00 PM.
Alternatively, you can also take a bus from San Antonio or Santa Eulalia. For more information on the bus routes and schedules, you may check out Ibiza Lines.
Ko Phangan, Thailand
Entrance fee: THB100 or around US$3.31
In the remote crescent-shaped island of Ko Phangan, you will find the wildest and original full moon party that usually tops the bucket list of most party animals. It started on the shores of Haad Rin in 1985 when a group of backpackers threw a party for themselves. Then, they realized that this was the first time they ever saw a moon glistened as perfect as that. Eventually, the word spread and more tourists from all over the world came to see it for themselves. Now, almost 30,000 people flock here for an all-night party every month. You will also find a line of neon body painting stands as well as an audience circling a fire dancer.
Apart from that, the shores of Haad Rin is dotted with various bars blasting with music. Whatever your music preference is, you will always have a place at this festival. You can start your bar-hopping by dancing to soulful funky tunes in the southern end of Haad Rin at The Rock. Then, jam at Drop-in Bar for their RnB and hip hop playlist or Reggae House for some reggae music. But just make sure that you're in Tommy Club, or the original full moon party, Paradise Bungalows at the peak of the party. Lastly, end your all-night party at the Backyard Club. Just when the other bars are closing, the Backyard Club will continue the fun as early as 7 AM with their resident DJs flaring up the dance floor.
How to get there
Book a flight to Koh Samui (USM) and ride the Lomprayah high-speed catamaran to Koh Phangan. This ride only costs THB300 or around US$10 per way and it will only take 20-30 minutes from Pralarn Pier (Koh Samui) to Thong Sala Pier (Koh Phangan). Then, take the mini taxi to your hotel. There are still other ferry ride companies, but this is the most recommended one.
Since this is a sought-after full moon party, you can expect a lot of people rushing to get to the island. So, make sure to plan ahead. Besides, there is a limited ferry schedule and it's just a small island.
Dos and Don'ts of Attending a Full Moon Party
1. Do plan your trip ahead of time, but don't stick to that plan religiously.
Since full moon parties are often huddled by visitors all over the world, you can expect that booking a flight, hotel, and transportations can be challenging. So, it is important to plan as soon as possible if you want to be able to have an array of choices. However, during your trip, especially on the services that don't allow advance ticket booking, manage your expectations. You are going to the party to relax and have fun. So, be flexible and adaptable in your plans to avoid being disappointed.
2. Do wear comfortable clothes, but don't go barefoot.
Most full moon parties happen near the beach, so you can wear any clothes that you're comfortable in. You can wear your preferred swimwear and boho dresses, or board shorts and summer polo shirts. Just don't go barefoot since you might accidentally step into broken alcohol bottles or glasses.
3. Do have fun, but don't go beyond your limit.
With overflowing drinks, a festive mood, and the open use of drugs (in Ecuador), you might find yourself overwhelmed and uncontrollably consuming them all. Remember to be cautious with your alcohol tolerance, valuables, and the safety of your friends. If you think you're on the wrong side of the party, trust your instincts. Don't party like it's your last.
Final Thoughts
Defining the best full moon party is usually dependent on your personal preferences. If you want somewhere that is easily accessible, you can head to Islamorada, Florida Keys. Since this is only within the U.S. Meanwhile, if you're looking for a more primitive celebration, you can head to Tortola, British Virgin Islands. But if you're looking for the craziest and wildest one, head to Koh Phangan, Thailand.
Regardless of which one you choose, just remember to have fun responsibly. Always be mindful of your valuables and your alcohol tolerance. Again, don't party like it's your last. Attending different full moon parties will let you explore what kind of party animal you are and, of course, meet new friends along the way.