10 Best Things To Do In Marrakech, Morocco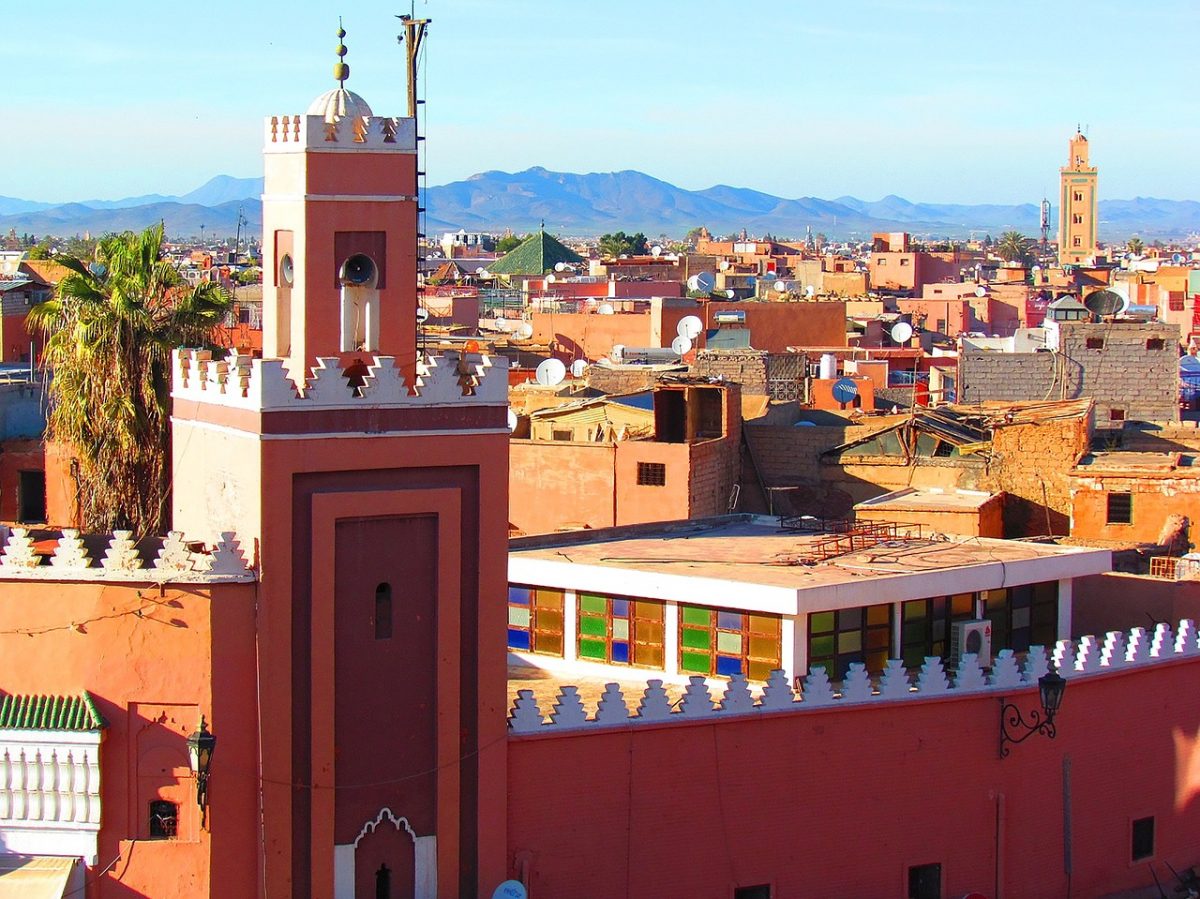 Marrakech, a former imperial city of Morocco, is an exotic tourist destination that marches to its own beat. The city offers a unique experience to those who visit by providing a wide range of options on things to do in Marrakech. Marrakech is kind of an oddball in the sense that it has a reputation of being too overwhelming, particularly for first-time visitors.
However, all visitors seem to agree that the biggest tourist attraction within Marrakech is probably the city itself. Upon entering the city, you are thrown into this vast, elusive web of constant activity and movement. Thriving alleys, vibrant colors in the souks (Marrakech markets), the inescapable aroma of spices, the traditional music, the attempts at entertainment by local snake charmers and fortune-tellers and the constant bumping of strangers on the Marrakech's streets are sure to keep you on your toes.
So there's no denying that Marrakech is definitely overwhelming and can often leave first-time tourists with a sensory overload that they may find hard to process and make sense of. But that is exactly where the unique beauty of Marrakech lies – it's vibrant, bold and full of culture! If you're visiting Marrakech for the first time, check out our list of top 10 things to do in Marrakech, Morocco down below.
1.
Experience The Vibrancy Of Jemma el-Fnaa

There are plenty of things to do in Marrakech but experiencing the vibrancy of Jemma el-Fnaa definitely makes it to the top of the list. Jemma el-Fnaa is the place of happening in Marrakech. As the city square, Jemma el-Fnaa is always thriving with locals and tourists alike.
You'll find merchants selling exotic items, several unique Marrakech, Morocco cafes and loads of showman trying to entertain the passersby. The city square rarely sleeps and is probably the best place in Marrakech to experience the nightlife in a Morocco city.

First-time visitors will get their first taste of the famous Marrakech sensory experience here. With vendors shouting at the top of their lungs trying to sell their lamps and Moroccan lanterns to snake charmers and fortune-tellers trying to convince you to stop by and take a look, the atmosphere can quickly turn from exciting to overwhelming. Various cafes and food stalls start popping up as the sun starts to set and the smell of traditional spicy Marrakech food fills the air. Try some of it out if you're feeling up for it!
2.
Stroll The Famous Majorelle Garden
Morocco cities are home to beautiful iconic gardens and Marrakesh is no exception. Among the many things to do in Marrakesh, visiting the Majorelle Garden is a must. You'll be interested to learn that the garden was actually the idea of a French artist Jacques Majorelle. When you visit the garden, you'll notice that it is actually really small. But the garden is beyond beautiful and an absolute treat to the eyes.
What's unique about the garden? Well, it's very surreal for starters. The use of blue decor all around the garden in contrast with all the colorful flowers and trees is what makes this garden a fantastic work of art. While you're finding cool things to do in Marrakesh, make sure you add snapping a picture here to your list. If you want some peace and quiet as you take your photographs, make sure you arrive early when the place is less crowded.
For those wanting to escape the overwhelming experience of the Marrakesh city life, spending time in the Majorelle Gardens can help restore your energy and provide a calm place to take a walk or just sit and contemplate.
3.
Spend A Night At The Riad
If you're going to be spending time in Marrakech, why not stay at the traditional Riad? These traditional Moroccan houses, built around a central courtyard, have now been converted into hotels, restaurants, and apartments. In fact, riads are a popular place to stay among most travelers visiting Morocco cities. So staying at a Riad is definitely among the many cool things to do in Marrakech to see its traditional side up close.
These riads come in all ranges and sizes from large luxury riads costing a great deal to low-budget ones that tourists can take advantage of. Make sure you book ahead of time and find a riad that is closer to the city square since that is a place you will be visiting frequently. Staying at a riad falls amongst the great things to do in Marrakech if you're willing to experience the traditional side of Morocco.
Several modern riads have been built in recent years as well and if you wish to stay at a rather fancy riad, you should definitely check those out to get the best deals.
4.
Bargain With The Passionate Vendors At Souks
Souks refer to the traditional Marrakech market. Souks are usually very crowded with countless shops and stalls selling a wide range of items. You can find almost any item here from shoes and bags to lanterns and traditional Moroccan spices. Visiting the souks is one of the many cool things to do in Marrakech and you should not miss out on the experience even if you don't plan on buying anything. You can enter these traditional Marrakech markets via the Jemaa el-Fna Square.
Navigating the souks may be a challenge. The shops and stalls form a maze that first-time visitors may have a hard time finding their way around. Some vendors may be polite while others may get all hyper and force you to buy their products. The trick is to maintain your calm and decline firmly if you don't wish to buy the item. Otherwise, get ready to spend quite a lot of time trying to reach a bargain with these passionate sellers. After spending some time in Marrakech, you'll get used to this habit of bargaining pretty quickly.
5.
Get A Birds-Eye View Of Marrakech From A Hot Air Balloon
Riding a hot air balloon is definitely one of the coolest things to do in Marrakech, particularly if you're the adventurous type. When the street life of Marrakech gets a little too overwhelming, book yourself a hot air balloon ride to get a unique birds-eye view of the beautiful city from up above.
With the hot air balloon ride, you'll also get to see the Atlas mountains and the surrounding desert, things you wouldn't otherwise see while on foot. The hot air balloon ride can be a very serene and peaceful experience. You can book yourself a ride via Marrakech by Air or Ciel d'Afrique. You will have to wake really early in the morning to enjoy this hot air balloon ride.
Another thing to keep in mind is that Marrakech's weather can be as unpredictable as the mood of the vendors in souks. So, be sure to book ahead so you can reschedule in case the weather doesn't cooperate. While there are many things to do in Marrakech to experience the city, riding the hot air balloon is something you shouldn't miss out on.
Going to the hammam is another one of the popular things to do in Marrakech. Hammam is similar to a spa where you can undergo a cleansing ritual of sorts with lots of scrubbing and steam. Trying out a hammam is on the list of many tourists who visit Marrakech. Hammam has become an essential part of the Marrakech culture. There are several places in Marrakech where you can experience a hammam.
Each place tends to have a budget of its own so be sure to do your research before you make a booking. Some of the hammam offering places have lower rates, but these are usually located quite far away from where all the tourist spots are. If you're on a tight budget and wish to save a few bucks while experiencing the hammam, you can definitely check some of these places out.
However, there is no shortage of high-end hammams in Marrakech either. There are several places that specifically specialize in offering a luxury hammam experience to tourists. Some top luxury hammam offering places include Royal Mansour, La Mamounia and the Heritage Spa.
7.
Check Out The Tanneries
Be warned because while checking out the tanneries is definitely one of the top things to do in Marrakech, it's definitely not for the faint-hearted. Marrakech has many traditional open-air tanneries that you can visit where you get to see workers dipping animal skins and treating them with all kinds of chemicals. The smell at these vats can be quite harsh so be prepared when you enter.
This experience might not be suitable for all tourists out there, but the tanneries are quite popular since they show the traditional side of Marrakech quite well. Make sure that you book yourself a tour through proper channels to avoid getting scammed. There are plenty of stories where tourists have been tricked into going to the tanneries only to be put on a spot to pay up for the tour they didn't even request in the first place.
Admitted that Marrakech can be a handful at times, the tanneries are just one of those things that you have to be extra careful about seeing particularly if you aren't an experienced traveler.
8.
Marvel At The Magnificence Of The Koutoubia Mosque
While this mosque is closed to non-Muslim, it doesn't stop tourists from being awed by its structural beauty. Since Marrakech is a traditionally strict place, most of the buildings are short in height due to some decree that states that no building should be taller than the height of a palm tree.
So naturally, when tourists see the tall minaret of the Koutoubia Mosque, they can't help but admire it, even if from a faraway distance. The Koutoubia mosque is the largest mosque in Marrakech and is visible from all corners of the city. As a popular landmark, tourists often use it as a guiding post to find their way around by judging their location based on where the mosque is.
And while non-Muslim are not allowed to enter the mosque, there is a garden at the back that you can stroll around in and take pictures. One good photography tip is to visit the Koutoubia mosque as the sun is setting. This will give you great lighting falling on the tall structure as you take your snapshots.
9.
Explore The Bahia Palace
One of the great things to do in Marrakech is to visit the Bahia Palace. The Bahia Palace captures the essence of the traditional Moroccan architectural design quite well. Sure to be the highlight of your trip to Marrakech, the Bahia Palace is a place where you can walk around in peace while taking in the beauty of the Moroccan architectural design.
The Bahia Palace is not that old, mind you. It was built in the late 19th century but still offers a glimpse into the past. The Bahia Palace has several rooms and open-areas that you can get a tour of. A tour can better help you understand what life must have been like for those who lived here. The Bahia Palace can be visited for a small fee so if you can spare a few bucks, be sure to check it out.
Surrounded by a magnificent garden, the Bahia Palace really is charming and serene on all accounts and is preferable to many other palaces within the city. The Bahia Palace was actually built for a Marrakech Vazir. Tourists can also gain access to the harem and walk around there as well.
10.
Admire Art At Maison De La Photographie
Maison de la Photographie, which translates to the House of Photography, is a place that is sure to take your breath away. The museum was created by two photography-enthusiasts who collected miniature portraits and photos of the Moroccan lifestyle and its people. The collection includes photos from over 150 years ago and provides a glimpse into the past.
Among the many things to do in Marrakech, visiting this museum is an absolute must. Particularly for tourists who really want to see how the Moroccan lifestyle evolved over the years.
Where Is Marrakech? Learn More…
Marrakech is located in western Morocco and serves as its major economic center. Recognized as the largest city, Marrakech lies in the center of the fertile Haouz Plain. For travelers from other countries, the Marrakech Airport will probably the first things they'll experience. Marrakech Airport has several shops and plenty of stuff to do, particularly if you have a long layover. Wi-Fi service is available so you'll be connected to the internet.
Marrakech weather is generally hot throughout the year. However, December and November can be milder months temperature-wise. The best time to visit Marrakech is from March till May or between September and November. You can also get reasonable hotel accommodation rates during these months so plan wisely.