15 Best Things to Do in Morocco, the Gateway to Africa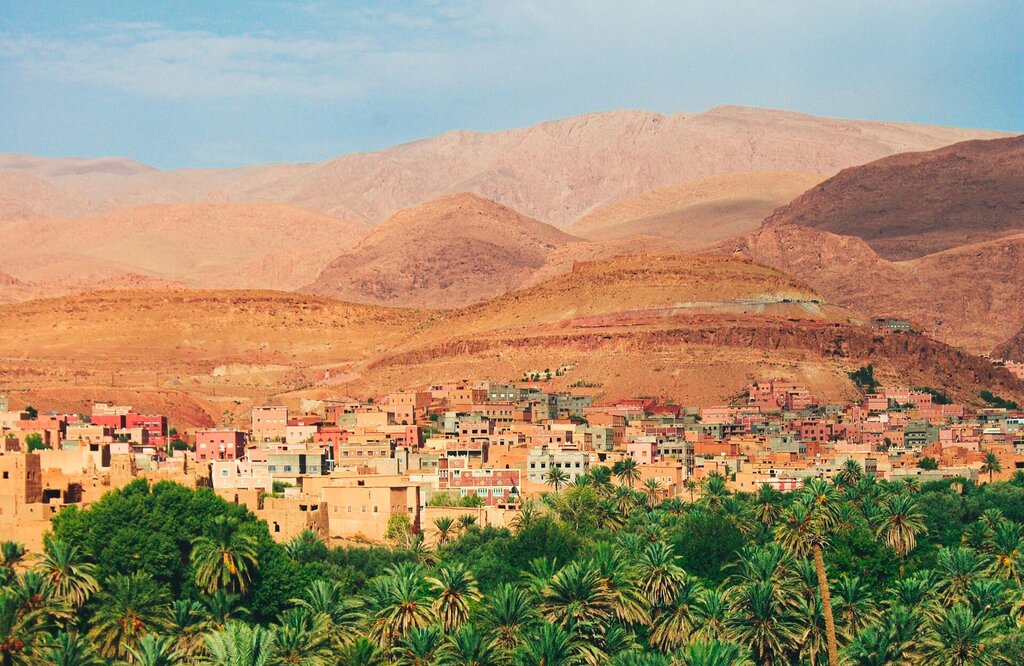 Nowhere is more culturally exciting and vibrant than the kingdom of Morocco! Just four hours by air from Europe, it is considered the Gateway to Africa. Visitors will find a plethora of things to do in Morocco that you simply can't find anywhere else. You can ride a camel in Sahara Desert, hike the High Atlas Mountains, see the most beautiful places in Morocco like extravagant palaces and red kasbah fortresses, haggle for souvenirs in the souk, and even savor delicious mint tea and Moroccan food. Are you ready to see what Morocco has in store for you? Here are 15 best places to visit and things to do in Morocco that will provide you with unique experiences and unforgettable memories. Enjoy!
1. Be Awed by the Bahia Palace
Marrakech is the most popular Moroccan city amongst tourists for its old historical charm. There are many architectural marvels in Marrakech, with years of history behind them, but the most magnificent is the Bahia Palace. Bahia Palace, also known as La Bahia (The Beautiful), is true to its name. It is an 8,000-sq-meter ornate masterpiece of marquetry and zouak (painted wood) from the ceiling to ground. There are 150 rooms in this massive palace, each having its own distinct beauty. The Little Riad, for instance, has a charming garden with intricately decorated floor tiles and a lovely ceramic fountain centering the structure. The halls of the South Gallery have the most impressively painted wooden ceilings. But the most enchanting place is actually located outdoors. Cour d'Honneur, the grand courtyard of the palace, is paved with a beautiful 1,500-sq-meter floor made entirely of marble.
2. Admire the Hassan II Mosque
Hassan II Mosque is another popular tourist attraction in Morocco. Located in Casablanca, it is the second largest mosque in Africa. The person behind this lavish mosque is the late King Hassan II, who built half of it over the Atlantic Ocean. The minaret has an incredible height of 200 meters, which is what you will notice first. This mosque is so colossal that it houses a Medersa (Koranic school), a library, hammams (Turkish bath), and a museum. Apart from its sheer magnitude, its architecture is also a true wonder. Here, you will get to admire the finest of Moroccan artistry, from the frescoes and zelliges with geometrical motifs to the arabesques with calligraphic motifs.
3. Climb The Atlas Mountains
The Atlas Mountains is located in the center and south of Morocco, also known as the backbone of the country. They stretch from the Atlantic Ocean to the Algerian border and are snow-capped for much of the year. This may surprise you because this is a hot desert country. Situated in the Toubkal National Park, its highest peak is Toubkal at 4,167m. The area has several seasonal rivers and wadis (dry river beds).
Morocco's High Atlas Mountains are ideal for trekking, 4×4 tours, caving, climbing, and other activities. However, it should be done with a local guide. Your tour may include a visit to a local Berber village to see how these semi-nomadic people live today. You will also see animals and endemic plants, many of which are in danger of extinction.
4. Explore the Kasbah of Ait Ben Haddou
Located in the province of Ouarzazate, the UNESCO-protected Kasbah of Ait Ben Haddou paints a picture of 17th century Morocco with its earthern architecture. The details of the defensive walls, angle towers, and the baffle gate are where this Kasbah's beauty lies. Clay and mud are the primary materials used here, giving the Kasbah a unique look and structure. And because of it, many movies took place here, such as Prince of Persia, Game of Thrones, and Gladiator.
5. See the Roman Ruins of Volubilis
From the holy town of Moulay Idriss Zerhoun, you will see a piece of enchanting historical remains rising high in the sky among a sea of rolling greens. You might not think to find ancient Roman ruins in Morocco, but Romans actually ruled Morocco over 2000 years ago. And Volubilis, once a thriving Roman city, is now among the best preserved Roman ruins in Morocco. In fact, it is so well-preserved that you can even find houses with beautiful mosaics! This UNESCO world heritage site is situated between Fez and Meknes, making it easily accessible for a quick day trip together with Moulay Idriss Zerhoun from either cities.
6. Wander Around the Streets of the Medinas in Morocco
Strolling the historical streets of the medinas in Morocco is where you will get the best chance to discover Moroccan culture and lifestyle. A UNESCO heritage site, the Medina of Fez is home to well-preserved medieval palaces, mosques, fountains, and residential houses. Best known for their intriguing tanneries, it is one of the things to do in Fez that you simply can't miss if you visit this city. If you are looking for a less touristy street, then visit the Medina of Rabat. Rabat has been the capital of Morocco since the 1950s and is home to historical sites and monuments. There, you will truly experience the authentic local lifestyle, with a beautiful ocean view to boot. Another place with breathtaking scenery of the sea is the Medina of Essaouira. Essaouira is a charming port city that gives you a respite from the frenzied pace of bigger cities.
7. Shop in the Souks
Souks are a significant part of the Moroccan culture and livelihood. Indeed, shopping in the souks is also one of the most exciting things to do in Morocco. The souks are a brilliant showcase of Moroccan crafts and how good they are. You'll be impressed by intricate Moroccan accessories and pottery, which range from ornate silver pendants to bejeweled glassware. Finely woven carpets abound, and the aromatic scent of various spices waft to your nose, immersing you with the vibrant culture of Morocco from within. If you are looking for famous souks, the cities of Marrakech, Fez, and Essaouira are where you should drop by.
TouristSecrets Tip: All of the items are marked up exorbitantly, particularly for tourists. So always make sure to haggle for the best price. Sometimes you might even give a discount of up to 50 percent from the original price!
8. Stay in a Riad
Instead of staying in a regular hotel, get truly intimate with the Moroccan culture and stay in a traditional riad. Riads are traditional Moroccan homes with a garden and an open-air courtyard. It is also one of the must-do things to do in Marrakech, as you can find the most authentic riads in the old Medina of Marrakech. Every single room has its unique flair and personality, adorned with intricate Moroccan tiles and colorful carpets. You can also dine in the riad and experience traditional Moroccan breakfast and dinner in the courtyard or at the roof terrace. Some riads even come with a hammam for a truly luxurious stay.
9. Relax in a Hammam
When in Morocco, if there is one thing not to miss, is the hammam. Pamper yourself by trying this bath which is very similar to a Turkish bath. The process of hammam will start with you in a steam room. Afterwards, you will be headed for a rinse, then a black soap made of olives will be applied to your skin. The thick soap layer is scrubbed off with a kessa (exfoliating glove). Next, you will be given a luxurious foamy wash and body massage, before going for a final rinse.
TouristSecrets Tip: While you may be cleaned thoroughly if you pay a little extra for an attendant to do the scrub for you, be warned that it can get a little intense. A safe word you can use is "Bshwiya", which means to go softer or slow down.
10. Camel Riding and Stargazing in Erg Chebbi Desert
Go to the desert of Merzouga, a small desert known for its sand dunes within the Sahara Desert, one of the top deserts to visit in Africa, and see its majestic views through camel riding. Erg Chebbi desert has five kilometers long dunes perfect for a tranquil ride as you soak in Merzouga's geological marvels like the majestic Dades Gorges.
If you add camel riding to your list of things to do in Morocco, also try sandboarding or rest your muscles in a sand bath. The spectacular view of the sunset is also not one to miss when in the desert. Finally, don't forget to spend the night under the stars for a truly magical time of stargazing. The desert skies are free from light pollution, meaning you'll be able to see millions and millions of twinkling diamonds in the sky.
11. Surf in Morocco's Beaches
If you love the sun, the waves, and surfing, then you'll find yourself a paradise in the Moroccan beaches. Given that the Atlantic Coast is a perfect destination for water activities like surfing, many surfers go there to ride Moroccan beaches' waves.
Legzira Beach is one place to go in Morocco if you want to surf. Listed as one of the world's beautiful beaches, Legzira Beach is best known for its mammoth stone arches. This beach between Mirleft and Sidi stretches eight kilometers long and is mostly rocky. In addition, the beach is windy, and the waves could reach two to three meters high. That said, surfing is an ideal activity here. However, there are no beach services here as the area is still underdeveloped.
Alternatively, if you want to try something else, you may also go kitesurfing or windsurfing. These activities are popular on the beaches of Dakhla, Safi, Essaouira, and Taghazout.
12. Visit The Blue City, Chefchaouen
Head to the "Blue Pearl of Morocco", Chefchaouen, which is located just 2 hours away from the city of Tangier. Tucked within the Rif mountains, Chefchaouen is a city colored a brilliant sky blue from its walls to ground. Every corner you turn is a picture-perfect scenery with its magical blue alleyways and buildings all around you. The Medina of Chefchaouen not only provides a lovely sight with its blue-washed streets, but is also a more peaceful street to explore as compared to the hustle and bustle of other big city medinas. When in Chefchaouen, also make some time to hike in the scenic Rif mountains if you are looking to stay overnight in this charming city.
13. Listen to Moroccan Music: Gnaoua
Gnaoua or Gnawa music is everywhere in Morocco. But, to help you a bit, Jemaa el Fna Square in Marrakech is where you should go for this. When night falls, the Berber musicians and Gnaoua dancers begin to enthrall audiences with their rhythmic performances. The musicians also invite people to join them in their traditional dances. Do not be shy! Dance with them—it is one of the memorable things to do in Morocco. And in the daytime at Jemaa El Fnaa, get entranced by the snake charmers. Snake charming is an ancient Morocco skill where the charmers are hypnotizing snakes (most of the time, cobras) by playing an instrument called pungi.
14. Eat Moroccan Dishes and Pastries
Moroccans also make the tastiest dishes and pastries in the world. Given that they are rich in spices, their flavors are, indeed, unique. When in Morocco, find time to try their dishes and pastries. If you are a food lover, then satisfying your taste buds with Moroccan flavors is one of the best things to do in Morocco.
Couscous, now a staple in salad chains, originates from Morocco. So make sure to try some authentic couscous when in Morocco! Tagine, a flavorful clay pot dish filled with mixed vegetables, seafood, and meat, is another iconic Moroccan food. Meat lovers will enjoy brochettes, which are savory meat skewers. Another quintessential Moroccan dish not to miss is harira, a traditional soup made of tomatoes, chickpeas, and lentils.
On the other hand, for pastries, Morocco has traditional cookies, ghriba, that can be either made with chocolate or almond. You should also try the crescent-shaped cookies, Cornes De Gazelle (Gazelle Horns), which comes with sweet almond-orange blossom filling and crushed pistachio on top, and the briouates with honey—almond paste-filled pastries coated with honey.
15. Enjoy Moroccan Tea
Morrocan people love tea! In fact, they take their time in making such a drink for their families, friends, or guests. That said, if they have shared their tea with you, that is a symbol of friendship. Make sure to try their mint tea sweetened with sugar or their green tea. Besides, one of the best things to do in Morocco is to chat with Moroccans while enjoying a cup of tea.
Where to Stay When in Morocco
(Take note that prices per night depend on the season and are subject to change without prior notice.)
Riad & Spa le Secret de Zoraida
Location: 32 Jnane Ben Chagra Toualat el Bibat N° 32 Medina , Medina, 40000 Marrakech, Morocco
Price: Starts at 118 USD per night
To best experience the traditional lifestyle of Moroccans, book a stay in the riads. Riad & Spa le Secret de Zoraida is one of the most luxurious riads in Morocco to stay in. All of the rooms are intricately decorated in traditional Morrocan style even right up to the attached bathrooms. At the hotel restaurant which features a rooftop terrace, you can enjoy an unparalleled view of the Atlas Mountains. The spa also includes a hammam, as well as heated swimming pools and hot tubs. Located at the heart of Marrakech, it is within walking distance from famed tourist attractions like the Bahia Palace.
Riad Adika
Location: Sidi Bouamar Quartier Riad Laarous, Medina, 40000 Marrakech, Morocco
Price: Starts at 105 USD per night
Another riad not to miss is Riad Adika. The air-conditioned rooms surround the beautiful swimming pool in the center of its courtyard. Apart from the indoor pool, the riad also features a hammam and a Moroccan-style lounge. Also located right in the middle of Marrakech medina, you can freely explore all the souks within the city center after your traditional Moroccan breakfast in the riad.
Hotel Argana Agadir
Location: Boulevard Mohamed 5, 80000 Agadir, Morocco
Price: Starts at 43 USD per night
Nestled right between the Agadir beach and city center, Hotel Argana Agadir offers convenience and beauty all at once. Staying in the hotel gives you access to the private beach, and there is also an outdoor swimming pool, a spa, and two on-site restaurants. The rooms all come with an attached bathroom, free WiFi, and even a balcony with scenic views of the pool, garden, or ocean.
Mandarin Oriental, Marrakech
Address: Route Du Golf Royal, 40000 Marrakech, Morocco
Price: Starts at 1144 USD per night
Mandarin Oriental, Marrakech, offers luxury accommodation featuring private villas and suites. Most of these villas and suites come with either a plunge pool or a lap pool. Some even have a private hammam! There is also an abundance of dining options in this hotel, from Mediterranean, Chinese, to North African. For further indulgence, you can also head to the spa for a myriad of Moroccan massages and treatments to choose from.
Frequently Asked Questions
Where Is Morocco Located?
Morocco is located in northwestern Africa. It borders the Mediterranean Sea in the North, Western Sahara in the South, Algeria in the East, and Atlantic Ocean in the west.
What Are the Best Months to Visit Morocco?
The best months to visit Morocco are from March to May and September through November. This is to avoid the summer heat in Morocco cities.
What Do Moroccans Speak?
You'll hear locals chatter in the local Arabid or Berber language. However, French and English are also widely spoken.
Can You Drink Alcohol in Morocco?
Yes, you can, but alcohol can only be bought and consumed in licensed places.
What Is Considered Rude in Morocco?
Using your left hand to eat or greet people is a big no-no in Morocco as the left hand is customarily used for attending to bathroom business. It is also rude to beckon someone to come to you with your index finger. You should face your palm downward and wave it towards yourself to get someone to come to you.
Can You Kiss in Public in Morocco if You're Not Married?
The same rule applies to all married and unmarried couples. Kissing and any other public displays of affection between the opposite sex are not allowed in public. And while you may see many people of the same sex being openly affectionate with each other, it is actually their display of friendship. Homosexuality is banned in this conservative Muslim country.
Can Unmarried Couple Share a Room in Morocco?
It is technically illegal for an unmarried couple to share a room because premarital sex is prohibited by law in Morocco. But in general, this rule only applies to Morrocans, so as long as you show your passports to prove that you are a foreigner, you should be able to share a room with your partner.
What Should Tourists Wear in Morocco?
As Morocco is a Muslim country with an Arab/Berber heritage, its culture and religious rules should be respected. It is best for tourists, particularly women, to wear modest, loose-fitting clothing to avoid offense. And if you are wondering if you should wear a headscarf, note that while it is not required in general for female tourists to do so, they are expected to cover their head with a scarf when visiting a mosque.
Try All the Best Things to Do in Morocco
Get enveloped in the lively ambience of the cities of Morocco, through haggling in souks and dancing the night away to traditional music. Or lose yourself in the beauty of the African deserts, coasts, and mountains. Whether you choose to explore the historic cities or traverse the natural wonders, each and every activity will present to you a uniquely Moroccan adventure!