Your Ultimate Guide To Rose Bowl Flea Market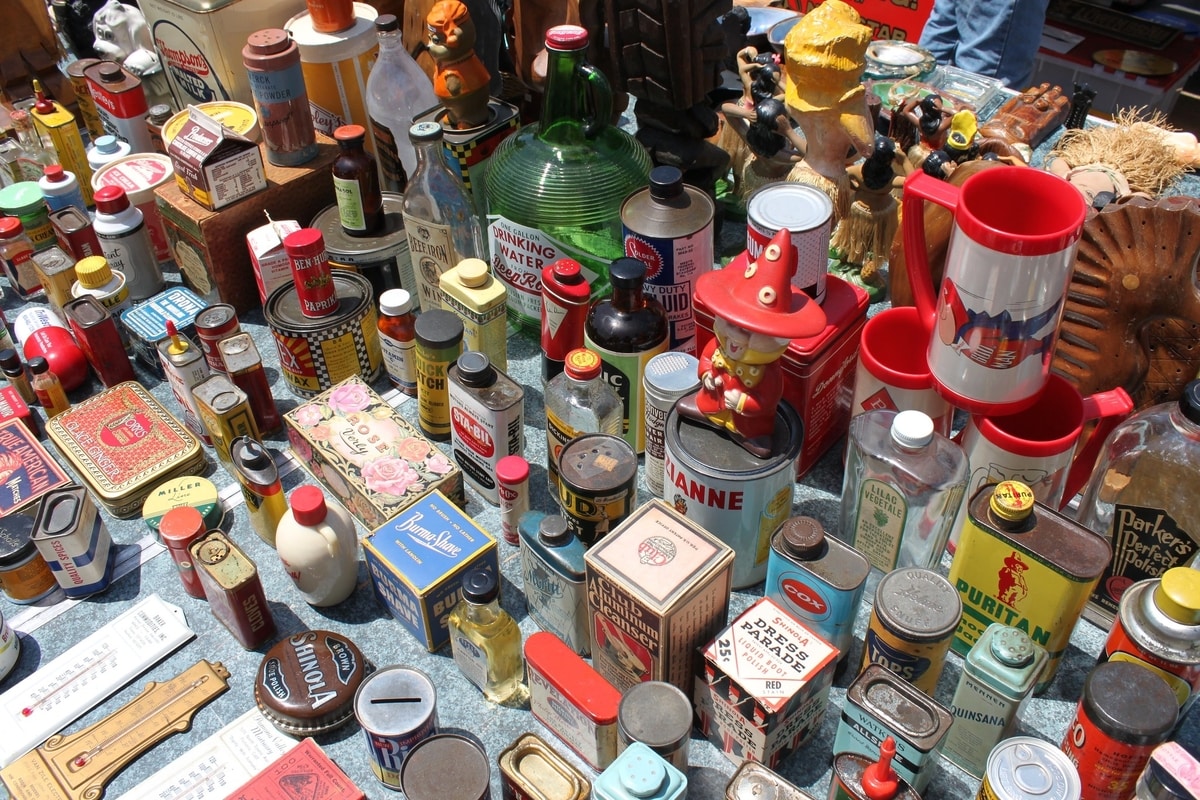 The Rose Bowl Flea Market in Pasadena, California, ranks among the most popular flea markets in the United States. Even celebrities couldn't resist coming here and checking what the fuss is all about. It's genuinely a southern Californian legend considering it has been operating for 45 years now.
The flea market takes place at the Rose Bowl Stadium which also hosted the 1932 and 1984 Summer Olympics as well as the 1994 FIFA World Cup. Every second Sunday of the month, more than 20,000 bargain hunters including interior designers and prominent personalities troop here. The market showcases up to 2,500 booths selling antiques, vintage clothing, jewelry, exotic furniture, music, and almost any imaginable type of merchandise.
To make the most of your shopping experience at the Rose Bowl Flea Market, we have prepared and compiled the best tips, information, and details you should know this 2019.
Rose Bowl Flea Market: What You Should Know
During market days, the areas around the stadium turn into one huge swap meet, and it is considered as the biggest flea market on the West Coast and listed as one of the best flea markets in Los Angeles. You can find almost anything you're after here including the latest trends in fashion and techy gadgets.
So, whether you're looking to landscape a homemade garden, improve your home or repair some components, create an art business or collection, decorate your house, or start a fashion sideline, the Rose Bowl Flea Market has a little bit of everything in a convenient one-stop location.
If you're not into shopping or you just want to wander around, the market will give you a genuine L.A. experience. It's lively and fun. You'll surely love the surprises you'll see as you stroll around.
What Are The Admission Details?
The market offers an exclusive preview VIP admission from 5:00 am to 7:00 am for $25.00 per person.
It's $18.00 each for early bird admission from 7:00 am – 8:00 am.
The express entry starts from 8:00 am to 9:00 am and the rate is $14.00 per person.
The general admission, which begins at 9 am, is at $9.00 per person. Children aged 12 and under can enjoy free access with an adult of course.
Take note, however, that not all vendors are fully set up until 9 am. So, if you go there early, you've got a bit of waiting to do. The box office opens until 3 pm. After that, the vendors start packing up.
Does The Rose Bowl Flea Market Allow Pets Inside?
Unfortunately, they are no longer allowed and for good reason. Vendors just want to avoid any untoward incident with their goods and the animals.
How Is Parking At The Rose Bowl Flea Market?
There are plenty of free parking spaces here, but there are special rates if you want to get a better parking spot.
VIP Parking – For $15.00, you can also avail of the VIP parking slot that is close to the entrance. Make sure to pay close attention to the posted signs as you enter the area around the stadium. Otherwise, you'll spend time taking the wrong turns or doing reroutes.
Special Group Rates – If you're touring by groups, you'll receive VIP service and discounts, secure access bus parking, and dedicated personnel to cater to your queries and needs. Don't forget to email R.G. Canning (mlr@rgshows.com) for your reservation.
Bus Parking – If you're taking a bus, you'll surely get a free parking space that's just outside the main entrance. A $3.00 admission discount is given per member of a group. The driver and the guide will also enjoy free admission.
Are There Food And Beverages Available?
Visiting the Rose Bowl Flea Market will not only satisfy your shopping urges but will also fill your food cravings. You can find almost all types of snacks and beverages here such as hamburgers, cheeseburgers, gourmet pretzels, danishes, Cinnabon rolls, Louisiana hot link, multi-flavored sandwiches, tacos, burritos, hot dogs, garlic fries, French fries, tri-tip, sushi, pulled pork, pizza, rice bowls, water, sodas, energy drinks, brewed coffee, fruit lemonades, shakes, cocktails, wine, and beer.
All these items come at affordable prices, ranging from $1.50 to $9.00. By the way, food sales are only privileged to licensed food contractors. Other vendors are not allowed to sell inside the market.
7 Tips For The Best Shopping Experience At The Rose Bowl Flea Market
If this is your first time going to the Rose Bowl Flea Market, here are some tips for you to have a hassle-free experience:
It's true that the early birds get the worms. Arriving early allows you to scope the vendors without crowds of people scrambling for space after space. You'll have ease and convenience strolling around, plus you'll have a chance of getting the best display or the cheapest option.
Mind you, however, coming early has its downsides, too. Some vendors are still setting things up, so you'll have to wait until 9 am or beyond before seeing their full display of items. The great this is you're already inside so you no longer need to exhaust yourself queueing at the entrance and registration booth.
2.
Try Your Best To Haggle
Where's the fun in flea markets if you don't try haggling? Of course, you can't expect the vendors to give in all the time; they still have to make a living. Nonetheless, vendors come to the flea market expecting hagglers. They probably already have the lowest price in mind already.
What you must remember is that vendors want to earn money, but they won't operate at a loss. They won't mind packing up all their items at the end of the day if they were not able to sell at the "right price." Still, be courteous and respectful when trying to bargain with them. If they give in, thank them. If they don't, thank them still. Remember, too much bargaining can affect their income streams, too.
3.
Check The Back For The Best Deals
The back corners of the Rose Bowl Flea Market offer some of the best deals and unique, exotic materials. Also, proceed towards the left after passing through the main gate so you can check out the vintage or collectibles area. Here, you can find a substantial number of vintage suppliers with various types of high-end furniture.
4.
Devise A Plan Before Going To The Rose Bowl Flea Market
It's easy to get excited and make frantic decisions when visiting the Rose Bowl Flea Market, especially if it's your first time. You'll go running around trying to visit as many stalls as you can. And before you notice it, you'll end up strolling in a daze. You'll get overwhelmed and lose focus.
That's why, before entering the flea market, prepare a list of your priority items. Be realistic with your list. Luckily, the market is divided into sections, so you can easily navigate your way and find your listed items. Sticking to your shopping list will help you save time and budget, and you can enjoy the rest wandering around or buying additional items.
5.
Bring Some Outdoor Essentials
Expect to face the elements and the large crowd once you enter the market. That is why you need to bring essential items with you. For one, bring a jacket because it can get cold in the early morning. Bring sunscreen, a comfortable pair of shoes or slippers, sanitizer gel, or even a hat and sunglasses.
It's also essential to bring a lot of cash with you. Although most vendors accept debit and credit cards, cash can prove useful and heartening for even the most worn-out sellers. There are available ATMs around the market but expect people to line up for those as well. To avoid the queue, bring as much cash as you intend to spend.
If you intend to purchase a lot of items or bulky materials such as furniture or giant paintings, make sure you have someone to help you out. Don't expect the vendors to transport your purchase for you since they will be busy with other customers. That's unless of course, if they have free delivery service or personnel assigned for such a task. Also, don't forget to bring your vehicle if you must.
You will also need a tape measure when buying bulky items like furniture to double-check the dimensions. Boxes might also prove useful so don't forget to bring these along.
Don't fall easily to discount campaigns and other promos; always consider the quality of the item you opt to buy. Yes, you may get tempted to buy a vintage clock worth $50 versus one that's worth $100. But if this can get easily damaged, you might as well buy one that lasts longer even though it costs more.
To avoid poor quality materials, don't splurge on those that don't have unique detailing, don't show creativity, and that which have apparent damages. To help you with that, you can always ask the vendor about the item, its source, and the brand.
Takeaway
There you have it! Shopping at the Rose Bowl Flea Market can be a new experience for first-timers, but it can get addicting especially if you scored a bargain your first time around. Mind you, the other people there are ready for the competition ahead, so you should, too. Apply these tips and put them to heart so you can have a meaningful and fun-filled shopping spree!