Taksim Square In Istanbul – All You Need To Know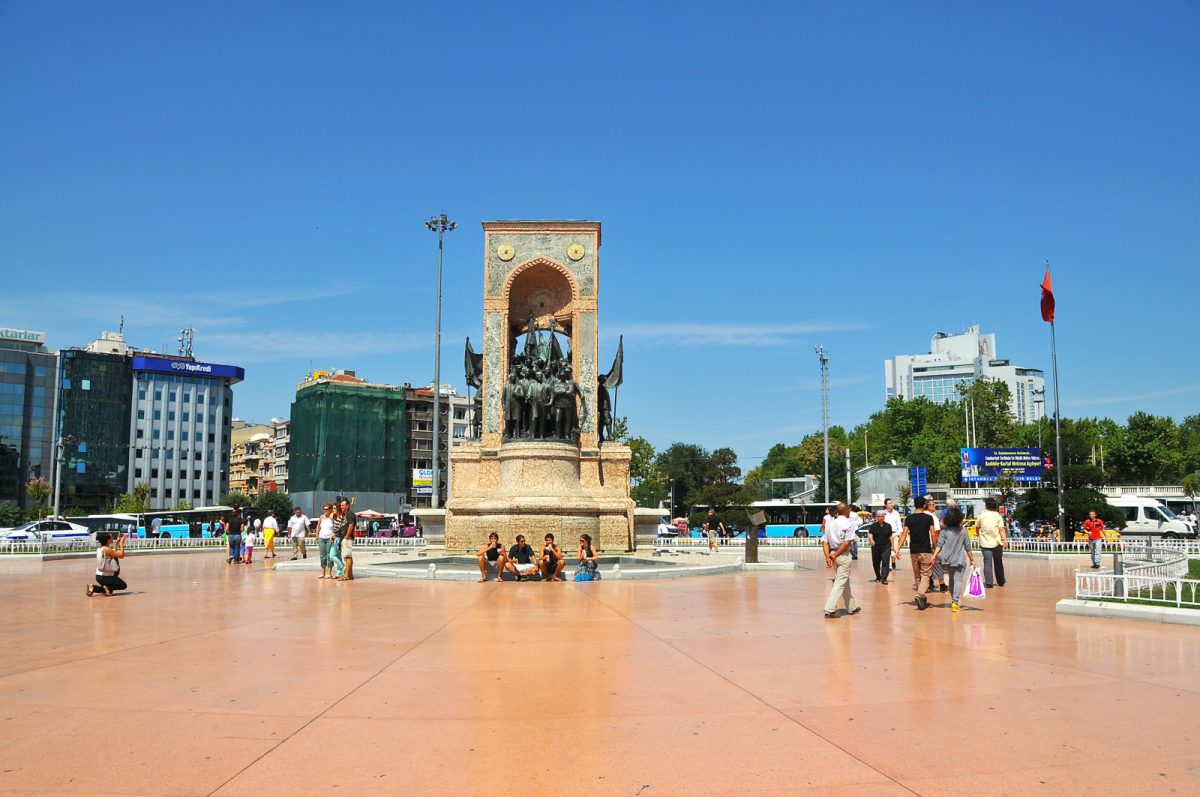 Possibly thought about exploring Istanbul's culture and tradition? Or maybe you just want to contemplate and take pictures near fantastic sites and attractions?
If that's the case, make sure Taksim Square is in the list of your "places to visit in Istanbul".
In this article, we are going to take a look at Taksim Square. We will discuss its origins, why is it so popular and we'll also glimpse at some of its incredible attractions and sites.
All you need to do is sit back and keep reading.
History And Origins Of Taksim Square
First of all, before talking about Taksim Square's origins, we should know its location.
It stands in Beyoglu in the European part of Istanbul. As stated above, it represents one of the largest tourist attractions. It is filled with a great count of shopping districts, restaurants, hotels, and fast-food chains.
When Taksim Square opened, it was a gathering point of the city main water lines. The waters gathered at the square and then branched out to the other parts of the city. The term "Taksim" means distribution in Turkish. It was in alignment with its primary purpose.
A great historical building that once stood at the gathering district was the 19th century Taksim Artillery Barracks. Unfortunately, the construction of the Taksim Gezi Park destroyed the barracks. Gezi Park now represents a small green area.
In 2003 the government came with an idea of demolishing the whole square and constructing new shopping venues. That idea fastly came to action. But, the citizens didn't like that decision. This resulted in massive protests. After some spreads of police brutality, thousands of people rallied in the Occupy Taksim movement. This resulted in a pause of the demolition of the city's largest attraction centre. So the citizens forced the government was to retreat, and Taksim Square remained in its present form.
The Present Day Taksim Square
These days Taksim Square offers a large number of shopping districts and amazing sites you can explore. It is also the central transportation hub. It is the perfect place to visit for both tourists and Turkish citizens.
The long pedestrian shopping street "Independence Avenue" ends at that square. A historic tram runs from the square along the avenue, ending in the Tunnel. The Tunnel represents the world's second-oldest subway right after London's Underground.
The great Independence monument is also a part of Taksim Square. It stands at the beginning of "Independence Avenue." The Italian sculpture Pietro Canonica designed and constructed the monument in 1928.
Taksim Square is also home to one of the world's grandest hotels such as Marmaris Hotel InterContinental, and the Ritz-Carlton. It is likewise the best place for public parades, New Year celebrations, or other social gatherings.
Since Ataturk Cultural Center is likewise located in Taksim Square, this transforms the park in one of Istanbul's most important cultural centres. Ataturk Cultural Center or "AKM" also represents an Opera house which you should absolutely pay a visit to.
Istanbul's largest shopping centre definitely offers you a wide variety of places and shops to explore. Make sure to stay a couple of days in Istanbul to thoroughly examine every imaginary part of Taksim Square.
So before asking yourself the following question: "But where should I start from, and what are the most engaging things to do in Taksim Square?" Try getting a comprehensive understanding of the best things to do and the best places to visit in Taksim Square.
Things To Do In Taksim Square, Istanbul
1.
Monument Of The Republic
If you have read carefully, you probably know about the Independence Monument a bit. That is number one on our list of things to do in Taksim Square. The Independence Monument symbolizes the 5th anniversary of the creation of the Republic of Turkey in 1923.
The monument is definitely a great place to visit if you're keen on historical sites.
2.
Take Part In The Protests
Taksim Square, or also the political square, is the place where protests start growing. They usually happen in Taksim Gezi Park, and that's from where the massive protests start gaining power.
That was also the place where the large protest in 2013 occurred. Green Park hosts large meetings on the Labor Day and the annual LGBT Pride parade as well. It is a bustling place and definitely worth a visit.
Just be careful that you don't put yourself in jeopardy because a lot of things can happen in an overcrowded protest.
Also known as Ataturk Kultur Merkezi, simply put AKM, will help you dive in the Turkish culture and traditions. To get an impression of the Turkish architecture in the 1960s, you should check the Turkish State Opera and Ballet. The summer festivals of Arts and Culture are a must-visit also.
Personal advice would be to visit the Cultural Centre at night. That way, you will be able to witness and enjoy breathtaking views.
4.
Take Some Souvenirs On Your Way Back
If your trip is coming to an end, stop by Taksim Square for one last and quick tour. The square is one of the best places in the whole city for souvenirs.
A lot of different shops are waiting for you to explore them, ranging from clothes and books to jewellery and handmade crafts. Turkey is always famous for its wide variety of antique and elegant collection of lampshades. Try to get hold of one to carry back home in memory of your trip to Istanbul.
Lastly, don't miss tasting the street food. Take a break from the exploration and stop by any near restaurant or pub to eat the delicious Turkish food. To completely experience the local cuisine, you should definitely give doner a try. It is one of the best-known street foods, and it is amazingly flavorful.
If you have been to Istanbul, especially to Taksim Square, and if you have also tasted from the bustling Turkish life then share your experience in the comments to let others know how your trip went.