Is Aruba Safe to Travel for Families and Solo Travelers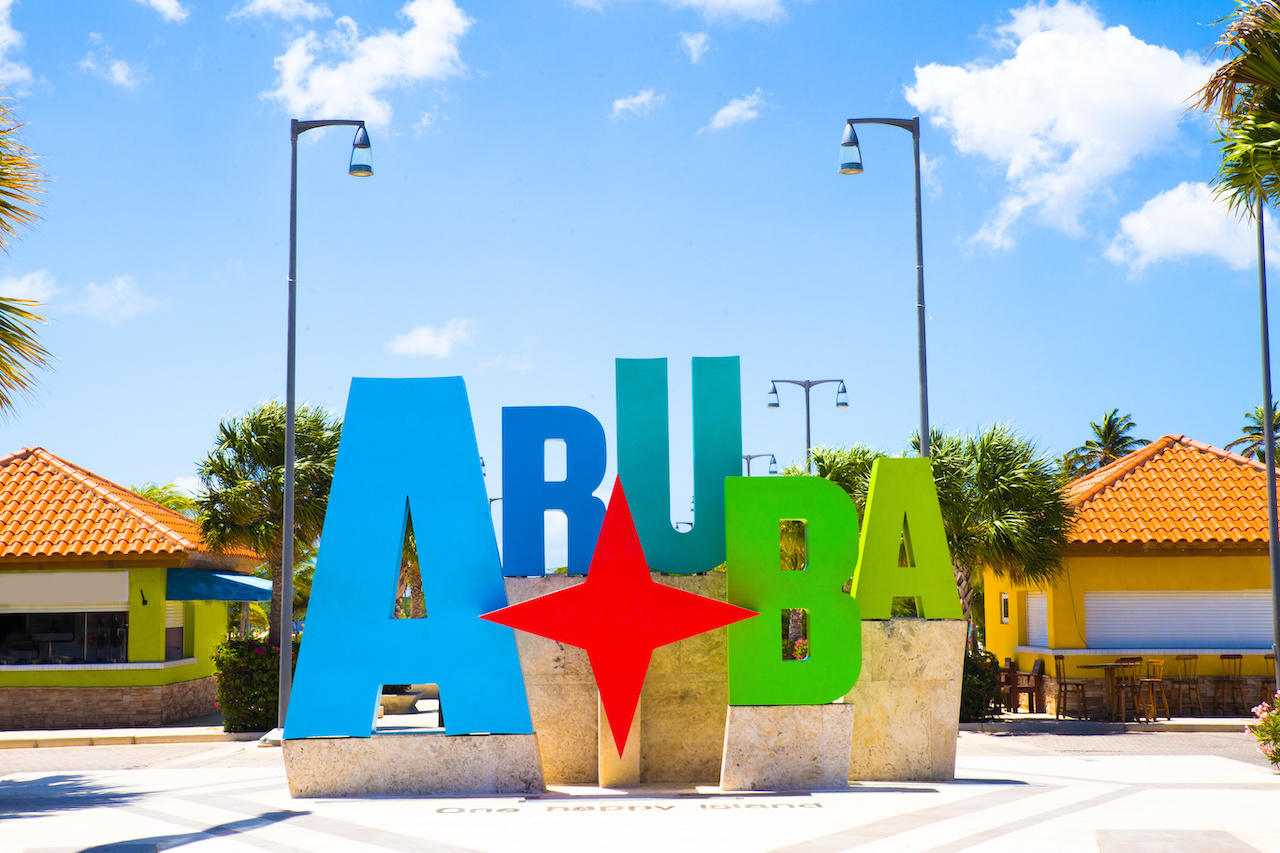 Aruba is one of the most stunning Caribbean getaways. Filled with white-sand beaches and ostrich farms, this tropical paradise is located in the southern part of the Caribbean and north of Venezuela. Because it is one of the smaller destinations, people often ask "is Aruba safe?" before booking a plane ticket, or even while just browsing photos. Aruba is a smaller destination, and although the population is just a little over 100,000, thousands of tourists visit every week. It also lies in an active seismic area, which is why it's understandable for travelers to question its safety.
The answer is: yes, Aruba is safe. In fact, it consistently ranks as one of the safest areas in the Caribbean. Petty crimes do exist, but if you take note of the safety precautions and measures, this can be avoided. This article covers the basics of Aruba, what to take note, and additional information that answers your "is Aruba safe for traveling?" questions.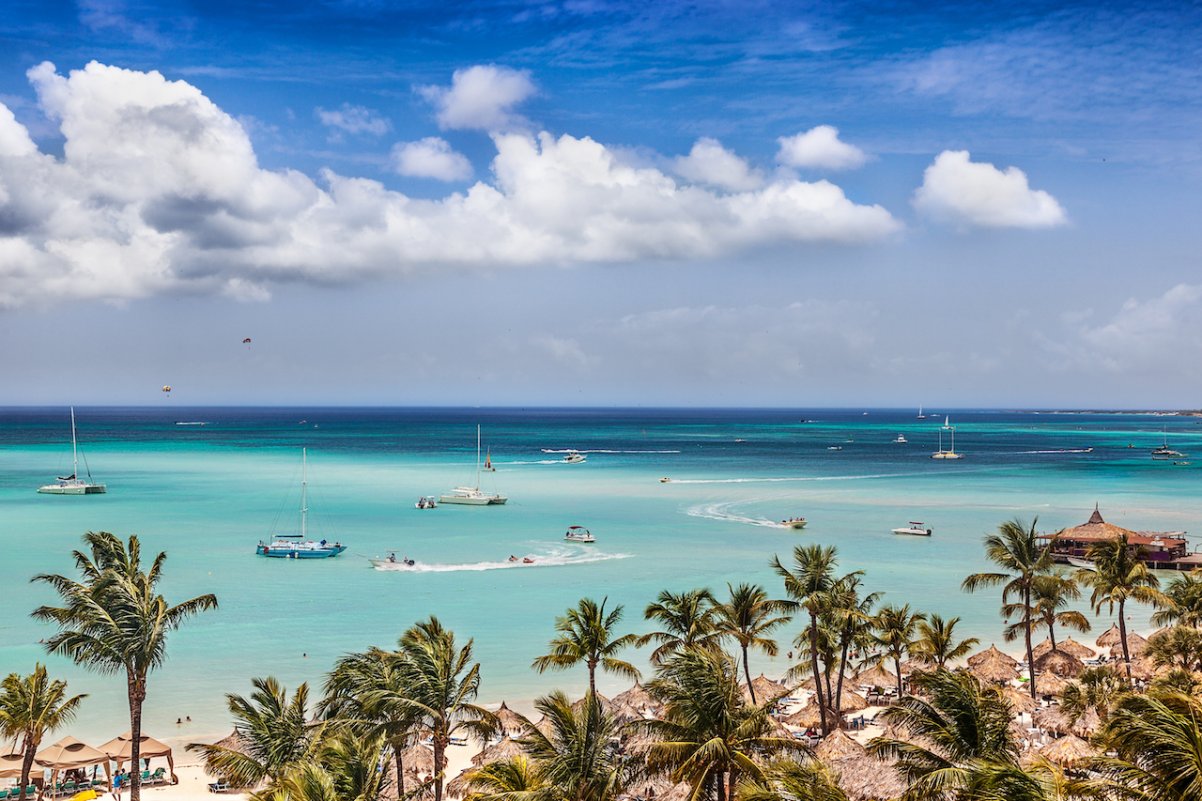 Aruba is located in the Southern Caribbean Sea. It is also located some miles off the coast of Venezuela; on a clear day, one can see Venezuela from the southeastern side of Aruba. In addition to that, this island is part of the Lesser Antilles, a group of islands that form an arc between the Greater Antilles to South America. Other islands part of the Lesser Antilles includes Barbados, Grenada, Trinidad and Tobago, and Saint Martin.
As one of the treasures of the Caribbean, the weather in Aruba is generally tropical throughout the year. You can enjoy summer activities and feel the cool breeze by the beach. Its clear skies and bright sunshine make it a go-to summer escape for most travelers. Aruba is also known for being one of the areas in the Caribbean that experience less rainfall.
Hurricane season is observed from the middle of May to November. Within these months, small storms can develop into large hurricanes. If you are wondering "is Aruba safe to visit during hurricane season?", it still is, although it's best to avoid these months if you want sunny weather. For the rest of the year, however, Aruba experiences clear skies and warm weather.
Aruba is popularly known for its pristine beaches, desert landscapes, and breathtaking diving sites. Eagle Beach is a well-known tourist attraction and is deemed one of the best beaches in the Caribbean. Aside from its beaches, Aruba is also known for its rich natural wonders. The Arikok National Park is a vast park that boasts unique rock formations, sand dunes, and giant cacti. Divers will enjoy the Mas Bango Reef for diving while the Atlantis Submarine is perfect for travelers who prefer to stay dry. In the city, walk around the capital of Oranjestad and admire the town's pastel-colored buildings.
What to Take Note When Traveling to Aruba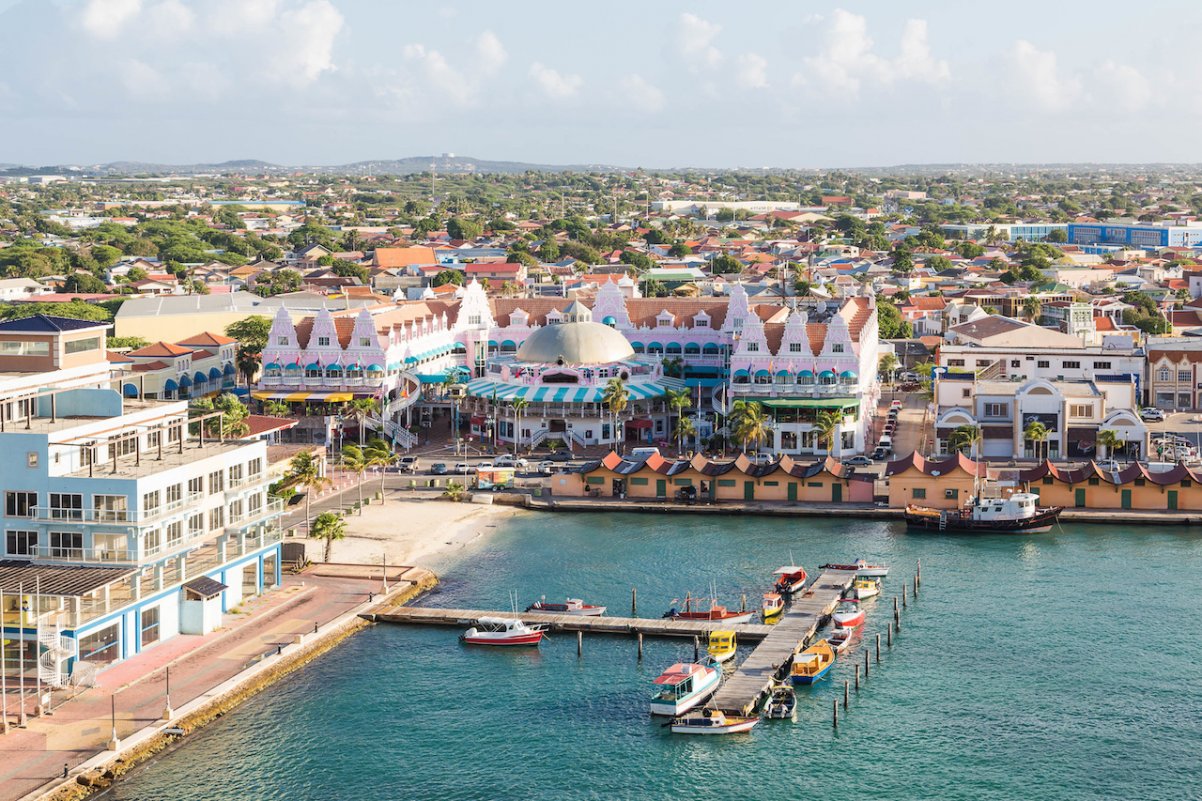 Although Aruba consistently has good weather throughout the year, the best time to visit in Aruba depends on the tourist. Tourist season in Aruba can be divided into two seasons: low season (from April to end of November) and high season (from December to end of March).
The island is normally flocked with tourists during high season. Because of this, hotel prices and plane tickets are more expensive. High season is when most of the festivals happen, with the Aruba Carnival being a favorite among locals and tourists. This is a month-long celebration filled with street parties, pageants, and parades. If you want to experience this, consider visiting the island within these months.
On the other hand, the low season is perfect for travelers who want fewer crowds on the beach. Having fewer people also means that you can enjoy the tranquil waters of the beach and explore the city without traffic. Low season also means that hotel prices and airfare are cheaper, although the hurricane season can affect your travel dates. Despite the low tourist season, you can still enjoy various activities since Aruba has year-round festivals and events.
The currency in Aruba is the Aruban Florin. US Dollars are widely accepted in most establishments, although banks can convert the currency to Florin. Take note however that some restaurants and hotels don't accept 50 as 100 USD bills due to counterfeiting.
Health Precautionary Measures
If you're thinking, "should I take vaccinations before visiting Aruba?", the answer is: you should. Before traveling to Aruba, make sure that all your vaccinations are up to date. These include, but are not limited to: hepatitis A, hepatitis B, typhoid, yellow fever, and rabies. However, Aruba has a history of Zika virus transmissions. If you are pregnant or are planning to get pregnant, make sure to consult a physician before traveling.
Because it is one of the popular Caribbean destinations, Aruba can be quite expensive. It is also a destination frequented by couples and most middle-aged travelers so it leans more on the luxurious side of travel. The island also has one of the highest tax rates around. However, there are plenty of affordable all-inclusive resorts in Aruba and guesthouses for budget-conscious travelers who want to visit Aruba. Hostels cost about 20 to 30 USD per night and breakfast meals are available at the capital for as little as 5 USD. Though most activities you can do here involves the beach, there are also plenty of affordable things to do in Aruba and that includes hiking for the Ayo Rock formations and so on.
There are plenty of noteworthy places to visit in Aruba. From white-sand beaches to aloe vera farms, and desert landscapes, this Caribbean getaway has everything for every traveler.
Eagle Beach –

Eagle Beach

is perhaps the most popular beach on the island and is the perfect place to visit for sunbathing or water-related activities.

Baby Beach – a less crowded beach perfect for families with kids.
Aruba Aloe Factory Museum and Store – take a walking tour around the museum and learn more about the production of aloe vera and its 160-year history of cultivation in Aruba.
De Palm Island

– a private island accessible via a ferry ride. Go swimming, snorkeling, and diving, while children can enjoy the colorful water park with splash pools and water slides.

Arikok National Park – a vast park filled with giant cacti, caves, rock formation, and sand dunes.
Flamingo Beach

– get a day pass here to see these mysterious creatures that roam freely around the beach. The day passes usually includes boat tide to and fro from the island that includes free lunch and drinks.
Aruba has 5 main resort districts, each with its own distinct charm.
Palm Beach High-Rise Hotel District – most luxury hotels like Marriott, Hilton, Holiday Inn, and Hyatt are found here. This district is also the best choice if you want to have your restaurants, shopping areas, and resorts within a walking distance.
Palm Beach District – perfect for tourists who want to be closer to the beach. You can easily go diving or snorkeling in the Caribbean Sea because of its proximity to the waters. However, this isn't the best for those who want to be secluded since the district gets crowded during high season.
Low-Rise Hotel DIstrict – more laid back as compared to Palm Beach and offers stunning beachfront rooms and villas. This district is also closer to Oranjestad and has supermarkets as restaurants close by. Perfect for travelers who want to stay somewhere less populated.
Downtown Oranjestad – not a lot of hotels within the area, but is a good location for travelers who want to explore the capital. There are plenty of restaurants, specialty shops, and tourist attractions within walking distance.
Eagle Beach – most of Aruba's smaller hotels are found at Eagle Beach. This district is a combination of the Low-Rise district's privacy and the thrill of Palm Beach's water activities.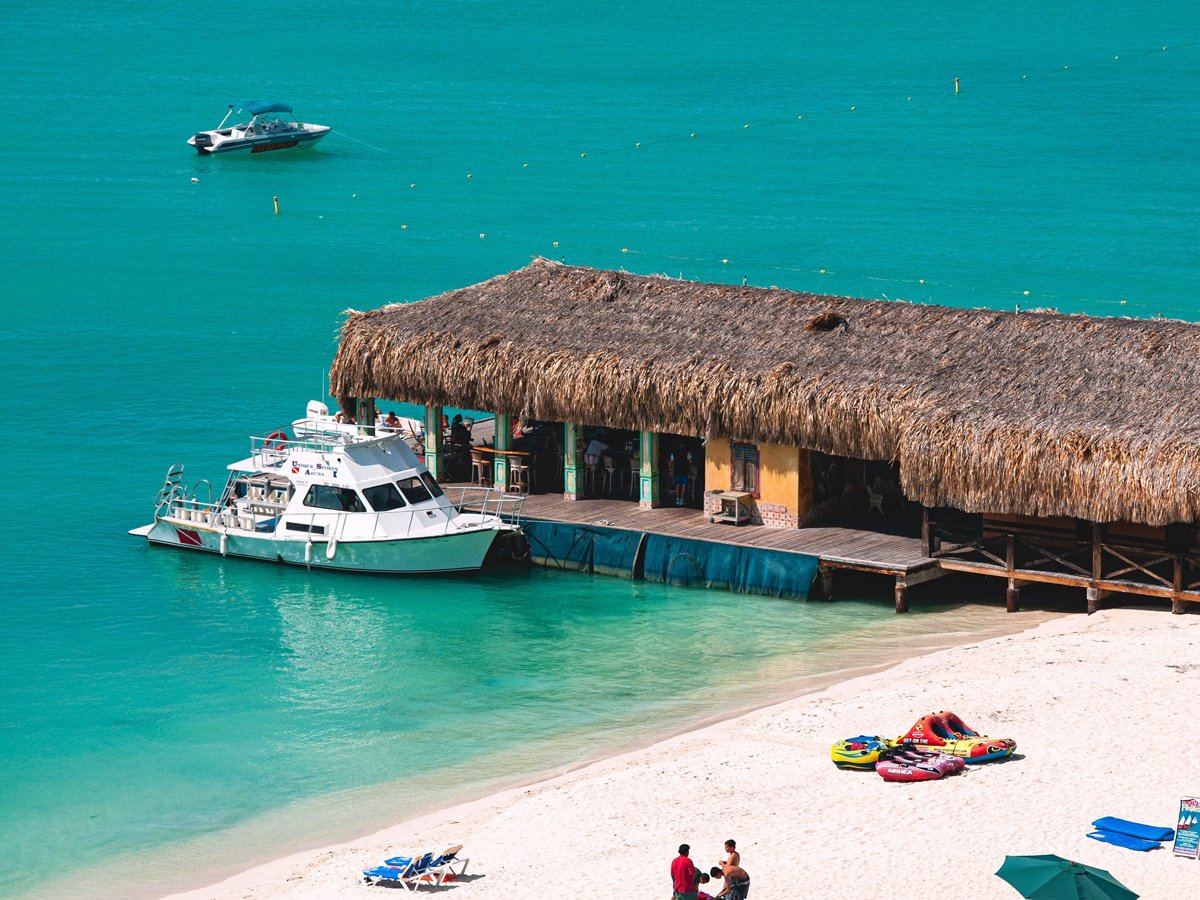 Photo by Paulo Evangelista on Unsplash
"Is Aruba safe?" Indeed it is. Its small population and isolated location make it a safer choice for most travelers. The island is also considered to be one of the safest places to vacation in the Caribbean area. Crime rates are generally low for this area as well.
However, one should always stay safe and take extra care of their belongings to avoid untoward incidents. If you want to know what are the common crimes in Aruba, these are usually petty theft and armed robbery.
Theft is one of the most common crimes in Aruba, and most foreigners and tourists fall victim to this. To avoid this, make sure to never leave your personal belongings unattended in public places such as beaches and hotel lobbies. The aforementioned areas are easy targets for thieves. Car theft is also a common incident, especially for rental cars.
Armed robberies are also one of the most common crimes in Aruba. While not as common as petty theft, tourists are still advised to take extra precautions when going out.
Taking public transportation such as taxis and buses in Aruba is common, although most tourists rent their own cars. Because these are regulated by the government, taxis and buses are quite reliable and safe.
When taking a taxi, make sure to check that it is a registered one. Registered taxis have a distinct "TAXI" sign on the top and the license plate should have a TX in it. Take note that all taxis in Aruba are not metered and that the fare is set by the government. On national holidays, Sundays, and certain times of the day, there is a surcharge of 2 to 3 USD.
On the other hand, buses operate daily between most districts. Bus services are available from as early as 5:45am and as late as 11:30pm in intervals of 15 minutes or 40 minutes. If you plan on taking the bus on your trip, make sure to check the Arubus website for fares and routes.
Is Aruba Safe for Families
For families and tourists with children, Aruba is a great choice for vacation. Family-friendly hotels are common in Aruba and are highly recommended. These hotels have babysitting services and family rooms equipped with a kitchenette for easy preparation of meals. Make sure to confirm if a hotel is family-friendly before booking since other hotels are strictly adults-only.
You can take your kids to the Donkey Sanctuary or discover the natural beauty of Arikok National Park. The beaches are also great for kids and snorkeling activities are also available for them. Families and kids can get a chance to see the rich marine life 130 feet below the Caribbean sea through the Atlantis Submarine.
When traveling as a family in Aruba, it is important to follow safety precautions. Some beaches like Arashi Beach have instances of sudden big waves, and undercurrents can be very dangerous. Overexposure to the sun can lead to sunburn and children are more susceptible to this. Make sure to bring enough sunscreen and limit their time under the sun. As an effort to protect its reefs, Aruba discourages the use of sunscreens containing oxybenzone and recommends using reef-friendly alternatives.
Is Aruba Safe for Solo Travelers
Is Aruba safe for solo travelers? Although Aruba isn't marketed as a solo traveler-friendly destination, it's definitely a must-visit if you want to visit the Caribbean. Like other destinations, always make sure to take safety precautions seriously.
Always make sure to have your passport and a valid government ID with you when heading out. If you're not comfortable with bringing your passport around, have it photocopied. As much as possible, avoid hiking or doing any adventurous activity alone and always have someone know your current location. When traveling solo in Aruba, it is also important to have the hotel's contact number saved on your phone for emergency purposes. To avoid being a victim to theft, never leave your things unattended, even at the hotel lobby.
Additional Safety Tips When Visiting Aruba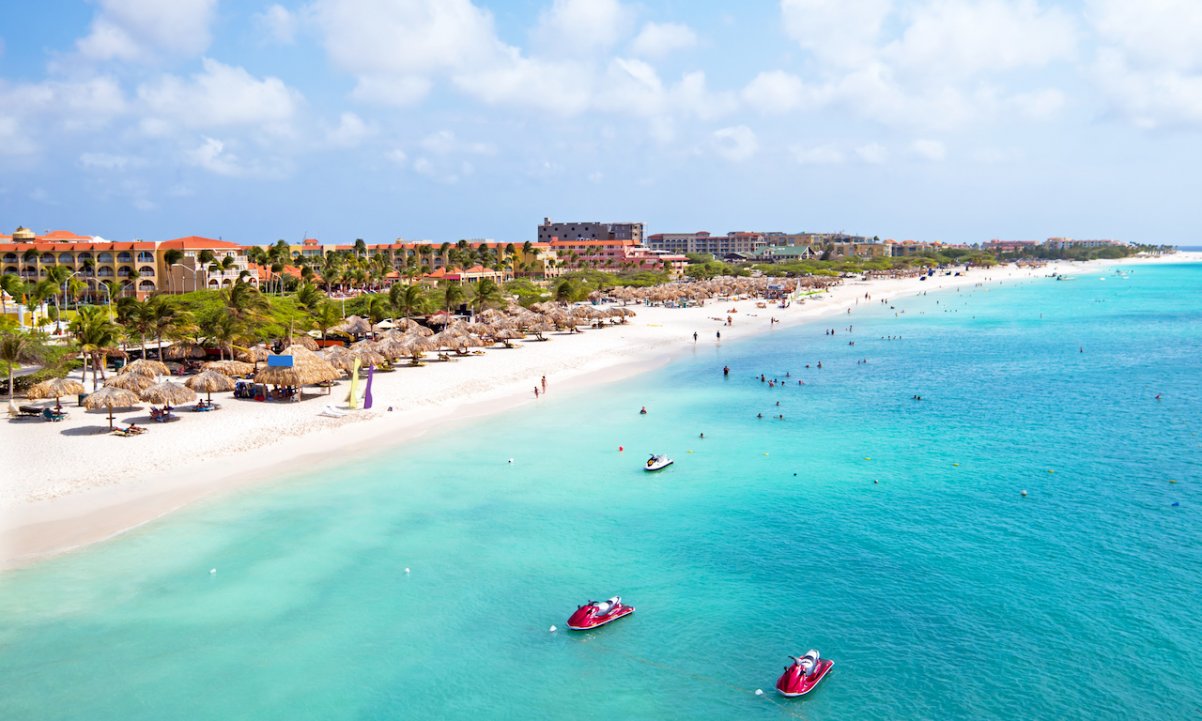 Always bring proof of identification with you.

Never leave your things unattended. Consider investing in a

TSA-approved lock

for your luggage.

Avoid walking alone at night. As much as possible, always walk in groups especially for female travelers.

If you are pregnant, make sure to consult with a physician before visiting Aruba.

Avoid sitting under palm trees at the beach because ripe coconuts might fall on you.

Beware of undercurrents. At the beach, make sure to check out for undercurrent warnings.

Watch out for jellyfishes and sea urchins. You may also wear reef shoes to avoid stepping on sea urchins.
Is Aruba Safe for Travel?
Now that your "is Aruba safe?" queries have been answered, you are now ready for the best tropical vacation of your life! Aruba is one of the most beautiful and safest places to visit in the Caribbean, so you are guaranteed to have a worry-free vacation. Its low crime rate, perfect weather, and secluded location make it a must-visit destination. Although there are a few cases of petty crimes, you shouldn't be worried as long as you follow safety precautions. Just stay vigilant, be aware of your surroundings, and enjoy your vacation in this paradise.