How to Get Around Las Vegas With The Public Transportation?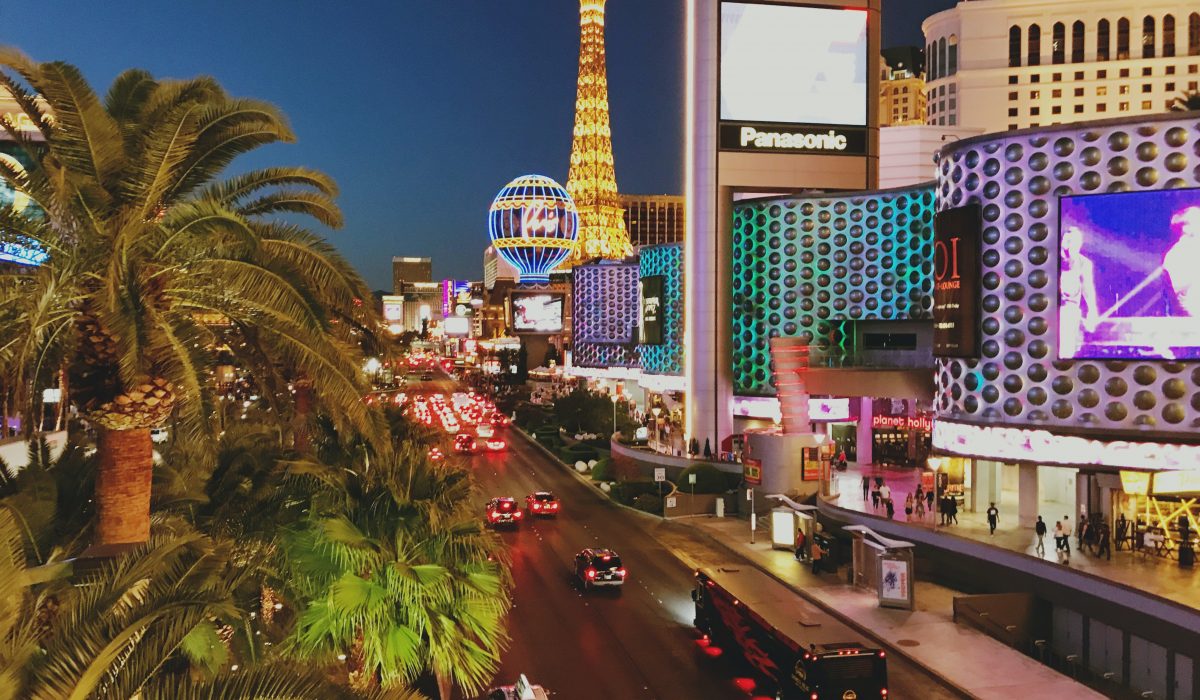 Dubbed as the Sin City by the American novelist Joan Didion, Las Vegas entices a lot of tourists with its shimmering facades and vibrant crowd. From lavish shopping in Las Vegas Premium Outlets to unlimited Casino gambling at Bellagio, it's a must to plan your budget before coming to this city. Las Vegas may be an expensive city, but you will not only see limousines and black cars on the road.
Just like other cities, you can also get around Las Vegas with public transportation such as Shuttle Services, Monorail, and RTC buses. So, whether if you're here for a weekend getaway or make a pit stop before traveling from Las Vegas to Grand Canyon, here's how you make the best of your time here.
Las Vegas Airport Shuttle Service
When you arrive at Las Vegas Airport, there are various options for you to get to your accommodation from the airport. Aside from taking a cab or an Uber, you may also opt to take a Shuttle. This can be provided free of charge by your hotel, or it may be an add on to your booking. If you want to compare prices you may check with the following shuttle service provider:
Bell Trans
With only around US$17.50 per person, you may now enjoy a hassle-free roundtrip shuttle service. They offer a 24-seater van that will be shared by different groups of travelers. The travel time may take 30-45 minutes depending on your distance from the airport and how many groups you are sharing the ride with. You don't have to worry if you didn't purchase a local sim card because they have designated pick-up booths at the airport. This is where you can get your roundtrip boarding pass that you will present when you board the shuttle. You can find them either at Door 8 (Terminal 1) or Door 51 (Terminal 3) of the airport.
Go Airport Shuttle
This is similar to a ride-hailing app, through their app you can easily book your shuttle service in your preferred pick-up time and pick-up location. Approximately, the roundtrip shuttle service for one person is US$18. Just like Bell Trans, this is also a shared ride, and it might take a while to reach your hotel depending on its distance from the airport, and how many you are sharing the ride with.

Las Vegas Monorail
The Monorail is another convenient and affordable option for getting around Las Vegas with public transportation. Although there are speculations that they will build a station at the airport to conveniently connect the airport to other establishments, as of now, there is no monorail station at the airport yet. It only has seven stations from MGM Grand all the way to Sahara station near the iconic, The STRAT.
Las Vegas Monorail Schedule
Every day the train starts to operate at 7 AM. On Mondays, it ends at 12 midnight, then from Tuesday to Thursday it ends at 2 AM, and from Friday to Saturday, it ends at 3 AM. In addition, the train interval per station is only four to eight minutes so you will surely be able to visit a lot of tourist destinations.
Las Vegas Monorail Tickets
Depending on how long you are going to stay in Las Vegas, and how often you would take the Monorail, there are different ticket options for you. Usually, it costs US$5 per ride. But, how about if you're going to stay for a week in Las Vegas? For sure it's going to be a hassle to buy a ticket a lot of times, or to shell out US$5 more than twice a day. Fortunately, they also offer unlimited monorail passes for your convenience.
US$13 – one-day unlimited monorail pass
US$23 – two-day unlimited monorail pass
US$29 – three-day unlimited monorail pass
US$36 – four-day unlimited monorail pass
US$43 – five-day unlimited monorail pass
US$56 – seven-day unlimited monorail pass
You may purchase a ticket traditionally by paying with cash or major credit cards through a Customer Service or Ticket Vending Machines (TVM) found in the stations. Or, you may also skip the queue and purchase your tickets virtually. You may use Las Vegas' mobile ticketing platforms, Scan & Go, or through Google Pay.
TIP: Generally the rush hour in Las Vegas is from 7-9 AM and 4-6 PM. So make sure to plan ahead if you're going to take the monorail.
RTC Bus in Las Vegas
The most popular mode of public transportation in Las Vegas is the bus operated by the Regional Transportation Commission (RTC) of Southern Nevada that caters to both its residents and tourists. The Las Vegas buses are the easiest and cheapest public transportation in Las Vegas that you can use to hop on and off to different casinos, malls, museums, amusement parks, and other tourist spots. Also, if you're using your phone to navigate, you don't have to worry because Las Vegas buses are equipped with Wifi.
The Deuce
There are different buses ran by RTC, but the Deuce is the most recognized because it resembles the red double-decker busses in London. It's just that the Las Vegas bus is colored Gold that reflects the luxurious and lavish city.
If you went to Las Vegas to do Casino hopping, you would probably prefer this public transportation to get around Las Vegas. With this Las Vegas bus, you don't have to worry about train stations closing at 3 AM, because the Las Vegas buses run 24/7. After hitting the jackpot, and you decide to try the inexpensive life one last time, you can wait at the bus stop and a Deuce bus will arrive every 15 minutes from 7-2 AM, and every 20 minutes from 2-7 AM.
The Las Vegas bus routes are from the Fremont Street Experience in Downtown Las Vegas to Southern Strip Transfer Terminal (SSTT), and it also makes a stop at almost all hotels and casinos at The Strip.
Bus Fare
There are many ways on how to buy a Las Vegas Bus Pass. You can get it when you get on the bus, or you may buy them with cash or card in a vending machine at some stops. Just make sure that you pay with an exact amount since they don't give out changes.
Another option to buy a Las Vegas Bus Pass is through RideRTC. This is a free app, and you can get it on Google Play or Apple Store. You can also get real-time information on the location of the bus stops near you, or bus arrival schedule.
The Deuce pass costs US$6 for a two-hour pass, US$8 for a one-day pass, and US$20 for a three-day pass. Children below 5 are free of charge as long as they're with an adult. If you are a veteran, a student (K-12), a youth (6-17 years old), a senior citizen, a person with a disability, or a Mobility Trained customer, you can get the Las Vegas bus passes with 50% off through the Reduced Fare ID Cards. You may refer to RTC's website for the eligibility and procedure.
Bonus: Famous Tourist Spots accessed by the Deuce Bus
1. Las Vegas Premium Outlets (South)
When you take the Deuce Bus from the South Strip Transfer Terminal (SSTT), the Las Vegas Premium Outlet (South) will be the next station. Score an almost 40-80% discount on midrange to designer items in this outlet. There are two outlets in Las Vegas, if you think this is far from you, you may opt for the same premium outlet in the Northern side of The Strip, the Las Vegas Premium Outlet (North), accessed by another Las Vegas bus, the SDX.
2. Welcome to the Iconic LV sign
When traveling to a certain place, we always take remembrance of a landmark that is distinct to that place to always remind us that we were once present in that place. One of the famous landmarks in Las Vegas is the "Welcome to Las Vegas" sign. Either you go here in the morning or night, this will always be a mandatory photo spot for anyone visiting Las Vegas. This is just two stations away from the Las Vegas Premium Outlets (South) so make sure to visit this tourist spot.
3. Mandalay Bay Resort
Aside from being a luxury hotel, a lot of tourists visit this resort for the Shark Reef Aquarium. Together with the Association of Zoos and Aquarium, it houses a vast 1.3 million gallon of water tanks that hold various marine life that is also used by biologists to study endangered animals and to improve the condition of the injured marine species. With this, Mandalay Bay Resort also attracts family travelers.
4. Bellagio
Bellagio is one of the lavish hotels at The Strip. Aside from the hotel, Bellagio also has elegant restaurants, designer brand shops, flashy casino, the Bellagio Museum of Fine Arts, and the Bellagio Conservatory and Botanical Gardens. They also organize regular entertainment shows such as the "O" by Cirque de Soleil, an acrobat show, and the Fountains of Bellagio, an amazing showcase of a dancing fountain. Indeed, Bellagio doesn't only attract adults towards the casino, but it's for everyone who is looking for impressive entertainment.
5.Stratosphere tower
This is also called The STRAT is also a hotel and casino. But what makes it more special is the thrilling attractions they offer. Being the tallest freestanding observation tower in the U.S., it entices adventure junkies to defy their fear of heights. They offer thrill rides, such as Big Shot, Insanity, and X-Scream that will show you the amazing valleys and city in a very exciting way, you will not stop screaming.
It may be true that "cheap" and "Las Vegas" can never go together. But with their good public transportation, it gives people the cheaper option to get around Las Vegas. Besides, there are also Airbnbs in Las Vegas that you can rent instead of checking in the hotel. With these cheaper options, you can allocate more budget for shopping and slot machines!