Las Vegas To The Grand Canyon: The Scenic Route
Even sparrows on a branch know about Las Vegas and the Grand Canyon. The former is a famous gambler's paradise, while the latter is among the most scenic landscapes on Earth. So, when you decide you won enough money in Las Vegas, you may well consider investing some of it in a trip to the Grand Canyon National Park.
While in Las Vegas, allocate some time to visit replicas of the Eiffel Tower, Trevi Fountain, and the Rialto Bridge if you don't plan to visit Paris, Rome or Venice soon.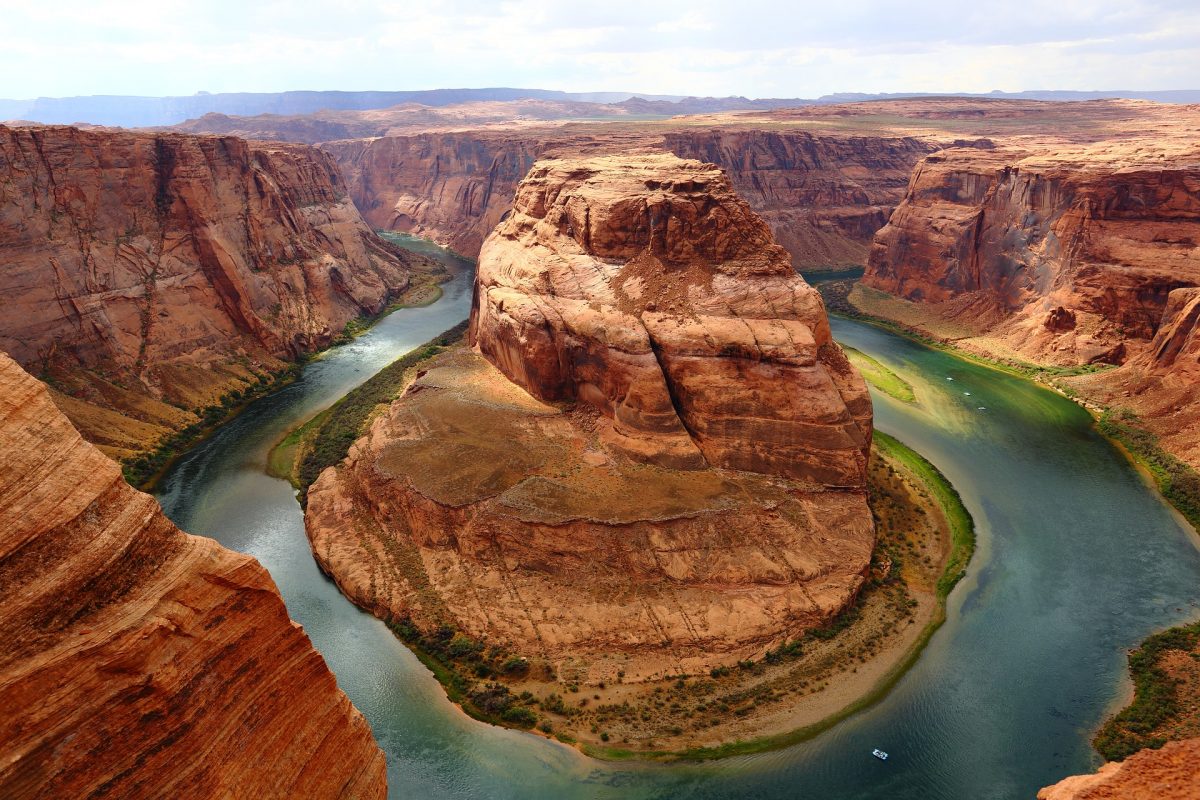 When the time for a trip from Las Vegas to the Grand Canyon arrives, don't forget to bring warm cloth since the desert you traverse along the way can get surprisingly cold. Also, secure good hiking boots for the Grand Canyon exploration.
1.
Distance And Travel Times From Las Vegas To The Grand Canyon
The road from Las Vegas to the South Rim of the Grand Canyon is nearly 300mi (around 480km) long. Still, the duration of the trip from Las Vegas to the Grand Canyon NP depends on many things.
The first and foremost factor is how much you like roulette and poker games. Supposing you don't wish your seat by the roulette table to get cold, consider a few-hour tour of Grand Canyon by airplane or helicopter.
Travelers eager to experience the canyon up close and in greater detail should allocate at least a day for a guided or self-guided tour. If the prospect of a leisure trip through a desert along the well-traveled road excites you, plan to spend five hours on the Las Vegas-Grand Canyon road in each direction.
2.
Grand Canyon Tours From Las Vegas
There are various types of the Grand Canyon tours from Las Vegas. You may choose between bus, motorbike, airplane, and helicopter tours, combined tours by bus and helicopter, tours by airplane and 4×4 vehicle, South Rim and North Rim tours, and else.
Helicopter and airplane tours allow you to appreciate the diversity of the Grand Canyon in quick succession. At one point, you will fly over treetops, with a deep ravine appearing beneath you out of nowhere at the next.
Flying is also an excellent way for you to realise how different the North Rim and the South Rim are. A flight over the Mojave Desert, Mead Lake, and the Hoover Dam on your way from Las Vegas to the Grand Canyon is a welcome prelude into what comes next.
Nature enthusiasts preferring to take things easy should think about bus tours. After all, there is hardly a better thing than sitting in an air-conditioned bus by a large window while cherishing views.
Grand Canyon bus tours operate to the South Rim, where you can hike, or to the West Rim, where the real fun begins. Skywalk of the West Rim is ideal for adventurers that don't feel uncomfortable about a chasm more than 1,000 meters (3,280 feet) deep beneath their feet.
3.
Driving From Las Vegas To The Grand Canyon
Many great things await you on your way from the poker table in Las Vegas to the colourful cliffs of the Grand Canyon National Park. The five-hour or so drive introduces an arid desert until it gives way to pine forests as you draw near to the Grand Canyon NP. Before hitting the road, fill up the tank because you won't see many gas stations along the way.
Before the desert surrounds you, pay a visit to the Hoover Dam and Lake Mead in Boulder City. If you are not in a big hurry, explore the dam to admire its Art Deco features and bronze statues of angels.
More importantly, touch the angels' toes to have better luck waiting for you at a Las Vegas casino when you return.
Before leaving Mead Lake behind, you may wish to take part in boating, swimming, and hiking. Also, scan for the vantage points while driving to enjoy views of the lake and a marina.
The road ahead traverses the mountainous region with sparse vegetation. When you leave the town of Kingman behind, the ever-changing landscape becomes greener.
Upon arrival in Williams, the gateway to the Grand Canyon, you will know that your final destination is no more than an hour away. You may expect to start noticing recognisable shapes and colours of the Grand Canyon. Instead, you will drive through the verdant greenery of the Kaibab National Forest before the canyon starts to emerge.
Albeit the approximate duration of the journey from Las Vegas to the Grand Canyon by car is five hours, taking incredible photos along the way, if nothing else, will slow you down.
4.
Grand Canyon Is Suitable For Everyone
Grand Canyon may seem suitable only for adventurers, but, in truth, it caters to every type of traveler. Even people who aren't in an average, let alone excellent, shape have trails suitable for exploring. If you account yourself among those, head to the South Rim of the Grand Canyon.
Rim Trail in the Grand Canyon's South Rim is an easy walking path. What's more, you don't need to make a compromise between the shade and panoramic views revealing spectacular scenery. Moreover, available services, tours, and activities are sure to spoil both kids and adults.
Supposing you wish to enjoy camping, biking, hiking, and rafting, not to mention mule riding, the North Rim is your dream destination. Besides, you aren't likely to brush arms with other travellers in this part of the Grand Canyon. Stretch your legs on a nice day and follow the signs from Cape Royal to visit the Angels Window.
5.
Top Things To Do During A Visit To The Grand Canyon NP
Whether your personal or professional affiliation approaches exploring, photographing, animal spotting or riding a mule, the Grand Canyon NP will show you how versatile you are.
Coming from Las Vegas, the South Rim is your likely destination. While you are there, waking up before daybreak is what you should do to cherish multi-coloured sunrises from the Yavapai Point. If you are able to suppress yawning in the evening long enough, experiencing sunset at the same place will be a suitable reward.
If high cliffs on one and a ravine on the other side fill you with adventurous enthusiasm, take the Bright Angel Trail. The trail is a strenuous one, but you will spend more energy on taking photos than hiking if your feet lead you that way.
If your backside serves you better than feet, you may resort to a mule service. But note, riding a mule isn't as comfortable as watching TV from the comfort of an easy chair.
Motorised travellers should take a scenic tour of the North Rim. Views along the route encompass forested slopes, deep canyons, and a blue sky dotted with clouds. Take a break to enter dense forests whose smells will remind you of toasted marshmallow.
6.
The Best Time To Take A Las Vegas-Grand Canyon Trip
The best time for you to take Las Vegas-Grand Canyon trip is when you run out of luck at a Las Vegas casino. The second and third best times are spring and fall, not necessarily in the given order.
Choose spring or fall for a multi-day trip to the Grand Canyon to benefit from lesser crowds and pleasant temperatures. If heat is inconsequential to you, Jun features insignificant rainfall. However, July and August make up for it.
Grand Canyon receives most visitors in summer, rendering accommodation facilities scarce and pricey. Winter is the season for budget travellers.
Speaking of winter, note that the average temperatures tend to plunge down to -8°C/17°F at night, rising up to 10°C/50°F during the day. In addition, the North Rim isn't open during the winter season.
If you travel from Las Vegas to the Grand Canyon by car or motorbike, start as early as you can since traffic grows heavy at the Hoover Dam during the day.
7.
Useful Tips For Visiting The Grand Canyon
South Rim of the Grand Canyon is open daily. North Rim closes when the first snows fall, which tends to happen in late fall, remaining closed until early spring. West Rim is open for visiting 365 days a year from daybreak to sundown.
Administered by the Hualapai Tribe, the West Rim isn't a part of the NP, but private property charging the admission (44 USD). Accommodation and services for travellers are scarce, making the West Rim a day trip destination.
While wondering in the Grand Canyon NP, you may see various animals, including elks, mountain lions, and mule deer (don't try to ride those). However, you should be particularly aware of rock squirrels, which are the most fearsome beasts.
This isn't a joke, however crazy it sounds; info tables at the Grand Canyon National Park are a proof enough. When seeing them, I mean squirrels, keep a safe distance for your own and their good for rock squirrels grow very nasty when nervous and in large groups.
Organised excursions and day trips from Las Vegas to the Grand Canyon NP are convenient means of discovering one of the most emblematic natural wonders in the world. A myriad of opportunities allows you to make the most of your Grand Canyon tour regardless of your interests, budget, habits, and fitness level.