15 Best Things to Do in Wadi Rum, Jordan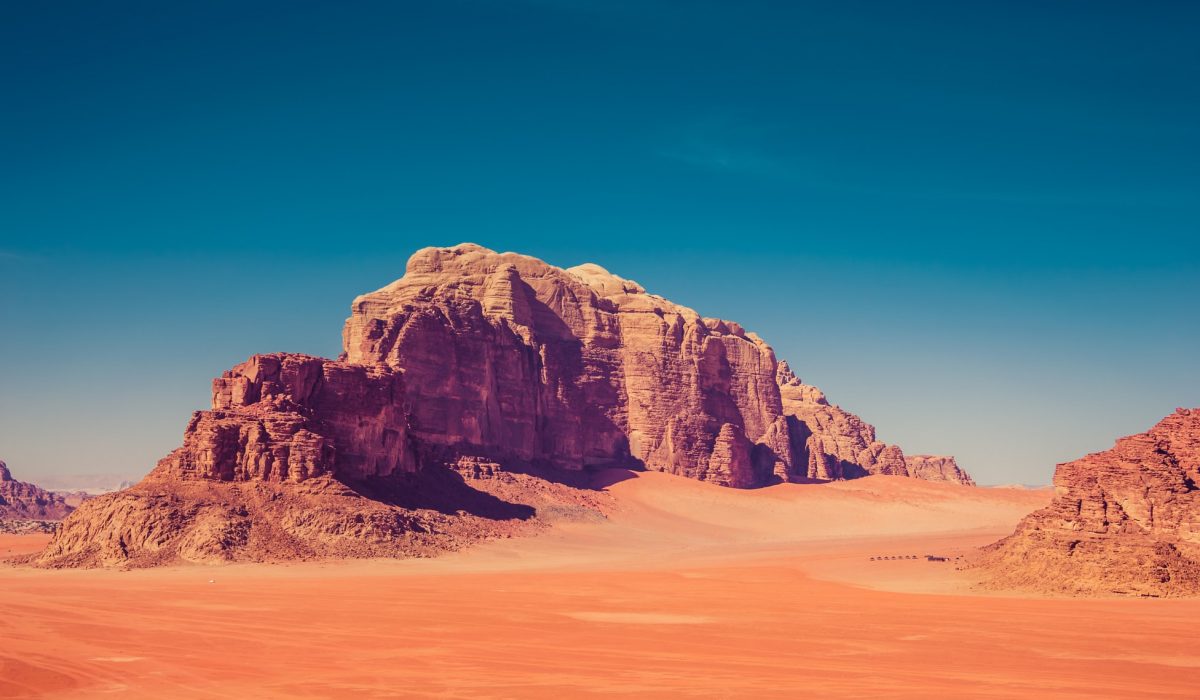 Experience a once-in-a-lifetime desert adventure in Wadi Rum! Known as the crown jewel of Jordan's ancient desert, Wadi Rum boasts grand landscapes, fascinating red-rock mountains, and vast desert. You can either take a hot-air balloon ride to enjoy the view, lay on the sand under a canopy of stars, or walk through the life of the Bedouins and embrace their warm hospitality. Either way, you'll never run out of things to in Wadi Rum.
Promising both adventure and serenity, Wadi Rum offers the best of both worlds to people looking for an adventurous escape by day and tranquility throughout the night. If you're not keen on spending Christmas in Europe or shark diving around the world, why not plan your holiday adventure in the desert instead?
WHERE IS WADI RUM?
The Wadi Rum Protected Area, also known as the Valley of the Moon, is located in southern Jordan. It is in the east of Aqaba. The area is on a high plateau of the west Arabian desert. Wadi Rum is home to diverse landforms, such as sandstone mountains, dunes, gorges, canyons, arches, and cliffs. The land area covers 74,200 hectares according to UNESCO, which makes it the largest desert in Jordan.
WHAT MAKES WADI RUM FAMOUS?
Wadi Rum's ethereal beauty makes it one of the best-loved locations for international films. This otherworldly desert looks like the red planet Mars, which is why The Martian, Red Planet, and The Last Days on Mars were shot in this area. But before the world has known it as the Mars on Earth, the 1962 film Lawrence of Arabia has helped paved the way for Wadi Rum's tourism. It gives Bedouins, the locals in Wadi Rum, the opportunity to promote their breathtaking land.
These films play a big part in enticing tourists's imagination, but nothing prepares them for what Wadi Rum has to offer. From the break of dawn until the stars show up in the dark sky, Wadi Rum boasts different adventures of a lifetime! Each landform provides various adventures for dare seekers. One of the major attractions here for rock climbers is the Jabal Rum, which is 5,689 feet above sea level. If you're not keen on these adrenaline-pumping adventures, however, Wadi Rum also offers the perfect spot for stargazing. Also, how the sun manifests and conceals here in the Wadi Rum desert gives a warm feeling of calmness and joy to different travelers.
HOW TO GET TO WADI RUM?
Plan a visit to Wadi Rum from any of these locations in Jordan. If you have personal 4-wheels, there's a parking space outside the protected area where hosts collect the guests.
From Amman
•Distance: 201 miles (324 km)
•Duration:
a. Private Car, Rental Car, or Taxi: 4 to 5 hours
•Route: Desert Highway
b. Bus: 6 to 8 hours
•Take the JETT tourist bus in Abdali station
•You can also take a public bus, but is less comfortable
From Aqaba
•Distance: 45 miles (70 km)
•Duration:
a. Private Car, Rental Car, or Taxi: 2 hours
•Routes: Aqaba Highway to Desert Highway
b. Bus: 3 hours
•Popular route, be ready for a crowded travel
•Public transport rarely travels on Fridays
From Petra
•Distance: 65 miles (104 km)
•Duration:
a. Private Car, Rental Car, or Taxi: 1 hour and 30 minutes to 2 hours
•Routes: Kings Highway to Desert Highway
b. Bus: 2 hours and 30 minutes
•Take a minibus before 6 am from Wadi Mus to Wadi Rum Visitor Center
•It has daily operations except for Friday
BEST THINGS TO DO IN WADI RUM
1. MARVEL AT THE RED PLANET ON EARTH
One remarkable feature of Wadi Rum is the red coloration of the sand. The iron oxide causes the redness of the dune. This phenomenon makes the desert much more wonderful. Aside from the red sand, the peculiar rock formations also make it look like you're on another planet. Take a deep breath upon entering the Wadi Rum protected area because you're stepping into Mars without leaving the Earth!
This out-of-this-world beauty made Wadi Rum the perfect setting for many sci-fi flicks, including Transformers: Revenge of the Fallen, Prometheus, and epic space opera films such as Rogue One: A Star Wars Story and Star Wars: The Rise of Skywalker.
2. EXPERIENCE GLAMPING LIKE A MARTIAN IN THE WADI RUM DESERT
There are various camps you can choose from in Wadi Rum. If you like glamping, they can offer a Martian tent that looks like a spaceship in the middle of the Wadi Rum desert. The interior is cozy and offers many great amenities, including a comfy bed, a heater as the desert gets extremely cold at night, a a private bathroom since a shared bathroom is a common thing inside the camps. Foremost, the design is intended for guests to stargaze until they fall asleep, aside from the fact that there is a total quietness in this wilderness. The tent has a glass window where you can have a wonderful view of the night sky. Book a martian tent or bubble tent ahead of time for a less hassle vacation when you go to Wadi Rum.
3. GET TRADITIONAL IN A BEDOUIN TENT
If you prefer a low cost but still convenient stay in Wadi Rum, you can rent a traditional Bedouin tent. Usually, for this kind of accommodation, a guest must use the shared bathroom. Don't worry because the Bedouins keep it clean all the time and they provide all the toiletries you'll need. It's also picture-worthy like the Martian tent because of the patterns known for Bedouin tents. You don't also have to fret about the comfort as these tents are cozy and comfortable.
4. WELCOME THE GLORIOUS SUNRISE IN WADI RUM
One of the best things nature has to offer is the rising of the king sun! It makes anyone who enjoys watching it think about nothing at all but how wonderful nature is. The sunrise in Wadi Rum is so special because nothing distracts you from fully experiencing it. The stillness and cool breeze of the surrounding up to the comforting feeling of the morning in this desert. Indeed, the best things in life are free!
5. RIDE THE CAMEL JUST LIKE THE OLD TIMES
Riding a camel alone is a rare experience for many of us, let alone riding it in this Mars-like desert! Imagine an epic, ancient genre movie and science fiction film in one grand location and you're in it! Bedouins really take care of their camels well because they won't follow their owner when they are treated poorly. The ships of the desert, as they're often called, have been a significant part of Bedouin's life since time immemorial in Wadi Rum. So if you're there, treat them with gentleness and you'll have a smooth sailing journey.
Camel tour can be done in the morning or at night! Enjoy the views of the valleys in the morning or ride camels under the stars when the sun bids goodbye. It usually costas about 45 to 65 Jordanian Dinars for one person to ride a camel, which is US$64 to US$92. It's a little pricy, but if you really want to try the epitome of the Wadi Rum experience, make sure to include this in your itinerary! Besides, you'll never know when's the next time you'll get a chance to ride one.
6. TAKE A JEEP TOUR RIDE IN WADI RUM
It's a unique experience to travel the desert and if you like to make the most out of your day, take a jeep tour and let your tour guide bring you to the majestic landscapes of Wadi Rum. It's also nice to hear history first hand rather than reading it in books or online. The Bedouin tourist guides love to share stories about their beloved land, so it's one of the things to look forward to on this jeep journey.
If you're doing the back ride, bring with you a head cover, or better yet, wear their traditional headscarf called keffiyah. The sun is the one to beat during this tour, but it will be worth it as the entire experience is a moment to remember for a lifetime.
7. GO SANDBOARDING DOWN THE DUNE
Stimulate your senses with sandboarding! It's mostly free as it's often included in tour packages. Wadi Rum has soft sand great for sandboarding. Plus, the red dune gives you great photo opportunities. What's more, this activity is thrilling and safe.
8. HIKE AND TAKE A PHOTO AT THE TOP OF NATURAL ARCHES
Hiking should be on your bucket list when you go to Wadi Rum. The routes are challenging and fun! Hike with your friends and reconnect with nature. There are many natural arches in this desert and taking a photo on top is worth the hike. Reaching the top is a fulfilling experience for both experts and beginners. Enjoy the view on top when you get there!
9. TREK THROUGH GARGANTUAN GORGES AND CANYONS
It's a bigger-than-life maze! Wadi Rum has all the gorges and canyons you're looking for in an adventure. Get yourselves ready for the challenge because it's one activity to look forward to in the middle of the desert. Don't get lost and find your way out. Wadi Rum is not just about the beautiful sceneries but all the exhilarating pursuits nature offers! Isn't it exciting? This reminds one of Asia, with its endless opportunities for adventure seekers, such as trekking in Nepal.
10. GO EXTREME WALL CLIMBING IN MAJESTIC LANDSCAPES
Don't think hiking and trekking in Wadi Rum are challenging enough? Rock-climbing should be your next stop with numerous routes to choose from! Climb up the sandstone mountains and expect an awesome view of the vastness on top. After that, paraglide your way down to cap your adventure!
11. MARVEL AT ANCIENT INSCRIPTIONS AND TRAVEL BACK IN TIME
One of the reasons why Wadi Rum is listed as a UNESCO World Heritage Site is because of the 25,000 petroglyphs and 20,000 inscriptions carved a millennium ago. It's like an enormous library of ancient people. It depicts life before ours, so it's a heartwarming experience to see the marks they left for us.
12. SOAR HIGH IN A HOT-AIR BALLOON OVERLOOKING THE WILDERNESS
Looking over at the top of the mountain isn't high enough for you? See the vastness of the wondrous Wadi Rum desert by taking a hot-air balloon ride. It lasts up to an hour and a half, and there's no age limit for this experience, unlike other extreme activities. Just like riding a hot air balloon over the Gold Coast in Australia, enjoy a calming ride while soaking in the view overlooking the vastness and beauty of Wadi Rum.
13. IMMERSE YOURSELF IN THE BEDOUIN CULTURE
Bedouins are proven hospitable and warm. Stay a day or two with them and learn more about life in the Wadi Rum desert. Immersion is a great opportunity to learn and to widen your understanding of people outside your comfort zone. Before your trip, it's advisable to do your research about the place and its people to help you manage culture shock when traveling. Wherever you go, as a traveler, have a knowledge about different cultures and traditions in advance to prevent any trouble. Bedouins highly give importance to their guests, so paying back with respect is an unwritten rule.
14. PONDER LIFE AS THE ALLURING SUN SETS
Wherever you are in the world, watching the unset has that unexplainable magic. When you go to Wadi Rum, don't miss the chance to sit on top of sandstone and wait until the sun sets. Contemplate about life as the sky changes its color and as the wind blows your hair. Nature talks in silence… look at the changing hues and hear its voice.
15. CAMP OUT UNDER THE MILKY WAY
Billions of stars await you in this vast desert. In its darkest hour, a part of Milky Way shows off its beauty. Camp out or watch the stars from inside your Martian tent. Gaze upon the stars until you fall asleep. It's a rare experience for most of us, as most cities don't have the freedom to showcase the sky's beauty because of light pollution. Wadi Rum is one of the places on Earth that maintains an almost zero light pollution, so enjoy the experience as much as you can.
THINGS TO OBSERVE WHILE IN WADI RUM
•Protect nature, which means no hunting and collecting of plants, animals, artifacts, and firewood.
•Do not damage the trees and shrubs by minimizing the use of climbing gears.
•If not renting in the campsite, use gas stoves or charcoal for fires.
•Do not drive a personal vehicle in the protected area.
•Camp and climb only in the official, designated areas.
•Wear modest clothes and respect the culture.
•Ask the local people before taking photos.
•Refrain from making noise.
•Keep the area clean.
FINAL NOTES
Visit the marvelous Wadi Rum desert during spring and autumn. Jordan's spring is between March and May, while their autumn happens from September to November. These are the peak seasons in Wadi Rum. However, if you want to avoid a crowd of tourists, beat the extreme weather during summer or winter. June to August is Jordan's summer, and winter is between December and February. Whenever you desire to visit, Wadi Rum gives you a unique experience and a story to tell in every season. Wadi Rum is not listed as a UNESCO World Heritage site for no reason!