The Complete Travel Guide To Canggu, Bali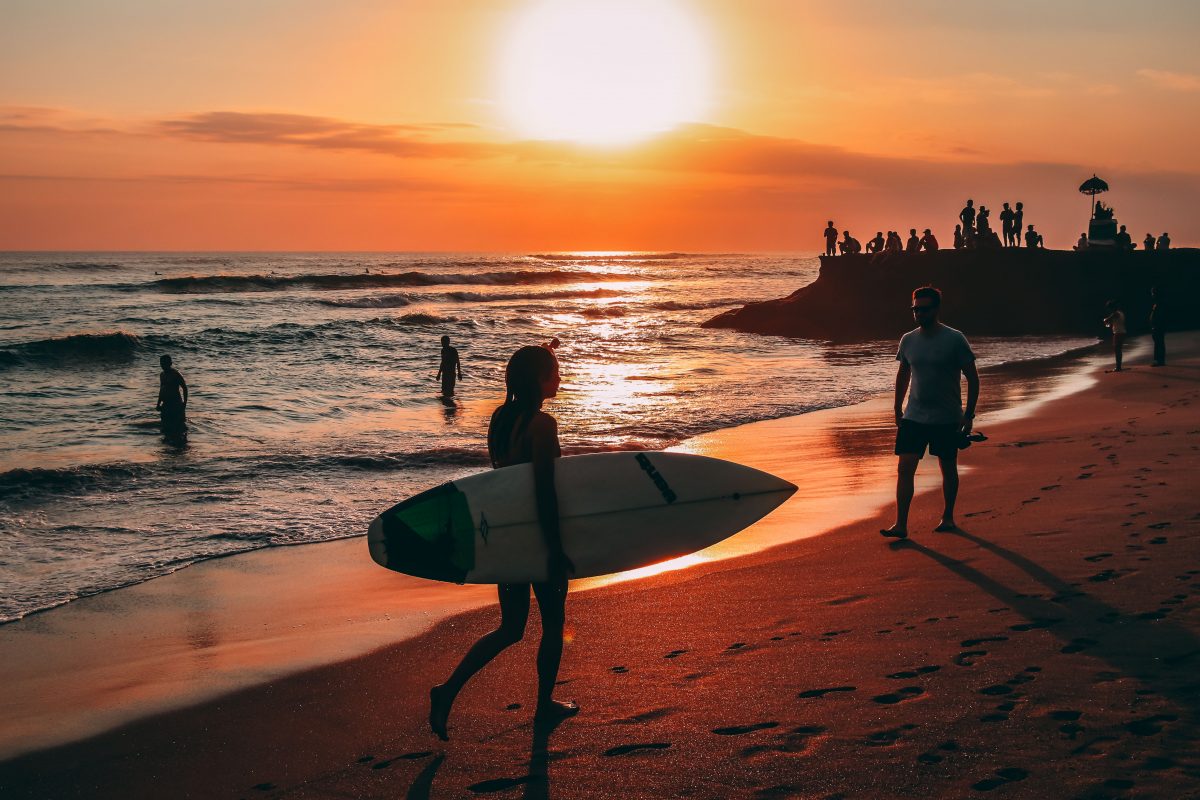 If you're already planning to go to Bali, Indonesia, then you shouldn't miss the chance to visit Canggu. It's currently earning global attention from travelers around the world because of its laid-back vibe.
Besides, Canggu Bali has the most remarkable surfing spots and crystal clear waters. While for party-goers, there are unlimited beach bars, hipster cafes and cool street arts for you to explore. For those who wished to relax and retreat, there are many yoga studios available. Not convinced? See it to believe it, Canggu is undoubtedly the best place to unwind, relax, and lose yourself to the stunning surroundings.
Enough said we've prepared a complete guide to Canggu for your next trip. Check out the list of things you can possibly do in Canggu down below!
There are three main beaches you can explore in Canggu: Berawa, Batu Bolong, and Echo Beach. What makes them extraordinary is they are all black sand beaches.
If you're a beach-lover, you will effortlessly fall in love with what Canggu Beach has to offer. So, spend a day or two on these beaches to chill out and relax. Feel the breeze of the air and hear the waves of the ocean splash into the shore. It is indeed a rejuvenating experience.
Surf like a Canggu local or ride the waves like a pro! With lots of surrounding beaches, surfing is one of the top activities to do in Canggu. It has been a surfers' paradise for decades with waves that both beginners and pro surfers enjoy.
If you'd like to conquer more challenging tides, then head over to Berawa Beach. It is the most popular beach for surfers because of its powerful and challenging waves. The surf break is also close to Canggu, so there's no need to swim far away to intercept a great wave. You can rent boards along the beach for 50,000 Rp per hour. If you're bringing your surfboard with you, you can rent scooters to help you carry it.
3.
Scuba Diving Under Crystal Waters
Apart from the majestic waves, Canggu also has excellent diving places where you can bond with sea animals. Some of the closest scuba diving spots in Canggu are off the coast of Sanur.
In there lies the Channel Point, Penjor Reef, and Jeladi Wilis. Meet and greet our friendly creatures underwater but always exercise caution when touching them. Always dive with a professional diver, especially if you don't have a professional diving certification.
4.
Eat Like A Local In Some Canggu Cafes And Restaurants
Canggu offers plenty of dining options. From authentic Indonesian food to some international cuisines like Mexican and American food, you will love the variations and twists in their menu.
Since you're already in Canggu, you may want to head over to Warung Bu Mi on Jalan Batu Bolong for some real Indonesian food. You can also do cafe hopping to dry the different beverage offerings. To top it all off, enjoy eating a healthy and sumptuous meal while looking at the scenic views. You really can't ask for more.
5.
Experience The Vibrant Nightlife
When the night is finally on, then get ready to hit the floor and go bar hopping. Canggu is breaming with cool bars to give you that unique Canggu nightlife to remember.
One of the most famous bars to go for drinks and meet new people is the Old Man's. Both tourists and locals come here to enjoy live bands, listen to talented DJ's spin, and party the night away. Canggu is serious when it comes to partying!
As they say, "Shop 'til You Drop." There are lots of things to buy in Canggu. From clothes, handmade jewelry, to souvenirs – get ready to spoil yourself. Jalan Batu Mejan is the main shopping area for some low-cost, high-quality stuff.
7.
Watch The Beautiful Canggu Sunset
Canggu is the perfect spot to catch a beautiful sunset while enjoying a cocktail. It's mesmerizing and works like magic. It's most satisfying to view the vibrant colors in the sky from Kokoloco on Berawa Beach.
8.
Try Other Recreational Activities
You can join a yoga class in Canggu for both exercise and meditation purposes. Try the Canggu Studio, Serenity Eco Guesthouse, and Pranava yoga for this activity. The price varies from 100,000 to 150,000 Rp depending on the number of sessions.
You can also enjoy an Indonesian massage. For under 17,000 Rs, you'll enjoy an hour of sheer bliss. Canggu has plenty of spas to offer, so it all boils down to the price, friendly staff, and service quality you prefer.
Are you up for a physical challenge? Then, gear up and do the Mount Batur Sunrise Trek. Some travel companies offer hiking services, but you can do it alone with the help of some local guides. Mount Batur is an active volcano, and the hike will take a few hours. The goal is to reach the summit around sunrise.
When you reach the top, you will be mesmerized with the stunning view of the sunlight rays hitting the morning fog sitting on top of Lake Batur. You can also take a short trip in the hot springs near Mount Batur to ease any aching muscles from hiking.
Pura Tanah Lot, meaning Land in The Sea, is one of the most famous temples in Bali. It is a sacred place wherein the people of Bali believe that it protects the whole island from evil sea spirits. Other than the beautiful beaches, Tanah Lot is the most iconic attraction in Bali with cultural beliefs and significance for the people who live there.
It's best to visit Tanah Lot in the morning when it's still not crowded. It also has an entrance fee of 70,000 Rp. You may not be able to access the temple grounds, but the view of the entire coast is already worth it.
Where to Stay in Canggu?
You will never have any problem finding for accommodation in Canggu. Since it is a tourist spot, different hotels will suit your budget. Whether you want to feel the luxury of living on a beach, or you want a simple place to stay with Wi-Fi in a convenient location—you got it. Let's begin our search with…
Many five-star hotels can accommodate you in Canggu. Every hotel offers impressive service, and, of course, high-speed Wi-Fi. They offer you privacy and premium services you would expect from high-end hotels. Some lodges also include breakfast, lunch, and dinner in their accommodation packages.
You can also choose those hotels that have spas and yoga studios. If you want a more romantic ambiance with your loved one, Canggu also has many options to offer. For one, Hotel Tugu Canggu will never fail you. It is the most stunning romantic accommodation for lovers. It is located at the beachfront of Batu Bolong Beach, so you get a quiet and private place with a lovely ambiance.
If you're a group of friends or family with large numbers, you can rent a Canggu villa. It's bigger, has enough space, and features complete amenities as well. Most villas also have pools, too.
Do you want a huge luxurious suite with complete privacy? Then, stay at the Aksata Villas Canggu. This villa rental is perfect for those who want stylish amenities while seeing the beautiful nature scenes of Bali. It's on the west part of the island and rents out seven villas.
Como Uma Canggu is one of the most luxurious and newest additions in Canggu. It features a more modern design, which is a breath of fresh air. It is located at Echo Beach. Right next to it, you'll enjoy the panoramic views of the ocean with the tune of choppy waves that appeal to all surfers.
The Canggu Beach Club offers complete comfort and convenience. It's a place where you can enjoy being and feeling like a king or a queen for a day or two. You get everything you need from great music to drinking cocktails. It's a place with complete facilities. It has private changing rooms, showers, restaurant, bar, shuttle services, table service, valet parking, pool, water sports, shop, and high-speed Wi-Fi.
Finn's Beach Club on Berawa Beach is the most famous beach club on the entire island. It has a place for enjoying the beach view, an infinity pool, a water park, a trampoline center, bowling, and a kids club. You can also enjoy their foods and drinks on the house.
Are you on a tight budget and need a place to stay at a reasonable price? Canggu has some exceptional hostels fit for your budget. If you want something that has a relaxed vibe, then stay at Lay Day Surf Hostel. It features a chilled ambiance with a 24-hour bar. Additionally, Lay Day has 16 air-conditioned dormitories that can accommodate 4 to 6 individuals per room.
Never belittle what a hostel can offer because Lay Day Surf Hostel has complete facilities as well. It has free Wi-Fi connectivity, free city maps, linens, towels, hot showers, security lockers, outdoor swimming pool, self-catering facilities, BBQ, hairdryers, tea, and coffee-making facilities.
How To Go To Canggu, Bali?
Canggu is in the southern part of Bali, hugged by rice paddies and bordered by the Indian Ocean. The Bali International Airport is approximately 20 km away from Canggu so you can travel easily by car for about 45 minutes.
Getting around is easy with the use of a scooter or a motorbike. You can use shortcuts to avoid traffic jams. You can also hire a driver, ride taxis, or use a transportation network vehicle services like Uber or Grab.
When Is The Best Time To Travel To Canggu?
The tropical weather is pretty consistent with moderate to high temperatures all year. The peak season for tourists is usually from July until August. During the dry season, it's more humid, so the accommodation rates are a bit cheaper because fewer people are coming. Also, expect the rainy season at around October to April; so there will be some pouring.
It also pays to know the events and cultural festivals in Bali like the 'Day of Silence' or Nyepi. It's a tradition where the whole island goes silent and dark for one day to honor the Saka New Year. It is a day of reflection for all Balinese Hindus which includes fasting and meditation. All businesses are shut down. Locals, Non-Hindu residents, foreigners, and tourists should follow. No one can go to the beaches and streets. The only airport in Bali closes for the entire day.
The only people to be seen outdoors are the Pecalang, Bali's traditional security men. They patrol the streets to ensure that everyone participates in the tradition. The only exceptions are emergency vehicles responding to life-threatening situations and women who are about to give birth.
Final Words
Canggu's trendy spot, unwinding vibes, natural charm, and fascinating culture are the reasons it has become one of the best places to visit in Bali. It may not be as luxurious as Seminyak, but Canggu has a lot to offer. If you need a break from your daily hustle-and-bustle, a trip to Canggu is worth it. It's one of the best places for relaxing and experiencing the authentic Balinese culture. Get ready to witness the true beauty of nature and try new adventures. Surf the waves, eat Bali's authentic food, meet new people, and simply unwind in this beautiful island in Bali, Indonesia.