10 BEST Wallet-Friendly All-Inclusive Resort In Florida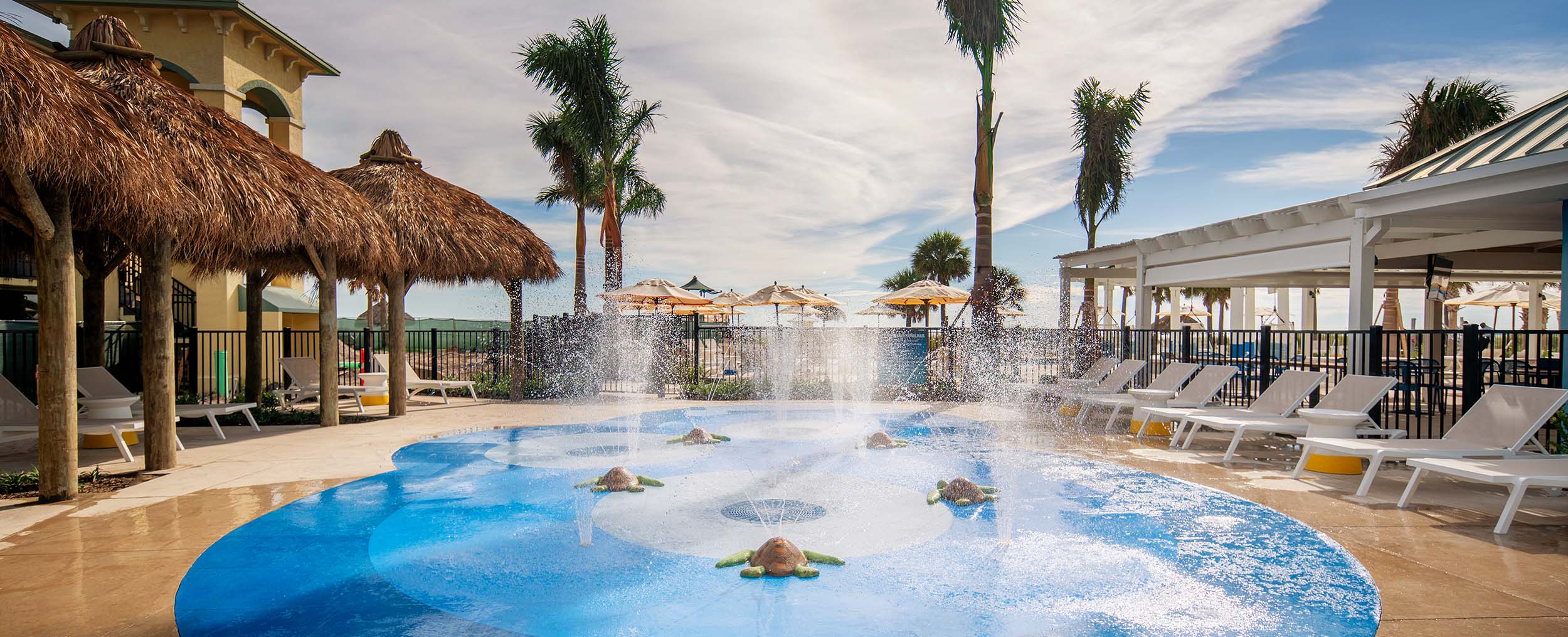 As one of the premier spring destinations in the United States, Florida sees millions of tourists every year. The Sunshine State offers its fair share of attractions, plus a culturally rich and diverse scene coupled with a smattering of picture-perfect beaches. Tourists and locals alike take to all-inclusive resorts to pack as much into their vacations as possible. But, which all-inclusive resort in Florida can you book without breaking the bank?
Here are some of the best ones you'll find, in alphabetical order.
1.
Bungalows Key Largo, Key Largo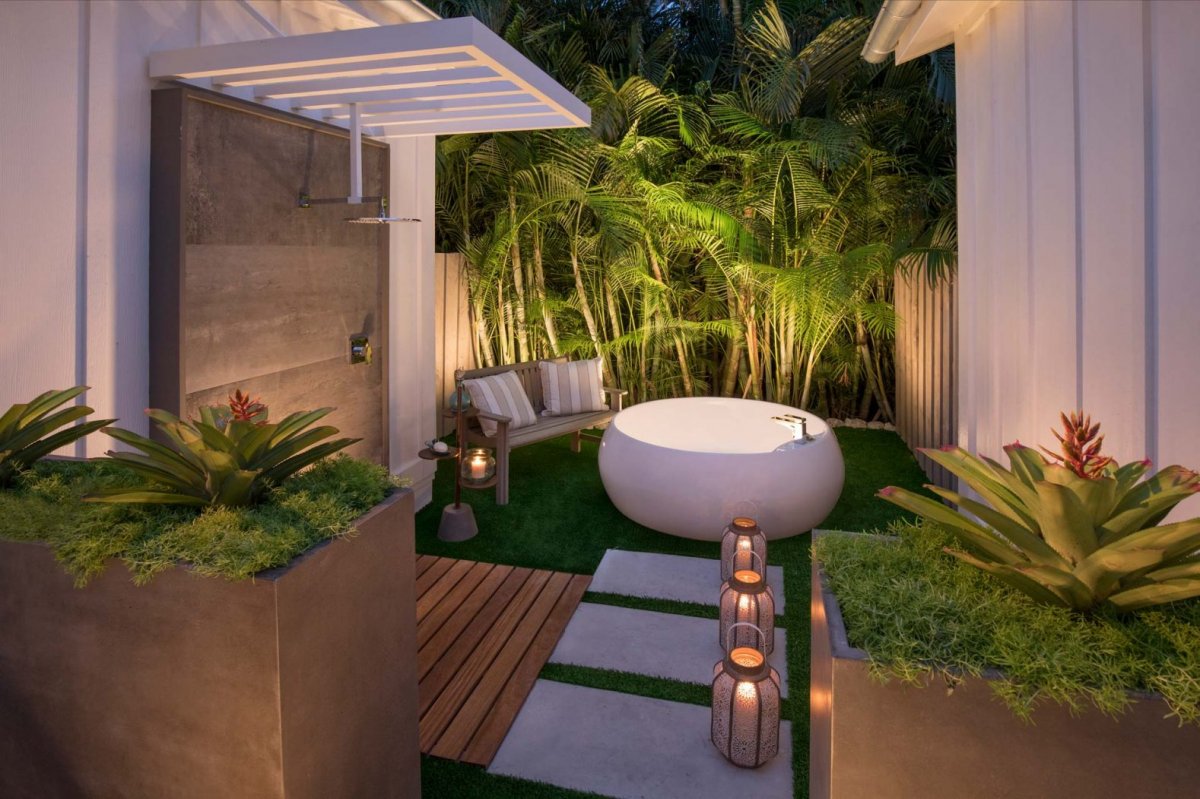 Arguably one of the best Florida Keys resorts, Bungalows Key Largo provides you a vacation unlike any other. The resort's intimate vibe allows you to disconnect from the outside world without sacrificing comfort and luxury. It's the perfect combination of modern and rustic, with a botanical garden and the ocean just a stone's throw away. Bungalows Key Largo is also one of a few also adults-only all-inclusive resorts you'll find in the state. So, if you're looking for romantic getaways in Florida, you've found the right place.
A stay at Bungalows Key Florida includes deluxe accommodations, welcome drinks and refreshments, high-speed Wi-Fi, daily housekeeping, turndown service, and valet parking. You won't have to worry about what to eat since all meals (including snacks and fine dining) and premium alcoholic drinks are also included. Furthermore, you'll have access to selected wines, in-town transportation, on-property cruiser bikes, pools, and jacuzzis. For water sports, you can go kayaking, snorkeling, and stand-up paddling. Looking to catch up on some yoga? Don't worry. There are also group yoga classes you can take. The best part is, they're all included in the package.
Of course, this doesn't mean you can't enjoy other activities Bungalows Key Largo has to offer. The resort also features daily boat excursions, floating tiki boats, and even island hopping via seaplane. You can go scuba diving and explore the underwater world of the Florida Keys. For angling enthusiasts, the resort also offers inshore reef fishing, offshore fishing, and backcountry fishing. Cap your day with a sunset cruise aboard the Gemini catamaran and indulge in gourmet dishes as you sail the Florida Bay.
2.
Club Med Sandpiper Bay, Port St. Lucie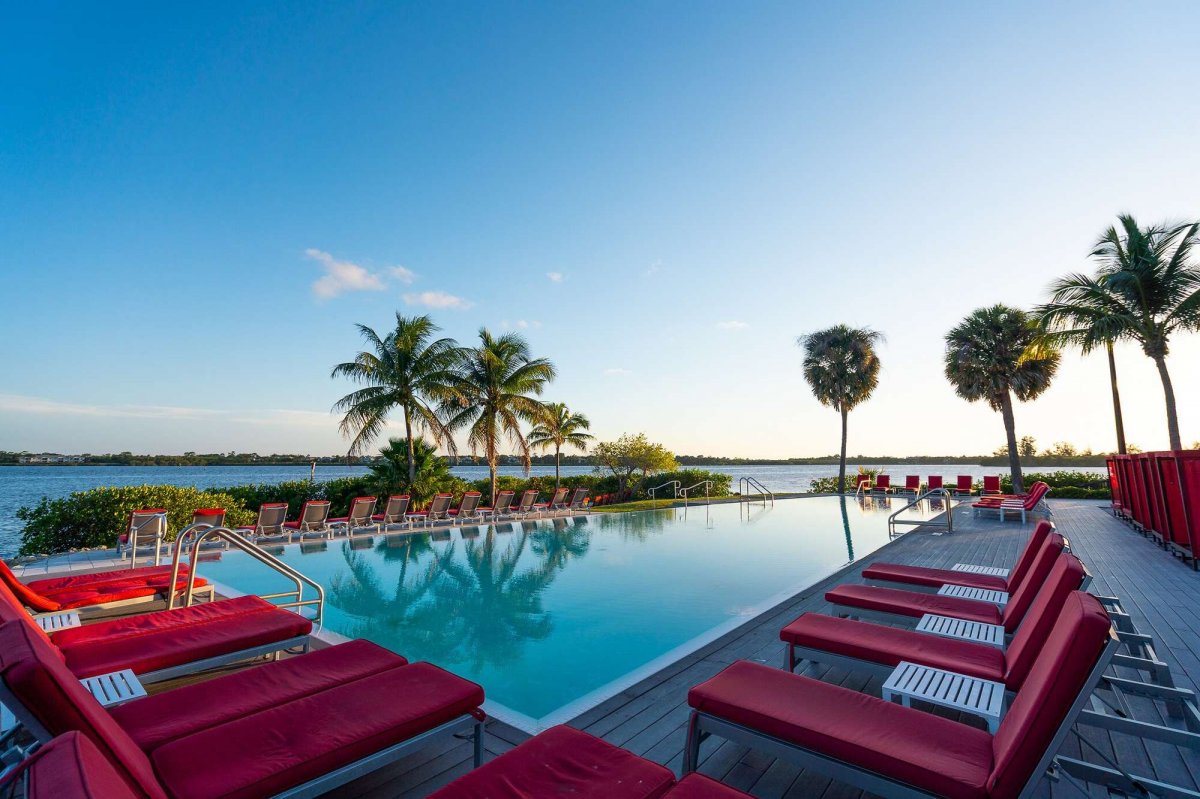 For one of the best all-inclusive family resorts, look no further than Club Med Sandpiper Bay. Tucked amongst lush vegetation and St. Lucie River, Club Med artfully blends comfort with style. This all-inclusive resort in Florida takes care of everything you need, which means you don't have to worry about all the small details.
At Club Med, all-inclusive means all-inclusive. In addition to luxury accommodations, guests are free to enjoy all-day gourmet dining, a premium open bar, and free Wi-Fi. Parents don't need to keep their kids occupied, as the price also includes a kids club for 4-year-olds to 17-year-olds. As for your own enjoyment, there are plenty of sports and activities at Club Med. Archery, yoga, mountain biking, volleyball, and even a flying trapeze all await you on land. On the water, guests can participate in snorkeling, sailing, wakeboarding, and kayaking at no extra cost. There's even an opportunity to go skiing during the winter.
If you prefer, you can work on your tan or chill by the pool all afternoon. When night falls and you've tucked the kids to bed, you can relax with some live entertainment or take a dip in the adults-exclusive infinity pool. While this all-inclusive resort in Florida is the perfect tropical destination for families, singles and childless couples will still have a great time here. You can even book your trip with friends. Whether it's one or the other, Club Med has something for everyone.
3.
Epicurean Hotel, Tampa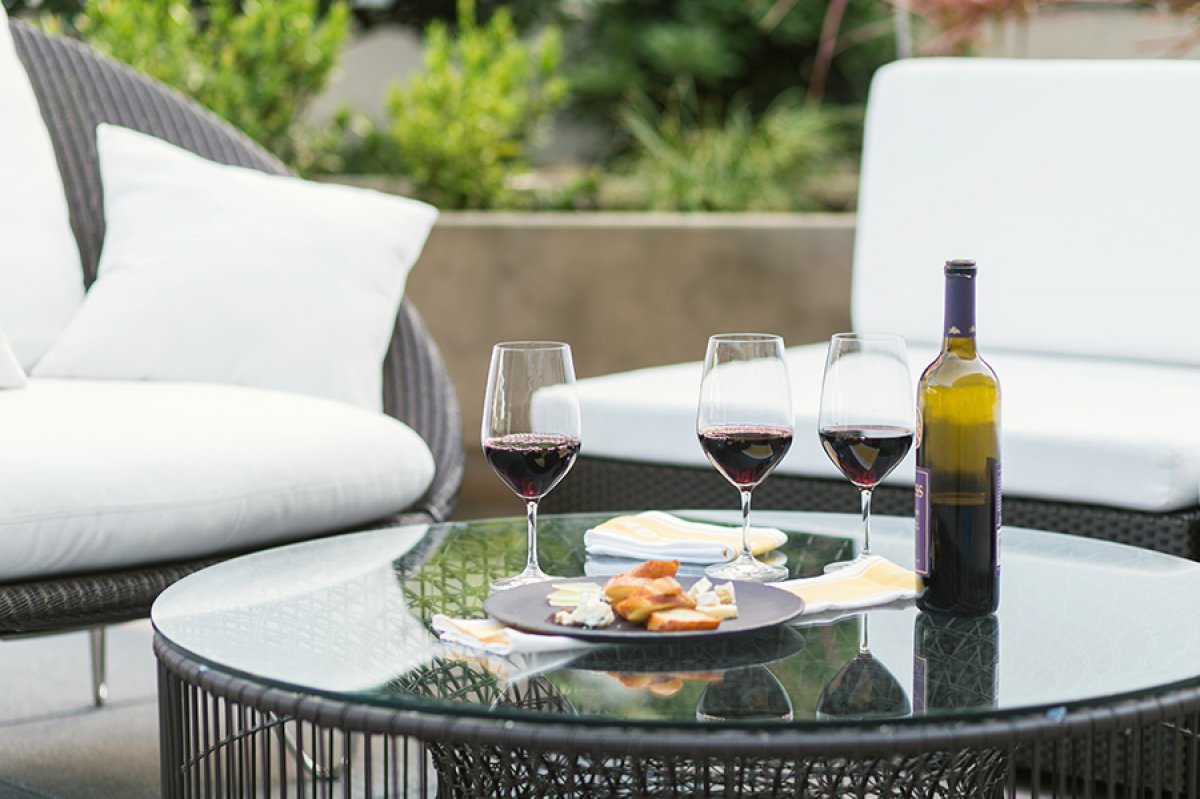 For an all-inclusive resort in Florida popular among foodies, head to Epicurean Hotel. It's one of the best Tampa resorts that mixes chic accommodations with excellent culinary delights.Their Bern's Steak-cation Package comes with a one-night stay in a classic guest room, breakfast for two in Élevage, and a "welcome amenity" in your hotel room. Plus, you get a guaranteed reservation for two at Bern's Steak House, famous for their food, wine list, and use of organic ingredients.
If you want something with a little more oomph, try their Foodie's Dream Escape. With this package, along with accommodations in their guest rooms, you receive artisan pastries and a selection of wines. You also get a $50 gift card to Bern's Steak House (exclusive of reservations) and a signed copy of Bern's: Rare & Well Done. On top of that, the package includes a private history tour of Bern's Steak House and wine cellar. Other packages include the Epicurean Celebration Package, Out & About, Romance at the Epicurean, and Recipe of Relaxation.
Food isn't all there in at Epicurean, though. You can also spend your time relaxing by the pool or getting pampered at the spa. If you want to do some exploring, you can go for a complimentary bike ride at Hyde Park Village or Bayshore. There's also a gym for those who prefer to sweat it our indoors. At Epicurean Hotel, indulgence is a given.
4.
Gaylord Palms Resort & Convention Center, Kissimmee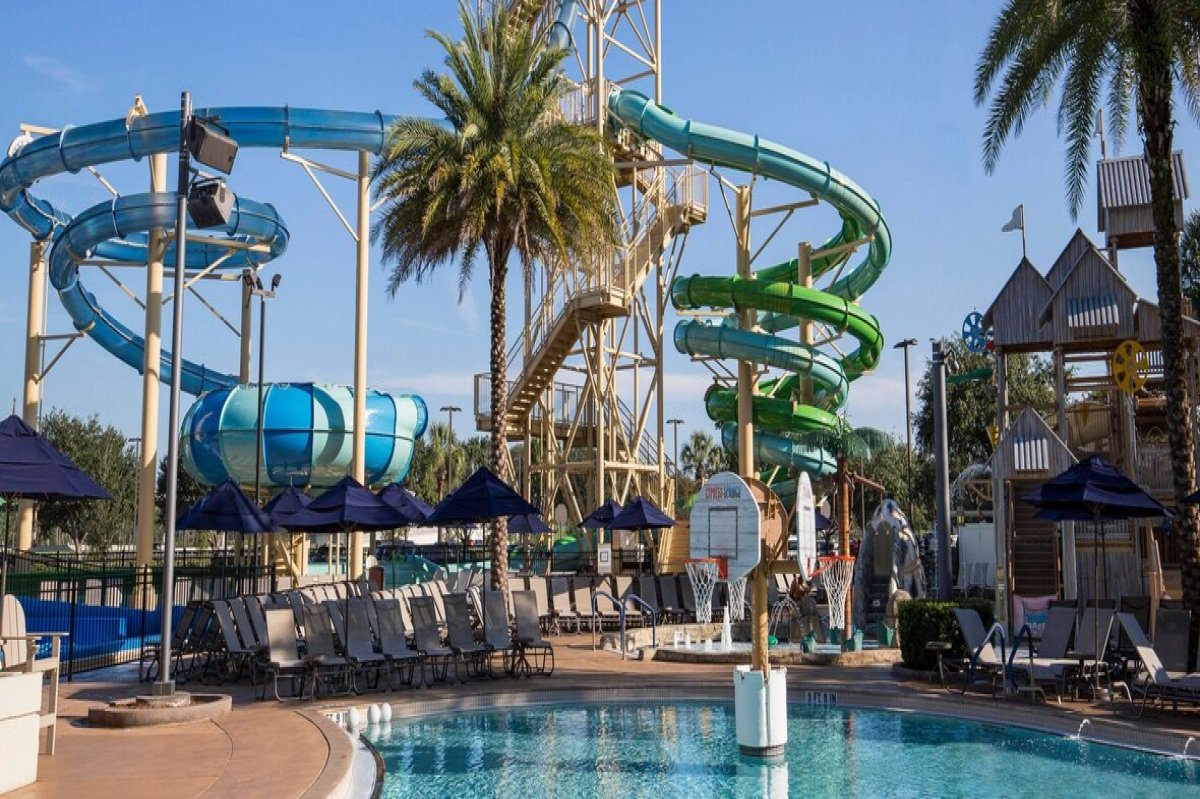 When it comes to Florida vacations, Walt Disney World and Universal Orlando are some of the first things that pop into people's minds. After all, both options are great for kids and kids-at-heart. If you find yourself in the area, book your stay at Gaylord Palms Resort & Convention Center. This all-inclusive resort in Florida is just minutes away from either theme park and itself offers plenty to do.
Gaylord Palms Resort & Convention Center features a towering glass atrium sure to impress anyone who lays eyes on it. There's also a waterpark within the property, making Gaylord Palms one of the best kid-friendly all-inclusive resorts in Kissimmee. Parents, on the other hand, can enjoy the adults-only pool. If that doesn't speak to you, perhaps the resort's full-service spa will. Satisfy your hunger at one of the nine restaurants at the resort before turning in for the night.
While Gaylord Palms isn't truly all-inclusive, it does have package deals that give you the best bang for your buck. Their romantic getaway package includes room accommodations for two, your choice of champagne or non-alcoholic beverage, a special welcome treat, breakfast for two, and self-parking. Plus, you get a 20% discount on select services at Gaylord Palms' Relâche Spa & Salon. If you're an adventurer at heart, Gaylord Palms' Cypress Spring Water Park FlowRider package is for you. In addition to room accommodations, the package includes two hours on the FlowRider and a $25 resort credit.
5.
Hilton Sandestin Beach, Golf Resort & Spa, Miramar Beach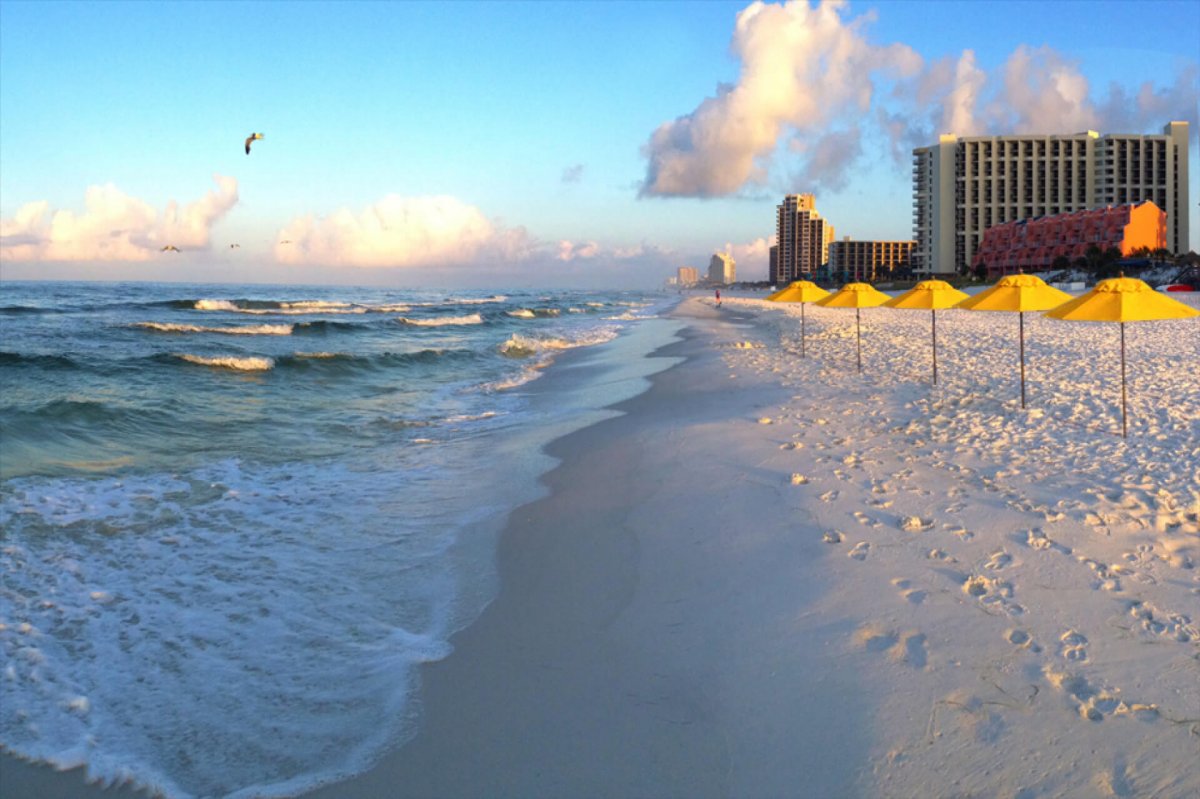 While not exactly one of the cheapest all-inclusive resorts in Florida, Hilton Sandestin Beach, Golf Resort & Spa still deserves a mention. Situated on Miramar Beach, this luxurious resort has all the amenities you could ask for. In addition to comfortable and chic rooms, Hilton Sandestin comes equipped with a fitness center, a spa, a hair and nail salon, and a lounge. There's also an indoor pool and two outdoor pools.
Perhaps the most popular feature of this resort, however, is its proximity to the beach. Prepare to sink your toes in soft white sand and take a dip in the turquoise water. There are various packages you can avail of depending on your mood. The Wellness Package comes with accommodations, a daily breakfast, daily spa passes, access to fitness classes, and exclusive discounts. Alternatively, you can go for the Sun, Sand & Surf Package. In addition to beach-view accommodations, this package comes with a daily beach set-up (two chairs and one umbrella), two cocktails daily, a bottle of sunscreen, and a beach visor.
Hilton Sandestin also boasts a variety of water activities. From fishing to parasailing, this all-inclusive resort in Florida has something for every type of traveler. At the end of a fun-filled day, choose from seven dining options to satisfy your palate. If you're too tired, there's always in-room service. On the other hand, if you're feeling extra fancy, go for one of the sunset dinner cruises in Baytowne Marina.
6.
Little Palm Island Resort & Spa, Little Torch Key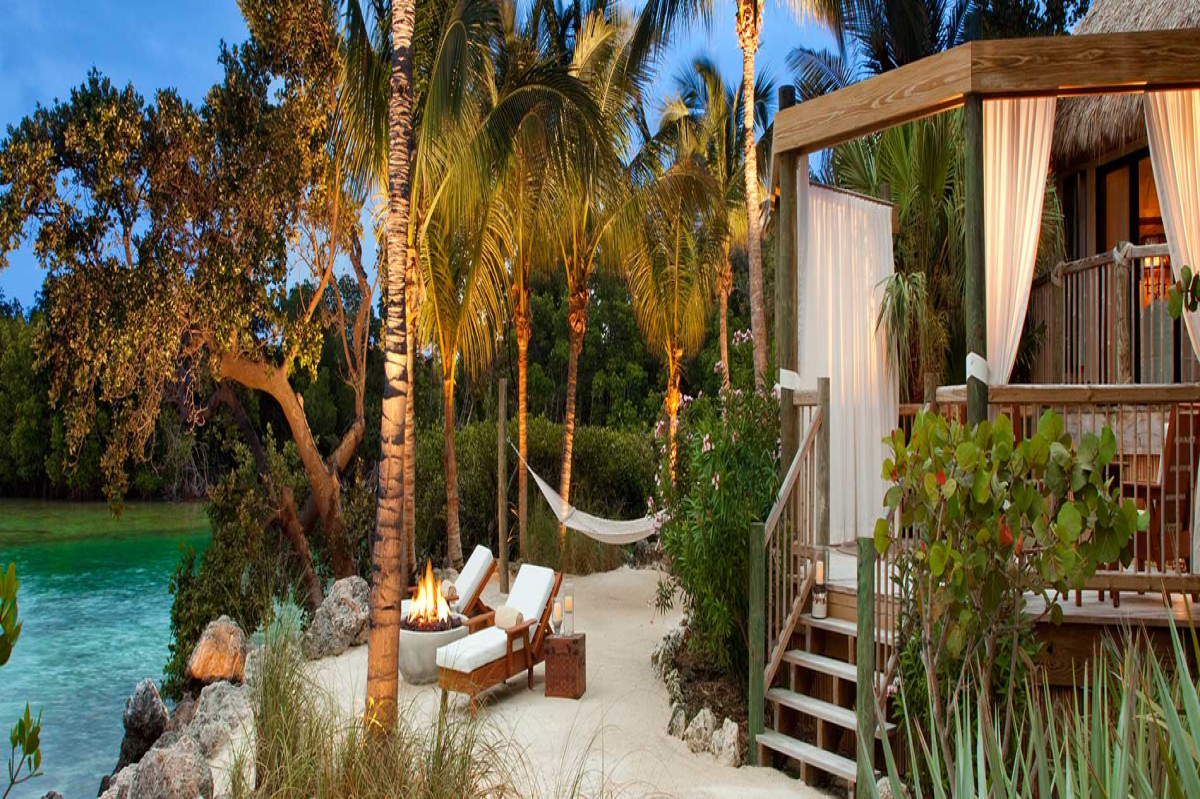 Among the countless Florida Keys resorts, Little Palm Island Resort & Spa upholds its reputation as one of the best. A stay at this all-inclusive resort in Florida comes with a welcome cocktail, motor yacht transfers, valet parking, non-alcoholic minibar beverages, nightly turndown services, and staff gratuities. You also get access to the fitness center and water sport amenities. If you avail of their Get Lost package, your stay includes welcome champagne, a $50 breakfast credit and $100 spa credit per person per day.
At Little Palm Island Resort & Spa, you decide what to do. Whether that means spending your afternoons lounging by the beach or making the most out of the water activities. You can even ride a helicopter or a seaplane to explore the surrounding areas. Animal lovers will adore encountering dolphins and going on eco-tours. For more adventurous souls, there's always skydiving. Plus, you don't have to worry about overcrowding because the resort is on a private island. The only way to get in or out is via seaplane or boat. In fact, its privacy is such a selling point that even U.S. Presidents and celebrities choose to vacation here.
Little Palm Island Resort & Spa may not be the most affordable, but it's certainly one of the best all-inclusive resorts in the state. It's worth noting, however, that there are no phones or televisions in any of the bungalows to keep guests disconnected. There's a television in the Great Room, though, if you just can't stay away. Furthermore, that doesn't mean there's no way to connect to the outside world. The resort provides complimentary Wi-Fi so you can still snap photos of your vacay for the gram.
7.
Omni Amelia Island Plantation Resort, Fernandina Beach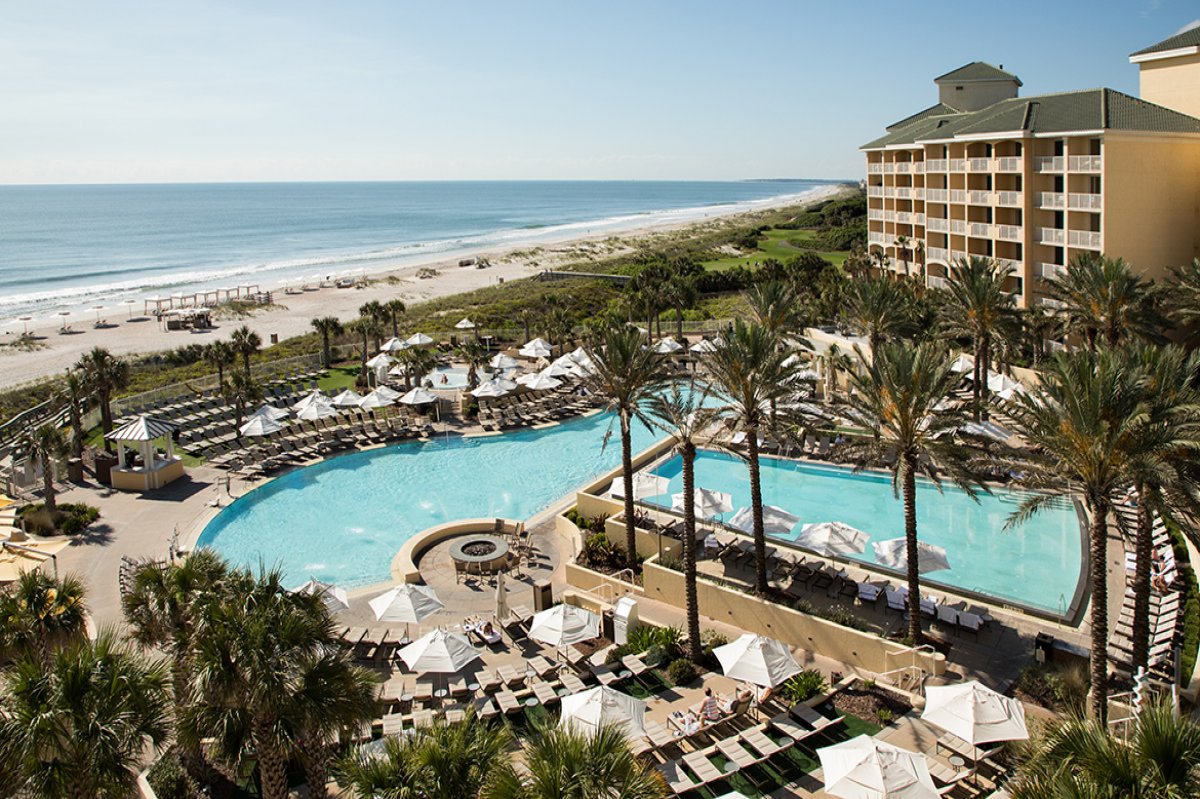 Just off the Florida coast, the lavish Omni Amelia Island Plantation Resort awaits. Featuring 1,350 acres of fun and relaxation, this all-inclusive resort in Florida is hard to beat. Aside from the gorgeous vistas of the Atlantic Ocean, this resort boasts a wide variety of amenities and activities. Sporty guests can try their hand at golf or tennis, while explorers-at-heart can paddle or pedal through the marshes of Amelia Island. The private beaches span about 3.5 miles — plenty of room to frolic or work on your tan.
Continue your enjoyment by taking a dip in one of the pools. Some cater only to adults, while others are kid-friendly. Feeling hungry? No problem. Omni Amelia Island Plantation Resort features nine on-site restaurants and 24-hour in-room dining, which means you don't even have to go far to please your palate. However, if you prefer to dine outside the resort, there are dining options nearby as well.
While not truly all-inclusive, Omni Amelia Island Plantation Resort does offer a multitude of packages. These can range from packages meant for families to packages meant for couples. There are even packages for those who prefer to spend their days at the spa or golf course. If you're more of a foodie, there are packages for you, too.
8.
Rosen Shingle Creek, Orlando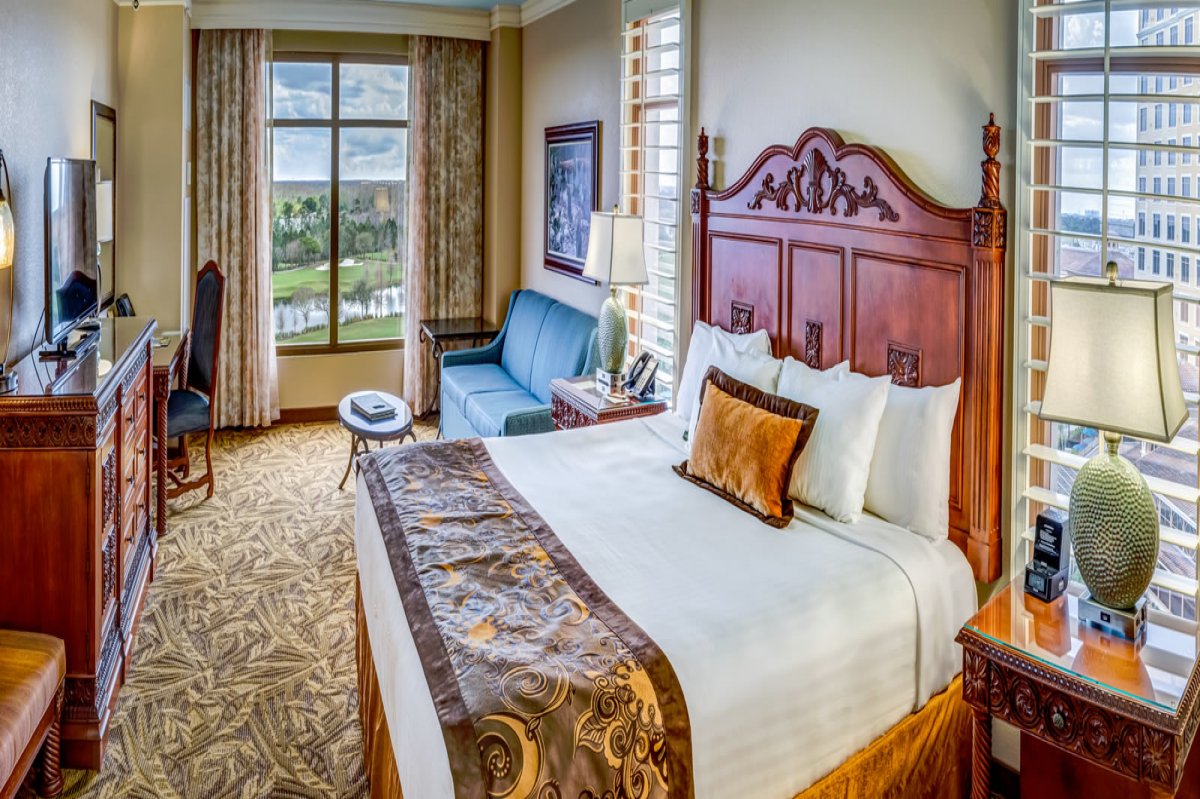 The moment you enter Rosen Shingle Creek, you're immediately greeted by 1900s Floridian lore and Spanish-revival design. This all-inclusive resort in Florida is a mere 10 minutes away from Universal Studios Orlando, which means it's perfect for families who want to stay closeby. In fact, if you plan to head to Universal Studios Orlando, Rosen Shingle Creek has the package for you. This package includes a 4-night stay at the resort, 3-park tickets, and early park admission to The Wizarding World of Harry Potter and Universal's Volcano Bay. You even get access to certain live entertainment venues at Universal CityWalk.
On the other hand, if you're not interested in theme parks, you can always opt for the Stay and Play package. This deal includes deluxe accommodations, two rounds of golf at Shingle Creek Golf Club, and complimentary Wi-Fi. You even receive discounted rates at Brad Brewer Golf Academy if you want to work on your game. Feeling tired and overworked? The Health & Wellness Package is the way to go. In addition to deluxe accommodations, this package gives you access to the fitness center, complimentary Wi-Fi, self-parking, and discounted golf and spa rates. You also don't have to worry about breakfast as it includes a daily breakfast buffet for two.
As for dining, there are a dozen different options, ranging from Asian to Mexican cuisine. If you're too lazy to get dressed, the resort also offers 24-hour in-room dining. Alternatively, you can always head out and sample some of Orlando's best restaurants. Whether you prefer to go on amusement park rides or lounge by the pool all day long, Rosen Shingle Creek has something for everyone.
9.
Sirata Beach Resort, St. Pete Beach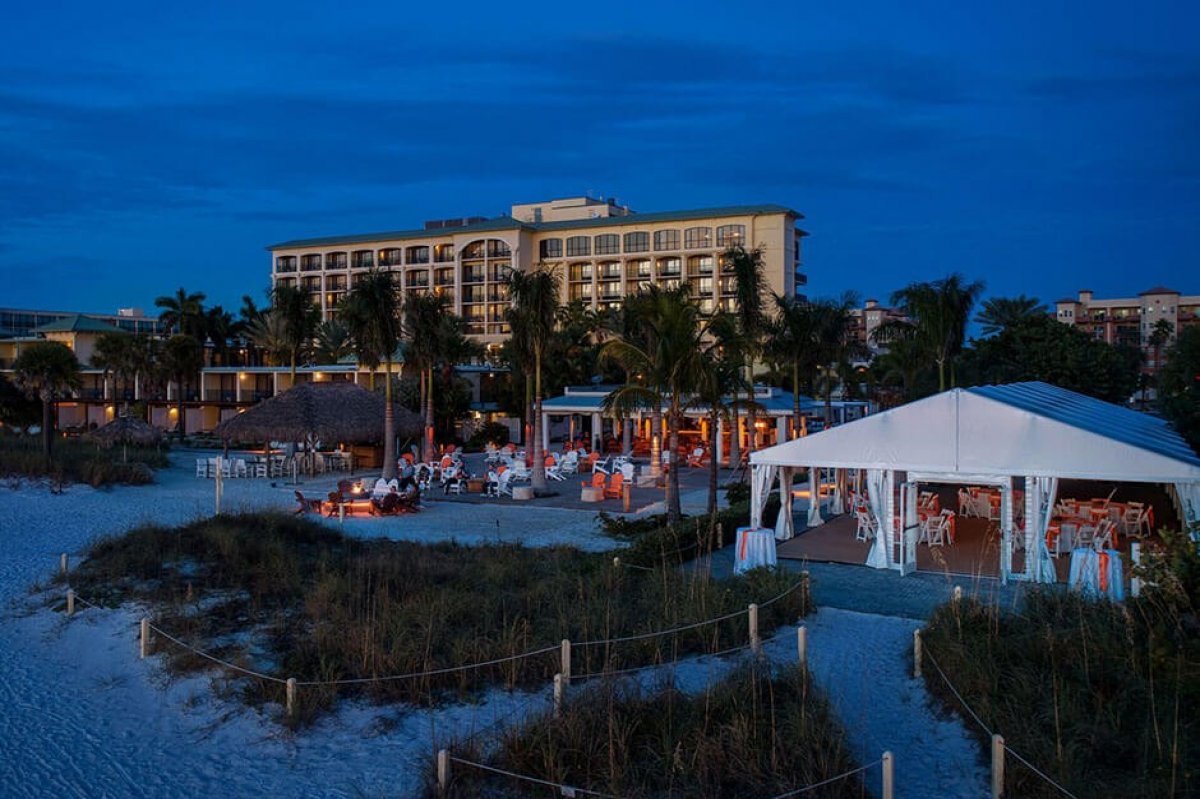 Along St. Pete Beach, you'll find Sirata Beach Resort, where guests are encouraged to abide by the resort's motto, "play more." And who could refuse such a request? With beachfront pools, beach volleyball courts, and a kid's playground, it's hard to find a reason not to have fun. Laze around and work on your tan in peace, as miles of private beaches line this resort. Feeling hot? Cool down in the Gulf Coast waters or order drinks in one of the bars.
While not truly all-inclusive, Sirata Beach Resort does offer its fair share of packages. There's the Beach & Breakfast package, where guests are greeted every morning with a complimentary breakfast. Then, there's the Beach & Brews package, which comes with free-flowing draft beer from 11 in the morning until 10 at night. If you're heading to St. Pete Beach with your partner, up the romance factor with the resort's Sirata Sweetheart package. In addition to accommodations, the Sirata Sweetheart package includes a welcome bottle of champagne and $100 daily Food & Beverage credit.
Sirata Beach Resort recently went through renovations, so you can rest assured you're getting your money's worth!
10.
Southernmost Beach Resort, Key West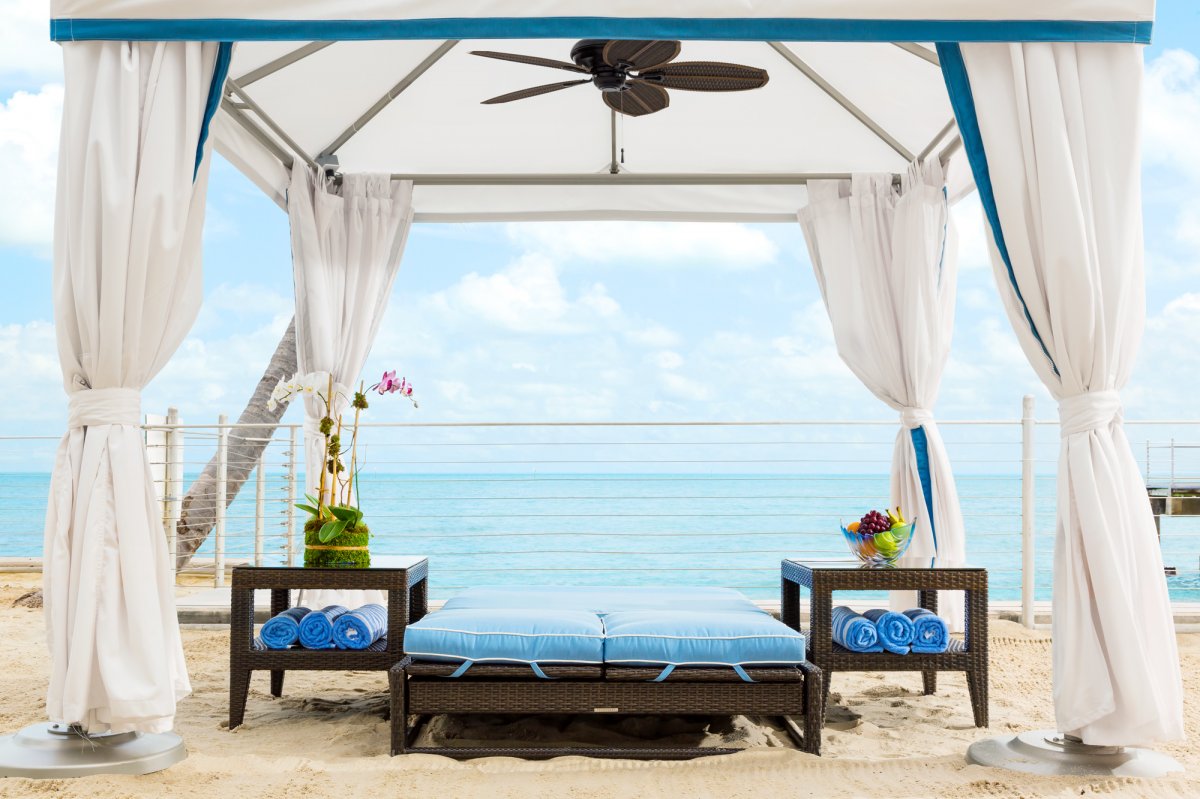 As one of the best Key West resorts, Southernmost Beach Resort lives up to its reputation. Situated in Historic Old Town, this all-inclusive resort in Florida features rooms with a coastal vibe and amenities that can keep you occupied for days. Unwind and pamper yourself at the spa or sweat up a storm in the fitness center. If you're more of a beach person, let the soft white sand and turquoise waters of South Beach take you away. You can even reserve a private cabana right on the shore for some added luxury. Don't like the feeling of sand? There are poolside cabanas available as well.
Unlike other all-inclusive resorts, Southernmost Beach Resort isn't truly all-inclusive. However, it does boast several enticing packages. One package comes with a daily breakfast by the beach, while another comes with a bottle of champagne and a $50 spa credit. Add to that a private island experience and the magic of Key West, and you'll have a vacation for the books!
What Is An All-Inclusive Resort?
An all-inclusive resort is a vacation resort whose accommodations come with meals, drinks (both alcoholic and non-alcoholic), and other services. Unfortunately, many resorts claim to be all-inclusive but are actually not. Most resorts simply offer special deals or packages, with extra services and breakfast included with lodging. Only a handful of resorts are truly all-inclusive, with all three meals provided.
How Do All-Inclusive Resorts Work?
It can be difficult to understand how all-inclusive resorts work. After all, not all of them are made equal. However, to put it simply, guests receive lodging and access to other inclusions for a set number of days and nights by paying a fixed rate. The rate may change depending on the season and resort, but guests usually don't have to shell out any more money for food, drinks, and other services that are already included in the package. This means less worrying and more relaxation.
What Is Included In An All-Inclusive Resort In Florida?
All-inclusive resorts offer you a hassle-free vacation. However, as stated above, not all of them are truly all-inclusive. At a minimum, an all-inclusive resort in Florida must provide you with three meals a day, non-alcoholic drinks, and alcoholic drinks, in addition to accommodations. They also typically include access to various amenities and, sometimes, free spa services. However, most resorts advertised as "all-inclusive" aren't really all-inclusive. Instead, they only offer special packages for a fixed rate. This can include lodging with breakfast, store or restaurant credit, and more.
Things To Take Note While Booking At All-Inclusive Resorts
What Are Premium Drinks At All-Inclusive Resorts?
The definition of "premium" in this case varies from resort to resort. Generally, premium drinks are top-shelf alcoholic drinks. Some resorts include premium drinks as part of their all-inclusive package, while others do not. If you plan to book an all-inclusive resort in Florida soon, it's best to check their FAQs page or ask them directly whether premium drinks are included.
How Much Do You Tip At All-Inclusive Resorts?
When you book a stay at an all-inclusive resort, gratuities are typically already included in the price. This means tipping is unnecessary. However, because not all resorts that claim to be all-inclusive truly are, tipping may not be included in their price. If that's the case or if you simply feel uneasy about not tipping, it's best to allocate money in your budget for tips.
What Should You Wear To Dinner At All-Inclusive Resorts?
Every resort and hotel has its own dress code when it comes to dining in restaurants. Some allow you to have dinner in your swimsuit or with a cover-up, while others prefer their guests to dress in more than just swimwear. This can be anything from casual clothing to formalwear. It's best to check your hotel or resort's policy on this kind of thing to avoid any conflict.
Try These All-Inclusive Resorts In Florida
If you're looking for your next spring destination, keep Florida in mind. The Sunshine State has a plethora of all-inclusive resorts to choose from, some great for families while others made for couples. They make for the perfect staycations — you don't even have to do much or go too far to make the most out of your holiday.
So, what are you waiting for? Book your stay at an all-inclusive resort in Florida. You'll certainly have a vacation you won't forget!