5 Best Mountain Biking Locations in Chicago, Illinois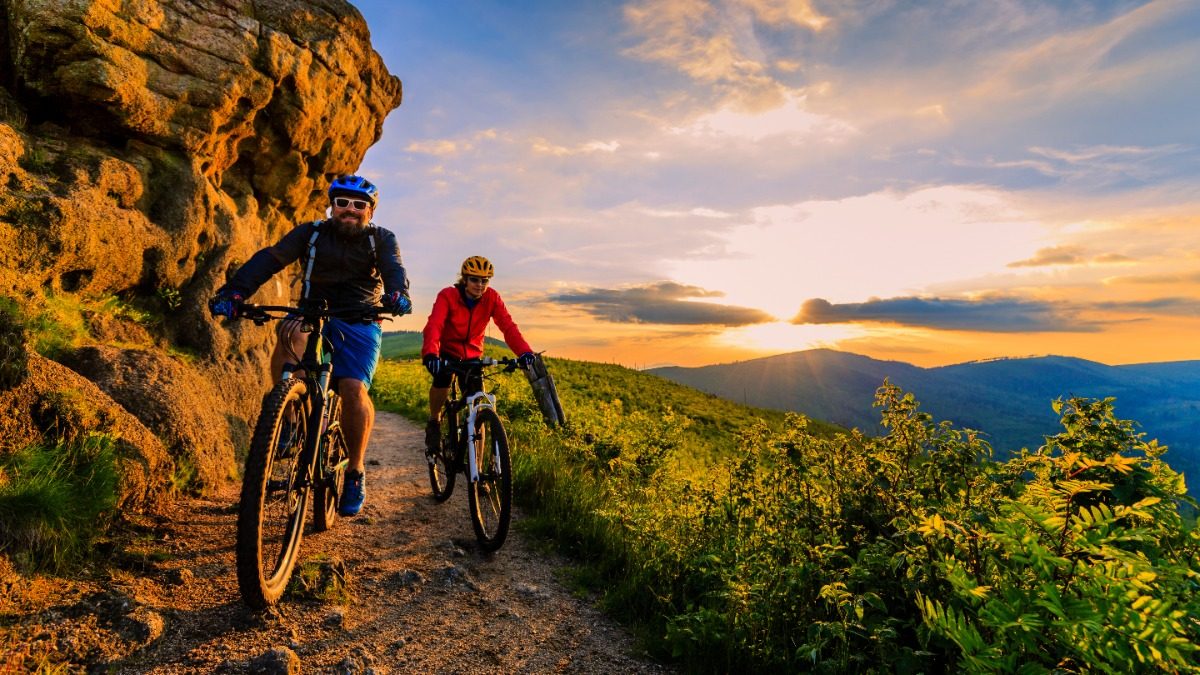 Mountain biking is the most enjoyable on mountain trails, and you may think that being in Chicago, you'd have no luck! Would you be surprised if we said there are some hidden options that will make your mountain biking experience worthwhile and not too far away?
There's a high chance you have probably been to one of these spots, but next time you should take your mountain bike along for a brand-new experience. Especially the mountain trails around Chicago are bound to impress you, no matter your mountain biking skills.
1. Palos Tour
The Palos tour is at the top of our list, located in Palos Forest Preserve, Willow Springs, Illinois. To arrive at your mountain biking destination, you'll have to drive 21 miles southwest of the center of Chicago.
The Preserve has a long history of mountain biking. Combined with the surrounding preserves, it adds up to a distance of 50 miles – which is a dream trail for advanced mountain bikers. The trail in Palos Forest passes through multiple lakes and marshlands, with downright slopes that demand technical skills. And to give you a heads up, this mountain trail is more suitable for bikers at an intermediate or advanced level. If you haven't already invested in a good quality mountain bike, you may want to get one of the Specialized electric mountain bikes before you embark upon the trails of Palos Forest Preserve.
Remember that this is not the best spot for a family-friendly bike ride. To give you a better idea, this is an ideal trail for bikers who like to push their limits or test their endurance. The good thing about this trail is if you get too tired, you can stop and take the bypass, which is an alternate route for walkers.
2. Raceway Woods
The Raceway Woods, a 122-acre preserve in Kane County Forest, is popular for horseback riding. It is a 5-mile single-tracked trail suitable for bikers of all levels. It is only a 40 minutes drive that will take you to the terrain, making it an ideal location for mountain bikers residing in Chicago. So, if you are interested in hitting a less intimidating trail for first-timers, consider mountain biking in raceway woods.
The trails are smooth, with small climbs in between, allowing bikers to take full advantage of their MTB adventures.
3. Coffee Creek Watershed Preserve
Coffee Creek Watershed Preserve is ideal for a family day trip. It is located in Chesterton, about 47 miles southeast of downtown Chicago. You'd be able to spot wildlife and exotic plants.
Did you know that the Coffee Creek Watershed Preserve is also a top location for hosting marathons, workshops, races, etc.? The actual length of the trail is 3.2 miles, which is doable for beginner bikers and children.
Take note of walkers and runners, as you'll cross your paths with plenty. Make sure you are mountain biking on the trails only and not getting in the way of others. When you are nearing downhills, slow down to keep your speed under control.
4. Illinois Prairie Path
Founded in 1963, the Prairie Path in Illinois is 29 miles to the west of downtown Chicago. An epic mountain bike trail that hundreds of cyclists visit regularly. Did you know that the Illinois Prairie Path pioneered rail-to-trail transformation in all of America? It was designed by converting deserted rail routes into multi-purpose trails.
Currently, the Illinois Prairie path has a distance of 62 miles and is surrounded by limestones. And if you start near Wheaton, which is known as mile zero, it will lead you to three different trails, Aurora (southwest), Elgin (northwest), and Maywood (east).
Biking on the trails has its perks. You're sure to cross majestic waterfalls at various points of your route. The eye-pleasing canopy trees playing hide and seek while you peddle are just the cherry on top!
5. Devil's Lake
Ever heard of the Ice Age National Scenic Trail? Located in southern Wisconsin, Devil's Lake is probably one of the most popular state parks, with a stretch of 360 acres of lake, offering 29 miles of hiking trails suitable for runners, bikers, and camping enthusiasts. The Devil's Lake is also home to this 1000-mile wilderness. Besides driving from Chicago, you can also reach Devil's Lake from Milwaukee and Madison.
Now for mountain bikers, Devil's lake will hint at what it's like to mountain bike off-road. The distance of the trail in the park is 5 miles, with an uphill trail loop leading to a cute little picnic area on the north side of the lake. The scenic background is the main highlight for mountain bikers, making them return to the location repeatedly!
Conclusion
Hunting down mountain biking trails in Chicago has a low success rate. If you're ready to drive out of Chicago, you'll have plenty of world-class mountain bike trails. Whether to improve your endurance or complete an intense workout, all locations are suitable for mountain bikers. Don't limit yourself; you are free to explore these spots for a fun outdoorsy day!