Best Beaches In San Diego For Families, Dogs, & Surfing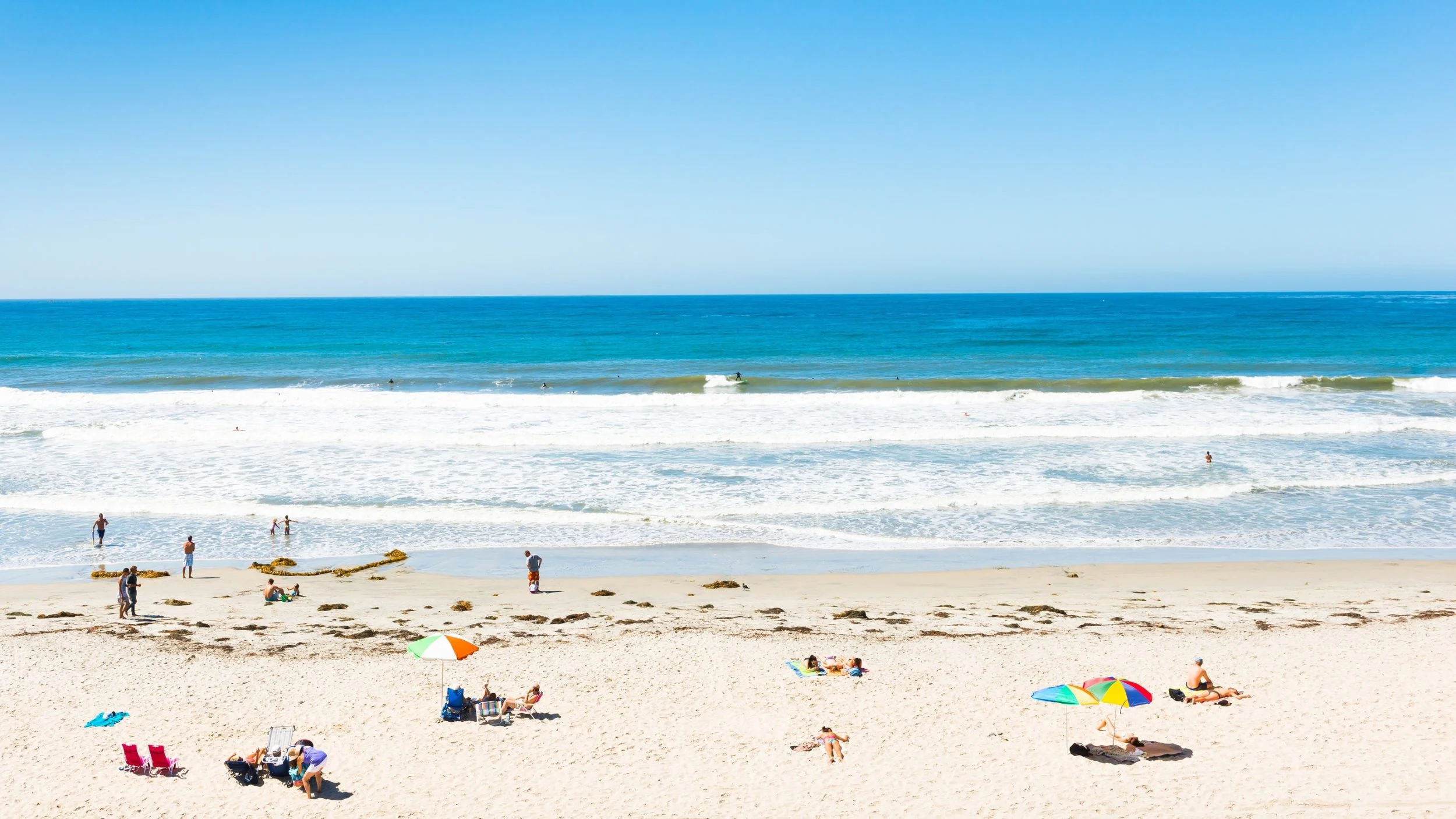 Introduction
San Diego, located on the beautiful coast of Southern California, is famous for its stunning beaches and picturesque coastline. Whether you're a family looking for a fun-filled day in the sun, a dog owner seeking a pet-friendly paradise, or a surfer in search of epic waves, San Diego has something to offer everyone. With its year-round pleasant weather and diverse range of beach options, this city is a haven for beach lovers.
San Diego boasts a myriad of pristine stretches of sand, each with its own unique charm and attractions. From family-friendly beaches with calm waters and plenty of amenities, to dog-friendly spots where your furry friend can splash in the waves, to world-class surf breaks that attract adrenaline-seeking wave riders, there's no shortage of beach options in San Diego.
Whether you're a local resident or visiting San Diego for a vacation, exploring the best beaches the city has to offer is a must-do. In this article, we'll take a closer look at some of the top beaches in San Diego, categorized by their suitability for families, dogs, and surfing enthusiasts. So grab your beach towel, sunscreen, and a sense of adventure as we dive into the sun-soaked world of San Diego's beaches.
Beaches for Families
San Diego is a fantastic destination for families who are looking to spend quality time together by the ocean. The city offers several beaches that cater specifically to the needs of families, providing a safe and enjoyable environment for both kids and parents alike.
One of the top choices for families is Coronado Beach, located on the famous Coronado Island. This beach is known for its wide sandy shoreline, gentle waves, and shallow waters, making it perfect for young children to splash around in. Families can also enjoy picnics in the grassy areas nearby or explore the iconic Hotel Del Coronado, which adds a touch of historic charm to the beach.
Another popular family-friendly beach is La Jolla Shores, located in the picturesque neighborhood of La Jolla. This beach boasts a long, sandy stretch of coastline ideal for building sandcastles and playing beach games. The calm waters are ideal for swimming and snorkeling, and there are often lifeguards on duty to ensure the safety of all beachgoers. Additionally, families can explore the nearby La Jolla Underwater Park, home to a diverse marine ecosystem.
For families seeking a more immersive beach experience, Mission Beach is the perfect choice. This lively beach offers a vibrant boardwalk filled with amusement rides, arcades, and shops, providing endless entertainment for children of all ages. Families can also enjoy biking, rollerblading, or skateboarding along the boardwalk, or play beach volleyball on the designated courts. The adjacent Belmont Park, with its iconic Giant Dipper roller coaster and other attractions, is a must-visit for thrill-seekers.
Other family-friendly beaches in San Diego include Moonlight Beach in Encinitas, which features a playground and fire pits, and South Carlsbad State Beach, which offers spacious camping grounds suitable for a fun-filled beachside family vacation.
No matter which family-friendly beach you choose in San Diego, you can rest assured that your little ones will have a blast building sandcastles, collecting seashells, and dipping their toes in the Pacific Ocean. With plenty of amenities, nearby attractions, and a welcoming atmosphere, these beaches are the perfect destination for a memorable family day at the shore.
Beaches for Dogs
San Diego is a pet-friendly paradise, and there are several beaches in the area that welcome our furry friends with open arms. These dog-friendly beaches offer the opportunity for dogs to frolic in the sand, splash in the waves, and enjoy some off-leash fun.
One of the most popular dog-friendly beaches in San Diego is Ocean Beach Dog Beach. Located near the entrance of the San Diego River, this beach offers a large designated off-leash area where dogs can freely run and play. With its wide sandy beach and plenty of open space, it's the perfect spot for dogs to socialize and make new furry friends. Dog owners can relax and enjoy the ocean views while their pets enjoy the ultimate beach day.
Another great option for dog owners is Fiesta Island Off-Leash Dog Park. Located in Mission Bay, this expansive island is a haven for dogs and their owners. Dogs can run off-leash along the sandy shoreline and in the grassy fields, providing plenty of space for exercise and fun. The calm waters surrounding the island are also perfect for dogs who love to take a dip and cool off during those hot summer days.
For those willing to venture a bit farther north, Dog Beach in Del Mar is a beautiful spot where dogs can roam freely along the sandy shores. This beach provides a relaxing and scenic environment for both dogs and their owners, with stunning coastal views and calm waves. It's an ideal place to spend a sunny day with your furry companion.
When visiting dog-friendly beaches, it's important to remember to clean up after your pets and follow all posted rules and regulations. This ensures that these beaches continue to welcome dogs and maintain a clean and safe environment for everyone to enjoy.
San Diego's dog-friendly beaches are a testament to the city's love for pets and outdoor activities. Whether you're a local resident or a visitor to the area, these beaches provide a wonderful opportunity for dogs to experience the joy of the beach alongside their human companions.
Beaches for Surfing
With its favorable coastal conditions and consistent swells, San Diego is a haven for surfers of all skill levels. The city is home to a variety of beaches that offer world-class surfing opportunities and a vibrant surf culture.
One of the most renowned surf spots in San Diego is Black's Beach. Located below the towering cliffs of Torrey Pines, this beach is known for its powerful waves and challenging conditions. Black's Beach is best suited for experienced surfers due to the large swells, strong rip currents, and rocky terrain. With breathtaking views and an exhilarating surf break, it's a must-visit for those seeking an adrenaline-pumping surfing experience.
If you're a beginner or intermediate surfer, Tourmaline Surfing Park in Pacific Beach is the ideal destination. This beach offers a more mellow wave break, making it perfect for learning and honing your skills. The friendly and welcoming atmosphere at Tourmaline Surfing Park creates a supportive environment for surfers of all levels, including those new to the sport.
An iconic surf spot in San Diego is Swami's Beach in Encinitas. Famous for its long, peeling right-hand point break, Swami's attracts surfers from all over the world. This beach offers a beautiful setting with crystal-clear water and consistent waves, making it a favorite among experienced surfers looking for a long, exhilarating ride.
For those seeking a more laid-back and less crowded surfing experience, consider checking out Sunset Cliffs in Point Loma. The cliffs at this beach create a picturesque backdrop, while the reef break provides reliable surf conditions. Sunset Cliffs offers a more peaceful and serene atmosphere, ideal for surfers who want to escape the hustle and bustle of crowded surf breaks.
Other popular surfing beaches in San Diego include Cardiff Reef, Pacific Beach, and Windansea Beach. These beaches cater to a variety of skill levels, ensuring that there's a perfect wave waiting for every surfer.
As with any ocean activity, it's important to be aware of the surf conditions, tides, and any hazards at the beach you choose to surf at. Always prioritize safety and respect the local surfing etiquette to ensure an enjoyable experience for everyone in the water.
Whether you're a seasoned pro or just starting out, the surf breaks in San Diego offer endless opportunities for stoke and adventure. Grab your board and get ready to ride the waves in this surfers' paradise.
Conclusion
San Diego truly is a beach lover's paradise, offering a wide array of options for families, dog owners, and surfers. The city's stunning coastline, year-round pleasant weather, and diverse range of beaches make it a sought-after destination for beach enthusiasts from around the world.
For families, San Diego provides several beaches that cater to their needs, with gentle waves, shallow waters, and plenty of amenities to ensure a fun and safe experience for both kids and parents. From the iconic Coronado Beach to the bustling Mission Beach, families can enjoy endless hours of sandcastle building, beach games, and relaxation along the beautiful shores of San Diego.
Dog owners can rejoice as well, as San Diego offers a variety of dog-friendly beaches where four-legged friends can run, play, and soak up the sun alongside their human companions. With Ocean Beach Dog Beach, Fiesta Island Off-Leash Dog Park, and more, dogs have the opportunity to enjoy the ultimate beach day and make cherished memories by the water.
Surfers flock to San Diego for its world-class surf breaks and vibrant surf culture. From the challenging waves of Black's Beach to the beginner-friendly conditions at Tourmaline Surfing Park, surfers of all levels can find their perfect wave in this surfers' paradise. Swami's Beach, with its iconic point break, adds to the allure of the city's surfing scene.
Whether you're a local resident or a visitor to San Diego, exploring the city's beaches is an experience not to be missed. From the powdery sands to the crystal-clear waters, the beaches of San Diego offer a slice of paradise for everyone to enjoy.
So, pack your beach essentials, grab your sunscreen, and embark on a beach adventure in San Diego. Whether you're building sandcastles with your family, letting your furry friend play by the waves, or riding the waves yourself, there's something for everyone along the picturesque coastline of this coastal gem.