10 Best Black Sand Beaches In The World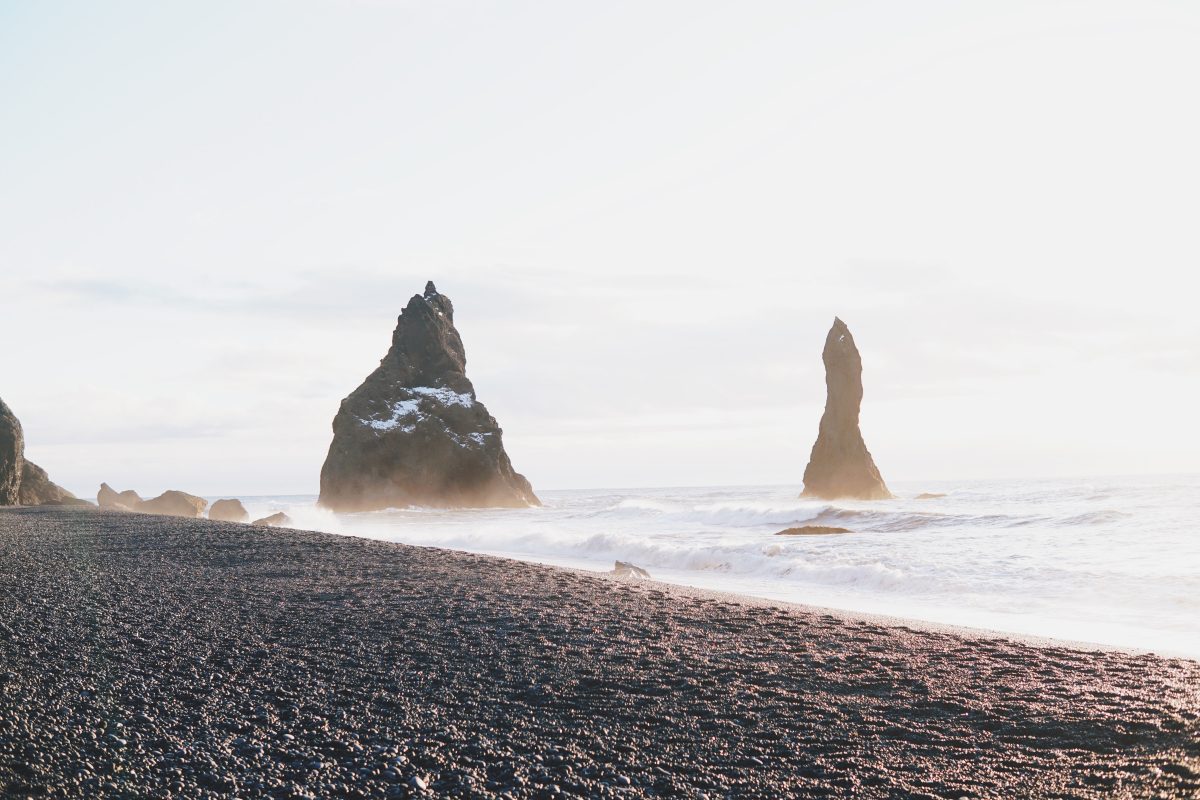 There's a lot to be said for sandy white beaches. They look amazing in photos and something about them makes you think of the fine crunch of sand under your toes. But this isn't the only kind of amazing beach. If you want awesome and unusual photos, then you need to visit a black sand beach. And there are several beautiful options.
Punaluu Beach is one of the best-known black sand beaches in the world. The black sand comes from volcanic activity in the nearby national park and looks stunning against the blue water. This beach is also a favourite resting place of the endangered Hawaiian Green Sea Turtle. So, don't be surprised if you see one of these gentle giants taking a rest on the sand.
What To Do There
Punaluu Beach isn't the best place for swimming because of the strong tides. This is a great black sand beach for picnics though, and you'll find all the facilities you need within easy reach.
How To Get There
Access to this black sand beach is easy from the Hawaii Belt Road. Just take the entrance to the Sea Mountain Resort and you'll find it.
2.
Stokksnes Beach, Iceland
Stokksnes Beach is a privately-owned black sand beach located on the southern coast of Iceland. It's a dramatic spot, with the peaks of the Vestrahorn mountain rising 454 metres (1490 feet) out of the flat, black surface below. The water in the lagoon is clear and gentle and is a stunning contrast against the harshness of the scenery.
What To Do There
It's too cold to swim at Stokksnes Beach, so just explore and take amazing photos. As you head towards the black sand beach, stop at the nearby Viking Café. The farmer-owner of the beach also owns the café and you'll need to pay a small amount to gain access.
How To Get There
This black sand beach doesn't always show up on maps. Take Route 99 going away from Höfn and turn onto Route 1. Turn right for Stoksness onto a road that turns to gravel. Keep going until you see the Viking Café and follow Radar Base signs until you see the mountain.
3.
Karekare Beach, New Zealand
Karekare Beach was made famous in the Academy Award movie The Piano. This black sand beach is one of Auckland's most spectacular landmarks. It's part of the Waitakere Ranges Regional Park and its natural beauty has made it a popular for artists and photographers.
What To Do There
This is a great black sand beach for swimming, surfing, and picnicking. But its beauty is the real draw. The magical landscape looks amazing in photographs and paintings, especially at sunrise and sunset.
How To Get There
Karekare Beach is 50 minutes' drive from Auckland. You can get there by car or take the number 195 bus from Auckland. Alternatively, travel to Glen Eden Train Station by train and take a taxi to the black sand beach.
Kamari Beach is one of the most popular beaches in Santorini. This black sand beach stretches for 5 kilometres of pristine black sand with deep, clear waters. It looks particularly good at night, when an enormous rock known as Mesa Vouno shines in the dark.
What To Do There
The waters at Kamari Beach are deep and clear, perfect for swimming and water-sports. Try jet skiing, windsurfing, or waterskiing, or take some kayaks out to explore the bay and the black sand beach.
How To Get There
The black sand beach that is Kamari Beach are easy to reach from the nearby town of Fira by bus. There's also a large parking lot at the beach if you've hired a car while you're in Santorini.
5.
Reynisfjara Beach, Iceland
Reynisfjara Beach is a truly unique area and it's surrounded by some of the most stunning scenery you'll see on the south coast of Iceland. Located near the small village of Vík í Mýrdal, this black sand beach boasts roaring waves and a wild appeal. It's also dotted with Reynisdrangar, freestanding sea stacks that jut into the air. They loom over the pristine black sand beach, particularly in pictures.
What To Do There
Don't try to swim at this beach. The waves are incredibly powerful and have been known to drag people out. If you want to see the beach from higher up, head to the red church in Vik town. The field behind the church is filled with hiking trail markers. Follow the signs to get a bird's eye view of the black sand beach.
How To Get There
Reynisfjara Beach is around 180 kilometres (111 miles) from Reykjavik. There are plenty of signs to guide you to this black sand beach. Just go along Route 1 and turn off on Route 215. From there, the beach is a ten-minute drive.
6.
Black Sand Beach, Lost Coast, California
Located in an underdeveloped corner of Northern California, Black Sand Beach is a wild and untamed stretch of coast. The beach is picturesque and relaxing. And because it's so isolated, you'll probably have it all to yourself. This means that you'll get amazing pictures without any strangers in the way.
What To Do There
This black sand beach is part of a popular backpacking path known as the Lost Coast Trail. It's a rugged trail that goes through areas that aren't accessible by car. You can also camp on the beach, but it isn't suitable for swimming.
How To Get There
Take a one-hour drive on Highway 101 from the town of Garberville towards Shelter Cove. Once you're in Shelter Cove, turn onto Beach Road and you'll see the signs for the Black Sand Beach parking lot.
7.
Playa Jardín, Puerto de la Cruz, Canary Islands
The sand is black, but Playa Jardín is a lively mass of bright colours and movement. It's a playful black sand beach that was deliberately designed for rest and relaxation by artist César Manrique. It offers stunning views of Mount Teide and colourful botanical gardens nestled up close to the beach.
What To Do There
Playa Jardin is a great beach for relaxation, so sit back and enjoy the scene. A lateral breakwater protects swimmers from the waves and there are also open areas for surfers. The area around the beach includes a promenade, which connects the beach to gardens, food areas, and children's playgrounds.
How To Get There
This black sand beach is easy to find. It's located in the town of Puerto de la Cruz and is accessible by car or on foot. You'll find it right next to the famous Loro Parque theme park.
Papenoo Beach is a black sand beach break that's popular amongst surfers. Not as many tourists crowd this beach, so you'll be able to enjoy its ebony sands in relative peace. This is a picture-perfect black sand beach, lined with palm trees and set against a green volcanic cliff.
What To Do There
This is a popular beach for surfing. So, if you love to test yourself against the waves, then grab your board and pit your skills against the ocean.
How To Get There
Papenoo Beach is on Tahiti's northern coast just 5 miles from the capital of Papeete. You can easily reach Papenoo Beach by car. Just make sure that you book a ride back to the city again.
9.
Miho no Matsubara, Shizuoka, Japan
The best part about this beach is the stunning view of Mount Fuji looming over the bay. This iconic sight is not to be missed, particularly when it comes with great swimming and hiking trails. Located in the Miho Peninsula, this tree-lined black sand beach is made of small stones and is surrounded by swaying palm trees.
What To Do There
There are swimming areas on the north side of this black sand beach. There's also a walking and cycling trail that follows the beach and offers beautiful views.
How To Get There
Trains and buses go to the Miho Peninsula. The Dream Ferry Mini Cruise also provides transport between Shimizu Port and the Miho no Matsubara.
Lovina Beach is a small black sand beach located in Bali. It offers the most stunning sunsets you'll ever see. This area has a gentler vibe than other parts of Bali, which can get crowded and noisy. It's a great place to relax and just enjoy the warm waters and the beach.
What To Do There
This beautiful, black sand beach offers calm waves and warm water. There are also lots of great cafes, seafood restaurants, and a boardwalk with art shops and food stalls nearby.
The most popular activity at this black sand beach is dolphin spotting. So, grab your camera and join a dolphin watch tour for a sunrise encounter.
How To Get There
The easiest way to get to this black sand beach is by car. It will take you about 3 hours to travel between Kuta and Lovina Beach. And you can stop off at other attractions along the way.
If you want a beach holiday that's a little different, then make the effort to spend some time on a black sand beach. Bring along a lovely beach umbrella for your next trip out to the beach! Your holiday photos will look amazing and impress all your friends.