20 Best Hotels in Tulum in 2021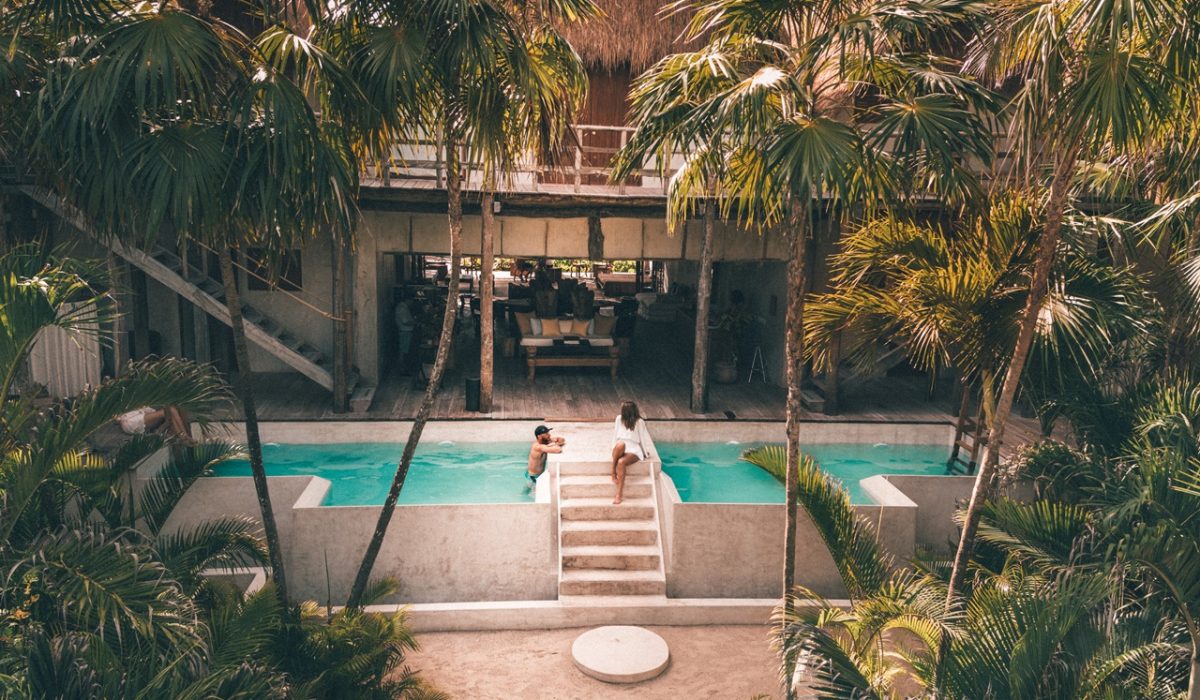 Tulum is a dream getaway along Mexico's Yucatan Peninsula with its well-preserved ruins and miles of white sand beaches. Imagine lounging under the warm sun, taking a dip in Tulum's crystal clear beaches, visiting the majestic ruins at Playa del Carmen, then retreating to the best hotel after a day out. Sounds perfect, right? But given its status as a popular tourist destination, there are plenty of Tulum hotels and Tulum resorts offering different amenities which can confuse even the most fickle-minded travelers. Do you stay at a luxury hotel for its world-class amenities or a boutique hotel offering a more personalized service?
If you're looking for a hotel or if you're not sure where to stay in Tulum, here's the rundown on the best hotels in Tulum! From charming boutique hotels, beach hotels, family-friendly ones, and even adults-exclusive stays, you'll find your perfect hotel in Tulum!
(Take note that prices per night depend on the season and are subject to change without prior notice.)
1. La Zebra a Colibri Boutique Hotel
Address: Carretera Tulum a Boca Paila Km 8.2, Ejido Pino Suarez,, 77780 Tulum, Mexico
Price: Starts at 667 USD per night
La Zebra a Colibri Boutique Hotel has everything you need for a fun and relaxing vacation in Tulum. Its air-conditioned rooms range from simple ones with garden views to beachfront suites with private plunge pools. All of its white rooms with wooden elements blend in harmony with the surrounding nature. On top of that, all rooms have a minibar and locally sourced organic toiletries.
The dining experience is also a highlight at La Zebra, with the eight-course Chef's Table being a must-try. Here, guests are treated to a sumptuous tasting menu featuring Mexican dishes paired with signature cocktails, artisanal beer, and local wines. The boutique hotel also offers mixology classes, rejuvenating spa treatments, and excursions to archaeological sites and Mayan ruins.
2. Casa Malca
Address: Carretera Tulum-Boca Paila Km 9.5, 77780 Tulum, Mexico
Price: Starts at 692 USD per night
Casa Malca's claim to fame is that it was the former home of Pablo Escobar, a well-known drug lord. Today, it is a secluded luxury accommodation near the Sian Ka'an Biosphere Reserve. All suites have views of the gardens or the Caribbean sea, complete with Persian rugs and pesticide-free organic linen. Moreover, on-site restaurants feature Yucatan, Asian, and American cuisine, using locally sourced ingredients.
Outside this infamous Pablo Escobar hotel in Tulum, take a dip in the pool or on the clear waters of the white sand beach. Relax and unwind by joining a yoga session or head to the steam rooms or the underground pool. Guests can also enjoy a variety of wellness treatments and massages at the hotel spa or within the comforts and privacy of their rooms.
3. The Beach Tulum
Address: Road Tulum-Boca Paila km 7, 77780 Tulum, Mexico
Price: Starts at 868 USD per night
The Beach Tulum is an adults-only hotel set in the middle of Tulum's famed Hotel Zone. The beachfront hotel offers air-conditioned rooms and suites with gorgeous views of the Caribbean Sea. In addition, rooms on the ground floor come with a patio, plunge pool, and direct access to Tulum beach. Meanwhile, rooftop rooms boast a hammock and a hot tub complete with sun loungers.
But there's more to the hotel than its amazing rooms! There are outdoor pools surrounded by gardens, two on-site restaurants, and daily yoga classes for its guests. For couples spending their honeymoon, The Beach is one of the best hotels in Tulum to stay at. You can arrange a romantic dinner in your room or the hotel's pool and garden area complete with music and flower arrangements.
4. Be Tulum Beach & Spa Resort
Address: Carretera Tulum Boca Paila Km. 10, 77780 Tulum, Mexico
Price: Starts at 700 USD per night
Tucked beneath dozens of palm trees is Be Tulum Beach & Spa Resort, a beautiful boho chic accommodation. Upon arriving at the entrance, guests can immediately feel the warm and earthy atmosphere from the decor and interiors, which are reflected throughout the property. Depending on the room, guests can enjoy the luxury of having an indoor shower, outdoor shower, plunge pools, or hot tub.
The spa complex features thatch walls and whitewashed halls containing hydrotherapy pools, sauna, and private treatment rooms. In addition, the hotel also has a temazcal, a traditional low-heat sweat lodge that revitalizes the body and spirit.
5. Papaya Playa Project
Address: Km 4.5 Carretera Tulum Boca Paila, 77780 Tulum, Mexico
Price: Starts at 372 USD per night
Papaya Playa Project is amongst one of the sustainable eco-chic hotels in Tulum. Located along the white sand beaches of the Riviera Maya, the hotel was built using locally sourced materials such as wood, bamboo, clay, and palapa. Its rooms exude a rustic ambiance, ranging from simple bungalow rooms with garden views to cottages with rooftop pools.
The meals served use organic ingredients sourced locally and guests can sample traditional Mayan and Mexican food. On select days, the hotel hosts weekly programs like yoga sessions, kitesurfing lessons, dinner and live music, and other fun activities. Papaya Playa Project is also part of the Design Hotels partnered with Marriott Bonvoy so guests can receive benefits using the rewards system.
6. Mi Amor a Colibri Boutique Hotel
Address: Carretera Tulum-Boca Paila km 1, 77780 Tulum, Mexico
Price: Starts at 574 USD per night
Mi Amor a Colibri Boutique Hotel is one of the best hotels in Tulum for couples. The secluded adults-only getaway is perched on a small rocky hill, offering spectacular ocean views. Its rooms have simple rustic furnishings and more upscale ones have plunge pools and terraces. Guests also have the choice of having a room with jungle, garden, or ocean views.
The spa at Mi Amor hotel offers an impressive range of massages and treatments, including herb-infused healing baths and hot stone therapy. Although the beach at the hotel isn't safe for swimming because of its rocky surroundings, the beachfront infinity pool makes up for it. But if you want to take a swim at the beach, Playa Paraiso is only a short walking distance away from the hotel.
7. Jashita Hotel
Address: Punta Soliman, 77780 Tulum, Mexico
Price: Starts at 648 USD per night
Jashita Hotel has it all for you—family-friendly suites, penthouse rooms, and honeymoon suites for couples. Its wide range of rooms along with its excellent services make it one of the best hotels in Tulum. All rooms and suites have the luxury of a plunge pool, balcony, and minibar. Guests at penthouses and honeymoon suites even get extras such as a welcome bottle of Italian prosecco and chocolates.
Outside the rooms, the upscale boutique hotel boasts three outdoor pools: a kid-friendly pool, an adults-only pool, and a rooftop adults-only pool. The on-site restaurant also serves fresh and handmade Italian and Mexican cuisine using homegrown ingredients. Furthermore, the crystal clear waters of Soliman Bay are also near Jashita Hotel, perfect for water sports enthusiasts to go kayaking and snorkeling. If you're lucky, you may even get a chance to see a sea turtle swimming with you!
8. Nômade Tulum
Address: Carretera Tulum-Boca Paila Km 10.5, 77780 Tulum, Mexico
Price: Starts at 428 USD per night
Nômade Tulum is one of the most sustainable hotels in Tulum, committed to a carbon-neutral operation. Its fully air-conditioned rooms, ranging from canopied tents to intimate treehouses, have boho chic elements with thatched roofs, wooden furniture, and locally made handicrafts. The surrounding gardens and view of the ocean complete the overall rustic look of the hotel.
Its services are centered on wellness and spirituality, offering sound healing, temazcal ceremonies, and daily yoga sessions. The on-site restaurants serve seafood and Middle Eastern cuisine all made from locally sourced ingredients.
9. Villa Pescadores Tulum
Address: Carretera Tulum – Ruinas Km 0.5, 77780 Tulum, Mexico
Price: Starts at 200 USD per night
Located a few minutes away from town, Villa Pescadores Tulum is one of the best hotels in Tulum for eco-conscious tourists. It offers rustic bungalows and Mayan-inspired huts built with local materials and palapa roofs. Enjoy views of the garden or ocean as you relax at the terrace or on the hammock. All rooms also come with all-natural and locally sourced handmade products.
There's no pool at Villa Pescadores, but who needs one when you have a wide strip of white sand beach in front of you? Join fishing tours, snorkeling tours, or simply swim across Playa Pescadores' blue seas. Perfect your tan and lounge at one of the sunbeds along the shore or join a game of beach volleyball as you soak up the warm sun.
10. La Valise Tulum
Address: Carr. Tulum – Bocapaila km 4, 77780 Tulum, Mexico
Price: Starts at 578 USD per night
La Valise Tulum combines the beauty of the beach and jungle, creating the perfect adults-only escape. It has 11 spacious rooms, complete with wooden furnishings, white linens, and local handicrafts. The luxurious master suite, in particular, boasts an elevated location with a bathtub and a wide private terrace.
Like the other hotels in Tulum, La Valise Tulum also offers a range of nature and wellness-related activities. Join a private yoga class, a chakra harmonizing ceremony, or indulge in a full-body massage. Foodies in particular will also love the mezcal tasting sessions where you can learn about the history and tasting techniques of the agave-based drink.
11. Encantada Tulum
Address: Km 8.7 Carretera Tulum Boca Paila, 77780 Tulum, Mexico
Price: Starts at 471 USD per night
With only eight rooms, Encantada Tulum is one of the smaller hotels in Tulum. However, it comes with a private beach, making it the perfect intimate getaway for couples. All rooms have air conditioning, free WiFi, a walk-in shower, and views of either the garden or the ocean. Its amenities are on the simpler side, with thatched palapa umbrellas and inviting sunbeds.
The hotel also offers wellness programs like yoga, spa treatments, and Mayan ceremonies like sound healing, cacao ceremony, and lunar ceremony. At the on-site restaurant, discover modern Mexican cuisine, join cooking classes, or partake in a mezcal tasting session.
12. Coco Hacienda Tulum
Address: Avenida Tulum, Tulum City Centre, 77760 Tulum, Mexico
Price: Starts at 86 USD per night
Once a plant nursery, Coco Hacienda Tulum is a refreshing escape in the middle of Tulum's city center. This boutique hotel offers 19 rooms in three different themed areas offering a unique side of the hotel. The Hell Yeah! section boasts an infinity pool and rooms suited for artsy travelers. Meanwhile, the Oasis section will make you feel as if you're in a Mayan jungle thanks to its palapa ceiling and garden. Lastly, the Casita section offers traditional Mexican design elements and a relaxing curved pool.
Coco Hacienda Tulum has an on-site restaurant that whips up comfort Mexican cuisine with a high-end twist. Furthermore, there is also a cafe that serves gluten-free and plant-based options for healthy eaters.
13. Ana y Jose Hotel & Spa Tulum
Address: Carretera Tulum Bocapaila Km 7, 77760 Tulum, Mexico
Price: Starts at 246 USD per night
Enjoy easy access to Tulum's sandy shores and tourist attractions at Ana y Jose Hotel & Spa Tulum. The boutique hotel offers thoughtfully designed suites with wooden elements, framed artworks, and ethnic pieces. Guests also have the option of having garden, jungle, or ocean views. But for families or large groups, the exclusive villa with a large private pool is a great option.
The atmosphere at Ana y Jose Hotel may be casual and laid-back, but it provides top-notch amenities and services. Tantalize your taste buds with fresh seafood and sumptuous meals from breakfast to dinner at the on-site restaurant. After a day out, pamper yourself with a relaxing body treatment or a Mayan mud massage at the spa. Because of its location, it's easier for guests to visit places like the Tulum ruins, the Sian Ka'an Biosphere Reserve, and nearby establishments.
14. Sueños Tulum
Address: Zona Hotelera Tulum Km 8.5, 77780 Tulum, Mexico
Price: Starts at 385 USD per night
Looking for eco-chic hotels in Tulum? Sueños Tulum is a great option for you! The Mayan-themed accommodation is located along the Hotel Zone with a swoon-worthy beachfront. Furthermore, it is powered by solar energy, runs its recycling program, collects rainwater, and limits its use of plastic to maximize sustainability.
Sueños Tulum's 13 beachfront suites and villas are all exquisitely hand-painted and decorated with Mayan and Pre-Hispanic decor. Its theme also extends to the bathrooms, adorned with hand-painted Talavera tiles to give it a unique flair. For a taste of Mexican cuisine, join the hotel's unique culinary experience. Feast on a seven-course meal that takes you through Mexico's past and future paired with traditional and modern drinks. What's even better is that the hotel uses locally sourced ingredients so you know you're getting the best and most authentic food.
15. Hotel Panamera Tulum
Address: Carretera Tulum-Boca Paila KM 8.5, 77780 Tulum, Mexico
Price: Starts at 191 USD per night
Hotel Panamera Tulum is one of the best boutique hotels in Tulum, offering only 14 rooms with a gorgeous setting. The beachfront hotel offers dreamy whitewashed rooms with minimal decor, save for a few plants. All rooms are also equipped with a patio, ensuite bathroom, air conditioning, and free toiletries. But outside its rooms, the hotel boasts colorful and stylish surroundings.
The hotel's centerpiece, the saltwater pool, features eye-catching tilework that goes well with the striped chairs and loungers. Along the shore, find blue-hued sunbeds and beach umbrellas where you can lie down and relax. Although Hotel Panamera doesn't have a full spa, guests can make use of the in-room treatment menu.
16. Copal Tulum
Address: Aldea Zamá, Calle Ixchel, Av Juanek esquina, 77760 Tulum, Q.R., Mexico
Price: Starts at 119 USD per night
Between the beach area and the busy city center is Copal Tulum Hotel. Its apartment-style accommodations feature a harmony of urban designs with natural finishes like bamboo and wood. With modern spacious rooms, the hotel is a great choice for families and large groups.
All rooms come with a terrace overlooking the jungle while deluxe rooms and apartments have the added luxury of a private pool. For guests looking for some sun, Copal Tulum features a rooftop infinity pool complete with sun loungers. The accommodation also offers spa services and bike rentals at an additional fee.
17. Orchid House Tulum
Address: Aldea Zama Calle Kinich Na, Zama, 77760 Tulum, Mexico
Price: Starts at 160 USD per night
Orchid House Tulum is a serene tropical escape in the upscale Aldea Zama neighborhood. Its tropical theme is reflected in the 10 bedrooms, designed with antique furniture and textiles made by local artisans in Mexico. In addition, some suites also have a plunge pool that overlooks the jungle.
With its nature-inspired theme, the main highlight of Orchid House Tulum is its pool bar where guests can take a dip while sipping on handcrafted drinks. The restaurant offers Mexican cuisine using season-dependent ingredients. For those who would like to hit the beach, Las Palmas Beach and Paradise Beach are only a short drive away.
18. Dune Boutique Hotel
Address: Carretera Tulum Boca Paila Km 7, 77780 Tulum, Mexico
Price: Starts at 256 USD per night
Surrounded by tall palm trees and Tulum's gorgeous waters, Dune Boutique Hotel offers a cozy yet chic place to stay. Its rooms have a tropical-rustic feel to them, featuring huge dreamcatchers and wooden furnishings. These elements, combined with the palapa roofs and whitewashed walls of the room, create a perfect atmosphere for a relaxing getaway.
Whether you want a simple room with a terrace or luxurious oceanfront suites with private pools, Dune Boutique Hotel has it for you. Enjoy a fusion of Mediterranean and international cuisine with gluten-free and vegan options at the on-site restaurant. Aside from its daily yoga sessions, the hotel also takes pride in its holistic massages, temazcal rituals, and full moon ceremonies.
19. Hotel Bardo
Address: AV LA SELVA ENTRE KOHUNLICH, Xcaret Y, Tulum City Centre, 77780 Tulum, Mexico
Price: Starts at 350 USD per night
While most Tulum hotels are located in the hotel zone, Hotel Bardo is more relaxed and less busy. The adults-only accommodation also features loft-style villas with a private outdoor space complete with a hammock, garden, and a plunge pool. Its bohemian-jungle decor fits well with the overall environment, surrounded by tall trees that will make you feel as if you're far from the city.
At Hotel Bardo, WiFi is available, but guests are highly recommended to disconnect and spend time with nature. With wellness as its focus, guests can also immerse themselves in different curative experiences through temazcal, sound healing sessions, and more. The beach area is relatively far from Hotel Bardo so guests need to use bikes or the shuttle service (at an additional cost) to go around.
20. Playaakun Eco-Lux Beach Villa
Address: Carretera Tulum-Punta Allen, Sian Ka'an, Tulum 77760, México
Price: Starts at 3,750 USD per night
Experience a slice of paradise at Playaakun Eco-Lux Beach Villa! It may be one of the more expensive Tulum hotels, but it is undeniably one of the most beautiful, complete with an ocean-facing pool and deck. Located in the Sian Ka'an Biosphere Reserve, the villa is perfect for small groups who prefer having their retreat. Rates for Playaakun include all meals, a personal manager, housekeeper, beach access, personal chef, and staff.
The beachfront hotel has five bedrooms and the whole villa can accommodate up to 14 people. Furthermore, all rooms have air conditioning, an ensuite bathroom, and views of the ocean or the lush gardens. Since Playaakun Eco-Lux Beach Villa is in a protected biosphere, the hotel adheres to strict ecological standards. Electricity is powered by solar panels, making it carbon neutral, and organic waste is treated on-site.
Have a Memorable Vacation at the Best Hotels in Tulum
Complete your beach getaway and find the perfect Tulum hotels for you! With different price points, unique features, and great locations, there are just so many choices for you. Whether you want to stay at a beachfront hotel or somewhere near the city center, there's a perfect hotel for you. Couples will also love hotels that come with a private beach and a beach club, perfect for a romantic and cozy evening.
With all these choices, we hope you find your dream hotel that can make your vacation a once-in-a-lifetime experience.