Where To Eat The Best Korean BBQ In Los Angeles, California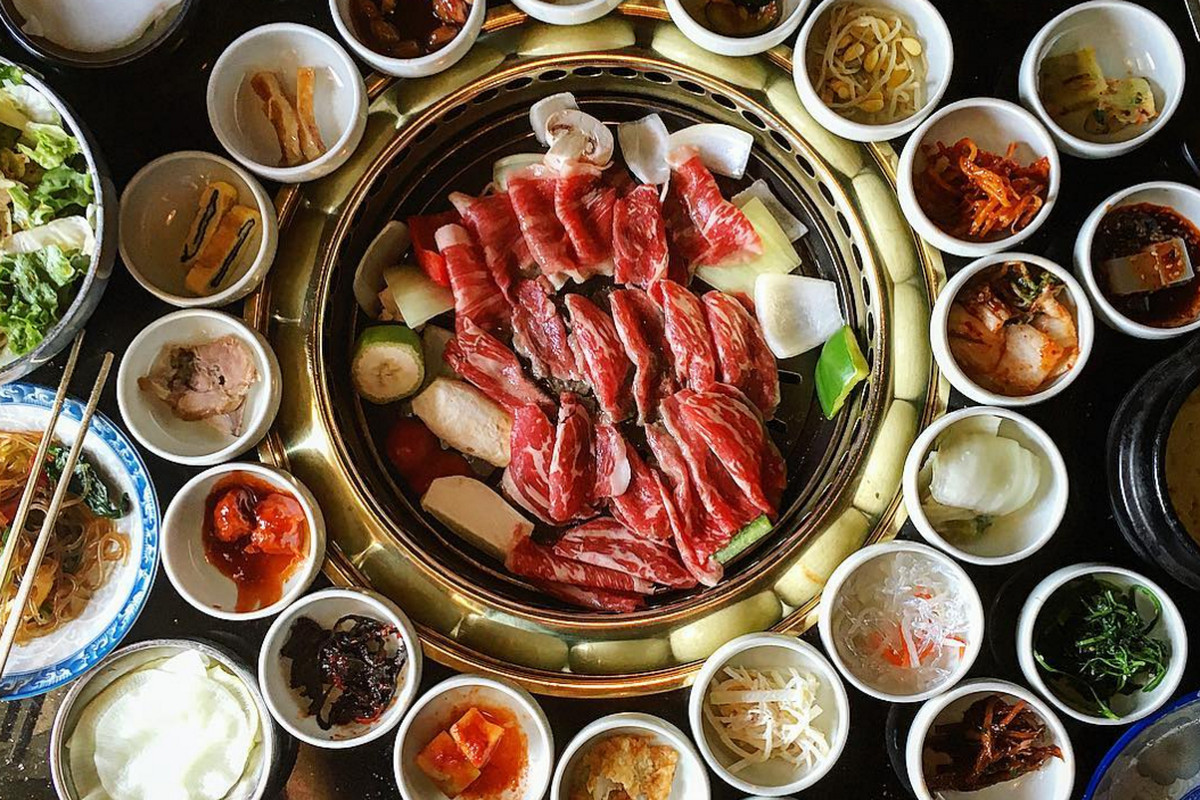 The best thing about travelling is trying out different cuisines no matter where you go. It's no longer strange to eat Thai food in Paris, Indian food in London or Korean barbecue in Los Angeles.
As a tourist in Los Angeles, you have a lot of sightseeing to do and an array of restaurants to choose from. However, one thing is certain – you must visit K-town and try out some of the best Korean BBQ specialities out there.
Since K-town is becoming more and more popular as a tourist destination, Park's BBQ is getting more crowded. This restaurant is popular because of its high-quality beef and other meats. Locals would say it's an institution.
Some might think this place is overpriced compared to other Korean restaurants. However, the service and the atmosphere, besides the good food, at Park's BBQ are certainly worth it.


Park's BBQ
Address: 955 S Vermont Ave G, Los Angeles, CA 90006, USA
2.
Hae Jang Chon Korean BBQ restaurant
What makes Hae Jang Chon stand out in a plethora of Korean BBQ restaurants in LA is its unlimited amount of delicious side dishes like salted veggies and fish cakes. Meat enthusiasts love this place because of the beef brisket, pork belly, and steak.
This Korean barbecue place might be quite small, but people love it because it's very traditional which enhances the whole dining experience.
Hae Jang Chon Korean BBQ restaurant
Address: 3821 W 6th St, Los Angeles, CA 90020, USA
Those who are into romance would love Oo-Kook Korean BBQ because of its dimly lit and fancy-looking restaurant. However, this isn't the only reason why people love this place. It's all-you-can-eat at Oo-Kook so make sure to order a variety of food because it's tasty, especially their sirloin beef, beef belly, and duck breasts.
However, they could still improve on side dishes and offer more variety if they want to keep up with other Korean BBQ places. Just a side tip – make sure to book this place if you plan to come in a large group. It can be a lifesaver!
Oo-Kook Korean BBQ
Address: 3385 W 8th St, Los Angeles, CA 90005, USA
Genwa Korean BBQ is probably one of the rare places where you won't end up smelling like meat. Their banchan is at a whole other level. They also serve an awesome selection of egg seaweed, potato salad, white kimchi, and peppers.
If you love duck meat, then you should definitely visit Genwa Korean BBQ. The taste of the duck fried rice will amaze you. Egg and tofu soup at this restaurant will blow your mind, but so will their spicy pork. Bonus points for Genwa Korean BBQ are certainly some free candy after a meal.
Genwa Korean BBQ
Address: 170 N La Cienega Blvd, Beverly Hills, CA 90211, USA
5.
Soot Bull Jeep restaurant
Let's face it. Korean BBQ restaurants are abundant in Los Angeles, but how many of them use charcoal? If you'd like to get the prime experience, you should visit Soot Bull Jeep. They use charcoal which gives the food some special tastes and flavours.
However, you might need a shower and a change of clothes later because it can get very smoky inside. This might be the only disadvantage of this restaurant since it's one of the rare Korean BBQ places that have free parking lots. This alone makes it a win in Los Angeles.
Soot Bull Jeep restaurant
Address: 3136 W 8th St, Los Angeles, CA 90005, USA
For those who are hunting for delicious, high-quality and spicy duck slices, Sun Ha Jang is a perfect place for you to try. This restaurant serves duck meat only with a variety of different side dishes. The meat is flavorful and tender. It melts like butter in your mouth.
At the end of the meal, they make a duck fried rice dish that's simply mouthwatering so you don't need to order additional rice before. However, the portions are rather small and pricey, but there are parking lots outside which is a big bonus.
Sun Ha Jang BBQ
Address: 4032 W Olympic Blvd, Los Angeles, CA 90019, USA
7.
Soowon Galbi KBBQ Restaurant
This Korean restaurant is one of the few Korean BBQ places in LA that boasts high-quality food, friendly staff, and cleanliness. They are more on the pricey side, but it's worth it. Must-try items in Soowon Galbi Korean BBQ are the Seng Galbi, a non-marinated short-rib, and the Kkot Salt, a prime rib.
Side dishes are always fresh and very thoughtfully prepared. Experimenting with food doesn't always come easy, but cilantro kimchi in Soowon is definitely worth it.
Soowon Galbi KBBQ Restaurant
Address: 856 Vermont Ave B, Los Angeles, CA 90005, USA
Even though this restaurant isn't as popular as Park's BBQ, the quality of the meats is top notch. You can choose from a wide array of meats such as a marinated short-rib, a steak or a pork belly.
What makes this place unique among Korean BBQ places is its lively atmosphere. This makes Quarters Korean BBQ perfect for hanging out with friends and family.
Quarters Korean BBQ
Address: 3465 W 6th St, Los Angeles, CA 90020, USA
Even though it's not an all-you-can-eat restaurant, locals still recommend Magal BBQ. That's because everything tastes great – from pork to beef to side dishes and rice. Magal BBQ is one of Korean BBQ grill restaurants that are well-known for grilled squid.
Additionally, grilled mushrooms and pineapple are so flavorful that they make people return to Magal BBQ. The dining area is modern with barrel style seating, which makes this restaurant even more attractive to couples and friends.
Magal BBQ
Address: 3460 W 8th St, Los Angeles, CA 90005, USA
Even though Majangdong is one of the newest Korean BBQ restaurants in LA, it's becoming more and more crowded because it specializes in intestine dishes. The quality of their meat is also very high.

They also serve fried rice made of leftover intestines. However, they should work on implementing more side dishes in order to make the menu more attractive.
This Korean BBQ grill place can definitely compete with the rest of the top-rated Korean restaurants in LA. Trying their Soybean paste soup and slushie-Soju is a must. Moreover, the service is attentive and outstanding, which certainly means a lot when you have tough competition in the city of angels.
Majangdong Restaurant
Address: 3063 W 8th St, Los Angeles, CA 90005, USA
In a nutshell, one thing is certain – Los Angeles might as well be a paradise for Korean cuisine enthusiasts. That rich array of flavours, spices and tastes will win you over once you give it a chance.
Once you get your fill of Korean BBQ in LA, here are some things to do in the city to burn off those calories! It's not every day you get to be in the city of angels and movie stars.