Warwick Castle: All You Need To Know In 5 Minutes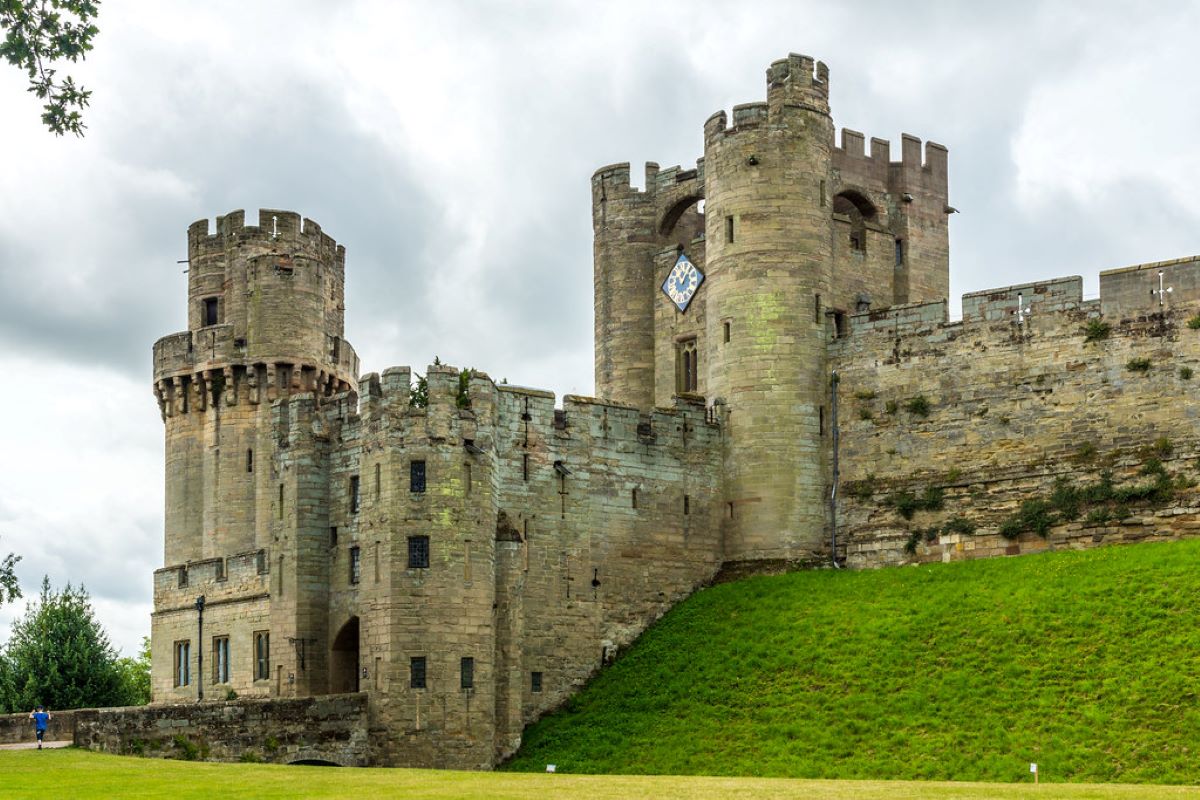 Deceit, murder, treachery. These terms sound like the premises for a new Netflix thriller movie, don't they? Well, while Netflix films and all are exciting, nothing can be more hair-raising than actual factual events. At Warwick Castle, you can immerse yourself into real-life dark tales of England's history.
With roots tracing back to more than 1,100 years ago, Warwick Castle has seen its fair share of blood and war. This magnificent castle's entanglement with the gruesome history of England includes monumental events like The English Civil War and The War of Roses.
Having served as a fortification, a place of residence for royalty and even as a prison, every stone in Warwick Castle teems with cultural and educational value.
Warwick Castle Main Attractions
Dungeon of Warwick Castle at Caesar's Tower
History always leaves traces and in Warwick Castle, the evidence of the past has manifested in the forms of graffiti left behind by prisoners locked up in the dungeons hundreds of years ago. It's a chilling yet enlightening experience that's sure to stay etched in your mind long after your visit to Warwick Castle is over.
Blast to the past: Live display of jousting and archery
History comes to life at Warwick Castle with their famous live jousting and archery shows. The live history displays instantaneously transport you back to a time long gone, and are sure to captivate every single person, young or old.
Getting To Warwick Castle
Warwick Castle is located at Warwickshire, the Midlands. With close links to Britain's motor network, Warwick Castle is easily accessible from both London and Birmingham.
By car
Routes are well sign-posted, do follow the signs and you'll arrive at Warwick Castle in no time! Warwick Castle is less than two miles from Junction 15 of the M40.
If you need the address for your GPS: Warwick Castle, Warwick, Warwickshire, CV34 6AH
By train
Warwick Castle is approximately 1 mile away from Warwick Station. For greater convenience, you can consider booking the Warwick Castle by Rail Experience operated by Evan Evans.
By plane
Situated only a 40-minute drive away from Birmingham International Airport, travelling by plane to Warwick Castle is also a viable and convenient option.
Warwick Castle Opening Hours
Warwick Castle is open throughout the year, except for Christmas Day when the attraction is closed. The castle opens at 10am every day, but closing times vary depending on the season and special events. You can refer to the table below for a quick breakdown of their opening times for 2019:
Month
Opening Times
10am – 4pm
10am – 5pm
10 am – 6pm
10 am – 10pm
January
7th – 31st
1st – 6th
–
–
February
1st – 28th
–
–
–
March
1st – 31st
–
–
–
April
1st – 5th,29th – 30th
6th – 28th
–
–
May
1st – 3rd,7th – 24th
4th – 6th, 25th – 31st
–
–
June
–
1st – 30th
–
–
July
–
1st – 31st
–
–
August
–
1st – 31st
–
–
September
2nd – 30th
1st
–
–
October
1st -18th
–
19th – 23rd
24th – 31st
November
4th – 29th
30th
1st – 3rd
–
December
2nd – 6th,9th – 13th,16th – 20th
1st,7th – 8th,14th – 15th,21st – 24th,26th – 31st
–
–
Warwick Castle Tickets & Guided Tours
Tickets
Prices from
On the day
Online
Castle
£28
£19
Castle + Dungeon
£33
£24
Warwick Castle Annual Pass
–
£35
Short Breaks
–
£43
It is recommended that you purchase your tickets to Warwick Castle online as doing so entitles you to a discount!
Special deals of notable mention include the Warwick Castle Annual Pass which grants 12 months entry to the Castle, Grounds and Gardens. Other perks of the Warwick Castle Annual Pass include a 20% discount in shops and restaurants, as well as 50% off tickets for Family and Friends.
Meanwhile, the Short Breaks ticket entitles you to 2 days entry to Warwick Castle, as well as accommodation at Woodland Lodges and Glamping tents. Furthermore, guests get to enjoy complimentary car parking. Furthermore, to top off this already sweet deal, breakfast is included!
Dining Options At Warwick Castle
Feeling peckish? Fret not for Warwick Castle is well equipped with various restaurants for hungry visitors to choose from.
If you're feeling like pizza, The Undercroft Restaurant has you covered. Eat your fill from a wide variety of warmly baked pizzas. If you're feeling extra hungry, the restaurant offers an All You Can Eat Pizza and Pasta Buffet for an affordable price of £7.50 per child and £12.95 per adult.
If pizza is not your thing, you can head over to the Coach House Family Restaurant instead. Ranging from traditional fish-and-chips to a roasted chicken quarter, this restaurant offers a huge selection of warm, hearty meals.
Accommodation At Warwick Castle
Warwick Castle offers three unique styles of accommodation for visitors to select from.
Go back in time to Medieval England in your very own Medieval-themed Lodge. Located on the picturesque banks of River Avon, the lodges at Warwick Castle promises an enchanting and homely stay.
If you're looking for a more quirky experience, Medieval Glamping offers a one-of-a-kind experience to enjoy the adventure of camping but with the full comforts of a usual hotel room. Fully equipped with free WiFi as well as free flow hot drinks throughout the night, a stay Medieval Glamping at Warwick Castle is sure to be relaxing!
Lastly, if you've ever wondered how living like royalty would be like, here's your chance to experience a night sleeping like royalty. Tower Suites, located right in Warwick Castle, adds a touch of luxury to your experience. After all, there's nothing better to wrap up your day at Warwick Castle than unwinding like Kings and Queens do!
Other Popular Tourist Destinations Near Warwick Castle
The Mill Garden
Reconnect with Mother Nature as you stroll along this scenic garden. Situated on the banks of River Avon, just beneath Warwick Castle, the immaculate Mill Garden is an enchanting and perfect spot for a break for the tired soul.
Warwickshire Yeomanry Museum
Still fascinated by the torrid tales of war at Warwick Castle? Just 0.1km away from Warwick Castle, Warwickshire Yeomanry Museum is a specialty museum dedicated to the soldiers who have served in the Warwickshire Yeomanry. Teeming with artefacts about the past Regiment, the museum is an educational hotspot where you can continue your quest for knowledge about the military history of England.
Final Thoughts On Warwick Castle
Humans are naturally attracted to dark tales of horror and all things twisted. Warwick Castle is the best place to quench your curiosity about the bloody days of the past. So, head on down now for a frighteningly good time!