Which States Border Yellowstone National Park?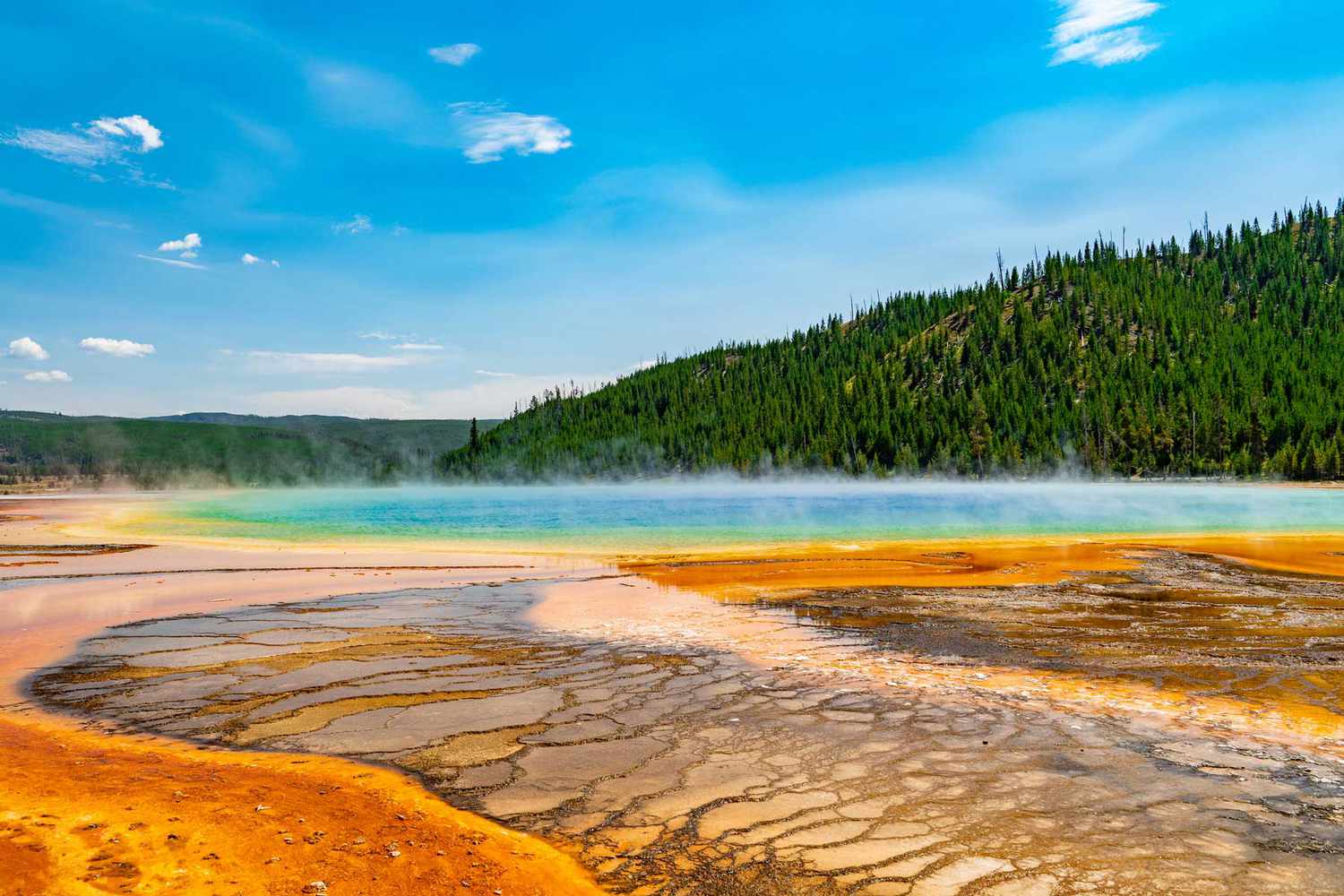 Montana
Montana, also known as the "Treasure State," is located in the western United States and is home to vast wilderness and breathtaking natural landscapes. One of its most famous features is its border with Yellowstone National Park, making it an ideal starting point for exploring the park. The state of Montana shares its northern border with the park, spanning approximately 50 miles. This region is known as the North Entrance, and it offers visitors a gateway to Yellowstone's wonders. Visitors can enter the park through the historic Roosevelt Arch, a monumental structure that stands as a symbol of the park's grandeur. Once inside the park, travelers will find themselves surrounded by awe-inspiring sights, such as the iconic Old Faithful geyser, Mammoth Hot Springs, and the vibrant Grand Prismatic Spring. Montana's border with Yellowstone provides access to some of the park's most famous landmarks and attractions. In addition to being a gateway to Yellowstone, Montana offers its own unique natural wonders. The state is home to Glacier National Park, often referred to as the "Crown of the Continent." This park boasts over one million acres of pristine wilderness, including stunning alpine meadows, towering mountains, and glacial lakes. Visitors can explore the Going-to-the-Sun Road, hike through the picturesque Many Glacier region, or embark on a wildlife-watching adventure. Montana also provides ample opportunities for outdoor enthusiasts, with activities such as hiking, fishing, camping, and river rafting. The state's diverse landscapes, ranging from the Rocky Mountains to the expansive plains, offer endless possibilities for adventure and exploration. In terms of accommodations, Montana offers a variety of options for visitors. There are cozy lodges and cabins near the park entrance, where travelers can relax after a day of exploration. Alternatively, camping enthusiasts can choose from a multitude of campgrounds dotted throughout the state, offering a chance to immerse themselves in the beauty of nature. When it comes to dining, Montana is known for its hearty cuisine. From savoring juicy steaks and game meats to indulging in freshly caught trout from the state's pristine rivers, there is something to satisfy every palate. Overall, Montana's border with Yellowstone National Park provides an ideal starting point for an unforgettable adventure. Whether exploring the wonders of Yellowstone or venturing into Montana's own natural treasures, visitors are sure to be captivated by the state's beauty, charm, and sense of adventure.
Idaho
Idaho, known as the "Gem State," is located in the northwestern part of the United States and shares a border with Yellowstone National Park. This often-overlooked state offers visitors a wealth of natural beauty and outdoor activities, making it an ideal destination for nature enthusiasts. Yellowstone's western border reaches into Idaho, providing access to the park's wonders from this side as well. The town of West Yellowstone, situated in Idaho, serves as a popular gateway to the park. From here, visitors can embark on thrilling adventures and explore the diverse ecosystems and geological marvels that Yellowstone has to offer. In addition to its proximity to Yellowstone, Idaho boasts its own impressive natural attractions. The state is renowned for its abundant wilderness areas, including the spectacular Sawtooth Mountains and the lush forests of the Clearwater National Forest. These areas provide incredible opportunities for hiking, camping, fishing, and wildlife spotting. Idaho is also home to the Frank Church-River of No Return Wilderness, one of the largest wilderness areas in the United States. Spanning over two million acres, this pristine landscape offers outdoor enthusiasts endless possibilities for exploration and adventure. Visitors can take part in activities such as whitewater rafting on the Salmon River, backpacking through rugged mountain ranges, or simply enjoying the serenity of nature. For those seeking a taste of history, Idaho has several historic sites and attractions. The city of Idaho City, once the largest city in the Pacific Northwest during the gold rush of the 1800s, is now a preserved ghost town that provides a glimpse into the state's rich past. In terms of cuisine, Idaho is known for its famous potatoes. Visitors can savor delicious dishes featuring this versatile ingredient, from classic mashed potatoes to creative preparations like loaded potato skins. Additionally, the state is home to numerous breweries and wineries that offer tastings of locally crafted beverages. Accommodations in Idaho range from cozy lodges and cabins near national parks to charming bed and breakfasts in picturesque mountain towns. Camping is a popular option, with various campgrounds and RV parks scattered throughout the state. Whether using Idaho as a base for exploring Yellowstone National Park or embarking on an adventure within the state's borders, visitors will find themselves immersed in the beauty and tranquility of Idaho's natural landscapes. From towering mountains to pristine lakes and winding rivers, Idaho offers a refreshing escape for outdoor enthusiasts and those seeking a deeper connection with nature.
Wyoming
Wyoming, famously known as the "Cowboy State," is located in the western United States and shares the majority of its border with Yellowstone National Park. This makes Wyoming an essential destination for those looking to fully immerse themselves in the wonders of the park. Yellowstone's southern border stretches into Wyoming, offering visitors access to an array of breathtaking natural features. The iconic geothermal wonders of the park, such as the mesmerizing Grand Prismatic Spring and the famous Old Faithful geyser, are easily accessible from the Wyoming side. Additionally, the scenic Teton Mountain Range, with its jagged peaks and pristine alpine lakes, is just a short distance away from Yellowstone. Wyoming's proximity to Yellowstone makes it an ideal starting point for outdoor enthusiasts. The state is renowned for its vast wilderness areas, including the majestic Grand Teton National Park and the rugged Absaroka Range. These areas offer opportunities for hiking, wildlife viewing, mountaineering, and camping, allowing visitors to fully immerse themselves in the beauty of Wyoming's natural landscapes. In addition to its natural wonders, Wyoming also showcases a rich cultural heritage. The state is known for its cowboy culture, which is evident in its rodeos, ranches, and western-style towns. Visitors can experience the thrill of a rodeo, witness a cattle drive, or explore museums that highlight the state's cowboy history. Wyoming is also famous for its archaeological sites, including the ancient rock formations of Devil's Tower National Monument and the prehistoric fossils at the Wyoming Dinosaur Center. These sites offer a glimpse into the state's geological and paleontological past, adding another layer of fascination for visitors. When it comes to accommodations, Wyoming offers a range of options to suit different preferences. Visitors can choose from luxury resorts and lodges, rustic cabins, or campsites in the heart of nature. Whichever option you choose, you'll be able to experience the true essence of Wyoming's wild beauty. In terms of dining, Wyoming boasts a diverse culinary scene. From savoring juicy steaks at an authentic cowboy steakhouse to indulging in local delicacies such as bison burgers and trout dishes, there is something to please every palate. Overall, Wyoming's border with Yellowstone National Park provides an exceptional opportunity for nature lovers to explore some of the most extraordinary landscapes in the United States. Whether you venture into the unspoiled wilderness of the state's national parks or immerse yourself in its cowboy culture, Wyoming is sure to leave a lasting impression on visitors.