Best Things To Do In Hudson, NY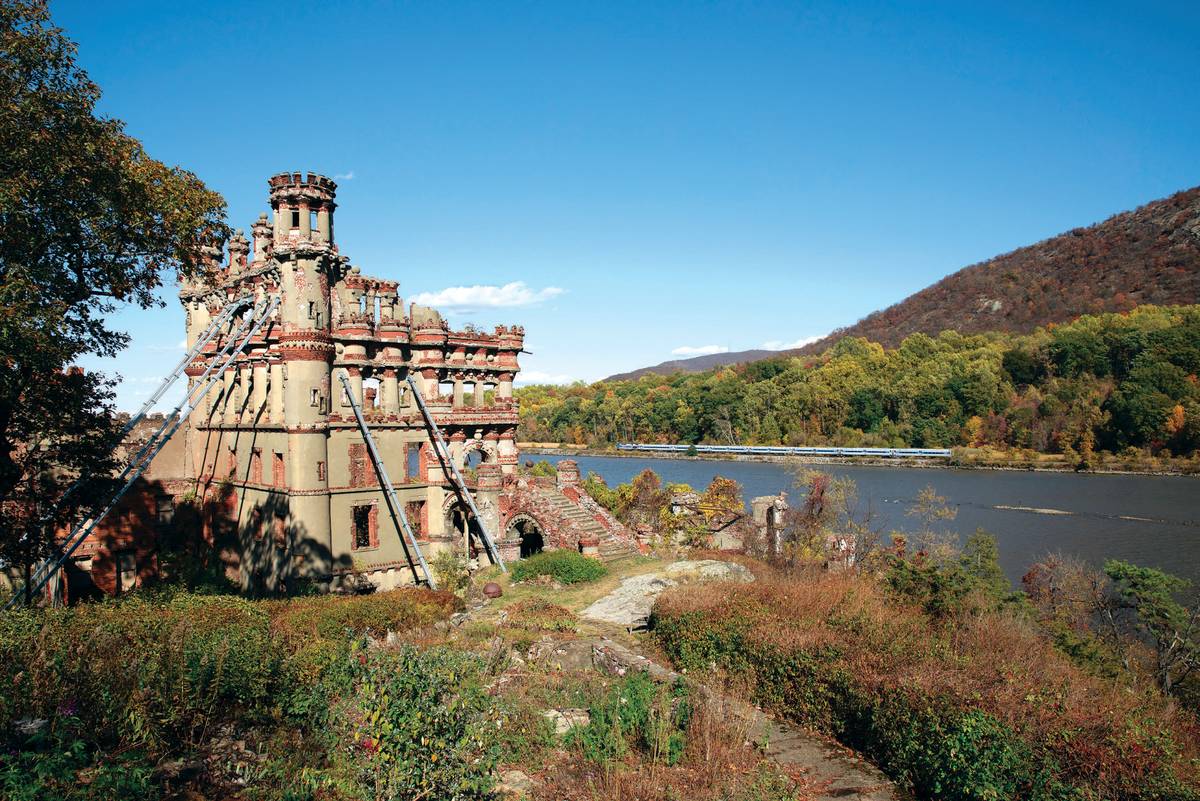 Introduction
Welcome to the charming town of Hudson, NY, nestled in the picturesque Hudson Valley region. Known for its rich history, vibrant art scene, and natural beauty, Hudson offers a plethora of activities for visitors to enjoy. Whether you're a history enthusiast, an art lover, or a foodie in search of culinary delights, Hudson has something to offer for everyone.
Stepping foot in Hudson is like stepping back in time. The town's well-preserved historical architecture, featuring stunning Victorian-era buildings, creates a captivating atmosphere that transports you to a bygone era. As you stroll along the cobblestone streets, you'll find yourself immersed in the town's unique charm and character.
But Hudson isn't just a town steeped in history; it also boasts a thriving art scene. Artists from all over the world have been drawn to this vibrant community, resulting in a dynamic arts scene that can be seen in the numerous galleries, studios, and art centers scattered throughout the town. Whether you're a seasoned art connoisseur or simply appreciate beauty in all its forms, you'll find yourself inspired by the talented artists and their diverse works.
Aside from its historical and artistic significance, Hudson offers a wide range of outdoor activities for nature lovers. The surrounding landscape is a playground for outdoor enthusiasts, with hiking and biking trails, scenic parks, and the majestic Hudson River to explore. Whether you prefer a leisurely stroll along the riverbanks or an adrenaline-fueled adventure, Hudson provides ample opportunities to connect with nature.
Food lovers will also find themselves in culinary heaven in Hudson. The town's burgeoning food scene features a mix of farm-to-table restaurants, cozy cafes, and artisanal food shops. Indulge in farm-fresh ingredients, locally sourced delicacies, and international flavors that will tantalize your taste buds. The chefs in Hudson are passionate about their craft, creating unforgettable culinary experiences that showcase the region's bountiful offerings.
Throughout the year, Hudson comes alive with various events and festivals that celebrate the town's unique spirit. From art walks and music festivals to holiday markets and Shakespearean plays, there's always something happening in Hudson. These events not only bring the community together but also provide visitors with an opportunity to immerse themselves in the town's vibrant culture and friendly atmosphere.
So whether you're an art enthusiast seeking inspiration, a history buff exploring the past, or a nature lover in search of outdoor adventures, Hudson, NY, has something for everyone. It's a destination that promises unforgettable experiences, delightful surprises, and a true sense of community. Come and discover the best that Hudson has to offer.
Explore Hudson's Art Scene
Hudson's art scene is a thriving community filled with creativity and inspiration. The town's artistic roots date back centuries, and today it is home to numerous galleries, studios, and art centers.
One must-visit destination for art enthusiasts is the renowned Art Omi sculpture park. Set on 120 acres of rolling meadows, Art Omi showcases over 60 large-scale sculptures by international artists. Stroll through the park and admire the impressive installations that blend art, nature, and the surrounding landscape.
For a more intimate art experience, explore the many galleries that line Warren Street, Hudson's bustling main strip. From contemporary art to traditional paintings, you'll find a diverse range of styles and mediums on display. Don't miss the Hudson Opera House, which not only hosts theatrical performances but also features rotating art exhibitions.
If you're interested in learning more about the local art scene and its history, pay a visit to the Hudson Hall. Originally built in 1855 as Hudson's City Hall, this historic building now serves as a hub for arts and culture. Explore the gallery spaces and catch a performance or workshop to get a deeper understanding of Hudson's creative community.
Art lovers can also take part in the Hudson Art Walk, which happens on the first Saturday of every month. During this event, galleries and studios open their doors late into the evening, offering visitors a chance to meet the artists, view their works, and even make a purchase.
For those who want a more hands-on experience, consider signing up for an art workshop or class. Many local artists offer instruction in various mediums, including painting, ceramics, and photography. Take the opportunity to learn new techniques and unleash your own artistic talents.
Art isn't limited to traditional mediums in Hudson. The town also embraces street art, with colorful murals adorning some of the buildings. These vibrant creations add a contemporary touch to the town's historical backdrop, creating a unique and visually stimulating environment.
With its diverse range of galleries, public art installations, and artistic events, Hudson's art scene is a must-see for any creative soul. Immerse yourself in the town's vibrant artistic community and discover the beauty and inspiration that can be found in every corner of Hudson, NY.
Visit Olana State Historic Site
If you're a history enthusiast or appreciate stunning architecture, a visit to the Olana State Historic Site is a must when in Hudson.
Perched on a hilltop overlooking the Hudson River, Olana was the home and studio of Frederic Edwin Church, a renowned American landscape painter. The house itself is a masterpiece, designed in a unique blend of Persian and Victorian architectural styles. The exquisite details and intricate decorative elements make it a truly captivating sight.
During your visit, take a guided tour of the house and explore the beautifully restored rooms. Admire the grandeur of the main hall, marvel at the stunning views through the floor-to-ceiling windows, and discover the art and artifacts that adorn the walls.
One of the highlights of Olana is its expansive landscape, which was designed by Church himself. Take a leisurely stroll through the meticulously manicured gardens, featuring various flora and fauna. As you wander the grounds, you'll come across strategically placed viewpoints that offer breathtaking vistas of the Hudson Valley, making it a paradise for nature lovers and photographers.
For a deeper understanding of Church's artistic vision and his connection to the landscape, visit the on-site museum. The museum houses a collection of Church's paintings and sketches, providing insight into his artistic process and inspirations.
Olana also offers seasonal events and activities, such as workshops, lectures, and concerts, that further showcase the site's cultural and historical significance.
It's worth mentioning that Olana is not just a place for history and art buffs. The site's serene surroundings and tranquil ambiance make it a perfect spot for a peaceful retreat. Enjoy a picnic on the grounds, relax under the shade of a tree, or simply take in the beauty of the Hudson River and the surrounding landscape.
Located just a short drive from downtown Hudson, a visit to Olana State Historic Site provides a unique opportunity to step back in time, explore the artistic legacy of Frederic Edwin Church, and immerse yourself in the natural beauty that inspired his work.
Whether you're a history lover, an art enthusiast, or seeking a tranquil escape, Olana State Historic Site is a must-visit destination that will leave you in awe of its architectural splendor and scenic beauty.
Shop at Warren Street
Warren Street is the heart and soul of Hudson's shopping scene, offering a delightful mix of boutique shops, antique stores, art galleries, and specialty shops. A stroll down this iconic street is a must for any visitor looking to indulge in some retail therapy.
One of the highlights of shopping on Warren Street is the unique and diverse range of stores. You'll find everything from high-end fashion boutiques to curated vintage shops, showcasing a wide array of styles and aesthetics. Explore the racks of designer clothing, browse through one-of-a-kind vintage treasures, and discover local designers offering their unique creations.
Antique lovers will be in their element on Warren Street, with a plethora of antique stores offering a curated selection of furniture, ceramics, art, and collectibles. Spend hours perusing through the carefully curated collections, and you're guaranteed to find a unique piece to add to your own collection or home decor.
In addition to fashion and antiques, Warren Street is home to several art galleries. These spaces showcase the work of local and international artists, with a diverse range of styles and mediums on display. Whether you're searching for a statement piece to elevate your home or want to add to your art collection, these galleries offer a captivating selection.
Foodies will also find plenty to satisfy their taste buds on Warren Street. Specialty food shops offer a wide range of gourmet products, from artisanal cheeses and chocolates to locally sourced charcuterie and fine wines. Don't miss the chance to browse through the shelves and pick up some delicious treats to take home.
But shopping on Warren Street isn't just about the products; it's also about the experience. The street itself is lined with beautifully preserved historic buildings, creating a charming backdrop for your shopping expedition. Enjoy leisurely strolls, stop into quaint cafes for a coffee break, and soak up the vibrant atmosphere that fills the air.
Throughout the year, Warren Street hosts various events and sidewalk sales, adding even more excitement to the shopping experience. During these special occasions, the street comes alive with music, street performers, and local vendors showcasing their wares.
So whether you're looking for unique fashion pieces, timeless antiques, captivating artwork, or gourmet delights, Warren Street is the place to be in Hudson. Immerse yourself in the vibrant shopping scene and discover the treasures that await on this bustling and picturesque street.
Enjoy Outdoor Activities
If you're a nature lover or enjoy outdoor adventures, Hudson offers a plethora of activities to satisfy your cravings for fresh air and exploration.
One of the top outdoor destinations in Hudson is the beautiful Hudson River. Take a leisurely stroll along the riverfront promenade and soak in the stunning views. If you're feeling more adventurous, rent a kayak or paddleboard and explore the river at your own pace. The calm waters and serene surroundings make for a relaxing and rejuvenating experience.
Hudson is also surrounded by scenic parks and nature preserves, offering endless opportunities for hiking, picnicking, and wildlife spotting. One popular destination is the Olana State Historic Site, which not only features breathtaking views but also boasts well-maintained trails that wind through the property. Lace up your hiking boots and immerse yourself in the natural beauty of the Hudson Valley.
If you're a cycling enthusiast, you're in luck. Hudson is part of the Empire State Trail, a network of multi-use paths that stretches across New York State. Rent a bike and pedal your way through the picturesque countryside, passing by charming farms, rolling hills, and historic sites along the way.
For those seeking a more laid-back outdoor experience, Hudson offers several parks and green spaces where you can relax and unwind. Pack a picnic and head to Henry Hudson Riverfront Park to enjoy the waterfront views and green spaces. Or venture a little further to Greenport Conservation Area, where you can explore trails, observe wildlife, and simply immerse yourself in nature.
Golf enthusiasts can tee off at one of the nearby golf courses, such as The Copake Country Club or Red Hook Golf Club. These courses offer beautiful landscapes and challenging holes, making for a memorable golfing experience.
If you're visiting during the winter months, Hudson also offers opportunities for snowshoeing, cross-country skiing, and even ice skating. Explore the snow-covered trails or glide across frozen ponds, taking in the winter wonderland that surrounds you.
Whatever outdoor activity you choose, make sure to pack sunscreen, bug spray, and comfortable footwear. Also, be mindful of any specific trail or park regulations to ensure you have a safe and enjoyable experience.
With its picturesque landscapes, charming parks, and outdoor recreational opportunities, Hudson is the perfect destination for nature lovers and outdoor enthusiasts. Embrace the natural beauty of the region, take a break from the hustle and bustle of everyday life, and connect with the great outdoors.
Experience the Hudson Opera House
Located in the heart of Hudson, the historic Hudson Opera House is a cultural gem that offers a diverse array of performances, exhibitions, and workshops. Steeped in rich history, this iconic landmark has been a focal point of the town's cultural scene for over a century.
The Hudson Opera House was originally built in 1855 as a multi-purpose community center. Over the years, it has served many functions, including hosting concerts, theater productions, and social events. Today, it continues to showcase the arts in all its forms, from music and dance to visual arts and educational programs.
When visiting the Hudson Opera House, be sure to check their events calendar to see what performances or exhibitions are scheduled during your visit. You might have the opportunity to watch a captivating live concert, a thought-provoking theater production, or a mesmerizing dance performance. The intimate setting of the opera house allows for an immersive and engaging experience, providing a unique connection between the audience and the artists.
In addition to its performance spaces, the opera house also houses galleries that regularly exhibit the work of local and regional artists. Stroll through the gallery spaces and be inspired by the diverse range of artworks on display. From paintings and sculptures to photography and installations, the exhibitions at the Hudson Opera House celebrate creativity and provide a platform for emerging and established artists.
The Hudson Opera House is not only a venue for artistic expression but also a hub for community engagement and education. They offer a variety of workshops, classes, and lectures for people of all ages and interests. Whether you want to try your hand at painting, learn a new musical instrument, or attend a lecture on a fascinating topic, the opera house has something to spark your curiosity and enhance your skills.
Another highlight of the Hudson Opera House is its commitment to preserving and showcasing the town's rich history. Through exhibitions and archival materials, visitors can gain a deeper understanding of the opera house's past and its significance in the community. Take a guided tour or spend some time exploring the historic displays to get a glimpse into Hudson's history.
When you visit the Hudson Opera House, you are not just attending a performance or viewing an exhibition; you are immersing yourself in the vibrant cultural fabric of the town. The opera house embodies the spirit of community, creativity, and artistic excellence that defines Hudson, making it a must-visit destination for anyone seeking a truly memorable cultural experience.
Indulge in Culinary Delights
Hudson is a haven for foodies, offering a diverse and vibrant culinary scene that celebrates local ingredients, international flavors, and innovative techniques. From farm-to-table restaurants to cozy cafes and artisanal food shops, there are endless opportunities to indulge in culinary delights.
One of the highlights of dining in Hudson is the emphasis on locally sourced ingredients. Many restaurants partner with nearby farms and producers to offer fresh and seasonal fare. Taste the flavors of the Hudson Valley as you savor dishes made with farm-fresh vegetables, locally raised meats, and artisanal cheeses.
For a unique and intimate dining experience, seek out one of the acclaimed farm-to-table restaurants that dot the Hudson culinary landscape. These establishments pride themselves on showcasing the best of the region's produce and providing a true farm-to-fork experience. Immerse yourself in the flavors of the season as you enjoy dishes that highlight the natural beauty and abundance of the Hudson Valley.
If you prefer a more casual dining experience, Hudson has a plethora of charming cafes and bistros that offer a range of culinary delights. Indulge in freshly baked pastries and organic coffee, or enjoy a leisurely brunch with locally sourced eggs and artisanal bread. These cozy spots are perfect for a relaxing meal or a catch-up session with friends over a cup of steaming tea.
Hudson also boasts a vibrant street food scene, with food trucks and pop-up vendors serving up mouthwatering eats. Whether you're in the mood for a juicy burger, a flavorful vegan dish, or international street fare, you'll find a variety of options to satisfy your cravings.
No visit to Hudson would be complete without exploring the specialty food shops that line the streets. Sample gourmet cheeses, handcrafted chocolates, and locally made jams and preserves. Discover unique ingredients and culinary treasures to take home as souvenirs or gifts for loved ones.
In addition to its culinary offerings, Hudson is also home to several breweries, wineries, and distilleries. Take a tour and taste the handcrafted beers, wines, and spirits produced right in the region. Learn about the production process and savor the flavors of the Hudson Valley in every sip.
Throughout the year, Hudson hosts a range of food-related events and festivals that celebrate the town's culinary prowess. From farmers markets and food fairs to wine tastings and cooking workshops, these events provide an opportunity to experience the vibrant food culture of Hudson firsthand.
So whether you're a dedicated foodie or simply appreciate good food, Hudson's culinary scene will captivate your taste buds and leave you craving for more. Indulge in the delectable flavors, savor the farm-fresh ingredients, and embrace the culinary delights that make Hudson a true gastronomic destination.
Attend Local Events and Festivals
Hudson is a town that knows how to celebrate, and throughout the year, it hosts a variety of local events and festivals that showcase the town's vibrant culture, arts, and community spirit. Attending these events is a fantastic way to immerse yourself in the lively atmosphere of Hudson and experience the town's unique character.
One of the most anticipated events in Hudson is the Hudson Winter Walk, held annually in December. The entire town transforms into a winter wonderland, with twinkling lights, live performances, festive decorations, and local vendors lining the streets. Join in the holiday merriment as you browse through craft stalls, sample delicious treats, and enjoy the enchanting ambiance.
During the summer months, Hudson comes alive with various music festivals, such as the Hudson Music Festival. This multi-day event showcases local and regional talent across multiple stages, attracting a diverse audience of music enthusiasts. From indie rock to jazz, there's something for every musical taste.
Art lovers will delight in events like the Hudson Arts Walk, held on the first Saturday of every month. During this event, galleries, studios, and art spaces open their doors late into the evening, allowing visitors to explore the vibrant art scene of Hudson. Meet the artists, discover new works, and immerse yourself in the creative energy that permeates through the town.
Foodies can rejoice during events like the Hudson Valley Food & Wine Festival or the Farmers Market, where local vendors and artisans gather to showcase the best of the region's culinary offerings. Sample farm-fresh produce, artisanal cheeses, and handcrafted goods as you support local businesses and taste the flavors of the Hudson Valley.
Hudson also hosts street fairs, parades, and cultural celebrations throughout the year, providing a platform to showcase the town's diversity and community spirit. From the Flag Day Parade to the Hudson Pride Parade, these events foster a sense of inclusivity and pride among residents and visitors alike.
Keep a lookout for special events and performances at the Hudson Opera House, which regularly brings in renowned artists and cultural programs. From dance performances and live theater to film screenings and educational workshops, there's always something happening at this historic venue.
Attending local events and festivals not only allows you to experience the vibrant culture of Hudson but also provides an opportunity to connect with the friendly and welcoming community. It's a chance to make new friends, share in the town's celebrations, and create lasting memories of your time in Hudson.
Whether you're drawn to music, art, food, or community celebrations, Hudson's calendar is filled with exciting events that will enrich your visit and give you a glimpse into the dynamic spirit of the town.
Take a Brewery or Winery Tour
If you appreciate good libations and enjoy learning about the craft behind them, a brewery or winery tour in Hudson is a delightful way to spend your time. The town and its surrounding region are home to a number of esteemed breweries and wineries that offer unique tasting experiences and insights into the art of making beer and wine.
Hudson is known for its burgeoning craft beer scene, and a brewery tour is a must for beer enthusiasts. Take a behind-the-scenes look at local breweries, such as Hudson Brewing Company or Chatham Brewing, and learn about the intricate beer-making process. From the malting of grains to the fermentation and bottling stages, you'll gain a deeper understanding of how the quality brews you enjoy are created. Of course, no tour is complete without tasting a variety of their signature beers, from hoppy IPAs to smooth stouts.
For wine lovers, Hudson offers winery tours that provide a glimpse into the world of winemaking. Discover vineyards nestled in the stunning Hudson Valley region, such as Millbrook Vineyards & Winery or Hudson-Chatham Winery. Guided by knowledgeable experts, you'll explore the vineyards, learn about the different grape varietals, and witness firsthand the winemaking process from grape to bottle. End your tour with a wine tasting, where you can savor a selection of their award-winning wines and even purchase a bottle to take home as a memento.
Aside from breweries and wineries, Hudson is also home to distilleries and cideries that offer their own unique spirits and ciders. Take a tour of a local distillery, such as Hillrock Estate Distillery, and discover the art of crafting fine spirits, from whiskey and vodka to gin and rum. Sample their handcrafted creations and gain insight into the distillation process that gives their spirits their distinct flavors. Alternatively, visit a cidery like Sundog Cider to learn about the apple varieties used in their ciders and experience a refreshing taste of the Hudson Valley's iconic beverage.
Many of these establishments also have tasting rooms or taprooms where you can continue to enjoy their offerings after the tour. Sit back, relax, and savor the flavors of locally crafted beverages in a cozy and inviting atmosphere.
Embracing the brewery and winery culture in Hudson is not just about the libations but also about supporting local businesses and experiencing the passion and dedication that goes into each brew and bottle. So, whether you prefer beer or wine, or even spirits and ciders, a brewery or winery tour in Hudson is an immersive experience that will leave you with a newfound appreciation for the craft of creating exceptional beverages.
Discover Hudson's History and Architecture
Hudson is a town steeped in history, boasting a rich tapestry of architectural styles and significant landmarks. Exploring its historical sites and architectural gems is a fascinating journey that provides insight into the town's past and its unique heritage.
One iconic feature of Hudson is its stunning collection of historical buildings. Take a walk along Warren Street, the town's main thoroughfare, and marvel at the well-preserved Victorian-era architecture. From grand mansions to charming rowhouses, the architectural variety is a visual feast for history and design enthusiasts.
A standout example of Hudson's architectural splendor is the Hudson City Hall, an exquisite red-brick building dating back to 1855. Admire its Greek Revival design and explore the interior, which still houses government offices and retains its historical charm.
Another must-visit historical site is the Van Rensselaer House, also known as the "Yellow House". Built in 1785, it is one of the oldest buildings in Hudson, and its distinctive yellow façade with black shutters adds to its allure. Step inside to see period furnishings and learn about the house's long and fascinating history.
To delve deeper into Hudson's past, head to the Columbia County Historical Society Museum & Library. Housed in the former Hyers College building, this museum showcases exhibits that chronicle the region's history from early settlement to the present day. From Native American artifacts to displays highlighting Hudson's role in the abolitionist movement, it's a treasure trove of historical knowledge.
Don't miss the opportunity to visit Olana State Historic Site, the former home and studio of acclaimed painter Frederic Edwin Church. This Persian-inspired mansion offers a glimpse into Church's eclectic tastes and serves as a testament to his artistic vision. Explore the lavish interiors, admire the panoramic views of the Hudson Valley, and learn about Church's contributions to American art.
To appreciate the natural beauty of Hudson while learning about its history, take a scenic walk along the Hudson-Athens Lighthouse Trail. This picturesque trail leads to the oldest surviving Hudson River lighthouse, where you can climb to the top and enjoy breathtaking views of the river and surrounding landscape.
Whether you choose to explore the architectural gems along Warren Street, delve into the town's history at museums, or visit notable historic sites like Olana, Hudson's historical and architectural offerings are sure to fascinate and inspire. The town's rich heritage is beautifully preserved, providing a captivating glimpse into its past and a deeper appreciation for its unique character.
Relax at a Local Spa or Wellness Center
In the bustling town of Hudson, taking time to unwind and pamper yourself is essential, and luckily, the town is home to a selection of exceptional spas and wellness centers that offer rejuvenating experiences for the mind, body, and soul.
Immerse yourself in a world of tranquility at one of Hudson's luxurious spas. Indulge in a range of treatments and therapies designed to promote relaxation and well-being. From soothing massages and invigorating facials to rejuvenating body scrubs and holistic aromatherapy sessions, the skilled therapists will ensure you leave feeling refreshed and revitalized. Let go of tension and stress as they expertly work their magic.
Many spas in Hudson also offer unique wellness experiences that go beyond traditional spa treatments. Discover the benefits of ancient healing practices like acupuncture, reflexology, and reiki. Participate in wellness workshops, where you can learn techniques for mindfulness, meditation, and stress relief. Some spas even incorporate yoga and fitness classes into their offerings, providing a holistic approach to wellness.
If you prefer a more natural and holistic approach to relaxation, you can visit wellness centers that focus on alternative therapies and natural remedies. From herbal medicine and nutritional counseling to energy healing and crystal therapies, these centers offer a range of modalities to support your well-being. Step into a serene environment where you can rebalance your mind, body, and spirit through personalized wellness plans and compassionate guidance.
In addition to the treatments and therapies provided, many of these wellness centers and spas in Hudson also prioritize sustainability and environmental consciousness. They use organic and eco-friendly products, prioritize natural and renewable resources, and create spaces that promote a sense of harmony with nature.
Indulging in a spa or wellness experience in Hudson is not just about taking care of yourself; it's about embracing a holistic approach to well-being and finding balance in a fast-paced world. Soothe your soul, rejuvenate your body, and recalibrate your energy as you immerse yourself in the healing and relaxing atmosphere that these local spas and wellness centers have to offer.
Whether you're seeking relief from everyday stress, want to address specific health concerns, or simply need a break from your routine, Hudson's spas and wellness centers provide the perfect oasis for relaxation and self-care.
Explore Nearby Parks and Natural Areas
Hudson is surrounded by breathtaking natural beauty, with an abundance of parks and natural areas to explore. From scenic hiking trails to serene lakes and picturesque waterfalls, these nearby outdoor havens offer a true escape into nature.
One must-visit park in the area is the Olana State Historic Site. Not only does it boast a stunning historic mansion, but it also features beautiful landscapes and well-maintained trails. Take a leisurely stroll along the paths that wind through the property, and be rewarded with panoramic views of the Hudson Valley. The lush greenery, rolling meadows, and vibrant wildflowers make it a perfect spot for a picnic or a peaceful moment of reflection.
If you're an avid hiker, head to the Catskill Park, located just a short drive from Hudson. This vast wilderness offers numerous trails that cater to all skill levels. Embark on an exhilarating trek to the top of Hunter Mountain or explore the picturesque Kaaterskill Falls, one of the tallest waterfalls in New York State. As you hike through the tranquil forests and traverse the rocky trails, you'll be immersed in the beauty and serenity of the Catskills.
For a more leisurely outdoor experience, visit the Greenport Conservation Area. This expansive parkland features nature trails, wetlands, and scenic overlooks, providing opportunities for birdwatching, photography, and wildlife spotting. Enjoy a peaceful walk along the paths, surrounded by the sights and sounds of nature, and breathe in the fresh air that envelops this serene natural area.
Water lovers can explore the beauty of the Hudson River with activities like kayaking, sailing, or fishing. Bring your own equipment or rent from local outfitters and set off on a river adventure. Glide along the calm waters, take in the stunning views, and discover hidden coves and wildlife along the riverbanks.
During the winter months, nearby ski resorts such as Catamount Ski Area and Windham Mountain Resort provide opportunities for skiing, snowboarding, and winter sports fun. Enjoy the thrill of gliding down the slopes surrounded by snow-covered landscapes and crisp mountain air.
As you explore these nearby parks and natural areas, it's important to respect the environment and follow any rules or regulations put in place to preserve the natural beauty of these locations. Pack essentials such as water, sunscreen, and appropriate footwear, and always practice Leave No Trace principles to minimize your impact on the environment.
So, lace up your hiking boots, pack your binoculars, and embark on an adventure to these nearby parks and natural areas. Whether you seek solitude, physical activity, or simply a connection with the natural world, Hudson's surrounding natural havens offer a haven of outdoor exploration and an opportunity to immerse yourself in the beauty and tranquility of nature.
Conclusion
Hudson, New York, is a captivating destination that offers a rich tapestry of experiences for visitors to enjoy. From its vibrant art scene and historical architecture to its outdoor adventures and culinary delights, there is something for everyone in this charming town.
Exploring Hudson's art scene will take you on a journey of creativity and inspiration. Visit galleries, studios, and art centers to admire the works of talented artists, and don't miss the chance to attend local events and festivals that celebrate the town's vibrant culture.
Immersing yourself in Hudson's history and architecture will transport you to a bygone era. Marvel at the well-preserved Victorian buildings along Warren Street, visit historic sites like the Hudson Opera House and Olana State Historic Site, and gain a deeper understanding of the town's heritage at museums and exhibitions.
Hudson's culinary scene is a true delight, with farm-to-table restaurants, cozy cafes, and specialty food shops offering a range of gastronomic experiences. Indulge in locally sourced ingredients, sample delicious flavors, and savor the culinary creations that reflect the region's bounty.
Outdoor enthusiasts will find no shortage of activities in Hudson. Explore nearby parks and natural areas, hike picturesque trails, paddle along the Hudson River, or enjoy a round of golf surrounded by scenic beauty.
For relaxation and self-care, Hudson offers serene spas and wellness centers where you can unwind and rejuvenate. Treat yourself to a massage, indulge in holistic therapies, or engage in wellness practices that promote balance and harmony.
In conclusion, Hudson, NY, is a destination that will captivate you with its rich history, vibrant art scene, natural beauty, and culinary delights. Immerse yourself in the town's unique culture, connect with friendly locals, and create lasting memories as you discover all that Hudson has to offer. Whether you're seeking art, history, outdoor adventures, or simply a retreat from everyday life, Hudson is sure to leave a lasting impression.