15 Amazing Things To Do In Siena, Italy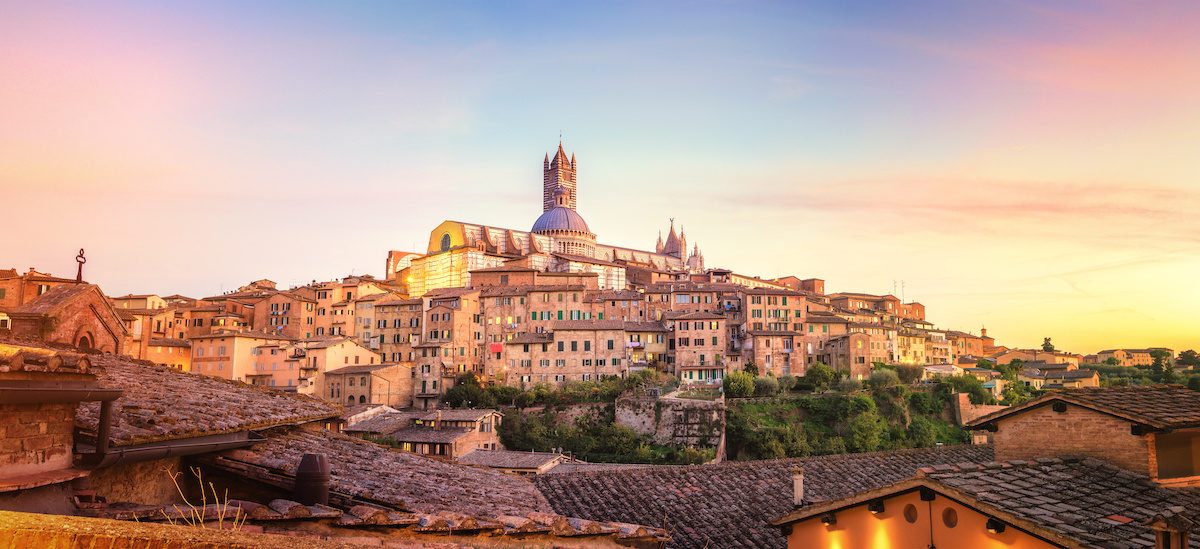 Siena, Italy, is a medieval city that declared a UNESCO heritage site for its perfectly preserved medieval beauty. It is a relatively compact city, so you will be able to explore the entire city on foot. But what is there to do in Siena? There's plenty! From admiring its medieval architecture to participating in its festivals, you will not want to leave this quaint little city!
Where is Siena, Italy?
Siena, Italy, is situated in the heart of Tuscany, surrounded by a hilly landscape. It is located just 43 miles south of Florence. If you go by train, it one and a half-hour train ride. If you drive, it will take you only about an hour to reach! Pisa is about 53 miles away, so if you come from Pisa instead, you will take about two and a half hours to reach Siena by train. By car, it will take about two hours. Its proximity to both Florence and Pisa makes it perfect for a day trip from these two cities!
Traveling to Siena by Train
The main train station is a little far from the city center. If you walk, it will take about half an hour uphill. So if you travel to Siena by train, it would be less taxing to catch a bus or a cab from Siena Train Station to the central city.
Traveling to Siena by Car
If you are driving, note that unless you've booked a parking lot at their hotels, visitors are generally not allowed to drive within the city center. Fortunately, there is a parking station a short distance away from Siena city where you can park.
Where to Stay in Siena, Italy?
Historic City Center
You can choose to stay in the historic city center of Siena to fully appreciate the city. There are many fantastic accommodations right in the bustling city center, but we especially love Hotel Palazzetto Rosso for the interesting mix of contemporary and classic design in its suites.
Scenic Countryside
Alternatively, you can stay just right outside of Siena and enjoy the best of city pleasures while staying in the scenic countryside. Some of our favorite accommodations close to Siena are Frances Lodge Relais, a relaxing B&B with old-world charm, and Agriturismo Marciano, a restored farmhouse with enchanting views of Sienna's city skyline.
How to fully enjoy Siena's Attractions?
There are many breathtakingly beautiful architecture to see in Siena, but unfortunately, some of them come at a cost. You can make the most of your money and time in Siena by buying special tickets that allow you to see two or more attractions.
To fully appreciate each attraction within Siena Cathedral Complex, you should buy the OPASi Pass ranging from € 8 to € 15 depending on the dates. The pass is valid for three days and would give you a two-hour tour of the various attractions.
At Palazzo Pubblico, you can also purchase a cumulative ticket that would allow you to climb Torre del Mangia and explore the Civic Museum for € 20.
1.
Unwind in Piazza del Campo
Siena's main piazza, Piazza del Campo, with its unique sloping shell-shaped pavement, is likely the most captivating piazza you'll ever see in your life. It is one of the largest and most beautiful medieval squares in the world. This square is also home to the world-famous festival, The Palio horse race, made even more famous by the James Bond movie Quantum of Solace.
While there are no benches to sit on, you will see many locals resting on the grounds of the square. It is easy to see why they'd do so, for the surrounding architecture makes for an enchanting scene impossible to tear your eyes away from. If you're not quite ready to slum it out like the locals, you can dine in one of the many trattorias in the piazza and admire the gorgeous buildings.


2.
See The Whole of Siena at Torre del Mangia
Standing tall right before Piazza del Campo is Torre del Mangia, the bell tower of Palazzo Pubblico. It is the third tallest tower in Italy and the most prominent landmark in Siena. If you climb to the very top of the tower, a 360-degree view of Siena and the surrounding countryside will sweep before you.
The endeavor to the pinnacle is no easy feat though. You'll have to climb over 400 steps to reach the top! The stairways are cramped and narrow, with only several tiny gaps on the way up for you to sneak a peek out as you climb.
Moreover, only 25 people can enter at a time during the peak season, so you might have to wait for your turn., so you might have to wait for your turn. It may require a monumental effort for you to reach the top, but the splendid view is more than worth it.
Torre del Mangia is open in summer from 10am to 7pm. In winter, it is open from 10am to 4pm. It is closed during Christmas Day. Admission to the tower is priced at € 10.
3.
Watch The Palio Horse Race – The Most Important Festival in Siena, Italy
If you plan to visit Siena in summer, you must not miss its most important event, The Palio, which takes place every summer on July 2nd and August 16th. Held in Piazza del Campo, the entire festival lasts four days, with the actual race taking place on the final day.
What's so special about a horse race, you ask? It is no ordinary horse race. It is a medieval-style horse race whereby jockeys race bareback on horses as wildly impassioned crowds cheer on.
And when we say medieval, we mean that it is positively dripping with medieval violence. There are almost no rules in this race, except maybe for vile treachery. As all the riders will resort to all ways and means to be first, it is not uncommon to see riderless horses at the end of the race.
Pro-tip: Watch The Palio for free by heading to the center of Piazza del Campo. While the actual race only commences late evening, be sure to reach the piazza early. If not, you'll not be able to squeeze even a finger in! Try to reach around 3 pm if you can, and you will be able to catch a historical parade before the race!
The Palio tickets start from € 240 per person and vary according to the location.
4.
Admire the Breathtaking Duomo of Siena
The Siena Cathedral, also known as Duomo di Siena, is easily the most striking building in Siena. Its exterior facade, in contrasting shades of white and dark green marble, eclipses the red brick buildings around it. Once you step in, you'll get to fully appreciate the holistic structure of The Cathedral as dramatic dark green and white stripes also adorn its interiors.
You might lose yourself admiring the fabulous columns and star-spangled vaulted ceilings, but don't forget to look down! The richest of its decorations lay on the floor. The marble flooring is bedecked with mosaic masterpieces spread over the entire ground like an ornate carpet. You can only fully appreciate the true beauty of the pavement from August to October however, for they are usually kept covered to protect them from foot traffic.
The ticket prices for Siena Cathedral depend on the unveiling of the pavement. If it is revealed, it will cost € 3, if it is not, it will be € 6.
Pro-tip: Note that Siena Cathedral closes early on Sundays and holidays, so it is best to avoid visiting the cathedral during this period, as it is a large complex with many individual attractions.
5.
Appreciate stunningly beautiful Frescos all around Siena
Palazzo Pubblico, from which Torre del Mangia soars, is also home to Museo Civico, the Civic Museum of Siena. The museum houses a fantastic collection of paintings, frescos, and sculptures. However, the museum walls with its elaborate secular frescos, are what draws tourists from all over to the museum. The museum operates from 10 am to 7 pm in summer and 10 am to 6 pm in winter, with an admission fee of € 9.
Piccolomini Library is located in the Siena Cathedral. While there are some antique books in the library, people visit the library mainly for its vivid frescos. The large walls showing ten scenes of the life of Pope Pius II are enrapturing in the stories they tell. The ceiling's geometry and opulent designs laced with gold also provide a perfect complement to the frescos on the walls. The library costs € 2 to enter.
The Baptistery of San Giovanni is based right behind Siena Cathedral. The inside of this baptistery is frescoed in entirety from the walls to the apse. In the center of the dizzyingly colorful room, you will see the white baptismal font made of marble and bronze depicting the life of Saint John.
6.
See a Stained-Glass Rose Window up close
Museo dell'opera del duomo, located in the right aisle of the Siena Cathedral, is among the oldest private museums in Italy. It contains many original artworks from Siena Cathedral, with the most notable being Maestà, the famous altarpiece by Duccio. The altarpiece is an elaborate double-sided panel made of many individual paintings, with the front panel featuring Madonna and Child surrounded by angels and saints, and the back panel comprising a total of 43 small paintings narrating the life of Christ.
Another attraction that draws tourists from all over is the exquisite enormous stained-glass rose window by Duccio. The window is colored in intense hues of sapphire blue, ruby red, emerald green, and marigold yellow, which put together, create a picture of resplendent glory.
If you want a different but equally enchanting bird's eye perspective of Siena, instead of climbing Torre del Mangia, you can climb the Facciatone in the museum. From the apex, you can see a spectacular panoramic view of Siena Cathedral soaring high in a sea of bricked rooftops.
7.
Enjoy fun events in an Ancient Fort
Fortezza Medicea is a majestic fort built in the 16th century to control the city which was defeated by Florence and placed under Spanish rule. It was subsequently
transformed into a public park after it was demilitarized at the end of the 18th century. It is now a popular place for the locals to relax or jog in the gardens. From the top of the fortress, you can also see a marvelous view of the whole of Siena and the surrounding landscape.
This historic fortress is also repurposed as an event space for many different events and festivals, spanning from food fairs to music concerts. So make sure to visit this ancient fort for some contemporary fun while you're in Siena!
8.
Witness the incorruptible head of a Saint in Basilica of San Domenico
Built entirely out of brick, Basilica of San Domenico stands apart from the other religious sanctuaries in its simplicity. But its location at a hilltop gives it an impressive appearance as it towers over other buildings in the vicinity.
While the building is a magnificent sight on its own, the church is most renowned for housing many relics of Saint Catherine, one of Italy's only two patron saints. The most famous of her relics are her preserved remains, or what's left of them. The rest of her body is embalmed in Rome.
An elaborate feretory enshrines the severed mummified head of Saint Catherine of Siena, and a smaller reliquary nearby holds the remains of her thumb. It is also home to the only genuine portrait of Saint Catherine, located in the Chapel of the Vaults within the church.
The church is free to enter and opens in summer from 7 am to 6.30 pm. It is open from 8.30 am to 6 pm during the winter.
9.
Learn all about Siena's Saint in her birthplace
If you wish to learn more about Saint Catherine of Siena, you must make a point to visit her birthplace, now converted into a shrine known as Santuario di Santa Caterina. The most important sacred object in this shrine is the wooden crucifix in the Church of The Crucifix. Saint Catherine supposedly received the stigmata from this very wooden crucifix, which were invisible to others during her lifetime but miraculously appeared at her death.
Within the complex, you will also find many paintings depicting the life of Saint Catherine, as well as the reconstruction of the different rooms in her house. The most intimate is the Oratory of the Bedroom, her bedroom where she used to pray in isolation from when she was as young as seven.
The sanctuary is free to the public and open daily from 9 am to 6 pm.
10.
Uncover the ancient fountains of Siena
Charming fountains abound in Siena. You might be surprised that these enchanting fountains were constructed for a less romantic purpose. Siena is a hill town where water is scarce in supply, so the Sienese had to construct underground tunnels to bring water to the city center. This led to the birth of the monumental fountains in Siena.
You will notice that some classic fountains have three basins at different height levels. These three basins have distinct functions. The highest level is used for people to drink, second for animals, and the last is used as a washbasin. The very first fountain you will encounter is the Fonte Gaia at the upper part of Piazza del Campo. Don't just give it a cursory glance though. Wait for a moment and you will see pigeons flying to drink water pouring from the mouths of wolf statues!
The most famous fountain is Fontebranda in Terzo di Camollia. It is the largest and most ancient fountain in Siena. The gothic arches and crenelated roof encase the fountain, creating a cavernous wonder of crystal clear waters. Colorful fishes swim freely within the ethereal blue waters. And it doesn't only look magical. It is magical. Apparently, it has the power to grant couples' wishes, so if you have a partner, bring them to the fountain at night and make a wish under the stars!
11.
Get lost in a Museum Labyrinth
The Santa Maria della Scala complex, once one of Europe's oldest hospitals, is now a museum complex. This multilevel complex just opposite The Cathedral is colossal and notoriously difficult to navigate. You might spend hours wandering its numerous sections encompassing large cavernous halls and intertwining tunnels. But even if you lose your way in the maze of tunnels, you won't ever feel bored.
The museum contains a myriad of antique artifacts that tell a detailed story of Siena's long and rich past. At a section, you might encounter a lavish collection of marble sculptures. In another area, you will learn more about its history as a hospital through realistic frescos on the walls. And yet at another gallery, you will see a treasure trove of ancient relics.
The museum costs € 9 per entry, though if you make an online reservation the ticket will be slightly cheaper at € 8.
12.
Try Traditional Sienese Food
People from around the world travel to Siena for its magnificent architecture and gorgeous art. But you can't say you've been to Siena if you haven't tried its traditional dishes, especially its sweets! The three most famous desserts in Sienna are undoubtedly the panforte, the cavallucci, and the ricciarelli. They're also the perfect sweets to bring home as souvenirs!
Panforte is a classic Italian Christmas cake consisting of dried fruit, nuts, honey, and spice. It is dense and chewy, with a nougat-like consistency. Cavallucci and ricciarelli are both biscuits, but each has its unique taste. Typically served with wine during Christmas, the spongy cavallucci contains walnuts, candied fruits, and spices. Ricciarelli is a soft almond cookie lightly coated with icing sugar.
Another iconic Sienese food is the pecorino cheese, a hard salty cheese made from sheep's milk. It doesn't sound particularly appetizing, but drizzle it with some honey, and you will fall in love with it. Pasta lovers must not give the Sienese pasta a miss. Pici is a handmade thick spaghetti made with only water and flour.
Siena is also a heaven for meat lovers. Sienese love their meat grilled, and the best meat for grilling is the tender and juicy Chianina beef. And if you love pork, you will also rejoice to know that Siena is lauded for its flavorful and succulent Cinta Senese.
13.
Sample Tuscany's Finest Wines
Tuscany is world-renowned for its wine, and there are many venerated wineries near Siena. One of them is Chianti Valley, which produces the acclaimed Chianti wine. You don't have to take a trip down to the valley to drink the red wine, but if you do you will get to see enrapturing views of endless vineyards and charming medieval villages.
Another dreamy valley near Siena where you can taste another of Italy's most famous wines is Val d'Orcia. A UNESCO world heritage site, Val d'Orcia is also known for its production of the Brunello red wine, pecorino cheese, and many other local specialties.
Even if you choose to stay in the city center, you can still do plenty of wine tasting. There are tons of wine shops that allow you to sample different wines served together with local delicacies! So even if you don't have the time to go for scenic drives, you'll still be able to taste a wide variety of Tuscan wine!
14.
Visit One of The Biggest Markets in Tuscany
While Siena might be small, it boasts one of the largest markets in Tuscany. Every Wednesday, the city market runs from 8.30 am to 1.30 pm at La Lizza. The stalls lining the street sell everything you can imagine, fashion, food, art, household items, and more! The food section is staggering. You'll find all sorts of fresh meat, fish, fruits, and vegetables!
Even though this market has been gaining traction amongst tourists, it remains catered to the locals. Even if you don't buy anything from the stalls, you will still get to experience the authenticity of a local street market in Italy!
Pro-tip for early birds: The vendors actually don't mind if you start shopping 10 to 15 minutes before the official opening time. By reaching ahead of others, you get to buy the best stuff before anyone else! Now the early bird really does get the worm. Or in your case, a delicious slab of pecorino cheese.
15.
Spend a Medieval Christmas in Siena
Every European city is at its most magical during Christmas. And that includes Siena. Christmas lights bedeck the entire city from early December to early January. On select days, 3D Christmas-themed project mapping shows dance across famous historical architecture, transforming them into fairytale-like structures. And if you are fortunate enough to visit Siena during the two days of their annual Christmas Market in the piazza, be prepared for a Christmas like no other.
You will get to step back in time and see how the medieval people celebrated Christmas! As you explore the different stalls, you can sample the different delicacies every stall has to offer. You can also witness primeval craft such as bookbinding and hand-spinning come alive!
Pro-tip: While the market is open from morning till 8 pm daily, the best time to visit would be after sunset when the illumination paint the stands and surrounding buildings gold.
Siena is a must-visit city if you're in Tuscany!
Just a stone's throw away from two of the top 10 must-visit cities in Italy, Sienna is a picturesque medieval city not to be missed. Especially if you prefer a less touristy city, it can even be an ideal base for you to explore Tuscany! After all, while it may be small, there are in fact many things to do in Siena, so you will need more than one day to fully experience all that Siena has to offer.