16 Best Things To Do In Brookings, Oregon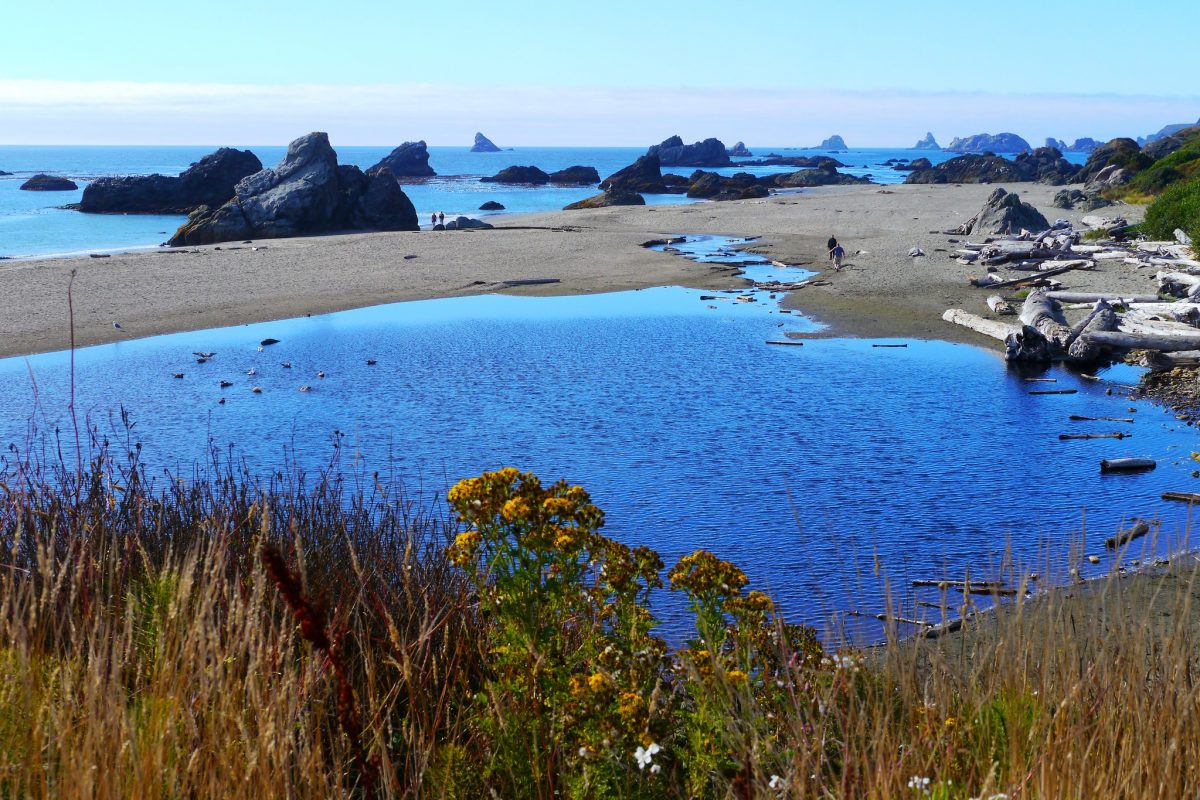 Neatly nestled into the southern corner of Oregon's coastline is Brookings; a town in Curry county that is as alive and colorful as the sea itself. Taking a spot in the list of most beautiful states in the United States, Brookings possesses all of the best traits of the West Coast. Brookings, Oregon, replete with golden sand beaches, seaside cliffs, hidden dunes, and rare wildlife is a destination not to miss. Yet, due to its somewhat remote location, it is far less visited than the towns near Portland. As a result, it offers a level of tranquility that simply can't be matched.
Whether you're taking a summer holiday or a Pacific Coast road trip, you'll definitely not run out of exciting things to do in Brookings, Oregon. Read on to discover what beautiful sights and serene areas await you in one of Oregon's most underrated towns.
1. Stroll through Azalea Park
Though often overlooked by all of the natural scenery that Brookings offers on the coast, Azalea Park holds historical significance and incredible charm. Azalea Park is appropriately named after the abundance of wild azaleas that can be found in the commons, the very same plants that were present when Lewis and Clark spent a winter on the Oregon Coast.
Most notable among these spots is the Capella by the Sea, a small gazebo tucked away in the foliage. The wooden and stone chapel hides near the seaside, providing the ultimate space for weddings and ceremonies. However, the park itself offers far more than just flowers to admire. It houses picnic areas and a playground where kids can explore. It is also a hotspot for seasonal activities, such as concerts, sporting events, and a holiday light show.
2. Samuel H. Boardman State Scenic Corridor
Samuel H. Boardman State Scenic Corridor is named after the first superintendent of Oregon Parks, Samuel H. Boardman. The 12-mile coastline along highway 101 between Gold Beach and Brookings is some of the prettiest places in Oregon. Among the free things to do in Brookings, Oregon, Samuel H. Boardman State Scenic Corridor is the one-stop spot that offers both a relaxed and active vacation.
Visitors can have a picnic or walk through more than two dozen miles of the Oregon Coast Trail as they marvel at the panoramic view of the Whaleshead Beach, rocky outcrops, and grassy plateaus. Another hidden gem in all of Brookings, Oregon, is Indian Sands, an area filled with majestic golden sand dunes. While finding the site may be a bit of a chore as it requires you to take on a challenging 2-hour loop hike, you'll be rewarded with a marvelous view of the Pacific, calmly rising and falling from the ocean breeze.
Those looking for a more thrilling adventure, go on a short hike to the Thunder Rock Cove, a small cave between Natural Bridges and Secret Bridge. It offers spectacular views that only visitors who take their time to venture far from the parking lot can see.
3. Go Camping at Harris Beach State Park
Harris Beach State Park should be on every camper's list of fun things to do in Brookings, Oregon. Among the state parks in Oregon, thousands of people grasp at the opportunity to camp at Harris Beach State Park yearly because it likely offers more activities than anywhere else on Oregon's southern coast.
The state park is perfect for hiking, biking, climbing, flying kites, and so much more. Within Harris Beach State Park, you'll find Bird Island, the largest along the Oregon coastline, which also stands as a National Wild Sanctuary home to rare bird species. Tide pools house countless species of marine life, such as sea lions and seals, which can be observed when the ocean retreats back to the horizon.
Astonishing waves, rocky outcrops, and grassy knolls make a majestic scenery that surely makes your trip a memorable one. As a perfect destination for camping and many other activities, and a perfect vantage point for various stunning sights, Harris Beach State Park surely is a one big playground for all ages.
4. Enjoy the views from Chetco Point Park
Few tourist attractions on the Pacific offer better views than Chetco Point Park. The seaside park combines Oregon's cliff sides' rocky splendor with its stunning sweeping beaches. Hikers can make their way out to the 100-ft plateau that is surrounded by water on all sides.
Once there, they will be granted views of the St. George Reef Lighthouse, Macklyn Cove, and the Port of Brookings-Harbor. Small boats, fishing vessels, and even the occasional whale can all be seen gently bobbing in the waves.
Moreover, those seeking physical activity can also enjoy the nearby trails filled with rich vegetation and greenery. A brisk hike will lead adventurers into grassy fields filled with picnic tables and horseshoe pits. The alternative trail then leads down to Chetco Beach, the ideal location for clamming, shell collecting, and bird watching. If you visit from April to October, you'll be able to witness the varieties of flowers that bloom during this period.
5. Visit Arch Rock Viewpoint
Up for some picnic with a view? Witness a huge natural rock arch standing alone in the Pacific Ocean from the Arch Rock Viewpoint, an overlooking spot, which is only a short walk from the parking lot. Several picnic tables are scattered along the coastal forest, perfect for anyone who wants to have a picnic or simply relax while watching the waters crash through the massive rock arch. You can also choose to visit during the sunset for a stunning silhouette photo with the view of the arch rock from behind.
6. Dine at Black Trumpet Bistro and Bar
Surely, there are endless possible things to do and sights to see in Brookings, Oregon at day. If you're looking for downtime, consider capping the night off at Black Trumpet Bistro and Bar, considered one of the restaurants in the area. This bistro and bar will surely not disappoint, serving Italian cuisine perfect for family get-togethers, nights out with friends, and a romantic dinner for two, this bistro and bar will surely not disappoint.
All dishes, from salads and sandwiches to pasta and desserts, are made from fresh local ingredients. Look forward to savoring exceptional food such as mussels Italiano, cioppino, chicken marsala, and lasagna intorno. To end the night, grab a few drinks and choose from a variety of local beers and cocktails, including dirty diamond martini, chantini, and goose milk.
7. Stop by the Natural Bridges Viewpoint
Looking for a romantic spot in Brookings, Oregon? Housed within Samuel H. Boardman State Scenic Corridor is the Natural Bridges Viewpoint which features the seven iconic arch rocks and blowholes. Go on a romantic adventure at the short 0.8-km trail, a more or less 15-minute hike, that offers great views of the Oregon coast with abundant sea stacks, sheer cliffs, and natural arches.
The best time to visit is during sunrise and sunset when the sunlight beams through the arches. The rugged scenery of the Oregon Coast from the Natural Bridges Viewpoint will surely make you want to snap a photo! Aside from sightseeing and picture taking, Natural Bridges Viewpoint is also ideal for birding.
8. Take a Walk on the Secret Beach
Another hidden treasure in Samuel H. Boardman State Scenic Corridor is the Secret beach with clear blue-green water. The 12-mile shoreline is ideal for sunbathing and for a romantic stroll while taking in the stunning beach view and Oregon sun. To reach the Secret beach, go on a 0.75-mile hike with a little bit of rock scrambling and go on a swim, explore the sea caves, and witness the waterfalls.
9. Try golfing at Salmon Run Golf Course
Sports enthusiasts looking for things to do in Brookings, Oregon should head on to Salmon Run Golf Course, found right alongside the Chetco River. A hotspot for Chinook salmon to spawn, thousands of dedicated fish make their way up the river to lay eggs in river bends. Golfers at each hole can witness the natural phenomenon occurring each spring.
However, the natural landscapes of the 18-hole course are the true main attraction in the area. Nature is deeply woven into the fabric of every hole, providing the experience that one is playing in the woods. The skill range of the course varies so that all levels of talent may come out and enjoy the fusion of nature and sport.
10. Learn the History behind the Fujita Sword Display
For history buffs, make sure to include seeing the Fujita sword display in your list of things to do in Brookings, Oregon. Throughout the entire duration of WWII, there was only one area of the continental US that was bombed. That area was Brookings, Oregon.
A young Japanese pilot by the name of Nobuo Fujita managed to drop four incendiary bombs in Brookings in 1942. His aim was to ignite forest fires, which would eat away at the surrounding vegetation. Yet the plan failed, as the area was too damp and wouldn't catch fire.
Exactly 20 years later, Nobuo Fujita was invited to return to Brookings by the local government. During his visit, he donated his personal Samurai sword as a gesture of peace between nations. The 400-year-old sword was the very same one that flew with him during his missions. Visitors to Brookings can find the Fujita sword display and the local plaque honoring Nobuo in Brookings' public library.
11. Spot the whale spout at Whaleshead Beach
Find some of the best natural beauty on the Oregon Coast at Whaleshead Beach, situated between Gold Beach in Curry county and Brookings. As the name suggests, Whaleshead Beach is indeed named after its similarity to a whale's head. Massive rocks jut up from the ocean to form a barrier in the sea that appears very similar to the large mammal. When the tides are rough and water crashes in, spurts of water even shoot into the air like a whale's spout. A large cave in Whaleshead Beach is also popular among tourists because of a hole, seemingly like a window that peers into the coast.
But there is far more to see than just the rocky outcrop, as the seaside beaches are second to none. After a bit of time on the golden sand, visitors can hike through the surrounding trails to the viewpoint. The trail to the south leads to House Rock, while the trail going North leads to Indian Sands.
12. Check out Zola's on the Water
Looking for something to eat? If you ever find yourself stopping by the Oregon coast off Highway 101, Zola's on the Water is a must-visit family-owned restaurant up on the Port of Brookings Harbor. It prides itself on hand-tossed wood-fired pizzas customized based on your toppings, sauce, and cheese preference. You can also choose from their menu of Al's BLT, All Cheese, Chipotle Chicken, and Mediterranean Veggie. Zola's on the Water also serves fresh salad, pasta, wings, steak, and breadsticks. Up for a few drinks? Choose over 150 craft beers and a vast selection of mixed drinks to quench your thirst!
13. Spend the afternoon at Lone Ranch Beach
Spending an afternoon at Lone Ranch Beach, just about 4.5 miles from Brookings, is yet another activity to add to your list of things to do in Brookings, Oregon. Lone Ranch Beach houses a massive collection of sea stacks, which quietly rise up out of the ocean. The famous crescent-shaped beach also hides endless tide pools; full of crabs, starfish, guppies, urchins, and other marine life.
A brisk walk along the trail reveals a half dozen picnic tables, which mark the ideal spot for an afternoon break. In addition, just behind the trail lies millions of seashells, which Native Americans collected for centuries.
14. Visit the Crissey Field State Recreation Site
A trip to the 40-acre Crissey Field State Recreation Site is a must for people looking for a place to just get lost in nature. Pass by the Welcome Center to see local birds and natural wildlife exhibits and learn about the surrounding beaches. Crissey Field State Recreation Site houses endless beaches across the southern Oregon site, creating a scene as bare and peaceful as craters on the moon. The serenity is complemented by ultra-fine sand and the occasional piece of driftwood. And just outside of the sands lie peaceful wetlands, housing unique species.
Like many of the other beaches on the Oregon Coast, the distance from the sand to the water is incredible. At some points, the width of the beach can be nearly a half-mile.
15. Engage in outdoor activities at McVay Rock State Recreation Site
Among the things to do in Brookings, Oregon, those looking to enjoy outdoor sports in Brookings should include the 19-acre McVay Rock State Recreation Site in their itinerary. The reclusive park sits 50-feet upon a seaside cliff, which drops down into a hidden beach. Once trekking down to the beach, adventurers can experience endless swathes of sand and tide that crash into the land. Aside from having beautiful nature, there is plenty to do at McVay Rock. The most notable sport found at the beach is surf fishing, which brings anglers from far and wide. However, other outdoor activities such as clamming, whale watching, and disc golf are also popular.
16. Drive through Thomas Creek Bridge, Oregon's Highest Bridge
When the creations of man and nature blend together in harmony, some truly beautiful sights can be fashioned. Located just a few miles from Harris Beach State Park is Oregon's highest bridge, Thomas Creek Bridge—a beautifully crafted infrastructure in the middle of lush greeneries.
Standing at 345-feet, the massive structure, which is 956-feet long and 30-feet wide, is neatly sandwiched into a ravine that leads into the ocean. Each connected hillside holds hundreds of waving pine and spruce trees that anchor down rocky formations consisting of dark sandstone. Yet once the hills meet sea level, they converge with beautiful golden sands from the pulsing waves.
An afternoon adventure to Thomas Creek Bridge is certainly one of the best things to do in Brookings, Oregon. Two trailheads lead down along each side of the bridge so that visitors can trek down to the beach or base of the structure. Of course, those in a hurry can simply peer over the bridge and capture photos of the incredible scenery that lies below.
A National Treasure Worth Exploring
Brookings, considered a national treasure, is home to some of the most beautiful beaches, thrilling outdoor adventures, and breathtaking views. With its rich cultural history and numerous tourist attraction sites, there are definitely a lot of things to do in Brookings, Oregon. A visit to Brookings, Oregon, is a must for adventure seekers, history buffs, and tourists simply looking for a meaningful and memorable vacation!