10 Popular Oregon State Parks You Should Visit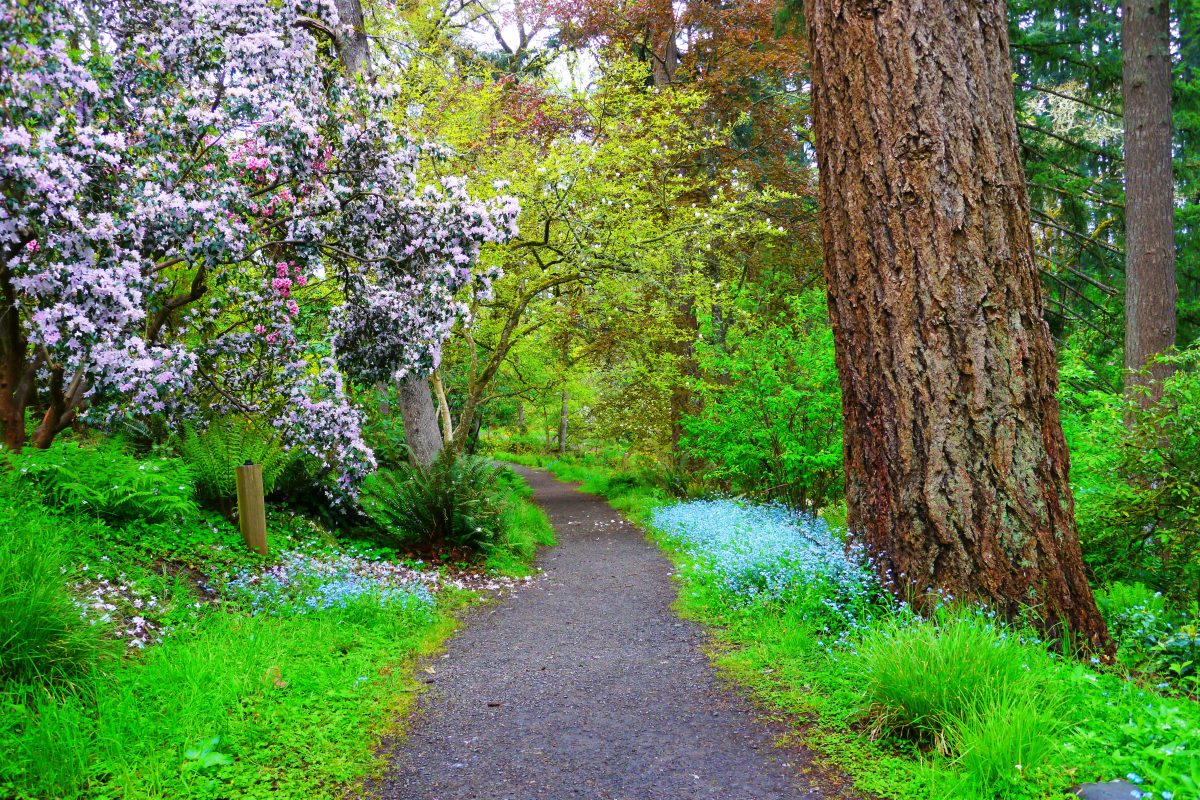 The United States' Pacific Northwest is a scenic region stretching from Northern California to the Canadian border; well known for its stunning National Parks. However, intermingled among giants such as Crater Lake and Mount Rainer is a score of worthy state parks that don't get quite as many headlines. In the State of Oregon in particular, natural beauty abounds, leaving visitors with postcard-worthy photos and authentic nature encounters.
This article will explore ten of these gems, leaving you with the decision of which ones you want to explore on your own. Whether your interest is in hiking, camping or just connecting with nature, Oregon's State Parks have something for everyone.
1.
Silver Falls State Park
Located some 20 miles or so east of Oregon's state capital, Salem is what many call the "crown jewel" of the Oregon State Park system; Silver Falls State Park. The main attraction here is the waterfalls, with South Falls being its most famous example, not just for its beauty but also because you can walk behind it for a totally different perspective. It can be reached by the moderate, yet scenic 7.2-mile loop hike called the Trail of Ten Falls.
This nationally recognized trail spans an 800-foot difference in elevation that follows a series of cascades along a rocky canyon and a winding creek through dense forest. If the length is too much, there is the option of taking shorter, connecting trails. Overall there are over 35 miles of backcountry trails. Additionally, in the deeper recesses of the park, one must be alert to the presence of cougars and bears.
The park has an array of facilities for visitors. In the South Falls Day Use Area there are barbecue stands, a playground, covered picnic areas, tables, and even horseshoe pits. Camping facilities include cabins, RV spots and tent areas, and even a dedicated horse campground for the equestrian set. The park is open year-round and day-use parking is just $5.
2.
Oswald West State Park
Hugging the Pacific coastline in the northwest corner of Oregon, some two hours away from Oregon's largest city, Portland, is Oswald West State Park. Here the beauty of lush, temperate rainforest combines with a sandy beach and ocean views, for a highlight of any visit to Oregon. The park is open year-round and requires no fee to enter. In fact, a ride up the Pacific Coastal Highway (101) will bring you through the park, with several parking areas at strategic locations for easy access.
The most popular spot in the park is Short Sand Beach, or "Shorty's" as the locals call it. This is a scenic cove ringed with forest and Oregon's characteristic sandstone cliffs, requiring just a half-mile walk from the parking area to reach it. While Oswald West State Park doesn't offer camping onsite, it does have a network of trails, including a 13-mile segment of the Oregon Coast Trail, which winds its way through portions of the park's over 2400 acres of protected land.
3.
Fort Stevens State Park
North of Oswald West State Park, and strategically placed at the mouth of the mighty Columbia River, Fort Stevens was once part of a three fort harbor defense system. It was in service from the Civil War to World War II, for a total of 84 years. Many of the fortifications still remain. For example, there are the artillery emplacements from the turn of the century to the only Civil Warera earthen fort on the West Coast. The park hosts a visitors' center and a military museum that offers year-round military displays. A day-use pass costs $5.
Besides the historic nature of the park, Fort Stevens State Park also boasts great scenery and recreational opportunities. There are nine miles of paved bicycle trails and six miles of hiking trails that bring explorers through a range of habitats such as wetlands, dunes, and forests of pine, spruce, and hemlock. You can go beachcombing along the coast—and see the skeletal remains of the Peter Iredale shipwreck—or head out on a canoe or go freshwater swimming at Coffenbury Lake. Camping facilities are open year-round, as are the day-use areas.
4.
Umpqua Lighthouse State Park
Following the coast to the southwestern region of Oregon, near the famous Salmon Harbor on Winchester Bay, is Umpqua Lighthouse State Park. Nestled among the Oregon Dunes National Recreation Area; which protects dunes reaching a height of 500 feet or even more. The 65-foot lighthouse and adjacent museum are open for tours and make for a great photo opportunity. Day-use areas are clustered around Lake Marie; a freshwater lake fit for anglers and non-motorized boats surrounded by rich forest and even a small sandy beach.
Camping options, which also center around Lake Marie, range from tent and RV sites to charming cabins and deluxe yurts. Shower and restroom facilities are nearby, and the park has yet to be overrun by the camping crowds, giving it even greater appeal. The park is open year-round and entrance costs $7 per person for hikers/bikers.
5.
Cottonwood Canyon State Park
Far from the lush rainforests of Coastal Oregon, Cottonwood State Park presents visitors with a look at the State's ruggedly dry interior. Centered on the John Day River—a tributary of the Columbia River that marks the boundary between the states of Oregon and Washington, this park offers a different experience than the ones on the coast, with steep canyons and stone-riddled grasslands.
The river itself is a popular spot for boating and fishing; the latter offering a variety of species in its waters. There are also miles of trails—some specifically for foot traffic only and others open to bikers and horseback riders.
Given its remote location, Cottonwood State Park is an excellent destination for stargazers, which is a convenient activity for those camping inside the park. Facilities are on the rustic side but do include showers and vault toilets along with access to potable water; a strong consideration when visiting this park. In fact, visitors are recommended to carry plenty of water since it is only available at campsites and day-use areas.
6.
Lake Owyhee State Park
In Oregon's far east—much closer to Boise, Idaho than any major city in Oregon lies Lake Owyhee State Park. It is located beside the 53-mile reservoir of the same name. This placid body of water stands out in a dry canyon landscape and is a popular destination for boaters. Many come to see its colorful volcanic geological formations. The reservoir is well stocked with varies species of fish, and many of the popular formations can only be accessed by watercraft. In fact, stand up paddleboards and kayaks can be rented inside the park if you don't feel like making the steep and narrow drive with one in tow.
This is a remote experience, with limited staff and no cell service. The payoff is being able to immerse yourself in nature in a manner not readily available in other locations. Camping is possible here, with two seasonal campgrounds, while the day-use picnic area of Gordon Gulch is open year-round.
7.
Collier Memorial State Park
Take a trip back into Oregon's logging history in this state park at the junction of Spring Creek and the Williamson River in south-central Oregon. A primary feature of this park is an outdoor logging museum that showcases historic equipment going back to the 1880s. The museum is open from 8 AM to 4 PM from September to May, then from 8 AM to 8 PM during the summer months of June through August. The park is also home to a relocated pioneer park with a cabin village. You can head there for a taste of what life was like for those intrepid families that made their way west.
The Williamson River is known for its trophy grade trout and the crystal clear waters of Spring Creek winding through the park make for an excellent photo. Camping facilities include hot showers and flush toilets, making this a comfortable place to commune with nature. Also, Memorial State Park is just a little to the southeast of Crater Lake National Park, which shouldn't be missed on a visit to Oregon.
8.
Cape Blanco State Park
Perched at Oregon's westernmost point, Cape Blanco State Park offers gorgeous ocean views along with some charming, classic architecture. The park received its name from a Spanish explorer Martin D'Aguilar. He had referenced the headland's chalky appearance (hence Blanco, meaning white). The main attraction is the Cape Blanco Lighthouse, which was built in 1870, making it Oregon's oldest standing lighthouse on the Pacific coast. Tours cost only $2 for adults (kids 15 and under are free). They run between April and October, and gates close at 3:30 PM and it is closed on Tuesdays.
Another of the park's attractions is the Historic Hughes House, a quaint Victorian-style home built in 1898. Tours of the 20th Century house are run by volunteers who will share their knowledge about farm living in that era. Entrance to the house is free, though you can make donations to contribute to its upkeep. As with the lighthouse, it is open from 10 AM to 3:30 PM and is closed on Tuesdays. However, its months of operations are from May to September.
Horse lovers will appreciate the new pipe corrals that have been installed and the 150-acre open riding area across from the camp. Hikers too can enjoy eight miles of trails that offer ocean vistas, fishing in the Sixes River, and beach destinations. Both camping and day-use are available all year long.
Nestled in the scenic Cascades Mountains, a little more than 30 miles south of the town of Bend, LaPine State Park offers year-round recreational activities for the outdoor enthusiast. Set in a subalpine forest, you can try your hand at fly fishing, go mountain biking through shady trails or hike to high mountain lakes. Come wintertime, you can spend the day cross country skiing then warm up in one of the five deluxe cabins. Each cabin has private bathrooms, and are located in the park.
LaPine State Park is home to the largest ponderosa pine in Oregon, which is estimated to be around 500 years old. The park is also home to birdlife such as eagles and red-tailed hawks, which can be seen fishing in the park's waterways.
LaPine is a popular destination with campers, and its facilities reflect it. With 82 full hookup sites, five rustic cabins, the aforementioned deluxe cabins, plus hot showers and flush toilets. It is also a great base of operations for exploring all the attractions of central Oregon such as Newberry Crater and Lava River Cave.
10.
Smith Rock State Park
If you prefer your adventure to be a more hands-on experience, then head to central Oregon's Smith Rock State Park. Here, you can find a wealth of rock climbing opportunities. This climber's haven features steep river canyons and jagged peaks, serving as a backdrop to its nearly 2000 climbing routes. Ranging from soft volcanic tuff to basalt columns, the park's geography makes for a surreal setting for all outdoor activities.
For those who would rather keep their feet on the ground, there are miles of hiking trails of various difficulties for both beginners and experts. Mountain bikers too will find a number of challenging options await. However, it is important to be mindful of the gravel that compose many of the trails open to bikers. And whether you are biking, hiking or dangling from a rope, be sure to keep hydrated. Water is only available at the Welcome Center and bridge area.
Camping options are limited, with a first-come, first-serve bivouac area that is open year-round. Fees are $8 per person. However, you should include parking for the next day and use of the onsite showers. Day-use fees are just $5 per car. Either way, it's a small price to pay for front row seats to this natural wonderland.
Regardless of whatever corner of the State of Oregon you find yourself in, be assured that there is a state park with amazing attractions just waiting to be explored. Armed with this list, you can see the best of Oregon's attractions, and some of the best scenic locations in the Pacific Northwest.