The Lost City of Petra: What You Need to Know Before Your Trip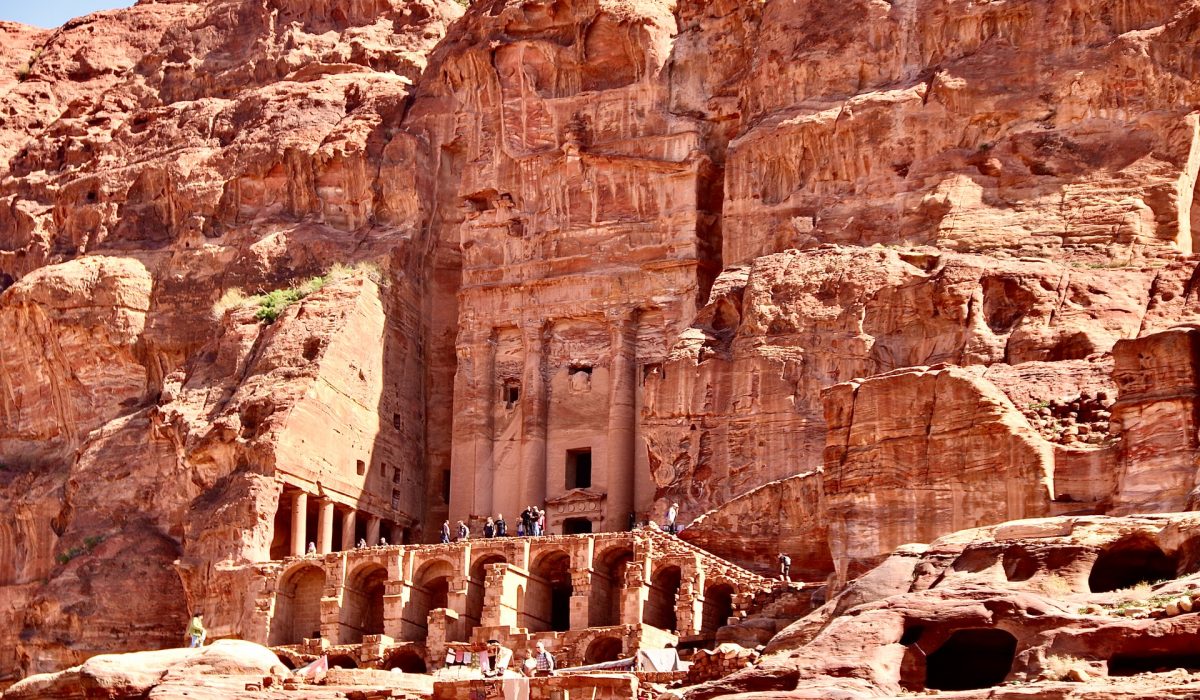 If you have been to one of the amazing cities in Egypt or seen the Pyramids of Giza, you would agree that these places are not only for history buffs but also for archeology enthusiasts. When you see spectacular architectures that exhibit a cradle of civilization, you can't help but be amazed. It's fascinating how a certain community strived in this kind of place, with a set of culture and rules that govern each of them. Similarly, you will feel the same excitement when you also see the lost city of Petra.
Declared as a UNESCO World Heritage Site in 1985, the lost city of Petra is one of the must-visit destinations in Jordan. Although only almost a quarter of the city is unearthed, the intricately designed rock-carved edifices give you an idea of how the city must've looked like. Strolling around this ancient city and learning about the lives of Nabataeans will surely be one for the books and a great travel journal entry. Just don't forget to pack a selfie stick because everything will be photogenic in every turn!
Where is the Lost City of Petra?

Behind the rugged cliffs of present-day Jordan, you will find intricately carved edifices of the lost city of Petra. Sometime between 400 BC and 106 AD, Petra was a flourishing capital of the Nabataean kingdom. The city had enormous rock-cut facades that were heavily influenced by Roman architecture. Their designs were too intricate for such a primitive location. Also, they had cultural practices, thriving agriculture, as well as an advanced drainage system. Everyone will agree that Petra was one of the wealthiest kingdoms during prehistoric times!
However, in 106 AD, the Romans colonized the kingdom, and Petra started weakening towards its downfall. Moreover, there were also a series of fatal earthquakes and trading by land became obsolete. With this, Petra slowly dilapidated and was eventually lost in the western world.
It was only in the early 1800s when researchers started infiltrating Petra. Gradually, there were various excavations conducted to unearth the lost city of Petra. Today, almost 85% of Petra is still untouched meters beyond the cliffs and the ground. With the little percentage of discovery, it already showed us the rich culture of Nabataeans. Imagine how much more we will learn about their customs, people, and history if more will be unearthed!
Things to do in the Lost City of Petra
1. Take Photos at Bab al Siq
Before you get into the lost city of Petra, you will first see the Bab al Siq, which translates to "gateway to Siq". In this 900-meter long path, you will walk in the middle of enormous gorges leading to a vast necropolis. While it gives you a preview of what the lost city of Petra offers., you will also learn about how this narrow pathway played a huge role in giving access to the Nabataeans to see the rock tombs.
One of the remarkable things you will see is the Djinn Blocks or God blocks. These are three colossal, squared monuments that stand mightily beside the pathway. Djinn comes from the Arabic word "spirits", which is also rooted in the English word, "genie". Many tourists are captivated and believe that the Djinn Blocks represent gods of water and fertility. However, there is actually not much information about them. After a short walk, you will also see a carved Obelisk Tomb with four pyramids perched on top. Then, below it, you will also spot the Triclinium or the Banquet Hall, which is a dining table with three couches on each side.

2. Walk along the Siq of Petra
As you walk farther from the Bab al Siq, you will finally reach the breathtaking Siq. This is a narrow passage with a width that only spans between 3 and 12 meters. As you walk this over 1km passage, you will strain your neck appreciating these high gorges carved by nature. You will also see Nabataean sculptures of gods carved in the gorges as well as idols called Sabinos Statues. These gorges have a soaring height of 80 meters, making it possible to mysteriously hide the picturesque city of Petra.
Aside from the amazing natural wonder, Siq also displays proof of Nabataean's civilization with the water systems on each side. With the use of pottery pipes, they drew water from Wadi Musa or the Valley of Moses to supply water to the city. At the same time, you will also see the constructed dams that prevented the city from flooding and helped collect water, too.
3. Explore the Treasury
Al Khazna or the Treasury is one of the monumental landmarks in the lost city of Petra. It is a well-preserved ancient architecture that stands almost 40 meters high. Gigantic Corinthian columns supported it, and its facade is made of stucco with a layer of paint. Many architects believe that the stonemasons and sculptors from Alexandria constructed this because its facade mimics the Ptolemaic Palace architecture.
Also, the Treasury's name "Al Khazna" was rooted in the Arabic name "Khazneh al-Fira'un", which means "Pharaoh's treasury". They believed that there are hidden treasures by the Egyptian Pharaoh at the urn on top.
Today, a lot of tourists visit the Treasury with its unbelievable size, details, and stories. Looking at its facade will make you wonder how they were able to engineer such a futuristic edifice with their scarce resources. Some people suggest that Al Khazna was a mausoleum for royalties because of its palatial beauty and the remnants of incense they found. But up to this day, it's still a mystery what was the purpose of this building.
4. See the Royal Tombs
Another must-see in the lost city of Petra is the surreal mausoleums carved from the Jabal al-Khubtha rock massif. Although archeologists did not uncover remnants that confirm its construction for a certain ruler, researchers found something else. Since the Royal Tombs are found between Wadi Musa and Wadi Mataha which used to be the royal quarters, they believed that this could be the tomb of the kings of Petra.
Along these facades, you will see various rock-carved mausoleums. But the most popular is the Silk Tomb and the Urn Tomb. The Silk Tomb attracts many tourists because of the glistening marble sandstone that eroded and further beautified the tomb. Meanwhile, the Urn Tomb parades its 26 meters facade with unusual frieze figures that are believed to be the head of the deities.

5. Climb the High Place of Sacrifice
Standing 170 meters high above Wadi Musa, the High Place of Sacrifice is not only a remarkable vantage point at the lost city of Petra, but it also has a compelling story to tell about the religious practices of the Nabataeans. When you climb up to the High Place of Sacrifice, you will see obelisks and numerous platforms that are about 15 meters long and 6 meters wide. These were used for religious ceremonies with a basin and a space for their gods. When you look around, you will also spot tables that were used for offerings during their time.
Before you reach the High Place of Sacrifice, you will have to climb the steep flight of stairs towards the peak. These chiseled stairs hold so much importance because Nabataeans used this during processions.
6. Explore the ruins of the Great Temple of Petra
Contrary to being called the Great Temple, the ruins of the Great Temple of Petra are found to be a royal reception hall. Set upon the bedrock of Katute Hill is a massive three-leveled edifice that stretches to 7,560 square meters and stands up to 25 meters. Most of the chambers have interpretive signs that will prove to you how they have advance engineering for 100 BC. Moreover, you will also see how they were greatly influenced by Ancient Roman architecture. When you explore the Great temple, you will also see a Roman bath, Roman theatre, and similarly-designed columns.
7. Marvel at the Petra Monastery
Clouded by an enormous cliff, you will find one of the most significant landmarks in the lost city of Petra, the Ad Deir. In 300 BC, the Nabataeans built the Ad Deir or the Monastery with a similar design as the Treasury but way larger. The Monastery has an imposing width of 57 meters and a height of 48 meters. It's more than twice as wide and 3 meters higher than the Treasury. Moreover, in the middle of its facade, you will notice a circular roof crowned with an urn. But they did not find mausoleums inside, instead, they found traces of carved crucifixes, which suggests that it used to be a Byzantine church.
If you only have a limited time to explore the lost city of Petra, we suggest climbing up to the Monastery right away. After all, the Monastery is deemed as the main centerpiece of Petra. Don't worry about missing out on the other landmarks, you will see a lot of it along the way.
8. Hike towards the End of the World
After visiting the Ad Deir or the Monastery, you will see a trail with puzzling signage that says: "The View of the End of the World". Anyone who will see it would probably be baited to see how the end of the world looks like — at least in the perception of Nabataeans. Surprisingly, at the end of the trail, you will just be at a vantage point. You will see a rugged landscape with some protruding conical rocks. Perhaps because the landscape lacks greeneries and is filled with precipice, it seems like this place will not allow survival. Regardless of its hostile appearance, you still shouldn't miss this out in your itinerary!
9. Drop by Little Petra
About 20 minutes away from Petra, you will find the fascinating Siq Al Barid or Little Petra. It has a similar impressive edifice as the ones in Petra. Apart from that, this city served as an important venue for trading, transit, and agriculture. During ancient times, Little Petra was where traders would usually stop over to rest. So it also became a hub for commerce between traders and travelers. Also, archeologists found plentiful and well-preserved wine presses that suggest they had fertile land to cultivate grapes for winemaking.
Upon entrance, you might have the impression that Little Petra looks similar to national parks in the U.S. dominated by massive rock formations. But actually, there are fascinating rock-carved edifices and facades in the area. As you stroll Little Petra, you will see the Tomb Face 846 with a Greco-Roman classical architecture that is carved deep in the gorge. Also, you will find gigantic cliffs with carved holes that served as a tank to store waters, as well as temples and cave rooms that seemed to be the house of ancient Nabateans.
Best time to visit the Lost City of Petra
Since most of the activities in Petra will require you to climb a flight of stairs, stroll around ruins, and hike up to the summit, the best time to visit the lost city of Petra is during spring or autumn. Spring is from April to May, while autumn is from October to November. During these times, you will not only appreciate the cool breeze, but you will also enjoy strolling around the city because it's not yet teeming with crowds. Furthermore, visiting during these times will also allow you to score cheaper accommodation and tours because it's not yet the peak season.
When visiting the lost city of Petra, it is ideal to go sometime after sunrise, probably around 7 AM, or late afternoon at around 3 PM. Since you will mostly appreciate rock-carved edifices in sandstone, it's most photogenic when the rays become more orange-toned. Also, most tourists swarm Petra at around 10 AM. So, plan your trip accordingly.
What you need to know before visiting the Lost City of Petra
1. Get a Travel Insurance
We have said this before, but we will say it again. Secure travel insurance before traveling to your destination. Don't think of it as an optional add-on to your trip. Treat them as if it is something that will complete your trip. After all, accidents are called accidents because they are unforeseen. So when the circumstance arises, with the travel insurance you will be able to protect your current financial assets. Besides, having travel insurance will also give you the peace of mind to enjoy your trip without worries!
2. Avoid riding Animals
When you explore the lost city of Petra, you will be offered to hop on donkeys, camels, or horses — perhaps to experience the authenticity and fit the ancient backdrop, or sometimes to quench your worn-out energy. But bear in mind that there are issues with animal maltreatment in Petra, wherein the animals are overworked carrying heavy tourists but are underfed and malnourished. Avoiding riding animals may be a small step towards freeing these animals from maltreatment, or it might help protect them in the future with regulated rules and standards in taking care of them.
3. Gear up!
When you visit the lost city of Petra, the main thing you will do is walk. You will walk the vast city, climb up flights of ancient stairs, and explore historical edifices. So make sure to gear up and wear comfortable clothes. You can wear your athleisure clothes partnered with your comfortable running shoes. You can layer with some windbreaker or cardigans to warm you up in case the weather is too chilly for you. Above all else, don't forget to bring your water jug and light snacks.
Let's get lost in the city of Petra!
When you visit the lost city of Petra, the primary thing that you will do is to explore the city and learn about ancient Nabataean history. While the city may attract a lot of outdoor buffs and history fans, it's not exclusive to them. The lost city of Petra attracts tourists from all walks of life because of its compelling stories and structure. Similar to most modern cities, Petra also has a fair share of similar cultures and historical morals that anyone can relate to. The city has a lot of stories carved in its walls that will amaze visitors. But if there is one thing that you should know about Petra is that it is still a home and it needs to be respected. Try your best to learn and understand the tales of the ruins. Last but not least, enjoy your trip!