Siem Reap Weather In Cambodia: Everything You Need To Know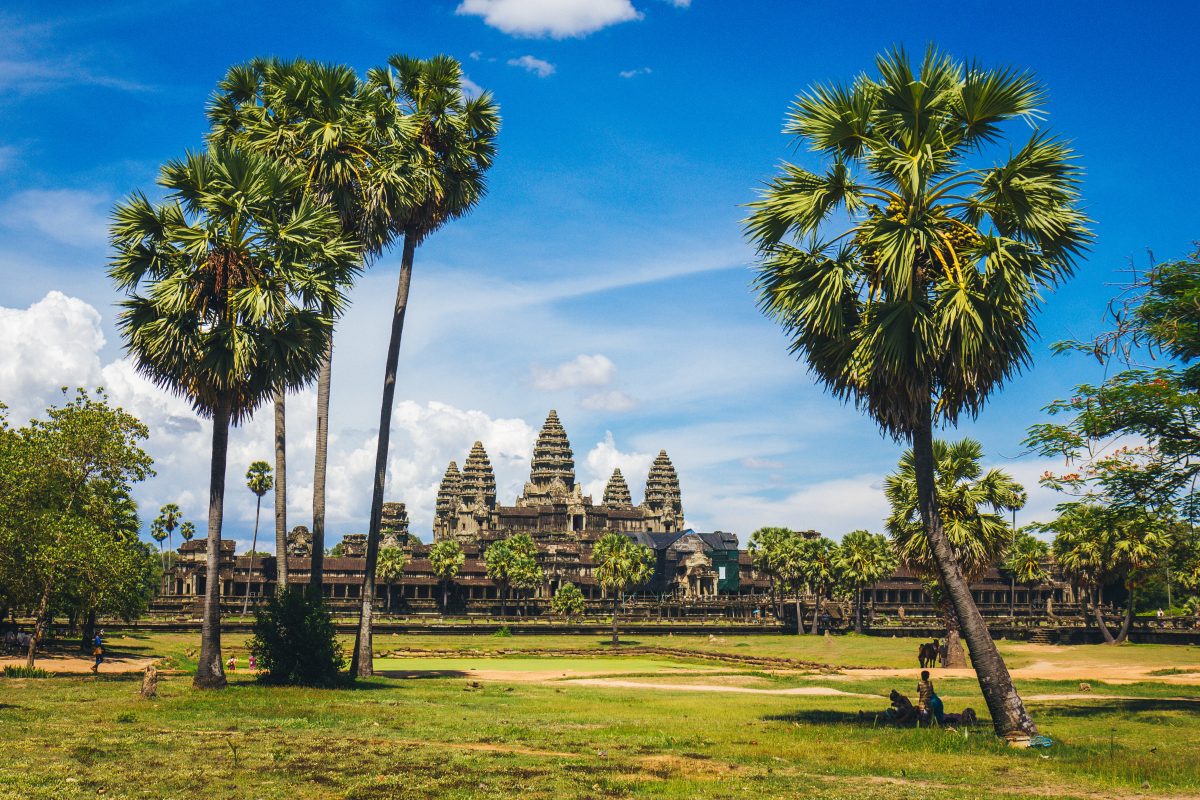 The incredible city of Siem Reap draws in more than a million tourists each year. With its historic sites and bouncing nightlife, the Cambodian city is truly a spectacle to behold. However, given the country's location, it's important to consider the weather when making travel plans.
The weather here can be volatile at times, so it'd be wise to do some research ahead of time prior to your trip. Here's everything you need to know about the Siem Reap weather in Cambodia.
Where Is Siem Reap?
The city of Siem Reap is a popular tourist destination located in northwestern Cambodia. It has an interesting background, though, it did go through a dark chapter in recent history brought on by the Khmer Rouge regime. However, after the death of Cambodian politician Pol Pot in 1998, the city's tourism has been revitalized. Siem Reap now serves as a gateway to the temples of Angkor, an ancient site sure to be the darling jewel of any history buff.
Rainy Season In Cambodia
Being a tropical country, Cambodia only has two primary seasons: dry and rainy. The rainy season in Siem Reap occurs from May to October, with some spillover to early November. Thanks to the southwest monsoon, these months usually bring gloomy Siem Reap weather and heavy rainfall.
However, the rainy season shouldn't necessarily stop you from visiting Siem Reap. In fact, there are many advantages that come with traveling during the wet season. For one thing, the temples are often less crowded on these months, giving you a better view of everything. The surrounding foliage is also greener and lusher, courtesy of the rain.
The downside of the damp Siem Reap weather is the inconvenience it brings. Some unpaved streets become muddy, and the occasional storm may curb your plans for the day. Flooding also happens from time to time. If you plan to visit Siem Reap during the rainy season, make sure to pack an umbrella with you.
Dry Season In Cambodia
Given its placement on the globe, Cambodia generally experiences warm temperatures all year. However, the dry season—when rainfall is minimal to nonexistent—takes place from late November to April.
Siem Reap weather in March is hot. However, it's in April when temperatures truly spike, causing some distress to tourists who aren't used to the tropical climate. The following month, in May, the warm weather mixes with rainfall, resulting in unpleasant humidity.
Beating The Siem Reap Weather
The hot Siem Reap weather can be a hassle for tourists, but there are some things you can do to beat it. The first is to schedule to trip on the appropriate months. It's also a good idea to pack light clothes for easy airflow. However, you must remember that the temples in Siem Reap call for modest clothing.
Hand fans and umbrellas can do wonders on a hot day so make sure to bring them with you. Make sure your hotel has air conditioning as it can be hard to sleep on warm nights. It's also recommended to book a hotel with a generator in case of a power cut.
Best Time To Visit Cambodia
Since a trip to Siem Reap mostly involves participating in outdoor activities, I'd argue it's best to experience the city during the dry season. However, standing under the hot sun all day is equally unappealing. Therefore, the best time to visit Cambodia is from December to January.
The Siem Reap weather in December and January are the coolest. These months also see little to no rainfall, with blue skies greeting you every day. At night, temperatures can go down below 20 degrees Celsius, which isn't too cold or hot. Clear skies are also favorable for those who want to watch the sunrise over Angkor—a popular attraction in Siem Reap.
Word to the wise, though. Since Siem Reap weather in December and January are near-perfect, expect more tourists during this time. Additionally, hotel rates typically go up as a result of the peak season. If you do plan to visit Siem Reap on these months, make sure to book your accommodations way ahead of time. This way, you'll avoid exceedingly high prices and won't run out of hotels.
Getting To Siem Reap
Direct flights are available to Siem Reap-Angkor International Airport, which sits 7 km outside of the town. The airport is served by many international and local airlines. However, there are other ways to travel to Siem Reap if you're already in Cambodia.
Via Ferry Ride
Phnom Penh and Siem Reap are connected by the Tonle Sap River, so traveling by water isn't difficult. From Cambodia's capital, you can ride a daily ferry that will drop you off at Chong Khneas, which is 12 km south of Siem Reap. From there, you can take a taxi into town. The ferry ride costs $35 and takes more than 8 hours.
Ferry rides are best during the rainy season. Water levels are too low on drier months, resulting in smaller boats that are more uncomfortable and prone to groundings.
Via Bus Or Taxi
If you're coming from Phnom Penh, it's possible to travel to Siem Reap by land. There are several bus companies that can take you to your destination. Tickets cost somewhere between $7 to $15, and the bus ride takes roughly 8 hours. Alternatively, you can take a taxi ride. A private taxi ride can set you back $45, though you can opt to share it with other travelers.
There are also international bus companies with routes to Siem Reap from Thailand, Vietnam, and Laos. So, if you're coming from any of those three countries, you're good to go. Ticket prices vary per country and bus company, though, so it's best to do some research first. With so many tourists heading to Siem Reap, it's advisable to book your bus tickets in advance. Running out of seats can seriously put a damper on your travel plans.
Top 3 Things To Do In Siem Reap
There are a number of things you can do in Siem Reap. This celebrated city has something for every type of traveler. History connoisseurs, in particular, will love the majesty of the manmade structures. Nature lovers will also find it hard to leave this place, while party animals have something to look forward to every night.
1.
Explore The Majestic Angkor Wat
You'd be remiss if you travel all the way to Siem Reap and fail to visit Angkor Wat. It's the most frequented attraction in the whole city, with tourists coming in droves when the Siem Reap weather is agreeable. Listed as a UNESCO World Heritage Site, the ancient temples of Angkor Wat boasts 12th-century Khmer architecture and features 2,000 carvings of celestial dancers.
There's a rich history that echoes within the walls of this temple complex. As one of the greatest religious monuments in the world, its brilliance is hard to beat. In the early morning, tourists gather just outside to catch a glimpse of the captivating sunrise that serves as a backdrop to Angkor Wat. The water below reflects the skies and the wonder of this historic site, making for a picturesque view.
A one-day pass to Angkor Wat costs $37 per person.
Known as the largest freshwater lake in Southeast Asia, Tonle Sap Lake is second only to Angkor Wat in terms of popularity. The mesmerizing ripples of this lake mask its surprisingly shallow depth of only 10 meters. With a length of 250 km, it's no surprise that tourists flock to see this work of nature.
Tonle Sap Lake is also home to the Village on Stilts, a thriving community nestled on the water. There's an abundance of wildlife in and around the lake. Bird sanctuaries, in particular, are frequented by tourists.
Unlike other attractions in Siem Reap, Tonle Sap Lake is perhaps best visited during the rainy season. It's at this time that water levels are higher, thanks to the reverse flow from the Mekong River and extra water trickling from upstream. However, if you prefer going to the bird sanctuaries in the area, the optimal Siem Reap weather for that is between December to April.
3.
Explore Siem Reap With A Different Atmosphere In Pub Street
It doesn't take a genius to know what lines the roads of Pub Street. As the name suggests, Pub Street features a motley of budget-friendly bars, clubs, and restaurants. You won't have to spend too much to get a pint here. In fact, the bars in Siem Reap's Pub Street are famous for their $0.50 draft beer.
The nightlife in Siem Reap is nothing short of active. You can drink and party all night long. However, if you're not in that kind of mood, it's also a good place to take a lovely stroll and admire the lights. You won't have to worry about crashing into any cars, as the entire street is closed to motor vehicles from 5 p.m. With a bright red neon sign of its name dangling across, this party street is hard to miss.
Start Planning Your Trip
While Siem Reap is beautiful at any time of the year, you may prefer visiting this Cambodian city during a specific season. After all, it's not every day you get to see such a magnificent landscape. You might as well make the most of it. Just remember: when it comes to Siem Reap weather, January and December are the most favorable. It's perfect for those from the west looking to escape the biting winter chill.