Namibia Travel Tips: Everything You Need to Know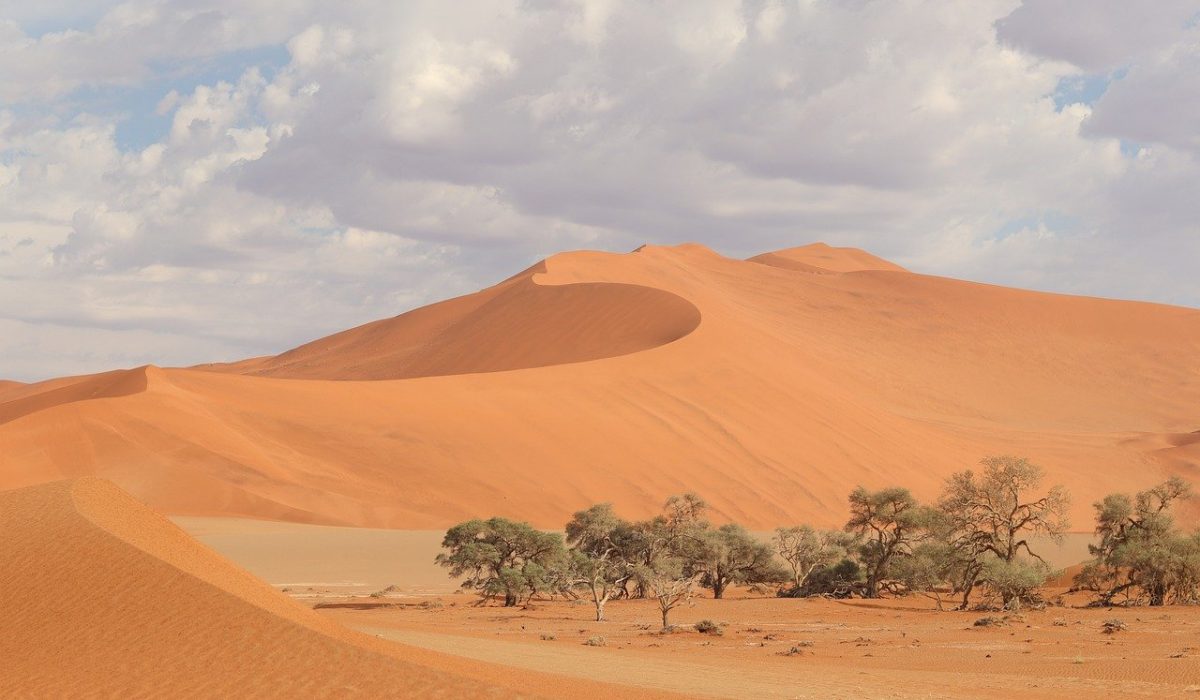 Experiencing the sand dunes, visiting wildlife sanctuaries, and seeing indigenous tribes up close are just a few of the things that you need to include in your Namibia travel itinerary. As you comb the entire country, you will see the great influence of German culture in their architecture and cuisine. But there are also the drastic efforts of locals to preserve their primitive culture. Being a coastal country and bordered by South Africa, they also have a fair share of vistas and wildlife, which are similar to the Garden Route in South Africa. Similar spectacular landscape, but with fewer crowds.
Just make sure to bring some DEET repellent to avoid sand fleas when you travel to Namibia. Then, for sure, the rest of your vacation will be one of the best in your travel journal.
How to get to Namibia, Africa?
There are various airports in the U.S. that offer flights to Nambia's international airport, Hosea Kutako International Airport (WDH). Frequently, flights come from New York, Florida, and Illinois. But if you are flying on a budget, you can book a flight from New York. During their cheapest month which is February, a roundtrip flight costs US$1,006 per adult. This flight is operated by Lufthansa and Brussels Airlines. It also runs from 27 to 37 hours per way with one to two layovers.
The Hosea Kutako International Airport (WDH) is located almost 50 kilometers away from the capital, Windhoek. Usually, it will only take you around 40 minutes to reach the capital. There is no public transportation service that you can take. Most of the time, the transfers from the airport are prepared by the accommodation you booked. So, when you book a hotel or hostel, you can ask them to arrange them for you. Don't worry because it's not that expensive, it only ranges between US$20 and US$50 per car.
Is Namibia safe?
Unlike most African countries, Namibia is relatively safe. Just like in other countries, there are fewer violent crimes than non-violent ones. Non-violent crimes such as pickpocketing, purse snatching, and breaking in of parked cars are more prevalent. There are also cases of fraud in hotels and restaurants as well as robberies in public transportations. Although the Namibian government formed the Tourist Protection Unit (TPU) for tourist's help desk, they are still understaffed and need more improvement. So, it is important for you to never let your guards down.
Precautions before traveling to Namibia
In order to have a safe Namibia travel, you have to practice maximum safety precautions. When booking your flight, hotel, tours, and transfers, always book from the official sites or at least credible third-party websites. Or, you may also look for accredited travel agencies in the U.S. to skip the hassle. When you're paying never give a picture of your credit card details, especially, your CVV. If you can pay with a credit card, be there in person, dictate them, and see where they're typing the details at. Also, ask them if you can pay at least 30% to reserve your slots and pay full when you get to Namibia. Most of all, get travel insurance so you can travel worry-free.
Precautions while in Namibia
There are three things that you have to be cautious of when you're in Namibia; people, animals, and money. First, Namibians are generally welcoming of foreigners. But there are also some who are too welcoming, they will get a "souvenir" from you. So, never leave your things unattended, tuck away your electronics when walking, and limit your itinerary until before 9 PM. Trust your instincts. If you feel off, don't do it.
Second, at night, it is recommended not to drive on rural and unlit roads because you might encounter animals crossing. Also, you have to be cautious when you're visiting sanctuaries. Follow your guide. Don't wander around or you might encounter a fatal death.
Lastly, take care of your money. For sure this is one of the most important things you need when you travel. So, when you're changing money, withdrawing from ATMs, or paying with your credit card. Always trust your gut feeling. Check the currency exchange and count your money in front of the counter. If you feel being watched or the location of the ATM is sketchy, cancel the transaction. Keep an eye on your credit card and always check your transactions on your mobile banking app.
Best Time to Go to Namibia
Most of the things to do in Namibia are outdoor activities. Considering how they experience such arid weather, it is best to visit Namibia when the weather is more bearable. The best time to go to Namibia is from July to October. It has balmy weather that is only around 20°C with little to no rain.
Exciting Things to do in Namibia
1. Get to know Namibia's Culture at Swakopmund Museum
Entrance Fee: NAB 30 or around US$2 per adult
It was in 1951 when a German dentist, Dr. Alfons Weber, founded the Swakopmund Museum. Since he had to go to various towns for his practice, he came across various items that got his attention. From literary memorabilia to household items, he became fond of collecting them all. Even though most of the items originated in the German colonial era, he still looked at them with appreciation. Being born in Germany, he was familiar with most of it. But what made it more unique is that they had a unique touch because they were handcrafted by locals. Eventually, he put all the items he collected in the museum. This time not only for his own interest but also to let other people learn about Namibian culture.
Today, when you visit Swakopmund Museum, you will get to know the history of Namibia. There are dioramas exhibiting the different lives in Namibia since it's between the barren Namib desert and the frigid Atlantic Ocean. There are also various installations of scenes and items during the colonial and post-colonial eras. Most of all, you will also discover the culture of various indigenous tribes in Namibia. There are musical instruments, wood carvings, weapons, and domestic utensils. Indeed, visiting the Swakopmund Museum is definitely a must in your Namibia travel itinerary.
2. See Prehistoric Rock Arts at Twyfelfontein
A UNESCO World Heritage Site in Namibia, Twyfelfontein is home to one of the largest prehistoric rock arts in Africa. Here, you will see various animal engravings like rhinoceros, elephants, and ostriches. They are mostly a depiction of the lives and cultural practices of people at least 2,000 years ago. While it's interesting to see prehistoric arts, what makes it more special is its representation. These arts definitely give you an authentic view of how life was during the late stone age.
3. Watch Sunset at Sossusvlei
In organizing your Namibia travel itinerary, you shouldn't miss out on Sossusvlei. Being part of the largest conservation area in the Namib-Naukluft National Park, it will definitely not disappoint. On one side, you can explore the Sesriem Canyon, which was formed by the Tsauchab River. Most tourists do not only come here to appreciate its rugged beauty, some also come here for its uniqueness. Since Namibia is semi-desert, it's unlikely to see a place with water all year round. And you can see that in Sossusvlei.
On the other side, you can also climb the Big Daddy to take more impressive photos of the sand dunes. Standing 325 meters, Big Daddy is the tallest sand dune in the Sossusvlei area. However, if you want to further test your endurance, you can also climb the Dune 7, the tallest sand dune in the Namib desert and stands 388 meters.
Whether you're going to climb it or not, just make sure to gear up. Bring enough water and wear comfortable shoes because it's going to be an adventure!
4. Take photos at Kolmanskop Ghost Town
In the middle of the Namib desert, you will see the fascinating town of Kolmanskop. During the early 1900s, it was a booming town known for its diamonds. Travelers and residents enjoy various establishments such as a butcher, a baker, a post office, and an ice factory. There were also European opera groups who travel here just to perform. However, because of the ignorance of most locals and the greed of German colonizers, 20 years later the supply of diamonds depleted. Eventually, the town lost its last gem, which led the locals to abandon their houses and possessions.
Today, a lot of tourists travel to Namibia to see the fascinating Kolmanskop Ghost Town. Most of the houses are dilapidated by time and their spaces were consumed by the sand dunes. But the stories embedded in the colonial architecture and faded wallpapers seal its unique character.
5. Hike the Fish River Canyon
Another must-include in your Namibia travel itinerary is visiting the Fish River Canyon. This is the second largest canyon in the world, next to the USA's Grand Canyon. It was formed billions of years ago through flooding from the ocean and the formation of grabens. Today, it runs 161 kilometers long, 27 kilometers wide, and 550 meters deep. Moreover, the Fish River stretches to 800 kilometers, making it the longest river in Namibia.
When you travel to Namibia, make sure to plan ahead to include visiting the Fish River Canyon. Most travelers come here to hike and reach the different vantage points of this rugged beauty. However, the canyon is closed for hiking during summer. So make sure to hike the Fish River Hiking Trail from April to September. Take note that it can take you around four to five days to complete the trail, depending on your fitness level. Regardless, it will be one of the most rewarding hikes you will ever do!
6. Explore the Spitzkoppe
Often called "Matterhorn", a German word meaning "peak of meadows", Spitzkoppe is another must-part of your Namibia travel. Regardless if you are just a beginner hiker or a seasoned mountaineer, you will enjoy Spitzkoppe. It is divided into two mountains, the large Spitzkoppe, and the small Spitzkoppe. The large one mightily stands at 1,728 meters high and can be challenged by more expert mountaineers. While beginners can practice at the smaller one, which stands at 1,584 meters high. Yes, they only have little difference. But most of the trails in the smaller one are more bearable, making it easier for beginners.
However, if you are not interested in hiking or doing any strenuous activities, you can just take photos or explore the rock paintings. Let everyone know that you're already in Namibia and take a photo at the famous Rock Arch. It already appeared in many movies, calendars, and even photo contests, so this could be one of the iconic backdrop of your photos. Or you can also appreciate hundreds of rock paintings as you explore the Spitzkoppe mountains or Pontok Mountains. Although there are some that have been ruined by vandalism, there are still some that survived. So, you will still discover some spots with animal rock paintings that will confirm that the rhinoceros really existed!
7. See Animals Up Close at Etosha National Park
Entrance fee: NAD80 or around US$5 per adult. Children below 16 may enter for free.
Traveling to Africa will never be complete without visiting wildlife sanctuaries. Namibia also has its fair share of sanctuaries that will help you tick it off your Namibia travel bucket list. You can find the Etosha National Park in the northern part of Namibia. It's particularly known for its enormous salt pan that can be viewed from space! The pan has an extensive size of 4,800 square kilometers at an elevation of about 1,030 meters. It's so large that it covers almost 25% of the park. Sometimes, it also becomes the breeding ground of almost one million flamingos. Apart from flamingos, you can also spot elephants, tigers, rhinoceros, lions, zebra, and diverse species of birds.
You can maximize your visit by choosing to stay in the park. There are various accommodations you can choose from based on your preference. From simple nipa hut lodge to former German fort and luxurious safari-style tents, they have it all here.
8. Explore the Cape Cross Seals Reserve
Tick off another animal sanctuary in your Namibia travel itinerary when you visit the Cape Cross Seals Reserve. This reserve is home to the largest breeding colony of Cape fur seals in the world. Within its 60 square meters wide park, you can see countless seals, which number up to 210,000 in November and December. From seals fighting and mating to seals nursing their pups, it's definitely a sight to see! Although it's quite unclear when it started to become the breeding ground of seals, but with the popularity of seal pelts, there was a railway constructed to transport goods and workers in and out of Cape Cross.
Today, there are walkways with interpretive signs that will help you get a closer look at the seals. Apart from the seals, you can also spot other animals such as hyena, Black-backed Jackal, Flamingo, and other bird species. If you are traveling with children, you can also enjoy their picnic facilities or campsites with fire pits.
9. See the Walvis Bay Flamingos
In the coastal city of Walvis Bay, you will find the Walvis Bay Ramsar Site studded with blush-pink-colored bird species. Almost 60,000 flamingos gracefully gather in the lagoons and salt pans to beak on worms and algae. You will see dominantly two types of flamingos here, the greater and lesser flamingos. The greater flamingos are larger and have a distinct blush pink beak with a black tip. While the lesser flamingos have a more vivid magenta color with a maroon beak with a black tip. Although there are almost countless flamingos here, these flamingos don't tend to brawl with each other. When it comes to food, most of the lesser flamingos are only into algae. While the greater flamingos also enjoy algae, they eat worms, small crustaceans, and mollusks, too.
If you want to include this in your Namibia travel itinerary, make sure to visit during the migration. The migration happens from late October to April. During this time, you will have a thrilling view of countless flamingos and other bird species docking at Walvis Bay. So don't miss out on this spectacular sight!
10. Be Swept Off your Feet at the Skeleton Coast
Sand dunes and a beach are two ironic things to be side by side. But 500 kilometers off of Swakopmund, you will see the peculiar Skeleton Coasts. Its waters are known for their forceful currents that will take you 200 kilometers away from the shores. You will also spot shipwrecks that range from centuries-old Portuguese galleons to modern engine-powered steel vessels. In fact, there are almost 500 skeleton ships dispersed on its shores. Hence, its namesake. Apart from these, it also has enormous 300 feet sand dunes behind the shores. Indeed, it is such a fascinating place to visit. But at the same time, it will tickle your imagination and send shivers down your spine. With the thought of sand dunes collapsing behind while you are sunbathing, or the horror of the sailors before the shipwreck. Allow your head to go places while you're in this unimaginable place.
Most tourists come here to enjoy beachcombing and grabble virgin sand dunes or feel the tamed waves on their toes. But if you are an adrenaline junkie, there are also tours for you. Namibia Surf Tours organizes surf guiding and tours at the Skeleton Coast. Or, if you enjoy road trips, you can join Wildspace Adventures' guided self-drive camping safari for eight days. However, if you are constricted physically or you would rather pay more to see its beauty, you can book African Profile Safaris' Fly-In. Most of the tours they offer are inclusive of hotel accommodation. But you may contact them for a tailor-made option based on your Namibia travel itinerary.
Ultimate tips when traveling to Namibia
Get a Travel Insurance
This is the number one rule. There are various travel insurance companies in the U.S. that will offer you the peace of mind that you deserve. Although it's relatively safe in Namibia, crimes are not the only thing that you have to prepare for. There will be a lot of outdoor activities and long drives that you will engage in. Accidents are called accidents because they are unexpected. So, ensure that you are protected as you do all the thrilling activities on your vacation.
Plan ahead
In a report by the Ministry of Environment, Forestry, and Tourism, Namibia was visited by more than 1.5 million tourists in 2019. There are a lot of people curious and ready to experience Namibia travel. Hence, make sure to plan ahead so you can have a wide variety of options — from flight to accommodations and personalized tours.
Manage your Expectations
Experience is always unique to each traveler. But most people who give bad reviews are those whose expectations were not met. There will be long rides, dusty places, warm temperatures, and undeveloped sites that will put you out of your comfort bubbles. If you are not open to these, it will be better not to go to Namibia. This will only put you in a situation that you might be agitated because things are not falling into the right places. Also, there is still an inadequate supply of water since Namibia is a semi-desert. While some people say that tap water is safe to drink, you may opt for bottled or purified waters.
Respect the Namibians and their culture
Just like when you're visiting other countries, you should respect the people, practices, and places in Namibia. Most Namibians are welcoming to tourists, so you will surely have odd encounters with rude people. Whether you're asking for the direction of paying for something you bought, Namibians will be kind enough to accommodate your questions. English is widely spoken, but they would appreciate it if you learn their language. You can practice some survival Oshiwambo phrases for your visit. Also, although Namibia doesn't display many primitive practices, there are still indigenous tribes there. So avoid taking pictures and always ask permission. Always let them lead and blend in. Lastly, follow the rules of the road and your guides. Respect the places you visit and never litter.
Let's travel to Namibia!
Similar to most African countries, Namibia offers a lot of deserts, mountains, and wildlife sanctuaries. Most of the things you will do here are outdoor activities, so make sure to dress up comfortably as well as bring lots of water. We hope that this guide will help you plan your Namibia travel itinerary! Don't hesitate to share with us how your trip went.