South Africa's Garden Route: A Complete 7-Day Itinerary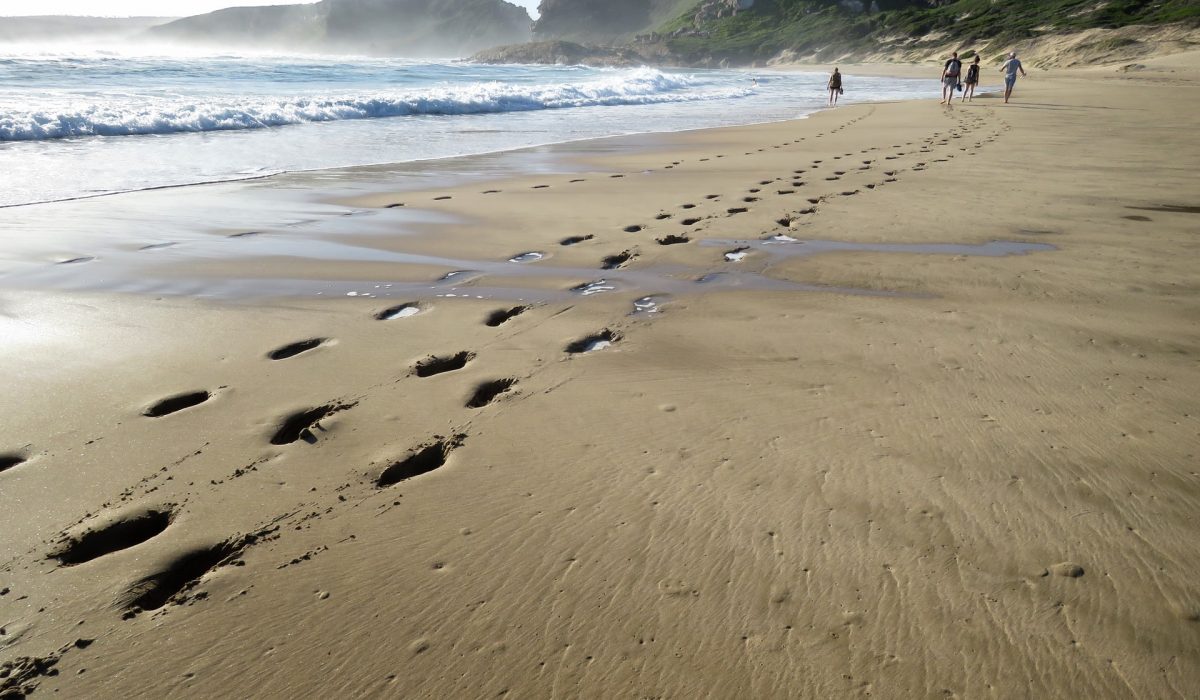 The Garden Route in South Africa is a scenic road in the southern tip of the continent. It spans 190 miles from Stormsrivier (East) to Mossel Bay (West). Taking a road trip along South Africa's Garden Route towards Capetown gives travelers a view of abundant forests, scenic beaches, and mesmerizing vistas. On top of these, as these towns are already known as a tourist spot, there are a lot of accommodation and restaurant options especially if you're visiting South Africa on a budget.
So what are you waiting for? Start learning useful phrases you need in South Africa and book a flight to see the Garden Route in South Africa yourself!

How to get to the Garden Route, South Africa
From the U.S., can book a flight from John F. Kennedy International Airport (JFK) to Port Elizabeth International Airport (PLZ). The approximate cheapest flight is US$421 per way via Virgin Atlantic and British Airways. Don't forget to bring a cushy travel pillow since the flight will take around 25 to 27 hours per way with two stops at London Heathrow (LHR) and Johannesburg – O.R. Tambo International Airport (JNB).
Then, hire a car at Port Elizabeth International Airport (PLZ). You can check the Kayak website to compare prices and car preferences. Just make sure that the car you will rent doesn't have a mileage limit. Or if it does, make sure that it has more than 1,000-kilometer mileage.
The Garden Route will take you from Port Elizabeth to a town four hours away from Capetown. If you don't want to go back to Port Elizabeth International Airport (PLZ) you can book the drop off at Capetown International Airport (CPT) and fly back to the U.S. from that airport.
A Comprehensive 7-Day Garden Route Itinerary
If you will arrive at Port Elizabeth International Airport (PLZ) at 2:55 PM, then leave Capetown International Airport at 6:20 PM, this is how your Garden Route, South Africa, itinerary will look like:
Day 1: Port Elizabeth
Check-in at Town Lodge Port Elizabeth
Room Rate: starts at US$55 per night
After settling all your car rental procedures, take a seven-minute drive to Town Lodge Port Elizabeth. For US$55 per night, you can replenish your energy from the long haul flight. Their Double Rooms are airconditioned and furnished with a cozy bed and tidy private bathroom. You can also relax in their small swimming pool, or dine in the in-house dining hall or at a bar with a breathtaking view of the ocean.
This hotel is also located a few steps away from the Central Business District (CBD). So take this opportunity to load groceries, medicines, and other travel essentials for your adventure.
Day 2: Stormsrivier — Tsitsikamma National Park — Nature's Valley — Knysna
Bungy Jump at Bloukrans Bridge
Wake up as early as 6 AM and check-out of your hotel. You can eat breakfast at the hotel so you can gear up for a whole day of adventure! With a majestic river that flows towards the Tsitsikamma Mountain Range, the scenic Stormsrivier is the official start of the Garden Route, South Africa. Most tourists come to Tsitsikamma National Park for its outdoor activities such as hiking, ziplining, kayaking, and the notorious Bloukrans bungy jumping. Bloukrans Bridge offers the highest Bungy jump in the world. The Bungy jump costs R1,400 (around US$95). And it has a genius pendulum-like system that will give you the best adrenaline-pumping jump of your life!

Sightsee at Nature's Valley
You can also drop by Nature's Valley — 16 minutes away from Bloukrans Bridge — to see sharks and dolphins. In Nature's Valley's gully, you can spot numerous Sharptooth Houndshark. They are nocturnal sharks, however, during summer they gather in groups for reproduction. Then, head to The Point where you can take a superb view of the ocean from the cliff. If you're extremely in luck you can also see the dolphins jumping in the ocean.
Check-in at Tenequia Treetops
Room Rate: starts at R2,502.40 or US$171 per night
Tenequia Treetops is one of the unique and eco-friendly accommodations that you'll find in the Garden Route, South Africa. You will be accommodated in a wooden treehouse with an unparalleled view of the Knysna indigenous forest and gorges. Their rooms are equipped with a spacious patio where you can eat breakfast while looking at the serene lush forest. They also have a bar (refreshments only), a petting zoo, an art gallery, two forest trails, and a pathway to the Knysna River.
However, since it's located in the forest it's very remote and you might see spiders crawling on your bed or monkeys sharing the patio with you. If these things make you uncomfortable, you can head to a city hotel instead.
Knysna Hollow Country Estate is a four-star hotel located in the city center of Knysna. They offer modern and spacious rooms that start at R1,700 or US$116 per night. They also have an in-house restaurant and bar, swimming pools, library, and conference halls. But if you prefer to stay in your room to rest, the rooms also have patios with a view of the pool.
Watch the Sunset at The Head
Take a short hike to the vantage point at The Head. Although it is known for its stunning sunset view, it also offers magnificent scenery that will reward you any time you visit. Below the precipitous cliff, you will see the azure waters robustly flowing towards the Indian Ocean. This spot also takes you to one of the southern tips of the African Continent.
Enjoy Dinner at 34° South
Perched on the waterfront, 34° South is a popular seafood restaurant and market made more famous for its oysters. They offer international dishes with inventive seafood versions and affordable price tags. Their main dishes consist of fresh seafood, pasta, Mexican dishes, and sushi that cost from R60 (around US$4) for a Focaccia Pizza to R995 (around US$68) for a 67 pieces sushi platter. They also have a wine list to set up the celebratory mood.
Day 3: Monkeyland — Birds of Eden — Jukani Wildlife — Elephant Sanctuary
Explore Semi-free Sanctuaries
Admission Fee: R560 or around US$38 per adult for a four-hour visit to Monkeyland, Birds of Eden, and Jukani Wildlife
Since Garden Route, South Africa, exhibits well-preserved natural wonders. It's not surprising to see a lot of animals living either in the wilds or semi-free environments. With a single ticket, you can visit the three semi-free sanctuaries of Monkeyland, Birds of Eden, and Jukani Wildlife.
Opened in 1998, Monkeyland is the world's first free-roaming multi-species primate sanctuary. It is home to more than 550 primate species where most are ex-captives. Here, they allow the primates to live normally while reducing the risks that the wilds pose.
Similar to Monkeyland, Birds of Eden also allows animals to live a safer life. Being the world's largest free-flight aviary, 220 different species of birds fly within 3,200 hectares of mesh. Visitors can also enjoy exploring the area at their own pace or you can request a guide for free!
Meanwhile, Jukani Wildlife offers you a glimpse into the normal lives of the wildlife's big cats and other animals, such as raccoons, zebras, and hyenas. In this sanctuary, ex-captives are given the chance to recover and lead a normal life with lessened threats. Here, they are not caged and most of all, they are not forced into human interactions.
Walk with Elephants at Knysna Elephant Park
Admission Fee: R900 or around US$60 for a 45-minute Elephant Walk
Located just 23 minutes away from Jukani Wildlife Sanctuary, you will hear trumpets. Not from a band, but from a herd of elephants. Founded in 1994, Knysna Elephant Park is now home to more than 40 rescued elephants freely roaming around the park. Here, they also have the freedom to build their families and live a normal life, with lesser threats of the wild.
When you visit the park, take the opportunity to join a 45-minute Elephant Walk. Here, you will walk with the elephants and their guides. You will also hear about the elephant tales so you will learn more about these gentle giants.
Dine at Emily Moon River Lodge
Just 17 minutes drive from Knysna Elephant Park, you will be welcomed by the rustic Emily's Restaurant. This restaurant gives you the best of both worlds: splendid ambiance and sublime dishes. Looking around the restaurant, you will see its classic yet eclectic interiors made more dramatic by candle lights. It's a very romantic place that will force you to celebrate anything. Apart from this, they also take pride in their hand-me-down recipes made with home-grown ingredients. Their main menu ranges from R89 (around US$6) for a Lentil Dal to R181 (around US$12) for an Herbed-crusted Lamb Rack.
If you're looking for some liquors to seal the day, you can head to Simon's Bar, which is just above Emily's Restaurant. They offer cocktails made with local ingredients.
Day 4: George — Sedgefield

Surf at Swartvlei Beach
After having breakfast at your hotel, check-out of Tenequia Treetops or Knysna Hollow Country Estate. Then, hit the road as early as 7 AM.
The six-kilometer distance from Swartvlei Beach on the west to Platbank on the east is studded with numerous beaches. They offer a good surfing spot but make sure to survey the water first. Riptides usually occur in these areas and lifeguards are only on their posts during the high season. If you're taking the Garden Route in South Africa between October and December, you can get lucky to see whales and dolphins swimming at a distance.
Also, if you're traveling with your family, you can head to Swartvlei Caravan Park. This is one of the historic campsites that have been accommodating campers since the 1800s. There you can find the placid Sedgefield Lagoon, which is perfect for swimming. Other activities that you can do include snorkeling, fishing, golfing, canoeing, and kite surfing. Alternatively, you can also hike to Gericke's Point to see rock formations that look like a lion's head.
Have Lunch at Trattoria da Vinci
Just less than 10 minutes away from Swartvlei Beach, you will find the authentic and home-style Mediterranean restaurant of Trattoria da Vinci. This is a small restaurant that offers you a humble and comfortable interior. What will entice you to come back multiple times is their flavorful yet affordable dishes. Their main menu starts at R94 (around US$6.30) for a Medium Roast Pork Shoulder to R180 (around US$) for a slow-roasted Lamb Shank.
Shop at Scarab Craft Market
Remember your journey in Garden Route, South Africa, by shopping for some memorabilia. You can find the Scarab Craft Market in a quaint Scarab Village in Sedgefield. It has a wide collection of pieces that is a perfect gift idea for you and your loved ones. Some of these may be charming beaded jewelry, a crucifix with engraved verses, or high-quality stationery made with elephant dung. Or if you're looking for some African touch to your home, you can also find here some light fittings, unique wooden furniture, and some exotic plants.
There is just so much to buy here! Not only will they make you remember that you once completed the Garden Route in South Africa, but will also help local artisans and businesses. When you're done strolling around, you can also drop by Sedgefield Craft Brewery to quench your thirst or dine at Windpomp Diner.
Hike at Goukamma Nature Reserve
Coming to Sedgefield's side of Garden Route, South Africa, will not be complete without visiting some of their national parks. Managed by Cape Nature, Goukamma National Reserve and Marine Protected Area is a must-visit in the Garden Route. Aside from the diverse habitat occupying 2,500 hectares of land and 18 kilometers of coastline, it also offers many hiking trails. You can choose from easier trails of Buffalo Bay Trail that is only around 4.2 kilometers. There are also medium trails that are only around 6.5 kilometers, such as Bush Pig Trail and Cape Clawless Otter Trail. But if you want to challenge yourself more, head to Blombos Trail, which is particularly known for its outstanding bird viewing. This trail is around 15 kilometers long.
Dine with a View at Pili Pili Beach Restaurant
Just 13 minutes away from Swartvlei Beach, you'll flind Pili Pili Beach Restaurant, which offers dining with a view. Whether you dine on the rooftop or the beachfront, you will be charmed by the ambiance and, of course, the food. Their main menu offers you an extensive cuisine made with the finest ingredients. It prices range from R79 (around US$5) for a Beef or Chicken Prego Roll to R219 (around US$15) for 12 pcs of Pan-fried Vannamei Prawns. Their main dishes are served with a choice of french fries, salad, seasonal roasted vegetables, or a combination. They also have an elaborate menu for your pizza, sushi, wine, cocktail, and kid's food options.
Check-in at French Lodge International
Room Rate: starts at R999 or around US$67 per night
Displaying a cottage with thatched roofs, French Lodge International gives you traditional African-inspired architecture furnished with modern touches. Apart from the pool outside your door, most of their rooms are also equipped with a spa bath. This is perfect especially after an entire day of touring around the Garden Route. Relaxing in a spa bath will always be a good idea to cap your day.

Day 5: George — Wilderness
Explore the Wilderness National Park
Admission Fee: R160 (around US$11) per adult
In another section of the Garden Route National Park, the Wilderness National Park also offers you stunning vistas and diverse birdlife. In the north, gape at the enormous Outeniqua Mountains. Meanwhile, the various tributaries that also sustain the verdant park will take you towards the Indian Ocean. This park also offers a myriad of hiking trails that will lead you to the river or to a waterfall. But if you're a beginner, you can take the Brown-hooded Kingfisher Trail. This is a five-kilometer hike that will show you the forests and lead you to the river.
Aside from this, the park is also a good spot to do abseiling and kloofing. Eden Adventures hold these activities in Kaaimans River inside the park. You can do a half-day tour with only one activity of your choice for only R700 per adult (around US$47). Or, if you're feeling more adventurous, you can do a full-day tour and combine both for R1,100 per adult (around US$73).
Enjoy Lunch at Zucchini Restaurant
Open hours: 9 AM to 5 PM (Monday to Friday)
Opened in 2007, Zucchini Restaurant prides itself on the handed-down dishes made from their own-produced organic ingredients. Their main menu ranges from R98 (around US$7) for a Frikkadelletjies to R195 (around US$13) for a Fillet of Beef. They also offer wraps, tramezzinis, burgers, salads, and pasta that also have vegetarian variants. Apart from this, they also have a wine, cocktail, and draft beer menu. But if you're not into liquors, they also have a coffee shop for your caffeine boost and sweet tooth.
Paraglide at the Map of Africa Viewpoint
The Map of Africa Viewpoint allows you to see one of the mesmerizing wonders carved by nature. At this viewpoint, you will see a picture-perfect mountain covered with dense forests. It's also surrounded by rivers! On a clear day, you can even see the Kaaimans River Valley clearly. So, step up your viewing game, book a paragliding tour, and get a more incredible view of the scenery!
Dine at Serendipity
Open hours: from 7 PM onwards (Monday to Saturday). Closed on Sunday.
After satisfying your eyes with the sceneries at Map of Africa Viewing Point, it's time to satisfy your palate. Serendipity is a recipient of the 2016 World Luxury Restaurant. They're famous for their five-course meal of classic cuisines with creative flair. Their five-course meal costs R579 or around US$38.
Day 6: George — Mossel Bay
Zipline at Mossel Bay
Cost: R550 or around US$37 per person
Open hours: 7 AM to 6:30 PM
Mossel Bay is the last strand of the Garden Route in South Africa from the east. But with its history and a fair share of natural wonders, you will find yourself thinking about extending your vacation. After eating your breakfast, you can check-out of your hotel at 7 AM.
Start your last full day with an adrenaline-pumping activity at the world's longest zipline over the ocean. In Mossel Bay Zipline, you will glide in an approximately 1,100 meters line with an average speed of 80 to 90 kilometers per hour. On top of that, you will be gliding just 90 meters over the ocean, so there may be times you'll be drenched in the forceful waves. As much as this could be a spine-chilling adventure, taking the zipline will always give you another perspective of these natural wonders! You can also book ahead on the Mossel Bay Zipline website, but be reminded that this activity is weather dependent and has safety restrictions.
Climb the Cape St. Blaize Lighthouse
Admission Fee: R15 or around US$1 per person
Open hours: 10 AM to 3 PM (Monday to Friday). Closed on Public Holidays.
Behind the Mossel Bay Zipline, you will see the white rectangular stone tower of Cape St. Blaize Lighthouse. This lighthouse was constructed in the 1860s to avoid naval accidents. Since then, it has been one of the two South African lighthouses that are operating 24 hours a day. In fact, at night, you will notice that it flashes lights two times every 15 seconds.
Hike and See Historical Caves
After getting the panoramic view of the Indian Ocean, you can also descend to the cave just below the lighthouse. This cave is where archeologists unravel evidence of South Africa's first Middle Stone Age civilization.
Afterwards, take the St. Blaize Hiking Trail, which will take you on a walk on the outline of the craggy cliff. You will end at the historical site of The Big Cave. If you're feeling more motivated, you can walk further to the Pinnacle Point or Dana Bay. But just remember that you will have to walk back to Cape St. Blaize Lighthouse for lunch.
Enjoy Lunch at Cafe Gannet
Open Hours: 7 AM to 10 AM, 12 PM to 2 PM, and 6 PM to 7 PM (Monday to Sunday).
Dubbed as "Mossel Bay's seafood house", Cafe Gannet lays down mouthwatering seafood dishes made with premier ingredients and fresh catches from its local waters. From its humble beginnings as a 40-seater restaurant in 1988, now it's one of the best restaurants in the Garden Route. Aside from its charming interior, the restaurant also has a grand view of the oceans.
Cafe Gannet serves predominantly seafood, but they also have meat, pizza, salad, and sushi options. If it's your first time dining here, you can order their Captain's Platter (R1,250 or US$83) for a three-tier stand of oysters, prawns, mussels, crayfish, line fish, and calamari.
Take a Scenic Ride at the Diaz Express
Ticket: R55 (around US$4) per way
Just five minutes walk from Cafe Gannet, you can board the Diaz Express from Mossel Bay to Hartenbos. This is a small train that will take you on a scenic route with a view of the verdant forest, glistening beaches, and alluring mountains for 45 minutes.
You can hop off and take the later train, or you can just sit back and sightsee. From Mossel Bay, the train departs at 11:15 AM, 2:15 PM, and 5:15 PM. Meanwhile, from Hartenbos, the train departs at 10:30 AM, 1:30 PM, and 4:30 PM. But it's best to check on-site since this may vary.
Check-in at Protea Hotel by Marriott Cape Town Tyger Valley
Room Rate: R1,275 or US$85 per night
From Mossel Bay, it will take you around four hours and a half drive to Protea Tyger Valley. Managed by Mariott, this hotel is a three-star hotel with modern interiors. It also has a pool and an in-house restaurant and a bar where you can celebrate your last night in South Africa. Their rooms are equipped with cozy beds and an en-suite bathroom. Make sure to get a beauty rest to prepare for your long haul flight back home.
Day 7: Capetown
In the morning, take breakfast at the hotel. Then, explore the hotel and take photos with the Table Mountain behind you. If you woke up a little bit earlier, you can also take the time to go to the nearby golf course or Tygerberg Nature Reserve.
After check-out, you can load your things into your car and head to Tyger Valley Centre, which is the biggest shopping mall in Cape Town. Your flight will be at around 6:30 PM, so you can shop for more goods here or you can just pass the time until you go to the airport at around 3 PM. Here is where you'll also drop-off your rented car.
Tips while taking the Garden Route
Get travel insurance.
Just like when you're traveling to other countries, it's important that you get travel insurance. This will not only protect your current financial assets but will also give you peace of mind. Check out the top travel insurance companies in the U.S.
Respect the place.
If you came to the Garden Route, South Africa, for its mesmerizing landscape, many people also want to visit it for the same reason. Apart from listening to the stories of the people and places, it's also vital that you minimize your trashes. Throw your trashes in the bin. Bring your own eco bag, jug, and even utensils.
Be alert.
Just like how you would be alert in your daily lives. Practice being alert when walking around or crossing the streets. Avoid wearing flashy jewelry. Keep your electronics when you're walking. Most of all, be sensitive to your actions since they may cause misunderstanding with locals.
Final Thoughts
If you're thinking of a place to visit during the holidays, the Garden Route in South Africa is waiting for you. With its unparalleled natural beauty, there are just tons of things to see and do here. South Africa has a mix of the rich culture that will surely give you another perspective on life. Hopefully, we've helped you jumpstart your research and somehow convince you that the Garden Route is the perfect retreat for you. Enjoy your trip!