Mount Kinabalu: All You Need To Know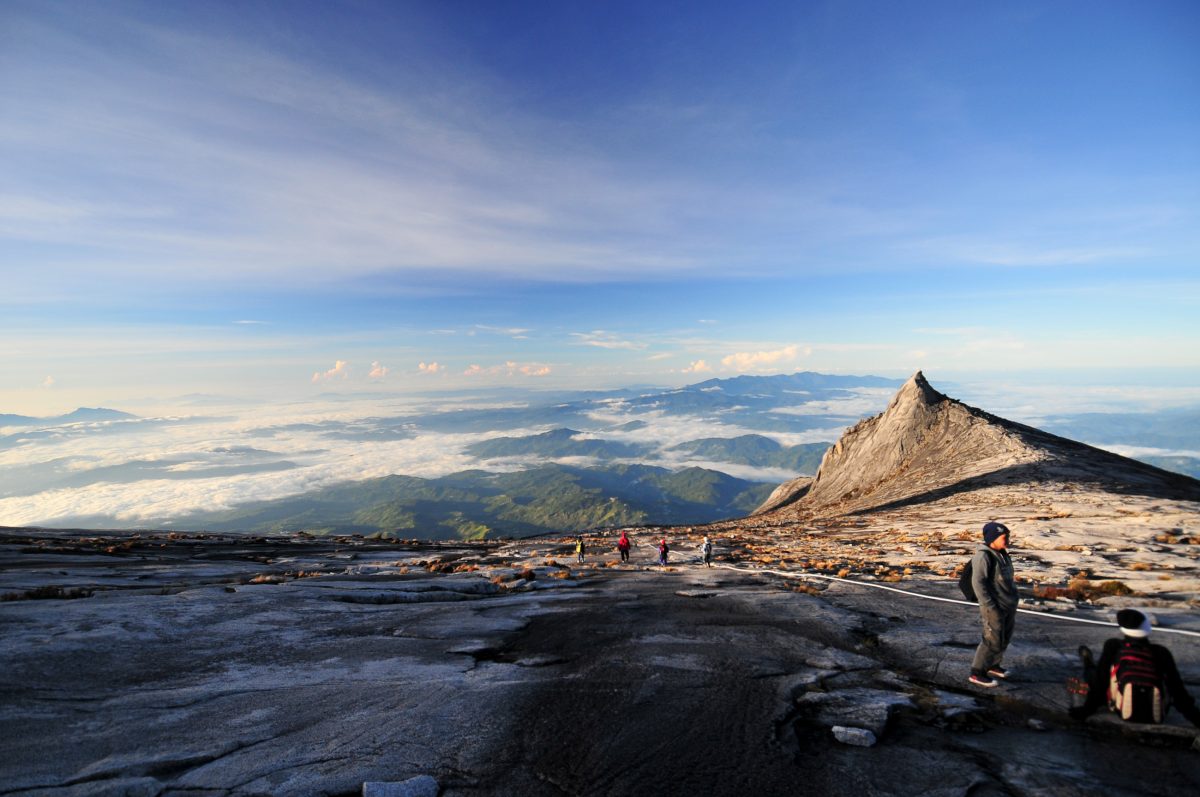 When it comes to visiting Sabah, the best thing you could possibly do is to challenge yourself on a hike in Mount Kinabalu. The majestic Mount Kinabalu sits on the Crocker Range, at 4,095 meters tall, on the west coast of Sabah, Borneo. Furthermore, it's the tallest mountain in Malaysia and lies within the Kinabalu National Park.
The 8.72 kilometres trek to the summit can be taken on by any reasonably fit and healthy person, with adequate preparation. Therefore, many have taken up the challenge to conquer Mount Kinabalu, and most do succeed. If you're interested in climbing this grand mountain, read on!
How To Get To Mount Kinabalu?
From Kota Kinabalu City Centre:
It takes about 2 hours to reach Kinabalu Park from the city of Kota Kinabalu, the capital of Sabah.
You can catch a shared taxi or minivan from Padang Merdeka. The shared taxis and mini-vans don't have a fixed schedule and will only leave when the vehicle is full. However, you can pay for the remaining slots if you wish to leave immediately.
Alternatively, take the coach from the Bus Terminal bound for Ranau, Tawau, or Sandakan in Inanam. These coaches pass by Kinabalu National Park but you'll have to tell the bus captain to drop you off at the park entrance.
From Kota Kinabalu Airport:
Firstly, take the airport shuttle bus (for a fee) to reach the city center, and get off at Padang Merdeka. Then, catch a minivan or a shared taxi to Kinabalu National Park.
Opening Hours Of Kinabalu National Park
The National Park is open from 9 am to 4 pm daily.
However, you have to register for your climb by 10.30 am latest at the Park HQ (earliest at 7 am). After 11 am, you will not be allowed to trek up Mount Kinabalu.
Duration Of The Mount Kinabalu Climb
The standard or quickest time travelers take to reach Mount Kinabalu's summit and back down is 2 days and 1 night. You can't do a 1-day hike up and down Mount Kinabalu as it's temporarily suspended by Sabah Parks for safety reasons. As a result, you have to stay overnight on the mountain.
It takes around 5 hours to reach Panalaban Base Camp (where accommodations are) from Timpohon Gate (the starting point of the trek). After staying overnight at Panalaban, it takes another 3.5 hours to reach the summit. To be on time to watch the sunrise at the peak, you have to leave the base camp by 2 am.
After that, trek back down to the base camp. You will then stay longer if you have plans to do Ferrata climbing. Otherwise, you can start your descent.
The Starting Journey to Mount Kinabalu – Day 1
There's only one starting point – at the Timpohon Gate, just before Carson Waterfall. It's best if you get an early start so you can rest enough for the trek up the summit the next day, and to account for any unexpected delays along the way.
From the Timpohon Gate, you'll take around 5 or so hours (depending on your physical fitness) to trek around 6 kilometres up to Panalaban Base Camp. There are many, many steps, and you can also expect steeper and rockier terrain the higher you go.
There are also several shelters or rest stops along the way that are pretty evenly spaced out. So don't worry if you feel like you need to take a breather before marching on. You should also stop for a light packed lunch. Furthermore, there is an abundance of vegetation and a variety of flora surrounding the trail. You can take the chance to observe the wildlife during your rest stops.
By the time you reach Panalaban Base Camp, it should be in the late afternoon between 2 pm to 4 pm. Subsequently, check into your lodging and note the three meal times. Once you have your dinner, get an early rest for the climb the next day.
Reaching the Peak of The Mount Kinabalu – Day 2
You have to wake up the next day around 2 am or earlier. After supper, make the final leg of your journey to Mount Kinabalu's summit. It'll take you around 3.5 hours to climb up the remaining 2.72 kilometres through the Ranau Trail. This is the toughest part of the ascent because of the dark and there's a section where you'll have to climb with ropes and ladders that are there.
When you finally reach the top, you'll be treated with the breathtaking sight of the sunrise along with an overwhelming sense of achievement. Be sure to take lots of photos!
The Descent of Mount Kinabalu
When you're done marveling at the beautiful landscape, you can start your descent back to Panalaban. There's breakfast at Panalaban for you too and afterward, you can continue to make your way down Mount Kinabalu. The time taken to trek down should be a little lesser compared to your ascent, assuming relatively calm weather. Your ending point is the same as your starting point – the Timpohon Gate.
Via Ferrata
However, if you're engaging in the Ferrata activity, you'll do it after you return to Panalaban. There are two types of Ferrata activity – Walk the Torq and Low's Peak Circuit. They're more challenging than your usual climb on Mount Kinabalu due to the vertical incline.
Walk the Torq is comparatively easier as opposed to Low's Peak Circuit. In addition, it takes around 3 hours and 5 hours respectively to complete the activity. However, there are several attractions in each course that will definitely make the experience worthwhile.
Certainly, you can choose to go through with just the Ferrata route on Mount Kinabalu. It's less common as most people prefer to climb to the summit and if feeling adventurous, do the Ferrata as an additional activity afterward.
Pro-tip: Plan your timings ahead of time or with enough time to spare in case there are unexpected delays.
Preparations Before Your Mount Kinabalu Climb
Get a Climbing Permit
A climbing permit is absolutely necessary for your Mount Kinabalu climb. There are only a limited number of permits issued for each day so do get them as early as you can. The climbing permit is tied to accommodation so you have to secure an accommodation first.
Climbing Permit Cost

Adult (18 years and above)

Children (below 18 years)

Non-Malaysians

RM 200 (47.85 USD)

RM 80 (19.15 USD)

Malaysians

RM 50 (12 USD)

RM 30 (7.20 USD)
Buy Climbing Insurance
You have to buy the compulsory climbing insurance too. It's also recommended for you to buy your own travel insurance in addition to this. This is part of the booking fee when you book a permit.
Climbing Insurance Cost

Adult (18 years and above)

Children (below 18 years)

Both Malaysians and Non-Malaysians

RM 7 (1.70 USD)

RM 7 (1.70 USD)
Accommodation
Because of the limited number of climbing permits issued, you have to book your accommodation for at least 6 months in advance.
If you aren't booking a climbing package with a tour operator, you can still book lodging in Laban Rata Resthouse via Sutera Sanctuary Lodges who own the lodgings there.
What To Expect On Mount Kinabalu
There are three places climbers can stay overnight on Mount Kinabalu: Laban Rata Rest House, Pendant Hut, and Lemaing Hut. They're all located at the Panalaban Base Camp.
Note: The prices listed below are for 2 Days 1 Night stay and include meals, and are also subject to changes. The 3 Days 2 Nights packages tend to have an extra day stay at Kinabalu National Park before your climb.
Accommodation on Mount Kinabalu

Details

Price

Laban Rata Resthouse

Offers warm rooms and hot meals before and after your climb

Heated private rooms or unisex non-heated dormitories (bunk beds)

Facilities: grocery counter, restaurant, and souvenir shop

Items such as jackets and blankets are available for rent

From RM 1,309 (313.15 USD)

Pendant Hut

For Via Ferrata climbers

Only non-heated rooms

A private room for 4 or a unisex dormitory with bunk beds

Facilities: pantry (coffee and tea), lounge, mini library and reading area, board games, food and beverages

Lemaing Hut

For Malaysians

Only non-heated unisex dormitory rooms with bunk beds

Facilities: restaurant, souvenir shop, grocery counter

Items such as jacket, torchlight, and towel are available for rent

RM 200 (47.85 USD)
In Kinabalu National Park:
There are also accommodations available in the park itself. You can choose to stay in the park a day before your Mount Kinabalu climb or if you would like to explore the park prior to the climb.
Hire A Mountain Guide
Unlike other mountains, Sabah Parks has also made it compulsory for every climber to have a (shared) guide if you want to climb Mount Kinabalu. However, one mountain guide is only allowed to take a maximum of 5 climbers above 16 years; a maximum of 2 climbers below 16 years. This is to be paid via cash in Kinabalu National Park.
Mountain Guide Costs

1 Guide for 5 Adult Climbers (16 years and above)

RM 230 (55 USD) per guide for both Malaysians and Non-Malaysians

1 Guide for 2 Children Climbers (below 16 years)
Park Entry / Conservation Fee
Mount Kinabalu is in the National Park, thus, to enter the park, you'll need to pay an entry fee. This is also to be paid in cash in the park.
Park Entry or Conservation Fees

Adult (18 years and above)

Children (below 18 years)

Non-Malaysians

RM 15 (3.60 USD)

RM 10 (2.40 USD)

Malaysians

RM 3 (0.75 USD)

RM 1 (0.25 USD)
TL;DR: Total mandatory costs for international adult travellers = from RM 1,761 (422.45 USD)
Though optional and largely unnecessary, especially if you're on a budget, you can also hire a porter to carry your bag(s) up Mount Kinabalu. The rate starts from RM 65 (15.55 USD) per way (for the maximum weight of 10 kg). The cost also varies depending on your destination.
You're also free to opt-out of the climb certificate that cost RM10 (2.40 USD).
3.
Tips For Packing For The Climb
Wear comfortable, light clothing and hiking shoes for day 1's hike
Ponchos/waterproof jacket as it might rain
Windbreaker and a warm jacket – it gets really cold at night, especially in non-heated rooms. Furthermore, the summit can get to negatives in temperature (i.e., 0°C to -3°C), and the wind can be strong too
Warm clothing for day 2's summit climb. Also, warm clothes can help fight off the cold at night
Packed light lunch (if you book a tour, it's generally provided for you)
Medication in case you have altitude sickness or if you unwittingly catch a cold
Bring extra cash in case of unforeseen circumstances. Because most of the time, only cash is accepted
Bring enough water and small energy bars to last you until you reach the base camp
A hiking pole will help ease some of the strain on your body. It's also possible to purchase one at Kinabalu National Park
Your backpack should be waterproof in case of rain. In addition, try to limit the weight of your bag as much as you can
Head torch (or torchlight) to light your way during your climb up to the summit before sunrise
Gloves for better grip on the ropes up the summit. It also prevents friction burns; it can keep you warm when it gets cold too
Booking A Tour For Mount Kinabalu
You can book a tour for Mount Kinabalu from any licensed tour operators such as Amazing Borneo and River Junkie Tours, either online or physically. Additionally, most tour packages come with a Mount Kinabalu climbing permit, accommodation, climbing insurance, and a (shared) mountain guide.
This option, though more expensive, is generally more convenient as the agencies handle everything for you. Most also provide transport for you and will bring to and from Kota Kinabalu to Mount Kinabalu.
However, you should still check the details carefully and make sure that everything is accounted for. This is because some of the more simple tour packages may not include a mountain guide.
Best Time To Go
Between March and September is the best time to climb Mount Kinabalu due to the drier period. If you decide to go during the wetter season, be prepared for the heavy rainfall and slippery slopes. However, due to the tropical climate of Sabah, Borneo, there's still a chance of rain even during the drier period.
These cover all the essential things you need to know if you want to climb Mount Kinabalu. While it's important to enjoy yourself, it's equally important to follow your guide's instructions (they are experienced and know the best!).