Best Things To Do In Kota Kinabalu, Sabah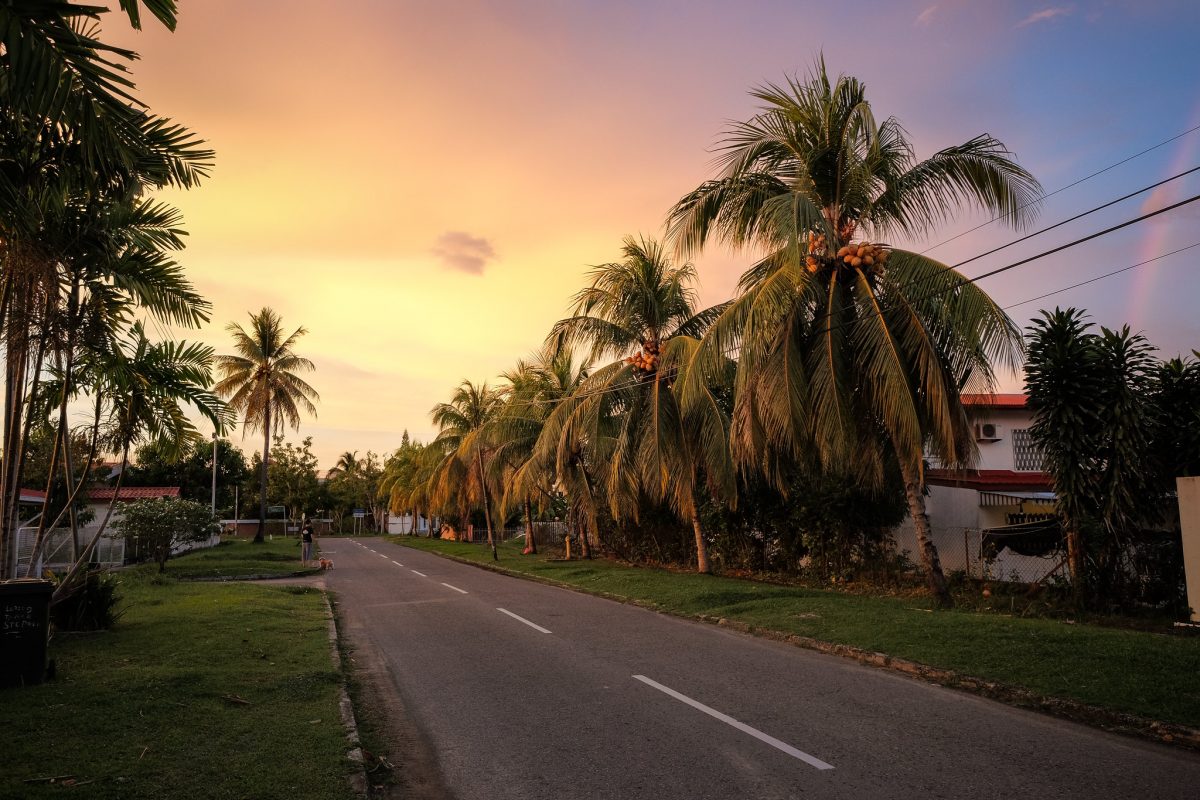 When you're in Sabah, Kota Kinabalu is a place that should definitely be on your itinerary! Kota Kinabalu, or more affectionately known as KK to the locals, is the capital of Sabah, a state of Malaysia in Borneo.
There are things for everyone to do in this city, from shopping and sightseeing to enjoying nature and the outdoors.
Here are 11 of the best things you should do when you're in Kota Kinabalu:
1.
Enjoy Yourself Fully At The Beach Resorts
When you're in Kota Kinabalu, you definitely can't miss out on its gorgeous beach resorts.
There are many small islands around Kota Kinabalu housing some of the most beautiful resorts – pristine sandy beaches, amazing sunrise or sunset views, and perfect diving spots in their crystal clear waters. As such, it paints an idyllic image of a relaxed vacation.
Not only can you frolic or swim in the cool waters, but you can also dive into a whole new world while you surround yourself with beautiful sea creatures underwater. Furthermore, most beach resorts offer a range of recreational activities and facilities you can enjoy. You can even go for a stroll and hike around the island.
Feel free to spend your time outdoors in the tropical paradise or lounge in the comforts of your villa. Either way, it's a perfect getaway place for families or couples!
Some of the best beach resorts near Kota Kinabalu you can consider are the Manukan Island Resort, Gaya Island Resort, and Mataking Island Reef Dive Resort. Boasting incredible sea views and rich marine life should you choose to dive or snorkel, it certainly will be an unforgettable experience!
2.
Visit The Floating City Mosque
It's only in Kota Kinabalu that you get to see a "floating" mosque – and that is the capital's very own City Mosque.
The Kota Kinabalu City Mosque sits on a man-made lagoon, giving it a picturesque scenery, especially during the night when lights illuminate the area. It's definitely a beautiful landmark not to be missed, and you can spend some time taking in the majestic sight.
The City Mosque is also the second most important mosque in Kota Kinabalu, and it prides itself on its beautiful architectural design. There are three madrasahs in the mosque, and the mosque is able to hold up to 12,000 people at one time.
The mosque allows non-Muslims to enter but only outside of prayer times. However, when you visit, do remember to dress appropriately. Else, you can also rent the proper attire (i.e., robes) there for only RM5. Note that there's also an entry fee of RM5.
It's not often that you can visit a mosque if you aren't a Muslim, so this is a great chance to learn more about their religion.
3.
Conquer Mount Kinabalu
Ever thought of climbing the highest mountain in Malaysia? For anyone with a sense of adventure, climbing up Mount Kinabalu is a thrilling challenge. Easily accessible from Kota Kinabalu, Mount Kinabalu is around a 2 hours drive away from the city.
Mount Kinabalu is one of the mountains in the world where any healthy and fit adult can trek up, given adequate preparation. The mountain is located in Kinabalu National Park where it's home to a rich variety of flora and fauna species. Along the way up the mountain, various ferns and plants dot the sides of the trail.
There are two hiking trails up the mountain peak, and the trek typically takes at least 2 days and 1 night to complete. In addition, all climbers have to be accompanied by a guide at all times.
But when you do reach the summit, you'll be treated with a breathtaking landscaped vista, and be filled with an overwhelming sense of pride and satisfaction like no other.
4.
Explore Kinabalu National Park
Similarly, the Kinabalu National Park is also worth a visit. Even if you choose not to climb Mount Kinabalu, the national park has plenty to offer!
Hike along one of the several nature trails and spot some of the rare plant species that live in the park. The Orchid Conservation Centre is one of the places where you get a closer look at them.
Fill up your photo albums with all the interesting flora and fauna around while strolling down this tropical land – there's so much that you can snap photos of. Besides natural sceneries, do take note of the birds that may perch on the rocks and insects such as butterflies that blend in with the trees.
For the curious-minded, you may also visit the Kundasang War Memorial as well. There, you'll learn more about the past during World War II when Sandakan Death March took place.
5.
Soak In The Hot Springs At Poring Hot Springs
Among all the outdoor adventures in or near Kota Kinabalu, you should drop by Poring Hot Springs to refresh yourself. The outdoor Japanese-styled hot springs blend in perfectly with the surrounding thick foliage and nature, giving it a unique experience.
It's a hotspot for travelers after climbing Mount Kinabalu or exploring Kinabalu National Park because they're under the same compound. The hot springs is located around 40 kilometers northeast of Parks HQ. You can also get there from Ranau town or Kota Kinabalu.
Besides soaking in the springs, you can go into their cold tubs or sink your feet in the foot pool. There's a choice for private baths for those who prefer some privacy. Additionally, there's also accommodation on site for those who plan to stay the night. Note that there's an entry fee of RM15 ($3.50 USD) for adults (foreigners) into the hot springs park.
Do visit the nearby waterfalls and the canopy walk too! The sights, as well as the walk, will make this experience even more worthwhile.
6.
Get The Best View Of The City From Signal Hill Observatory Tower
Whenever you're in a new city, it's always nice to get a bird's eye view of the entire city. And in Kota Kinabalu, the Signal Hill Observatory Tower is the place to go!
You'll have to hike up the steps up the hill for a short while before you reach your destination. There are circular platforms that extend further out from the cliffs.
The observatory tower deck has one of the best vantage views of the sunset, where the splashes of vivid orange and red blend in seamlessly against the backdrop of the cityscape. Moreover, the deck is a good spot to unwind and lose yourself in your thoughts.
Additionally, you can visit the Atkinson Clock Tower that's nearby. The clock tower is the oldest building in Kota Kinabalu, situated along Signal Hill Road. It's a historical structure that ships in the past used as a point of reference.
7.
Go Souvenir Hunting At Gaya Street Sunday Market
Bustling with lots of activity, the Gaya Street Sunday Market is where both tourists and locals gather to hunt for local products.
The open market sells a variety of items: food, drinks, apparels, jewelry, ceramics, souvenirs, you name it! There are many choices for souvenirs and you'll also get to immerse yourself in the local culture. Due to an array of products and unique items sold, you can easily spend up to 2 hours there.
However, it's best to visit the market earlier in the morning to avoid the large crowds.
Pro-tip: Do check the tags or stickers to see where the product is made if you're only keen on buying Borneo products.
8.
Visit Mari Mari Village
Just 25 minutes away from the city of Kota Kinabalu, Mari Mari Village is situated in the forest by the countryside.
Mari Mari Village is a cultural village plus museum that aims to preserve the 5 ethnic cultures in Borneo – the Murut, Rungus, Lundayeh, Bajau, and Kadazan-Dusan tribes. A visit to the village offers you a chance to learn how the indigenous tribes live in the past, and each of their unique history and trades. You can even sample some of their local cuisines in the houses.
It's an enlightening journey back into the past from the start to the end and a site that you should definitely consider because it's like no other attractions in Kota Kinabalu. Entry fee is RM98 per adult.
Mari Mari Village Tour
A guided tour runs at 10 am, 2 pm, and 6 pm. The contents of the tour include visiting each of the traditional houses while learning about the history of the tribes. There's also a bamboo cooking, windpipe and fire-making demonstration, as well as a traditional dance performance. For the 6 pm session, there's also an additional fire show.
The village is able to arrange transport (to and back to your hotel) for you should you decide to join their guided tour. Therefore, you can just relax and enjoy the tour. Prices start from RM170 per adult (RM150 per child) and vary depending on your preferred sessions and the group size.
9.
Take A Ride On The North Borneo Steam Railway

All aboard on the oldest running steam train in Borneo!
The North Borneo Railway offers you a chance to experience and relive the past where steam trains were common. A dream for both avid fans of trains and for people with a love for scenic views, this is the perfect opportunity for you.
The train runs twice a week (on Wednesday and Saturday) from Kota Kinabalu to the agricultural Papar Town. The journey lasts for around 4 hours (including returning back to Kota Kinabalu).
Passengers will be mesmerized by the scenic landscapes of the coast and the rural regions of Sabah. Furthermore, on the way to Papar Town, you'll be able to stop by Kinarut Town and visit the Tien Shi Temple and traditional shops. The trip is also inclusive of a Continental breakfast and Tiffin Colonial lunch.
The price of this trip is RM358.50 ($85 USD) nett per adult and per child above the age of 4. Children below 3 years old can get a complimentary ticket.
10.
Appreciate Local Art In Art Galleries
If you fancy a more quiet afternoon and love the arts, why not check out Kota Kinabalu's art galleries? The Sabah Art Gallery and Ensera Art Gallery are the places to go to!
Sabah Art Gallery
The Sabah Art Gallery holds both permanent and time-limited exhibitions to promote artworks by both local and international artists. It also hosts events such as the Sabah Annual Art Selection to increase the collection of art in the gallery.
The building has a distinctive octagonal and funnel-like architecture that makes it a landmark itself. With a long spiral central staircase in its interior, the rest of the inside has a more subtle traditional Sabahan design.
For Non-Malaysian adults, the entry fee is around RM10.
Fun Fact: The art gallery holds the title of being the first "Green" building in Borneo, having solar panels, a rainwater harvesting system, and movement sensor lights.
Ensera Art Gallery
The Ensera Art Gallery is for you if you're curious about Dayak Art. The gallery's exhibition tells stories of Borneo through their antiques and artworks such as wood carvings, colorful beads, and more. Additionally, the gallery also hosts beading workshops.
All in all, it's a place to visit if you want to explore the wonders of ancient and cultural Borneo.
11.
Shop Until You Drop At Imago Shopping Mall
Don't worry, we haven't forgotten about shopping!
The Imago Shopping Mall is in the heartland of Kota Kinabalu, and one of the most famous shopping malls in Kota Kinabalu.
Whether you're a shopaholic or in need of a rainy day plan, this shopping mall will not disappoint you. It's designed to meet the different needs of every visitor. From food and beverages to fashion retail shops and entertainment services like cinemas and karaoke, the mall has something for everyone.
Of course, this huge mall is also a great hangout away from a sweltering hot afternoon, or it could also just be a place for you to dine at. Regardless, it's definitely a place you'll enjoy.
Final Thoughts
Although the above list doesn't cover everything you can do in Kota Kinabalu, they are great starts for any travelers who want to get to know Sabah or the city of Kota Kinabalu itself.
If you're planning on traveling out of Kota Kinabalu in Sabah, do check out our guide for the things you can do in Sabah!