Valencia Port Guide For Cruisers, Spain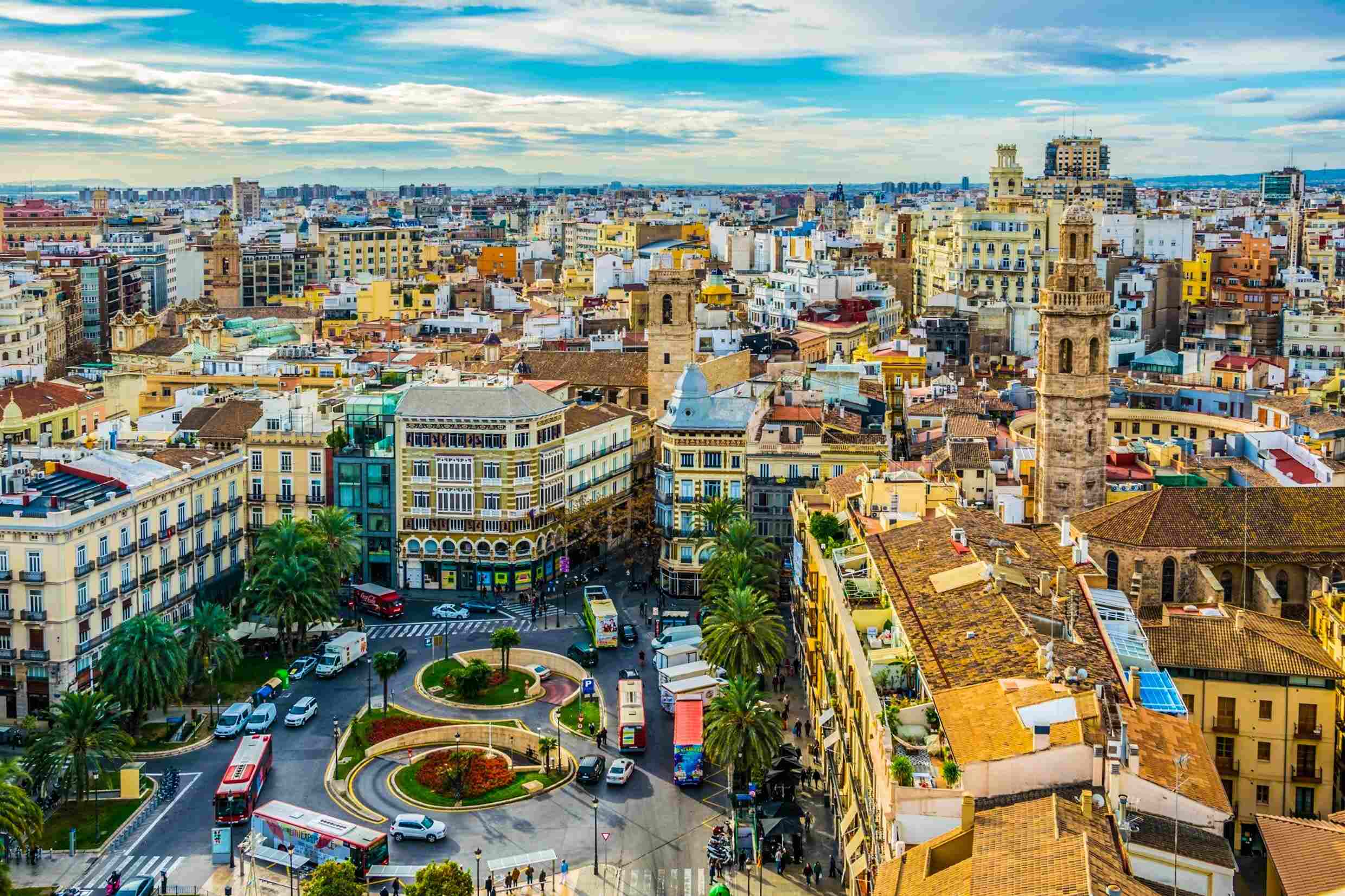 Introduction
Welcome to Valencia, a vibrant city located on the southeastern coast of Spain. With its rich history, stunning architecture, and vibrant culture, Valencia has become a popular destination for cruise travelers. The beautiful Valencia Port serves as the gateway to this captivating city, offering a plethora of attractions and experiences for visitors to enjoy.
As you dock at Valencia Port, you will be greeted by a picturesque waterfront lined with palm trees and charming promenades. This bustling port is not only a hub for cruise ships, but it is also a thriving commercial port, showcasing the city's maritime heritage.
Valencia Port is strategically located, making it easily accessible for cruisers. It is well-connected to major transportation networks, allowing for convenient onward travel to other parts of the city and beyond. Whether you're interested in exploring the historic Old Town, indulging in delicious traditional cuisine, or simply relaxing on one of the beautiful beaches, Valencia has something for everyone.
In this Valencia Port guide for cruisers, we will provide you with all the essential information you need to make the most of your visit. From transportation options and top attractions to dining recommendations and local customs, we've got you covered. So grab your camera, put on your walking shoes, and get ready to immerse yourself in the wonders of Valencia!
Overview of Valencia Port
Valencia Port, also known as the Port of Valencia, is the largest port on the Mediterranean coast of Spain. Situated within the city limits, it serves as a vital economic and cultural hub for the region. The port boasts state-of-the-art infrastructure and facilities, catering to both commercial and cruise ship operations.
With its strategic location, Valencia Port has a rich maritime history dating back centuries. It has played a significant role in trade and commerce, contributing to the city's growth and development. Today, it continues to be a bustling hub for international maritime activities.
Valencia Port consists of three main terminals: the North Terminal, the South Terminal, and the Poniente Terminal. Each terminal offers a range of services and amenities to ensure a seamless experience for cruise travelers.
The North Terminal is primarily used for international ferry services, connecting Valencia to destinations such as the Balearic Islands and Italy. The South Terminal is dedicated to commercial cargo operations, handling a wide range of goods that are imported and exported. The Poniente Terminal, on the other hand, is exclusively used for cruise ship arrivals and departures.
One of the standout features of Valencia Port is its modern cruise terminal. Designed with the comfort and convenience of travelers in mind, the terminal offers a variety of amenities. Here, you'll find duty-free shops, restaurants, cafes, and lounges, allowing you to relax and enjoy your time while waiting for embarkation or disembarkation.
Additionally, Valencia Port boasts excellent facilities for handling cruise ships of all sizes. It offers multiple berths, allowing for the simultaneous docking of several ships. This ensures that there is ample capacity to accommodate the growing number of cruise ships that visit Valencia each year.
Another noteworthy aspect of Valencia Port is its commitment to environmental sustainability. The port is equipped with advanced green technologies and has implemented various initiatives to reduce its ecological footprint. From energy-efficient operations to waste management systems, Valencia Port strives to be a responsible and environmentally-friendly port.
Whether you're arriving in Valencia by cruise ship or departing on a cruise from this vibrant city, Valencia Port offers a seamless and enjoyable experience for all travelers. Its modern facilities, convenient location, and commitment to sustainability make it an ideal gateway to explore the wonders of Valencia and beyond.
Getting to Valencia Port
Getting to Valencia Port is a breeze, thanks to its excellent connectivity and convenient transportation options. Whether you're arriving by air, train, or car, there are several ways to reach the port and start your cruise adventure.
If you're flying into Valencia, you'll arrive at Valencia Airport, which is conveniently located just a short distance from the city center and the port. The airport serves both domestic and international flights, making it accessible from various destinations. From the airport, you have multiple options to reach Valencia Port:
Hire a Taxi: Taxis are readily available outside the airport terminal, and the journey to Valencia Port takes approximately 20-30 minutes. Make sure to use licensed taxis and confirm the fare in advance.
Take the Metro: Valencia Airport is connected to the city's metro network, offering a convenient and affordable way to reach the port. Take Line 3 (Red Line) or Line 5 (Green Line) from the airport to the Xàtiva metro station, and then transfer to Line 4 (Blue Line) towards the Port. The journey takes around 40 minutes.
Use a Shuttle Service: Many shuttle services operate between Valencia Airport and the cruise port, providing a direct and hassle-free transfer. These services can be pre-booked, giving you peace of mind and ensuring a smooth journey.
If you're arriving in Valencia by train, you'll most likely arrive at Valencia Joaquín Sorolla Train Station, which is the city's main train station. From there, you have several options to reach Valencia Port:
Hire a Taxi: Taxis are readily available outside the train station, and the journey to the port takes approximately 15-20 minutes. As always, make sure to use licensed taxis and confirm the fare beforehand.
Take a Bus: Valencia has an extensive bus network, and there are several bus routes that connect the train station to the port. Look for bus lines 2, 4, 19, or 95 to reach the port area.
Walk: Valencia Port is within walking distance from the train station, especially if you're traveling with light luggage. It's a pleasant walk of about 20-25 minutes, allowing you to soak in the city's vibrant atmosphere along the way.
If you're arriving by car, Valencia Port is well-connected to the city's major highways and road networks. The port has ample parking facilities for cruise passengers, allowing you to safely leave your vehicle while you embark on your cruise. It's worth noting that parking fees may apply, and it's advisable to book your parking in advance.
Once you arrive at Valencia Port, follow the signs and directions to your designated cruise terminal. The port staff and signage will guide you to the appropriate location, ensuring a smooth and efficient check-in process.
Whether you prefer to travel by air, train, or car, getting to Valencia Port is easy and straightforward. With the various transportation options available, you can choose the one that suits your preferences and travel style, allowing you to start your cruise experience with ease.
Cruise Terminal Facilities
Valencia Port offers modern and well-equipped cruise terminals to ensure a comfortable and enjoyable experience for cruise travelers. Each terminal provides a range of facilities and amenities to cater to the needs of passengers during embarkation and disembarkation.
Upon entering the cruise terminal, you will find a spacious and welcoming environment. The terminals are designed with ample seating areas, allowing you to relax while waiting for your ship to arrive or depart.
One of the highlights of the cruise terminals is the presence of duty-free shops. These shops offer a wide range of products, including clothing, accessories, cosmetics, and souvenirs. It's a great opportunity to indulge in some retail therapy and pick up mementos of your time in Valencia.
In addition to duty-free shopping, you'll also find several restaurants and cafes within the terminals. These establishments serve a variety of cuisines, ranging from international favorites to local delicacies. Whether you're in the mood for a light snack or a full meal, you'll find plenty of options to satisfy your cravings.
For those looking to stay connected, the cruise terminals are equipped with Wi-Fi facilities. You can access the internet to check emails, browse the web, or share your travel experiences on social media. Some terminals may offer free Wi-Fi, while others may require a small fee.
Furthermore, the terminals have information desks staffed with knowledgeable personnel who can assist you with any queries or concerns you may have. They can provide you with valuable information about the port, the city of Valencia, and nearby attractions.
Upon disembarkation, the cruise terminals also offer convenient transportation options to help you continue your journey. Whether you need a taxi, a shuttle service, or information about public transportation, the terminal staff will be able to guide you in the right direction.
In terms of accessibility, Valencia Port is equipped to accommodate passengers with disabilities. The terminals have ramps, elevators, and other facilities in place to ensure smooth access and movement for individuals with mobility challenges.
Overall, the cruise terminals at Valencia Port are designed to provide a pleasant and efficient experience for passengers. With their spacious interiors, assortment of shops and dining options, and helpful staff, they offer a comfortable and convenient environment for cruise travelers.
Transportation Options
Valencia offers a variety of transportation options to help you navigate the city and its surroundings. Whether you're looking to explore Valencia's historic sites or venture further afield to nearby towns and attractions, there are several convenient and efficient ways to get around.
1. Public Transportation: Valencia has an extensive public transportation network, including buses, trams, and a metro system. The buses operate throughout the city and provide a convenient way to reach different neighborhoods and attractions. The trams are ideal for exploring areas like the beach and port. The metro system offers a quick and efficient way to travel longer distances within the city and beyond.
2. Taxis: Taxis are readily available throughout Valencia and are a convenient mode of transportation, especially for shorter distances or when traveling with heavy luggage. You can easily find taxi stands in popular tourist areas, and you can also hail a taxi on the street.
3. Rental Cars: If you prefer the flexibility of having your own vehicle, you can rent a car in Valencia. The city has several car rental agencies, and having a car gives you the freedom to explore at your own pace and venture off the beaten path. However, be aware that parking in the city center can be limited and expensive.
4. Bicycles: Valencia is a bike-friendly city with an extensive network of cycling paths and bike lanes. You can easily rent bicycles from various rental shops and explore the city's sights while enjoying the pleasant weather and beautiful scenery.
5. Walking: Valencia is a relatively compact city, and many of its main attractions are within walking distance of each other. Walking is a great way to immerse yourself in the city's vibrant atmosphere and discover hidden gems along the way. Just remember to wear comfortable shoes and stay hydrated, especially during the warmer months.
6. Excursions and Tours: If you're looking for a guided experience, there are numerous excursions and tours available in Valencia. From guided walking tours of the city's historic center to bus tours that take you to nearby attractions, these organized outings provide a hassle-free way to explore Valencia and its surroundings.
When choosing your mode of transportation, consider factors such as convenience, cost, and the specific destinations you wish to visit. Valencia offers a well-connected and efficient transportation system, allowing you to easily navigate the city and make the most of your time in this beautiful Spanish destination.
Exploring Valencia City
Valencia, the third-largest city in Spain, is a treasure trove of history, culture, and vibrant attractions. From its ancient streets to its modern architectural wonders, the city offers endless opportunities for exploration and discovery. Here are some highlights and must-see attractions to consider when exploring Valencia:
1. Historic Center (Ciutat Vella): Start your journey in Valencia's historic center, known as Ciutat Vella. Here, you'll find stunning medieval architecture, charming narrow streets, and grand plazas. The centerpiece of the historic center is the Valencia Cathedral, where you can admire the beautiful interior and visit the Holy Grail Chapel.
2. La Lonja de la Seda: This UNESCO World Heritage Site is a masterpiece of Gothic architecture. La Lonja de la Seda, also known as the Silk Exchange, was once the center of Valencia's thriving silk trade. Explore the intricate details of the building and learn about the city's rich trading history.
3. City of Arts and Sciences: A modern architectural marvel, the City of Arts and Sciences is a futuristic complex that showcases the best of contemporary design. Home to the Hemisfèric, Oceanogràfic, and other cultural and scientific institutions, this landmark is a must-visit for its striking aesthetics and array of entertainment options.
4. Turia Gardens: Once a riverbed, the Turia Gardens now form a beautiful park that stretches through the city. This urban oasis offers a serene escape from the bustling streets, with lush greenery, playgrounds, and sports facilities. Rent a bike or take a leisurely stroll along the park's paths to soak in the natural beauty.
5. Central Market (Mercado Central): Indulge your senses at the Mercado Central, one of Europe's largest and most impressive food markets. Explore the stalls brimming with fresh produce, meats, seafood, and local specialties. The market is an excellent place to sample traditional Valencian cuisine, such as paella and horchata.
6. Malvarrosa Beach: Take a break from sightseeing and head to Malvarrosa Beach, located just a short distance from the city center. This sandy beach offers a relaxing retreat where you can soak up the sun, take a refreshing swim in the Mediterranean Sea, or enjoy a leisurely beachside meal at one of the many restaurants and cafes.
7. Fallas Festival: If you happen to visit Valencia in March, don't miss the incredible Fallas Festival. This traditional celebration involves the creation and display of elaborate sculptures made of wood, papier-mâché, and other materials. The festival culminates in a spectacular fireworks display and the burning of the sculptures, creating a truly unforgettable experience.
These are just a few highlights of what Valencia has to offer. The city is also home to numerous museums, art galleries, parks, and architectural wonders that await your exploration. From historic landmarks to modern marvels, Valencia is a city that captures the essence of Spain's rich heritage and contemporary charm.
Top Attractions in Valencia
Valencia is a vibrant city with a wealth of attractions to captivate visitors of all interests. From historic landmarks to modern architectural wonders, here are some of the top attractions you shouldn't miss during your visit to Valencia:
1. Valencia Cathedral: Explore the majestic Valencia Cathedral, a stunning example of Gothic architecture. Admire the ornate interior, including the Chapel of the Holy Grail, and climb the Micalet Bell Tower for panoramic views of the city.
2. City of Arts and Sciences: Marvel at the futuristic complex of the City of Arts and Sciences, which houses several cultural and scientific institutions. Visit the Hemisfèric for IMAX screenings, explore the interactive exhibits at the Príncipe Felipe Science Museum, or marvel at the underwater world at the Oceanogràfic.
3. La Lonja de la Seda: Step back in time at La Lonja de la Seda, a UNESCO World Heritage Site. This masterpiece of Gothic architecture was once Valencia's silk exchange and presents stunning details and a rich history to discover.
4. Turia Gardens: Escape to nature in the Turia Gardens, a lush park that stretches along the old riverbed. Enjoy a leisurely bike ride or walk, explore the numerous playgrounds, or simply relax under the shade of the trees.
5. Central Market (Mercado Central): Immerse yourself in the lively atmosphere of the Mercado Central, one of Europe's largest food markets. Wander through the bustling aisles filled with fresh produce, meats, and local delicacies, and sample Valencian delights like paella and horchata.
6. Malvarrosa Beach: Soak up the sun and enjoy the sandy shores of Malvarrosa Beach. Take a dip in the Mediterranean Sea, unwind at beachfront cafés, or indulge in delicious seafood at one of the many restaurants.
7. Fallas Museum: Delve into the world of Valencia's most renowned festival at the Fallas Museum. Discover the intricate and elaborate sculptures that are constructed for the Fallas festival each year, and gain insight into the cultural significance and traditions behind this unique celebration.
8. Bioparc Valencia: Experience an immersive wildlife adventure at Bioparc Valencia. This modern and eco-friendly zoo provides a natural habitat for a diverse range of animals, allowing visitors to observe them up close.
9. Torres de Serranos and Torres de Quart: Visit the historic city gates of Torres de Serranos and Torres de Quart, remnants of Valencia's medieval fortifications. Climb to the top of these towers for panoramic views of the city and a glimpse into its rich history.
10. Plaza de la Virgen: Relax in the enchanting Plaza de la Virgen, a picturesque square surrounded by historic buildings and charming cafés. Admire the ornate fountain, take in the atmosphere, and perhaps enjoy a refreshing drink while people-watching.
These are just a few of the many attractions that await you in Valencia. The city is brimming with culture, history, and natural beauty, providing a rewarding and unforgettable experience for every visitor.
Shopping in Valencia
Valencia is a shopper's paradise, offering a diverse range of shopping options to suit every taste and budget. From bustling markets to high-end boutiques, the city has something for everyone. Whether you're looking for trendy fashion, artisanal crafts, or local delicacies, here's a guide to shopping in Valencia:
1. Central Market (Mercado Central): Begin your shopping adventure at the iconic Mercado Central, one of Europe's largest food markets. Here, you'll find an array of fresh produce, meats, seafood, and local specialties. It's the perfect place to stock up on traditional Valencian ingredients or pick up some tasty souvenirs.
2. El Carmen Neighborhood: Explore the charming El Carmen neighborhood, known for its bohemian atmosphere and eclectic shops. Wander through its narrow streets and discover unique boutiques selling vintage clothing, handmade jewelry, and artistic creations.
3. Colón Market: Find upscale fashion and designer labels at Colón Market. This elegant shopping center offers a range of international brands, luxury accessories, and high-end cosmetics. It's the place to go if you're looking for the latest fashion trends or want to indulge in a luxury shopping experience.
4. Calle de la Paz: Located in the city center, Calle de la Paz is a bustling street lined with popular shops and well-known fashion chains. Here, you'll find a mix of clothing stores, shoe boutiques, and accessory shops, making it a great option for fashion enthusiasts and bargain hunters alike.
5. Ruzafa Market: Get a taste of the local culture at Ruzafa Market, a vibrant food market and meeting place for locals. In addition to fresh produce and food stalls, you'll find an array of artisanal products, including handmade soaps, ceramics, and textiles.
6. Avenida del Puerto: Explore Avenida del Puerto, a lively street known for its furniture stores, interior design shops, and home décor stores. If you're looking to spruce up your living space or find unique pieces for your home, this is the place to be.
7. Plaza Redonda: Discover a hidden gem in Plaza Redonda, a circular square lined with small shops and stalls. This charming spot is famous for its lace and traditional crafts, making it a great place to find unique and locally made souvenirs.
8. El Corte Inglés: Visit El Corte Inglés, a well-known department store in Spain, offering a wide range of products, including clothing, accessories, household items, and gourmet food. With several locations throughout the city, it's a convenient option for all your shopping needs.
9. Street Markets: Immerse yourself in the vibrant atmosphere of Valencia's street markets. The city hosts various markets throughout the week, where you can find everything from fresh produce and clothing to antiques and handmade crafts. Some popular markets include Mercado de Mossén Sorell and Mercado de Tapinería.
10. Souvenir Shops: Don't forget to pick up some souvenirs before you leave Valencia. Look for shops selling traditional Valencian items like ceramics, fans, silk products, and local food products such as olive oil and wine.
With its mix of traditional markets, trendy boutiques, and unique shops, Valencia offers a delightful shopping experience. Whether you're hunting for fashion, food, or unique souvenirs, the city's diverse shopping scene is sure to delight any shopper.
Dining and Local Cuisine
Valencia is a culinary paradise, known for its delicious cuisine that combines Mediterranean flavors with traditional Valencian ingredients. From mouthwatering paella to delectable seafood dishes, the city offers a wide range of dining options to satisfy every palate. Here's a guide to dining and experiencing the local cuisine in Valencia:
1. Paella: A trip to Valencia is incomplete without indulging in a plate of authentic Valencian paella. This iconic rice dish originated in the region and is typically made with Bomba rice, saffron, and a variety of ingredients like rabbit, chicken, and vegetables. Head to one of the traditional paella restaurants or beachfront establishments along Malvarrosa Beach for an unforgettable culinary experience.
2. Orxata: Cool off with a refreshing glass of orxata, a traditional Valencian drink made from tigernuts, sugar, and water. This creamy and slightly sweet beverage is perfect for hot summer days and can be found in many cafes and horchaterías throughout the city.
3. Tapas: Embark on a tapas adventure and sample a variety of small bites and dishes that showcase the flavors of Valencia. From patatas bravas (fried potatoes with spicy sauce) to gambas al ajillo (garlic shrimp), you'll find an array of delicious options at tapas bars and traditional taverns scattered across the city.
4. Horchata: In addition to orxata, Valencia is also famous for its horchata, a refreshing drink made from ground tiger nuts, water, and sugar. Pair it with the traditional Valencian pastry called fartons for a delightful and quintessentially Valencian treat.
5. Seafood: With its proximity to the Mediterranean Sea, Valencia boasts an abundance of fresh seafood. Indulge in dishes like grilled octopus, marinated anchovies, or a platter of paella de marisco (seafood paella) to experience the flavors of the sea.
6. Agua de Valencia: Sample the iconic cocktail known as Agua de Valencia, a refreshing blend of orange juice, cava (Spanish sparkling wine), vodka, and gin. It's a perfect drink to savor during warm evenings in Valencia's vibrant nightlife scene.
7. Turron: Treat yourself to turron, a traditional Spanish nougat made with almonds, honey, and sugar. Valencia is well-known for its high-quality turron, which comes in various flavors and textures, including hard, soft, and chocolate-covered.
8. Michelin-Star Restaurants: For those seeking a gastronomic adventure, Valencia is home to several Michelin-starred restaurants. These acclaimed establishments showcase innovative culinary creations prepared by talented chefs, making for an unforgettable dining experience.
9. Central Market (Mercado Central): Explore the bustling Mercado Central, and immerse yourself in the vibrant atmosphere while sampling local delicacies. From fresh fruits and vegetables to cured meats and cheeses, the market offers a plethora of flavors and ingredients to discover.
10. Cava: Raise a toast with a glass of cava, a sparkling wine produced in the nearby region of Catalonia. This bubbly beverage is perfect for celebrations or simply enjoying with friends in one of Valencia's charming wine bars.
Valencia's dining scene is a testament to the city's rich culinary heritage. Whether you're indulging in traditional Valencian dishes like paella and horchata or exploring the world of tapas and Michelin-starred cuisine, the flavors of Valencia are sure to leave a lasting impression on your taste buds.
Local Customs and Etiquette
When visiting Valencia, it's important to be aware of the local customs and etiquette to ensure a respectful and enjoyable experience. Here are some tips to help you navigate Valencia's cultural norms:
1. Greetings: When meeting someone for the first time, it is customary to greet with a handshake. Friends and acquaintances often greet each other with a kiss on both cheeks. It's polite to address people with their titles, such as "Señor" (Mr.), "Señora" (Mrs.), or "Señorita" (Miss), followed by their last name.
2. Siesta: Valencia, like many other Spanish cities, observes a midday siesta, which typically takes place from 2:00 pm to 5:00 pm. During this time, many shops, restaurants, and businesses may close for a few hours. It's a good idea to plan your activities accordingly and be mindful of the local schedule.
3. Punctuality: Valencia follows a relaxed approach to time, known as "mañana" culture. While punctuality is appreciated, it is not uncommon for meetings and social gatherings to start a few minutes late. However, it's still best to arrive on time to show respect for others' schedules.
4. Dining Etiquette: When dining in Valencia, it is polite to keep your hands on the table, rather than in your lap. It's also customary to wait for the host or the eldest person at the table to start eating before you begin. It's considered polite to finish your plate, as it shows appreciation for the meal.
5. Dress Code: Valencia has a relatively relaxed dress code, but it's important to dress appropriately when visiting religious sites or formal establishments. It's advisable to avoid wearing revealing clothing and to dress modestly out of respect for cultural norms and customs.
6. Respect for Religion: Valencia is home to various religious sites, and it's important to show respect when visiting these places. Dress modestly, speak softly, and refrain from disruptive behavior. It is customary to remove hats and cover shoulders when entering churches.
7. Language: While many Valencians speak English, it is appreciated when visitors make an effort to speak a few basic phrases in Spanish. Simple greetings like "hola" (hello) and "gracias" (thank you) can go a long way in establishing a friendly connection with the locals.
8. Respect for Personal Space: Valencians value personal space, so it's important to maintain an appropriate distance when engaging in conversations. Being overly touchy or invading personal space may make people feel uncomfortable.
9. Tipping: Tipping in Valencia is not as prevalent as in some other countries, but it is still appreciated. In restaurants, it's common to leave a tip of around 5-10% of the bill if you're satisfied with the service. In cafes and bars, it's common to round up to the nearest euro or leave loose change.
10. Festivals and Events: Valencia is renowned for its vibrant festivals and events. If you have the opportunity to participate, respect the local customs and traditions associated with each celebration. Follow the instructions of event personnel, be mindful of your surroundings, and show appreciation for the cultural significance of the occasion.
By embracing the local customs and etiquette, you will not only show respect for Valencia's rich culture but also enhance your overall experience in this beautiful Spanish city.
Safety Tips for Cruisers
Valencia is generally a safe city, but it's always important to prioritize your safety and well-being when visiting any destination. If you're planning a cruise to Valencia, here are some safety tips to keep in mind:
1. Be Aware of Your Surroundings: Whether you're exploring the city or walking near the port area, it's essential to be vigilant and aware of your surroundings. Keep an eye on your belongings and be cautious of pickpockets, particularly in crowded places or tourist areas.
2. Secure Your Valuables: When exploring Valencia, it's advisable to leave valuable items, such as expensive jewelry and large sums of cash, in a secure place onboard your cruise ship. Only carry what you need for the day, and use a money belt or a secure bag to keep your belongings close to your body.
3. Stay in Well-Lit and Populated Areas: Stick to well-lit and populated areas, particularly at night. Avoid dark or secluded streets and alleys, and choose well-traveled routes when walking. If you're unsure about an area's safety, it's best to consult with the cruise staff or local authorities for guidance.
4. Use Official Transportation: When getting around the city, it's recommended to use official taxis or reputable transportation services. Avoid unlicensed or unmarked vehicles, as they may not adhere to safety guidelines or charging regulations.
5. Stay Informed about Local Laws and Customs: Familiarize yourself with local laws and customs to ensure that you comply with the regulations of the city. For instance, smoking is prohibited in certain public areas, and it's important to be respectful when visiting religious sites.
6. Drink Responsibly: If you choose to consume alcohol during your time in Valencia, do so responsibly. Be aware of your alcohol consumption and its potential effects on your judgment and awareness. It's also advisable to drink bottled water and stay hydrated to avoid any health issues.
7. Use Reliable Tour Operators: When participating in shore excursions or tours, use reputable and licensed tour operators. These operators prioritize safety and ensure that you have a knowledgeable guide to enhance your experience.
8. Emergency Contacts: Make a note of emergency contact numbers, including those for local police, healthcare facilities, and your cruise line's onboard emergency services. It's also a good idea to carry a photocopy of your passport and other identification documents, keeping the originals securely stored onboard.
9. Stay Connected: Ensure that you have a reliable means of communication, such as a fully charged cell phone or a designated meeting point with your travel companions. Stay connected with your cruise ship and inform them of your plans when venturing ashore.
10. Follow Cruise Line Instructions: Finally, it's important to follow any safety instructions provided by your cruise line. Attend mandatory safety briefings, familiarize yourself with emergency procedures, and always follow the guidance of the cruise staff to ensure a safe and enjoyable experience.
By following these safety tips, you can make the most of your time in Valencia and create lasting memories while prioritizing your well-being and peace of mind.
Useful Spanish Phrases
Learning a few basic Spanish phrases can greatly enhance your experience when visiting Valencia. While many locals in tourist areas speak English, knowing a few key phrases can help you connect with the locals and show your appreciation for their culture. Here are some useful Spanish phrases to assist you during your time in Valencia:
1. Greetings and Basic Phrases:
"Hola" – Hello
"Buenos días" – Good morning
"Buenas tardes" – Good afternoon
"Gracias" – Thank you
"De nada" – You're welcome
"Por favor" – Please
"Sí" – Yes
"No" – No
2. Asking for Help:
"¿Habla inglés?" – Do you speak English?
"¿Dónde está…?" – Where is…?
"¿Podría ayudarme, por favor?" – Could you help me, please?
"No entiendo" – I don't understand
"¿Puedo usar su teléfono?" – Can I use your phone?
3. Ordering Food and Drinks:
"Una mesa para dos, por favor" – A table for two, please
"Quisiera una paella, por favor" – I would like a paella, please
"Una cerveza, por favor" – One beer, please
"La cuenta, por favor" – The bill, please
"¿Tienen menú en inglés?" – Do you have an English menu?
4. Directions:
"¿Dónde está el baño?" – Where is the bathroom?
"¿Cómo llego a…?" – How do I get to…?
"A la derecha" – To the right
"A la izquierda" – To the left
"Recto" – Straight ahead
"Estoy perdido/a" – I am lost
5. Shopping:
"¿Cuánto cuesta?" – How much does it cost?
"Quisiera comprar esto" – I would like to buy this
"¿Tienen esto en otra talla?" – Do you have this in another size?
"¿Aceptan tarjeta de crédito?" – Do you accept credit cards?
6. Polite Phrases:
"Perdón" – Excuse me
"Disculpe" – I'm sorry
"¡Salud!" – Cheers!
"¡Feliz cumpleaños!" – Happy birthday!
"¡Buena suerte!" – Good luck!
Remember, locals appreciate the effort you make to communicate in their language, even if your pronunciation may not be perfect. Use these phrases with confidence, and you're sure to have a positive and engaging interaction with the people of Valencia.
Conclusion
Valencia, with its rich history, stunning architecture, and vibrant culture, is a captivating city that offers a memorable experience for cruisers. From the moment you arrive at Valencia Port, you'll be welcomed by beautiful waterfront views and modern facilities designed to enhance your visit. Whether you're exploring the historic center, indulging in the local cuisine, or immersing yourself in the vibrant atmosphere of the City of Arts and Sciences, Valencia has something for everyone.
By following the useful tips and information provided in this Valencia Port guide, you can make the most of your time in the city. From getting to the port and navigating transportation options to discovering top attractions and experiencing the local customs, you'll be well-prepared to explore Valencia with ease.
Remember to take safety precautions, respect local customs, and make an effort to connect with the locals by learning a few basic Spanish phrases. By doing so, you'll create lasting memories and contribute to a positive cultural exchange during your time in Valencia.
So, embark on your cruise adventure to Valencia Port, and prepare to be enchanted by the beauty, history, and flavors that this incredible Spanish city has to offer. From the stunning architecture to the warm hospitality of the locals, Valencia is ready to welcome you with open arms.