Your Complete Guide To Visit Cinque Terre, Italy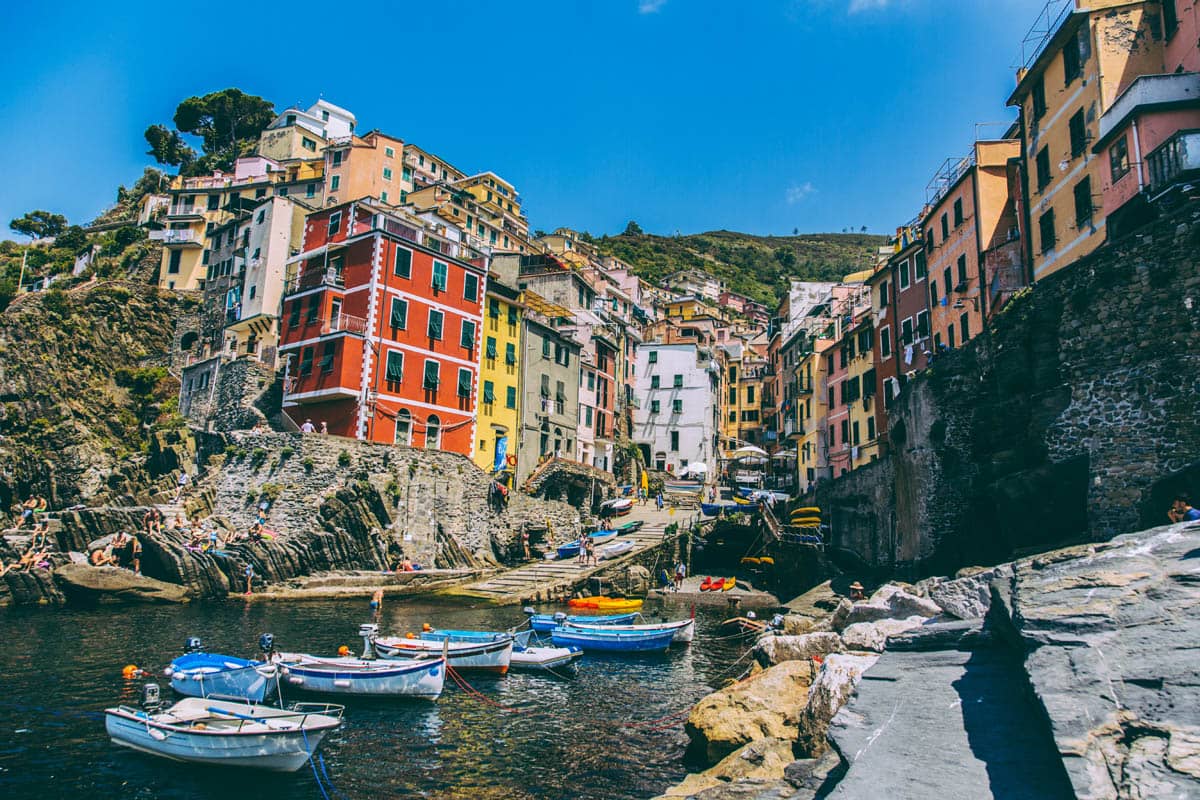 Introduction
Welcome to the stunning region of Cinque Terre in Italy, a place where picturesque villages, vibrant colors, and breathtaking landscapes come together. Cinque Terre, which translates to "Five Lands," is a collection of five small coastal towns – Monterosso al Mare, Vernazza, Corniglia, Manarola, and Riomaggiore.
Situated on the Italian Riviera in the region of Liguria, Cinque Terre has become a popular destination for travelers seeking an authentic Italian experience. The charm of this region lies in its untouched beauty and the preserved traditional way of life.
Each of the five villages has its own unique character and charm, but what unites them all is their stunning location overlooking the turquoise waters of the Ligurian Sea. The colorful houses perched on the cliffs, the narrow winding streets, and the vibrant fishing boats all add to the magical atmosphere of this coastal paradise.
Whether you are a nature lover, a history enthusiast, a foodie, or simply in search of a peaceful getaway, Cinque Terre has something to offer everyone. From exploring the scenic hiking trails that connect the villages to indulging in delicious local cuisine, this region promises an unforgettable experience.
This comprehensive guide will walk you through all the essential information you need to plan your visit to Cinque Terre. We will cover the best time to visit, how to get there, accommodation options, must-see attractions, local cuisine, transportation, and much more. So, let's dive in and discover the wonders of Cinque Terre!
Best Time to Visit
Cinque Terre is a year-round destination, but the best time to visit largely depends on your preferences and what you plan to do during your trip. Here's a breakdown of the different seasons in Cinque Terre:
Spring (March to May): Spring is a delightful time to visit Cinque Terre, as the weather starts to warm up, and the landscapes come alive with colorful flowers and lush greenery. It's also a less crowded time, making it ideal for those who prefer a more peaceful experience.
Summer (June to August): Summer is the peak tourist season in Cinque Terre, as visitors flock to the region to enjoy the sunny weather and beach activities. The temperatures can get quite hot, with July and August being the hottest months. The villages are bustling with tourists during this time, so be prepared for larger crowds.
Fall (September to November): Fall is another excellent time to visit Cinque Terre, with pleasant temperatures and fewer crowds compared to summer. The vineyards are ready for harvesting, and you can witness the stunning autumn colors painting the landscapes. It's a great time for hiking and enjoying outdoor activities.
Winter (December to February): Winter in Cinque Terre is the least crowded time of the year, offering a quiet and peaceful atmosphere. While the temperatures can be cool, it rarely gets extremely cold, making it still enjoyable for outdoor activities like hiking. Some shops and restaurants may have limited operating hours during the winter season, so it's worth checking in advance.
It's worth noting that weather conditions can vary, and it's always a good idea to check the forecast before your trip. Additionally, weekends and holidays tend to be busier, so if you prefer a more tranquil experience, consider visiting on weekdays or during shoulder seasons.
Ultimately, the best time to visit Cinque Terre depends on your preferences and what you hope to experience during your visit. Whether you're looking for vibrant festivals, hiking adventures, or simply some beach relaxation, Cinque Terre has something to offer year-round.
Getting to Cinque Terre
Cinque Terre is well-connected and easily accessible from various parts of Italy and Europe. Here are the different ways to reach this beautiful region:
By Train: The most convenient and popular way to get to Cinque Terre is by train. The region is served by the Cinque Terre Express, a regional train line that connects all five villages and other towns along the coast. The train journey provides breathtaking views of the coastline and takes you directly to each village's train station. Trains to Cinque Terre can be boarded from major cities like Milan, Florence, Pisa, and Genoa.
By Car: While Cinque Terre is accessible by car, it's important to note that private cars are not allowed within the villages. There are designated parking areas outside of each village where you can leave your car and then explore by foot or take public transportation. If you choose to drive, it's recommended to park in La Spezia, the closest city to Cinque Terre, and take the train to the villages.
By Air: The closest airports to Cinque Terre are Pisa International Airport and Genoa Cristoforo Colombo Airport. From both airports, you can take a train or a combination of train and bus to reach Cinque Terre. Pisa Airport has direct train connections to La Spezia, while Genoa Airport offers train services to the villages via Genoa's main train station.
By Boat: Another unique way to reach Cinque Terre is by boat. During the summer months, there are ferry services available between the villages and nearby coastal towns like Portovenere and La Spezia. Taking a boat allows you to appreciate the stunning views of the coastline and provides a different perspective of the villages.
By Bus: While not as common as trains or boats, there are bus services that connect Cinque Terre to neighboring towns and cities. Buses can be a slower option compared to trains, but they can be a viable alternative if you prefer a different mode of transportation.
Once you arrive in Cinque Terre, it's easy to navigate between the villages. The train ride between each village takes only a few minutes, and there are also hiking trails and boat services available to explore the region further.
Whichever mode of transportation you choose, the journey to Cinque Terre is part of the experience, offering scenic views and a taste of the stunning landscapes that await you in this Mediterranean paradise.
Accommodation Options
When it comes to finding accommodation in Cinque Terre, you'll have a range of options that cater to different budgets and preferences. Here are some popular choices:
Hotels: Cinque Terre offers a selection of charming hotels located in the heart of the villages. From boutique accommodations to larger resorts, there's a hotel to suit every traveler's taste. Staying in a hotel allows you to immerse yourself in the local atmosphere and enjoy the convenience of being centrally located.
Bed and Breakfasts: For a more intimate and personal experience, consider staying at a bed and breakfast (B&B) in Cinque Terre. These cozy establishments are often family-run and offer comfortable rooms with breakfast included. B&Bs provide a homely atmosphere and the chance to interact with locals who can offer insider tips and recommendations.
Guesthouses: Guesthouses are another great option for accommodation in Cinque Terre. These properties are usually smaller than hotels, offering a more intimate setting. Guesthouses often provide comfortable rooms with shared facilities, making them a budget-friendly choice for travelers.
Apartments and Vacation Rentals: If you prefer more space and the flexibility of cooking your meals, renting an apartment or vacation home in Cinque Terre can be a fantastic option. There are various platforms available where you can find apartments that suit your needs. Renting an apartment allows you to live like a local and have a home-away-from-home experience.
Camping: For outdoor enthusiasts and budget travelers, camping is a popular option in Cinque Terre. There are several campsites located near the villages that offer facilities for tents and campervans. Camping allows you to be in close proximity to nature and enjoy the tranquility of the region.
Regardless of the type of accommodation you choose, it is advisable to book in advance, especially during the peak tourist season. Keep in mind that accommodations within the villages can be limited, so expanding your search to nearby towns like La Spezia or Levanto is a good idea.
While planning your stay, consider factors such as proximity to public transportation, amenities, and the atmosphere you desire. No matter where you choose to stay in Cinque Terre, you'll be surrounded by stunning landscapes and the enchanting charm of the region.
Exploring the Five Villages
Each of the five villages that make up Cinque Terre has its own unique charm and attractions. Exploring these villages is a highlight of any visit to the region. Here's a glimpse into what you can expect in each village:
Monterosso al Mare: The largest of the five villages, Monterosso al Mare, is known for its beautiful beaches and lively atmosphere. Take a leisurely stroll along the seafront promenade, relax on the sandy beach, and explore the charming old town with its narrow streets and colorful buildings. Don't miss the iconic statue of Neptune located near the beach.
Vernazza: Vernazza is often considered the most picturesque village of Cinque Terre, with its colorful houses nestled against a dramatic cliffside. Explore the bustling harbor area, visit the 15th-century Church of Santa Margherita d'Antiochia, and hike up to the Doria Castle for panoramic views of the village and the sea.
Corniglia: The only village in Cinque Terre that is not directly on the Mediterranean Sea, Corniglia is perched atop a hill and offers stunning views of the surrounding vineyards and coastline. Visit the charming central square, browse the local shops, and indulge in some gelato while enjoying the breathtaking scenery.
Manarola: Manarola is renowned for its vibrant and picturesque harbor, lined with colorful houses and fishing boats. Take a stroll along the famous Via dell'Amore (Lover's Lane) that connects Manarola to Riomaggiore, and don't miss the opportunity to try the local specialty, the anchovies.
Riomaggiore: Riomaggiore is the southernmost village of Cinque Terre and the starting point of the famous Via dell'Amore hiking trail. Explore the historic center with its narrow, winding streets, visit the 14th-century Church of San Giovanni Battista, and take in panoramic views from the scenic overlook at Guardiola.
Each village can be explored on foot, and getting lost in their charming alleys and discovering hidden corners is part of the magic of Cinque Terre. The scenic beauty, unique architecture, and local culture of each village make for an unforgettable experience.
Whether you spend a day visiting each village or choose to base yourself in one and take day trips to the others, exploring the five villages of Cinque Terre is a highlight of any trip to this stunning region.
Hiking Trails in Cinque Terre
Cinque Terre is famous for its spectacular hiking trails that offer breathtaking views of the coastline and connect the five villages. The trails wind through vineyards, olive groves, and cliffside paths, providing a fantastic opportunity to explore the natural beauty of the region. Here are some of the popular hiking trails in Cinque Terre:
Sentiero Azzurro (Blue Trail): The most well-known trail in Cinque Terre is the Sentiero Azzurro, also known as the Blue Trail. This trail stretches for approximately 12 kilometers and connects all five villages. It is divided into several sections, allowing hikers to choose the distance and difficulty level that suits them best. The trail offers breathtaking views of the coastline and takes you through lush vegetation, picturesque vineyards, and charming villages.
Path of Love (Via dell'Amore): Via dell'Amore is a short, easy trail that connects the villages of Riomaggiore and Manarola. It is a popular trail known for its romantic atmosphere and panoramic viewpoints. The famous "Love Locks" can be found along this trail, where couples attach padlocks as a symbol of their love.
Sentiero Rosso (Red Trail): Another notable hiking trail is the Sentiero Rosso, or Red Trail. This trail connects Corniglia with Manarola and offers stunning views of the vineyards and the turquoise waters of the Mediterranean Sea. It is a moderate to challenging trail that is less crowded than the Blue Trail, making it a great choice for those seeking a quieter hiking experience.
Sentiero Verde (Green Trail): The Sentiero Verde, or Green Trail, connects Corniglia with Vernazza. This trail offers a more secluded and tranquil hiking experience, surrounded by lush greenery and stunning vistas. It is a moderately challenging trail with steep sections, but the rewarding views and peaceful atmosphere make it well worth the effort.
Sentiero Liguria (Ligurian Trail): For more experienced hikers looking for a longer trek, the Sentiero Liguria, or Ligurian Trail, extends beyond the five villages of Cinque Terre. This trail spans a much larger area of the Ligurian coast, connecting various towns and natural landmarks. It offers a more remote and immersive hiking experience, showcasing the diverse landscapes of the region.
Before embarking on a hike, it is important to check the trail conditions, as some sections may be closed or require permits. It's also recommended to wear comfortable hiking shoes, carry plenty of water, and pack sunscreen and snacks for the journey.
Hiking in Cinque Terre allows you to appreciate the stunning beauty of the region up close and experience it from a unique perspective. Whether you choose a short coastal walk or a longer adventure along the trails, the incredible views and sense of accomplishment will make your hiking experience in Cinque Terre truly memorable.
Local Cuisine and Restaurants
When it comes to culinary delights, Cinque Terre offers a tantalizing array of local specialties that will satisfy even the most discerning food lover. Influenced by the region's coastal location and Mediterranean climate, the cuisine of Cinque Terre showcases fresh seafood, flavorful herbs, and locally grown produce. Here are some must-try dishes and recommended restaurants:
Traditional Dishes:
Pesto alla Genovese: One of Italy's most famous sauces, pesto, originated from the nearby region of Genoa. Made with fresh basil, pine nuts, Parmesan cheese, garlic, and extra virgin olive oil, this fragrant sauce is a staple in Cinque Terre. Try it tossed with trofie or linguine pasta for a truly authentic experience.
Focaccia: Cinque Terre is known for its delicious focaccia, a mouthwatering flatbread topped with olive oil, salt, and sometimes other ingredients like rosemary or cherry tomatoes. It's a popular snack or appetizer to savor between meals or during a hike.
Acciughe Marinate (Marinated Anchovies): Being a coastal region, Cinque Terre is famous for its anchovies. Marinated anchovies are a classic appetizer, featuring freshly caught anchovies cured in a mixture of lemon juice, vinegar, olive oil, and herbs. They are a delightful, briny treat to enjoy with some crusty bread.
Panigacci: A regional specialty, panigacci are thin, savory pancakes made from chickpea flour. They are typically served with a variety of fillings, such as locally produced cheeses, cold cuts, or vegetables. Enjoyed with a glass of local wine, panigacci make for a satisfying and authentic meal.
Recommended Restaurants:
Trattoria dal Billy (Manarola): This family-run trattoria in Manarola offers a warm and welcoming atmosphere, along with a menu that showcases traditional Ligurian dishes. Don't miss their seafood specialties and homemade pasta.
Ristorante Miky (Monterosso al Mare): Located right on the beachfront, Ristorante Miky is renowned for its excellent seafood dishes and panoramic views of the sea. Be sure to try their famous spaghetti allo scoglio, a delicious pasta dish loaded with fresh seafood.
Il Pirata delle Cinque Terre (Riomaggiore): Situated in Riomaggiore, Il Pirata delle Cinque Terre offers a diverse menu with a focus on local ingredients and traditional recipes. Their terrace provides a stunning view of the village and the sea.
Dau Cila (Portovenere): Although not within the five villages, Dau Cila in Portovenere is worth the visit. This Michelin-starred restaurant offers exquisite seafood dishes in an elegant setting overlooking the picturesque harbor.
While these restaurants are highly recommended, don't hesitate to explore and wander through the streets of each village, as you're likely to stumble upon hidden gems and local trattorias that offer delicious and authentic cuisine.
Immerse yourself in the flavors of Cinque Terre, savoring the delicious seafood, fragrant herbs, and delightful specialties that make this region a culinary wonderland.
Transportation in Cinque Terre
Getting around Cinque Terre is relatively easy, thanks to the efficient transportation options available. Here's a guide to help you navigate the region:
Train: The train is the most popular and convenient mode of transportation in Cinque Terre. The Cinque Terre Express train connects all five villages and runs frequently throughout the day. It's a quick and scenic way to travel between the villages and is especially useful if you want to explore multiple locations in a day.
Hiking: Cinque Terre is known for its beautiful hiking trails that offer stunning views of the coastline. The trails between the villages are well-marked and can be a pleasant way to explore the region. Just keep in mind that some trails may have sections that are closed due to maintenance work, so it's a good idea to check ahead of time.
Boat: During the summer months, boat services are available along the coast of Cinque Terre. You can take a ferry or boat tours to visit the different villages, providing a unique perspective of the coastal scenery. It's a leisurely and scenic option for transportation, but keep in mind that schedules and availability may vary depending on the time of year.
Bus: While not as commonly used as trains or boats, buses are available to travel between the villages of Cinque Terre. They can be a slower option compared to trains, but they can be a convenient alternative if you prefer not to hike or take the train.
Taxi and Car: Taxis are available in the villages for shorter trips or if you prefer not to walk. However, private cars are not allowed within the villages, and parking is limited. It's recommended to leave your car outside the villages and explore on foot, by train, or by boat.
When planning your transportation within Cinque Terre, consider purchasing a Cinque Terre Card, which provides unlimited train travel between the villages, access to the hiking trails, and discounts on various activities and attractions.
Overall, the combination of trains, hiking trails, boats, and buses makes it easy to navigate Cinque Terre and explore its stunning landscapes and charming villages. Choose the mode of transportation that suits your preferences and enjoy the journey through this picturesque region.
Must-See Attractions
Cinque Terre is a treasure trove of natural wonders, historical sites, and cultural gems. Here are some must-see attractions to include in your itinerary:
Vernazza Harbor: The picturesque harbor of Vernazza is a must-visit attraction. Admire the colorful houses that line the waterfront, soak in the lively atmosphere, and capture postcard-worthy photos of this iconic spot.
Corniglia Terrace: Head to the terrace in Corniglia, known as "Terrazza di Corniglia," to enjoy panoramic views of the coastline and surrounding vineyards. It's a peaceful spot to relax, take in the beauty of the area, and perhaps enjoy a picnic with local delicacies.
Church of Santa Margherita d'Antiochia: Located in Vernazza, this 14th-century church is a stunning example of Gothic-Ligurian architecture. Step inside to admire the beautiful stained glass windows and intricate details of this historical gem.
Doria Castle: Make your way up to the Doria Castle in Vernazza for commanding views of the village and the surrounding sea. The castle dates back to the 15th century and provides a glimpse into the region's rich history.
Cinque Terre National Park: Explore the Cinque Terre National Park, a UNESCO World Heritage Site that encompasses the five villages along with surrounding hillsides, vineyards, and hiking trails. The park offers endless opportunities for outdoor activities, including scenic walks and breathtaking viewpoints.
San Pietro Church: Visit the charming San Pietro Church in Monterosso al Mare, the oldest church in Cinque Terre. Admire the beautiful facade and step inside to see its ornate interior, including exquisite paintings and frescoes.
Manarola Scenic Viewpoint: For captivating vistas of Manarola, head to the scenic viewpoint located near the Church of San Lorenzo. Marvel at the vibrant houses nestled against the dramatic cliffs, framed by the azure waters of the sea.
Corniglia Lemon Grove: Take a stroll through the lemon groves of Corniglia, where you can learn about the traditional cultivation methods and enjoy the fresh scent of citrus. The terraced gardens offer a tranquil setting to escape the crowds and immerse yourself in nature.
These attractions encompass the natural beauty, historical heritage, and unique charm of Cinque Terre. Be sure to take your time to explore each one, as they offer an unforgettable glimpse into the region's cultural and natural treasures.
Beaches in Cinque Terre
Cinque Terre is renowned for its stunning coastal scenery that includes beautiful beaches. Whether you're looking to relax, soak up the sun, or take a refreshing dip in the clear turquoise waters, you'll find a variety of beaches to enjoy in the region. Here are some of the top beaches in Cinque Terre:
Monterosso Beach: The largest village in Cinque Terre, Monterosso al Mare, is home to a long stretch of sandy beach. With its picturesque setting and shallow waters, Monterosso Beach is perfect for sunbathing, swimming, and family-friendly activities. Sun loungers and umbrellas can be rented, and there are also various beachside bars and restaurants where you can enjoy refreshments.
Vernazza Beach: Vernazza has a small beach just below the colorful houses of the village. While it's not as large as Monterosso Beach, it still offers a charming spot to relax by the sea. The beach is partially sandy and partially rocky, providing options for those who prefer sunbathing or exploring the tide pools.
Guvano Beach: Located between Corniglia and Vernazza, Guvano Beach is a hidden gem that requires some effort to reach. The beach is known for its natural beauty and seclusion, with crystal-clear waters and a rocky shoreline. It's important to note that Guvano Beach is unofficial, and its accessibility might vary depending on the year, so it's best to check local information before planning a visit.
Manarola Scogliera: Manarola offers a unique coastal area known as the Scogliera, which consists of rocky cliffs and platforms. While not a traditional sandy beach, the Scogliera offers stunning vantage points to enjoy the seaside atmosphere and take in the panoramic views of the village and the sea. It's a popular spot for sunbathing and cliff jumping.
Fegina Beach (Monterosso): Adjacent to the main Monterosso Beach, Fegina Beach is another sandy area popular among locals and tourists. It offers a more spacious setting with facilities such as beach clubs, restaurants, and water sports activities. Fegina Beach is an ideal option for those seeking a livelier beach atmosphere.
It's important to note that some beaches in Cinque Terre may have limited facilities, such as restrooms or changing rooms. Additionally, during the peak summer months, the beaches can get crowded, so arriving early is recommended, especially if you prefer a quieter spot.
Whether you choose to unwind on a sandy stretch, explore the rocky shores, or enjoy the panoramic viewpoints, the beaches of Cinque Terre are sure to leave you with unforgettable memories of the region's coastal beauty.
Shopping and Souvenirs
Exploring the villages of Cinque Terre is not only a visual delight but also an opportunity to discover unique shops and find memorable souvenirs. From locally made crafts to delectable treats, here are some shopping highlights to enhance your Cinque Terre experience:
Local Artisans and Crafts: Cinque Terre is home to many skilled artisans who create beautiful handmade crafts. Look out for shops selling ceramics, hand-painted tiles, and artistic creations inspired by the region's scenic beauty. These unique pieces make for special souvenirs and can add a touch of Cinque Terre to your home decor.
Delicious Food Products: Don't miss the chance to taste and bring home some of Cinque Terre's famous food products. Look for shops selling local olive oil, pesto sauce, anchovies, and other delicacies. You can also find homemade limoncello, a traditional lemon liqueur, and sweet treats like biscotti and local honey. These edible delights make for great gifts or a flavorful reminder of your time in Cinque Terre.
Fashion and Clothing: Cinque Terre offers a range of fashion and clothing boutiques. Look for locally designed clothing, swimwear, and accessories made with high-quality materials. You can find unique pieces that reflect the coastal charm and style of the region, allowing you to take a slice of Cinque Terre fashion back home with you.
Produce and Farmers' Markets: Visiting the local farmers' markets is an excellent opportunity to connect with the region's agricultural heritage. These markets showcase a variety of fresh produce, including locally grown fruits, vegetables, and herbs. You can pick up freshly harvested goods to enjoy during your stay or purchase packaged food items to take home as a taste of Cinque Terre's flavors.
Local Wine and Spirits: Cinque Terre is situated in a region renowned for its vineyards and winemaking traditions. Explore wine shops and cellars to discover a selection of regional wines, such as Sciacchetrà, a sweet wine produced with local grapes. You can also find artisanal spirits like grappa or local craft beers to savor the flavors of the region.
As you wander through the villages, keep an eye out for small, independent shops and markets tucked away in the narrow streets. These hidden gems often offer authentic and locally made products, ensuring that your souvenirs are not only special but also support the local economy and artisans of Cinque Terre.
Remember to check any customs regulations or restrictions regarding bringing food or alcohol back to your home country to avoid any complications during your travels.
Safety Tips for Visitors
Cinque Terre is generally a safe destination, but it's always important to take certain precautions to ensure a smooth and enjoyable trip. Here are some safety tips to keep in mind while exploring this beautiful region:
Weather Conditions: Be aware of the weather forecast, especially if you plan to hike or spend time outdoors. Sudden changes in weather, such as rain or strong winds, can make hiking trails slippery or dangerous. It's advisable to check trail conditions and closures before embarking on a hike and to be prepared with appropriate gear.
Hiking Safety: When hiking the trails in Cinque Terre, wear comfortable and sturdy shoes to navigate the sometimes rugged terrain. Carry plenty of water, snacks, a map, sunscreen, and a hat, as some sections of the trails may not have access to facilities. Stick to the marked paths and follow any safety instructions provided along the trails.
Water Safety: While the beaches of Cinque Terre are beautiful, always pay attention to any warning signs or flags indicating sea conditions. Be cautious when swimming, and if you're not a confident swimmer, consider staying closer to shore. It's also essential to be aware of the presence of jellyfish during certain times of the year and to take necessary precautions.
Pickpockets and Valuables: As with any tourist destination, keep an eye on your belongings and be aware of your surroundings to prevent theft. Avoid carrying large sums of cash or wearing flashy jewelry that might attract unwanted attention. Consider using a money belt or a secure bag to keep your valuables close to you, and be cautious of crowded areas where pickpockets may operate.
Public Transportation: When using public transportation, be mindful of your belongings and keep an eye on them at all times. Be wary of potential scams or pickpocketing attempts, especially during busy periods. It's recommended to validate your tickets before boarding trains or buses to avoid fines.
Emergency Contacts: Familiarize yourself with the local emergency contact numbers for police, medical services, and your embassy or consulate. It's always better to be prepared and have this information readily available in case of any unforeseen circumstances.
COVID-19 Precautions: In light of the ongoing COVID-19 pandemic, it's important to stay informed about any travel restrictions or requirements in place. Follow the recommended safety precautions, such as wearing a mask, practicing good hand hygiene, and maintaining a safe distance from others.
By following these safety tips and using common sense, you can ensure a safe and enjoyable visit to Cinque Terre. Remember to prioritize your well-being and take necessary precautions while exploring this captivating region.
Conclusion
Cinque Terre is a truly enchanting destination that captivates visitors with its stunning landscapes, colorful villages, and rich cultural heritage. Whether you're seeking breathtaking views, delicious cuisine, outdoor adventures, or a peaceful retreat by the sea, Cinque Terre offers something for everyone.
This comprehensive guide has provided you with essential information to plan and optimize your visit to Cinque Terre. From the best time to visit and how to get there, to accommodation options, must-see attractions, and safety tips, you're well-prepared to make the most of your time in this picturesque corner of Italy.
Remember to explore each of the five villages – Monterosso al Mare, Vernazza, Corniglia, Manarola, and Riomaggiore – to fully experience their unique charm and attractions. Whether you choose to hike along the scenic trails, relax on the beautiful beaches, or indulge in the local cuisine, Cinque Terre promises to leave you with beautiful memories and a sense of awe.
As you wander through the narrow streets, interact with locals, and immerse yourself in the vibrant atmosphere of Cinque Terre, let yourself be enchanted by the authenticity and beauty of this coastal paradise. Take your time to savor the local specialties, capture stunning photographs, and simply enjoy the magic of this remarkable destination.
Whether you're a nature lover, history enthusiast, or simply in search of an unforgettable travel experience, Cinque Terre is sure to exceed your expectations. So pack your bags, embrace the Mediterranean charm, and embark on an unforgettable journey through the five lands of Cinque Terre.