Mykonos Cruise Port Guide, Greece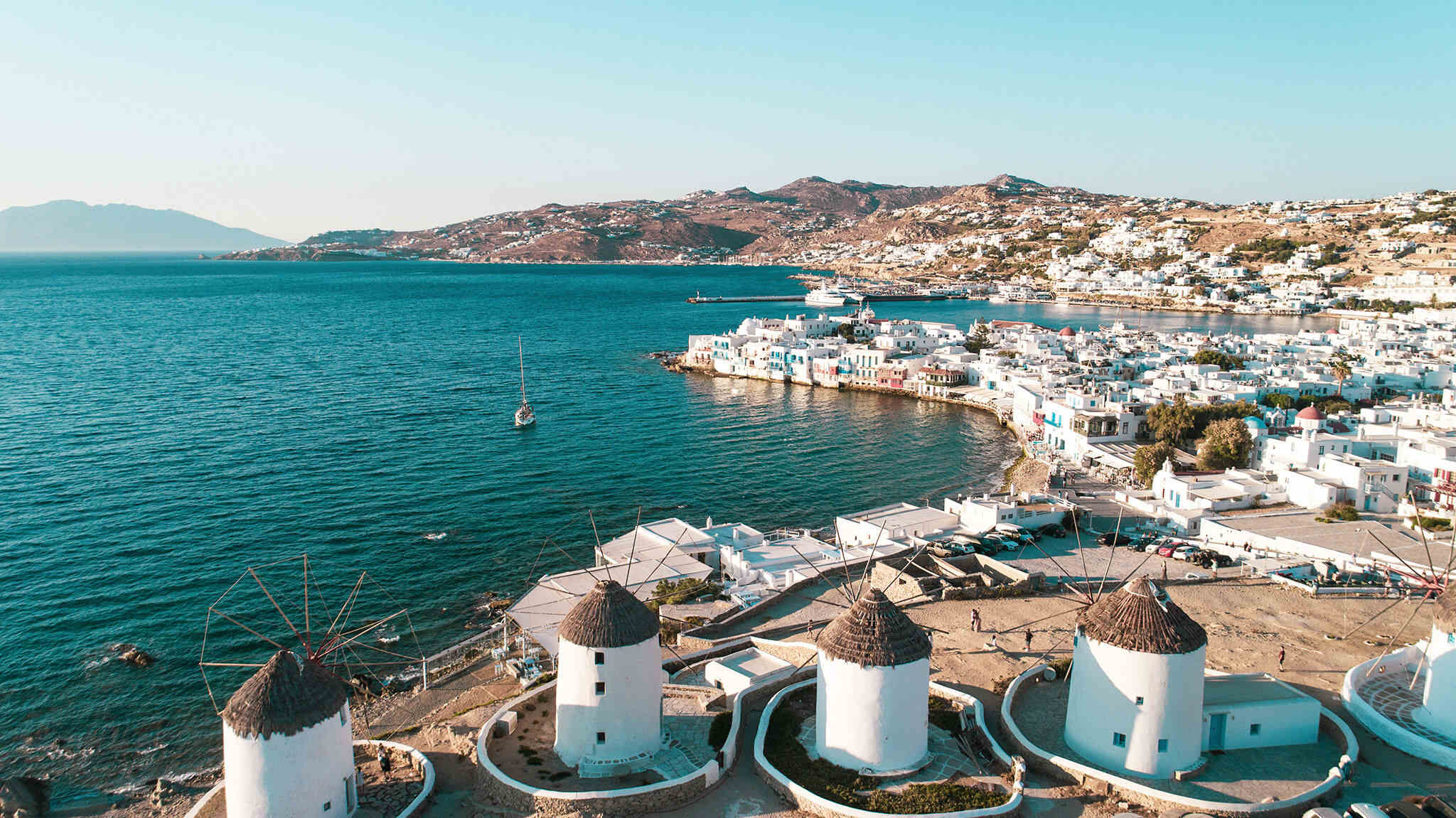 Introduction
Welcome to the beautiful island of Mykonos, located in the mesmerizing Aegean Sea in Greece. As one of the most popular cruise ports in the Mediterranean, Mykonos offers a perfect blend of stunning natural beauty, rich history, vibrant culture, and a vibrant nightlife. This enchanting island has something for everyone, whether you're seeking relaxation, adventure, or a taste of Greek island life.
Mykonos is renowned for its picturesque white-washed buildings, narrow cobblestone streets, and azure blue waters. The island is often referred to as the "Jewel of the Aegean" and has become a must-visit destination for travelers from around the world.
When your cruise ship docks at the Mykonos Cruise Port, you'll be greeted with the warm Greek hospitality and a variety of exciting experiences to help you make the most of your time on the island. From exploring the charming Mykonos Town with its quaint shops and bustling cafes to visiting the ancient ruins of Delos, the birthplace of Apollo and Artemis, there is never a shortage of things to do here.
Whether you're a history buff, a beach lover, a shopper, or a foodie, Mykonos has it all. Spend your days basking in the Mediterranean sun on pristine sandy beaches, indulge in delicious Greek cuisine at seaside tavernas, or wander through the maze-like streets lined with boutique shops selling unique treasures.
For the adventurous souls, Mykonos offers a range of thrilling water sports, including snorkeling, scuba diving, and windsurfing. Or you can embark on a boat tour around the island to discover hidden coves, secluded beaches, and breathtaking views of the surrounding islands.
With its vibrant nightlife, Mykonos comes alive after the sun sets. From world-famous beach clubs to buzzing bars and clubs in Mykonos Town, there are plenty of options to dance the night away or enjoy a romantic dinner under the starry sky.
So, get ready to immerse yourself in the magical allure of Mykonos. Explore its captivating beauty, indulge in its delectable cuisine, and create unforgettable memories on this enchanting Greek island. Whether you're visiting for a few hours or a few days, Mykonos will leave you longing to return and experience its magic once again.
Getting to Mykonos Cruise Port
Mykonos Cruise Port is well-connected to various destinations within Greece and neighboring countries, making it easily accessible for cruise passengers. Here are some of the common ways to reach the port:
By Cruise Ship: Many cruise lines include Mykonos as a stop on their Mediterranean itineraries. Depending on your cruise line, you will dock at the new port of Tourlos or the old port of Mykonos Town. Both ports offer facilities for disembarking passengers.
By Flight: If you are not already on a cruise ship, the most convenient way to reach Mykonos is by air. Mykonos International Airport is well-connected to major Greek cities and several European destinations. The airport is located just 2.5 kilometers from Mykonos Town, making it a quick and easy transfer to the cruise port.
By Ferry: Another popular option is to take a ferry to Mykonos from Athens or other Greek islands. Ferries operate regularly from Piraeus Port in Athens, as well as from other popular destinations like Santorini and Naxos. The ferry ride gives you a chance to enjoy the scenic beauty of the Aegean Sea before arriving at the Mykonos Cruise Port.
By Taxi or Transfer: Upon arrival at the airport or ferry port, you can easily find taxis or private transfers that will take you directly to the cruise port. Taxis are available outside the airport terminal and the port terminal, and the journey to Mykonos Town takes around 10 minutes. Private transfers can be arranged in advance for a hassle-free experience.
By Public Bus: Mykonos has a reliable bus network that connects the cruise port with various parts of the island. The bus station is located in Fabrika Square, a short walk from Mykonos Town. Buses operate frequently and provide an affordable option for getting around the island.
It's important to check the arrival and departure times of your cruise ship or flight to plan your transportation to and from the Mykonos Cruise Port. It is recommended to allow for some extra time to account for potential delays and to ensure a stress-free journey to begin your Mykonos adventure.
Exploring Mykonos Town
Mykonos Town, also known as Chora, is the charming heart of the island and a must-visit destination for anyone docking at the Mykonos Cruise Port. This picturesque town is famous for its narrow winding streets, vibrant nightlife, and postcard-perfect white-washed buildings with colorful doors and windows.
As you stroll through the labyrinth-like streets of Mykonos Town, you'll discover a treasure trove of boutique shops, chic cafes, art galleries, and charming churches. Take your time to explore every nook and cranny, as each corner reveals a delightful surprise.
One of the most iconic landmarks in Mykonos Town is the famous windmills, located on a hill overlooking the harbor. Dating back to the 16th century, these windmills used to be an integral part of the island's economy. Today, they serve as a symbol of Mykonos and offer a breathtaking backdrop for memorable photos.
When it comes to dining, Mykonos Town is a food lover's paradise. From traditional Greek tavernas serving mouth-watering gyros and fresh seafood to upscale restaurants offering innovative Mediterranean cuisine, you'll find a dining experience to suit every palate. Don't forget to try the local specialty, kopanisti cheese, paired with a glass of ouzo.
The nightlife in Mykonos Town is legendary. The town comes alive after dark, with numerous bars, clubs, and beach clubs hosting parties that last until the early hours of the morning. Dance the night away at famous clubs like Cavo Paradiso and Scandinavian Bar, or enjoy a more relaxed evening at one of the cozy waterfront bars.
While exploring Mykonos Town, be sure to visit the Panagia Paraportiani, an impressive whitewashed church complex that is considered a true architectural gem. Its unique design, with four chapels stacked on top of each other, makes it a popular spot for photographers and history enthusiasts.
For art lovers, the Mykonos Archaeological Museum and the Folklore Museum are worth a visit. These museums showcase the rich history and cultural heritage of the island, offering a glimpse into the past of Mykonos.
Whether you're admiring the famous windmills, indulging in delicious cuisine, dancing the night away, or simply getting lost in the maze of charming streets, exploring Mykonos Town is an experience that should not be missed. It's a place where history, culture, and vibrant energy come together to create a truly unforgettable atmosphere.
Visiting the Archaeological Site of Delos
Just a short boat ride from Mykonos lies the small, uninhabited island of Delos. Known as the birthplace of Apollo and Artemis in ancient Greek mythology, Delos is an archaeological paradise that transports visitors back in time. A visit to this extraordinary UNESCO World Heritage site is a must for history enthusiasts and anyone interested in exploring the rich cultural heritage of Greece.
Upon arriving at Delos, you'll be greeted by the remains of a once-bustling ancient city. The archaeological site covers a vast area, and it's recommended to join a guided tour or hire a knowledgeable guide to fully appreciate the significance and historical context of the ruins.
One of the most impressive sights on the island is the Terrace of the Lions. These iconic marble lions, originally erected in the 7th century BC, symbolize the power and grandeur of ancient Delos. Although time has weathered these statues, their presence is still awe-inspiring.
As you continue exploring, you'll come across remnants of ancient houses, temples, markets, and theaters. The House of Dionysus, adorned with beautiful mosaics, offers a glimpse into the life of a prosperous Delian citizen. The Temple of Apollo, dedicated to the god of light and music, stands as a testament to the religious significance of the island.
Don't miss the opportunity to visit the Archaeological Museum of Delos, housed in a former merchant's house. Here, you'll find a collection of artifacts discovered during excavations, including statues, pottery, and jewelry. These artifacts provide further insight into the daily life and rituals of the people who once inhabited Delos.
While exploring Delos, take a moment to soak in the breathtaking natural beauty of the island. The landscape of Delos is dotted with wildflowers, olive trees, and striking views of the sparkling Aegean Sea. From the top of Mount Kythnos, you can enjoy panoramic vistas that stretch as far as the eye can see.
It's important to note that there are no restaurants or facilities on Delos, so it's advisable to bring water and snacks. Also, be sure to wear comfortable shoes and sunscreen, as you'll be walking on uneven terrain under the Mediterranean sun.
A visit to the archaeological site of Delos gives you a rare opportunity to step into the legendary past of ancient Greece. It's a chance to immerse yourself in the myths, history, and architecture of a civilization that shaped the world we know today.
Beaches of Mykonos
Mykonos is renowned for its stunning beaches, which attract sun-seeking travelers from around the world. With crystal-clear turquoise waters and golden sandy shores, the beaches of Mykonos offer the perfect setting for relaxation, water sports, and beach parties. Here are some of the top beaches to explore during your visit to the island:
Paradise Beach: As the name suggests, Paradise Beach is a true paradise for beach lovers. Known for its lively atmosphere, this beach is famous for its beach parties, DJ sets, and beach bars. Dance to the rhythmic beats, enjoy a refreshing cocktail, and soak up the vibrant energy of this popular beach.
Super Paradise Beach: Located next to Paradise Beach, Super Paradise Beach is another hotspot for party-goers. With its vibrant nightlife and trendy beach clubs, this beach attracts a young and lively crowd. Relax on the sunbeds during the day, and as the sun sets, get ready for a night of dancing and entertainment.
Ornos Beach: If you're seeking a more family-friendly and relaxed beach experience, head to Ornos Beach. With its shallow waters and soft sands, this beach is perfect for families with children. There are numerous beachfront restaurants where you can enjoy a leisurely meal or indulge in water sports activities.
Psarou Beach: Psarou Beach is a popular choice for jet-setters and celebrities. With its luxurious sunbeds, upscale beach clubs, and stylish atmosphere, it's no wonder this beach attracts the elite. Enjoy a day of pampering, sip on champagne, and socialize with the trendy crowd at one of the beach clubs.
Platis Gialos Beach: Located just a short distance from Mykonos Town, Platis Gialos Beach is a favorite among locals and tourists alike. The beach offers a mix of water sports, beachfront restaurants, and scenic views. Take a boat trip from here to explore nearby beaches and secluded coves.
Agios Sostis Beach: For those seeking a more secluded and peaceful beach experience, Agios Sostis Beach is a hidden gem. Located on the northern coast of Mykonos, this unspoiled beach is characterized by its natural beauty and tranquil atmosphere. Remember to bring your own food and drinks, as there are no beach facilities available.
These are just a few examples of the incredible beaches that Mykonos has to offer. Each beach has its own unique charm, whether it's the lively party scene, the family-friendly environment, or the peaceful serenity. No matter which beach you choose to visit, you're guaranteed to be mesmerized by the turquoise waters, warm Mediterranean sun, and the overall beauty of Mykonos' coastline.
Shopping and Dining in Mykonos
When it comes to shopping and dining, Mykonos offers a delightful blend of traditional charm and modern luxury. From boutique shops selling unique handmade crafts to high-end fashion boutiques and world-class restaurants, the island caters to all tastes and budgets. Here's a glimpse into the vibrant shopping and dining scene in Mykonos:
Mykonos Town is the ultimate shopping destination, with its charming streets lined with an array of shops and boutiques. You'll find everything from trendy clothing and accessories to local artwork and souvenirs. Take a leisurely stroll through Matogianni Street, the main shopping thoroughfare, and discover hidden treasures in the narrow side streets.
For those seeking high-end fashion and luxury brands, Mykonos boasts an impressive selection of designer boutiques. International fashion houses, renowned jewelry designers, and famous brands can be found in the heart of the town. Treat yourself to a unique piece of clothing or that special accessory to remember your time on the island.
When it comes to dining, Mykonos is a food lover's paradise. The island offers a vast array of restaurants, ranging from traditional tavernas serving authentic Greek cuisine to upscale establishments offering international gastronomic delights. Whether you're craving fresh seafood, mouthwatering souvlaki, or gourmet Mediterranean dishes, you'll find a culinary experience to satisfy your taste buds.
Mykonos Town, with its picturesque waterfront and charming alleys, is a hotspot for dining. Enjoy a romantic sunset meal with a view of the sea or savor a traditional Greek feast in one of the quaint tavernas tucked away in the winding streets. The town also offers a wide range of international cuisines, including Italian, Asian, and fusion options.
For a unique dining experience, head to the beach clubs and waterfront restaurants scattered along the island's coastline. Indulge in exquisite seafood platters, sip on specialty cocktails, and soak up the vibrant atmosphere while enjoying views of the sparkling Aegean Sea. Some beach clubs even offer live music and entertainment, making it a memorable night out.
In addition to shopping and dining, Mykonos is known for its lively nightlife scene. After your delicious meal, venture out to the famous bars and clubs that line the streets of Mykonos Town. Get your dancing shoes on and party the night away as world-renowned DJs spin energetic beats. Mykonos' nightlife is legendary, attracting partygoers from around the globe.
Whether you're looking to update your wardrobe, find unique souvenirs, or savor exquisite culinary delights, Mykonos promises to exceed your expectations. Let the island's vibrant shopping and dining scene captivate you as you immerse yourself in the flavors and treasures of this enchanting destination.
Popular Excursions from Mykonos Cruise Port
While Mykonos itself is a captivating destination, the island's strategic location in the Aegean Sea makes it a perfect starting point for exploring the surrounding islands and attractions. Here are some of the popular excursions you can embark on from the Mykonos Cruise Port:
Delos Island: As mentioned earlier, a visit to the archaeological site of Delos is a must. Explore the ancient ruins and immerse yourself in the fascinating history and mythology of this sacred island.
Boat Tours: Take a boat tour around the island to discover hidden coves, pristine beaches, and breathtaking views of the Aegean Sea. Many tours also include stops at nearby islands such as Santorini, Paros, or Naxos.
Island-Hopping: Mykonos is part of the Cyclades island group, known for its picturesque islands and charming villages. Island-hop to nearby islands like Santorini, with its iconic blue-domed churches, or Naxos, with its rich history and stunning landscapes.
Beach Exploration: Mykonos is surrounded by numerous beautiful beaches, each with its own unique character. Rent a car or hire a local driver to explore the island's top beaches, such as Elia Beach, Agios Ioannis Beach, and Lia Beach.
Wine Tasting: The Greek islands are known for their exceptional wines. Take a wine tasting tour and visit local wineries to sample delicious Greek wines made from indigenous grape varieties.
Jeep Safari: Embark on an exhilarating jeep safari adventure to explore the rugged landscape of Mykonos. Drive through off-road trails, visit traditional villages, and enjoy panoramic views of the island's coastline.
Sunset Cruises: Experience the mesmerizing beauty of a Mykonos sunset with a sunset cruise. Sail along the coast, savor a delicious dinner on board, and watch as the sun paints the sky with stunning colors.
Windmills of Mykonos: Take a short trip from the Mykonos Cruise Port to see the iconic windmills up close. Learn about their historical significance and capture breathtaking views of Mykonos Town and the Aegean Sea.
These are just a handful of the many excursions available from the Mykonos Cruise Port. Whether you're interested in history and archaeology, natural beauty, or simply relaxing on pristine beaches, there is an excursion to suit every taste and interest. Make the most of your time in Mykonos by exploring the nearby islands and attractions, and create memories that will last a lifetime.
Best Time to Visit Mykonos
Mykonos is a year-round destination, but the best time to visit depends on your preferences and what you want to experience on the island. Here's a breakdown of the different seasons in Mykonos:
Summer (June-August): The summer months are the peak tourist season in Mykonos, with warm temperatures and plenty of sunshine. This is the best time to enjoy the island's beautiful beaches and vibrant nightlife. The days are long, and the island comes alive with parties, music festivals, and cultural events. However, be prepared for larger crowds and higher prices during this time.
Spring (April-May) and Autumn (September-October): These shoulder seasons offer milder temperatures, fewer crowds, and more affordable prices. Spring brings blooming flowers and lush landscapes, while autumn offers warm seas for swimming and a more laid-back atmosphere. This is an ideal time for exploring the island's attractions, enjoying outdoor activities, and experiencing the local culture at a slower pace.
Winter (November-March): Mykonos experiences a quieter period during the winter months, with fewer tourists and a more relaxed vibe. Many businesses and hotels may close during this time, and the weather can be cool and unpredictable. However, if you're seeking a tranquil escape and a chance to see a different side of the island, winter can be a peaceful time to visit.
It's also worth noting that Mykonos hosts several festivals and events throughout the year, such as the Mykonos Biennale and the Mykonos International Film Festival. These events can add an extra layer of cultural enrichment to your visit, so check the calendar to see if any events align with your travel dates.
No matter when you choose to visit Mykonos, you can expect breathtaking views, warm hospitality, and a unique blend of relaxation and excitement. Consider your preferred weather, crowd preferences, and desired activities to select the best time for your Mykonos adventure.
Conclusion
Mykonos is a mesmerizing destination that offers a combination of stunning natural beauty, rich history, vibrant culture, and exhilarating nightlife. Whether you're docking at the Mykonos Cruise Port for a few hours or a few days, the island has something to offer for every visitor.
From exploring the charming streets of Mykonos Town to venturing out to the archaeological site of Delos, there are countless opportunities to immerse yourself in the island's unique charm. Bask in the Mediterranean sun on the beautiful beaches, indulge in delicious Greek cuisine, and shop for unique souvenirs and high-end fashion.
The best time to visit Mykonos depends on your preferences and what you want to experience. The summer months offer vibrant nightlife and sun-drenched days, while the shoulder seasons provide milder weather and fewer crowds. Even during the winter, Mykonos has a serene atmosphere that allows you to discover a different side of the island.
No matter when you visit, Mykonos will captivate you with its picturesque landscapes, warm hospitality, and a wealth of experiences. Immerse yourself in the ancient history at Delos, dance the night away in Mykonos Town, or simply unwind on the sandy beaches while taking in the breathtaking views of the Aegean Sea.
Whether you're a history enthusiast, a beach lover, or a nightlife aficionado, Mykonos will leave you with memories to cherish. So, plan your visit, pack your bags, and get ready to embark on an unforgettable adventure on this breathtaking Greek island.