The Ultimate Mykonos Travel Guide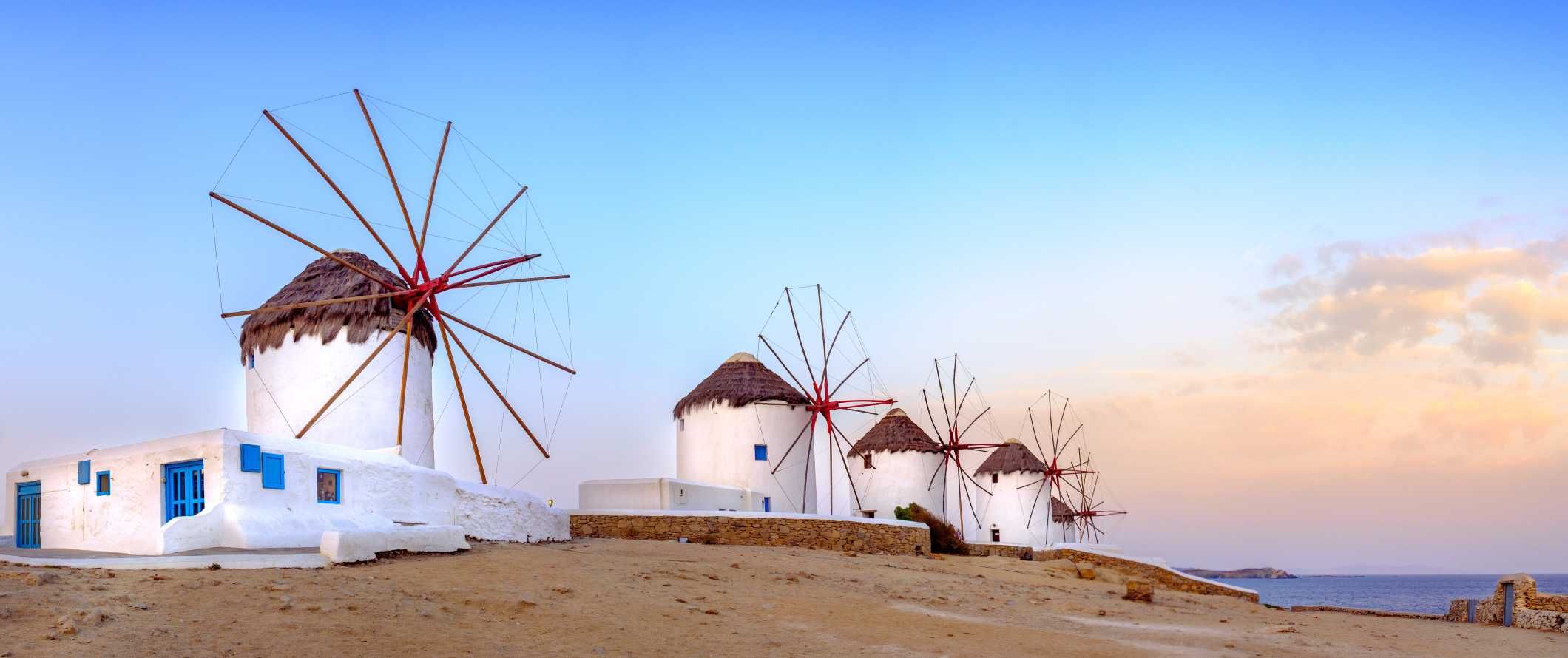 Introduction
Welcome to the stunning island of Mykonos, a jewel in the Aegean Sea that offers a perfect blend of natural beauty, rich history, and vibrant nightlife. Situated in the Cyclades archipelago, Mykonos is known for its pristine beaches, charming villages, and iconic windmills, attracting travelers from all over the world.
Mykonos is often referred to as the "Island of the Winds," thanks to its refreshing sea breezes that have made it a favorite destination for sailing enthusiasts and beach lovers. This cosmopolitan island boasts a unique charm that seamlessly blends traditional Greek culture with a contemporary and energetic atmosphere.
Getting to Mykonos is a breeze, with direct flights from major European cities and high-speed ferry connections from nearby islands and mainland Greece. Once you arrive, you'll be greeted by a warm and friendly atmosphere that is characteristic of Greek hospitality.
Whether you're a history buff, a party animal, or a nature enthusiast, Mykonos has something for everyone. From exploring the narrow streets of Mykonos Town to relaxing on the sun-kissed beaches, this island promises a memorable experience.
Indulge in the local cuisine and sample traditional Greek dishes bursting with flavor, or dance the night away at the world-renowned beach clubs that make Mykonos a haven for partygoers.
With its whitewashed buildings, picturesque harbors, and iconic landmarks, Mykonos offers a visual feast at every turn. Don't forget your camera as you navigate the winding streets and discover hidden treasures throughout the island.
Join me as we delve into the enchanting world of Mykonos, uncovering its breathtaking beauty, captivating history, and vibrant nightlife. Whether you're planning a relaxing beach vacation or seeking an adventure-filled trip, Mykonos will leave you spellbound with its irresistible charm.
So, pack your bags and prepare for an unforgettable journey to Mykonos, where the idyllic landscape, welcoming locals, and endless opportunities for exploration await you.
Getting to Mykonos
Getting to Mykonos is a breeze, with multiple transportation options available to suit every traveler's needs. Whether you prefer to fly or take a ferry, reaching this beautiful island is both convenient and efficient.
If you're coming from abroad, the most common way to reach Mykonos is by flying to Mykonos Island National Airport (JMK). The airport is well-connected with direct flights from major European cities, including Athens, London, Paris, and Rome. Several airlines operate regular flights to Mykonos, making it easy to find a suitable flight that fits your schedule.
For those already in Greece, you can reach Mykonos by taking a ferry from Athens. The ferry ride typically takes around 3 to 5 hours, depending on the type of ferry and the route taken. There are several ports in Athens from which you can catch a ferry to Mykonos, including Piraeus, Rafina, and Lavrio. It's advisable to book your ferry tickets in advance, especially during the peak summer season, as they can sell out quickly.
Once you've reached Mykonos, getting around the island is easy and convenient. The main mode of transportation is by bus, with a reliable network of routes connecting the popular areas of the island. The Mykonos bus service operates from early morning until late at night, making it convenient for exploring different parts of the island. Taxis are also available, but they can be more expensive, especially during peak hours or at night.
If you're feeling adventurous and want to explore at your own pace, renting a car, scooter, or an ATV (All-Terrain Vehicle) is a popular option. This allows you the freedom to visit secluded beaches, remote villages, and hidden spots that may not be easily accessible by public transport.
Another unique way to explore Mykonos is by hiring a private boat or joining a boat tour. This gives you the opportunity to discover the island's pristine coastline, visit neighboring islands such as Delos or Rhenia, and swim in secluded coves. Keep in mind that a valid boat license is required if you wish to rent a boat yourself.
Whichever mode of transportation you choose, you're sure to enjoy the scenic beauty of Mykonos as you arrive on the island and explore its captivating surroundings.
Where to Stay
When it comes to accommodation options, Mykonos offers a diverse range of choices to suit every budget and preference. From luxurious beachfront resorts to cozy boutique hotels and charming guesthouses, you'll find the perfect place to rest and rejuvenate during your stay on the island.
If you're seeking a luxurious and indulgent experience, the southern coast of Mykonos is home to a plethora of high-end resorts and luxury villas. These properties boast breathtaking sea views, private pools, spa facilities, and impeccable service. Many of these establishments are located near popular beaches such as Psarou, Ornos, and Platis Gialos, offering easy access to both relaxation and vibrant nightlife.
For those looking for a more budget-friendly option, the town of Mykonos offers a range of affordable accommodations, including small hotels and guesthouses. These cozy and charming establishments often embody the traditional Cycladic architecture, with whitewashed walls and colorful accents. Staying in Mykonos Town allows you to immerse yourself in the island's vibrant atmosphere, with easy access to the town's shops, restaurants, and iconic landmarks.
If you're a fan of boutique hotels, Mykonos has plenty to offer. These intimate and stylish accommodations provide a more personalized experience, with unique design elements, attentive service, and a cozy ambiance. Many boutique hotels in Mykonos are situated in quiet and scenic locations, allowing you to enjoy a peaceful getaway while still being close to the island's main attractions.
For those who prefer a more secluded and serene setting, there are several options available in the less populated areas of Mykonos. These include private villas and traditional houses, often nestled amidst picturesque landscapes and offering privacy and tranquility. Renting a villa or house provides an ideal option for families or groups of friends who want to enjoy a self-contained and spacious accommodation.
Lastly, if you're a nature lover and want to immerse yourself in the island's natural beauty, camping is also an option. Mykonos has designated campsites where you can pitch your tent and enjoy a back-to-nature experience. Keep in mind that camping facilities may be basic, and it's important to check the regulations and guidelines before planning your camping adventure.
Regardless of where you choose to stay in Mykonos, you'll be treated to Greek hospitality, stunning views, and easy access to the island's attractions. Take your time to explore the different options and select the accommodation that best suits your travel style and preferences.
Best Beaches in Mykonos
Mykonos is renowned for its pristine beaches with crystal-clear turquoise waters and golden sand. Whether you're looking for a vibrant party scene or a tranquil spot to unwind, the island offers a beach to suit every preference. Here are some of the best beaches in Mykonos:
Paradise Beach: Known as the ultimate party beach, Paradise Beach is famous for its lively atmosphere, beach clubs, and non-stop music. Enjoy beachside cocktails, dance to the latest beats, and soak up the vibrant energy that makes Paradise Beach a must-visit for partygoers.
Super Paradise Beach: Located next to Paradise Beach, Super Paradise is equally popular for its vibrant party scene. As one of Mykonos' most iconic gay-friendly beaches, Super Paradise attracts a diverse crowd and offers a thrilling day-to-night beach experience.
Psarou Beach: If you're seeking a more upscale and sophisticated beach experience, Psarou Beach is the place to be. With its luxury beach clubs, stylish loungers, and crystal-clear waters, Psarou is a favorite spot among celebrities and jet-setters.
Ornos Beach: Situated on the southwestern coast of Mykonos, Ornos Beach is a family-friendly destination with shallow waters perfect for swimming and sunbathing. The beach is lined with restaurants, cafes, and beach bars, providing all the amenities needed for a day of relaxation.
Elia Beach: Elia Beach offers a perfect blend of tranquility and entertainment. Stretching along a beautiful bay, this sandy beach is known for its water sports activities and beachfront restaurants. It's a great choice for those seeking a lively beach experience with a touch of serenity.
Agios Sostis: For a more secluded and unspoiled beach experience, head to Agios Sostis. This hidden gem is less crowded and offers a peaceful ambiance, with its untouched natural beauty and crystal-clear waters. There are no beach bars or loungers, so be sure to pack everything you need for a day of relaxation.
Other notable beaches worth exploring include Platis Gialos, Ftelia, Lia, and Agios Ioannis, each offering its own unique charm and beachside activities.
Remember to pack sunscreen, a beach towel, and plenty of water to stay hydrated during your beach adventures in Mykonos. Whether you're seeking a day of sun-soaked relaxation or a lively beach party, the stunning beaches of Mykonos are sure to leave you with unforgettable memories.
Exploring Mykonos Town
Mykonos Town, also known as Chora, is the heart and soul of the island. Its narrow winding streets, whitewashed buildings, and colorful doors and shutters create a postcard-perfect charm that is instantly captivating. Exploring Mykonos Town is like stepping into a labyrinth of enchantment, where every corner reveals a new discovery.
Begin your journey in Mykonos Town at the iconic Windmills, known as Kato Mili, which have become a symbol of the island. These 16th-century windmills overlook the town and offer panoramic views of the Aegean Sea. As you make your way through the town, you'll come across Little Venice, a picturesque neighborhood where colorful buildings are perched on the edge of the sea, creating a scene reminiscent of Venice, Italy.
Wander through the narrow streets, lined with charming boutiques, stylish art galleries, and quaint cafes. The shops offer a wide array of products, from designer fashion and jewelry to handmade souvenirs and traditional Greek products. Take a moment to explore the local workshops, where you can witness artisans practicing their craft, from pottery making to painting and weaving.
Visit the Panagia Paraportiani, an iconic Greek Orthodox Church that is a stunning example of Cycladic architecture. Comprised of four small chapels, the church is a masterpiece of white-washed simplicity and is considered one of the most photographed churches in Greece.
Indulge in the local cuisine at the town's numerous restaurants and tavernas, offering a range of delicious Greek dishes. From fresh seafood and colorful salads to traditional Greek mezes, you'll have plenty of opportunities to savor the flavors of the Mediterranean. Don't forget to try the local specialty, louza – a cured pork meat that is a true delicacy.
As the sun begins to set, the vibrant nightlife of Mykonos Town comes alive. The town is famous for its lively bars and clubs, where you can dance the night away to the latest beats. From trendy beach bars to sophisticated cocktail lounges, there's a venue to suit every mood and taste. The energy and excitement of the nightlife in Mykonos Town are unmatched, making it a must-visit destination for party lovers.
Exploring Mykonos Town is an adventure in itself. Lose yourself in its charming streets, immerse yourself in the local culture, and soak up the unique atmosphere that has enchanted visitors for centuries. Whether you're seeking history, shopping, or simply strolling through its scenic beauty, Mykonos Town offers a truly unforgettable experience.
Mykonos Nightlife
When the sun sets over Mykonos, the island comes alive with a thrilling and vibrant nightlife scene that is famous around the world. Known as the party capital of Greece, Mykonos offers a nightlife experience that is second to none.
The heart of the Mykonos nightlife is undoubtedly Mykonos Town, where the narrow streets and whitewashed buildings transform into a buzzing hub of energy and excitement. Start your evening by enjoying a cocktail or two at one of the chic bars in Little Venice, where you can sip your drink while admiring the stunning sunset views.
From there, continue your nightlife adventure in the bustling Mykonos Town, where a plethora of bars and clubs await. Whether you're in the mood for a lively dance club, a stylish cocktail lounge, or a relaxed beach bar, you'll find a venue to suit your taste.
If you're in the mood for a beach party, head to Paradise Beach or Super Paradise Beach, where the party starts in the afternoon and carries on until the early hours of the morning. These beach clubs feature world-class DJs, live performances, and vibrant atmospheres that will keep you dancing all night long.
In Mykonos Town, you'll find a variety of bars catering to different tastes. From sophisticated cocktail bars with expert mixologists to casual and laid-back tavernas serving local specialties and drinks, there's something for everyone. Dance enthusiasts can revel in the vibrant club scene, with internationally renowned DJs spinning the latest beats and keeping the party going until dawn.
Make sure to explore the famous Scandinavian Bar, where you can enjoy live music and a lively atmosphere, or venture into Jackie O', a trendy bar and club known for its drag shows and glamorous ambiance. The town's Old Port area is home to many upscale establishments, offering a sophisticated and stylish setting for a memorable night out.
During the peak summer season, Mykonos hosts a plethora of international events and parties, attracting celebrity DJs, artists, and partygoers from around the world. Keep an eye out for special events and themed parties, as they often take the nightlife experience to a whole new level.
It's important to note that the nightlife scene in Mykonos can get wild and crowded, especially during the high season. It's advisable to arrive early or make reservations to ensure entry to your desired venues. Additionally, take care of your personal belongings and stay hydrated throughout the night.
The nightlife in Mykonos is legendary, offering an unforgettable experience for those seeking excitement, energy, and endless entertainment. Get ready to dance, drink, and create lifelong memories as you immerse yourself in the electrifying nightlife of this enchanting island.
Local Cuisine and Dining Options
When it comes to culinary delights, Mykonos offers an array of flavors that will tantalize your taste buds and leave you craving for more. The island's cuisine is characterized by fresh, locally sourced ingredients, traditional Greek flavors, and a touch of Mediterranean influence.
Seafood lovers will be in gastronomic heaven on Mykonos. With its close proximity to the sea, the island offers an abundance of fresh fish and seafood dishes. Try the famous Mykonian lobster pasta, a succulent dish that combines tender lobster meat with al dente pasta, garlic, and olive oil. Grilled octopus, calamari, and prawns are also popular choices, bursting with flavor and cooked to perfection.
Traditional Greek cuisine takes center stage in Mykonos, with its emphasis on simplicity and freshness. Sample classic Greek dishes such as moussaka, a layered casserole of eggplant, minced meat, and béchamel sauce, or souvlaki, skewered and grilled meat served with pita bread and tzatziki sauce. Don't forget to savor the creamy and tangy Greek yogurt, drizzled with honey and sprinkled with walnuts.
When it comes to dining options, Mykonos caters to every taste and budget. In Mykonos Town, you'll find a myriad of restaurants offering a range of cuisines, from upscale fine dining establishments to cozy tavernas serving traditional Greek fare. Many of these restaurants boast scenic views of the sea or the charming streets of Mykonos Town, providing a delightful ambience to accompany your meal.
For a unique dining experience, venture to one of the beachfront tavernas that dot the island's stunning coastline. Feast on grilled seafood straight from the sea, accompanied by refreshing salads and local accompaniments. Many of these tavernas offer a relaxed and casual atmosphere, allowing you to indulge in a leisurely meal while soaking up the sun and sea breeze.
Don't miss the opportunity to try some of the local specialties of Mykonos. Louza, a cured pork meat with distinctive flavors, is a must-try. Taste the local cheeses, such as kopanisti and xinotyro, which are often used in various dishes or enjoyed on their own. And let's not forget the famous Mykonian almond cakes, a sweet treat that perfectly captures the essence of the island.
To complement your meal, Mykonos offers an impressive selection of Greek wines. From crisp white wines to robust reds, you can indulge in the flavors of the local vineyards. For those seeking a refreshingly light and fruity drink, sample the island's signature cocktail, the Mykonos Sunset, made with vodka, orange juice, grenadine, and a splash of soda.
Whether you're a foodie or simply enjoy indulging in delicious cuisine, Mykonos will delight your palate with its rich flavors and tantalizing dishes. From fresh seafood and traditional Greek favorites to international cuisines, the island offers a diverse and mouthwatering culinary experience that will leave you wanting more.
Day Trips from Mykonos
While Mykonos itself offers a plethora of attractions and activities, the island also serves as a great base for exploring the surrounding islands and attractions of the Cyclades. Embarking on a day trip from Mykonos allows you to discover new destinations and experience the beauty of the Aegean Sea. Here are some popular day trip options:
Delos: Just a short boat ride from Mykonos, Delos is a UNESCO World Heritage site and one of the most important archaeological sites in Greece. Explore the ancient ruins of this once-thriving city, including the Avenue of Lions, the Terrace of the Lions, and the Temple of Apollo. Delos is steeped in mythology and history, making it a must-visit for history enthusiasts.
Rhenia Island: Situated near Delos, Rhenia Island offers a tranquil escape from the bustling streets of Mykonos. With its pristine beaches and crystal-clear waters, Rhenia is a perfect spot for swimming, snorkeling, and enjoying a peaceful day in nature. There are boat tours available from Mykonos that include stops at both Delos and Rhenia, allowing you to explore both fascinating sites in one trip.
Tinos: Known as the island of miracles, Tinos is a short ferry ride away from Mykonos. Visit the famous Church of Panagia Evangelistria, a major pilgrimage site for Orthodox Christians. Explore the picturesque villages, sample delicious local delicacies, and admire the traditional marble art that Tinos is renowned for.
Paros: Paros is another neighboring island worth visiting from Mykonos. Explore the charming streets of Parikia, the island's capital, visit the iconic Church of Panagia Ekatontapiliani, and relax on the beautiful beaches of Golden Beach and Kolymbithres. Paros also offers excellent windsurfing and kitesurfing conditions for water sports enthusiasts.
Santorini: Although it requires a longer ferry journey or a short flight, visiting Santorini from Mykonos is a popular choice for many travelers. Explore the iconic blue-domed churches of Oia, marvel at the breathtaking views of the caldera, and indulge in the island's delectable cuisine and local wines. Santorini's unique volcanic landscape and stunning sunsets make it a truly unforgettable destination.
Naxos: Known for its beautiful beaches and rich history, Naxos is another great option for a day trip. Explore the ancient ruins of the Portara, visit the traditional villages of Apiranthos and Chalki, and relax on the sandy shores of Plaka Beach or Agios Prokopios Beach. Naxos offers a more laid-back atmosphere compared to Mykonos, allowing you to experience a different side of the Cyclades.
These are just a few of the many day trip options available from Mykonos. Whether you're interested in history, culture, or simply relaxing on idyllic beaches, there's a destination waiting to be discovered just a short distance away from the vibrant energy of Mykonos.
Water Activities and Sports in Mykonos
With its crystal-clear waters and favorable wind conditions, Mykonos is a paradise for water sports enthusiasts and adventure seekers. Whether you prefer a thrilling adrenaline rush or a leisurely aquatic experience, the island offers a wide range of water activities and sports to suit every taste. Here are some of the top options:
Windsurfing and Kitesurfing: Mykonos is renowned for its strong winds, making it an ideal destination for windsurfing and kitesurfing. Head to the beach of Kalafatis or Ftelia, where you'll find schools and rental shops offering equipment and lessons for all skill levels. Ride the waves, feel the adrenaline, and enjoy the exhilarating experience of gliding across the water.
Jet Skiing: For a thrilling and fast-paced water adventure, rent a jet ski and explore the coastline of Mykonos at your own pace. Feel the breeze on your face as you ride the waves and enjoy breathtaking views of the island from the sea. Jet ski rentals are available in many beach areas, such as Paradise Beach and Ornos Beach.
Scuba Diving: Delve beneath the surface of the Aegean Sea and discover the mesmerizing underwater world of Mykonos. Whether you're a certified diver or a beginner, there are diving centers on the island that offer guided dives and training courses. Explore vibrant coral reefs, encounter colorful marine life, and uncover the hidden wonders beneath the waves.
Snorkeling: Snorkeling is a popular activity in Mykonos, allowing you to explore the shallow reefs and marine life without the need for scuba diving equipment. Grab your snorkel, mask, and fins, and embark on an underwater adventure. Many beaches, including Paradise Beach and Agia Anna Beach, offer excellent snorkeling opportunities with clear waters and interesting underwater landscapes.
Sea Kayaking: Take a more tranquil approach to exploring the coastline of Mykonos by hopping into a sea kayak. Paddle along the calm waters, explore hidden coves and secluded beaches, and enjoy the serenity of the surrounding nature. Guided sea kayaking tours are available for those who want to learn about the local marine ecosystem and history.
Boat Tours and Sailing: Experience the beauty of Mykonos from the sea by taking a boat tour or chartering a sailing yacht. Sail around the island, visit secluded beaches and hidden coves, and enjoy breathtaking views of the coastline. Whether you opt for a leisurely cruise or an adventurous sail, exploring Mykonos by boat is a memorable experience.
It's important to note that safety should always be a priority when participating in water activities. Follow the instructions of experienced instructors, wear appropriate safety gear, and be mindful of your surroundings.
No matter your level of skill or adventure, Mykonos offers an array of water activities and sports that will leave you with unforgettable memories of your time spent in the stunning Greek island.
Shopping in Mykonos
When it comes to shopping, Mykonos offers a unique and vibrant experience that caters to all tastes and preferences. From high-end designer boutiques to local artisans and souvenir shops, the island has something for everyone. Whether you're looking for fashion-forward clothing, handmade jewelry, or traditional Greek products, Mykonos promises a diverse shopping scene that will satisfy even the most discerning shoppers.
One of the best places to shop in Mykonos is Mykonos Town. The narrow streets of the town are lined with stylish boutiques, offering a wide range of fashion choices for both men and women. Here you'll find international luxury brands, as well as local designers specializing in resort wear and unique handmade garments. From chic clothing and accessories to trendy swimwear and beachwear, Mykonos Town is a shopping haven for fashion enthusiasts.
For those seeking one-of-a-kind treasures, Mykonos is home to a thriving community of artists and craftsmen. Explore the local workshops and galleries scattered throughout the town, where you can find unique handmade jewelry, ceramics, textiles, and artwork. These locally crafted pieces beautifully blend traditional Greek aesthetics with modern design, making them perfect souvenirs or gifts for loved ones.
Mykonos is also known for its iconic and fashionable beachwear. Designer stores and beachwear boutiques showcase the latest trends in swimwear, cover-ups, and resort wear. You'll find an extensive range of stylish options, from elegant kaftans and breezy maxi dresses to bold bikinis and statement accessories. Embrace the island's vibrant and laid-back style by updating your vacation wardrobe with exclusive pieces from Mykonos' designer boutiques.
If you're searching for traditional Greek products and souvenirs, head to Matogianni Street in Mykonos Town. This bustling street is lined with shops selling local specialties, including olive oil, herbs, honey, and traditional sweets. Don't forget to pick up a bottle of the island's famous distilled spirit, called raki, or some traditional Greek wines to savor the flavors of the region back at home.
Throughout Mykonos, you'll also find a wide range of stores selling handmade leather goods, including bags, sandals, and accessories. These high-quality leather products are created with skilled craftsmanship and reflect the island's commitment to traditional artistry.
When shopping in Mykonos, keep in mind that many stores may close during the afternoon for the traditional Greek siesta. It's also worth noting that during the peak summer season, the shops can become crowded, so be prepared for a bustling shopping experience.
Whether you're a fashion lover, an art enthusiast, or simply searching for a unique memento, Mykonos offers a shopping experience that is as diverse as the island itself. So take a stroll through the charming streets, support local artisans, and discover the treasures that await you in this shopper's paradise.
Cultural and Historical Sites
Mykonos not only dazzles visitors with its stunning beaches and vibrant nightlife but also offers a rich cultural and historical heritage. From ancient archaeological sites to iconic landmarks, the island provides a glimpse into its fascinating past and the broader history of Greece. Here are some of the significant cultural and historical sites to explore in Mykonos:
Delos: Delos, a small nearby island, is one of the most important archaeological sites in Greece and a UNESCO World Heritage site. Known as the birthplace of Apollo and Artemis, Delos was once a thriving center of trade and a religious sanctuary. Explore the ancient ruins, including temples, houses, and the Terrace of the Lions, and immerse yourself in the ancient history and mythology of the region.
Windmills of Kato Mili: The iconic windmills overlooking Mykonos Town are a signature symbol of the island. Built in the 16th century, these traditional windmills were used to mill wheat and are now a prominent landmark. Take a walk to the windmills, enjoy the panoramic views of the town and the sea, and learn about the island's agricultural heritage.
Archaeological Museum of Mykonos: Located in Mykonos Town, the Archaeological Museum houses a collection of artifacts from the neighboring island of Delos. Discover ancient ceramics, sculptures, jewelry, and everyday objects that provide insights into the island's past. The museum offers a deeper understanding of the historical significance of Mykonos and its connection to the wider ancient Greek civilization.
Panagia Paraportiani: This iconic Greek Orthodox Church, located in Mykonos Town, is one of the most photographed churches in Greece. The complex is comprised of four small chapels, with the main chapel dating back to the 14th century. The unique architecture, blending elements of Byzantine, Venetian, and traditional Cycladic styles, makes it a must-visit cultural landmark in Mykonos.
The Folklore Museum: Housed in an 18th-century captain's house in Mykonos Town, the Folklore Museum offers a glimpse into the island's traditional way of life. Explore a collection of artifacts, including furniture, tools, and clothing, which showcase the customs and traditions of Mykonos. The museum provides a valuable insight into the island's cultural heritage and its deep-rooted traditions.
Church of Panagia Tourliani: Located in the village of Ano Mera, the Church of Panagia Tourliani is a beautiful example of ecclesiastical architecture. Admire the intricate wood-carved iconostasis and the impressive bell tower, and learn about the religious significance of the church in the local community. Visit the nearby Monastery of Paleokastro, which houses a small museum displaying Byzantine artifacts.
Exploring these cultural and historical sites in Mykonos allows you to immerse yourself in the island's rich past and appreciate its contributions to Greek history and culture. From ancient ruins to religious landmarks and heritage museums, these sites offer a deeper understanding of Mykonos beyond its picturesque beaches and vibrant parties.
Important Tips for Traveling to Mykonos
Traveling to Mykonos is an exciting adventure, but it's always helpful to be prepared. Keep these important tips in mind to ensure a smooth and enjoyable trip to this beautiful Greek island:
Peak Season: Mykonos experiences a peak tourist season during the summer months of June to August. If you prefer a quieter and more relaxed atmosphere, consider visiting in May or September when the weather is still pleasant, and the crowds are thinner.
Accommodation: Book your accommodation in advance, especially if you're traveling during the peak season. Mykonos has a wide range of lodging options, from luxury resorts to budget-friendly guesthouses, but availability can become limited if you wait until the last minute.
Transportation: Renting a car, scooter, or ATV is a popular way to get around Mykonos and explore the island at your own pace. However, keep in mind that the narrow roads and busy streets of Mykonos Town can be challenging to navigate, so exercise caution and follow traffic rules.
Island Hopping: Mykonos is well-connected to other Greek islands by ferry. Consider adding a day trip or longer excursion to your itinerary to explore nearby islands such as Delos, Santorini, or Paros.
Currency: The currency used in Mykonos is the Euro (€). It's advisable to carry some cash with you for small purchases and to use credit cards for larger payments. ATMs are available in Mykonos Town and major tourist areas.
Water Safety: The tap water in Mykonos is generally safe to drink, but many visitors prefer to drink bottled water to be on the safe side. Staying hydrated is important, especially during the hot summer months.
Sun Protection: The sun can be intense in Mykonos, so make sure to pack sunscreen, a hat, and sunglasses to protect yourself from harmful UV rays. It's also a good idea to seek shade during the hottest hours of the day and stay hydrated.
Respect Local Customs: While Mykonos is a popular tourist destination, it's important to respect the local customs and traditions. Dress modestly when visiting religious sites, and be mindful of noise levels, particularly in residential areas during the late hours of the night.
Nightlife Safety: Mykonos has a vibrant nightlife scene, but it's important to stay aware of your surroundings and drink responsibly. Keep your belongings secure and be cautious of potential scams or pickpocketing in crowded areas.
Coverage and Connectivity: Check with your mobile service provider to understand the roaming charges and availability of mobile data in Mykonos. Many cafes, bars, and hotels offer free Wi-Fi, so you can stay connected during your stay.
By keeping these tips in mind, you'll be well-prepared to make the most of your time in Mykonos and create unforgettable memories on this captivating Greek island.
Conclusion
Mykonos is a destination that truly captures the essence of Greece. With its stunning beaches, charming villages, rich history, and vibrant nightlife, this island offers an incredible vacation experience for all types of travelers. From the moment you arrive, you'll be captivated by the beauty of the Aegean Sea, the warmth of the locals, and the enchanting atmosphere that permeates every corner of Mykonos.
Whether you spend your days basking in the sun on world-renowned beaches, exploring the winding streets of Mykonos Town, or immersing yourself in the island's cultural and historical sites, there is always something exciting to discover. Indulge in the local cuisine, where the flavors of Greece come alive in every bite, and experience the energy of the nightlife scene that has made Mykonos a global hotspot.
Mykonos offers a range of activities for the adventurous at heart, from thrilling water sports and boat excursions to day trips to neighboring islands, providing endless opportunities for exploration and adventure. And with its deep connection to Greek history and mythology, the island allows you to delve into the past through its archaeological sites and iconic landmarks.
As you bid farewell to Mykonos, you'll carry with you unforgettable memories, sun-kissed skin, and a newfound appreciation for Greek culture and hospitality. Whether you're seeking relaxation, adventure, or a mix of everything in between, Mykonos is a destination that will capture your heart and leave you longing to return.
So pack your bags, book your flights, and get ready to immerse yourself in the beauty and allure of Mykonos. From its dazzling beaches to its charming villages, this Greek island will truly transport you to a world of enchantment and bliss.