Touchdown In Berlin, Germany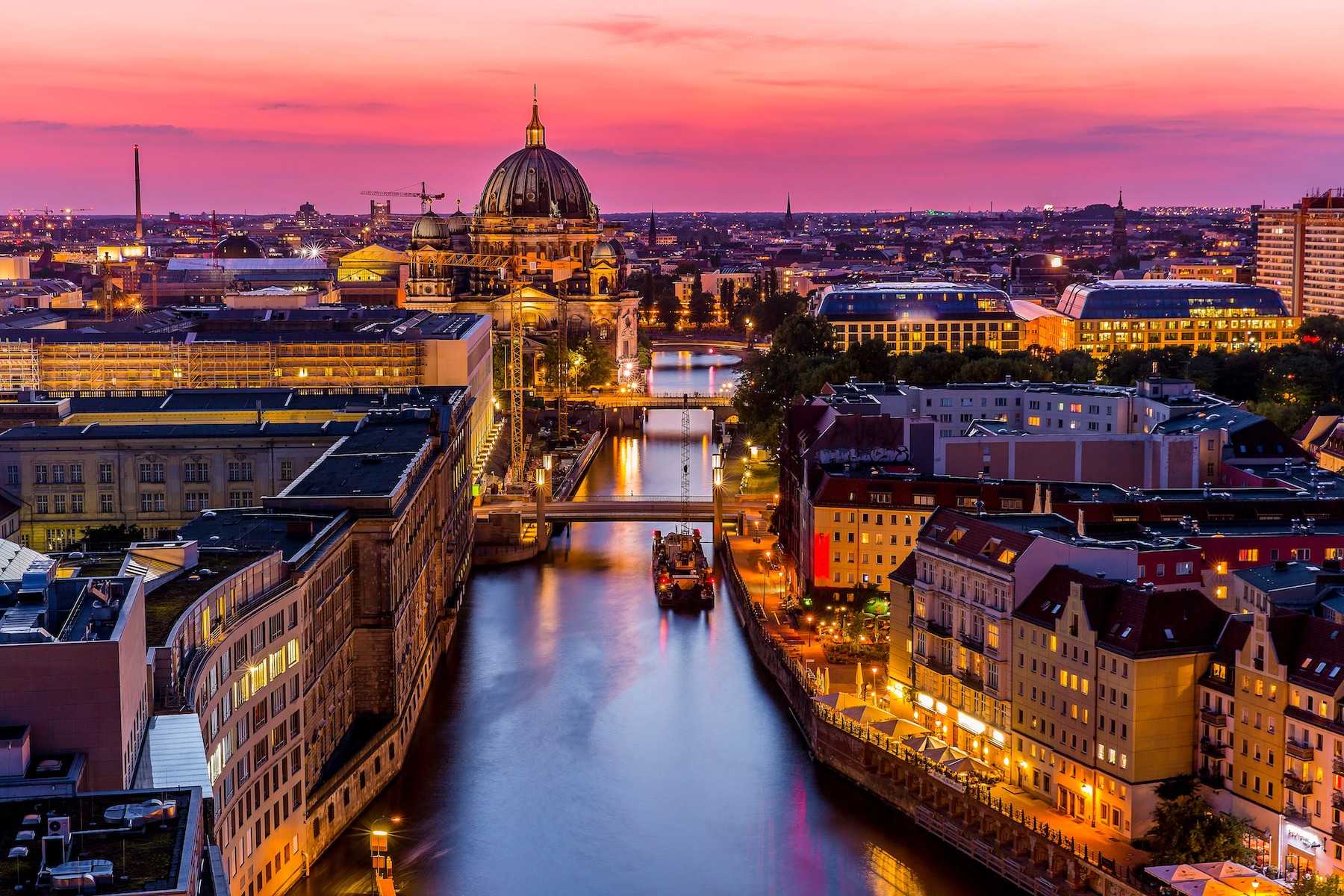 Introduction
Willkommen in Berlin! Germany's vibrant and captivating capital city is a must-visit destination for travelers from around the world. Steeped in rich history and culture, Berlin offers a unique blend of old-world charm and modern cosmopolitan flair. Whether you're a history buff, an art enthusiast, a foodie, or a party-goer, Berlin has something to offer for everyone.
As you wander through its streets, you'll be awestruck by the remnants of the city's past. From the iconic Brandenburg Gate to the remnants of the Berlin Wall, Berlin's historical landmarks serve as poignant reminders of a divided past and the triumph of unity.
Beyond its historical significance, Berlin is a city that prides itself on its vibrant art scene. From world-class museums to street art, creativity can be found in every corner of the city. The East Side Gallery, a section of the Berlin Wall adorned with colorful murals, stands as a testament to the power of art and freedom.
To immerse yourself in Berlin's cultural fabric, don't miss out on visiting its renowned museums. The Pergamon Museum, with its collection of ancient artifacts, the German Historical Museum, and the Museum Island, a UNESCO World Heritage Site, are just a few of the city's must-see cultural attractions.
But Berlin isn't just about history and culture. It's also a city that knows how to let loose. Berlin's vibrant nightlife is legendary, with countless bars, clubs, and music venues that cater to all tastes. Whether you're into electronic music, jazz, or live performances, the city's nightlife scene will keep you entertained until the early hours of the morning.
When it comes to food, Berlin's culinary scene has it all. From traditional German dishes like schnitzel and currywurst to international cuisines influenced by the city's multicultural makeup, you'll find a wide array of options to satisfy your taste buds. Don't forget to try a traditional Berliner Pfannkuchen, a delicious jelly-filled doughnut.
With its excellent public transportation system, getting around Berlin is a breeze. Whether you choose to hop on a tram, ride a bike, or take the U-Bahn, the city's efficient transportation network ensures that you can easily explore its many neighborhoods and attractions.
When it's time to rest your head, Berlin offers a range of accommodation options to suit all budgets and preferences. From luxurious hotels to cozy boutique guesthouses and budget-friendly hostels, you'll find the perfect place to call home during your stay.
In this comprehensive guide to Berlin, we'll delve deeper into the city's historical background, recommend must-see sightseeing spots, delve into its cultural attractions, explore its culinary delights, provide shopping recommendations, discuss transportation options, and highlight the various accommodation options available. So, get ready to embark on an unforgettable journey through the vibrant streets of Berlin.
Historical Background
Berlin's history is as fascinating as it is complex. The city has witnessed the rise and fall of empires, the devastation of war, and the reunification of a divided nation. Understanding Berlin's historical background is key to appreciating its cultural richness and resilience.
The earliest settlements in the area that is now Berlin can be traced back to the 13th century. Over time, the city grew in importance, becoming the capital of the Kingdom of Prussia in the 18th century. Under the rule of Frederick the Great, Berlin experienced a period of cultural and intellectual flourishing, with the construction of iconic landmarks such as the Brandenburg Gate and the Charlottenburg Palace.
However, Berlin's history took a tragic turn in the 20th century. During World War II, the city suffered extensive damage due to bombings and battles. After the war, Berlin found itself divided between the Allied powers: the Western allies controlled West Berlin, while the Soviet Union occupied East Berlin. This division culminated in the construction of the Berlin Wall in 1961, physically separating families and communities for nearly three decades.
The fall of the Berlin Wall in 1989 was a monumental moment in history, symbolizing the end of the Cold War and the reunification of Germany. Today, remnants of the Berlin Wall can still be seen at the East Side Gallery and other locations throughout the city, serving as a powerful reminder of the city's tumultuous past.
In addition to its more recent history, Berlin also played a pivotal role in World War II. Adolf Hitler's Nazi regime had its headquarters in Berlin, and it was from here that the Holocaust was planned and executed. The city's history of Nazi rule is remembered and explored in various museums and memorial sites, including the Topography of Terror and the Memorial to the Murdered Jews of Europe.
As you explore Berlin, you'll encounter the scars of its history, but you'll also witness its remarkable resilience and ability to reinvent itself. The city's vibrant atmosphere and thriving cultural scene are a testament to the spirit of its inhabitants and their determination to move forward.
To truly appreciate Berlin's historical significance, consider visiting the numerous museums and historical landmarks that dot the city. From the expansive exhibits at the German Historical Museum to the sobering stories told at the Checkpoint Charlie Museum, these destinations provide invaluable insights into Berlin's past and its impact on the world.
Sightseeing in Berlin
Berlin is a city that astounds visitors with its plethora of iconic landmarks and attractions. From historical sites to architectural marvels, there is no shortage of sights to explore and discover. Here are some of the must-see attractions that should be on every visitor's itinerary:
Brandenburg Gate: Perhaps the most recognizable symbol of Berlin, the Brandenburg Gate is an emblem of unity and freedom. This neoclassical monument stands at the entrance to Unter den Linden boulevard and is steeped in history. Take a stroll through the Gate and appreciate its grandeur while imagining the pivotal moments that have unfolded within its vicinity.
Reichstag Building: Home to the German Parliament, the Reichstag Building is an architectural masterpiece that combines historic elements with modern design. Take a guided tour to explore its grand dome, which offers panoramic views of the city, and learn about the country's political history.
Museum Island: Located on the Spree River, Museum Island is a UNESCO World Heritage Site and a treasure trove of art and culture. Explore the five world-renowned museums, including the Pergamon Museum, the Bode Museum, and the Neues Museum, which house an impressive array of ancient artifacts, paintings, and sculptures.
Berlin Cathedral: This magnificent Protestant cathedral is a sight to behold. With its stunning architecture and impressive dome, it is not only a place of worship but also a cultural landmark. Climb to the top of the dome for panoramic views of the city.
East Side Gallery: As mentioned earlier, this section of the Berlin Wall is not to be missed. Stretching for over a kilometer, it features colorful murals created by artists from all over the world, symbolizing hope and freedom.
Charlottenburg Palace: Escape into the past with a visit to Charlottenburg Palace, the largest palace in Berlin. Explore the opulent rooms, stroll through the baroque gardens, and immerse yourself in the grandeur of Prussian royalty.
These are just a few of the many sights that Berlin has to offer. Don't forget to also explore Checkpoint Charlie, the Holocaust Memorial, the Berlin Wall Memorial, and the iconic TV Tower at Alexanderplatz. Whether you're interested in history, art, or simply experiencing the city's unique atmosphere, Berlin's sights are sure to leave a lasting impression.
Cultural Attractions
Berlin is a cultural hub that boasts a diverse range of attractions, offering something for every taste and interest. From world-class museums to vibrant music venues, the city's cultural scene is both rich and vibrant. Here are some of the top cultural attractions that should not be missed:
Berlin Philharmonic: Considered one of the world's finest orchestras, the Berlin Philharmonic is renowned for its exceptional performances. Located in the strikingly modern Philharmonie building, attending a concert here is a truly immersive experience, allowing you to appreciate the mastery of the musicians and the acoustics of the venue.
State Opera House: A visit to the prestigious State Opera House is a must for any music lover. With its opulent interiors and world-class productions, this historic venue showcases some of the finest opera and ballet performances in the world.
Contemporary Art Scene: Berlin is a hotbed for contemporary art, with an abundance of galleries and art spaces showcasing local and international talent. The Hamburger Bahnhof – Museum of Contemporary Art and the C/O Berlin are just a couple of the city's prominent art venues.
Flea Markets and Street Art: Berlin's alternative and bohemian culture is reflected in its vibrant street art scene and eclectic flea markets. Explore neighborhoods like Kreuzberg and Friedrichshain to discover colorful murals and unique art installations. Don't miss the Sunday flea market at Mauerpark for a truly Berlin experience.
Berlinale – Berlin International Film Festival: Held annually in February, the Berlinale is one of the largest film festivals in the world. Showcasing a wide range of international films and attracting renowned directors, actors, and film enthusiasts, it is a highlight for cinema lovers.
Gendarmenmarkt: This picturesque square in the heart of Berlin is home to the iconic Konzerthaus, along with the French and German Cathedrals. Throughout the year, the square hosts various cultural events, including Christmas markets and open-air concerts.
These are just a few examples of the cultural attractions that make Berlin a vibrant and dynamic city. Whether you're interested in classical music, contemporary art, or simply immersing yourself in the city's unique atmosphere, there is no shortage of cultural experiences to indulge in.
Cuisine and Nightlife
Berlin's culinary scene is a melting pot of flavors, reflecting the city's multicultural makeup. From traditional German fare to international cuisines, there is a wide range of culinary delights to satisfy every palate. Additionally, when the sun sets, Berlin truly comes alive with its vibrant and diverse nightlife scene. Here's a taste of what to expect:
Cuisine: Traditional German dishes such as schnitzel, sausages, and pretzels can be found in many restaurants and beer gardens throughout the city. Don't miss the opportunity to try the famous Berliner Currywurst, a sausage smothered in curry ketchup. For a taste of multicultural Berlin, head to neighborhoods like Kreuzberg and Neukölln, where you'll find a wide range of international cuisines, from Turkish kebabs to Vietnamese pho.
Brauhaus: To experience traditional German beer culture, visit a local Brauhaus. Sample a variety of German beers, including Pilsners, Weissbiers, and Dunkels, while enjoying hearty German dishes like hearty sausages, sauerkraut, and crispy pork knuckles. Don't forget to say "Prost!" (cheers) before taking your first sip.
Nightlife: Berlin is renowned for its vibrant and diverse nightlife, with options to cater to every taste. From underground techno clubs like Berghain and Tresor to rooftop bars, jazz clubs, and live music venues, the city offers a unique and dynamic nightlife experience. Kreuzberg and Friedrichshain are known for their buzzing nightlife scenes, while Prenzlauer Berg offers a more relaxed and trendy atmosphere.
Theater and Performances: If you are looking for a cultural evening, Berlin offers a wealth of theatrical performances, including opera, ballet, and theater shows. The Friedrichstadt-Palast and the Deutsches Theater are just a few of the venues where you can enjoy captivating performances.
Street Food Markets: For a casual dining experience, visit one of Berlin's vibrant street food markets. Markthalle Neun, Street Food Thursday, and Bite Club are just a few examples where you'll find an array of international cuisines served from food trucks and stalls.
Whether you're a foodie looking to sample diverse flavors or a night owl in search of exciting entertainment, Berlin's cuisine and nightlife scene won't disappoint. Indulge in delicious dishes, sip on world-class beers, and dance the night away in the energetic and cosmopolitan capital of Germany.
Shopping in Berlin
Berlin is a shopper's paradise, offering a diverse range of shopping experiences from high-end luxury boutiques to quirky vintage stores and bustling markets. With its reputation as a fashion-forward city, Berlin attracts fashion enthusiasts and trendsetters from around the world. Here are some of the top shopping destinations to explore:
Kurfürstendamm: Known locally as Ku'damm, this famous boulevard is Berlin's premier shopping street. Here, you'll find luxury brands like Chanel, Louis Vuitton, and Gucci, as well as department stores like KaDeWe, Europe's largest department store.
Friedrichstrasse: Another popular shopping street in Berlin, Friedrichstrasse offers a mix of high-end fashion, design, and lifestyle stores. From designer boutiques to flagship stores of international brands, you'll find plenty of options to indulge in some retail therapy.
Hackescher Markt: Located in the trendy Mitte district, Hackescher Markt is a vibrant area with a mix of boutiques, concept stores, and indie fashion labels. Discover unique clothing, accessories, and homeware in this fashionable neighborhood.
Potsdamer Platz: This bustling square is not only a hub for entertainment and dining but also houses several shopping centers. Find a wide range of shops, from high-street brands to electronics stores, in the Potsdamer Platz Arkaden and Mall of Berlin.
Neue Schönhauser Strasse: Nestled in the trendy Mitte district, Neue Schönhauser Strasse is a haven for fashion lovers. The street features a mix of international and local boutique stores, showcasing cutting-edge fashion and independent designers.
Vintage and Flea Markets: Berlin has a thriving vintage and flea market scene, offering unique finds and one-of-a-kind treasures. Mauerpark flea market, Flohmarkt im Arkonaplatz, and Nowkoelln Flowmarkt are just a few of the popular markets to explore.
In addition to the above, Berlin is also home to a wide array of specialty stores catering to specific interests. From bookstores and vinyl record shops to bike stores and art supply shops, you'll find everything you need to indulge in your hobbies and passions.
Whether you're after high-end fashion, unique designer pieces, vintage finds, or local treasures, Berlin offers a diverse shopping landscape that is sure to satisfy your retail cravings.
Transportation in Berlin
Berlin has a well-developed and efficient transportation system that makes it easy to navigate the city and explore its many attractions. From the extensive public transportation network to bike-sharing programs and reliable taxi services, getting around Berlin is a breeze. Here are the various transportation options available:
U-Bahn and S-Bahn: The U-Bahn (underground) and S-Bahn (suburban railway) are the backbone of Berlin's public transportation system. The U-Bahn covers the city center and beyond, while the S-Bahn connects the central areas with the outskirts. With frequent service and extensive coverage, the U-Bahn and S-Bahn are convenient and reliable options for traveling around the city.
Trams and Buses: Berlin's tram and bus network complements the U-Bahn and S-Bahn lines, providing additional connectivity to various neighborhoods and areas not served by the metro system. Trams operate in the eastern part of the city, while buses cover both eastern and western areas.
Taxis and Ride-Sharing: Taxis are widely available throughout the city, and you can easily hail one on the street or find them at taxi stands. Ride-sharing services like Uber and Lyft are also operational in Berlin, providing an alternative to traditional taxis.
Bicycles: Cycling is a popular mode of transportation in Berlin, thanks to the city's extensive network of bike lanes and bike-friendly infrastructure. You can rent bicycles from various bike-sharing programs, such as Nextbike and Deutsche Bahn's Call a Bike, or from bike rental shops.
Walking: Berlin is a pedestrian-friendly city, and many of its attractions and neighborhoods are easily accessible on foot. Walking allows you to immerse yourself in the city's vibrant atmosphere and discover hidden gems along the way.
To use public transportation in Berlin, you'll need to purchase a ticket. The fare zones are divided into zones A, B, and C, with most attractions located in zones A and B. Tickets can be purchased at ticket machines located in U-Bahn and S-Bahn stations or via smartphone apps. It's important to validate your ticket before starting your journey and carry it with you for inspection.
For those who prefer a more flexible option, consider getting a Berlin WelcomeCard, which offers unlimited travel on public transportation within specific zones and discounts to various attractions and museums. It's a convenient and cost-effective way to explore the city.
Getting around Berlin is not only easy but also allows you to experience the city's vibrant neighborhoods and immerse yourself in its unique atmosphere. Whether you choose to ride the U-Bahn, hop on a tram, pedal a bicycle, or explore by foot, the transportation options in Berlin ensure that you can easily navigate the city and make the most of your visit.
Accommodation Options
Berlin offers a wide range of accommodation options to suit every budget, preference, and travel style. From luxurious hotels to cozy guesthouses and budget-friendly hostels, the city has something for everyone. Here are some of the accommodation options to consider when planning your stay in Berlin:
Luxury Hotels: Berlin boasts a selection of prestigious luxury hotels that offer top-notch amenities and impeccable service. These five-star establishments provide luxurious rooms, spa facilities, fine dining restaurants, and often stunning views of the city. Some renowned luxury hotels in Berlin include Hotel Adlon Kempinski, The Ritz-Carlton, and Hotel de Rome.
Boutique Hotels: Berlin is known for its trendy and stylish boutique hotels. These smaller, independently-run properties offer a more intimate and unique experience, often with stylish decor and personalized service. Boutique hotels like Hotel Oderberger and The Weinmeister Berlin-Mitte are popular choices for travelers seeking a more intimate setting.
Guesthouses and Bed & Breakfasts: For a more homely atmosphere, consider staying in a guesthouse or bed and breakfast in Berlin. These accommodations offer cozy rooms, often in historic buildings, and a more personal touch. Guesthouses like Ackselhaus & Blue Home and Pension Funk are known for their charm and warm hospitality.
Hostels: Berlin has a vibrant hostel scene that caters to budget-conscious travelers and those seeking a social atmosphere. Hostels offer dormitory-style shared rooms as well as private rooms, along with common spaces where guests can mingle and socialize. Popular hostels in Berlin include The Circus Hostel, Generator Berlin Mitte, and Wombat's City Hostel.
Apartment Rentals: Another popular option for accommodations in Berlin is renting an apartment. This is a great choice for families, groups, or long-term stays, as it allows for more space and the convenience of a fully equipped kitchen. Websites like Airbnb and Booking.com offer a variety of apartment options throughout the city.
Regardless of your preferred accommodation style, location is an essential factor to consider when choosing where to stay in Berlin. Mitte, the city center, is a popular choice for its proximity to major attractions and cultural landmarks. Other neighborhoods like Prenzlauer Berg, Kreuzberg, and Friedrichshain offer a more bohemian and vibrant atmosphere with a wealth of restaurants, bars, and local shops.
Before making your reservation, it's always a good idea to read reviews, check the amenities offered, and consider the location in relation to your planned activities. With the variety of accommodation options available in Berlin, you're sure to find the perfect place to relax and rest after exploring the city's vibrant streets.
Conclusion
Visiting Berlin is an unforgettable experience that combines rich history, vibrant culture, and a dynamic atmosphere. The city's historical significance, from the remnants of the Berlin Wall to iconic landmarks like the Brandenburg Gate, serves as a constant reminder of the city's past and its triumph over adversity. Berlin's cultural scene is equally captivating, with world-class museums, a thriving art scene, and a diverse range of music and theater performances.
Exploring Berlin's culinary delights is a treat for food enthusiasts, with traditional German dishes, international cuisines, and vibrant street food markets. Berlin's nightlife is legendary, offering a diverse range of clubs, bars, and music venues that cater to all tastes.
Getting around Berlin is made easy by its efficient public transportation system, including the U-Bahn, S-Bahn, trams, and buses. The city also welcomes walkers and cyclists, with an extensive network of bike lanes and pedestrian-friendly areas.
When it comes to accommodations, Berlin offers a vast array of options to suit every traveler's needs. From luxurious hotels to boutique guesthouses, budget-friendly hostels, and apartment rentals, there's something for every budget and preference.
In conclusion, Berlin is a city that seamlessly blends its tumultuous past with its vibrant present, creating a unique destination that is both captivating and inspiring. Whether you're strolling through historical landmarks, immersing yourself in art and culture, savoring diverse culinary delights, exploring the city's nightlife, or experiencing the warmth of its people, Berlin promises an enriching and unforgettable adventure.
So pack your bags, prepare to be captivated by Berlin's charm, and get ready to create memories that will last a lifetime in this remarkable capital city.