Ajaccio Cruise Port Guide, Corsica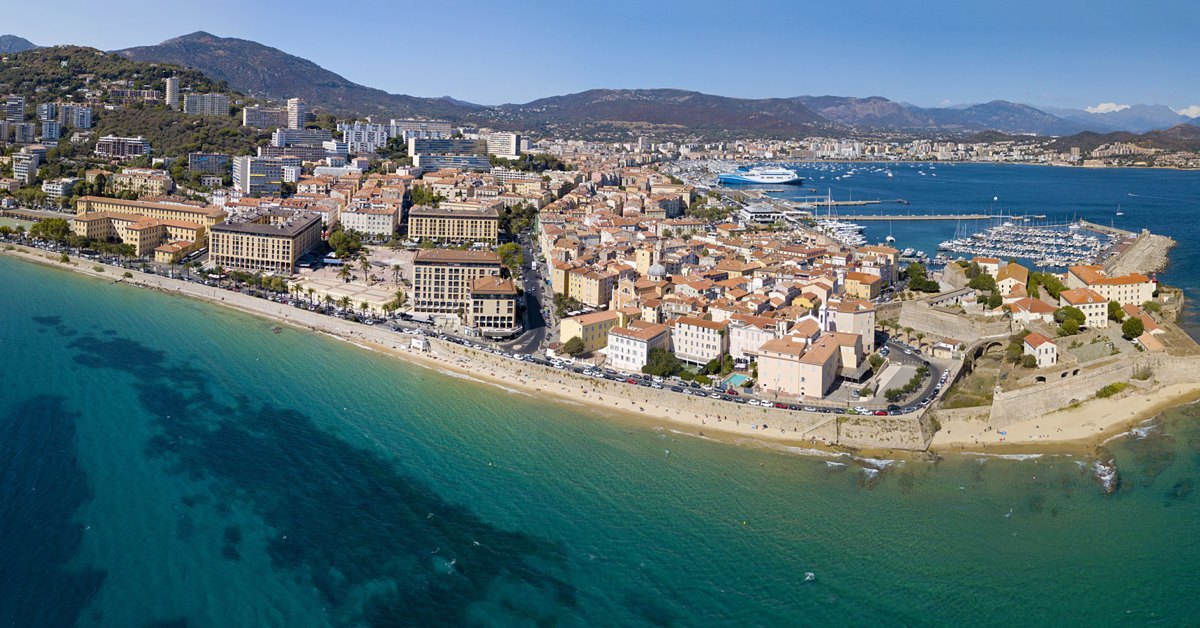 Introduction
Welcome to Ajaccio, the stunning capital city of Corsica in France. Located on the western coast of the island, Ajaccio is known for its rich history, vibrant culture, and breathtaking landscapes. As a popular cruise port destination, Ajaccio offers visitors a unique blend of natural beauty, historical landmarks, and a vibrant local scene.
With its crystal-clear waters, pristine beaches, and charming old town, Ajaccio is a paradise for nature lovers and history enthusiasts. The city is famous for being the birthplace of Napoleon Bonaparte, and you can explore his childhood home, Maison Bonaparte, which is now a museum dedicated to his life and legacy.
Ajaccio also boasts a vibrant dining and shopping scene, with a wide range of local markets, boutiques, and restaurants serving up delicious Corsican cuisine. From freshly caught seafood to delectable charcuterie and cheese, foodies will be in heaven in Ajaccio.
Whether you're interested in immersing yourself in history, relaxing on the beach, or indulging in local delicacies, Ajaccio has something for everyone. So, join us as we explore the beauty and charm of Ajaccio, your gateway to discovering the wonders of Corsica.
Location of Ajaccio Cruise Port
Ajaccio Cruise Port is strategically situated on the western coast of Corsica. It is located in the heart of the city, making it easily accessible for cruise passengers to explore the various attractions and offerings of Ajaccio.
The port is situated on the Gulf of Ajaccio, offering stunning views of the Mediterranean Sea. The proximity to the sea creates a picturesque setting for cruise ship arrivals and departures.
Ajaccio Cruise Port enjoys a prime location, with the city center just a short distance away. This means that visitors can easily explore the city"s historical sites, vibrant markets, and charming streets on foot.
Furthermore, the port is well-connected to other parts of Corsica, making it convenient for travelers who want to venture outside of Ajaccio. There are regular ferry services from the port to destinations such as Bonifacio, Porto-Vecchio, and Propriano, allowing passengers to explore more of the island"s treasures.
Whether you are arriving or departing from Ajaccio Cruise Port, you will be greeted by the beauty of Corsica, with its rugged mountains, pristine beaches, and azure waters. The port"s convenient location serves as the perfect gateway to everything that Ajaccio and its surrounding areas have to offer.
Port Facilities and Amenities
Ajaccio Cruise Port is well-equipped with a range of facilities and amenities to ensure a comfortable and enjoyable visit for cruise passengers. Here are some of the key features you can expect to find:
Terminal Facilities: The cruise terminal at Ajaccio offers a range of services, including information desks, currency exchange, and luggage storage. There are also restrooms and baby-changing facilities available for passengers' convenience.
Transportation: The port provides easy access to various transportation options. Taxis are readily available outside the terminal, making it convenient to explore the city and its surroundings. Additionally, car rental services are available for those who prefer to explore at their own pace.
Shopping: Ajaccio Cruise Port offers a selection of shops, where visitors can browse and purchase souvenirs, local crafts, clothing, and more. From traditional Corsican products to international brands, you'll find a variety of options to suit your tastes and preferences.
Dining and Refreshments: The port features several restaurants and cafes where passengers can grab a snack, enjoy a meal, or sample local cuisine. Whether you're in the mood for a quick bite or a leisurely dining experience, you'll find plenty of options to satisfy your cravings.
Wi-Fi and Internet Access: To stay connected during your visit, Ajaccio Cruise Port provides free Wi-Fi in designated areas, allowing you to stay in touch with loved ones, share your experiences, or simply browse the internet at your convenience.
Accessibility: The port is designed to be accessible for passengers with mobility challenges. There are ramps and elevators available to facilitate easy access to the various facilities and amenities within the terminal.
Tourist Information: Inside the cruise terminal, you'll find a tourist information center where friendly staff members are available to provide maps, brochures, and advice on the best attractions, excursions, and activities to enjoy during your time in Ajaccio.
Whether you're in need of basic necessities, looking to embark on a shopping spree, or simply seeking a spot to relax and grab a bite to eat, Ajaccio Cruise Port has you covered with its range of facilities and amenities.
Shore Excursions from Ajaccio Cruise Port
Ajaccio, surrounded by natural beauty and steeped in history, offers a variety of exciting shore excursions for cruise passengers. Here are some popular options to consider:
Visit Bonifacio: Embark on a scenic ferry ride from Ajaccio to the charming town of Bonifacio. Explore its ancient citadel, stroll through the medieval streets, and marvel at the breathtaking views of the white limestone cliffs and crystal-clear waters.
Discover Calanques de Piana: Take an unforgettable drive along the coastal road to the Calanques de Piana, a UNESCO World Heritage site known for its dramatic red rock formations and turquoise waters. Enjoy photo stops at scenic viewpoints and immerse yourself in the natural beauty of Corsica.
Explore Scandola Nature Reserve: Experience the rugged beauty of the Scandola Nature Reserve, a protected area known for its stunning cliffs, caves, and diverse marine life. Embark on a boat tour from Ajaccio to admire the landscapes, spot dolphins, and snorkel in the clear waters.
Discover Corsican Wines: Indulge in a wine tasting excursion to discover the rich flavors of Corsican wines. Visit local vineyards, learn about the wine-making process, and sample different varietals, accompanied by local cheeses and charcuterie.
Visit Corte: Take a trip to Corte, the historical capital of Corsica. Explore its impressive citadel, wander through its cobbled streets lined with quaint shops and cafes, and learn about Corsica's unique culture and identity at the Museum of Corsica.
Relax on the Beaches: Enjoy a leisurely day soaking up the sun and lounging on the beautiful beaches near Ajaccio. With their pristine sands and crystal-clear waters, beaches like Plage d'Argent and Plage St François offer the perfect setting to unwind and relax.
Discover Ajaccio's Historical Landmarks: Immerse yourself in Ajaccio's rich history by visiting landmarks such as the Maison Bonaparte, Ajaccio Cathedral, the Fesch Museum, and the Ajaccio Citadel. Learn about the city's past and the significance of these sites in shaping Corsican culture.
These are just a few examples of the many shore excursion opportunities available from Ajaccio Cruise Port. Whether you're seeking adventure, cultural experiences, or simply relaxation, there's something for everyone to enjoy in this captivating destination.
Top Attractions in Ajaccio
Ajaccio, the capital city of Corsica, is brimming with captivating attractions that showcase its rich history, stunning natural beauty, and vibrant culture. Here are some of the top attractions you shouldn't miss during your visit:
Place Foch: Start your exploration of Ajaccio at this bustling square, located in the heart of the city. Admire the statue of Napoleon Bonaparte at the center and soak up the lively atmosphere as you explore the surrounding shops, cafes, and historic landmarks.
Maison Bonaparte: Step into the birthplace of Napoleon Bonaparte, which has been transformed into a museum dedicated to his life and family. Explore the exhibition rooms and learn about the early years of one of history's most influential figures.
Ajaccio Cathedral: Visit this magnificent cathedral, also known as the Cathedral of Our Lady of the Assumption. Marvel at its stunning architecture, including its decorative stonework and impressive dome, and admire the beautiful works of art housed within.
Archaeological Museum of Ajaccio: Delve into Corsica's ancient past at this archaeological museum, which showcases a fascinating collection of artifacts from prehistoric times to the Roman era. Discover ancient tools, pottery, and sculptures that offer insights into the island's early civilizations.
Les Iles Sanguinaires: Take a short boat trip from Ajaccio to this group of islands known for their dramatic red granite rock formations. Explore the lighthouse on the main island, hike along the coastal trails, and enjoy the breathtaking views of the Mediterranean Sea.
Fesch Museum: Art enthusiasts will appreciate a visit to this museum, founded by Napoleon's uncle, Cardinal Fesch. The museum houses an impressive collection of Italian Renaissance paintings, including works by renowned artists such as Botticelli, Titian, and Bellini.
Capo di Feno Beach: Indulge in some relaxation time at this beautiful sandy beach located just outside of Ajaccio. With its crystal-clear waters, golden sands, and stunning mountain backdrop, it's an idyllic spot to unwind and enjoy the natural beauty of Corsica.
Genoese Towers: Explore the remnants of the island's coastal defense system by visiting the Genoese Towers, such as the Tower of Parata and the Tower of Capo di Muru. Climb to the top for panoramic views of the coastline and surrounding landscape.
These are just a few highlights of the diverse attractions awaiting you in Ajaccio. From historic landmarks and cultural sites to natural wonders and beautiful beaches, Ajaccio offers a wealth of experiences that will leave you enchanted with the charm of Corsica.
Shopping in Ajaccio
Ajaccio offers a delightful shopping experience with a blend of traditional markets, charming boutiques, and modern shopping centers. Whether you're looking for local specialties, fashion, or souvenirs, Ajaccio has something for every taste and budget. Here's a glimpse into the shopping scene in Ajaccio:
Local Markets: Immerse yourself in the vibrant atmosphere of Ajaccio's local markets. The Fesch Market, located near the town center, is a bustling market known for its fresh produce, local cheeses, and cured meats. Here, you can pick up authentic Corsican ingredients to enjoy back home or indulge in a picnic by the sea.
Boutiques and Fashion: Ajaccio boasts an array of stylish boutiques and fashion stores. Explore the narrow streets of the old town to discover unique fashion finds, handmade accessories, and trendy clothing. From high-end designer boutiques to local artisan shops, you'll find plenty of options to update your wardrobe or find that perfect gift.
Shopping Centers: For a modern shopping experience, head to one of Ajaccio's shopping centers. The Atrium Mall and Baléone Shopping Center offer a variety of stores, including international brands, electronics, and homeware. It's the perfect place to indulge in some retail therapy and enjoy a break at one of the many cafés and restaurants.
Artisan Crafts: Corsica is known for its rich traditions and skilled artisans. Discover handmade crafts and souvenirs that showcase the island's unique culture. Look for intricately crafted Corsican knives, local pottery, woven baskets, and traditional Corsican music instruments. These authentic crafts make for memorable keepsakes or thoughtful gifts.
Food and Wine: Don't miss the opportunity to sample the delectable flavors of Corsica. Visit specialty food shops where you can find Corsican honey, olive oil, charcuterie, and cheeses. Pair your culinary finds with a bottle of locally produced wine, such as the renowned AOC Ajaccio wines, known for their exceptional quality and flavor.
Souvenirs: Ajaccio offers a wide range of souvenirs to help you commemorate your visit. Look out for Napoleon-themed memorabilia, including miniature statues, keychains, and postcards. You'll also find Corsican-themed gifts, such as Corsican flag merchandise, traditional Corsican music CDs, and locally produced beauty products.
From exploring the local markets to perusing boutique stores and finding unique artisan crafts, shopping in Ajaccio is a delightful experience. Take your time to wander through the streets, interact with friendly shop owners, and bring back a piece of Corsica's charm as a memento of your visit.
Local Cuisine and Dining Options
Ajaccio is a culinary paradise, offering a diverse range of flavors and dishes that showcase the unique and delicious culinary heritage of Corsica. From fresh seafood to traditional charcuterie, the local cuisine in Ajaccio is sure to tantalize your taste buds. Here's a glimpse into the local cuisine and the dining options available:
Seafood: Being a coastal city, Ajaccio is renowned for its fresh seafood. Indulge in platters of oysters, mussels, and prawns, or savor grilled fish such as sea bass and red mullet. Pair your seafood feast with a glass of local Corsican white wine for a perfect dining experience.
Charcuterie and Cheese: Corsican charcuterie is a must-try when in Ajaccio. Sample mouthwatering cured meats like lonzu (cured pork loin), coppa (dry-cured pork shoulder), and prisuttu (dried ham). Pair these exquisite meats with local Corsican cheeses like brocciu, a soft cheese made from sheep's or goat's milk, for a delightful combination of flavors.
Wild Game: Corsica's mountainous terrain provides ample opportunities for hunting, resulting in a rich tradition of wild game dishes. Try dishes like sanglier (wild boar), venison, or even wild hare, prepared in various traditional preparations like civet (stewed) or brocciu-filled ravioli.
Pizzas: Corsican pizzas are a local specialty not to be missed. These thin-crust delights are topped with local ingredients such as figatellu (Corsican sausage), brocciu cheese, and olives. Enjoy a slice or a whole pizza and savor the unique flavors that Corsican cuisine has to offer.
Local Delicacies: Ajaccio also offers a variety of local delicacies to satisfy your palate. Try the famous canistrelli, a type of Corsican biscuit with flavors like anise or lemon. Sample fiadone, a traditional Corsican cheesecake made with brocciu cheese, and enjoy the sweet and savory flavors of Corsican honey.
Dining Options: Ajaccio has a range of dining options to suit every taste and budget. In the city center, you'll find a variety of restaurants offering traditional Corsican cuisine, as well as international flavors. Whether you're looking for a cozy bistro, a seaside restaurant with stunning views, or a trendy wine bar, Ajaccio has the perfect spot for you to indulge in the local fare.
When dining in Ajaccio, take the time to fully immerse yourself in the rich and diverse flavors of Corsican cuisine. Allow your taste buds to explore the unique ingredients and traditional dishes that make dining in Ajaccio an unforgettable experience.
Weather and Best Time to Visit
Ajaccio enjoys a Mediterranean climate, characterized by hot and dry summers and mild winters. The weather in Ajaccio is generally pleasant throughout the year, making it an enticing destination for visitors. Here's an overview of the weather and the best time to visit Ajaccio:
Spring (March to May): Spring in Ajaccio brings mild temperatures, making it an ideal time to visit. The weather is comfortable, with temperatures ranging from 15°C (59°F) to 20°C (68°F). The countryside comes alive with vibrant flowers, and it's a great time for outdoor activities like hiking and exploring the city's attractions.
Summer (June to August): Summer is the peak tourist season in Ajaccio, thanks to its warm and sunny weather. The temperatures during this time range from 25°C (77°F) to 30°C (86°F). The city becomes vibrant, with bustling streets and lively beachside activities. It's a fantastic time for sunbathing, swimming in the crystal-clear waters, and enjoying water sports.
Fall (September to November): The fall season in Ajaccio brings mild temperatures and fewer crowds compared to summer. The weather remains pleasant, with temperatures averaging between 18°C (64°F) and 24°C (75°F). It's a great time for sightseeing, exploring the city's historical landmarks, and enjoying outdoor activities with comfortable weather.
Winter (December to February): Winter in Ajaccio is relatively mild, with temperatures ranging from 10°C (50°F) to 15°C (59°F). While it may be cooler, the city maintains its charm with a festive atmosphere and fewer tourists. It's an excellent time to explore the city's museums, indulge in local cuisine, and take advantage of off-season discounts.
The best time to visit Ajaccio depends on your preferences. If you enjoy warm weather and vibrant beach scenes, summer is the perfect time to visit. However, if you prefer milder temperatures and fewer crowds, spring and fall are ideal. Winter offers a quieter and more budget-friendly experience, with a chance to enjoy the city's cultural offerings without the hustle and bustle of peak tourist crowds.
No matter which season you choose to visit Ajaccio, the city's charm, rich history, and natural beauty will captivate you throughout the year.
Transportation Options in Ajaccio
Ajaccio offers a range of transportation options that make it easy for visitors to explore the city and its surrounding areas. Whether you prefer public transportation, rental cars, or organized tours, here are the various ways to get around in Ajaccio:
Walking: Ajaccio's city center is compact and pedestrian-friendly, making it a great city to explore on foot. Many of the major attractions, shops, and restaurants are within walking distance of each other, allowing you to take in the beauty of the streets and squares at your own pace.
Public Transportation: Ajaccio has a reliable bus system that covers the city and its outskirts. The buses are an affordable and convenient way to get around, with routes that connect you to popular destinations such as the beach, the airport, and nearby towns. The bus network is operated by the Société des Transports de l'Agglomération Ajaccienne (STAC), and schedules can be found at bus stops or online.
Taxis: Taxis are readily available in Ajaccio and offer a convenient mode of transportation, especially for shorter distances or when you have heavy luggage. You can find taxi ranks at strategic locations throughout the city or book a taxi by phone or through a mobile app. Taxis in Ajaccio operate on a metered system, and it's always advisable to confirm the fare before starting your journey.
Car Rental: If you prefer the freedom to explore at your own pace, renting a car is a popular option in Ajaccio. Several car rental companies have offices at the Ajaccio Airport and in the city center. Having a car allows you to venture outside of Ajaccio and explore the beautiful countryside, hidden beaches, and charming villages at your leisure.
Organized Tours: Ajaccio offers a wide range of organized tours that cater to different interests and preferences. From city tours that cover the main attractions to excursions that take you to nearby natural wonders, there are plenty of options to choose from. Organized tours not only provide transportation but also offer insights and knowledge from experienced guides, adding value to your exploration of Ajaccio and its surroundings.
With its well-connected transportation options, getting around Ajaccio is easy and hassle-free. Choose the mode of transportation that suits your preferences, and embark on a journey to explore the wonders of this captivating city and its beautiful surroundings.
Tips for Visiting Ajaccio Cruise Port
Visiting Ajaccio Cruise Port can be a memorable experience, and with these helpful tips, you can make the most of your time in this captivating destination:
Plan Your Itinerary: Ajaccio offers a variety of attractions, excursions, and dining options. Plan your itinerary in advance, taking into account your interests, the duration of your visit, and any must-visit sites. This will help you make the most of your time and ensure you don't miss out on any key experiences.
Explore the Old Town: Don't miss the opportunity to explore Ajaccio's charming old town. Wander through its narrow streets, soak up the local atmosphere, and discover hidden gems, such as local boutiques and authentic Corsican eateries.
Taste Corsican Cuisine: Indulge in the delicious flavors of Corsican cuisine. Try local specialties such as charcuterie, fresh seafood, and Corsican cheeses. Don't forget to pair your meals with a glass of local Corsican wine for a complete culinary experience.
Embrace the Beaches: Ajaccio boasts stunning beaches with crystal-clear waters. Make time to relax and enjoy the beautiful coastline. Pack your beach essentials and spend a leisurely day soaking up the sun and swimming in the refreshing Mediterranean Sea.
Learn the Local Greetings: Corsicans appreciate visitors who make an effort to speak a few basic greetings in their language. Learn a few key phrases such as "Bonjour" (Hello), "Merci" (Thank you), and "Au revoir" (Goodbye) to show your respect for the local culture.
Respect the Environment: Ajaccio takes pride in its pristine natural beauty. Help preserve this by being mindful of the environment. Dispose of your waste properly, refrain from damaging flora and fauna, and follow any instructions or guidelines in protected areas.
Stay Hydrated: Ajaccio can have hot and sunny weather, especially in the summer months. Stay hydrated by carrying a water bottle with you and drinking plenty of fluids throughout the day.
Try Local Markets: Visit local markets, such as the Fesch Market, to experience the vibrant energy and sample fresh Corsican produce. Pick up some local ingredients, cheeses, or souvenirs to take a piece of Corsica's flavors back home with you.
Be Mindful of Siesta Time: Corsicans observe a midday siesta or break, usually from around 12:00 PM to 3:00 PM. During this time, some shops, restaurants, and attractions may close. Plan your activities accordingly to avoid any inconvenience.
Engage with the Locals: The people of Ajaccio are friendly and hospitable. Engage with the locals, ask for recommendations, and immerse yourself in the local culture. This can lead to memorable encounters and a deeper understanding of Ajaccio's way of life.
By keeping these tips in mind, you can have a wonderful and enjoyable visit to Ajaccio Cruise Port. Immerse yourself in the beauty, culture, and flavors of Corsica as you create unforgettable memories in this enchanting destination.
Conclusion
Ajaccio, the stunning capital city of Corsica, offers a blend of natural beauty, rich history, and vibrant culture. As a cruise port destination, Ajaccio provides a gateway to explore the wonders of Corsica, from its pristine beaches and breathtaking landscapes to its charming old town and historical landmarks.
From the moment you arrive at Ajaccio Cruise Port, you will be captivated by the picturesque scenery, the warm Mediterranean climate, and the friendly atmosphere. The port facilities and amenities ensure a comfortable and convenient experience for cruise passengers, with easy access to transportation, shopping options, and dining establishments.
While exploring Ajaccio, you'll discover a wide array of attractions to cater to every interest. From the birthplace of Napoleon Bonaparte at Maison Bonaparte to the stunning Calanques de Piana and the beautiful beaches, Ajaccio has something for everyone.
The local cuisine in Ajaccio is a true delight, with its fresh seafood, charcuterie, and flavorful cheeses. Don't miss the chance to indulge in Corsican specialties and experience the unique culinary heritage of the island.
Whether you're strolling through the charming old town, immersing yourself in history, relaxing on the beach, or enjoying the bustling dining and shopping scene, Ajaccio is sure to leave a lasting impression on you.
When planning your visit to Ajaccio Cruise Port, consider the weather and the best time to visit based on your preferences. Take advantage of the various transportation options available to explore the city and venture beyond, whether by foot, public transportation, taxi, rental car, or organized tours.
Finally, embrace the local culture, engage with the friendly locals, and create unforgettable memories as you immerse yourself in the beauty and charm of Ajaccio, Corsica's vibrant capital city.